5 Mug Muesli; a super simple, quick and easy Scandinavian-inspired cereal of oats, nuts, coconut and dried fruit to make ahead for those mornings when a splash of milk is all you can muster!
I take my (metaphorical, because I have a big awkward head) hat off to anyone who has moved house more than once in their life.
Having just moved into my first home away from my parents, it's safe to say that:
I own way too much stuff
I hate packing/unpacking so much that I have no plan to do it again for roughly another 316 years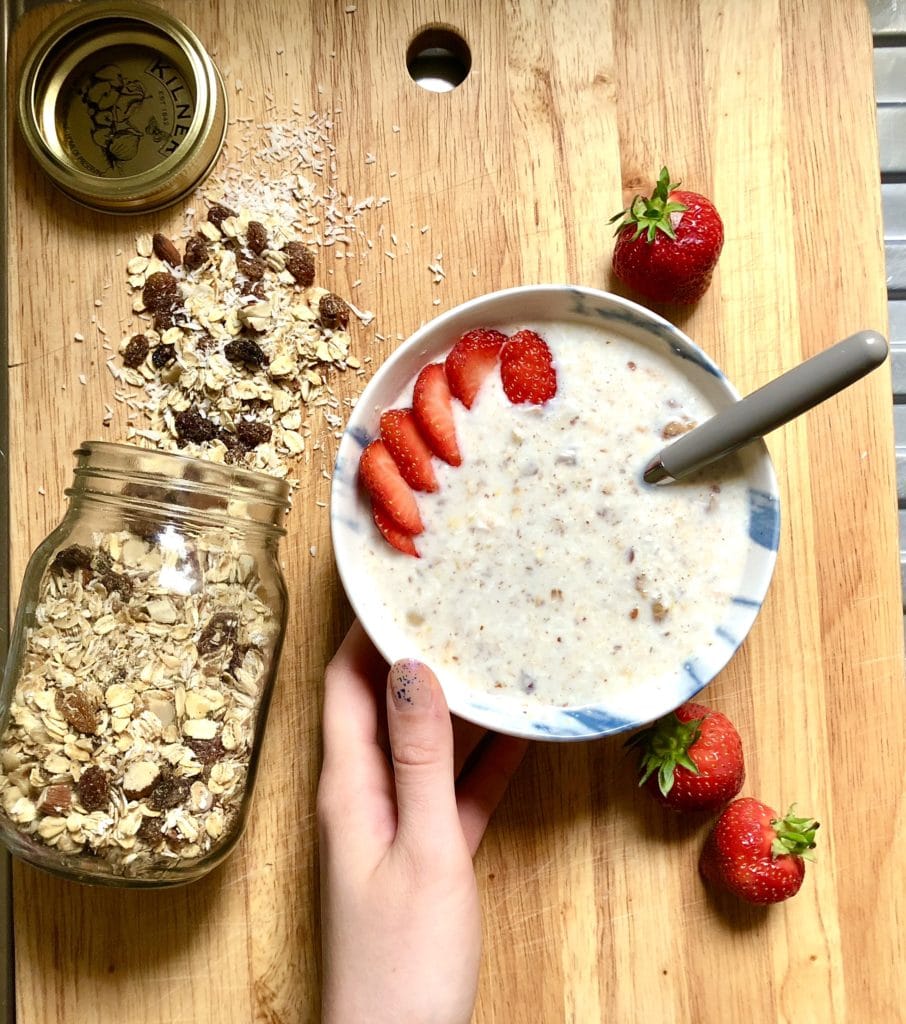 Settling in to a comfy new bed every night and being able to set up all our games consoles in the living room has been highly satisfying, but getting used to my new kitchen is taking some practice.
Having over-cooked and under-cooked a few things using the oven and the stove, Sean is probably starting to think I'm actually lying about being able to cook or bake anything! However, these things take time, and I'm beginning to truly appreciate just how different one oven can be from another. So far I've braved a few batches of brownies, a couple of cakes, and many of our evening meals in the oven. I've yet to tackle anything that requires mega-precise timing and temperature.
With a bit of free time on my hands (finally!) this week, I experimented with some 5 Mug Muesli. It's getting a little too warm for porridge in the mornings now, so I've been eating my oats in other ways.
Muesli, like granola, has a bit of a hippie reputation – associated with tree huggers and plant-eaters everywhere. Often we have a negative view of it due to the general shiteness of store bought mueslis too, with it either being atrociously expensive or akin to a sparse, dry bag of hamster food. It's a cereal that can be mega convenient though, due to its long lifespan, and it also makes for a nice healthy breakfast without a kale smoothie in sight.
I took inspiration for this 5 Mug Muesli from a "7 Cup Muesli" I saw on the BBC Good Food website. To make things even simpler, I've broken this recipe down into just 5 mugs' worth of stuff, mixed together and baked into a batch of your very own muesli mix. As long you have a carton of milk in the fridge to have with this, you've got breakfast sorted. I like to soak it for 10-15 minutes before eating it so the oats soften a little, but this is definitely not necessary.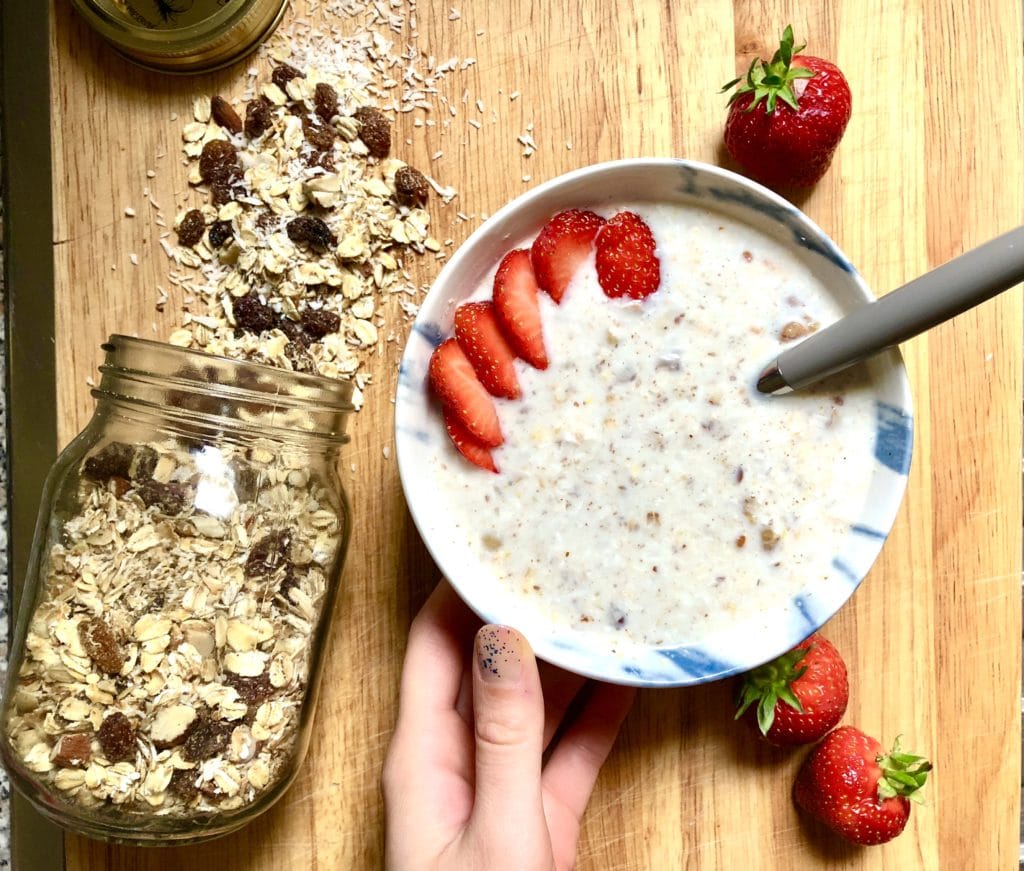 This recipe is wonderfully customisable. You can throw in whichever nuts or fruits you like, and feel free to use whatever kind of oats you find, whether they are a rolled, jumbo or quick-cook variety!
The size of the mug in this recipe isn't really too important, as the ratio will still be the same. So whether you are using a regular mug you'd use for tea or one of those horrific giant Sports Direct monstrosities, you'll still have a tasty muesli! Just maybe skip on the espresso cup, it might be a bit useless here…
To make this 5 Mug Muesli, simply scroll down and follow the recipe below!
5 Mug Muesli; a super simple, quick and easy Scandinavian-inspired cereal of oats, nuts, coconut and dried fruit to make ahead for those mornings when a splash of milk is all you can muster!
Ingredients
2 mugs of rolled oats
1 mug of chopped nuts (I like hazelnuts, almonds or walnuts)
1 mug of desiccated/shredded coconut, or extra nuts or fruit if you don't like coconut
1 mug of dried fruit (I use raisins or dates)
Pinch of salt
Any flavourings you like such as vanilla, cinnamon, nutmeg or ginger
Instructions
Preheat your oven - 180 C / 160 C fan / 350 F / gas mark 4 – and look out 1-2 large baking trays.
In a large bowl, mix together the oats, nuts, coconut and salt. Add in any other flavourings you would like.
Spread the mixture out flat onto your baking tray(s).
Bake in the preheated oven for 10-13 minutes until the muesli is gently toasted and the smell begins to fill your kitchen.
Remove from oven and allow to cool completely on the baking tray(s).
Stir in dried fruit.
Store in an airtight container until ready to serve with some cold milk or yoghurt and a drizzle of honey.
Enjoy!
Notes
BE A MAVERICK: if you like your muesli a little sweeter, chuck a few spoonfuls of honey or maple syrup into the mixture before baking!
http://maverickbaking.com/5-mug-muesli/
If you liked this 5 Mug Muesli, you may also enjoy…