Raw, handmade healthy chocolate with a unique texture and a great array of flavours, this is my honest Ailey Mae's Raw Chocolate Review, with a giveaway too!
I know what you're thinking.
You're thinking, "raw chocolate??" Because that's exactly what I thought. Until I tasted these bars, that is.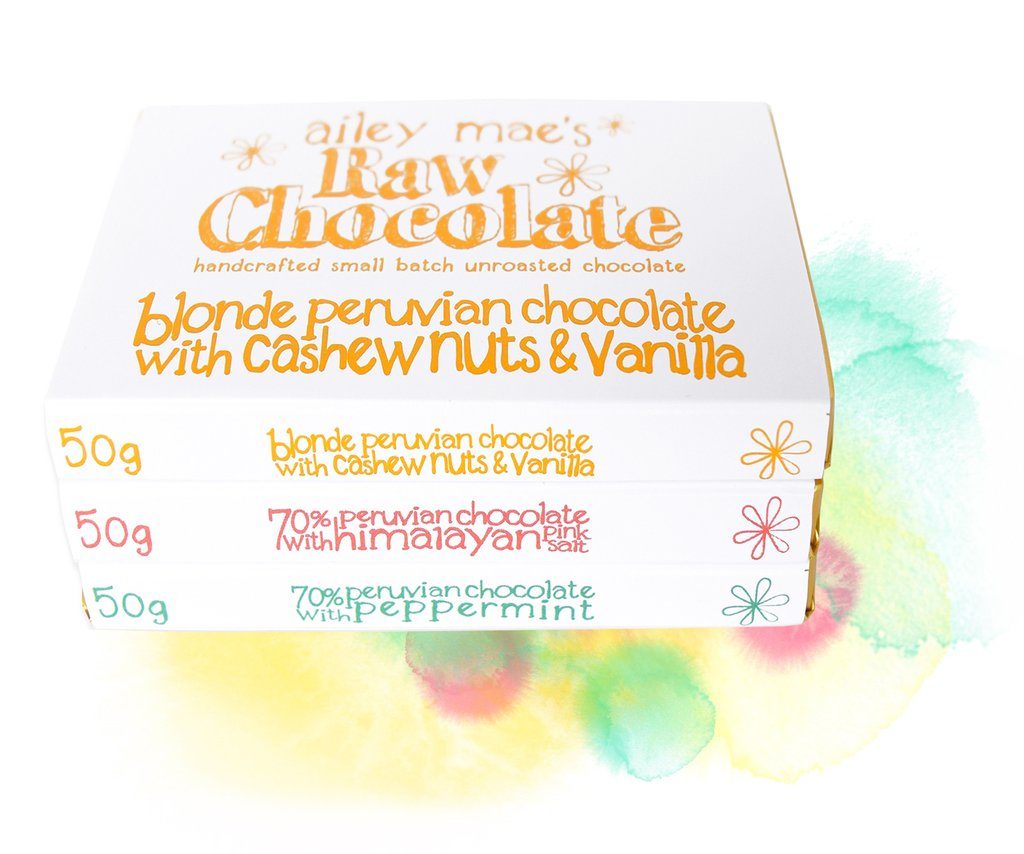 Ailey Mae's Raw Chocolate are a small company based in Berwick in the UK, producing unique and delightful little chocolate treats. I'd come across the bars in vegan café's and online but had never reached out to try one until recently.
I decided that I'd order a bundle of five different bars, to get a good idea of the range of flavours that this little company has to offer, and review them all. I love supporting small businesses, and if it means I get to eat lots of chocolate, then I love it even more!
I've published a video review from my YouTube channel of these bars that you can find below,
keep scrolling for giveaway details

!

I was very excited when the package arrived in the post. Five little 50g chocolate bars were nestled inside, all boasting different but very exciting flavours.

All of the bars are free of dairy, gluten, additives, and refined sugar, meaning they fit into just about everyone's diet! The bars are all made with dark chocolate, 70% cocoa solids imported from Peru. The whole ethos behind the "raw" chocolate is that when heated, many of the nutrients and flavour notes from cocoa can be lost. This means that Ailey Mae's Raw Chocolate is basically a health food, and it tastes bloody delicious!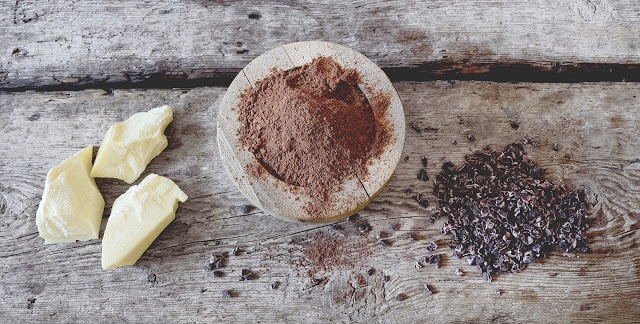 Ailey Mae's Raw Chocolate comes in a great range of flavours:
·         70% Peruvian Dark
·         Cashew Blonde
·         Orange & Brazil Nut
·         Peppermint
·         Mango
·         Sour Cherries
·         Himalayan Pink Salt
·         Roasted Hazelnut
·         Raspberry & Salted Caramel
·         Coconut Cardamom & Lime
·         Maple Pecan
·         Steampunk Coffee
·         Peanut Butter
I opted for the following five flavours:
·         Coconut Cardamom & Lime
·         Peanut Butter
·         Steampunk Coffee
·         Orange & Brazil Nut
·         Cashew Blonde
Each bar in wrapped Willy-Wonka style, in a lovely gold wrapper, with a little paper sheath displaying the flavour, ingredients and origin. The packaging is nothing short of beautiful, and really tempts you to pick it up and investigate, even if you're not a chocolate fiend like me!
The immediate discovery when biting into these bars is their unique texture. Unlike regular chocolate bars, the raw state of these bars means that they are soft and creamy, almost like bars of chocolate fudge! I didn't expect this but was very pleasantly surprised!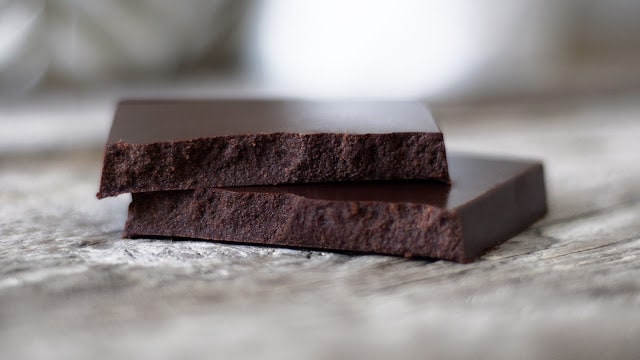 I'll go into a little more detail about each of the flavours I tried…
Coconut Cardamom and Lime: this one was lovely and coconutty, it just melted on the tongue to make way for that nice buttery coconut flavour. The chewy coconut shreds throughout made for a great texture balance. Personally, a little less cardamom and a little more lime would have made this bar AMAZING but that's just my taste! I'd still eat it again happily!
Peanut Butter: imagine a dark chocolate Reese's Peanut Butter Cup, but made more ethically, more lovingly and with less refined ingredients. That is this bar. It's an intense fudgy dark chocolate, filled with just the right amount of lightly salty, smooth peanut butter. I could eat this bar every damn day.
Steampunk Coffee: not for the faint-hearted! My coffee mad dad and myself tasted this one, and our first reaction was WOW because it is certainly strong. A very rich cocoa and espresso flavour comes through, but does fade into chocolate's familiar creamy sweetness. You probably couldn't eat a lot of this flavour in one sitting, but if you need a chocolate hit, it's a real winner!
Cashew Blonde: this bar was even softer than the others, a real buttery melting fudge texture. "Blonde" is the cute name that Ailey Mae gives to their version of white chocolate. While this one wasn't my favourite of the bunch, it still boasted a gentle and creamy vanilla flavour, like any good white chocolate!
Orange and Brazil Nut: essentially a crunchy, dark version of a Terry's Chocolate Orange. The orange oil imparts the most deliciously sweet and nostalgic chocolate-orange flavour, and really works well with the toasty Brazil nuts and creamy dark chocolate. I savoured every last bite of this one.
The bars obviously aren't the cheapest, but certainly aren't unreasonably expensive either, a bundle of five bars set me back £16. This means each bar is around £3, which is more than fair when you know that you're purchasing lovingly handmade chocolate with natural ethically sourced ingredients. Not to mention it supports a great little British company and their families too!
I will very happily order another bundle of Ailey Mae's Raw Chocolate bars soon, and I'd recommend them to anyone who loves dark chocolate, or likes to try out new sweet flavours. If you're a vegan, follow a raw diet, or are trying to cut out refined sugar (I don't always agree with that last point, but each to their own!) then you should definitely look into trying these delicious chocolate bars!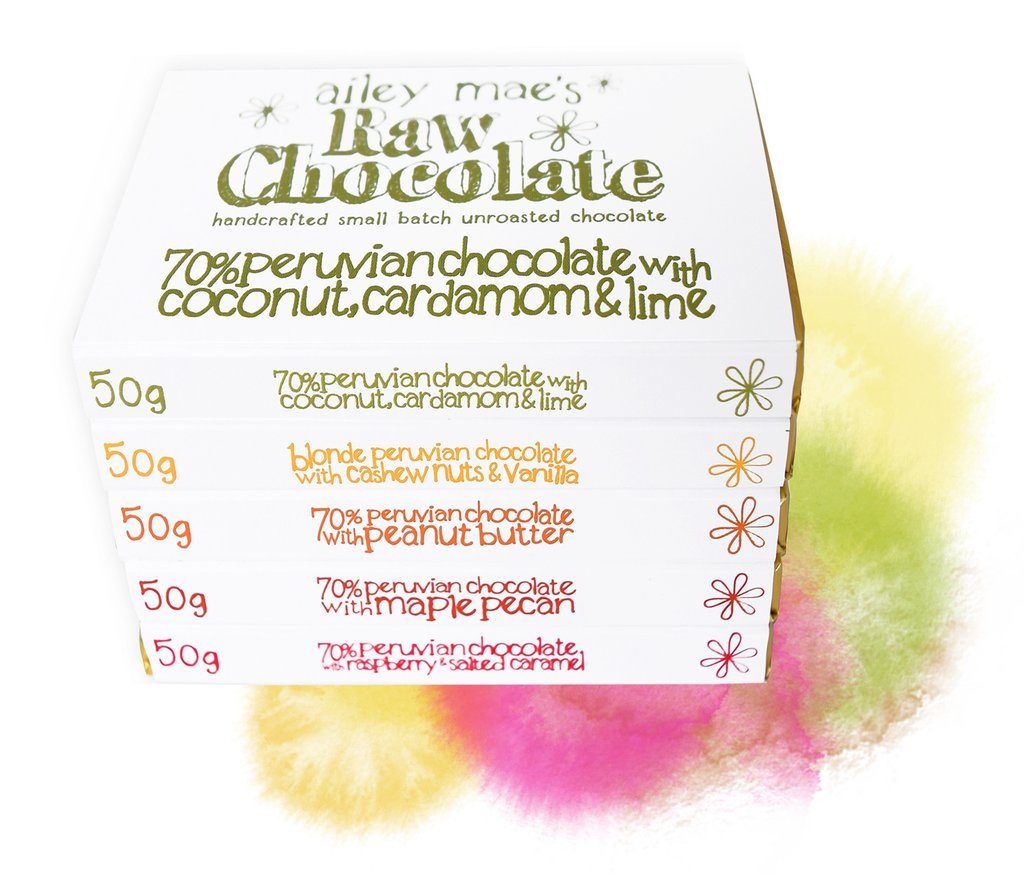 Ailey Mae's Raw Chocolate 5 bar bundle giveaway!
So as you may have gathered from the title of this post and from the video, if you watched it, I'm holding a giveaway! This giveaway gives you all the chance to win a 5 bar bundle of Ailey Mae's Raw Chocolate, in a mix of flavours.
All you need to do is leave your full name with an email address or link to a social media site I can contact you through in the comments below OR send me an email letting me know you'd like to enter the giveaway.
I will be picking the winner at random, 7 days from now on 02/05/2017, and I will then help you get in touch with Ailey Mae to receive your bundle of Ailey Mae's Raw Chocolate! So exciting!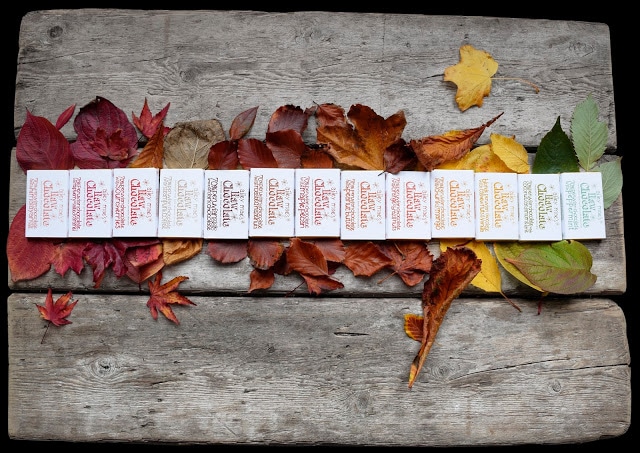 That about wraps up my Ailey Mae's Raw Chocolate review and giveaway opportunity. I really enjoyed this one, and I'll be looking out for more great companies and products to review soon, both on here and on my YouTube channel.
You can follow my daily foodie activities on my social media accounts too.
Thank you for reading, good luck if you enter the giveaway, and I'll see you again very soon for more edible fun!
[Full credit to Ailey Mae's Raw Chocolate for the photos!]