This little Scottish patisserie made it all the way to the Bake Off Creme de la Creme! Is the Almondine afternoon tea experience all it's cracked up to be?
What it is: Almondine, a beautiful little macaron and patisserie shop offering fine French-inspired desserts, coffees, lunches and elegant afternoon teas.
Where it is: Thistle Street, toward the west end of Aberdeen.
Score: 10/10. Pretty surroundings, friendly and attentive staff and a divine selection of treats.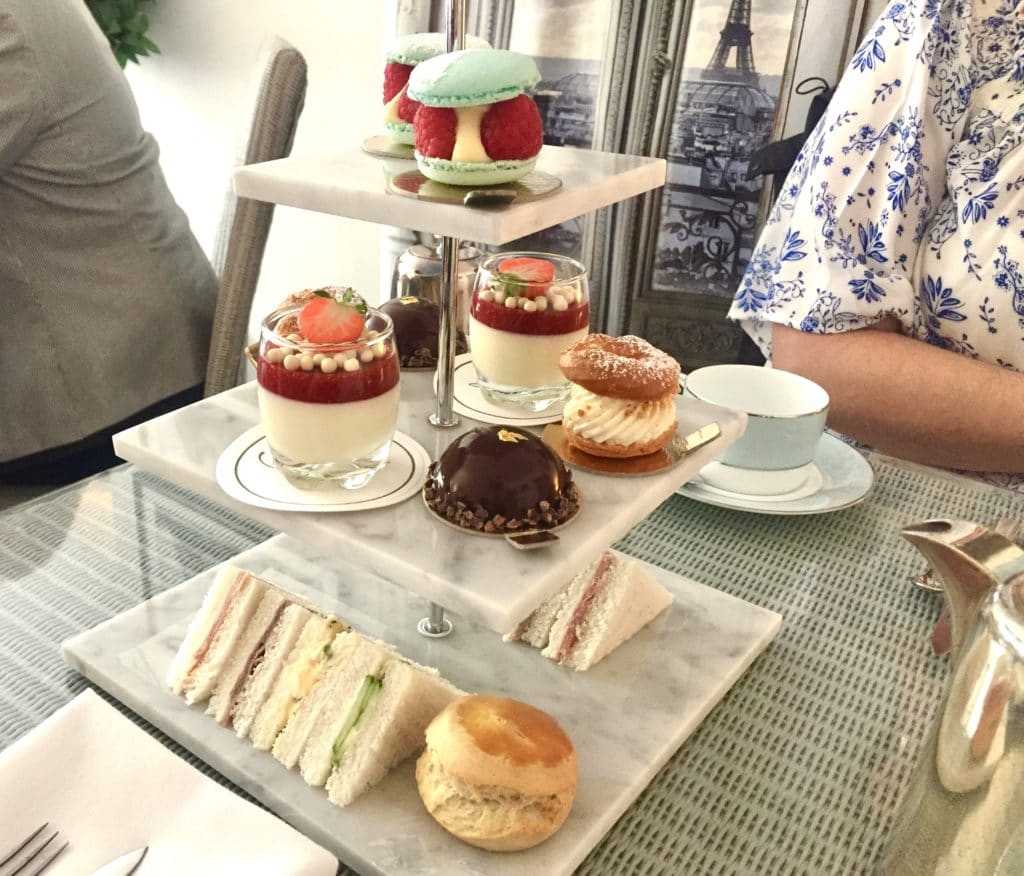 A grey and soggy Friday afternoon found myself and Mother Maverick headed for a fancy afternoon at Almondine. Being the polished riff raff that we are, we don't often end up in such fine establishments. However, we were warmly welcomed and treated to a couple of hours of sheer delight.
Having only previously visited Almondine to purchase macarons for special occasions, or to purchase the voucher for this afternoon as a Mother's Day gift, I wasn't entirely sure what to expect from the Almondine afternoon tea.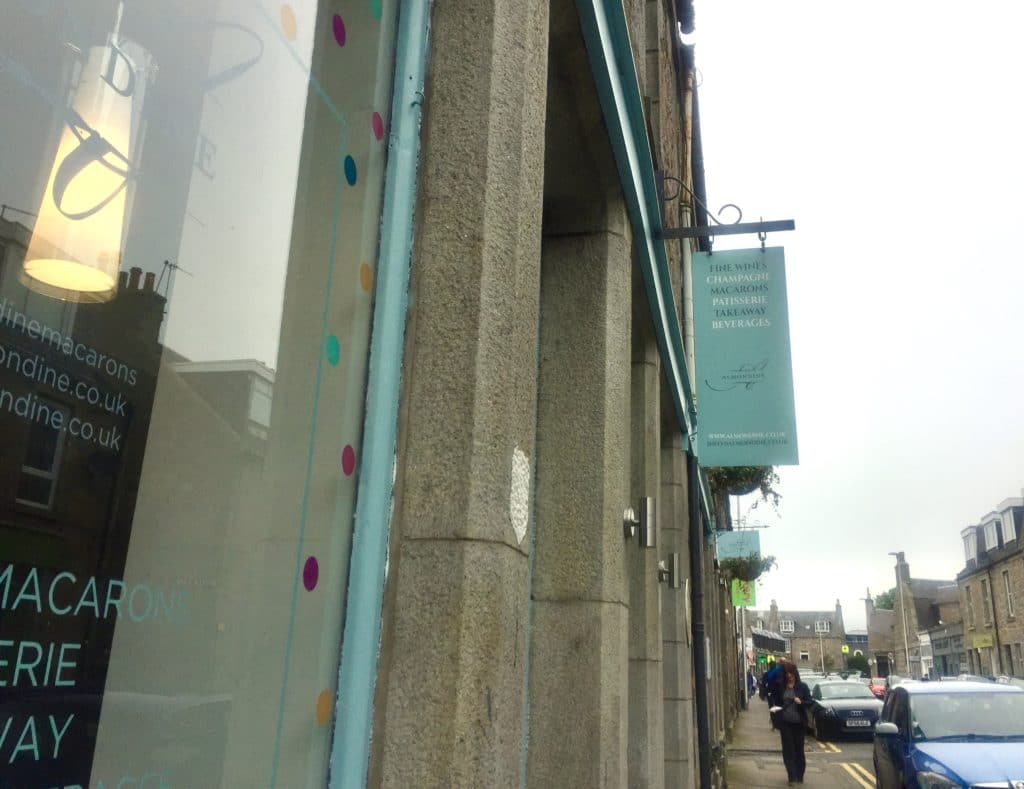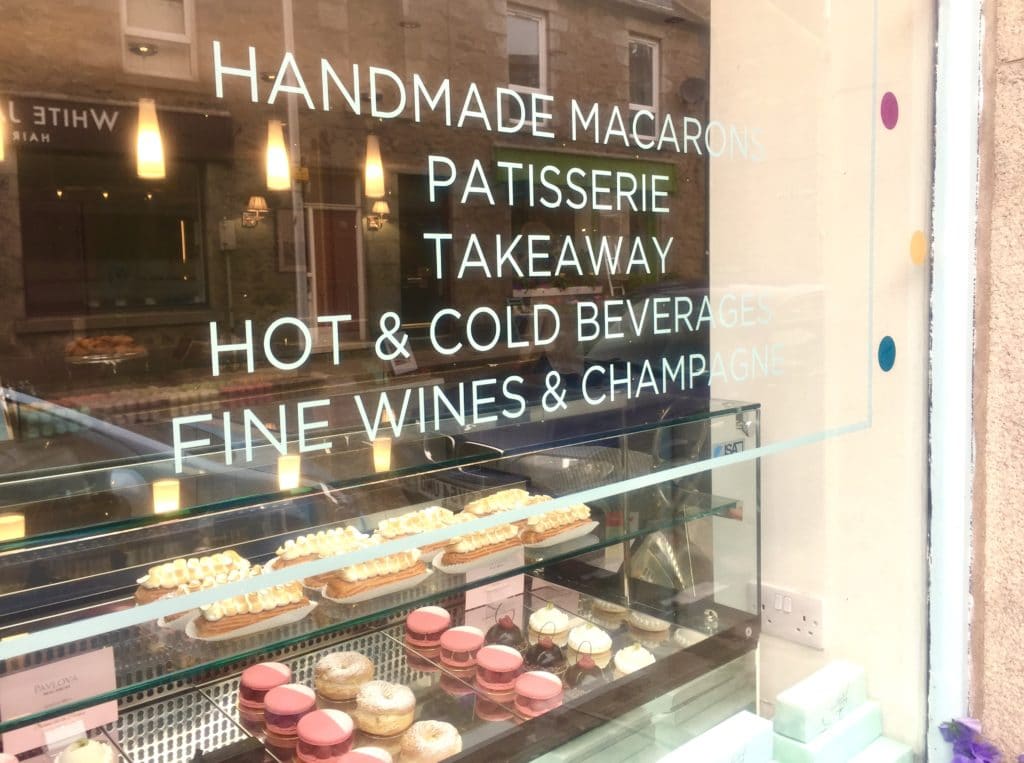 Luckily, as the ladies from the shop made it all the way to star on the Great British Bake Off Creme de la Creme series on BBC, we got a chance to see just how incredible their dessert skills were. While they didn't make it all the way to the finish line, they showed off some impressive sweet stuff, giving us an insight into how grand an afternoon in rainy Aberdeen could be.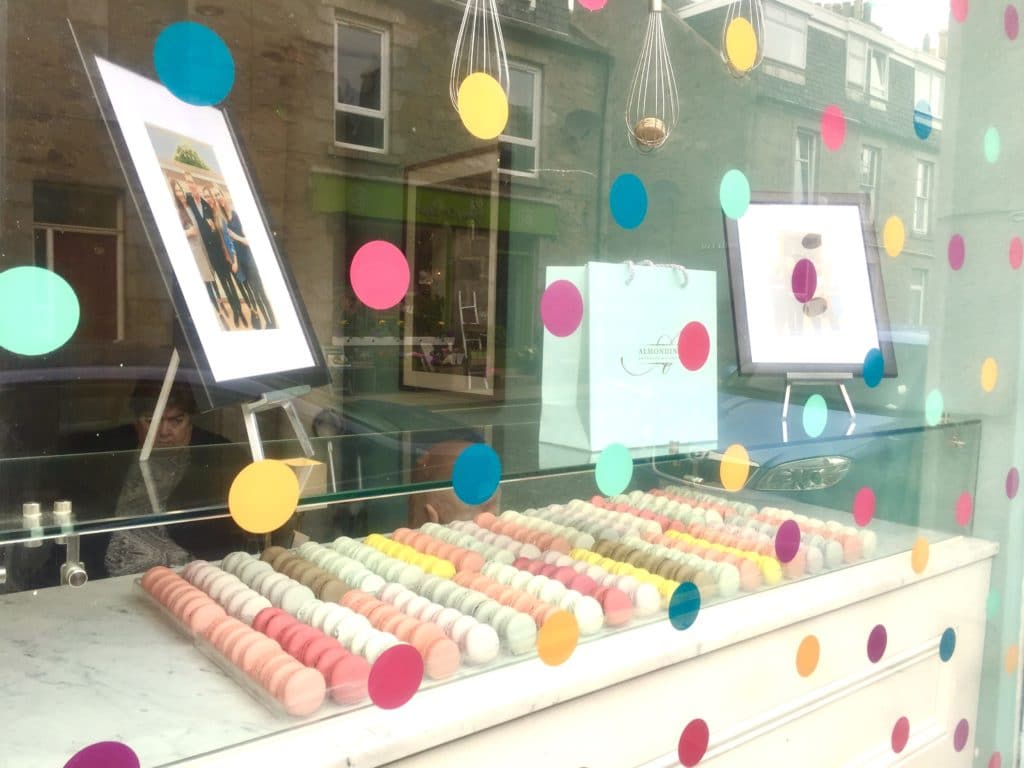 I snapped a few quick photos of the outside of the shop, sadly dulled by the murky weather, before we huddled inside for warmth and of course, tea. We were greeted and escorted to a lovely little table, already laid beautifully with elegant tableware.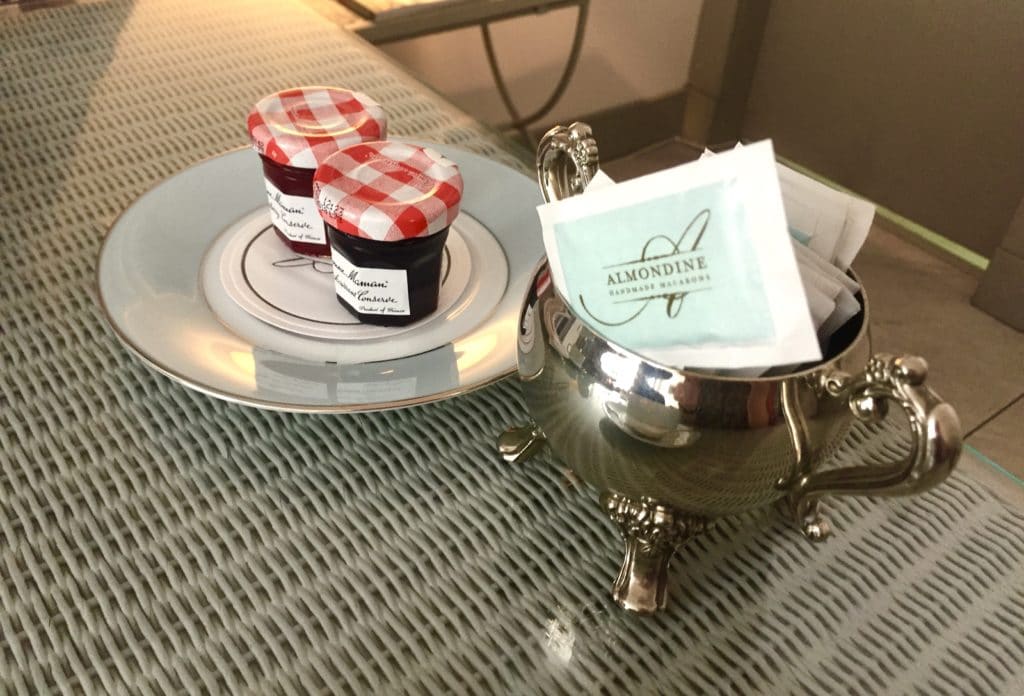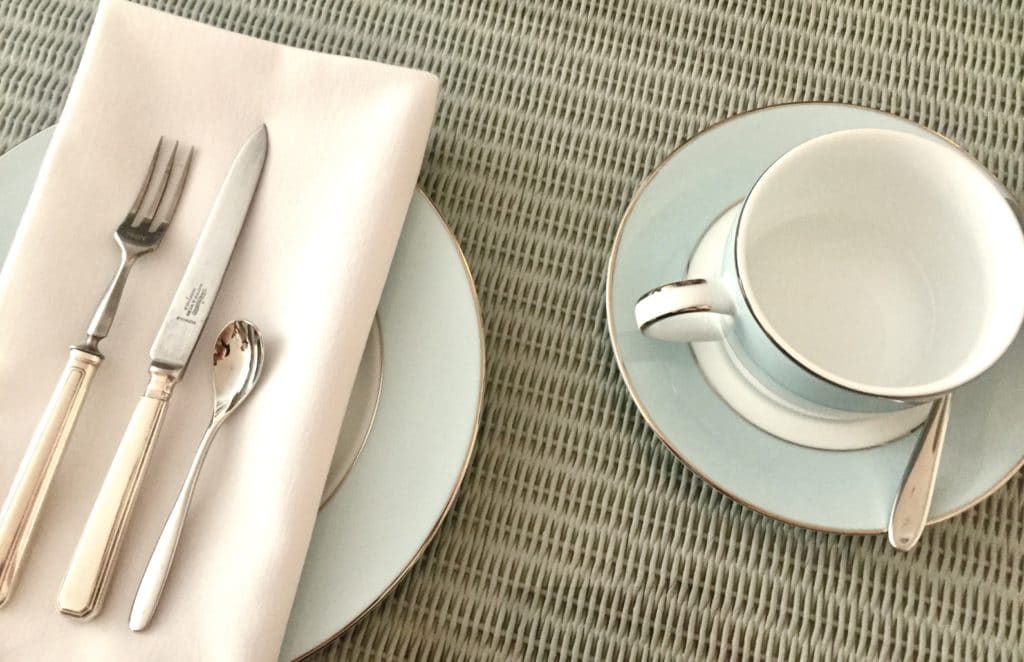 Our tea arrived promptly, regular English breakfast for Mother Maverick, and peppermint for myself. I promise I'm not a total hippy, I just have digestion issues, and a hankering for minty flavour.
Mother cooed over the beautiful crockery and silverware, in between generic rants about our how our days had progressed so far. I'll save my tales of the stinky old lady on the bus for another post.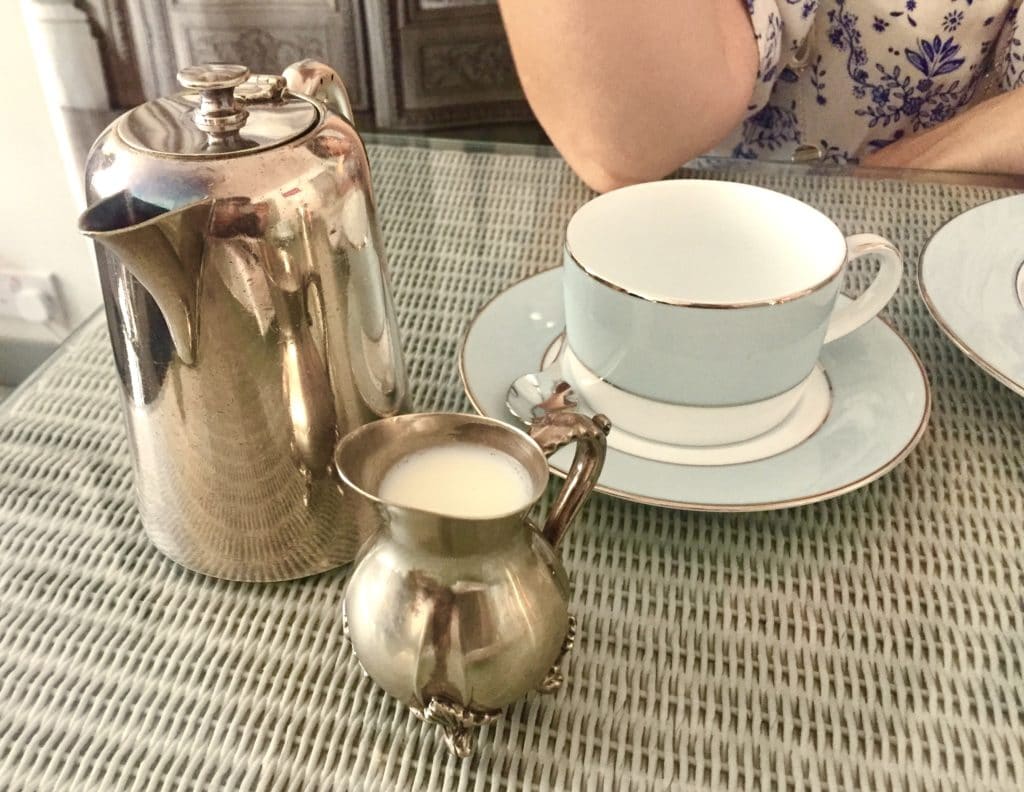 Conversation ended abruptly when the utterly beautiful stand of our afternoon tea delights arrived at the table. Our eyes widened like those of a cat in range of roast chicken. We knew we were being treated to something very special.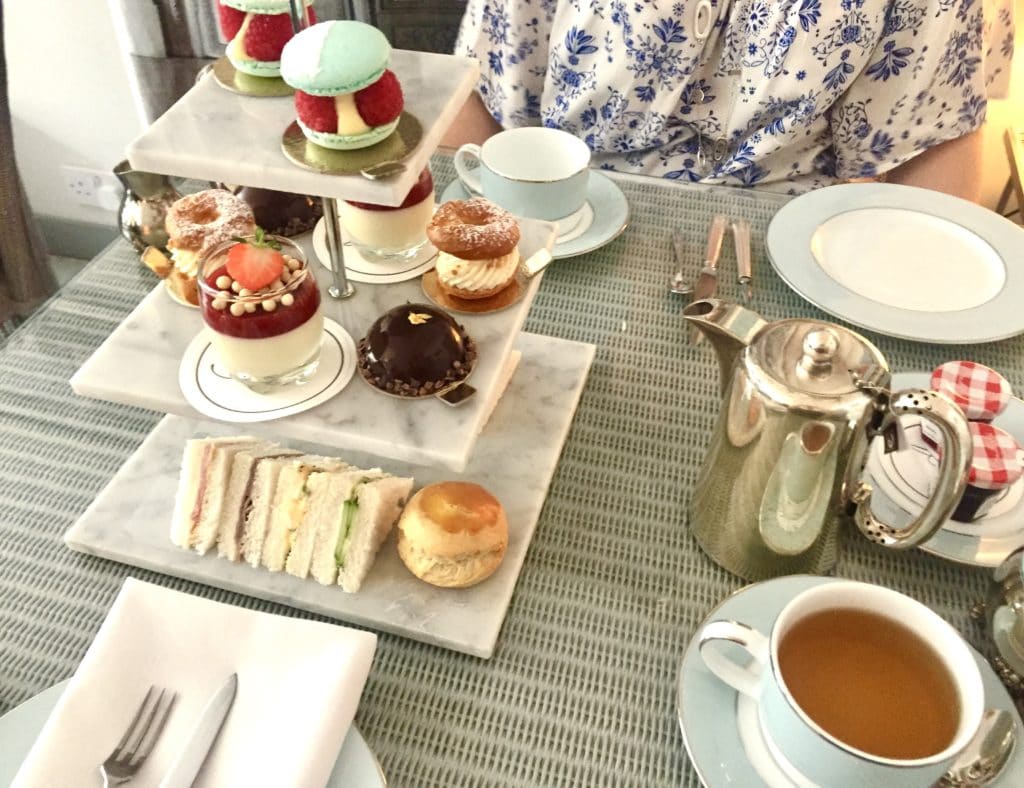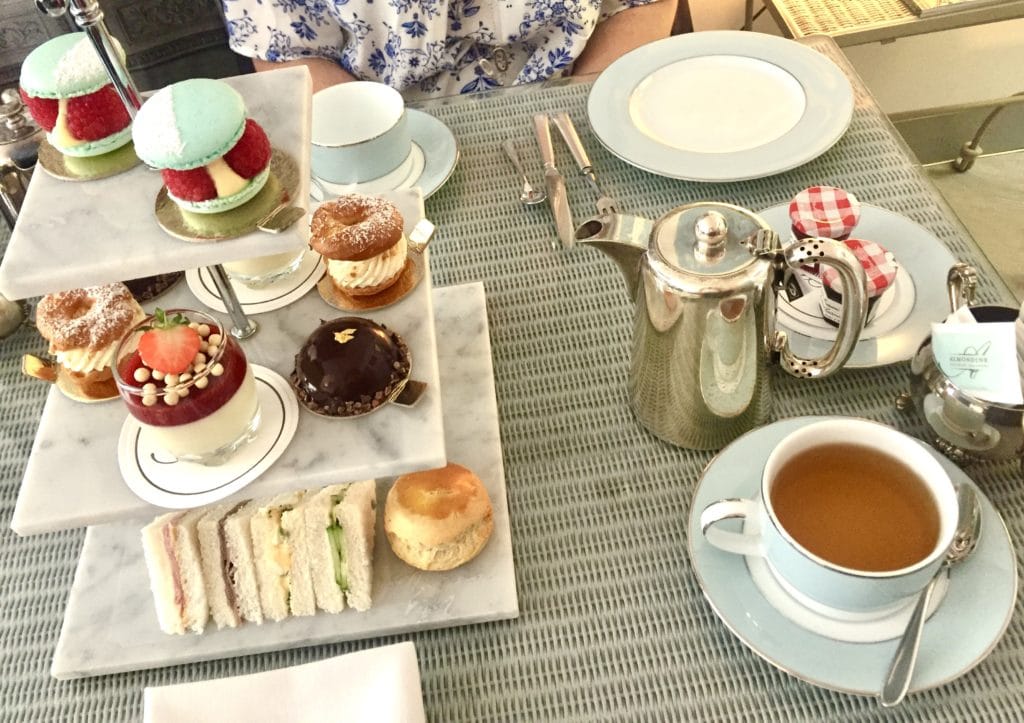 The stand carried on it a drool-worthy selection of nibbles for us to devour…I mean eat. The bottom shelf held neat sandwiches made with the softest of fresh white bread, along with perfectly miniature scones, each with light buttery interiors and gently crisp outsides.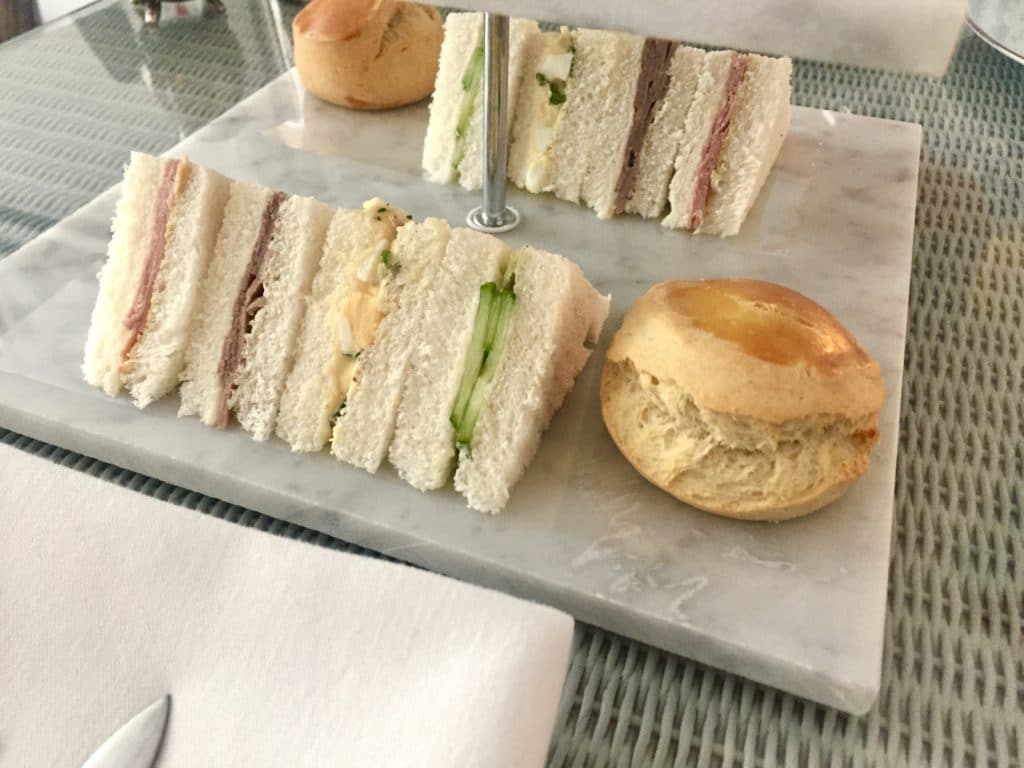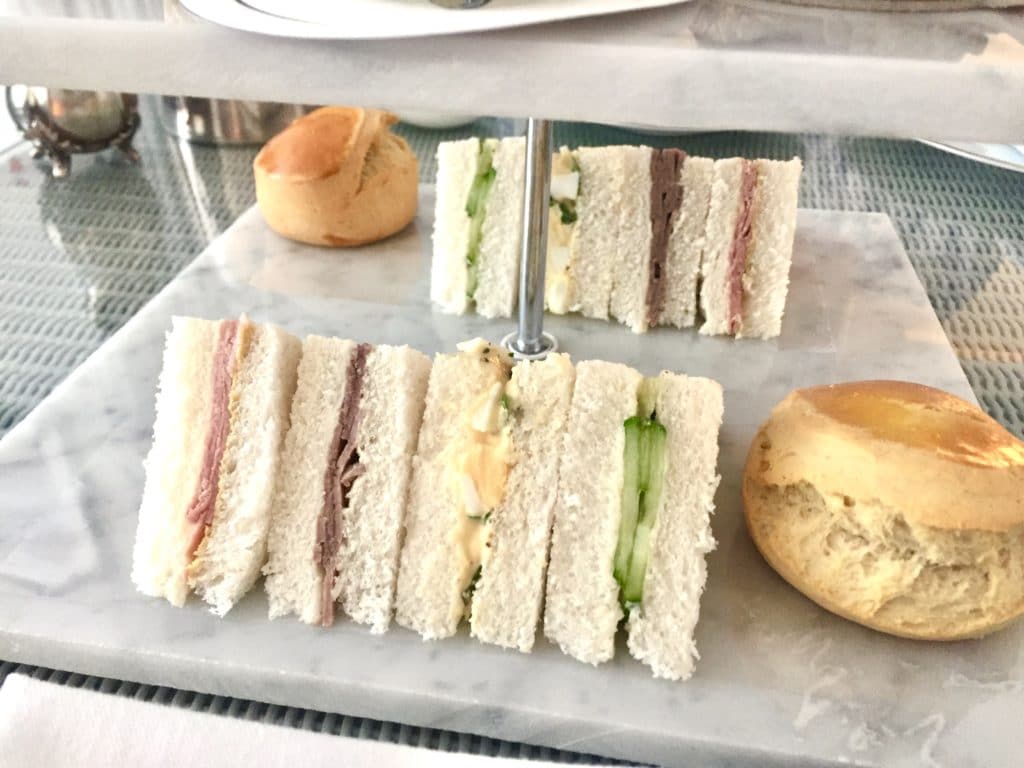 We hastily ate our sandwiches in anticipation of our incredible desserts, but we very much enjoyed them. One sandwich each of roast beef, ham and mustard, cucumber and cream cheese, and egg mayonnaise with cress. All classic choices that gave a great range of flavours, and beautifully seasoned too. No soggy supermarket fare here!
Slicing open our scones to reveal their pillowy insides filled us both with glee, we look at each other like children that managed to snaffle cookies from a forbidden jar. We spread our scones with the provided freshly whipped cream, and the contents of the miniature Bon Maman fruit preserves. Taking care in each bite so as to savour the experience, we oohed and ahhed over these scones for what felt like half an hour. So perfectly crisp and light at the same time, and such an ideal size for sampling with all the other treats in our Almondine afternoon tea.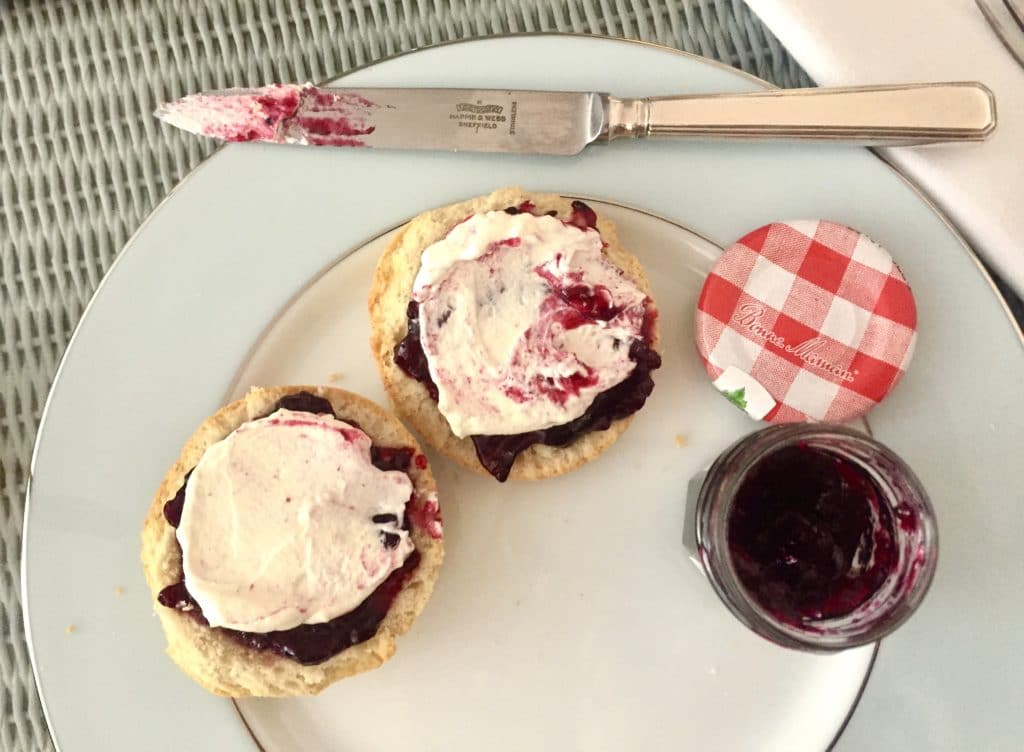 We waited no longer than the time it took to swallow another mouthful of tea before tackling the middle shelf. This shelf held a hazelnut cream-filled choux bun (or Paris Brest), a glass full of white chocolate custard with strawberry and crisp white chocolate rice, and a stunning chocolate dome concealing a divine filling.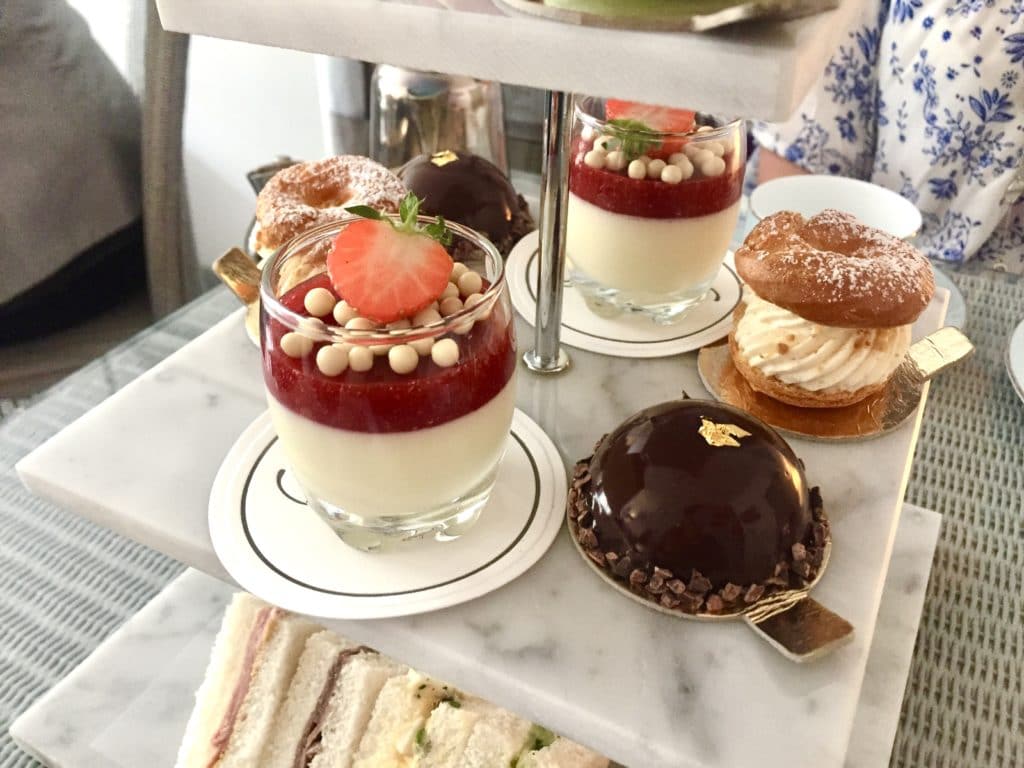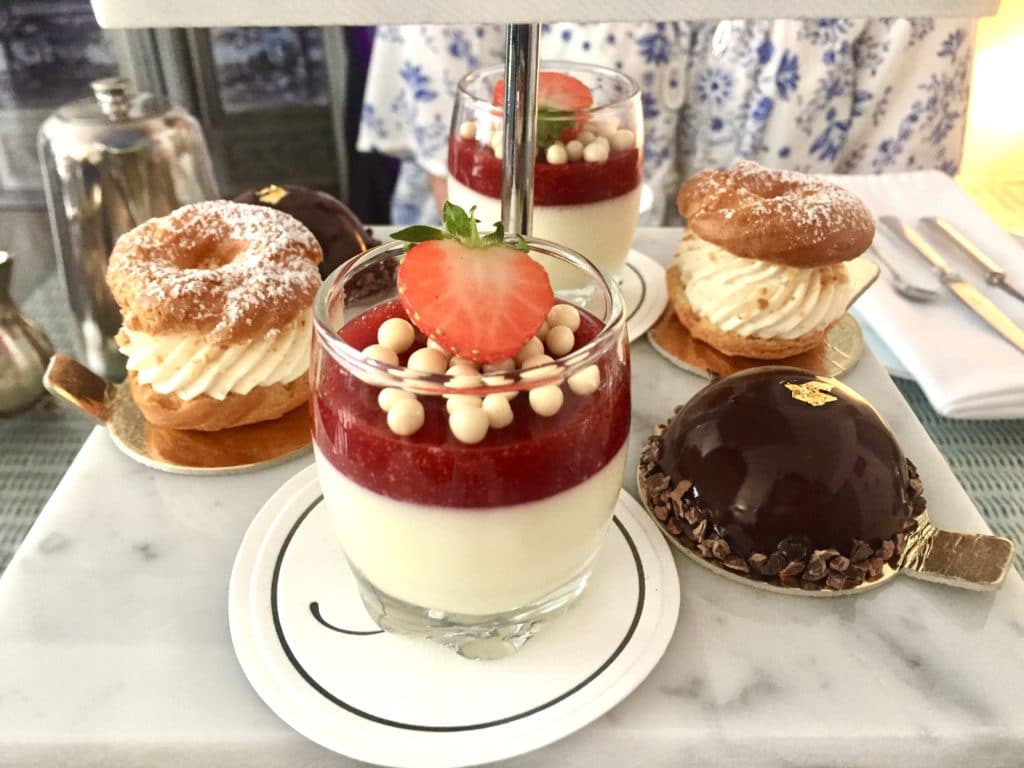 I quickly scoffed the Paris Brest, greatly enjoying the wonderfully crisp choux pastry, and licking every morsel of the delicate hazelnut flavoured cream from the pastry, my lips, my fingers, the table, the carpet, you get the idea. It was damn good.
While the white chocolate custard with the strawberry gel and crispy white chocolate nibbles was delicious, and probably Maverick Mother's favourite, it wasn't top of my list. This didn't stop me from grinning and sighing with glee as I took my first mouthful.
Finally we took on the chocolate dome. A chocolate glaze so perfect that my own silly photo-taking reflection shone back at me. A chocolate mousse that was both deeply rich and impossibly light at the same time. A pocket of dark chocolate ganache and well-balanced salted caramel. In summary, this chocolate dessert was one of the best things I've ever eaten, and I fully respected Mother's decision to literally wipe the plate clean with her fork. Unreal.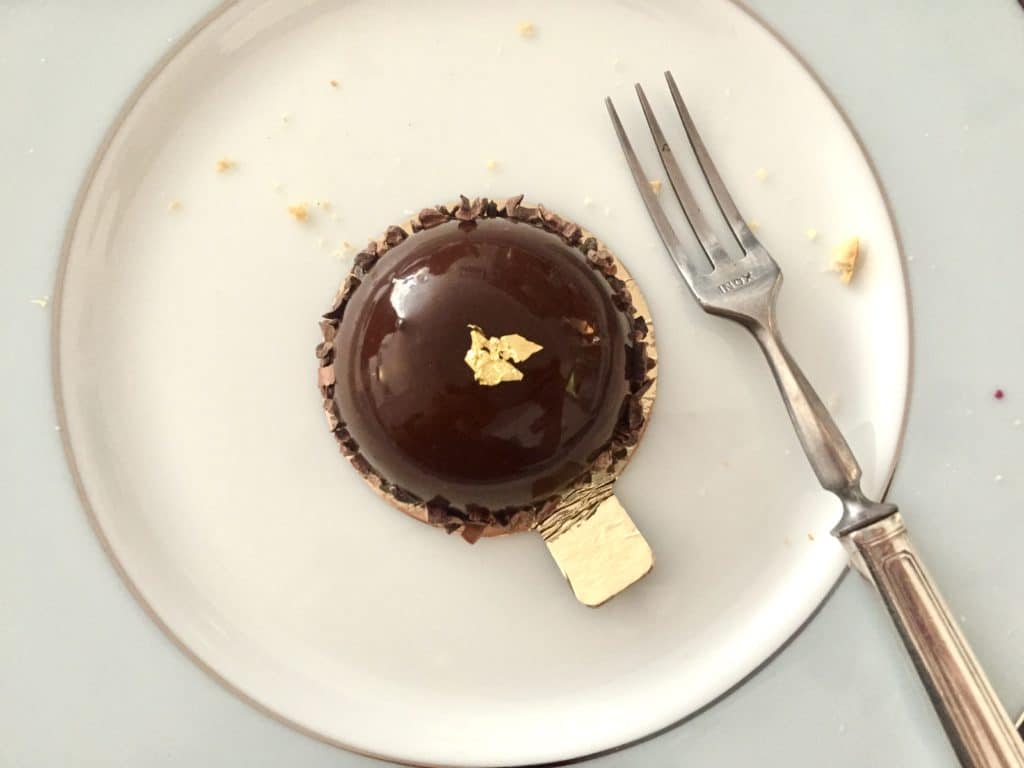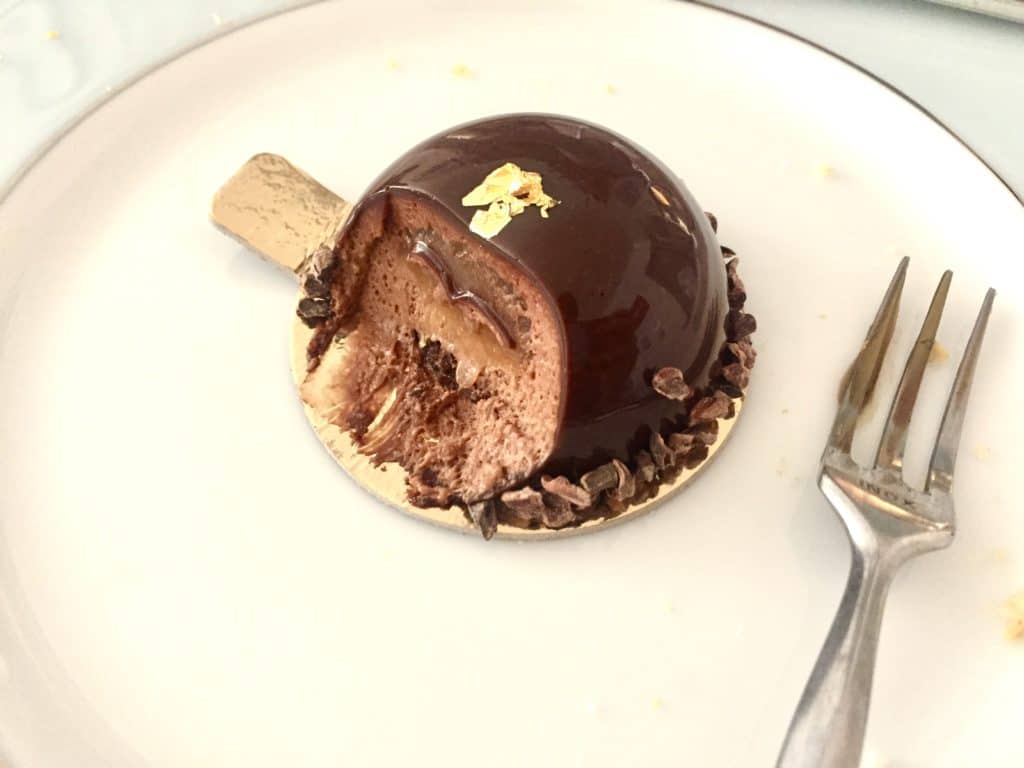 Surprisingly not yet spoiled of the sweetness, the final treat was the vanilla macaron on the top shelf. This took merely two bites to polish off, but demanded much more attention. Perfectly formed minty-blue vanilla macaron shells sandwiching tangy fresh raspberries and luxurious vanilla creme patissiere (a thickened chilled vanilla custard). This was like a queen among macarons.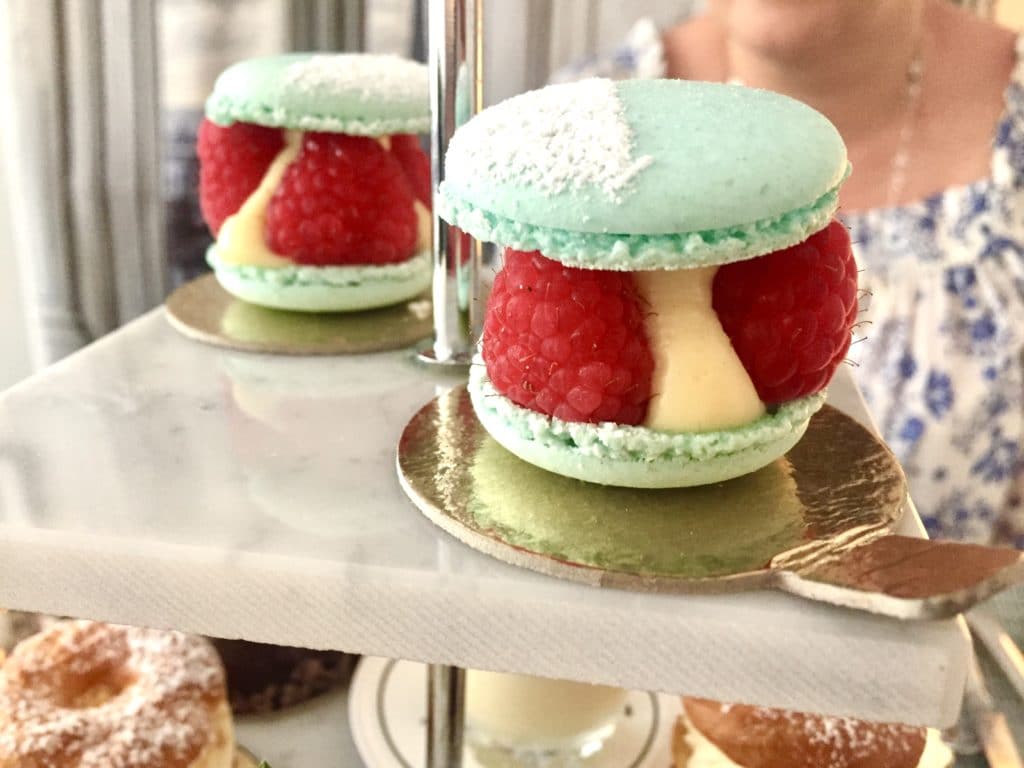 We relaxed into our seats, having devoured every last crumb of our Almondine afternoon tea. We both agreed over the last mouthfuls of tea that this was an undoubtedly incredible experience that we would happily revisit.
The Almondine afternoon tea selection is thoughtfully arranged, lovingly crafted, and so easy to enjoy. An ideal size and quantity to finish without feeling sickened with sugar, and allows the opportunity to sample a wonderful array of desserts that one wouldn't normally be able to!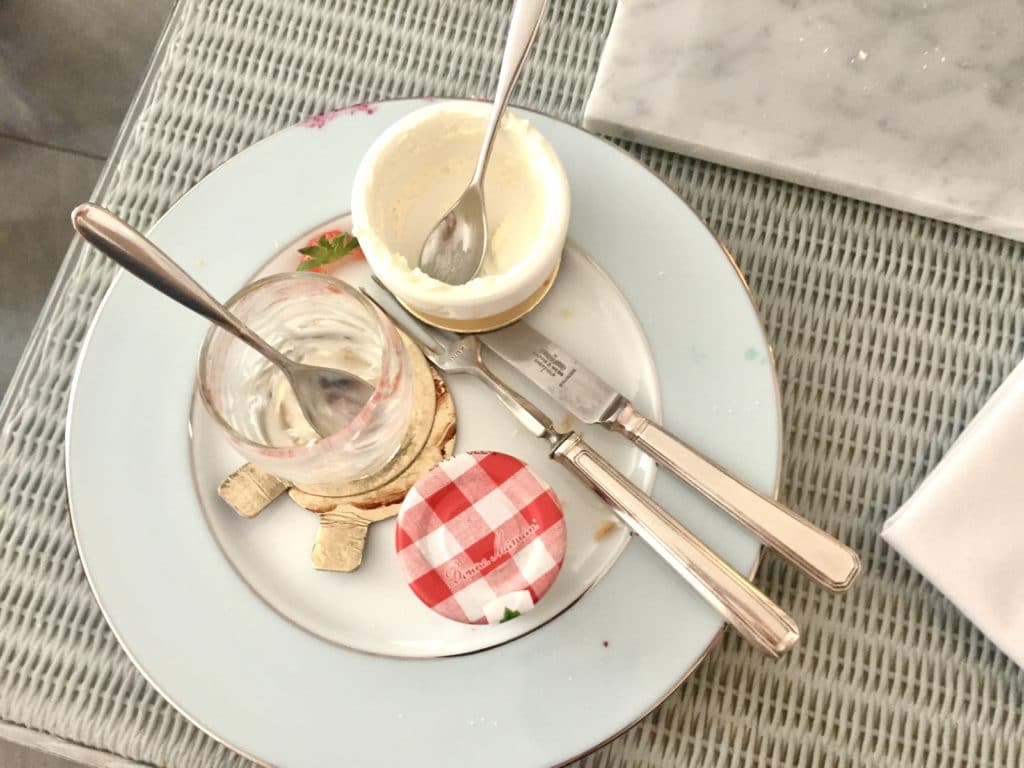 We will definitely be back. The price of £45 for two people does make this more of a special occasion venue, but the price is definitely justifiable considering the workload that goes into creating such a beautiful experience, and the friendly service that comes with it.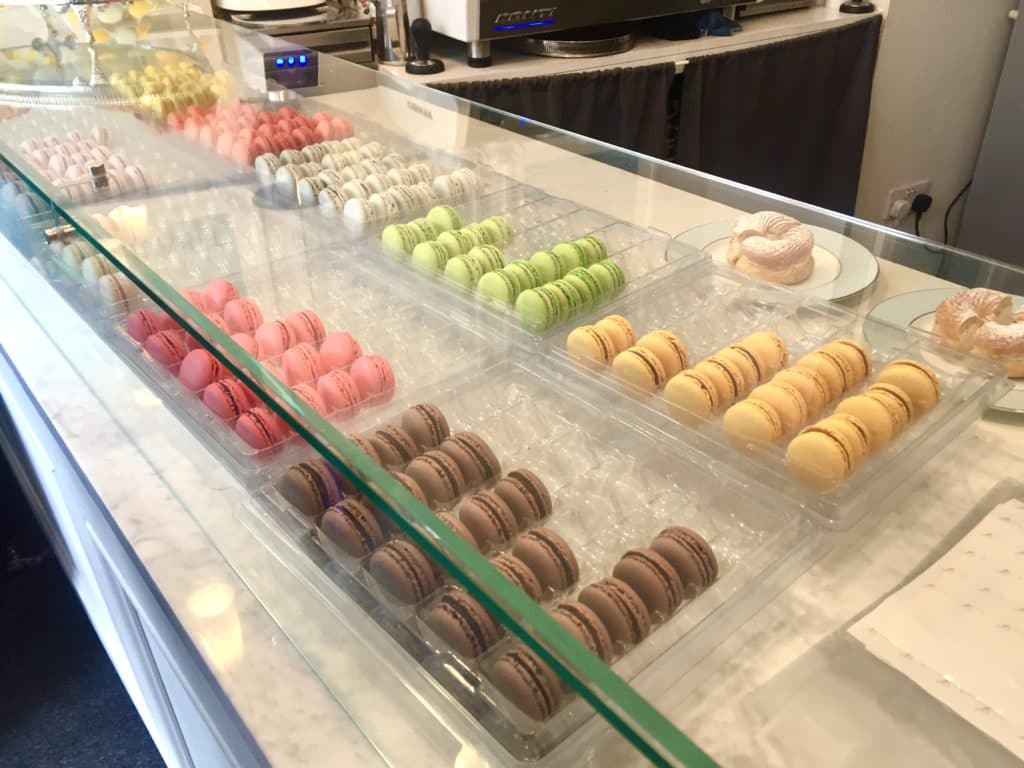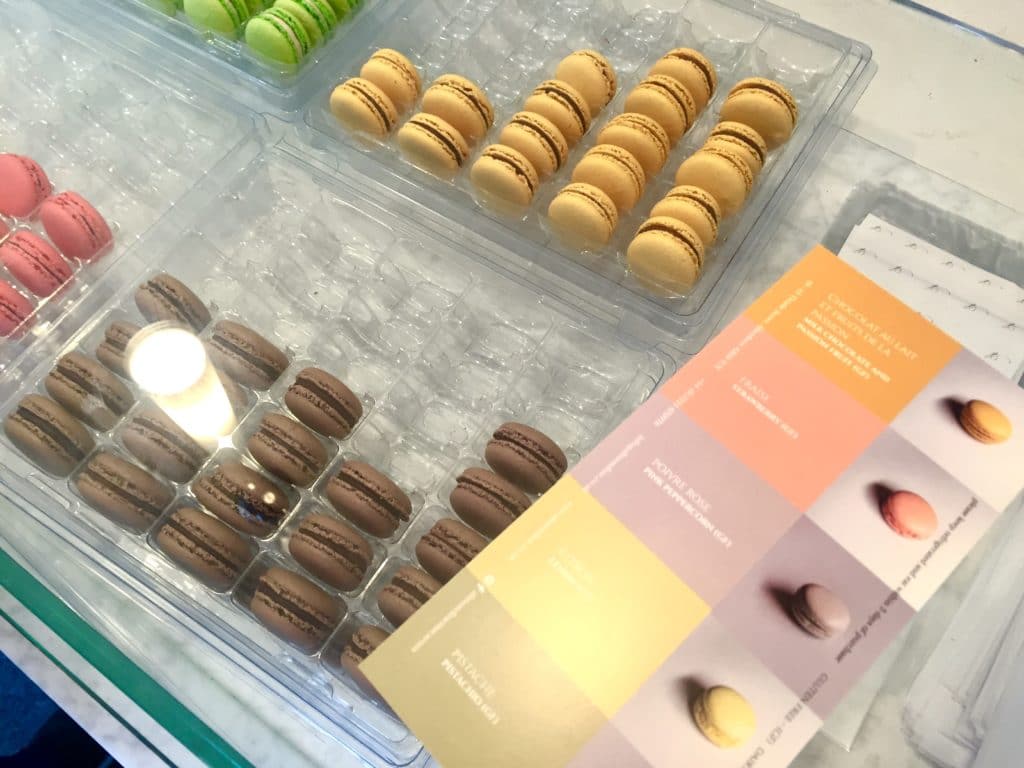 Naturally, we bought some macarons on the way out. It would be rude not to.
I'll be back, Almondine. Get your coffee machine and croissant dough ready.
That's all for today's review of the Almondine afternoon tea. I know this post was a little lengthy,  especially compared to my Adelphi Kitchen or Rye & Soda reviews, but I felt the effort that the girls went to in creating our experience deserved a detailed review!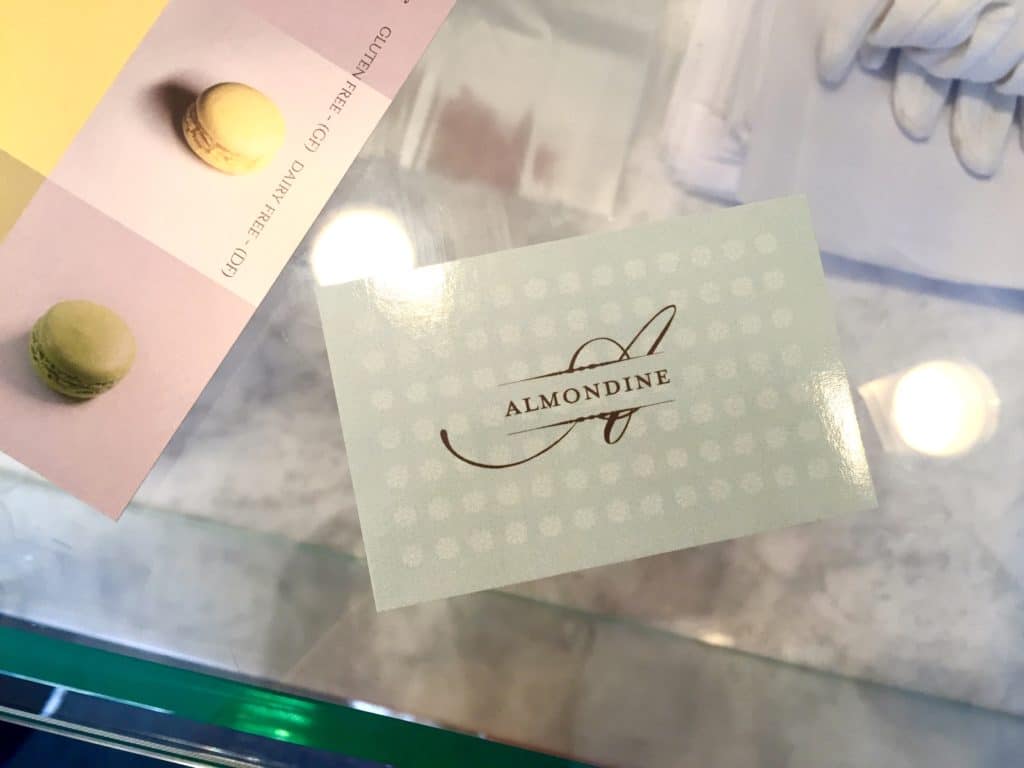 I'd thoroughly recommend the Almondine afternoon tea. Whether it be for Mother's Day, a birthday, a fancy catch up, or just to treat yourself!
I hope you get a chance to try it, or at least that you enjoyed reading how fucking delighted we were. See you soon!
You can follow me on various social media, or subscribe to me on YouTube here. Or you can sign up to my mailing list for fresh recipes before anyone else sees them, in the sidebar to the right (desktop), or by scrolling right to the bottom of the web page (mobile). Thanks again!