Bailey's Chocolate Freakshake Cake; three towering layers of Bailey's soaked chocolate cake with fluffy Bailey's frosting, chocolate cookie crumbs, brownies, whipped cream and more!
Are you competitive?
Personally, I'm a fiercely competitive person. I'm the kind that would stay up all night to beat a high score or refuse to take up a new hobby unless I know I'll be good at it.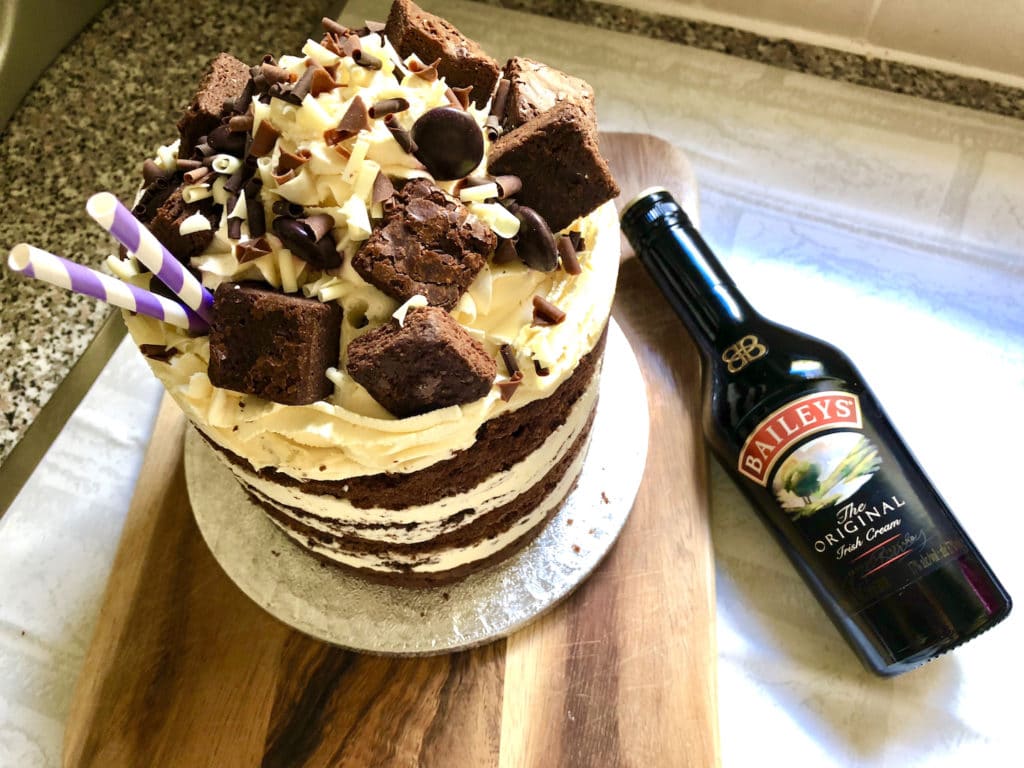 It's not the best trait to have, but it does come in handy when you're busy and need a kick up the arse to create and write up your next recipe post.
While doing our weekly shop in Asda, Sean and I came across this
Bailey's Freakshake Cake
. Unfamiliar with the Freakshake? It is essentially a giant, super-indulgent milkshake often laden with sauces, sprinkles and whole doughnuts or slices of cake skewered on top.
I was immediately frustrated with how un-Freakshake this imposter cake looked, this could call itself milkshake-inspired perhaps, but there wasn't nearly enough going on inside or on top to call itself a FREAKshake. Also infuriating was the small quantity of Bailey's listed in the cake's ingredients (we want booze pls), and the fact they were charging £12 for this glorified cheap chocolate cake. The only obvious solution? Spend the majority of my day off baking and constructing my own version.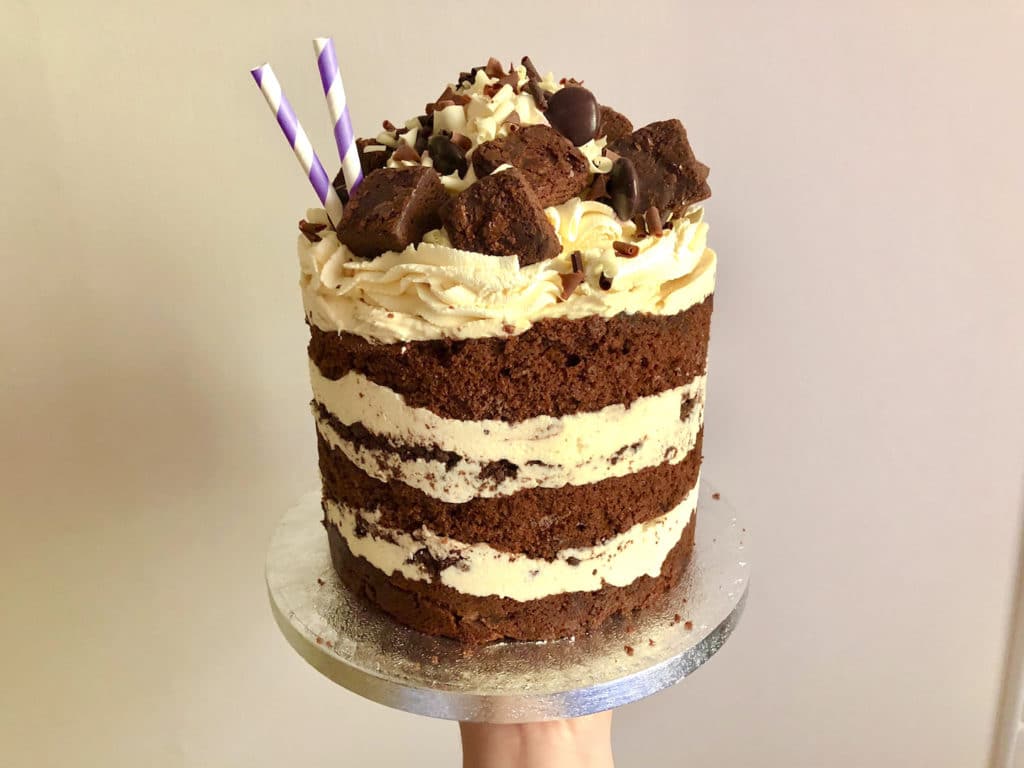 Behold, my stubborn competitiveness in action. This Bailey's Chocolate Freakshake Cake is taller, heavier, more chocolatey and twice as boozy as Asda's version. With added textures and of course, a lot more nonsense piled on top!
This, frankly ridiculous, Bailey's Chocolate Freakshake Cake has three layers of fluffy Bailey's soaked chocolate cake, soft and creamy Bailey's buttercream frosting, crisp chocolate cookie crumbs, Bailey's whipped cream, brownies, chocolate shavings and, of course, some cute paper drinking straws. It's Freakshake inspired after all!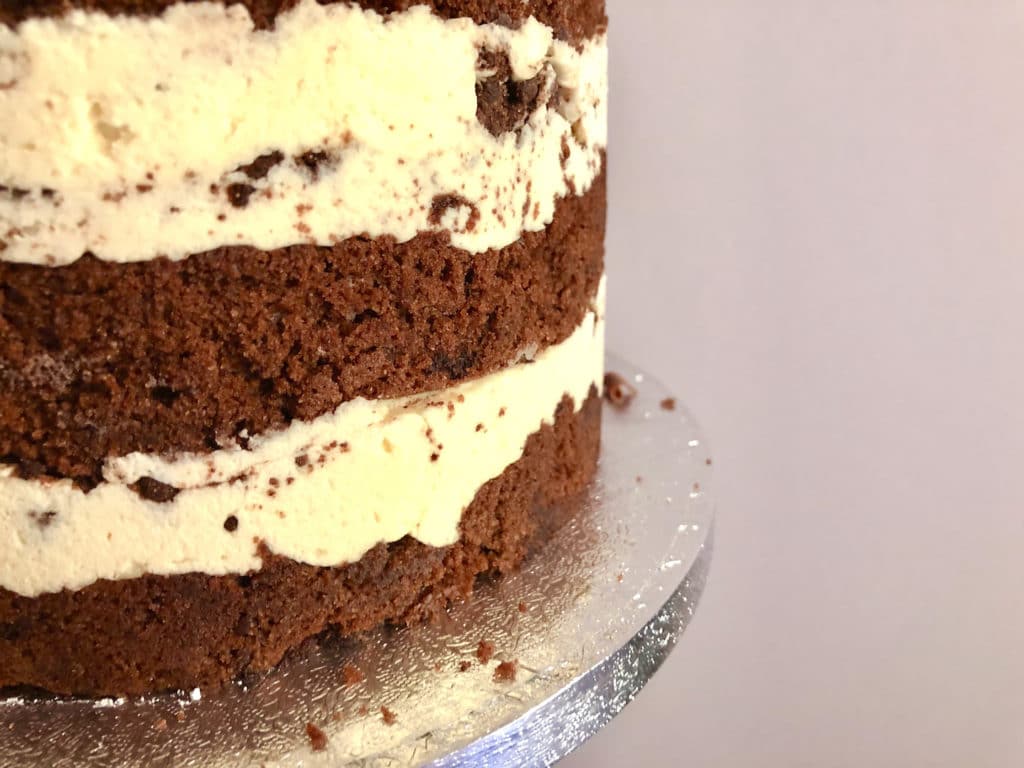 The layers and textures going on make this thing pretty darn dreamy. Soft, fluffy, creamy, crunchy, chewy, every texture you could want lives somewhere in this cake. It also packs a proper grown-up taste of Bailey's Irish Cream, nothing artificial, just proper boozy creamy liqueur goodness.
The link above will take you to my YouTube channel to watch just how this crazy cake comes together, and to make the ingredients list seem less intimidating!
The construction of this monster cake was very similar to the Momofuku Milk Bar Birthday Cake, I simply adore their style of cake-assembly so I had to try it again. If you want to mimic it, you'll need a cake ring and some acetate – if not, you can easily use a couple of 9″ sandwich cake tins, and it will still taste every bit as good.
Basically, you should make this Bailey's Chocolate Freakshake Cake. Like, now.
Find the full recipe below!
Bailey's Chocolate Freakshake Cake
Bailey's Chocolate Freakshake Cake; three towering layers of Bailey's soaked chocolate cake with fluffy Bailey's frosting, chocolate cookie crumbs, brownies, whipped cream and more!
Ingredients
For the cake:

300g soft butter or margarine
275g soft brown sugar
5 large eggs
1 egg yolk
250g self-raising flour
50g cocoa powder
3 tbsp Bailey's
Pinch of salt
For the chocolate cake crumb:

100g caster sugar
25g light brown sugar
70g self-raising flour
20g cocoa powder
Pinch of salt
3 tbsp vegetable oil (I used a light olive oil)
2 tbsp Bailey's
For the frosting:

300g soft butter
500g icing sugar
3 tbsp Bailey's
Pinch of salt
For the cake soak:

60ml Bailey's
To decorate:

Brownies
Whipped cream
Chocolate sauce
Sprinkles
Straws
Instructions
For the cake:

Preheat your oven - 180 C / 160 C fan / 350 F / gas mark 4.
Grease and line a 25cm x 31cm (10in x 12in) baking tray or roasting tin.
In a large bowl, beat together the butter and sugar for 2 minutes until fluffy.
Add the eggs one at a time, beating well between each.
Gently stir in the flour, cocoa powder, Bailey's, and salt, until just combined into a smooth cake mix.
Pour the cake mix into your prepared tray and smooth it out evenly.
Bake for 20-30 minutes until risen and firm to the touch. A skewer inserted into the centre of the cake should be removed cleanly once it is baked.
Remove from the oven and allow to cool.
Keep the oven on for you to bake your cake crumb.
For the chocolate cake crumb:

In a large bowl, stir together the sugars, flour, cocoa powder and salt.
Stir in the oil and Bailey's until you have a dark, clumpy but sandy consistency.
Spread the crumbs across a greaseproof-paper lined baking tray.
Bake for 20 minutes until slightly golden. They may still feel moist but will firm and crisp up as they cool.
Set aside to cool completely.
For the frosting:

Beat together all the ingredients until smooth and combined.
Thoroughly beat for 2-3 minutes until fluffy and paler in colour. This may be easier with an electric mixer!
Set aside.
To assemble:

Once the cake and crumb is cool and you have made the frosting and soak, it's time to assemble!
Use your cake ring (adjusted to 15cm if it is adjustable) to cut out two circles of cake. Gather up the scraps as this will form the bottom layer of your cake.
Clean and dry the cake ring and place it either on a board, baking tray or the plate you want to serve it on.
Line the ring with a strip of 7.5cm x 50cm acetate.
Put the cake scraps inside the ring and use your hand to press them down into a flat even layer.
Use a pastry brush or a clean paintbrush to moisten the cake with one-third of the Bailey's cake soak.
Spread one-fifth of your frosting on top.
Scatter over one-third of the cake crumbs, pressing them down gently into the frosting.
Spread another fifth of the frosting carefully over the crumbs.
Place a second piece of acetate between the first piece and the cake ring, to help support the higher layers.
Repeat the entire assembly process again for the second and third layer. You should have used up all of your cake, crumbs, soak and frosting.
Place the cake in the fridge to chill for 1-2 hours until the frosting is firm.
Gently remove the cake ring and peel off the acetate.
Pile as many decorations as you like onto the top of the cake to make it resemble a big old freakshake.
Slice up and enjoy!
Notes
BE A MAVERICK: No cake ring or acetate? Simply bake the cake in a couple of 9" sandwich cake tins and assemble like a normal cake!
MAKE IT GLUTEN FREE: simply swap out the plain flour for a gluten free plain flour blend
http://maverickbaking.com/baileys-chocolate-freakshake-cake/