Berry Trifle in a Jar; layers of vanilla cake, vanilla custard and sweet-tangy berry compote, a perfect Summery dessert that is as delicious as it is portable!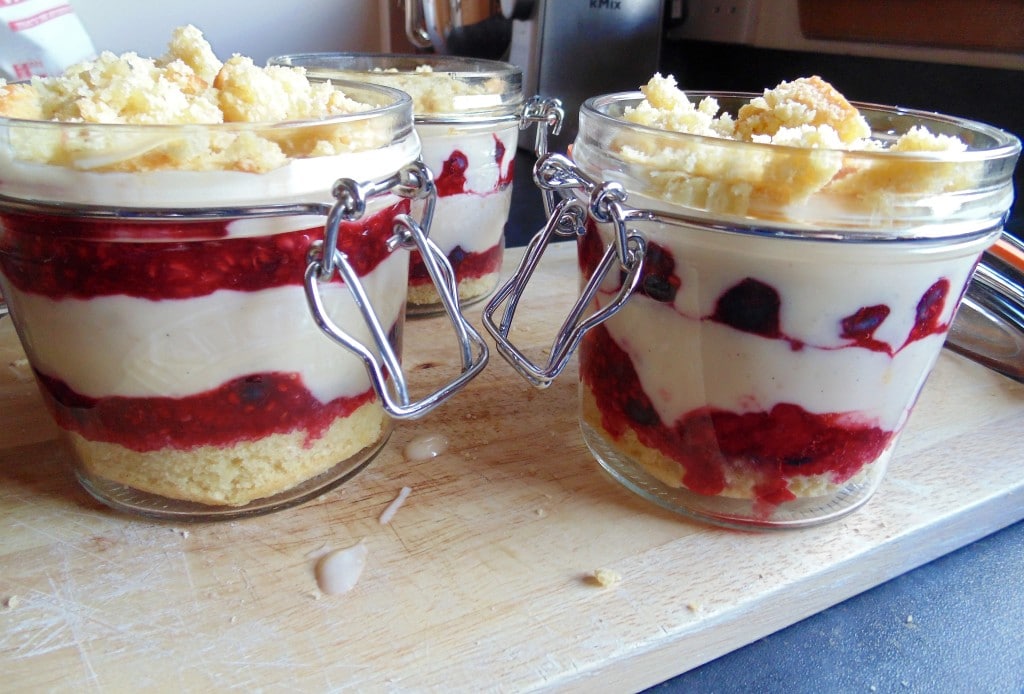 It's Thursday, my five law exams are finally over and I managed to slash my thumbnail open with a knife today…you know what that means? It means I'm in desperate need of dessert.
Ok, so I'm always in desperate need of dessert but that's not the point.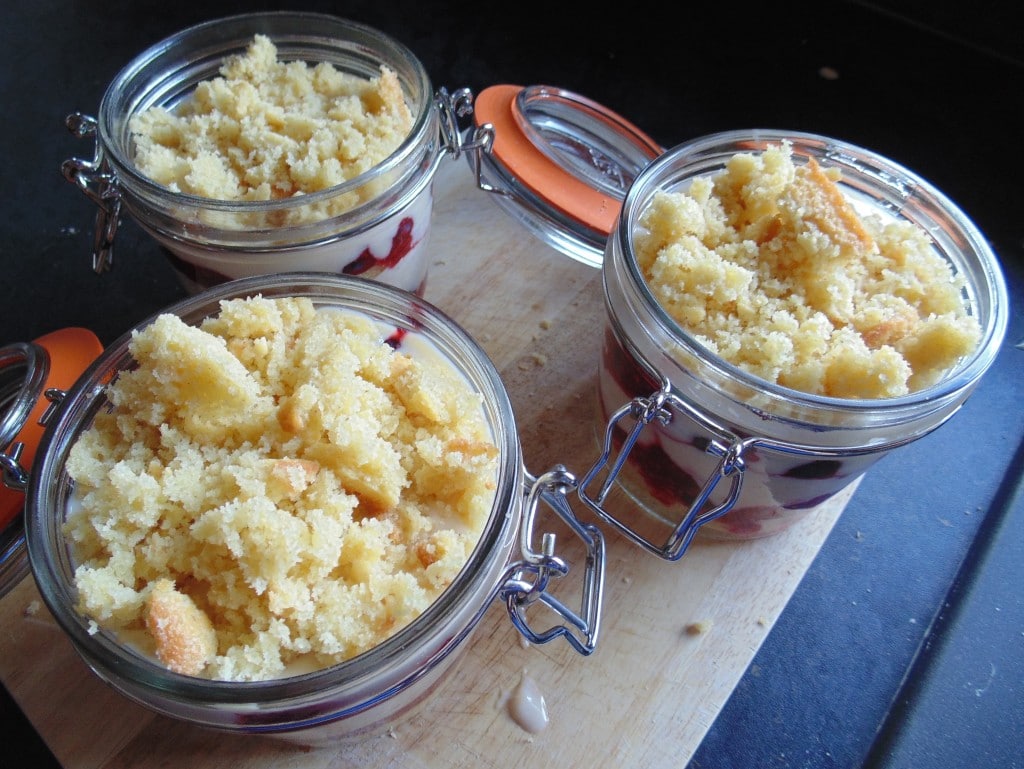 The only problem was I had absolutely no idea what I wanted my first post-exam bake to be. My head was buzzing with ideas, mostly of the rich and creamy variety; cheesecake, pavlova, custard tarts. I spent so much time trying to decide what to make for dessert that I managed to make a loaf of bread before I got round to choosing!
In the end, a retro pudding reared its grey head and I couldn't help but indulge it. Thus I give to you, individual berry trifle in a jar!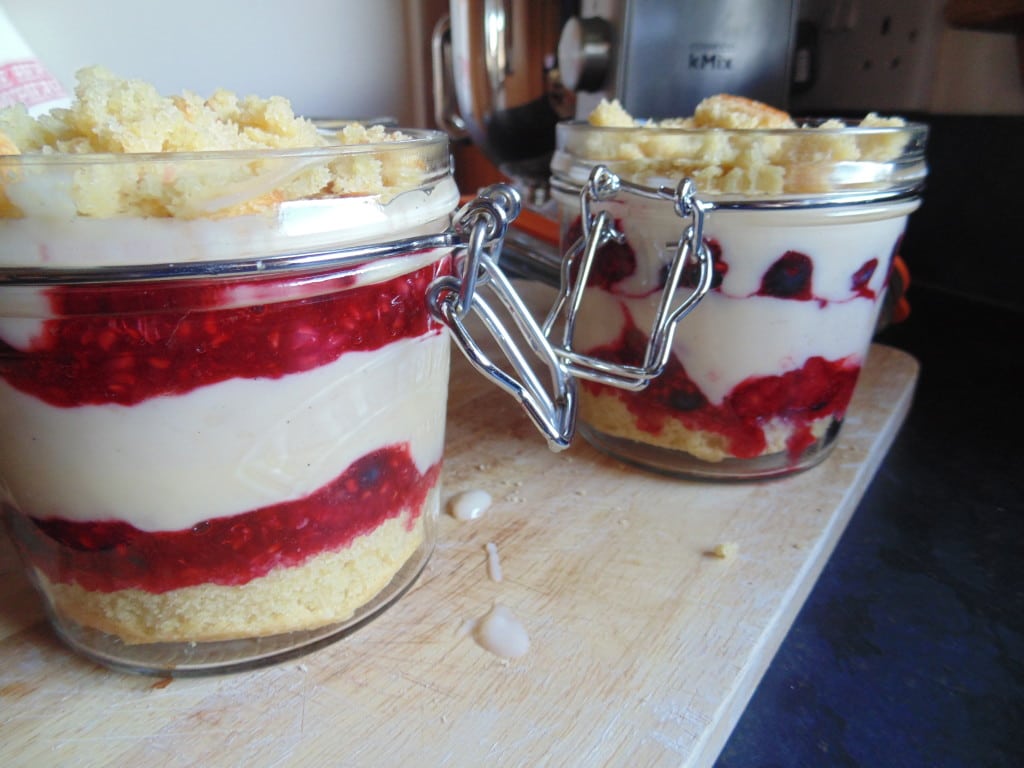 The only trifle I've ever tasted is my Granny's, the reminiscent Swiss roll, jelly and Bird's custard variety that's a staple at Christmas time. So I felt it was about time to try my hand at what is a classic British pud. With all the free time I had today, I even made the sponge and custard from scratch just to make these portable desserts extra-special!
Assembling the individual berry trifle in a jar is great. It means it's portable, that everyone gets an equal serving full of love-err-ly layers, and for those (weirdos) who can't finish a sweet treat all in one go, you can simply pop the lid back on and save it for later! I can confidently say I will never possess the will power to do that, my jar had been licked clean before my dad had eaten half of his…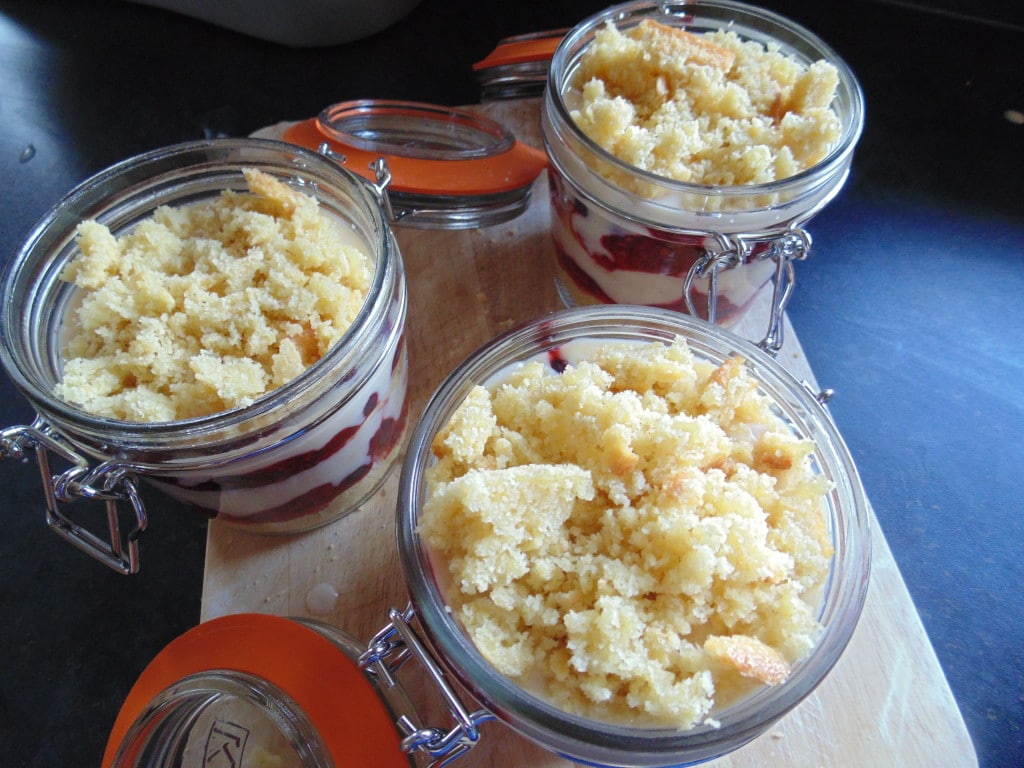 These individual berry trifles can be as easy or as fiddly as you like: you can use tinned custard, shop bought sponge and some berry jam and have these ready-made in minutes! I promise these are sure to impress and taste great no matter how easy they are to throw together!
I halved the amount of ingredients for my usual Victoria Sponge recipe and baked a single layer to serve as the cake component of the trifle. If you'd like to make the cake from scratch, I have a great Victoria sandwich cake recipe here.
While it cooled, I threw together some basic custard…
I heated some milk, cream and vanilla until it was just below boiling point.
As it was heating I whisked together some cornflour, sugar and eggs until they were all good glossy friends.
Once the milk was hot enough I tipped it into the egg mixture, whisking like a crazy person to prevent any vanilla scrambled-egg vibes. Then I tipped it back into the pan and cooked it over a low heat until it got niiiiiiiice and thick.
I let the custard cool a little in a cold bowl with some cling-film over the top to prevent a skin forming while I did some other exciting stuff like dusting or something…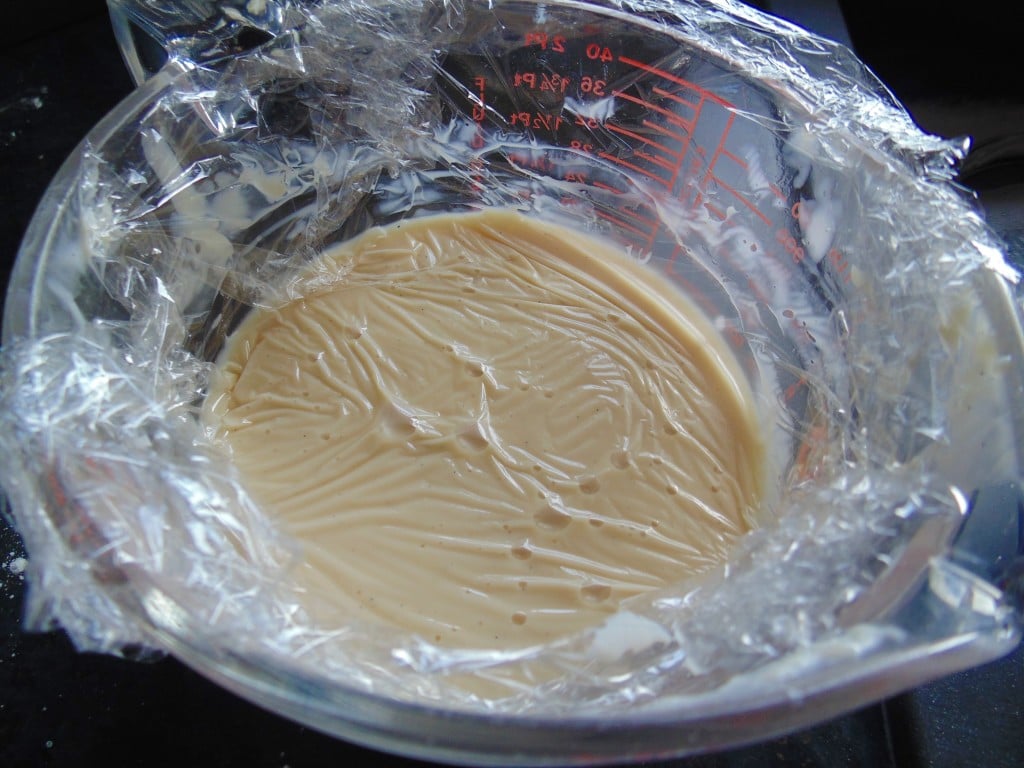 The berry component of the trifle is so easy it's ridiculous, just take some berries, chuck in a tablespoon of jam and mash them with a fork until half-chunky half-mush. Boom.
Once that stressful task was out of the way, I was able to cut some funky circles out of the sponge layer I baked and brush them with a little cherry vodka. Cherry vodka, yes, I said cherry vodka. All the fun of Haribo chewy cherries with added hangover!
Then it was assembly time! All aboard the trifle train.
I simply placed a circle of sponge into the jars…
Then spooned on the mashed berries…
And then poured over some custard! Then I repeated the layers again and topped the individual berry trifle jars off with some smashed up cake crumbs. Yum.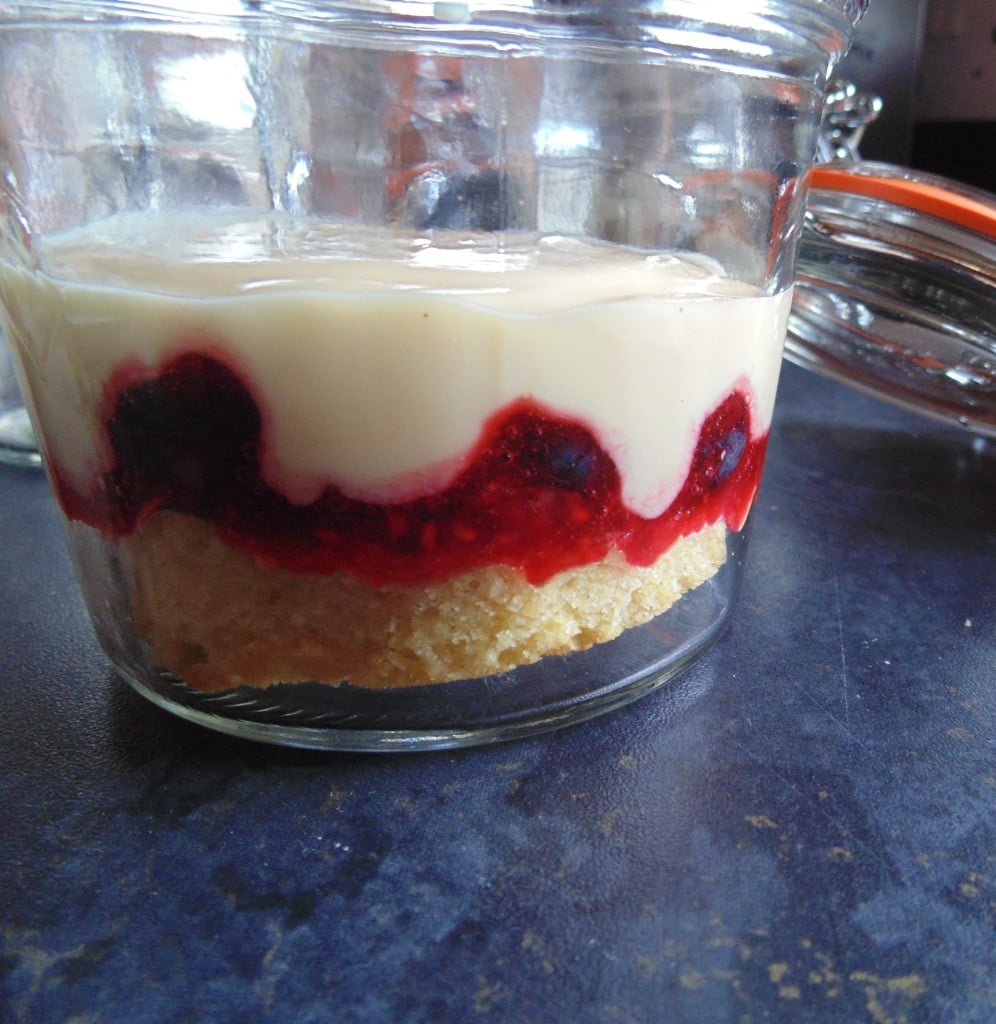 Then I took way too many pictures, ate the jar with the most custard in it, and now we're here!
I really think you'll love these portable beauties, sponge, fruit and custard is a timeless pleasure for people of any age. And hey, if you have the ability to take it in you bag to work with you, your day is immediately 60% better than everyone else's!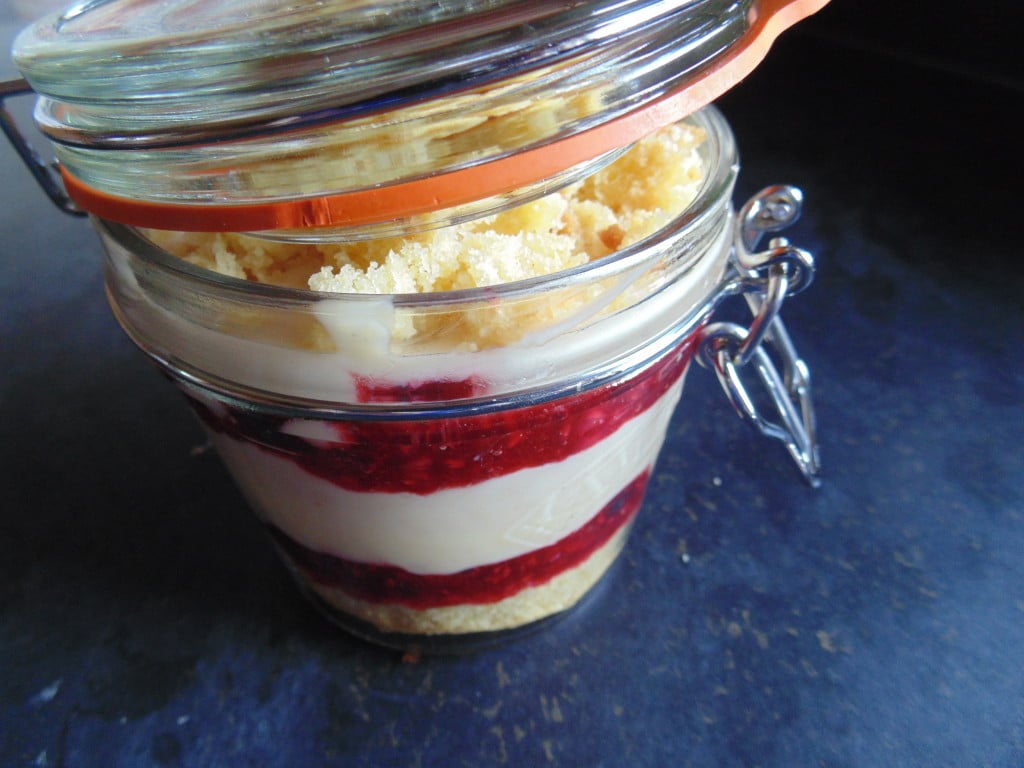 Hope you all enjoy this individual berry trifle in a jar!
Individual Berry Trifle in a Jar!
A perfect Summery dessert that is as delicious as it is portable!
Ingredients
For the cake layers:

Homemade or shop bought cake
Vodka or any other alcohol you'd like (optional)
For the custard layers:

300ml (1 ¼ cups) milk
100ml (½ cup) double cream
2 tsp vanilla bean paste or vanilla extract
2 eggs plus an extra yolk
60g (⅓ cup) sugar
60g (⅓ cup) cornfour
For the fruit layers:

300g (rounded 2 cups) of mixed fresh or frozen berries (I used blueberries and raspberries)
1 tbsp jam
Instructions
First, start the custard by gently heating the milk, cream and vanilla until just below boiling point.
While the milk is heating, whisk together the eggs, sugar and cornflour until smooth.
Once hot, pour the milk slowly into the egg mixture, whisking all the time to ensure no lumps.
Quickly wipe the pan to ged rid of any milk scum, then pour the custard mixture back into it, cooking over a low heat until thickened. (Don't worry if there are some lumps, just give it a good whisk and sieve it once it thickens up!)
When custard is thick enough to coat the back of your spoon, pour it through a sieve into a cold bowl to ensure there are no lumps, place some clingfilm over the bowl and cool the custard in the fridge for at least an hour.
While the custard is cooling, place the berries into a bowl with a tablespoon of whatever kind of jam you have and mash it all together with a fork until partly mushy and partly chunky.
At this stage you should also either cut out circles of cake to fit into your jars, or simply crush the cake into pieces that you can push into layers in the jars.
Brush the cake pieces with your chosen alcohol (if using).
Once cooled, remove the custard from the fridge and get ready to assemble.
Place a circle of cake into the jars, followed by a few spoons of berry mixture and a good glug of custard.
Repeat the layers until the jars are full and top off with some more fruit, some smashed up cake or even some sprinkles.
Place the jars into the fridge until ready to serve.
Enjoy!
Notes
You can use all home-made or all shop-bought ingredients for these trifles, they taste and look delicious either way!
http://maverickbaking.com/berry-trifle-in-a-jar/