Best Ever Malteser Brownies; thick velvety chocolate malt brownies studded with crunchy Malteser buttons and voluptuous dollops of Malteser spread.

Hud the bus, Kelly's posting ANOTHER brownie recipe??

Yes she is, because brownies are an otherworldly delight and too many of us are still settling for mediocrity.

Mediocrity is rife in the world of desserts and sweet snacks. One of the most common instances of this is the modern trend of incorporating classic sweets or chocolate bars into baked goods. This is a trend I have participated in many times, both through creating recipes and buying these inspired creations.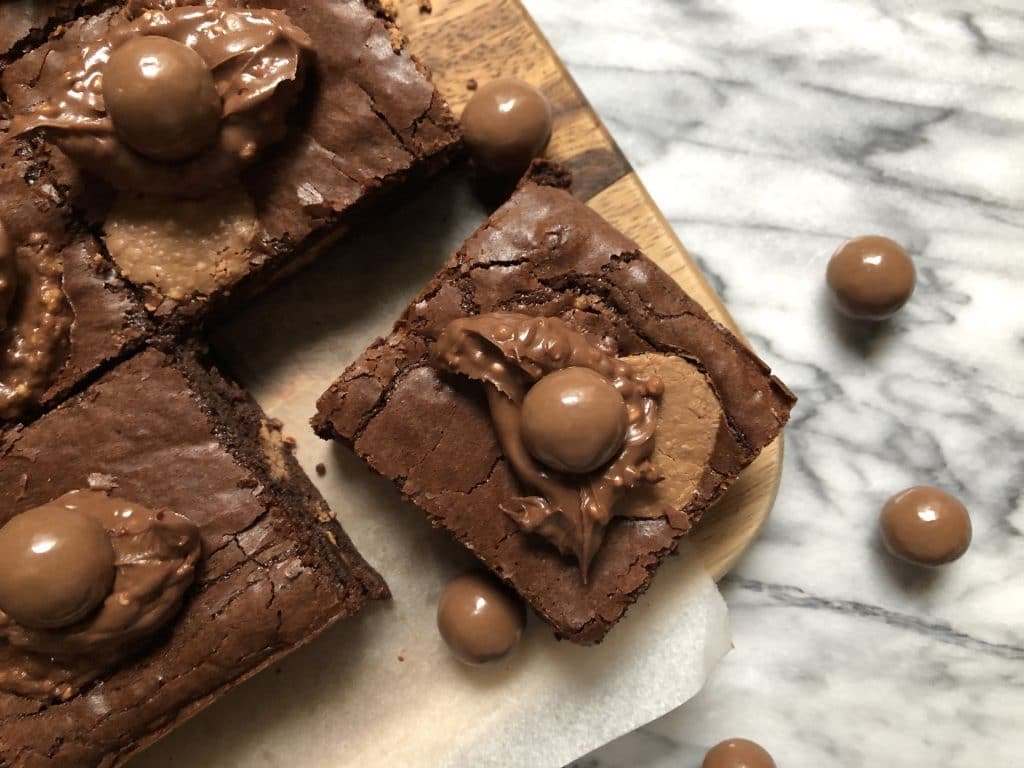 So what is the main problem with this trend that leads to mediocrity? Mostly, it's the practice of simply shoving another product into yours without thought. (Stop laughing, you dirty feckers)

Have you ever fallen victim to purchasing a fancy cupcake/cookie from a shop or market stall, with the promise of it being inspired by your favourite chocolate bar, only to find that it is simply a half-decent plain cupcake/cookie with a chunk of said bar shoved on top? Or have you ever followed an online recipe for [insert chocolate bar here] brownies to find that it is literally just a brownie with [insert chocolate bar here] awkwardly stuffed inside?

While this is fine, we can do better. We deserve all the flavour we are promised.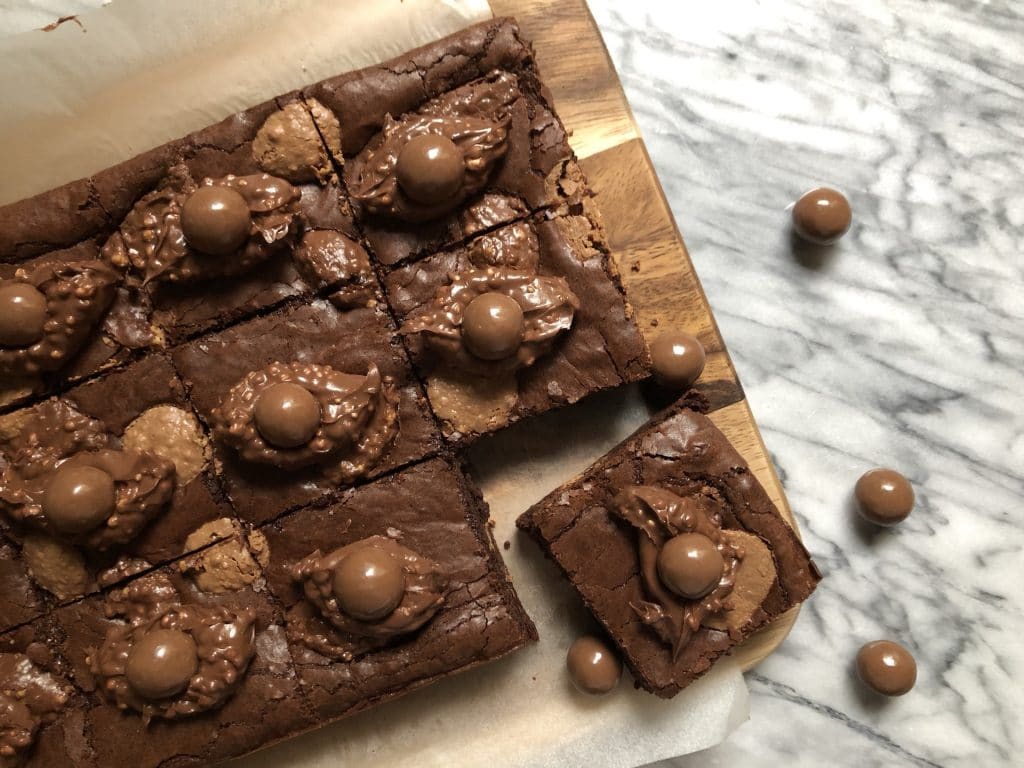 A Ferrero Rocher Brownie should not just be a brownie with a fat lump of Ferrero baked in. It should incorporate the delicate little crunch of roasted hazelnuts, and sing with the bold aroma of hazelnut liqueur amongst rich chocolate AND contain said fat lump of Ferrero. You get the picture. Anyone can stuff someone's else's thing (stop.) into their own and call it creative, but to really shine they should make it a little bit creative and unique at the same time.

Is this just me trying to persuade myself that making a tray of brownies is some exceptionally creative feat? Perhaps, but you've read this far already so you may as well try these Best Ever Malteser Brownies out now.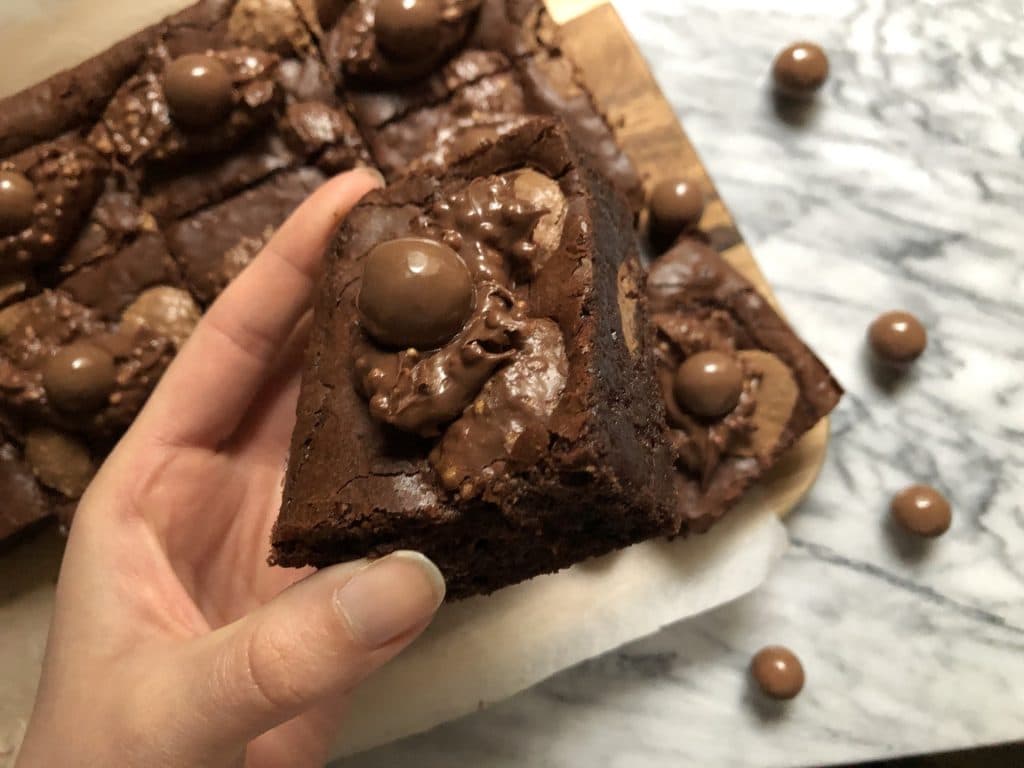 Plus, Nigella reposted my picture of them on her food-pic-sharing app, which basically means they're the best thing ever. Those who disagree are welcome to challenge me in hand-to-hand combat.

The Best Ever Malteser Brownies. A silky mouthful of just-baked chocolaty glory, with a background of sweet malt flavour, the nostalgic creaminess of cheap milk chocolate, and the unmistakably familiar malty crunch.

If you love a wee Malteser, you'll be offering your hand in marriage to these big chocolatey boys. It will involve turning on the oven and dirtying a few more bowls that a bag of Maltesers would call for, but the effort is WORTH IT.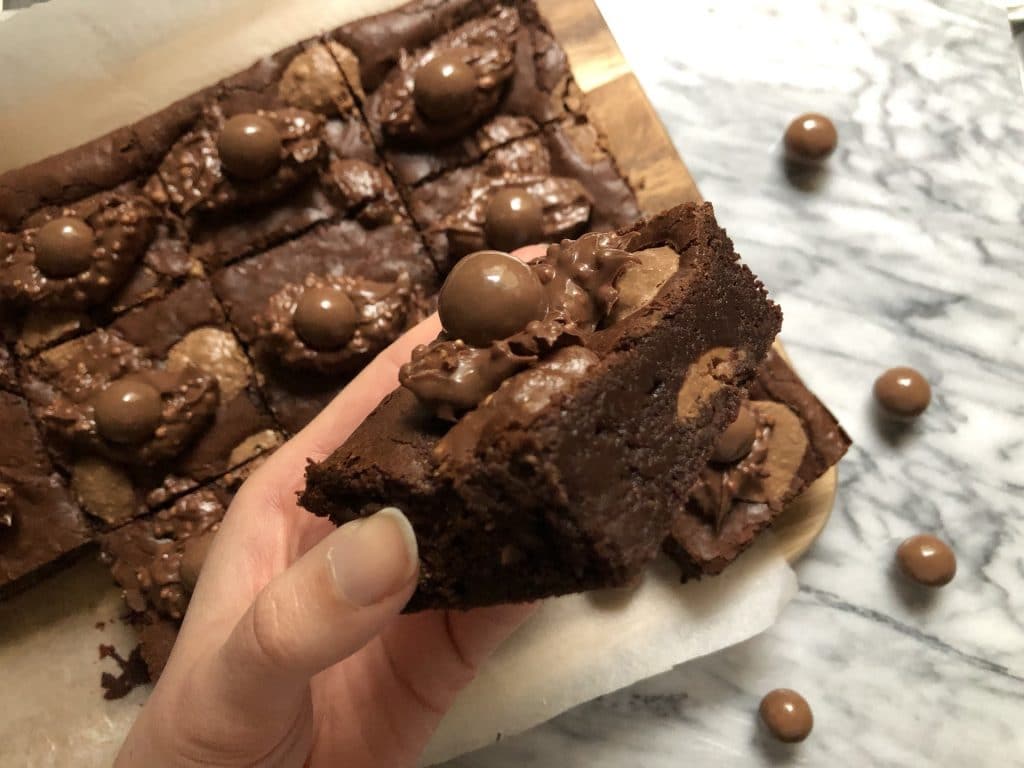 Right, before I lose my train of thought somewhere in the void of pointless opinions on the standard of baked goods, here's that recipe you clicked for.

To make these Best Ever Malteser Brownies, simply follow the recipe below!
Best Ever Malteser Brownies
Best Ever Malteser Brownies; thick velvety chocolate malt brownies studded with crunchy Malteser buttons and voluptuous dollops of Malteser spread.
Ingredients
250g (8 ½ oz) dark or milk chocolate
230g (15 tbsp) unsalted butter
40g (⅓ cup) malted milk powder (such as Horlicks or Ovaltine)
40g (⅓ cup) plain flour
60g (½ cup) cocoa powder
Pinch of salt
3 large eggs
250g (1 ¼ cups) caster sugar
1 tsp vanilla extract
100g (most of a sharing bag) Malteser buttons (plus extra to decorate)
100g (a few generous spoonfuls) Malteser spread (plus extra to decorate)
Handful of Maltesers (optional, to decorate)
Instructions
Preheat your oven – 160°C / 140°C fan / 325°F / gas mark 3.
Grease and line a tin to bake the brownies in, both 20x20cm (8x8in) or 20x30cm (8x12in) tins have worked well for me.
In a heatproof bowl, weigh out your chocolate and butter.
Melt the chocolate and butter, either over a pan of gently simmering water or in the microwave in 30-second blasts, until smooth and combined.
In a separate bowl, stir together the malted milk powder, flour, cocoa and salt.
Stir the Malteser buttons through this bowl of dry ingredients to coat. This will help prevent the buttons from sinking during baking.
Pour the eggs, sugar and vanilla into a large bowl (last bowl, I promise!) and whisk together until just combined.
Pour the melted chocolate/butter mixture into the egg/sugar mixture, whisking quickly to incorporate.
Add the bowl of dry ingredients (including the Malteser buttons) and whisk again until you have a smooth brownie batter.
Pour the button-studded brownie batter into your prepared tin and smooth it out into a flat layer.
Dollop the Malteser spread in random blobs over the top of the brownie batter, and sprinkle over an extra handful of Malteser buttons.
Bake in the preheated oven for 40-50 minutes. When ready, you should be able to shake the tray and see no wobble in the centre.
Allow the brownies to cool until completely cold. It takes a while, but it's worth the wait!
Slice your brownies into even slabs. Finally, dollop a little more Malteser spread in the centre of each brownie and top with a Malteser or Malteser button.
Enjoy!
http://maverickbaking.com/best-ever-malteser-brownies/