Read my honest review of brand new British company, Breakfast by Bella, and my recipe for Double Chocolate Banana Crunch Muffins using their Cacao Crazy granola!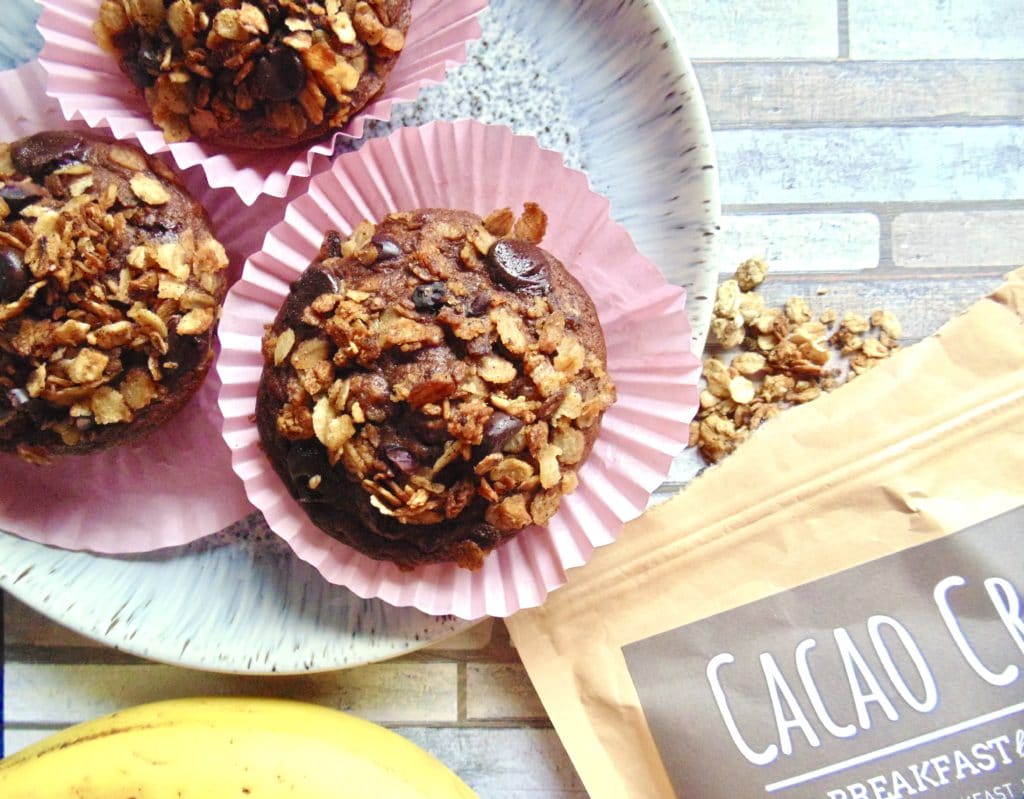 Breakfast. The most important meal of the day.
So many of us skip it, because we aren't hungry, because we don't have the time, or simply because we can't really be bothered!
In my case, I'm an insatiable ravenous beast in the mornings, requiring every carbohydrate in sight to get me through until lunchtime.
On this note, I've been a very happy bunny these last two weeks. A great big package full of samples arrived on my doorstep, allowing me delicious breakfasts every single morning!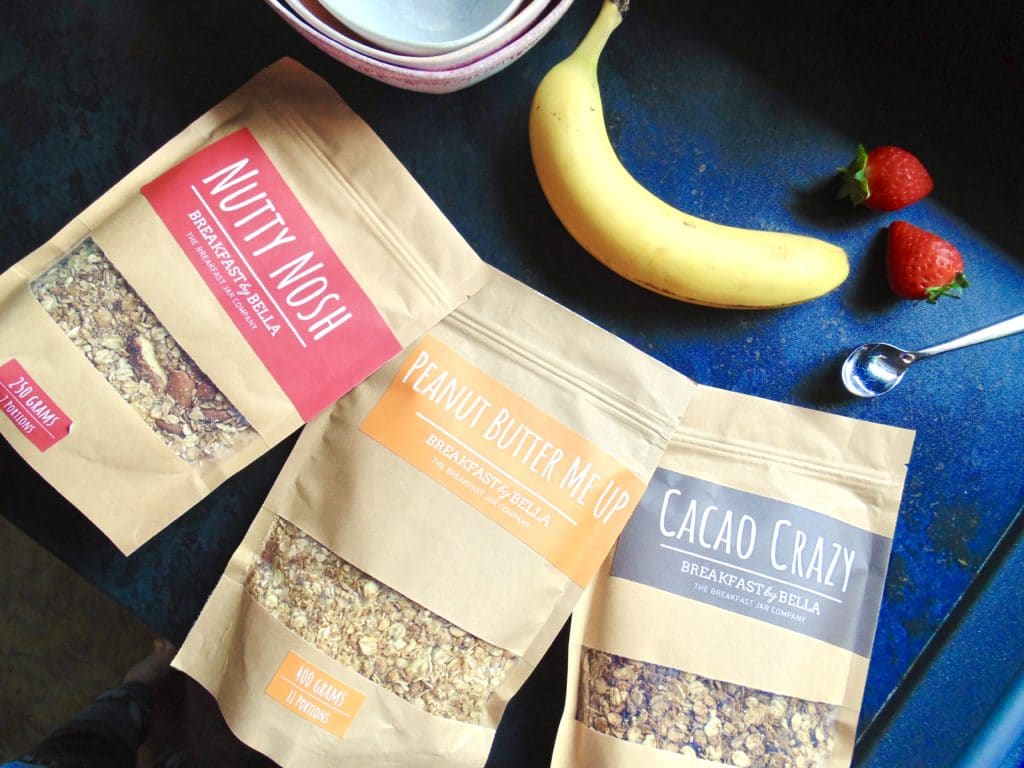 The delightful new UK based company, Breakfast by Bella were kind enough to send me samples of three of their delicious new granola products!
After coming across the company on Twitter, I knew I'd love this product before even tasting it. Breakfast By Bella aim to create "nutritious and nomilicious" breakfasts that portable and quick to make. They particularly emphasise the handiness of the "breakfast jar," a  little jar filled with layers of their granola with yummy things such as fruit, yoghurt or milk to make up a delicious portable meal.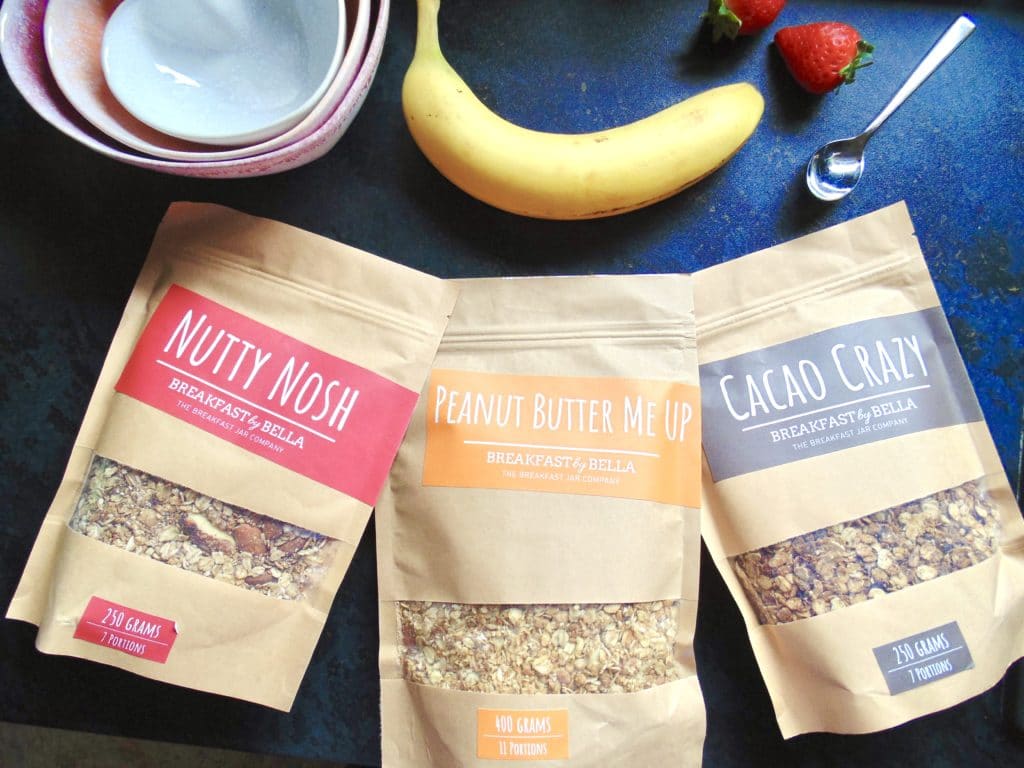 Currently, all of their products are made with all-natural, organic ingredients. They are also entirely gluten and dairy free. This means that people of pretty much any dietary requirement or preference can tuck in to these breakfasts, knowing that they're getting a lovingly made healthy meal!
While I'm not fussy about the ingredients of my food, it's great to know that small companies are making foods that everyone can enjoy. Also, you can simply throw some milk and these granolas into a bowl and BOOM, you have a yummy breakfast that even the laziest of eaters can tuck into!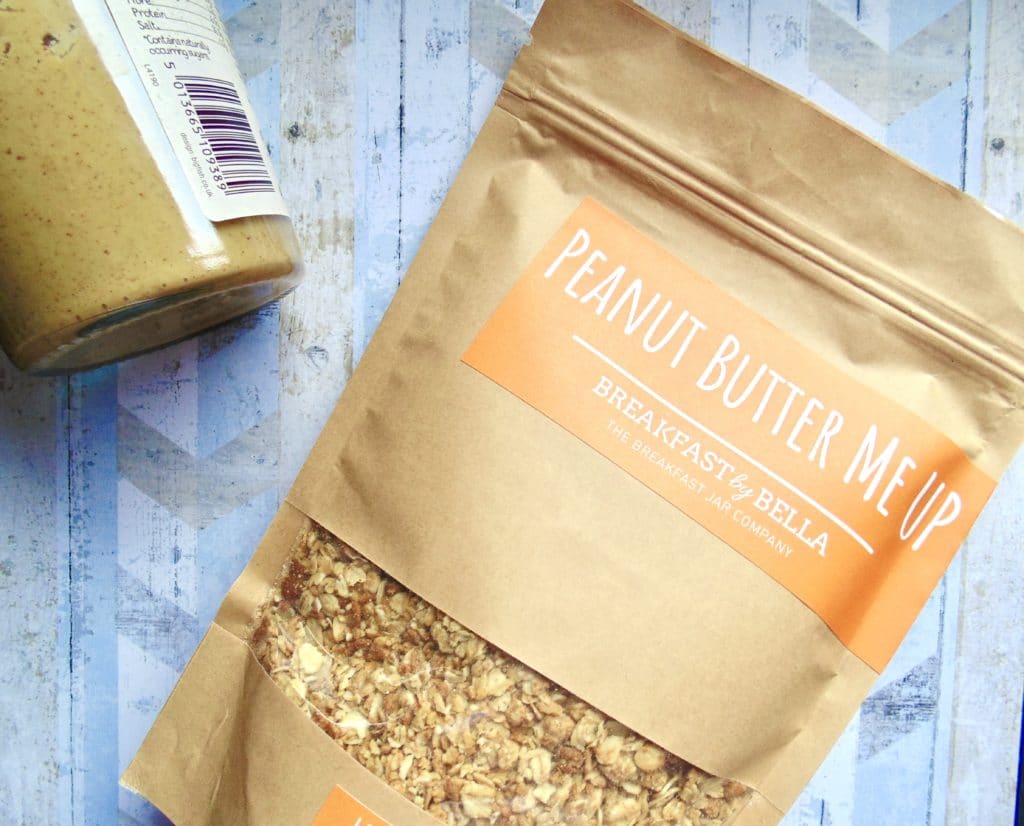 I'm a real nutter for nuts, so Breakfast By Bella's Peanut Butter Me Up and Nutty Nosh granolas had me excited for breakfast. The addition of their Cacao Crazy chocolate granola? YES PLS.
Most mornings for me are a hurried mess of eyeliner and cat feeding. However, on the days when I had a little time to relax and enjoy a more leisurely breakfast, I decided to snap some photos of my Breakfast By Bella creations.
Because the granolas have wonderful notes of both sweet and savoury (probably due to containing less sugar than conventional brands), I enjoyed them in a number of ways!
I enjoyed piling the Peanut Butter Me Up granola onto natural yoghurt, finishing it with sliced bananas and washing it down with a mug of black coffee. I also enjoyed it sprinkling onto porridge, to give a nice sweet-salty crunch to top off the creamy oats. This flavour had a gorgeous salty note from the roasted peanuts, making it really reminiscent of a good crunchy peanut butter, the gentle sweetness from the oats made it an ideal breakfast and snack!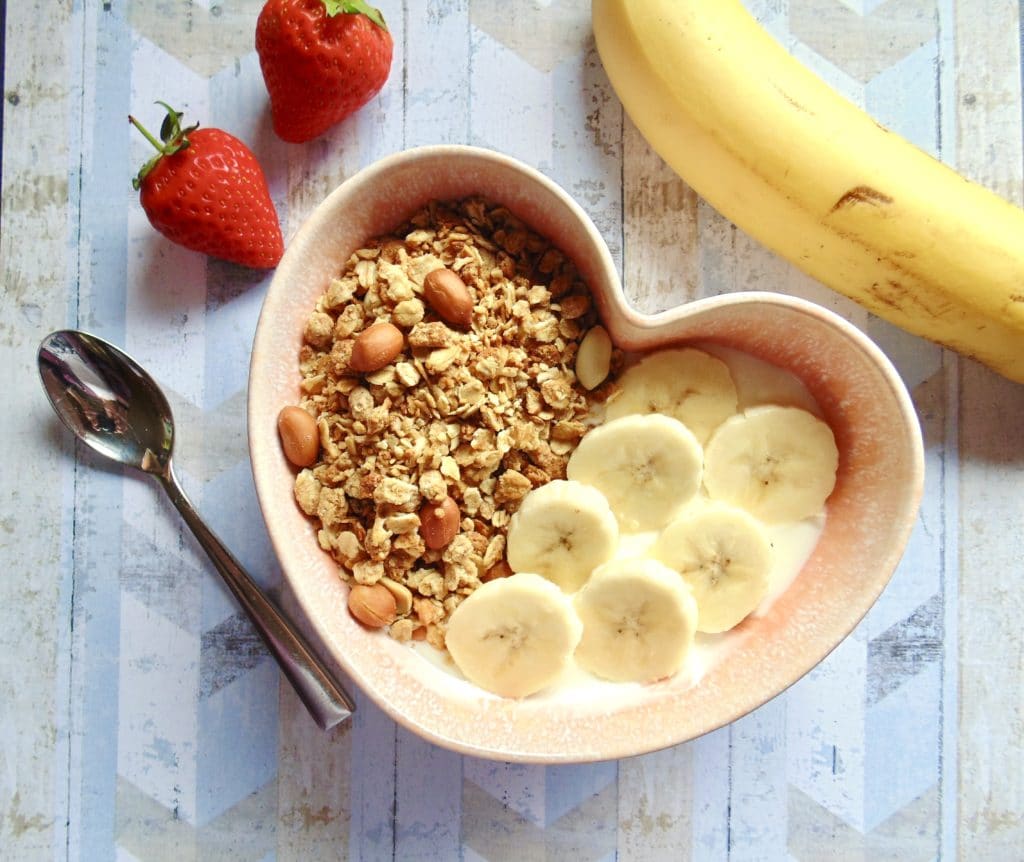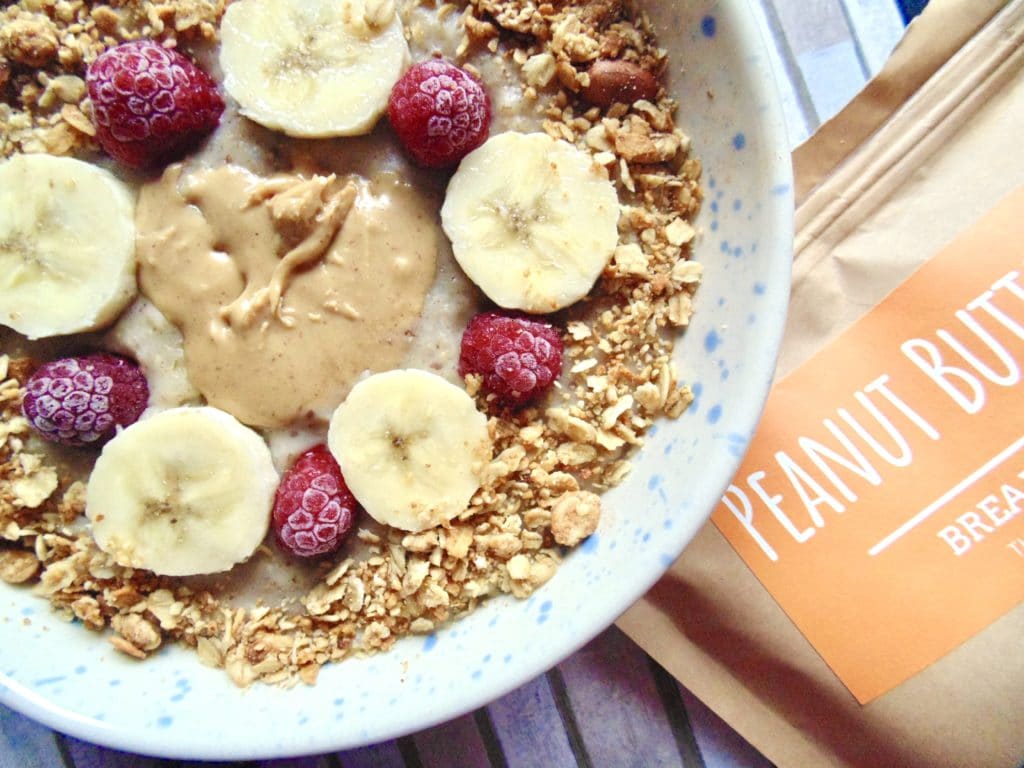 As for the Nutty Nosh granola, it added a lovely crisp and nutty bite to a bowl of spicy sweet potato and coconut soup I ate for lunch one day. Granola on savoury foods is good, folks, I promise!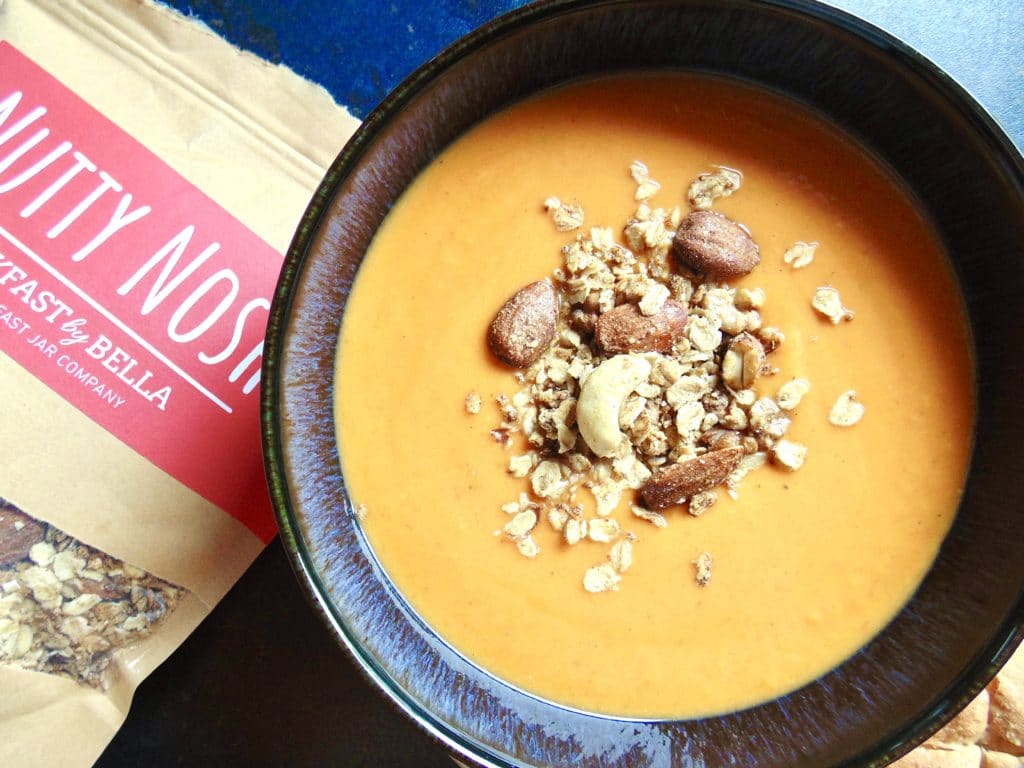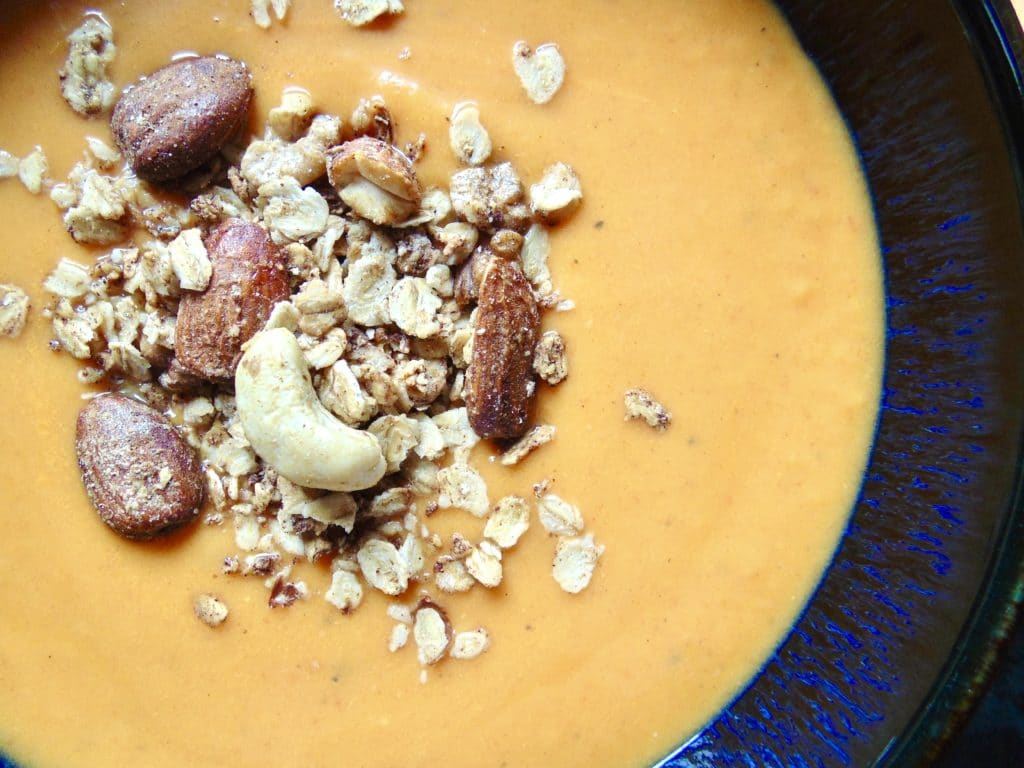 Finally, I ripped into the bag of Cacao Crazy granola. Save the best til last right? This granola had a gorgeous, deep cocoa flavour, and just enough sweetness to make it feel like it was a lot less wholesome and healthy than it is! The only thing I might say is it could do with being a little more chocolatey. But that could just be my sweet tooth talking! Again, great with fruit and yoghurt or on porridge, or just in handfuls straight from the bag! The best way I ate this granola? On these Double Chocolate Banana Crunch Muffins.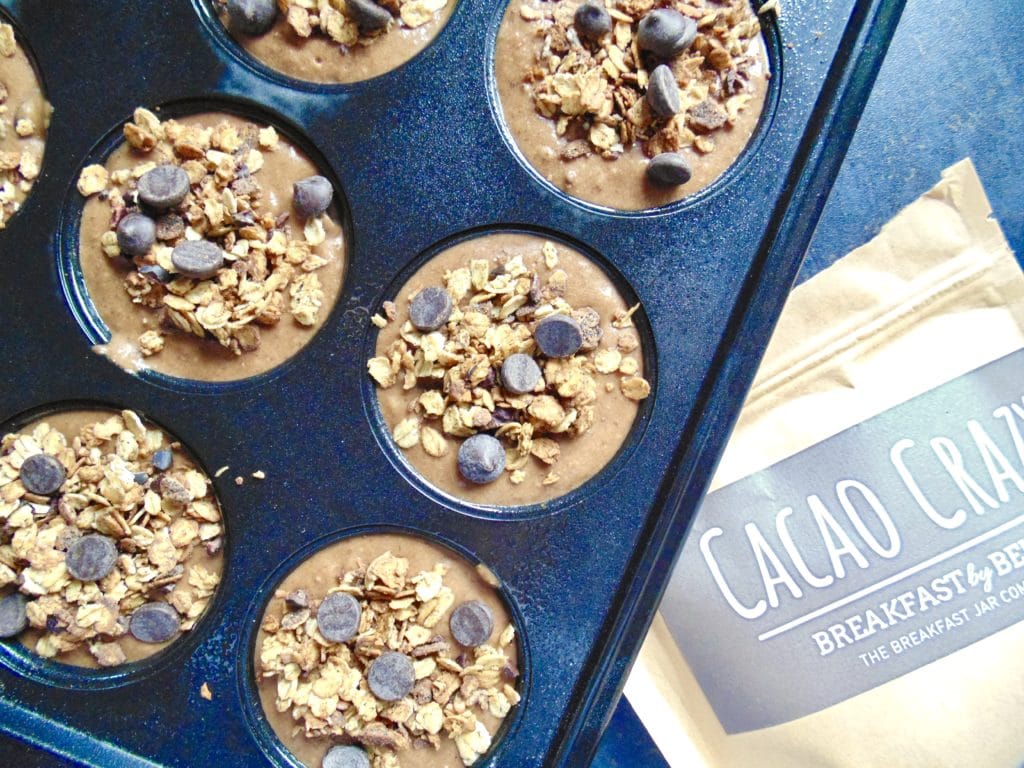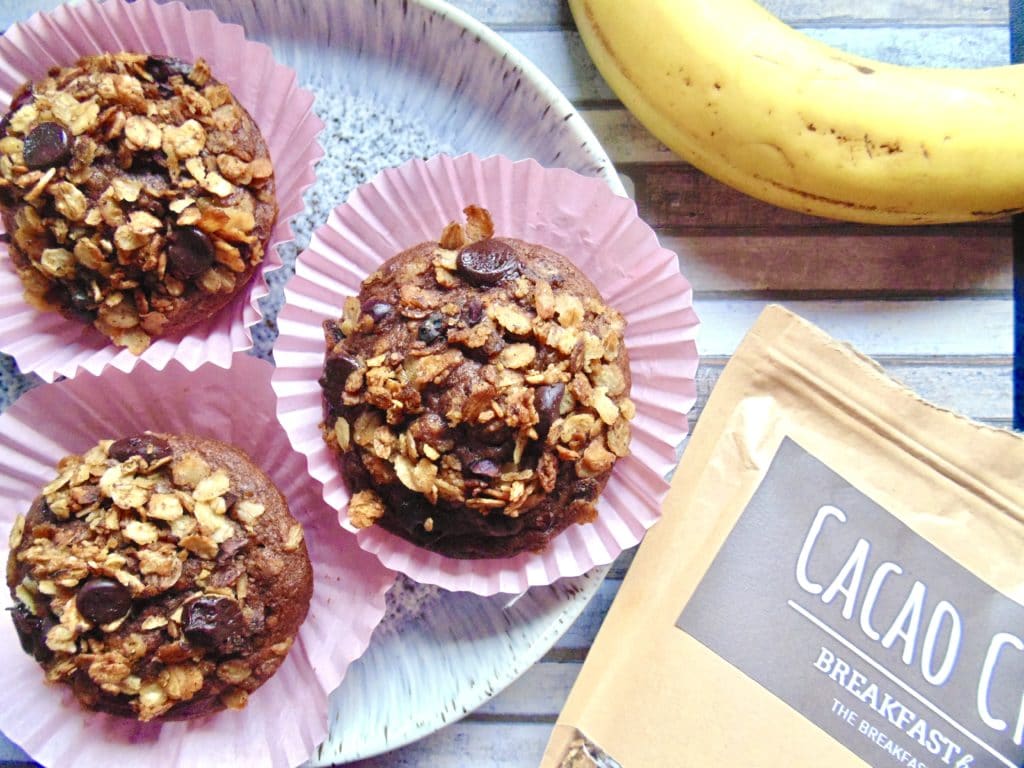 These lovely, light and sweet muffins, full of deep chocolate and banana flavour and creamy chocolate chips, were a real treat! Based on my Healthy Chocolate Chip Banana Bread recipe, these muffins make an ideal breakfast or snack. The addition of Breakfast By Bella's Cacao Crazy granola made them extra yummy, adding a perfect little chocolatey crunch to the top of these muffins. Though I'm sure any of the other flavours would have worked too!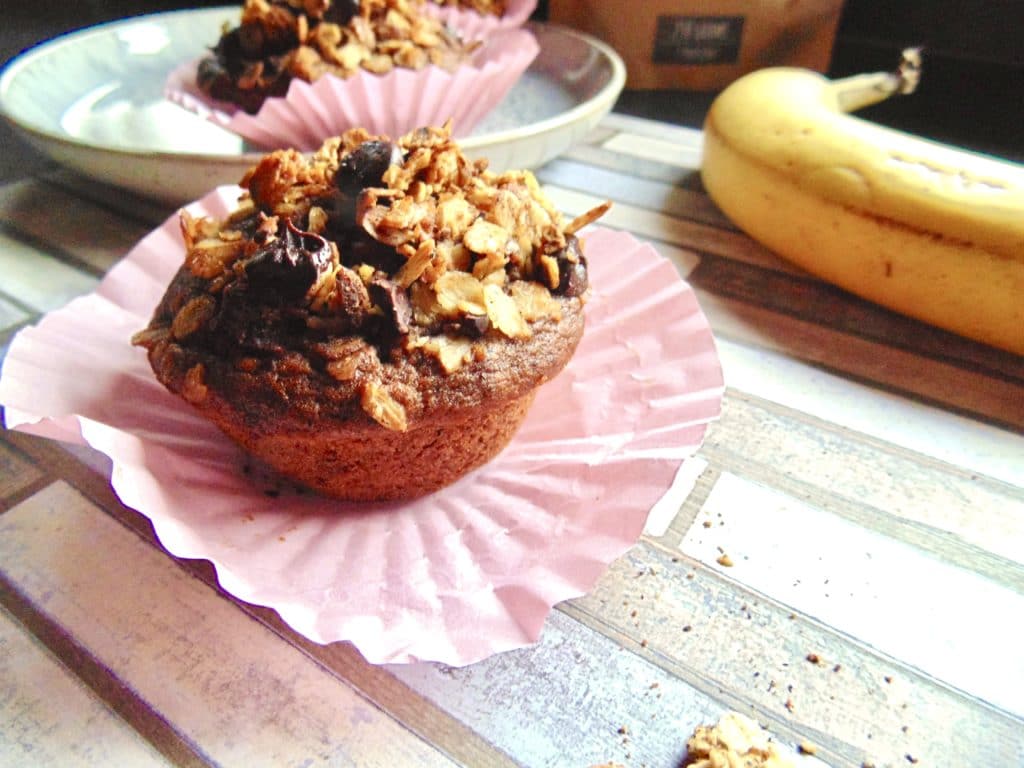 You can scroll further down the page to find a handy printable recipe to make these healthy and delicious Double Chocolate Banana Crunch Muffins for yourself.
Overall, I really enjoyed all of the samples I received from Breakfast By Bella. I'll be very happy to order them again once I finish off these bags!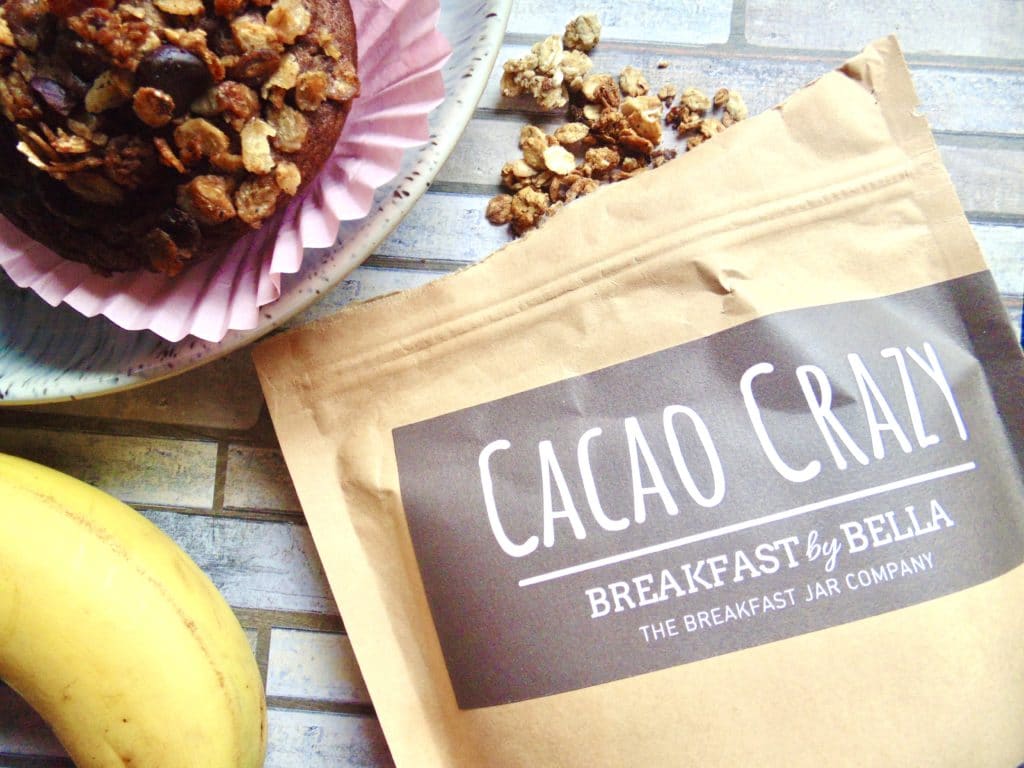 It's great to support small British companies when you can. With all the economic troubles and uncertainty around just now, putting some pennies into the hands of someone working hard and putting love into their products is a great little way to help out.
The products they offer are affordable, delicious and really versatile, and as I mentioned before, they fit just about every diet. I'd really recommend you try out the Breakfast By Bella products, this growing company are on their way to success!
Breakfast by Bella Review + Double Chocolate Banana Crunch Muffins!
Fluffy and sweet Double Chocolate Banana Crunch Muffins, full of creamy chocolate chips and topped with Breakfast By Bella's crunchy Cacao Crazy granola!
Ingredients
80ml (⅓ cup) melted coconut oil or any vegetable oil
100ml (⅓ cup) maple syrup or honey
2 tsp vanilla extract
2 eggs
60ml (¼ cup) any kind of milk
3 mashed ripe bananas
200g (1 ½ cups) white or wholemeal plain flour (gluten free blends work well too!)
45g (⅓ cup) cocoa powder
1 tsp baking powder
½ tsp bicarbonate of soda
Pinch of salt
125g (¾ cup) dark chocolate chips
Breakfast By Bella Cacao Crazy granola for sprinkling on top
Instructions
Preheat your oven - 180 C / 160 C fan / 350 F / gas mark 4 - and grease a 12 hole muffin tin with oil or butter. I tend not to use muffin cases for these as the moist nature of these muffins can make them stick to the cases.
In a large bowl, whisk together your oil and syrup/honey until combined.
Add in the eggs, whisking again until smooth.
Add the mashed banana, the vanilla and the milk and whisk it up again.
Add your flour, cocoa, raising agents, salt and chocolate chips. Mixing again until completely combined. Careful not to over-mix though, the less you stir a muffin mixture, the lighter it will be!
Use a large spoon or ice cream scoop to divide the mixture into your prepared tin'a 12 holes and sprinkle over some of that lovely Breakfast By Bella Cacao Crazy granola.
Bake in the preheated oven for 25-30 minutes until risen, firm and a skewer inserted into the centre can be cleanly removed (maybe minus some melty chocolate!).
Allow the muffins to cool in the tin for about 15 minutes before cooling completely on a wire rack.
Enjoy!
Notes
*Why not try out some of Breakfast By Bella's other granolas in this recipe, like Peanut Butter Me Up or Nutty nosh?
*Why not add some raspberries to the mixture for a juicy switch-up?
http://maverickbaking.com/breakfast-by-bella-review/
You may also like: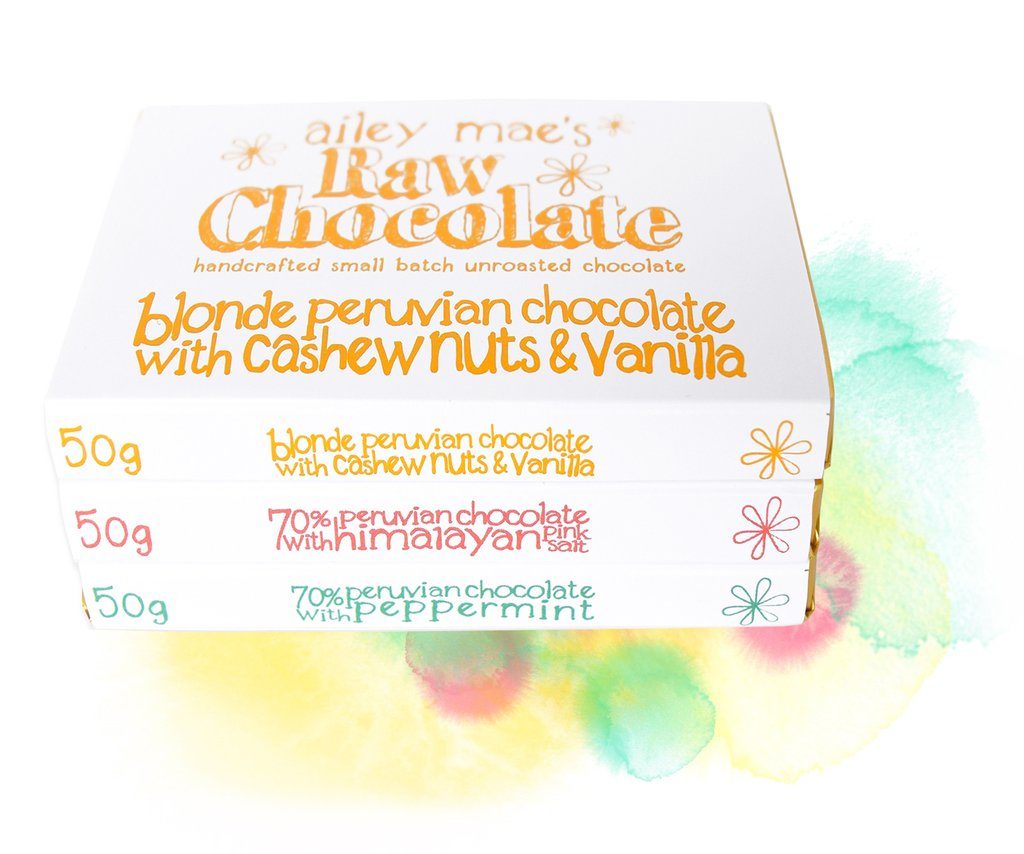 Ailey Mae's Raw Chocolate Review