Cadbury Cookies; chunks of creamy Cadbury Dairy Milk Chocolate baked into crisp-edged, soft-centred cookies. No one can resist these!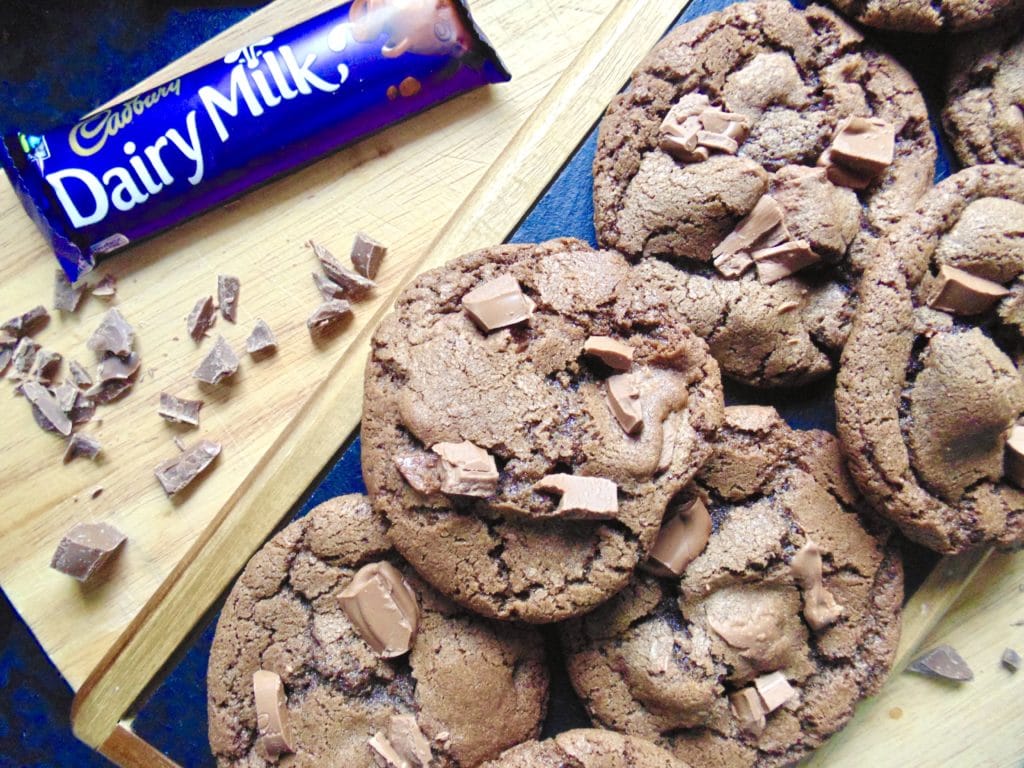 If you come here often, or you've had a scroll through my recipes, you've probably guessed by now that I'm a little obsessed with chocolate chip cookies. Regular chocolate chip, white chocolate chip, double chocolate, triple chocolate, peanut butter, gluten free, vegan, I'll take anything in cookie form.
On that note, I come to you today with a recipe that isn't just a bog standard chocolate chip cookie recipe. There are MILLIONS on the internet and everyone is a little particular about the "perfect" regular chocolate chip cookie. Today, I come bearing something special.
What you see before you are Cadbury Cookies. Yup, Cadbury Cookies.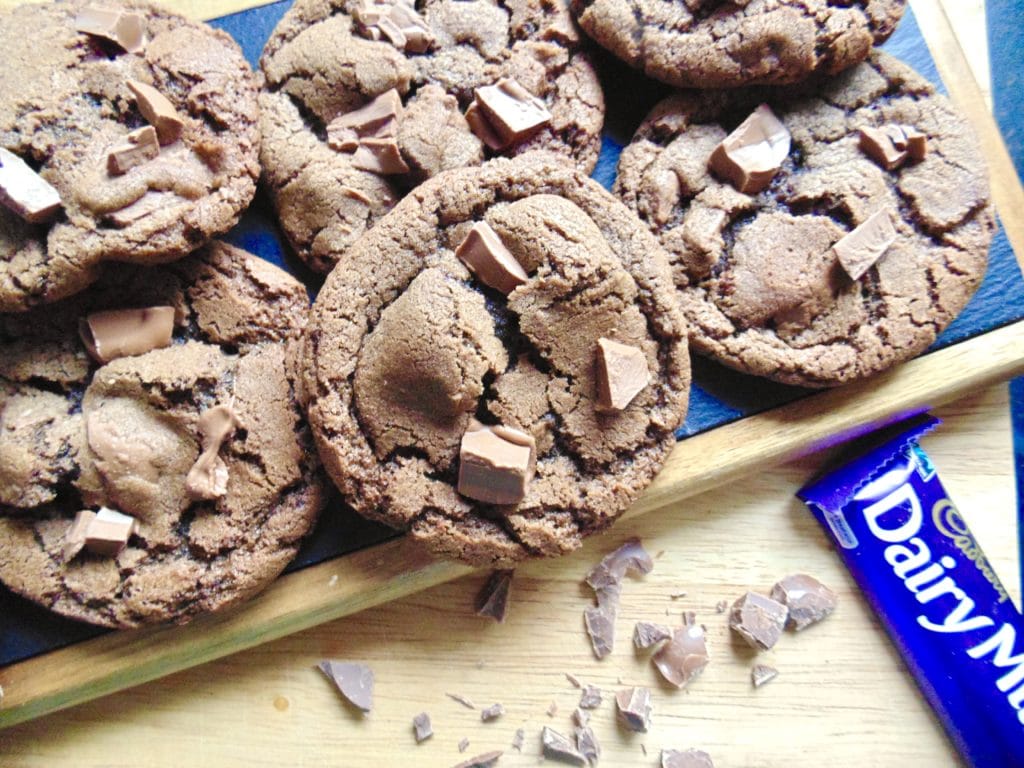 Cadbury chocolate will always have a special place in my heart as it was my favourite when I was a kid, I've already used it to make wonderful Cadbury Cupcakes, so it was only a matter of time before Cadbury Cookies happened.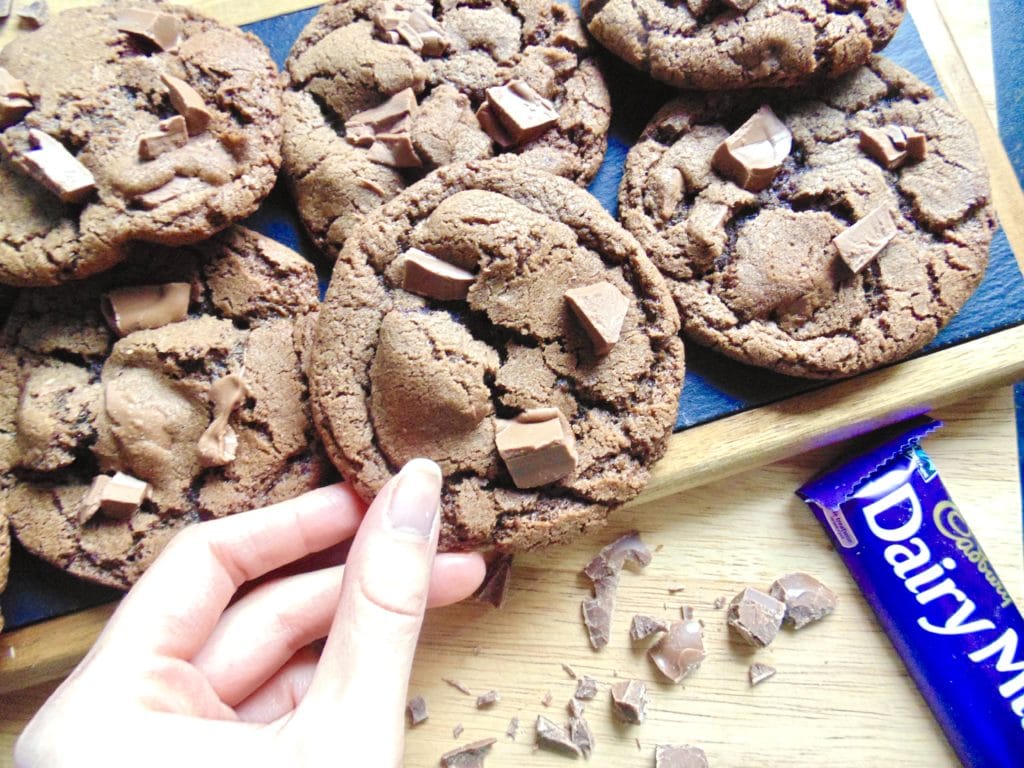 As you can see, these soft and chewy Cadbury cocoa-flavoured cookies are LOADED with creamy classic Cadbury Dairy Milk chocolate and have just the that perfect small amount of crisp round the edges. Whether you're firmly in the Cadbury lovers' camp, the Galaxy lovers' camp or any other camp for that matter, you will not be able to resist these!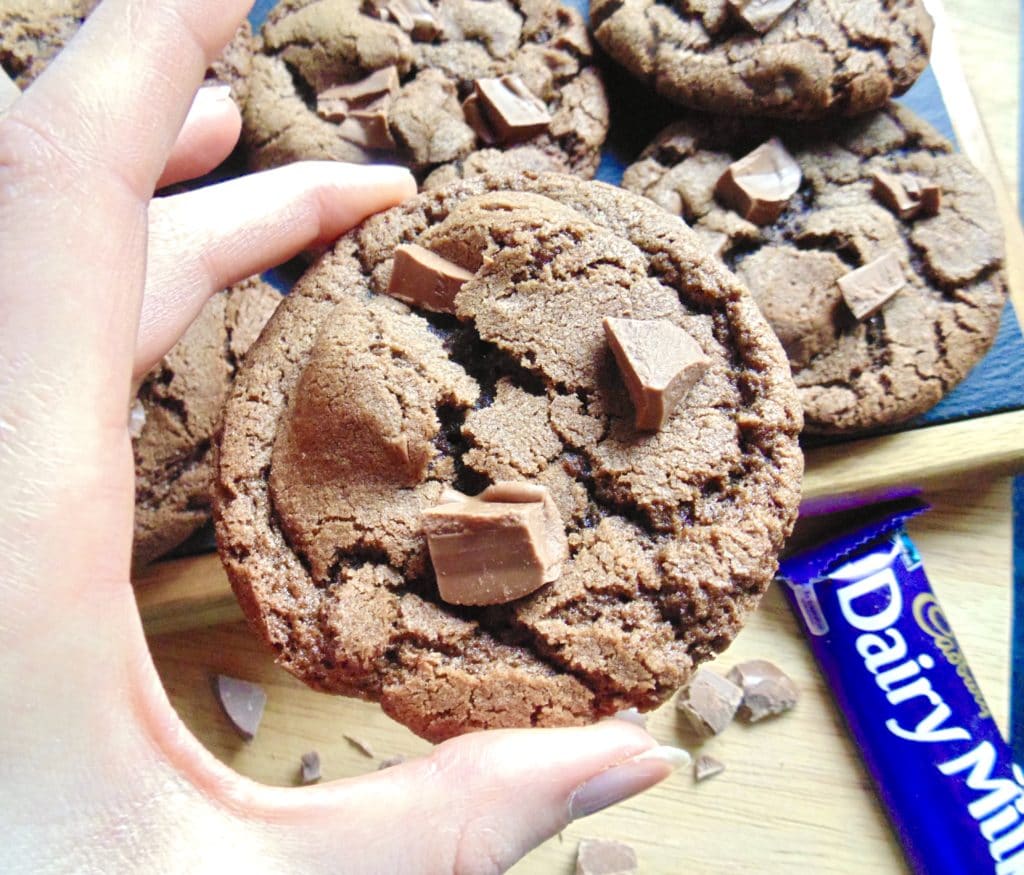 As always, the recipe for these Cadbury Cookies is super easy, cheap, and should produce lovely cookies for you to share with little people, other grown-ups, or keep all to yourself. I suggest the latter, I shared them and kinda regretted it…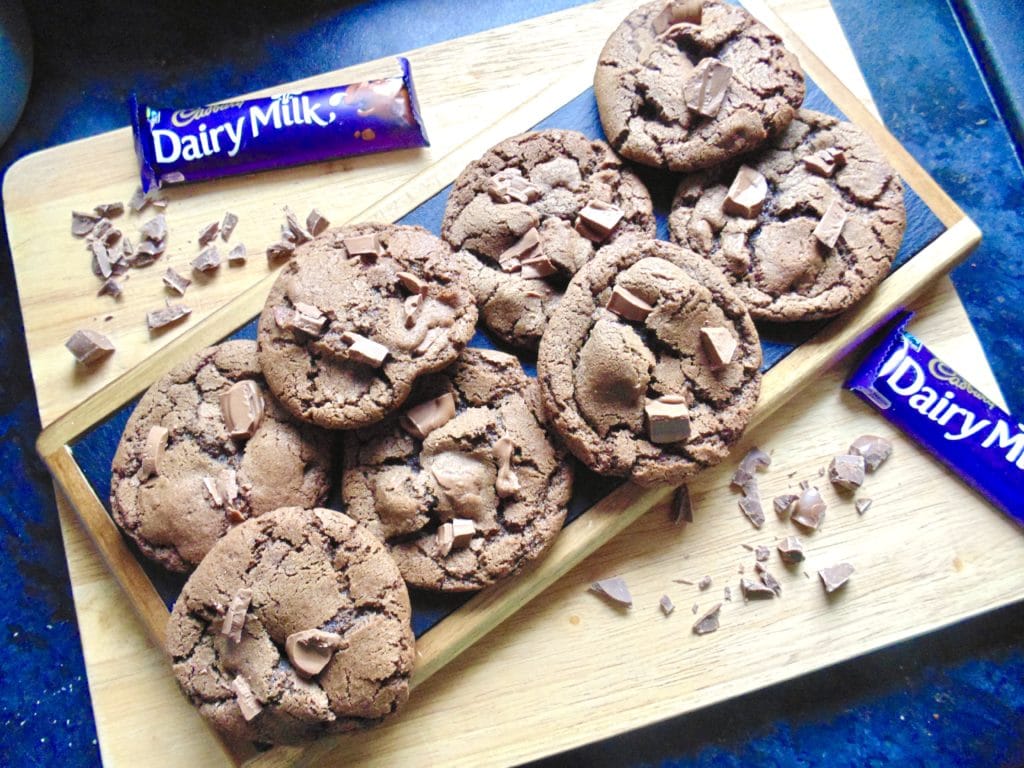 Now grab one of these Cadbury Cookies and sink your teeth into this fabulous nostalgic treat!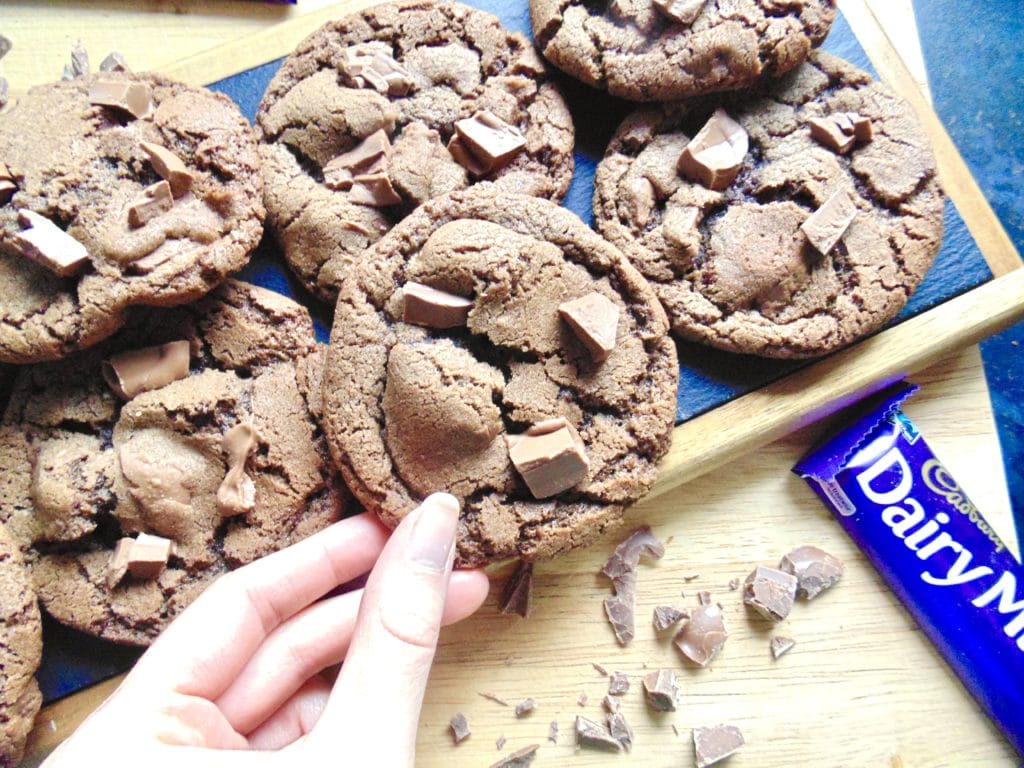 These are fun to make and even more fun to eat, I really hope you get a chance to try them out. Let me know if you do in the comments below, or on social media!
So, are you a Cadbury or a Galaxy lover??
Scroll down for the full recipe!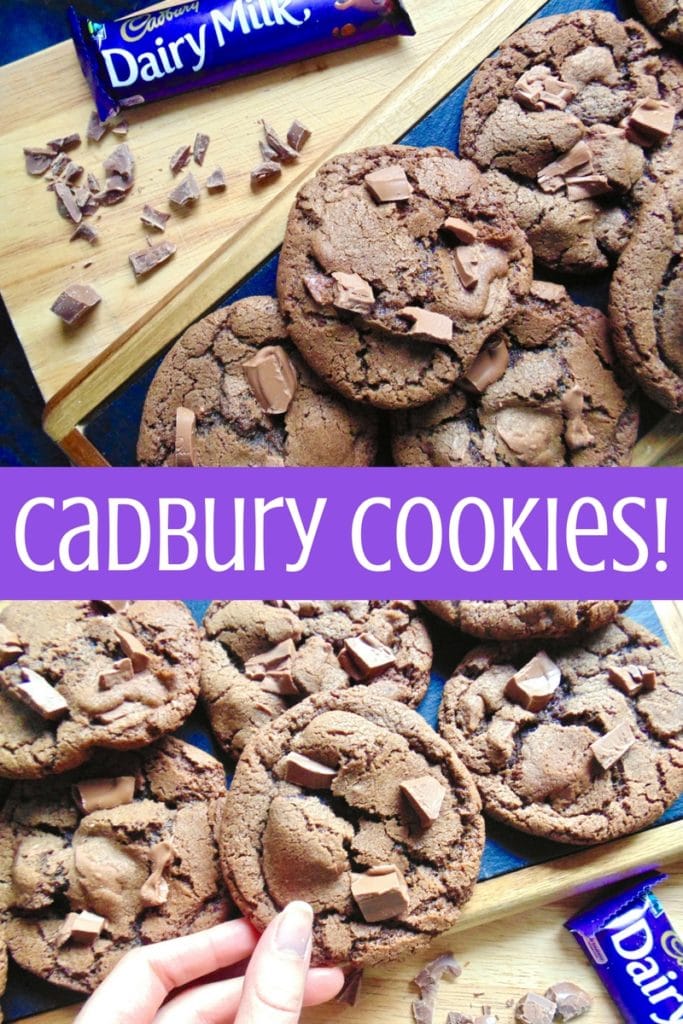 Cadbury Cookies; chunks of creamy Cadbury Dairy Milk Chocolate baked into crisp-edged, soft-centred cookies. No one can resist these!
Ingredients
160g (10 tbsp) softened butter
150g (¾ cup) soft brown sugar
100g (½ cup) caster sugar
2 tsp vanilla extract/paste
1 egg
1 egg yolk
240g (2 cups) plain flour
40g cocoa powder (use Cadbury's if you can!)
½ tsp salt
1 tsp bicarbonate of soda
300g Cadbury Dairy Milk chocolate, chopped into chunks
Instructions
Line 2-3 baking trays with greaseproof paper.
In a large bowl, cream together the butter, sugar and vanilla until well combined.
Add the egg and egg yolk one at a time, beating thoroughly between each addition until well incorporated.
Mix the flour, cocoa, salt and bicarbonate of soda into the wet ingredients until a dough forms.
Mix the chocolate chunks through the dough.
Scoop the dough using two spoons or an ice-cream scoop onto your prepared trays, you should get 16-20 balls of dough.
Place the trays of dough balls into the fridge to chill for at least 30 minutes (an hour or two is even better), this allows them to hold their shape better and come out nice and thick and chewy.
In the meantime, preheat your oven - 190°C / 170°C fan / 375°F / gas mark 5.
After chilling, bake the cookies on their trays for 14-16 minutes. They may seem underdone but they will firm up as they cool!
Cool the cookies on their tray for 5 minutes before cooling completely on wire racks.
Enjoy!
Notes
*If you prefer Bournville chocolate or another kind of Cadbury chocolate, why not try that out instead?
http://maverickbaking.com/cadbury-cookies/
If you enjoyed these Cadbury Cookies, you may also like…