Caramac Cookies; crisp edged cookies with soft chewy centres and thick chunks of retro Caramac chocolate, what more do you need?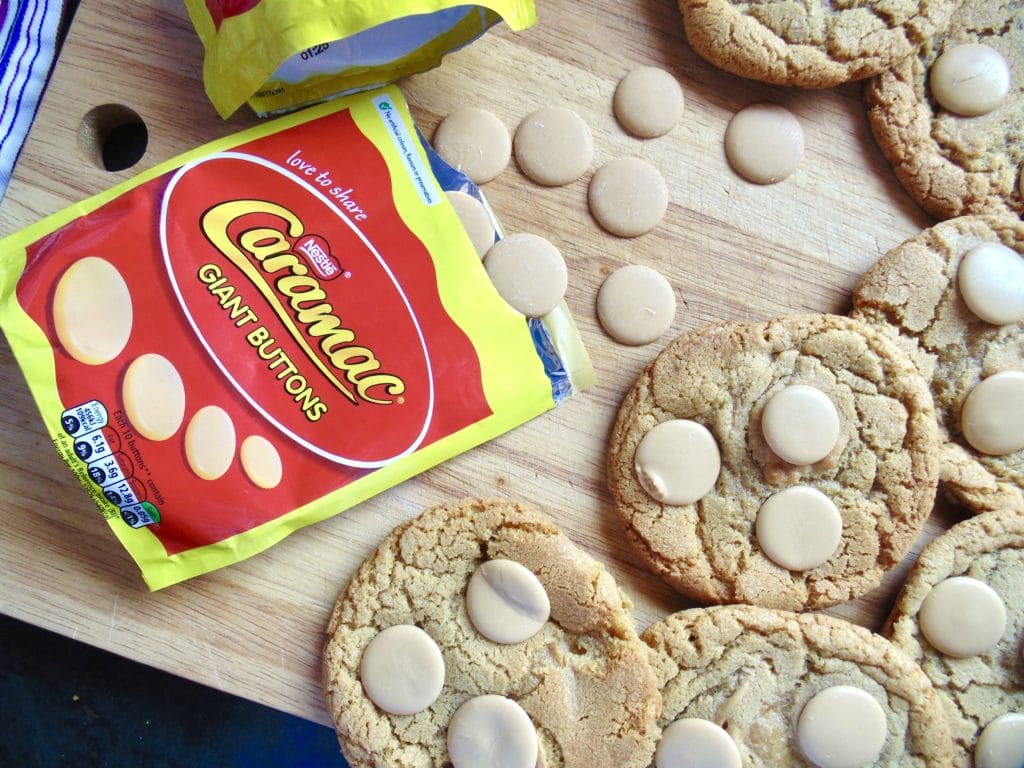 While I realise that Maverick Baking is already full of deliciously addictive cookie recipes, I just can't resist making more. These Caramac Cookies have been playing on my mind for a while now, especially after the online success of my Caramac Cheesecake recipe!
It seems that people love a big brand chocolate bar, especially old school ones that are a little harder to get a hold of nowadays. I guess retro doesn't have to mean cringe-worthy!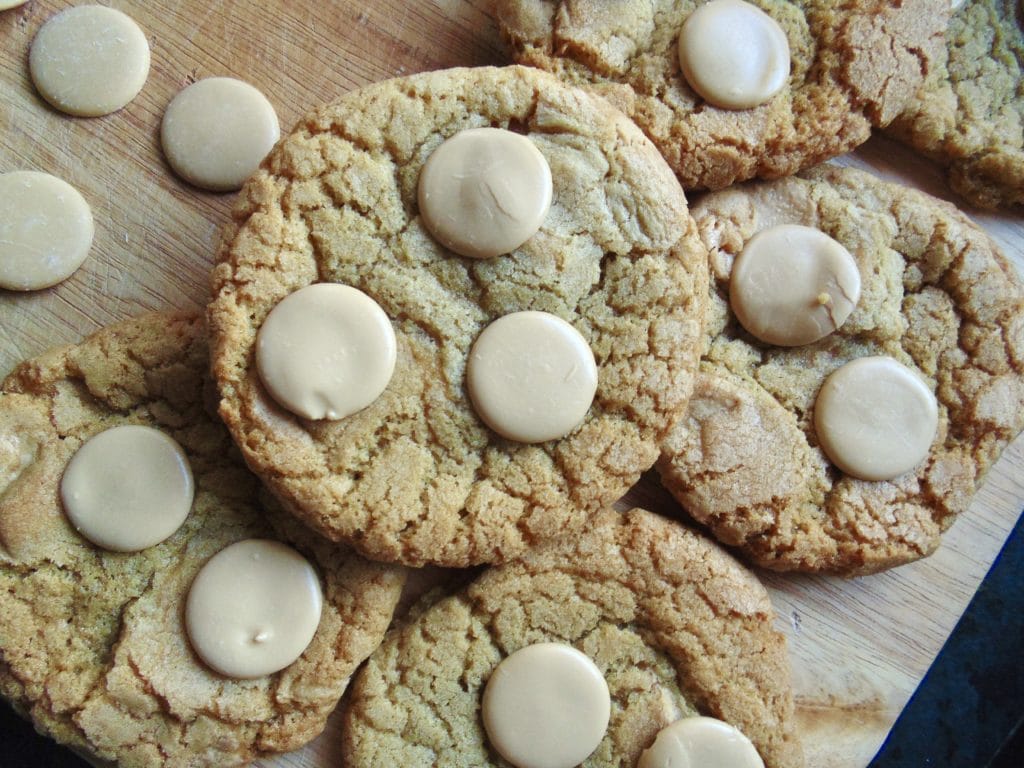 I brought these into work to gauge how everyone felt about them, and the whole batch had been snapped up in 8 minutes. I even had a couple of people pop their head round to my desk to ask where they'd all gone because they'd missed out. I think that says it all…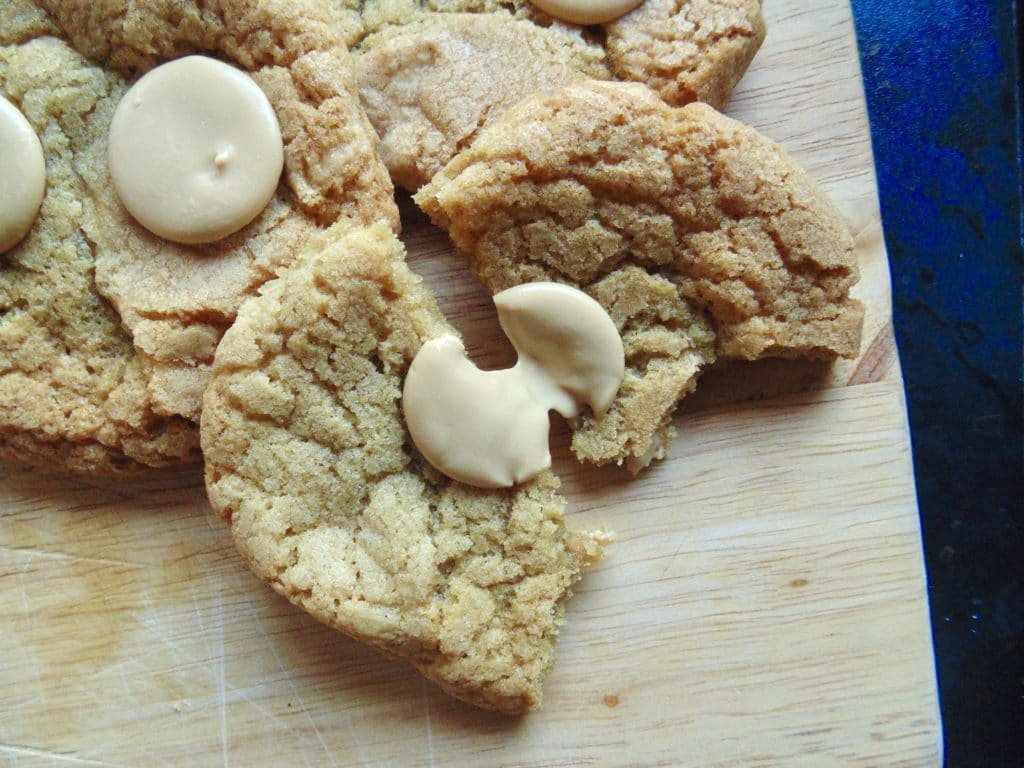 Crisp edges with a chewy centre, gentle vanilla flavour and thick chunky bites of Caramac chocolate laced through, these cookies aren't the kind you only eat once. You might notice that they're based on my ever-reliable basic Chewy Chocolate Chip Cookie recipe, but with a little less butter to allow for the extra oils in the Caramac chocolate. SCIENCE AND STUFF.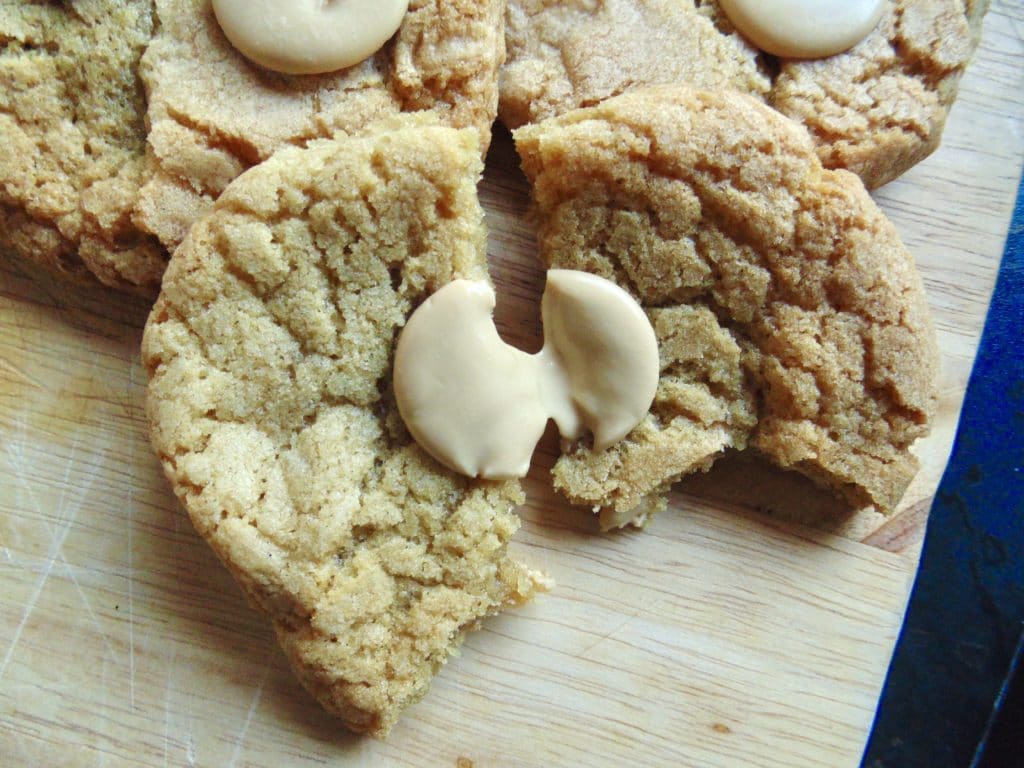 When first making these, I had a big mishap in that one of the cookies started to kinda melt off the edge of the tray, baking itself into a bizarre Allen Key shape. Obviously this ugly Frankencookie would be the one I'd have to taste first while it was warm out of the oven, and it was an absolute winner of a recipe.
Sadly this meant I didn't have any cookies with a cheeky bite out of them to get a good shot of…so guess what? Yeah, I ate another. All in the name of photography. It's a tough life being a food blogger.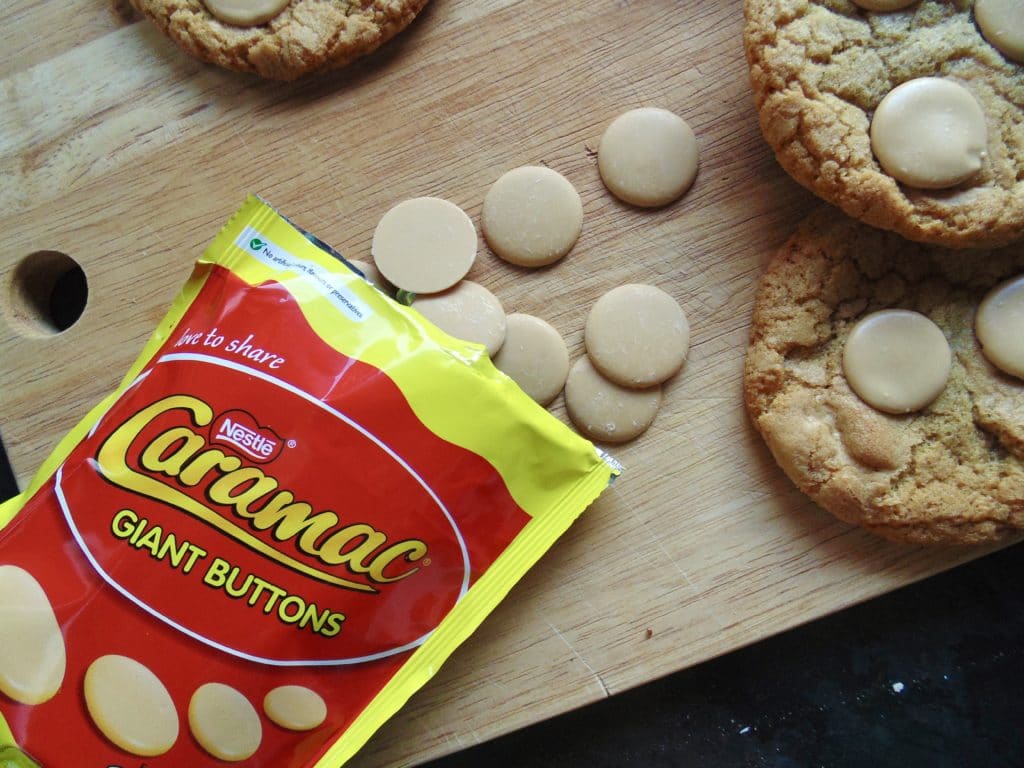 You'll be glad to know the recipe has been tweaked to prevent such melting mistakes. These Caramac Cookies are a great bake for beginners or veteran bakers, and as long as you chill the dough for at least an hour, you're on to an absolute belter of a tea-time treat! I hope you get a chance to make them, or that you have a keen foodie friend that you can convince to bake them for you!
Watch me make the Caramac Cookies in the video below, and you can find the full recipe with measurements and detailed instructions just a little further down!
Thanks as always for reading/watching. You can follow all my daily antics on Instagram and YouTube, and I'll see you very soon for more foodie fun!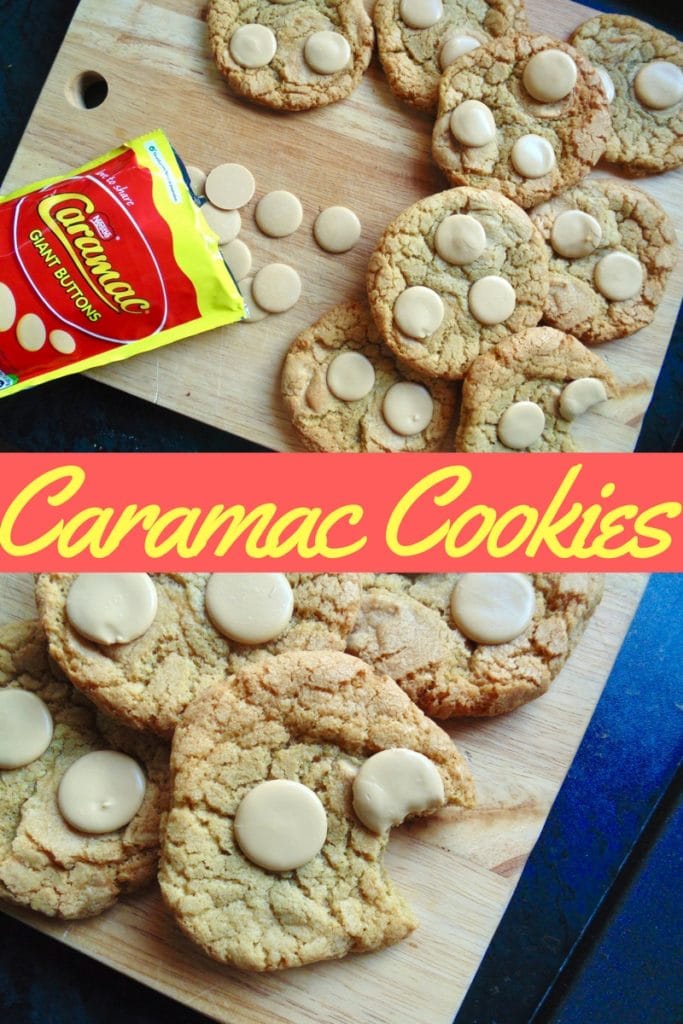 Caramac Cookies (with video!)
Caramac Cookies; crisp edges, chewy centres and thick chunks of Caramac chocolate, what more do you need?
Ingredients
150g (10 tbsp) soft butter
125g (⅔ cup) caster sugar
125g (⅔ cup) soft light brown sugar
1 tsp vanilla extract
1 egg
1 egg yolk
275g (2 cups) plain flour
1 tsp bicarbonate of soda
½ tsp salt
220g (2 bags) Caramac buttons, plus extra to decorate
Instructions
Prepare 2-3 baking trays by greasing them thoroughly and/or lining them with greaseproof paper. Set aside.
In a large bowl, beat the butter and two sugars together until creamy.
Add the vanilla and one egg, and beat until smooth and combined.
Add the remaining egg yolk and beat again until smooth.
Tip in the plain flour along with the bicarbonate of soda and salt, stir well until combined into a thick dough.
Stir through the Caramac buttons until well distributed.
Use either an ice cream scoop or two regular spoons to dollop balls of the cookie dough onto your prepared baking trays. Try to space them evenly, with at least 5cm between each, they do spread a little!
Chill the trays in the fridge for at least one hour, the photos you see above are the result of a two-hour chill before baking. Chilling helps the cookies bake into a nice even shape, and helps with the chewy texture.
Meanwhile, preheat your oven - 190°C / 170°C fan / 375°F / gas mark 5.
Bake the trays of cookies one at a time for 15-16 minutes until turning lightly golden at the edges. I like to give mine 15 minutes in the oven, as I like a slightly softer centre. They may look or feel underdone but trust me, they will firm up as they cool!
Remove the cookies from the oven once baked, topping with a few extra buttons for decoration if you like.
Allow the cookies to cool on their trays for 5-10 minutes before moving them to a wire rack to cool completely.
Enjoy!
http://maverickbaking.com/caramac-cookies/
You may also like…