Cherry White Chocolate Cake; fluffy vanilla cake studded with fresh summer cherries, dressed up in silky smooth white chocolate buttercream frosting!
Summer is the season that sees shelves upon shelves stacked with punnets of glorious ruby-red strawberries. They are unbelievably enticing, and there is nothing quite like the smell of ripe soft fruits. Because of this strawberry-centric season, it's often easy to forget the other delicious fruits in abundance at this time of year. Soft tart raspberries, bursting juicy blackberries, and of course, the dark beauty of fresh cherries.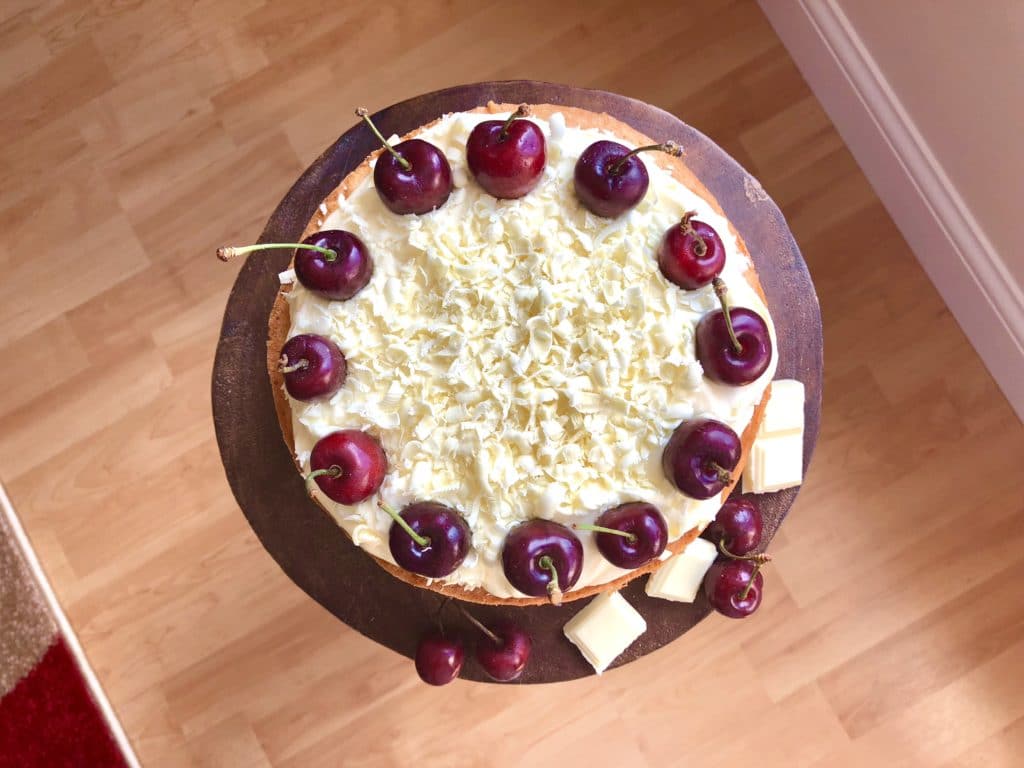 So often seen dyed and drenched in sugar syrup, or dried out and sweetened, the cherry isn't a fruit that we Brits appreciate enough whether in eating or in baking. We may know the flavour well from chewy sweets or sticky lollipops, but most of us rarely eat them straight from the punnet. Last year was the first time I really remember eating them fresh. This year I've become borderline obsessive. Carefully washing and drying their deep crimson exterior, slicing them open to the juicy core to remove their pits, before savouring each sweet nibble. I mean, I take this much time to savour eating Cheesestrings and M&Ms too, but that's not the point…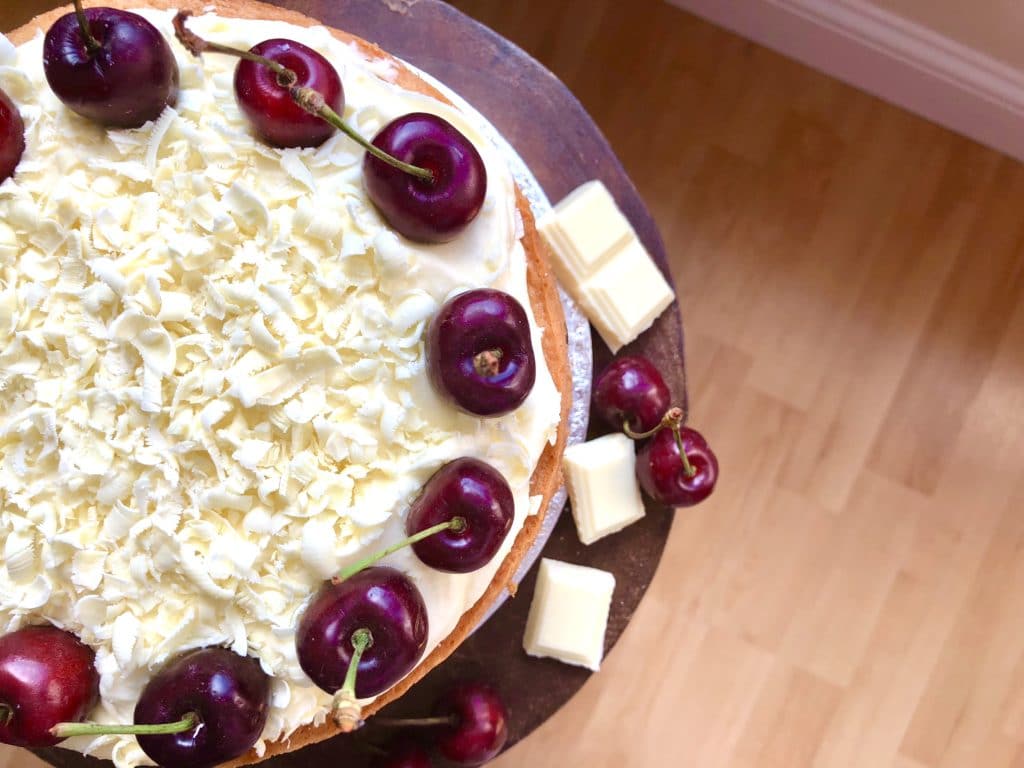 This Cherry White Chocolate Cake might not be as posh as the strawberries and cream of Wimbledon, or as common as the raspberry white chocolate muffins seen in coffee shop cabinets. It is every bit as delicious though.
Dreamily soft and fluffy vanilla sponge, studded with fresh juicy cherries, all dolled up with silky and sweet white chocolate buttercream. Indulgent enough with it's sweetness to restore your energy after a walk in the summer heat. Yet light and fluffy enough to round off a meat-and-beer-heavy BBQ feast with your friends.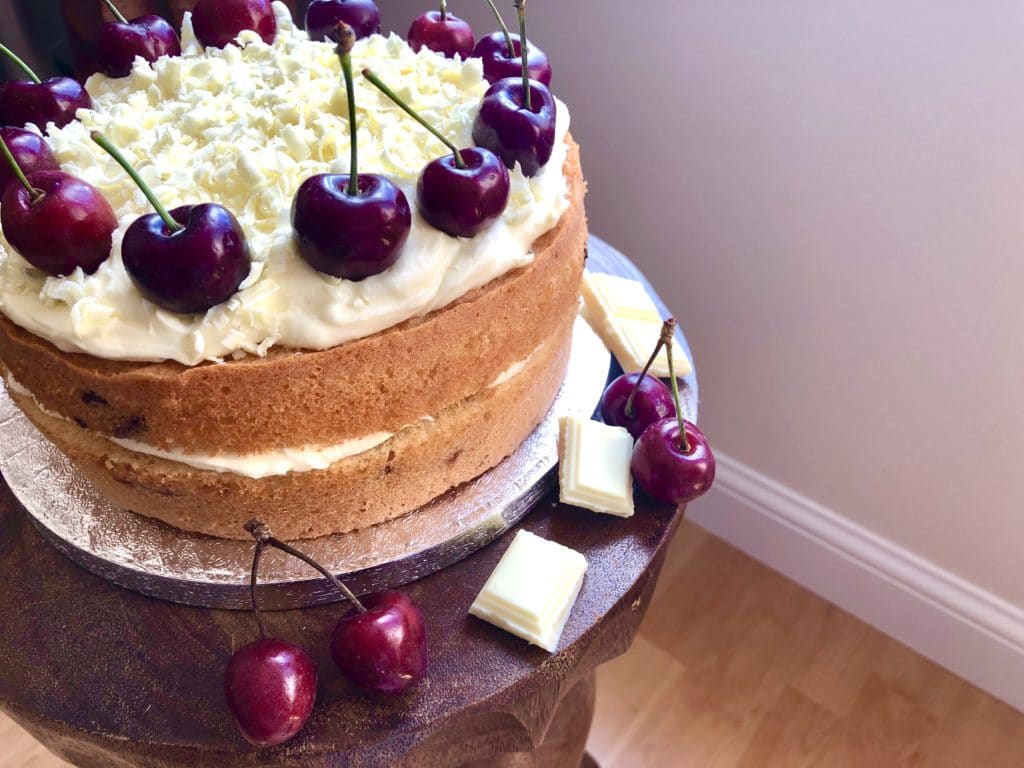 I've made this Cherry White Chocolate Cake a few times now, for an afternoon tea and for my dad's birthday, and have fallen deeply in love. I hope you will too. That is, if it ever stops being too hot in Britain to turn the oven on again…
To make this gorgeous summer cake, simply scroll down for the full recipe!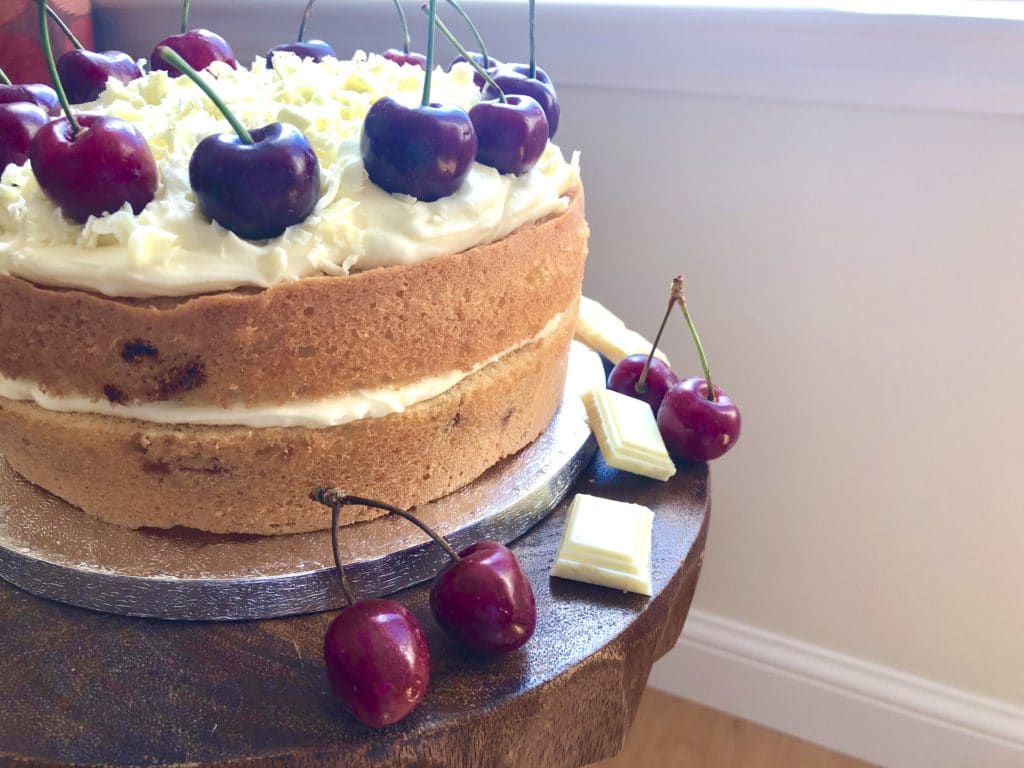 Scroll down to find the full recipe for this Cherry White Chocolate Cake!
Cherry White Chocolate Cake
Cherry White Chocolate Cake; fluffy vanilla cake studded with fresh summer cherries, dressed up in silky smooth white chocolate buttercream frosting!
Ingredients
For the vanilla cherry cake:

200g (13 tbsp) soft butter or margarine
180g (1 cup) caster sugar
3 large eggs
1 tsp vanilla extract
200g (1 ½ cups) self-raising flour
Pinch of salt
100g (scant ½ cup) destoned and halved fresh cherries, tossed with a spoonful of flour (this stops them from sinking inside the cake!)
For the white chocolate frosting and decoration:

200g (13 tbsp) soft butter
200g (1 cup) icing sugar
1 tsp vanilla extract
150g (5 oz) melted white chocolate, plus extra for shaving on top
8-12 fresh cherries
Instructions
For the vanilla cherry cake:

Preheat your oven – 180 C / 160 C fan / 350 F / gas mark 4 – and grease/line two 20-23cm (6-8 inch) cake tins.
Place all the cake ingredients except for the cherries in a large bowl and beat together with a wooden spoon or an electric whisk until smooth and combined.
Gently stir through the flour-coated cherries.
Divide the cake mix between the two prepared tins, smoothing the tops of each.
Bake in your preheated oven for 25-30 minutes until golden, risen and a skewer inserted into the centre can be removed cleanly.
Once baked, allow to cool in the tins for 10-15 minutes before removing and cooling completely on a wire rack.
Meanwhile, prepare your frosting!
For the white chocolate frosting and decoration:

Melt your white chocolate, either by microwaving in 30-second blasts, or in a heatproof bowl over a pan of simmering water, until smooth. Set aside to cool slightly.
In a large bowl, beat together your butter with the icing sugar and vanilla until completely incorporated.
Add the melted white chocolate.
At this stage, I highly recommend using a wooden spoon or electric whisk to vigorously beat the frosting for a further 1-2 minutes until paler and fluffier. This is not essential, just makes for a lighter frosting! (feel free to add more sugar if you like a sweeter frosting)
Once the cakes are cool, you can begin assembling!
Place one cake onto your serving plate, slathering the top with half of your frosting.
Place the other cake on top and spread the remaining frosting on top.
Now simply decorate the top of the cake with your fresh cherries and some chunks or shavings of any leftover white chocolate. Or just whichever way you like!
Then simply slice up and enjoy!
Notes
BE A MAVERICK: Why not try this out with dark chocolate frosting instead?
MAKE IT GLUTEN FREE: Simply swap out the self-raising flour for a gluten free self-raising flour blend such as Dove's Farm!
http://maverickbaking.com/cherry-white-chocolate-cake/
If you liked this Cherry Chocolate Cake, you may also enjoy…