Chocolate Chip Malteser Cookies; soft and chewy bakery-style malted cookies, loaded with creamy milk chocolate chips and crunchy smashed Maltesers!
Do you have any sweets or chocolates that you take a bite of, having not tasted them for months, and you think "Hot DAMN why don't I have these more often?!?"
For me, that treat is Maltesers.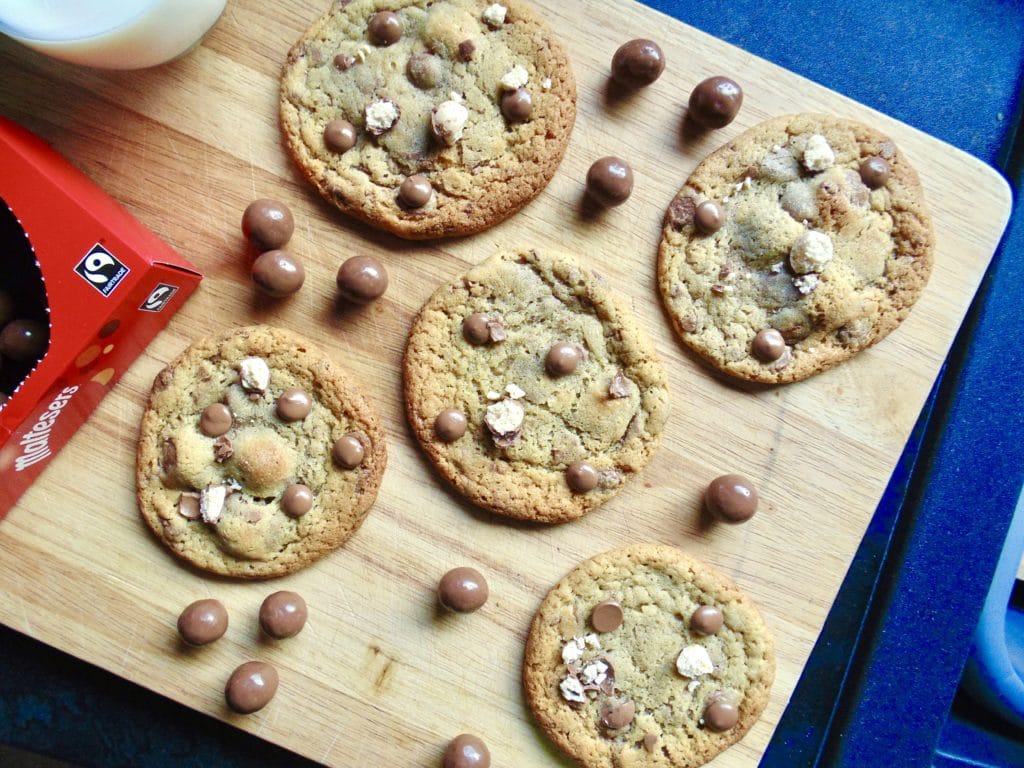 Those little crunchy malt balls, with that insanely creamy chocolate coating, get me every time. And those big Teaser bars? Honey, don't.
Which brings me to the question: do you just crunch right into your Maltesers, or do you let all the chocolate melt onto your tongue before you start chewing?
I already have a recipe for an insanely good Malteser Bunny Cake on the blog, though that one is obviously a little more suited to Easter than the later months of the year! It felt time to churn out another delicious malty recipe, so after a couple of unsatisfactory attempts, here is my perfected new Chocolate Chip Malteser Cookies recipe!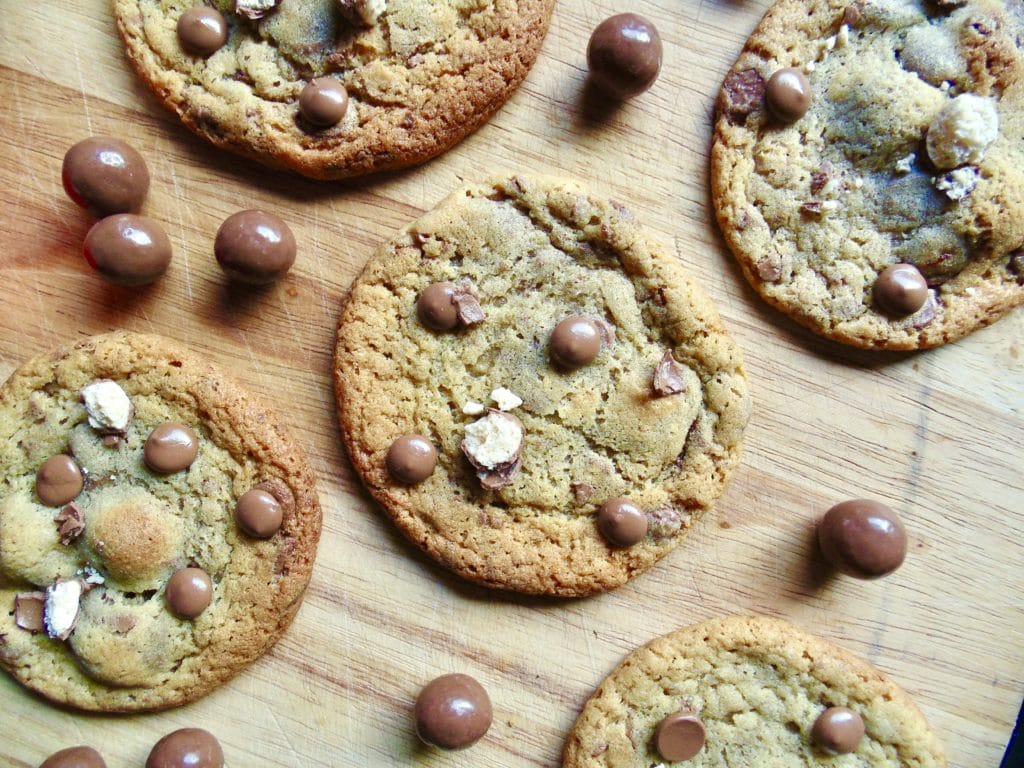 Wonderfully inviting soft and chewy cookies, with perfect malted flavour, loaded with creamy milk chocolate chips and smashed-up Malteser bits. Comforting, satisfying, and downright delicious. I mean, Chocolate Chip Malteser Cookies were never really going to be bad were they??
Adding malted milk powder such as Horlicks or Ovaltine to the cookies in place of some flour adds great sweet malty flavour, reminiscent of a Malteser's crunchy interior. The creamy chocolate chips felt necessary to replicate that yummy coating, and depending on how much crunch you like in your cookie, it's totally up to you whether you want whole chunky Maltesers or smashed up shards of crunchy malty chocolate. I went for a mixture of both, to get the best of both worlds. (You're definitely singing Hannah Montana, now, right?)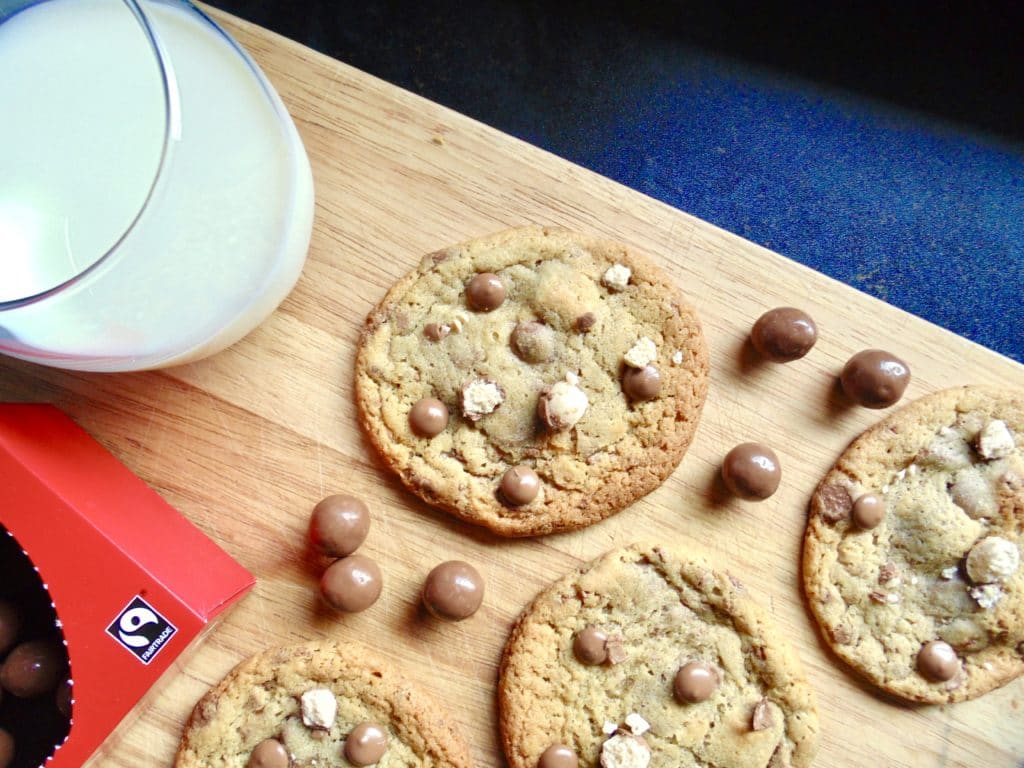 Fortunately, these cookies are as easy to make as they are to eat. You only need one bowl to mix all your ingredients, then just scoop 'em onto a baking tray, chill 'em a bit, and bake 'em until you can't wait any longer. I can assure you, these Chocolate Chip Malteser Cookies are delicious, warm, cold or as raw dough. THAT DOUGH, THO.
To watch me make these Chocolate Chip Malteser Cookies; check out this video from my YouTube channel below! Or for full recipe and instructions, scroll down:
As I said before, these cookies are delicious no matter how you eat them. As a change from the norm, I'd recommend a Cletheroe family classic – heating the cookie in the microwave for 10-20 seconds to get it all soft and gooey before eating it on its own or with ice cream – YUM!
I hope you get a chance to try these cookies, they are a great treat for adults and children alike. They'd also make an ideal bake for the big MacMillan Coffee Morning coming up on the 29th September, to help raise funds for the great cancer charity!
Scroll down to find the full recipe for these Chocolate Chip Malteser Cookies!
Thank you as ever for stopping by to lust over baked goods with me, it's always appreciated, I hope to see you again some time!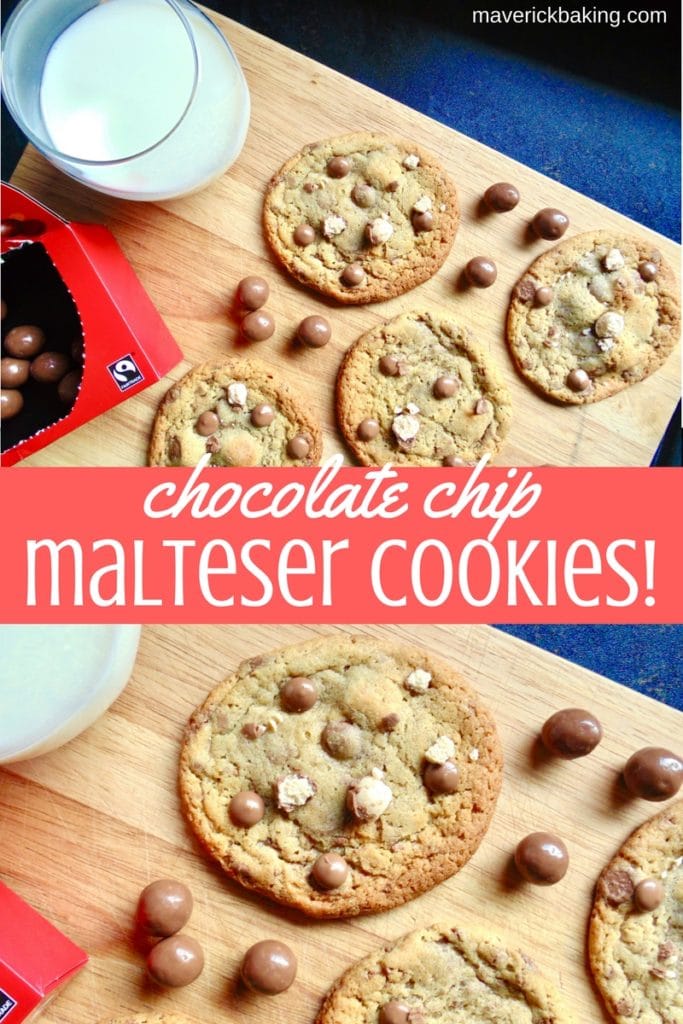 Chocolate Chip Malteser Cookies
Chocolate Chip Malteser Cookies; soft and chewy bakery-style malted cookies, loaded with creamy milk chocolate chips and crunchy smashed Maltesers!
Ingredients
160g (10 ½ tbsp) soft butter
100g (½ cup) soft brown sugar
100g (½ cup) caster sugar
2 tsp vanilla extract
1 egg
1 egg yolk
200g (1 ½ cups) plain flour
75g (½ cup) malted milk powder
1 tsp bicarbonate of soda
½ tsp salt
200g Maltesers (whole or crushed) (Whoppers for US readers)
100g (3 ½ oz) chocolate chips
Instructions
Line 2-3 baking trays with greaseproof paper.
In a large bowl, beat together the butter, sugar and vanilla until well combined.
Add the egg and egg yolk one at a time, beating thoroughly between each addition until well incorporated.
Mix the flour, malted milk powder, bicarbonate of soda and salt into the bowl, until a stiff dough forms.
Mix the chocolate chips and Maltesers through the dough.
Scoop the dough using two spoons or an ice-cream scoop onto your prepared trays, you should get 16-24 balls of dough, depending how large or small you like your cookies.
Place the trays of dough balls into the fridge to chill for at least 30 minutes (an hour or two is even better), this allows them to hold their shape better and come out nice and chewy.
In the meantime, preheat your oven - 190°C / 170°C fan / 375°F / gas mark 5.
After chilling, bake the cookies on their trays for 15-16 minutes (depending on the size of the cookies) until golden at the edges. They may seem underdone but they will firm up as they cool!
Cool the cookies on their tray for 5-10 minutes before cooling completely on wire racks.
http://maverickbaking.com/chocolate-chip-malteser-cookies/
You may also like…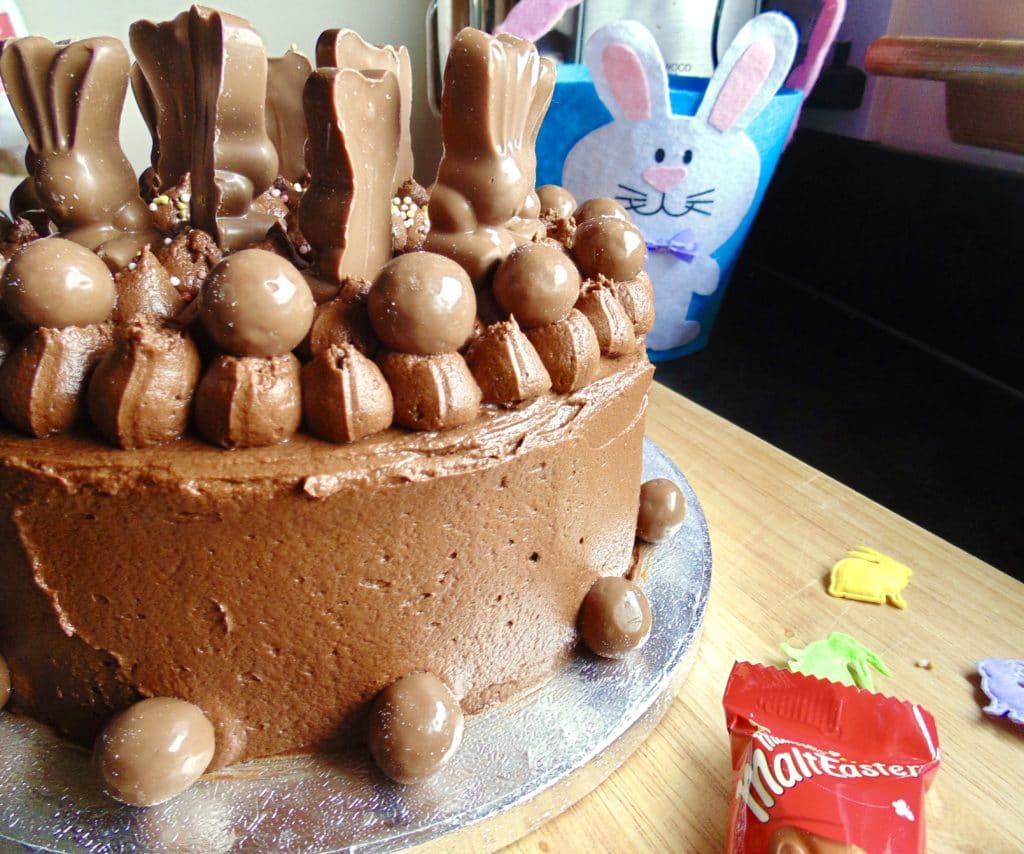 Easter Chocolate Malteser Bunny Cake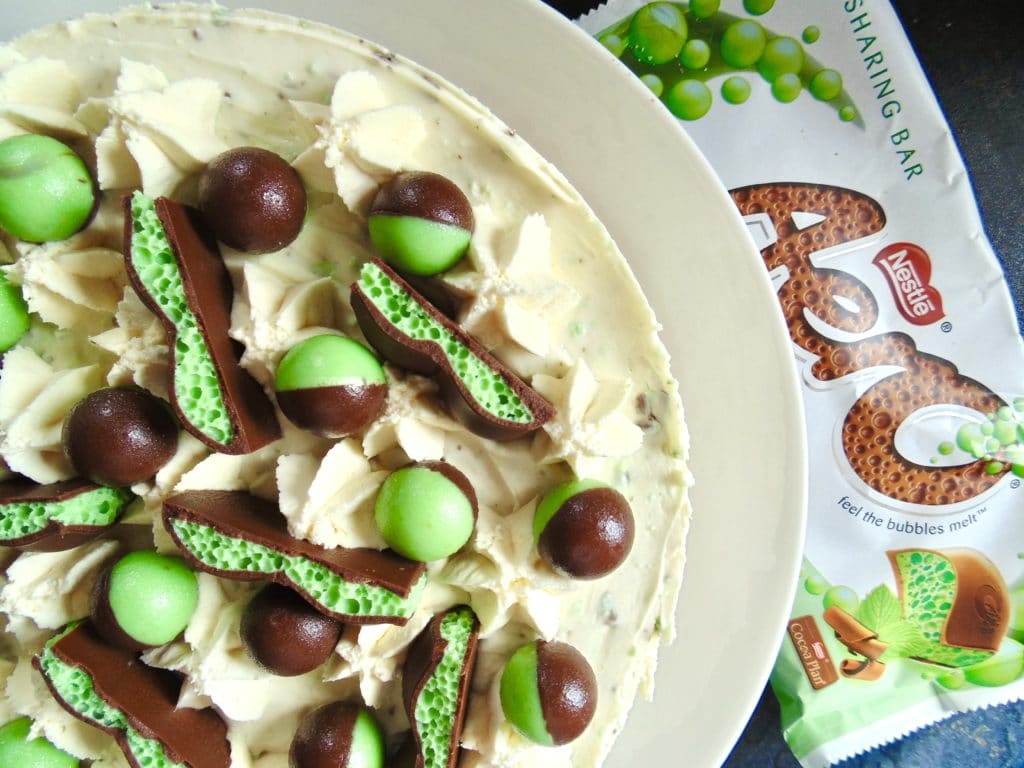 [This post contains affiliate links]