Chocolate Chip Peanut Butter Flapjacks; thick and chewy flapjacks full of chocolate chips, sweet sticky dates and rich with peanut butter flavour, surprisingly healthy too!
Raise your hand if peanut butter, chocolate or sticky, stodgy sweet things in general are the key to your heart. *Raises hand emphatically*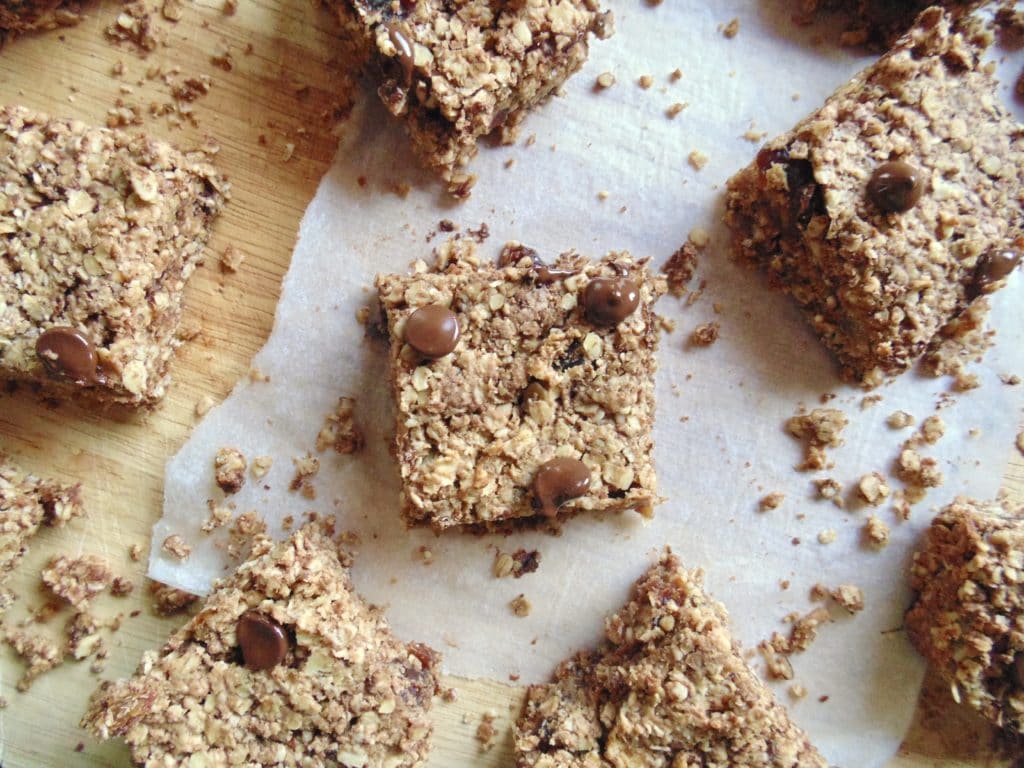 Peanut butter is a delicious but incredibly divisive ingredient. Most people either loathe it's thick texture and strong taste, or would happily eat it with a spoon and spend £££ on imported flavoured American varieties. I'm the latter in case you didn't guess. My name is Kelly, and I'm a peanut butter addict. Don't tell Nutella.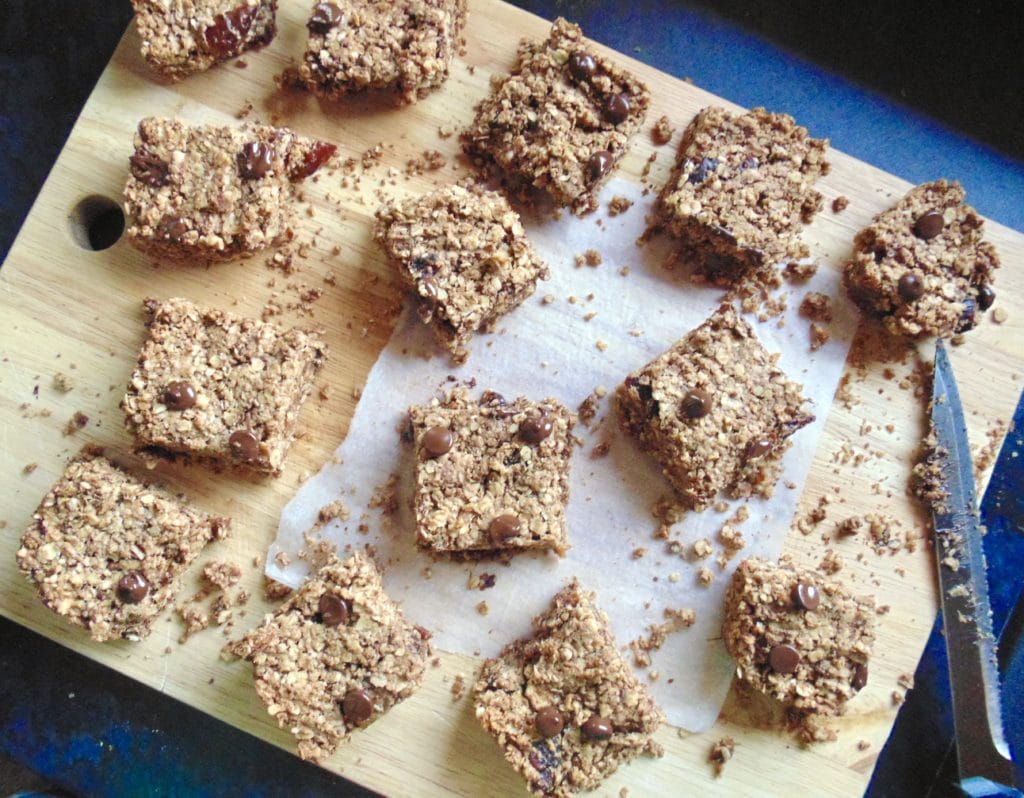 I have a great go-to flapjack recipe in my Healthy Banana Coconut Flapjacks but this time I felt like making a change. Something a little more filling and definitely stronger on the peanut butter front. This recipe was a total gamble, melting stuff together, mixing it up, baking it and hoping for the best. Thankfully my efforts and hoping paid off this time (trust me, I'm not always that lucky!). The flapjacks went down a storm with my workmates, even after I gingerly offered them up in the fear that they weren't pretty enough to pass around. Thankfully they seemed to agree that flavour is king with baked goods, and a pretty appearance is just a bonus!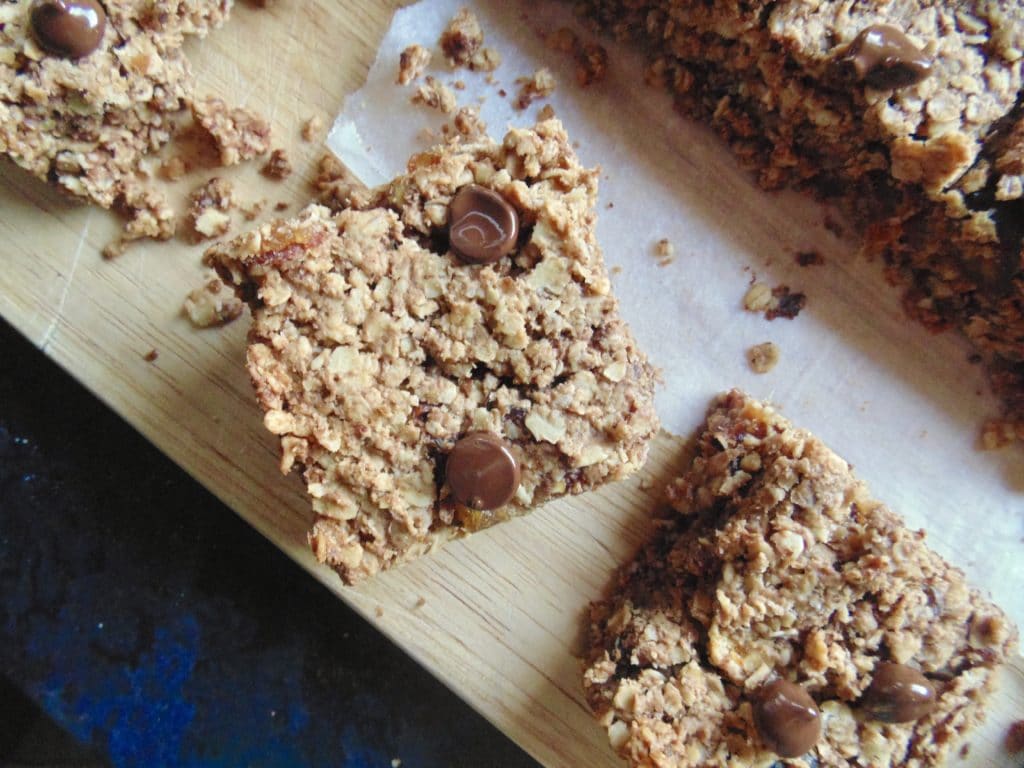 These Chocolate Chip Peanut Butter Flapjacks are every bit as good as they sound. Toasty oats all snuggled up with dark chocolate, sweet sticky dates and rich peanut butter flavour, they are filling, yummy and even a little healthy.
Yes folks, things can be good-for-you AND be full of butter and calories, don't believe the "wellness" brigade. You can use any kind of peanut butter you like in these flapjacks, whether you're into the runny all-natural kind or the classic creamy Sun-Pat or Jif style spread. Both are delicious, I ain't got no type when it comes to peanut butter.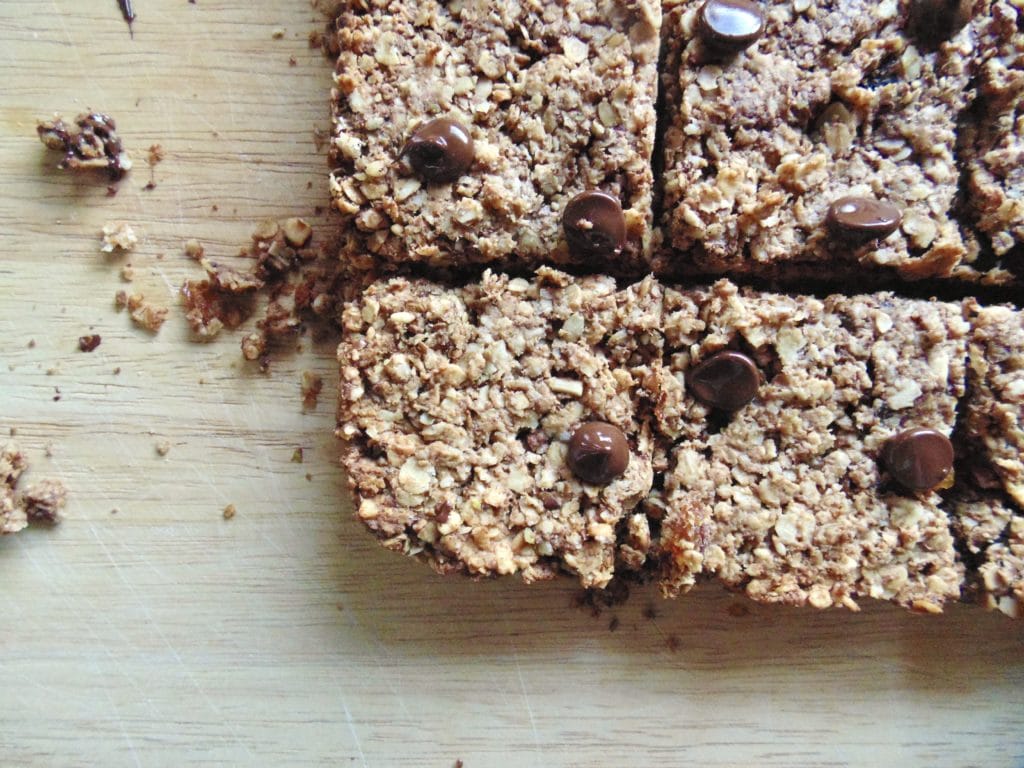 Unlike my other flapjacks, these are not dairy free, however they are still gluten free, so they are allergy friendly for some. They are also wonderfully customisable though, so if you really wanted these to be dairy free, just swap out the butter for a vegan equivalent or some coconut oil. Equally, feel free to add extra fruit, nuts or chocolate, I plan to try adding mashed banana to these soon, banana and peanut butter is ALWAYS a good idea.
These Chocolate Chip Peanut Butter Flapjacks are a great recipe for a beginner or experienced baker, or just someone who needs a supply of tasty snacks that will keep all week!
You'll find a recipe video from my YouTube channel below, and if you scroll just a little further, you'll find the full recipe:
I hope you enjoy these if you get a chance to make these Chocolate Chip Peanut Butter Flapjacks, they're not the prettiest of snacks, but the flavour more than makes up for it!
If you need to stock up on ingredients or equipment to make these yummy flapjacks, simply click on the images below:
[amazon_link asins='B007CX5SAU,B00SP32EXU,B00TS7MLXK,B01IESM54S,B008EQIX9C,B000KG8GVE' template='ProductCarousel' store='maverbakin-21′ marketplace='UK' link_id='59c30ea3-a6e0-11e7-bfc8-e5c3589dad0f']
Have a great week!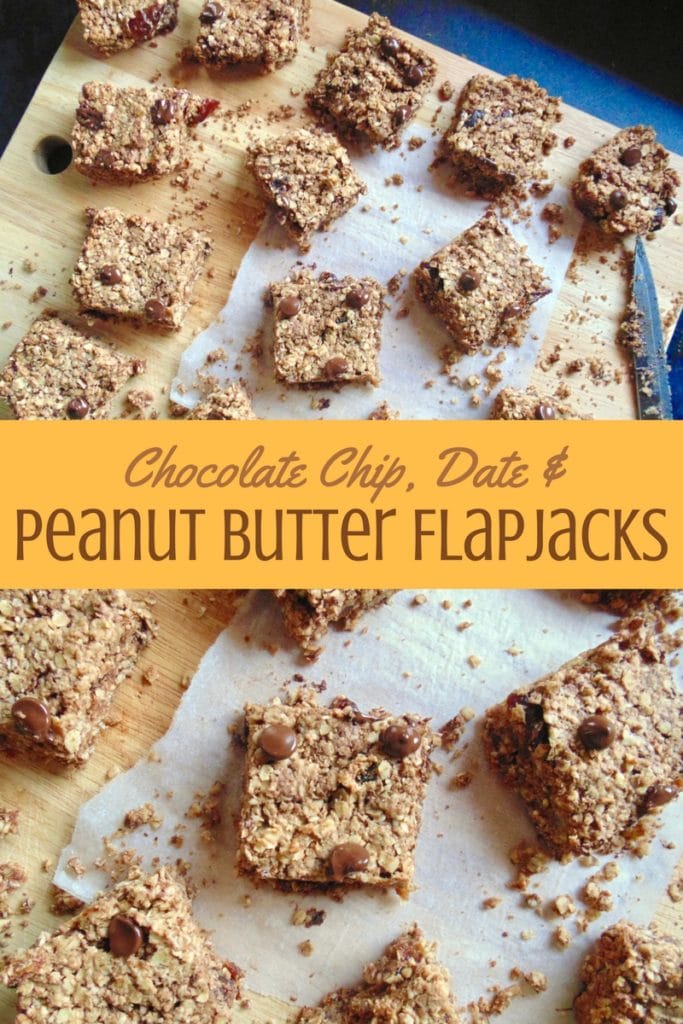 Chocolate Chip Peanut Butter Flapjacks (with video!)
Chocolate Chip Peanut Butter Flapjacks; thick and chewy flapjacks full of chocolate chips, sweet sticky dates and rich with peanut butter flavour, surprisingly healthy too!
Ingredients
200g (¾ cup) peanut butter (smooth or crunchy will work!)
80g (5 tbsp) butter
110g (⅓ cup) maple syrup, golden syrup or honey
330g (3 ¼ cups) oats
100g (½ cup) chopped Medjool dates (or other dried fruit)
50g 2 oz chocolate chips (plus extra for decoration)
50-100g (¼-½ cup) of extra nuts seeds (optional)
1 tsp vanilla extract
Pinch of salt
Instructions
Preheat your oven – 180°C / 160°C fan / 350°F / gas mark 4.
Grease and line a 20 x 20cm (8 x 8in) square baking tin.
Place your peanut butter, butter, syrup and vanilla into a medium-sized saucepan. (Or into a microwaveable bowl)
Pop it on a medium heat and stir until everything is all melted together smoothly. (Or heat in 30 seconds intervals in the microwave)
In a separate large bowl, stir together your oats, dates, chocolate chips and salt.
Add the melted liquid ingredients into the dry ones and stir until you have a well-mixed fairly thick paste.
Tip the mixture into your prepared tin and flatten it thoroughly with the back of a spoon or fork.
Sprinkle over some extra chocolate chips at this point if you like.
Bake in the preheated oven for 20-25 minutes until golden and firm.
Allow to cool in the tin for about 20 minutes before removing to cool completely.
Slice into 12-20 flapjacks bars, and enjoy!
Notes
Feel free to add in any alternative dried fruits or additional chopped nuts!
Feel free to use any other kind of nut butter, or to substitute some for mashed banana or regular butter
http://maverickbaking.com/chocolate-chip-peanut-butter-flapjacks/
[This post may contain affiliate links]