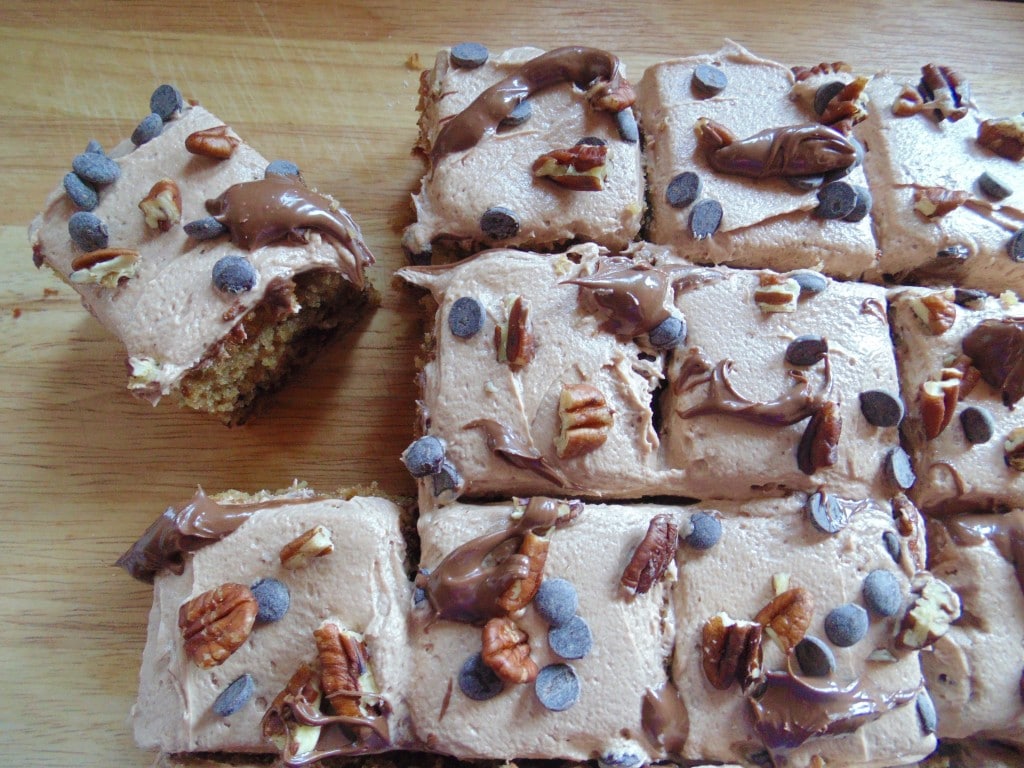 Ice cream is wonderful.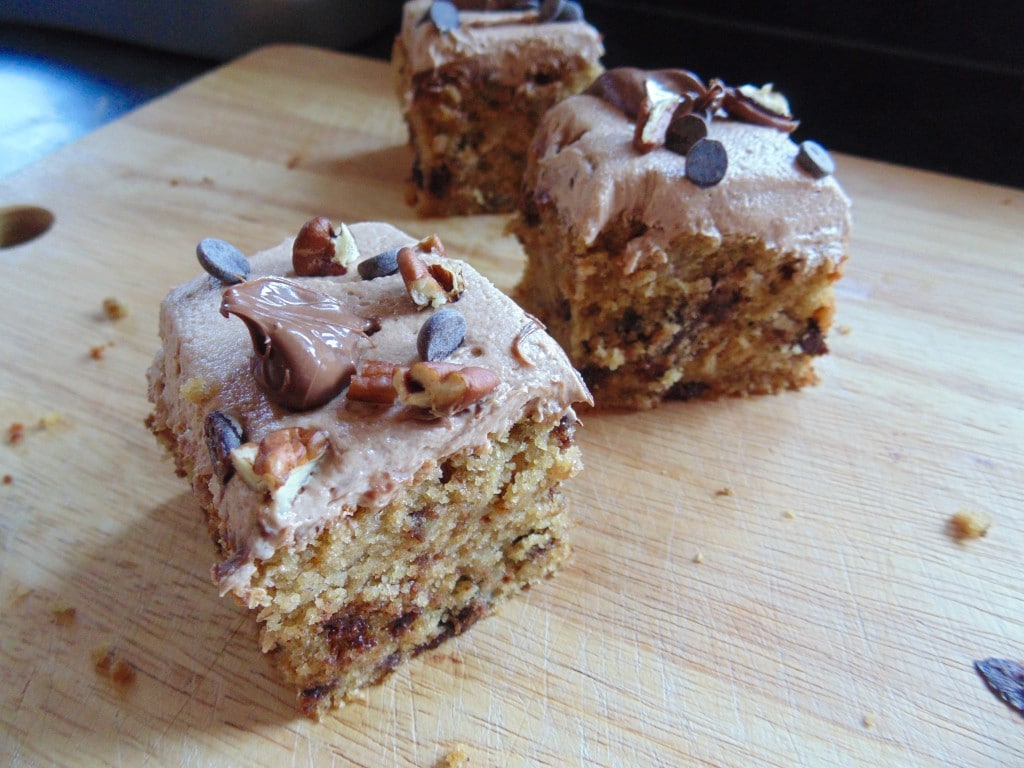 I ain't got no type, I'll take any flavour, any time.
Ice cream flavours are often inspired by cakes and desserts; apple pie, baked alaska, red velvet cake. So last week I decided to buck the trend and make cake inspired by ice cream instead!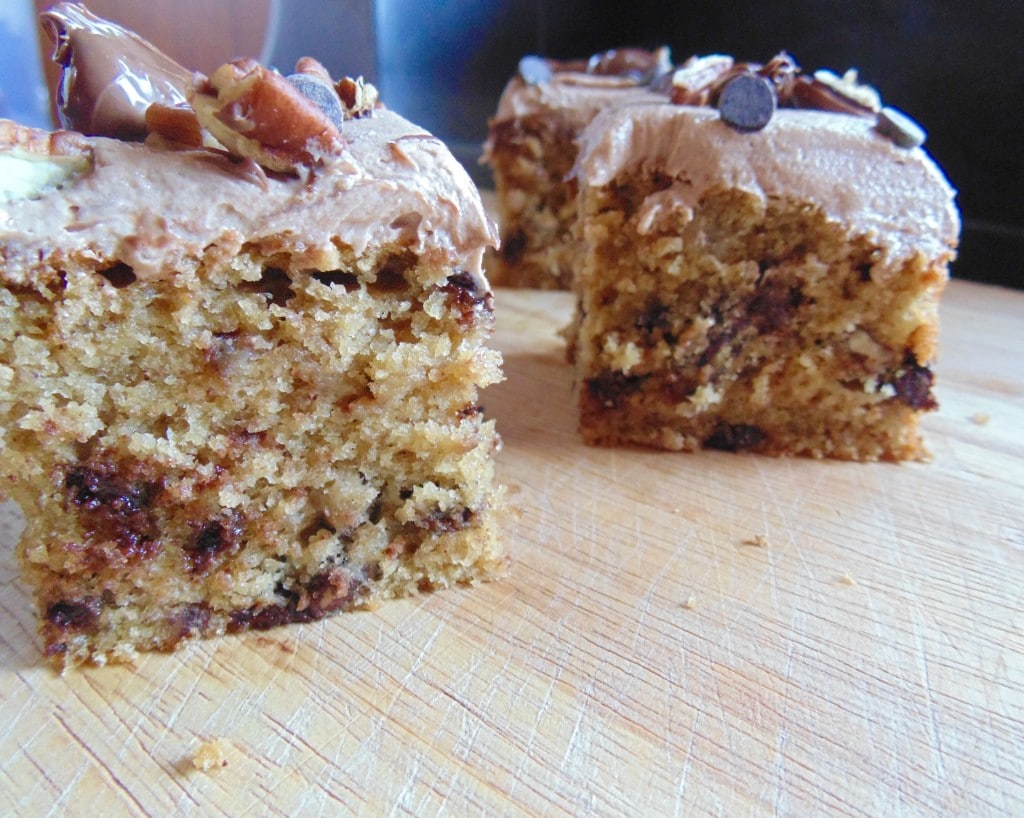 Chunky Monkey ice cream was always my go-to flavour from any Ben & Jerry's stand. Banana ice cream with nuts and chocolate fudge…"Hello? Yes, I'd like ten litres please."
So yeah, chunky monkey cake just had to happen. I've made many variations of healthy banana bread, so I thought it was about time I took a nice nutritious fruit and turned it into something messy, sweet and deliciously not-so-good-for-my-summer-bod. I regret absolutely nothing.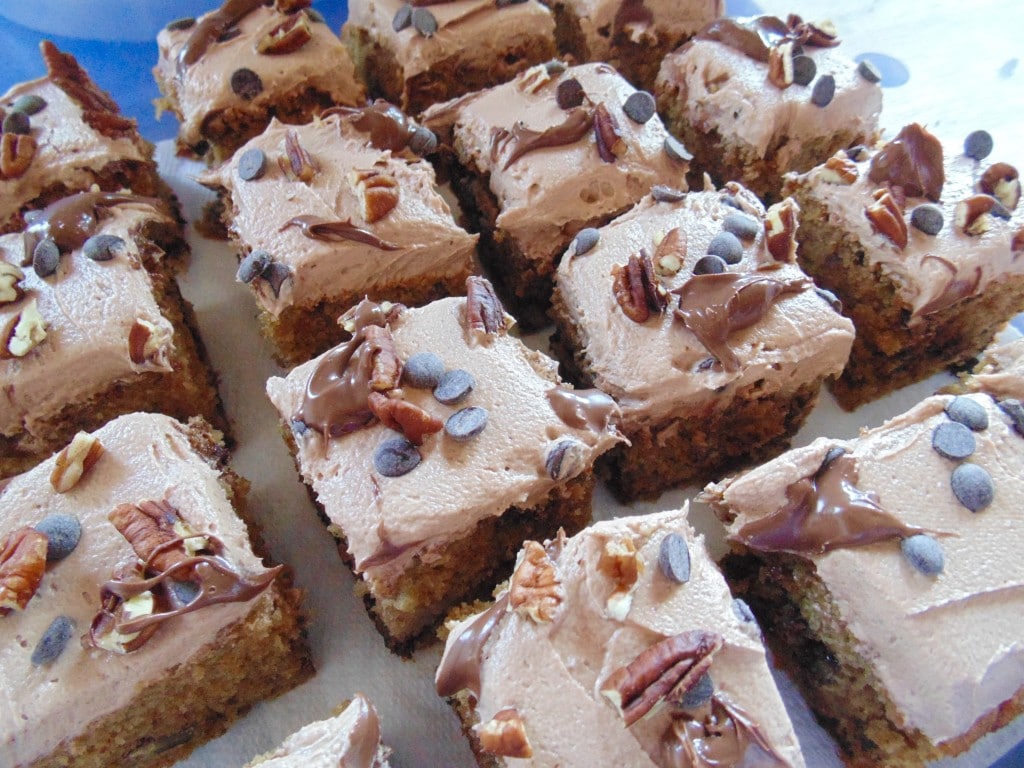 Moist banana cake laced with chocolate chips and nuts, topped with sweet fluffy Nutella icing can never be wrong though, can it?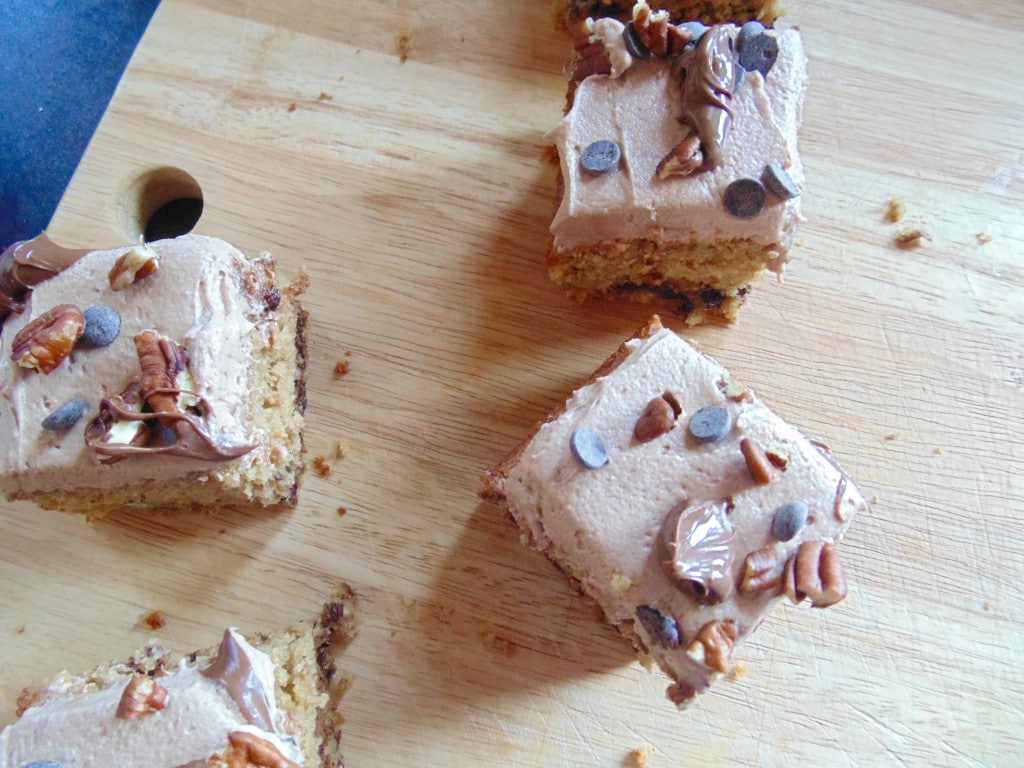 The story starts with some butter and sugar (as all good stories do) being beaten until light and fluffy.
Then some eggs were added one by one until everything was as smooth as could be.
A banana and a handful or so of pecans were smashed up during this time.
The mashed banana found its way into the butter-sugar-egg mixture.
Some flour was measured into a large bowl, and had the pecan chunks and some chocolate chips added to it. These were mixed together to prevent any of the nuts or chips from sinking when baked!
Then everything was gently mixed together before being poured into a tin and baked!
Once the Chunky Monkey cake was baked and cooled, the icing had to be made…
Butter, cream cheese, icing sugar and Nutella found their way into a large mixing bowl and were beaten until light, fluffy and damn delicious.
This was then spread thickly over the cooled cake…
Yuuuuuuuuuuuuuum.
A big old mish-mash of nuts and chocolate became strewn all over the iced beauty.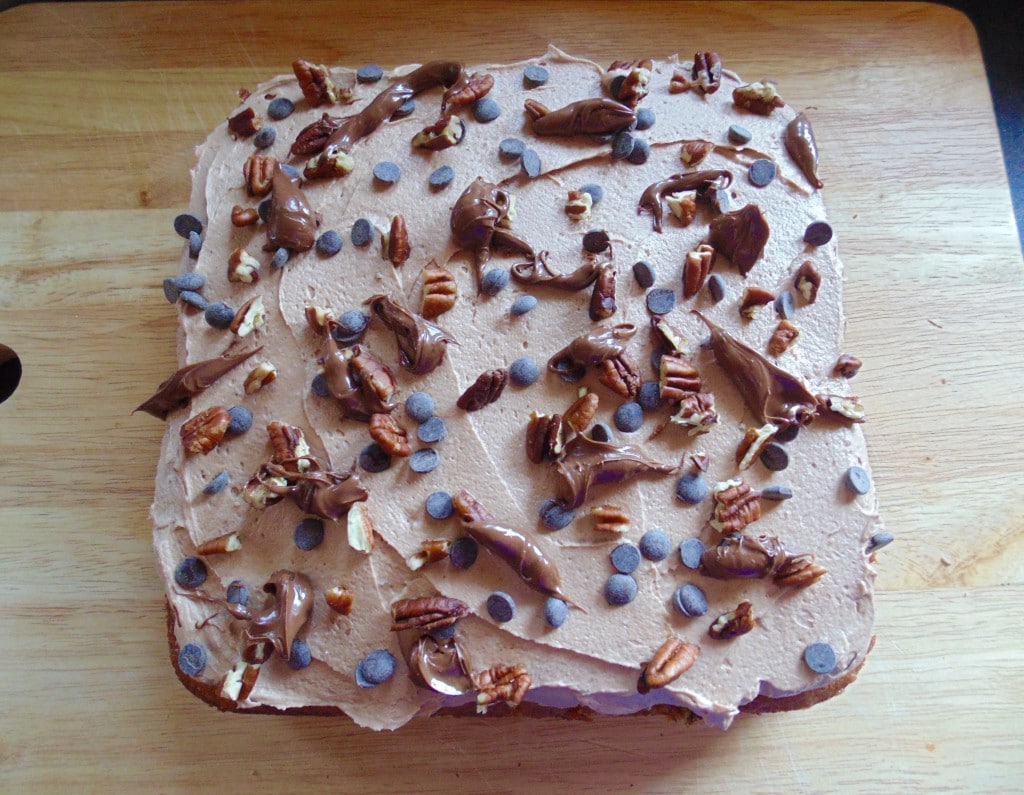 Then it was sliced into 16 little squares of goodness. Not all to be eaten by me, I promise…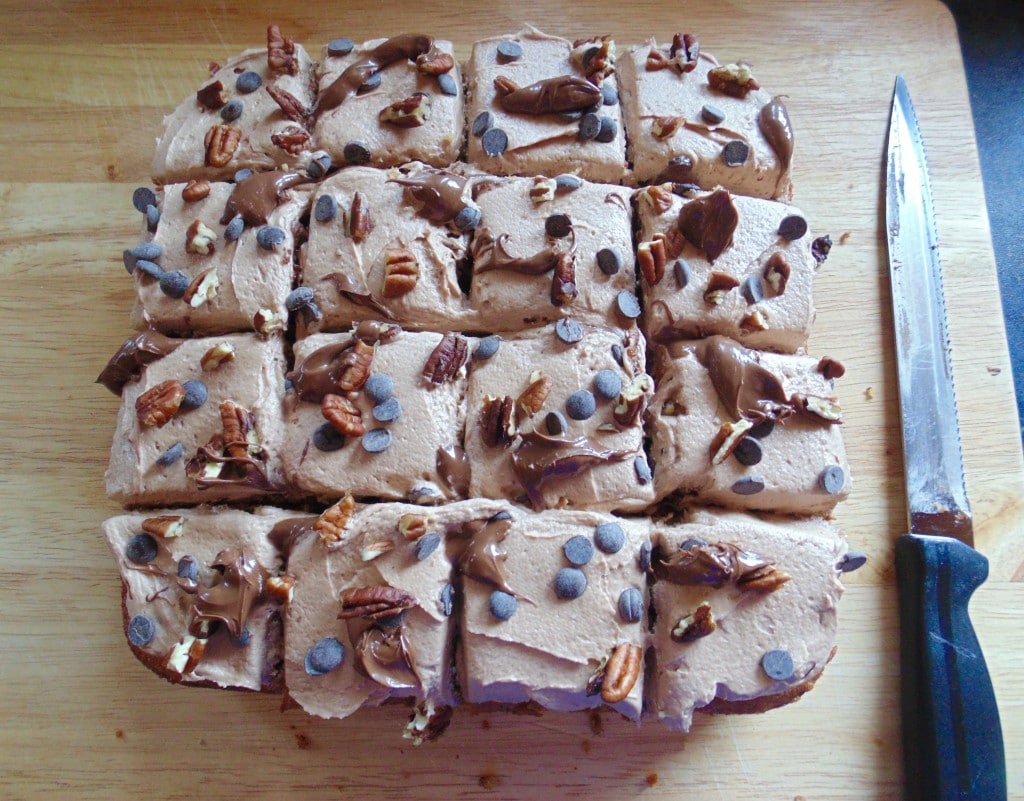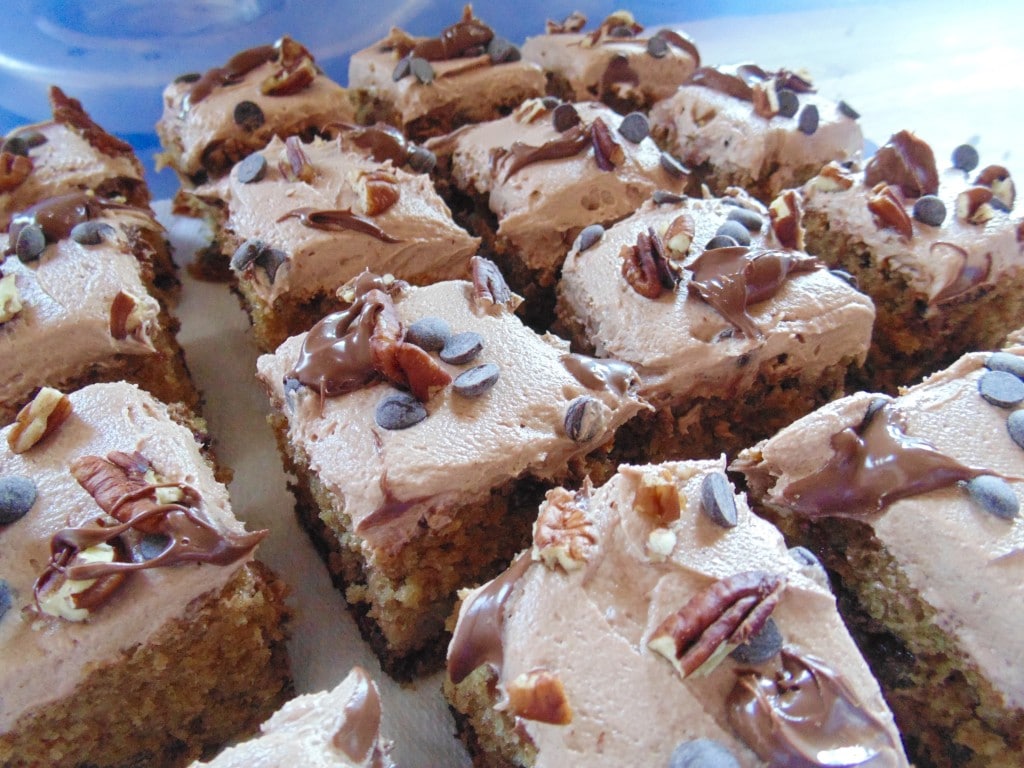 The moral of the story is that you really need to make this cake. Or you need to get someone to make this cake for you, it is moist, sweet and downright impossible to resist.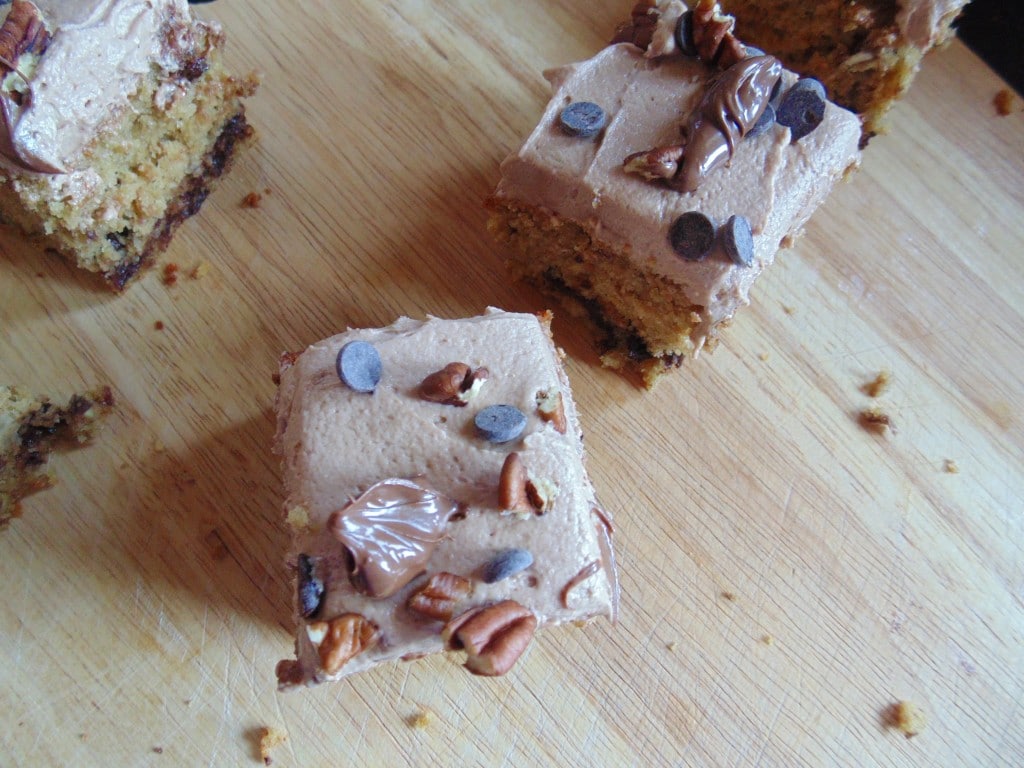 Happy baking!
Moist and delicious banana cake laced with chocolate chips and nuts, topped with a divine Nutella icing!
Ingredients
For the cake:

180g butter/margarine
180g soft light brown sugar
4 eggs
1 large banana
220g self-raising flour
100g walnuts/pecans (I used pecans)
100g dark/milk chocolate chips (I used dark)
For the icing:

100g softened butter
50g cream cheese
200g icing sugar
80g Nutella
Extra chocolate chips, nuts and Nutella to decorate (optional)
Instructions
For the cake:

Preheat the oven - 180 degrees for conventional ovens or 160 degrees for fan ovens - and grease/line an 8 x 8 inch square cake tin.
Beat together the butter and sugar until light and fluffy.
Add the eggs one at a time, beating well between each, until combined. Don't worry if it looks a little curdled.
Mash the banana and chop the walnuts/pecans into smaller chunks.
Add the mashed banana to the butter-sugar-egg mixture and beat again to incorporate.
Weigh your flour into a large bowl, add the chopped pecans and chocolate chips and mix together.
Tip the dry ingredients into the wet ingredients and gently mix together until just combined.
Pour the mixture into the prepared cake tin and bake in the preheated oven for 30-35 minutes until golden and springy to touch.
Allow to cool in the tin while you prepare the icing.
For the icing:

Place all ingredients in a large bowl and beat vigorously until light and fluffy, adding more of any ingredient to suit your taste/consistency preference.
Spread on the cooled cake and top with any decoration you like.
Enjoy!
http://maverickbaking.com/chunky-monkey-cake/