Sweet and chewy old-fashioned easy ANZAC biscuits from Australia/New Zealand that are quick to make and are sure to be popular with the whole family!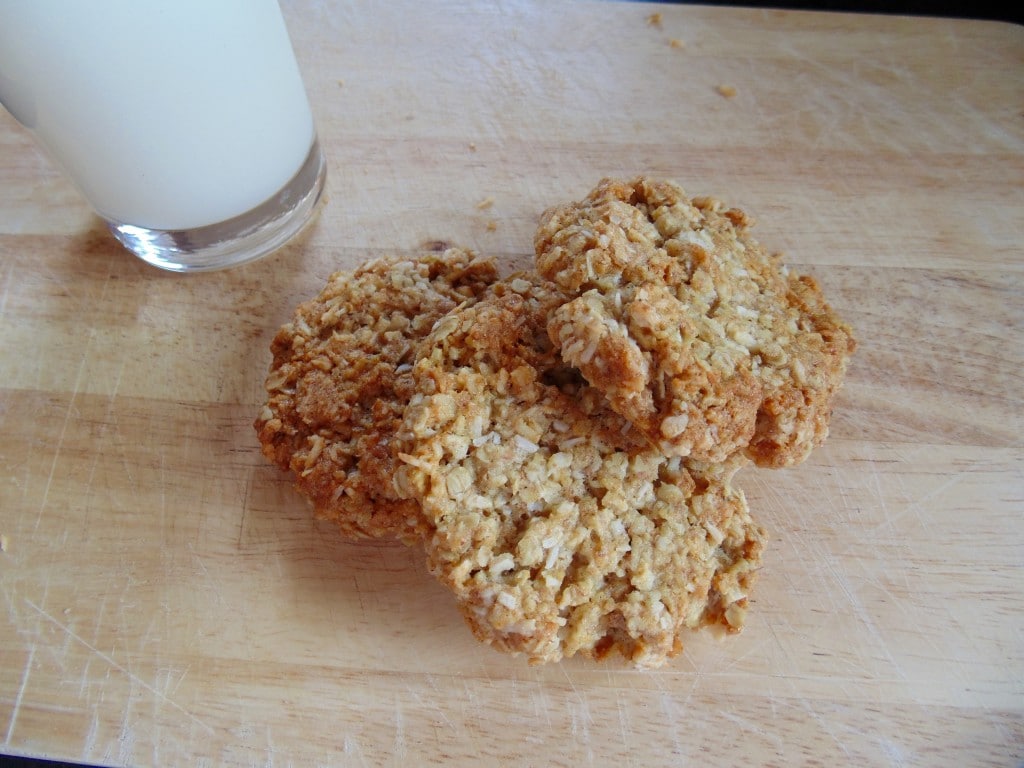 I have very little time for baking in my life right now. I don't know who's more sad about that, me or my ever-hungry family!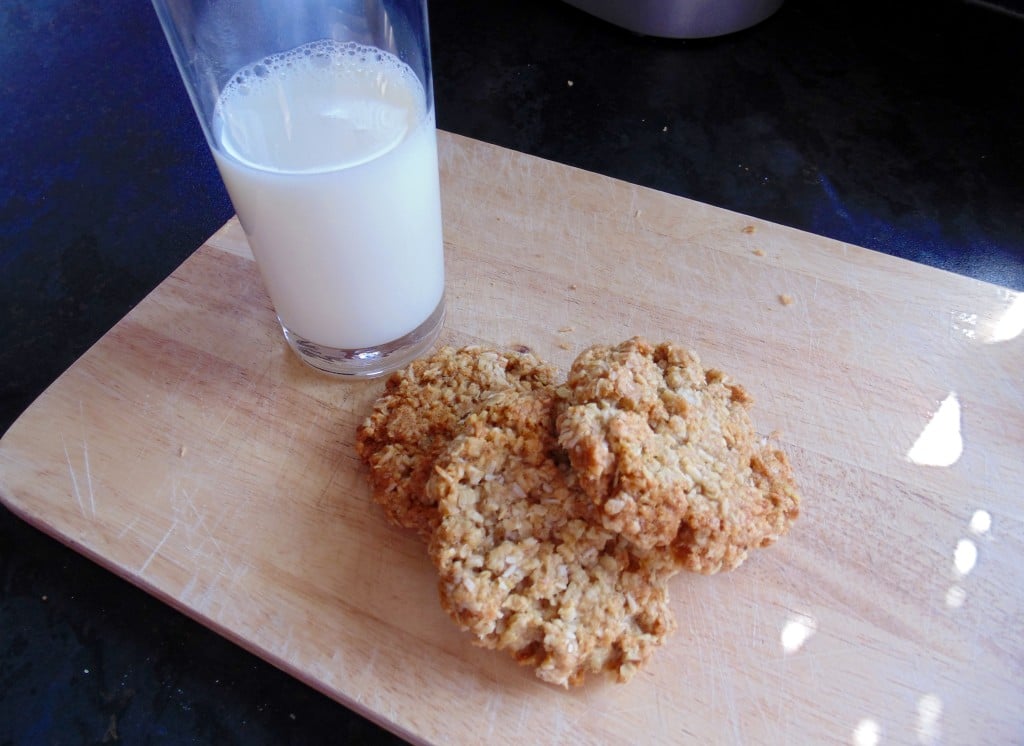 The reason I have so little time is I have five university exams next month and I'm still not feeling particularly confident about any of them, so I've had my head buried in books for the past two weeks.
This morning however, I felt a great need for biscuits. I'm not someone who can deny my body its biscuit cravings, so I gave in and found inspiration from the other side of this fine Earth.
ANZAC biscuits were originally given to soldiers from Australia and New Zealand in combat in Gallipoli during the first world war. As it happens to be ANZAC day this Saturday and my lovely nana was  a New Zealander, I figured I had every reason to bake and enjoy these easy ANZAC biscuits!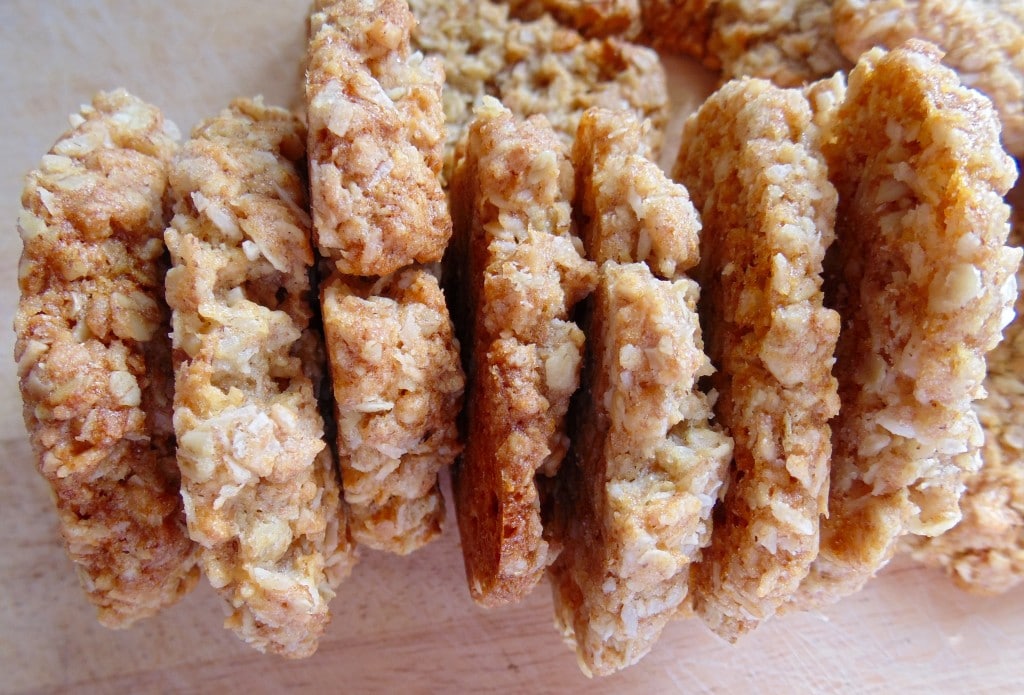 They are a truly old-fashioned biscuit with classic ingredients; butter, honey and yummy shredded coconut. The biscuits have a nice crisp edge and an addictive chewy interior that has provides much more flavour than its appearance would suggest! I love the thought of soldiers munching on these during the war, in times of hardship, I bet these biscuits were a ray of sunshine for them.
One of the best things about these easy ANZAC biscuits is how ridiculously simple they are to make, they have a super quick baking time too, meaning you can have easy ANZAC biscuits conceived and consumed within less than an hour. I'm definitely in!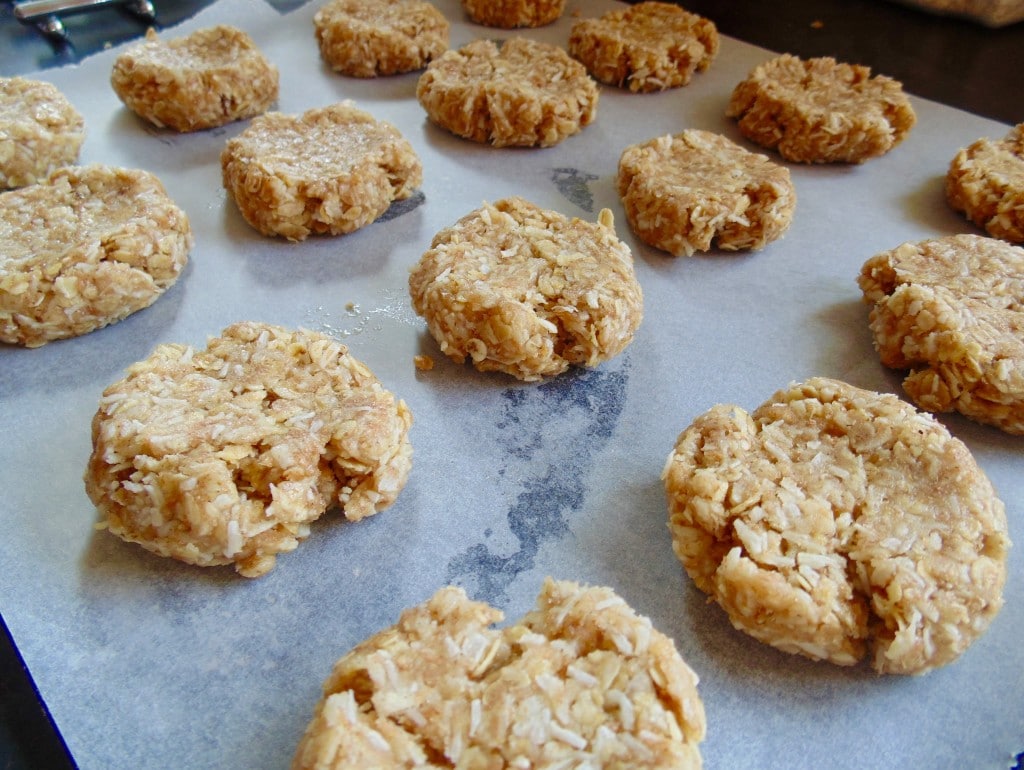 Now, just pour yourself a glass of cold milk and enjoy a (thankfully pleasant) taste of the early 20th century! There's no better way to remember the fallen than by eating their biscuits…right?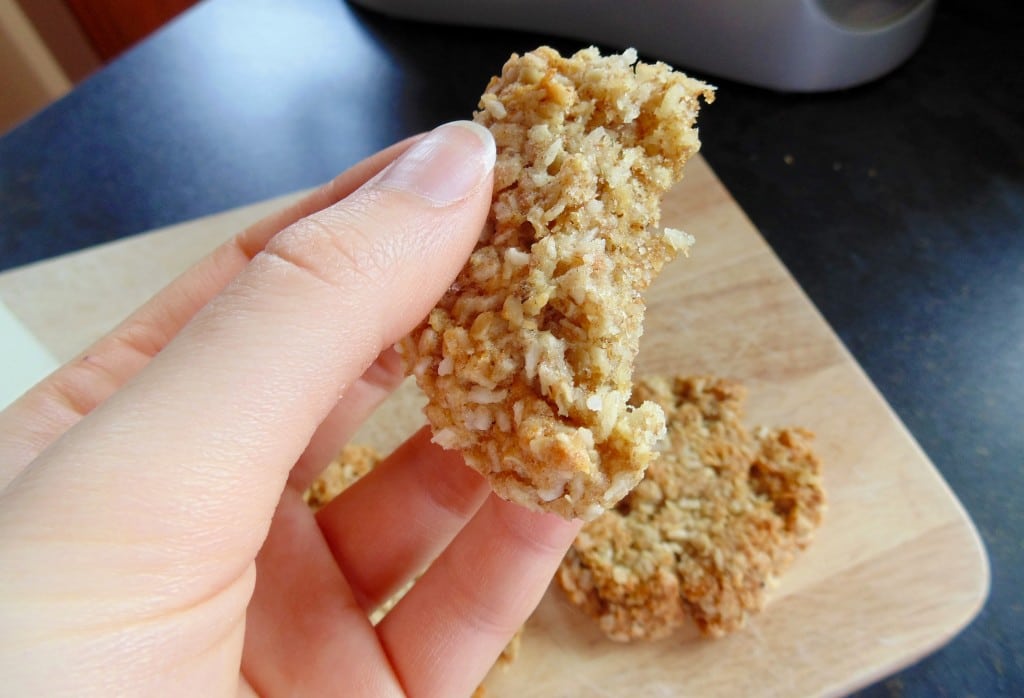 Happy early ANZAC day to any Aussie or Kiwi readers! Also, my humblest apologies if your mums/grannies make these easy ANZAC biscuits much better than I do…I may have Kiwi blood but I'd never challenge your tastes!
.
Sweet and chewy old-fashioned easy ANZAC biscuits from Australia/New Zealand that are quick to make and are sure to be popular with the whole family!
Ingredients
100g (¾ cup) plain flour
100g (½ cup) caster sugar
80g (1 cup) desiccated/shredded coconut
80g (1 cup) oats
Pinch of salt
125g (8 tbsp) butter
1 tbsp runny honey
Instructions
Preheat your oven - 180°C / 160°C fan / 350°F / gas mark 4.
Line one large or two medium baking trays with greaseproof paper and set aside.
In a large bowl, weigh out the flour, sugar, coconut, oats and salt and mix together.
In a small pan, melt the butter gently.
Add honey to melted butter.
Pour wet ingredients into dry ingredients and mix to form a dough.
Pinch off pieces of dough and use your hands to roll them into balls, placing each on the prepared baking trays. You should get 16-20 biscuits.
Once rolled and placed on the tray, flatten each biscuit slightly with a spoon or your hands.
Place trays into the oven and bake for 10-12 minutes until golden brown. (Biscuits may feel underdone when you remove them but they will crisp up)
Allow biscuits to cool on trays for 5-10 minutes before removing and allowing to cool and crisp up on wire racks.
Pour yourself a glass of cold milk and enjoy your old-school biscuits!
Notes
For a modern twist, why not try dipping your biscuits in some melted dark chocolate? Or adding some chocolate chips or dried fruit to the dough?
http://maverickbaking.com/easy-anzac-biscuits/
If you enjoyed these easy ANZAC Biscuits you may also like…