Ferrero Rocher Brownies; the world's favourite crisp and creamy chocolate hazelnut treat baked into unbelievably rich and velvety brownies.

Look up the word "luxury" in any dictionary and these brownies are the only defining image.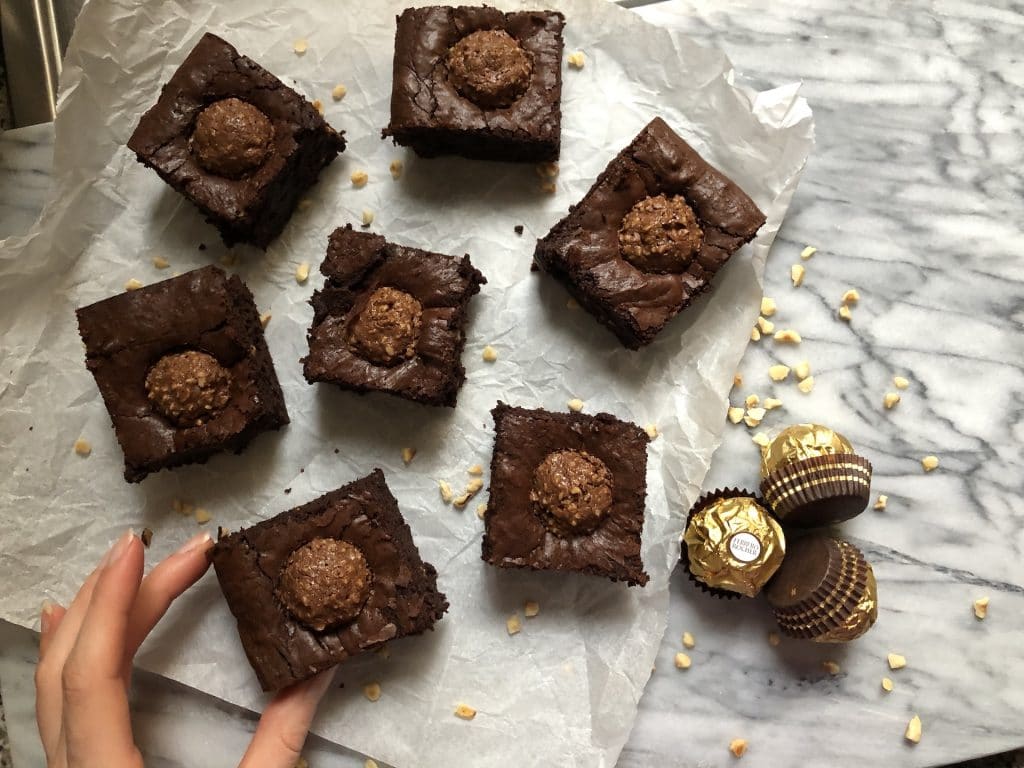 Sometimes I do wonder if incorporating existing chocolates and treats into my baked goods is really creative enough to post online. Then I remember how bloody good they taste and I stop wondering.

These brownies have existed in the whirlwinds of my brain for a while now. Ever since the birth of the Lindt Lindor Brownies, I am open to shoving anything into the centre of a brownie and hoping for the best. Something about Ferrero Rocher's spherical crispy temptation had me feeling positive.

Luckily, the Ferrero Rocher hold up perfectly when baked. None of that gorgeous shape or flavour is lost.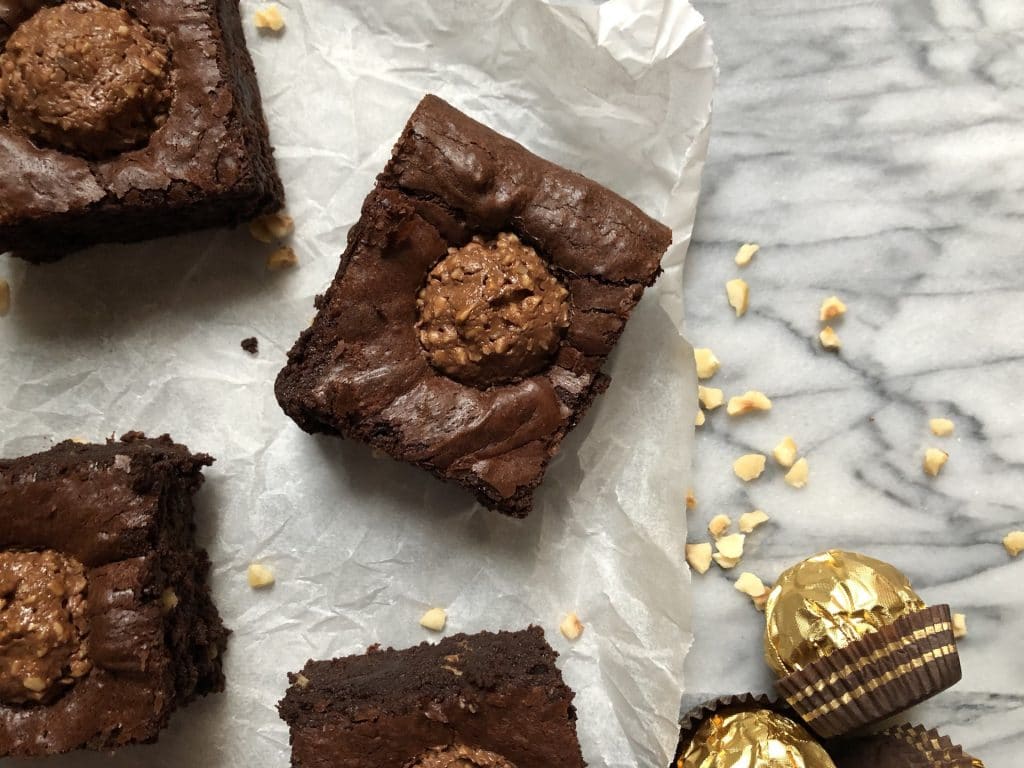 These Ferrero Rocher brownies have more texture going on than us mere mortals could possibly be prepared for. Ridiculously dense and fudgy brownies with the deliciously satisfying crunch of wafer and hazelnut, and that hidden creamy chocolate centre. If you enjoy a wee Ferrero Rocher when you're feeling flash, there is literally no reason not to make these and devour them all instantly.

Are these Ferrero Rocher Brownies the ultimate chocolate hazelnut treat? Yup. (Don't let the Nutella or the Kinder Bueno bars in the cupboard hear you though…)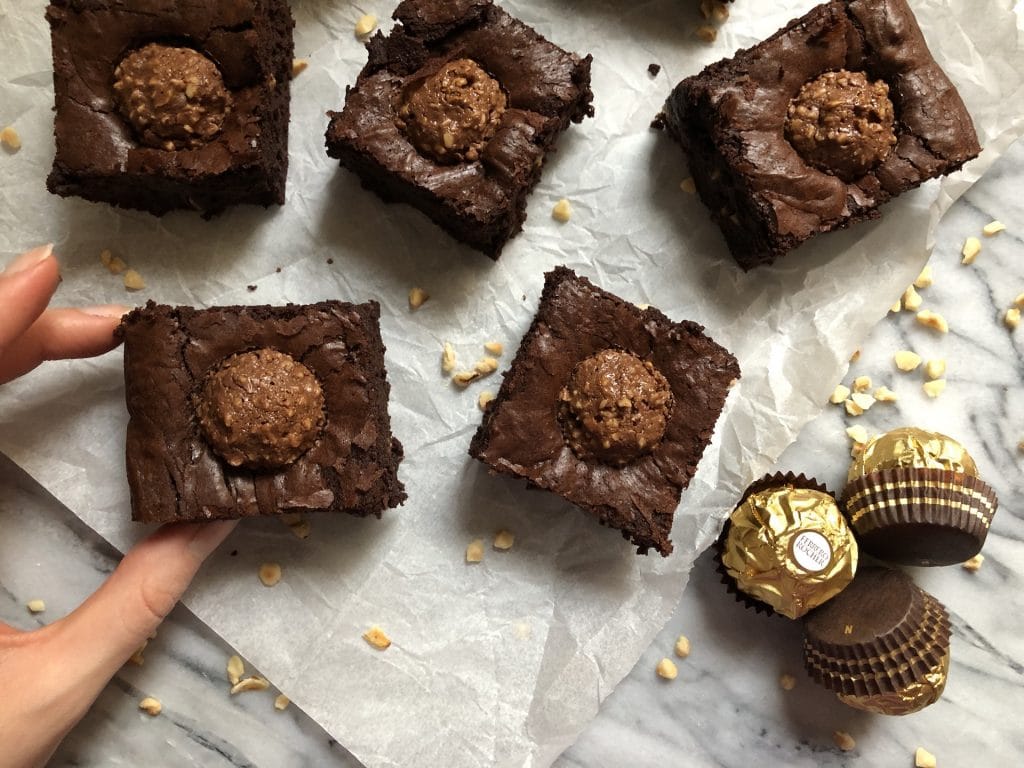 Flavour aside, these are also just as easy to make as any other brownie. While you'll have about 10-15 minutes of hands-on time, the oven does all the work here. Unlike pastries or cupcakes you don't even have to decorate anything afterwards either!

To make these wee beauties, follow the recipe for Ferrero Rocher Brownies below!
Ferrero Rocher Brownies; the world's favourite crisp and creamy chocolate hazelnut treat baked into unbelievably rich and velvety brownies.
Ingredients
250g (9oz) milk or dark chocolate
225g (15 tbsp) butter (if using salted butter, you shouldn't need any extra salt)
250g soft brown sugar
3 large eggs
2 tbsp Frangelico liqueur or Monin hazelnut syrup (optional)
60g (½ cup) cocoa powder
70g (½ cup) plain flour
50g (3-4 tbsp) chopped hazelnuts
Pinch of salt
15-20 Ferrero Rocher
Instructions
Preheat your oven – 160 C / 140 C fan / 325 F / gas mark 3.
Thoroughly grease a baking tin anywhere between 12×9 inch (30 x 23cm) and 8×8 inch (20 x 20cm) in size, and line it with some greaseproof paper.
In a heatproof bowl over a pan of simmering water or in the microwave in 30 second blasts, melt your chocolate and butter together until smooth.
In a separate bowl, whisk together the eggs, sugar and liqueur/syrup (if using) until just combined. You don't want to whisk too long as it can add extra air, which we don't want here!
In a final smaller bowl, whisk your flour, cocoa, hazelnuts and salt together to combine and get rid of any lumpy bits.
Slowly whisk your melted chocolate/butter mixture into your egg/sugar mixture.
Gently stir in the flour/cocoa mixture until you have a gorgeously dark and gooey brownie batter.
Pour into your prepared tin and level out evenly.
Place your Ferrero Rocher evenly across the tray of brownie batter, pushing each one gently down to touch the bottom of the tin. You want at least one Ferrero Rocher per brownie!
Bake in the preheated oven for 45-55 minutes, or until the mixture has firmed up and no longer wobbles when you shake the tin. (The batch pictured took exactly 45 minutes)
Allow to cool completely in the tin.
Slice up and enjoy!
Notes
BE A MAVERICK: don't feel limited to just the original Ferrero Rocher flavour, mix it up with the dark or white chocolate varieties!
http://maverickbaking.com/ferrero-rocher-brownies/