Glazed Polish Doughnuts (Pączki); big fluffy traditional Polish doughnuts filled generously with jam and shimmering with sugar glaze.

Over the past few months, I have learned that Poland has a talent for producing exceptional sweets and chocolates.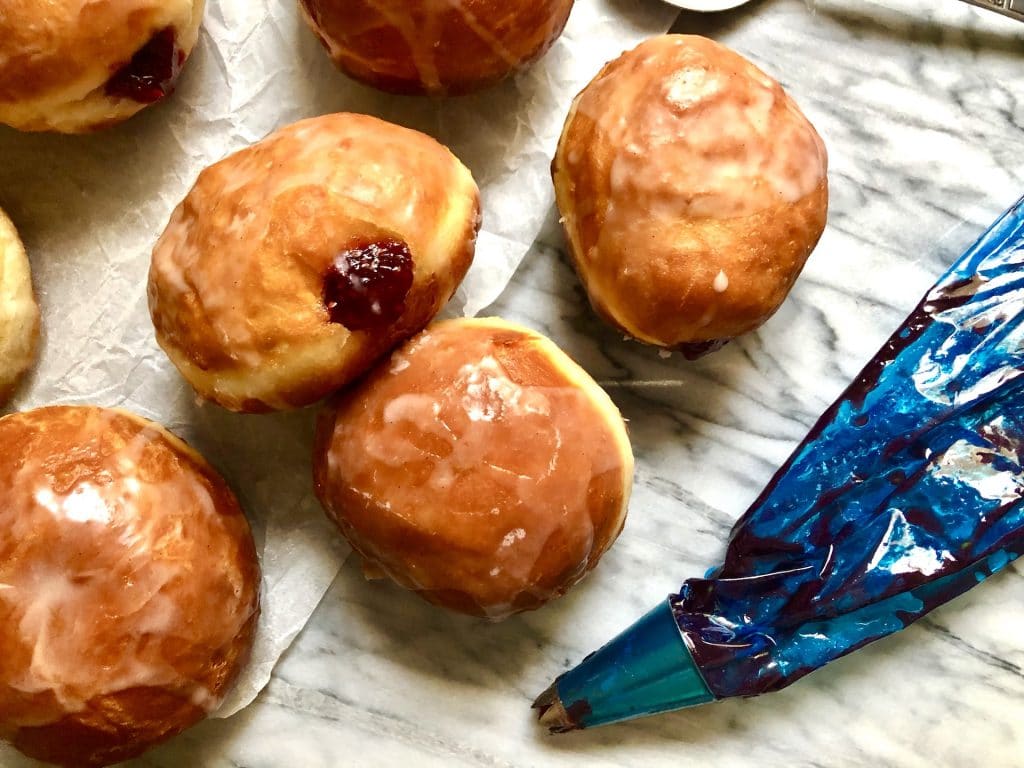 I innocently filmed a little video, for my YouTube channel, taste testing some Polish chocolate bars that I found in my local Tesco last year. Somehow, it blossomed into a continuing series that now has over FIFTY-THOUSAND views and I gained hundreds and hundreds of lovely Polish subscribers. Mental.

Since then, I have been immersing myself in the culture a little more. I was already a CD Projekt Red fan, but now DuoLingo is helping me learn the language, and I'm even trying some homemade Polish recipes!

What better time to try out said recipes that on the run up to (what is known in Poland as) FAT THURSDAY?!? This day is a celebration of indulgence, for those who follow Christianity or Christian culture, prior to abstaining from it in the observance of lent. On this day, it is tradition to stuff oneself with delicious fried foods such as these Pączki.

I'm not religious. I'm just here for the doughnuts.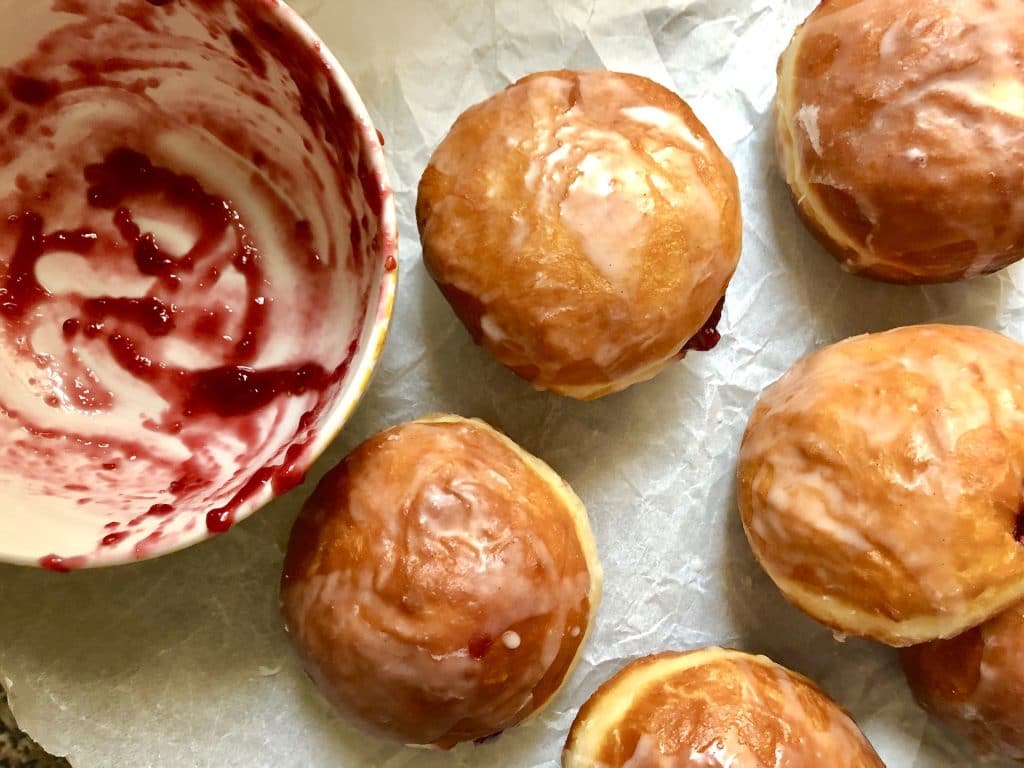 At the request of some of my Polish viewers, I filmed myself making some (almost) traditional Pączki for the first time. They are essentially big pillows of fried dough, filled with a fruity jam and doused in a sugar glaze. Soft and fluffy as you bite in, with the slightly chewy buttery dough giving way to the tangy sweetness of the jam and letting you lick the sugar glaze from your lips. Krispy Kreme who?

My version of these Polish doughnuts is probably some kind of insult to Polish grandmas or bakers, but they were as classic as I could make them in my limited access to English language recipes or traditional ingredients in Northern Scotland. I believe Pączki are traditionally filled with a rosehip jam. I couldn't find any of this so I used a French raspberry jam as my closest substitute. I also chose to glaze them rather than roll them in sugar, I'm not sure which is the classic way, but glazing them was definitely not a bad idea!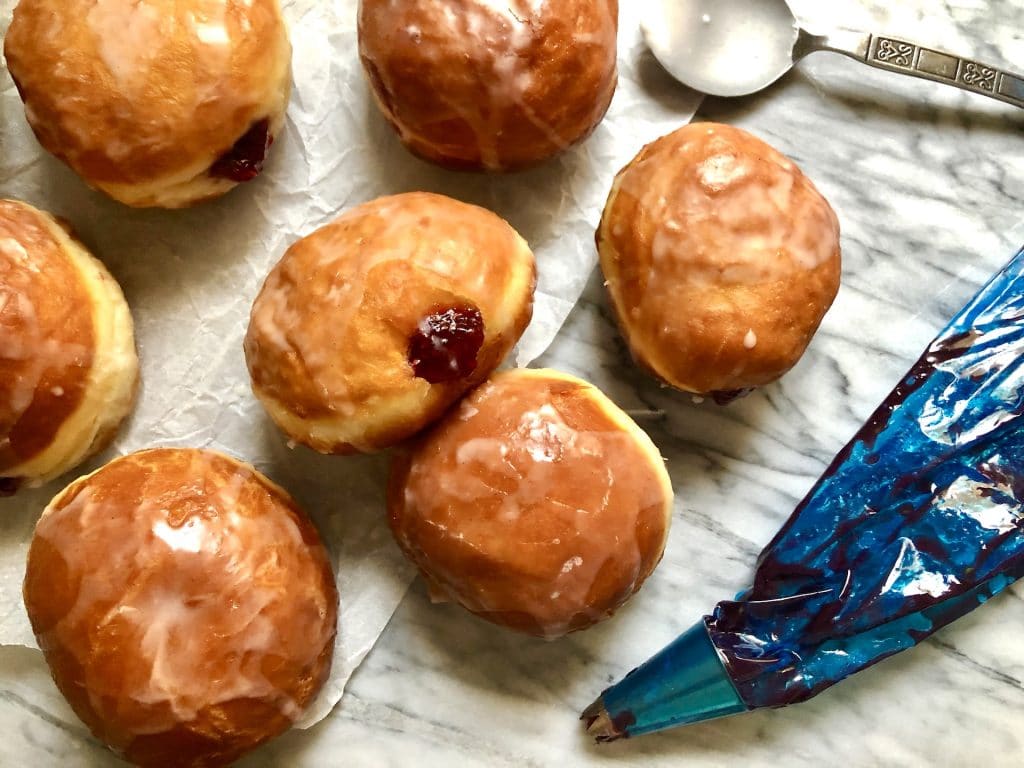 These are a little bit time-consuming to make, and the hot oil they are cooked in can be dangerous BUT they are worth every second of your time. While you will need to rest your dough for a couple of hours, the hands-on time for this recipe is nothing too taxing. Plus, you get to eat doughnuts at the end so there is really no reason not to make these immediately.

To make these gorgeous Glazed Polish Doughnuts (Pączki), simply follow the recipe below!
Glazed Polish Doughnuts (Pączki)
Glazed Polish Doughnuts (Pączki); big fluffy traditional Polish doughnuts filled generously with jam and shimmering with sugar glaze.
Ingredients
For the paczki:

500g strong white bread flour
75g caster sugar
10g salt
1 packet dry fast-action yeast
50g soft unsalted butter
1 large egg
2 egg yolks
380ml whole milk
Vegetable oil for frying
For glazing and filling:

250g icing sugar
1 jar of your favourite jam (traditionally this is rosehip, but I used raspberry!)
Instructions
For the paczki:

In a large bowl, stir together the flour, sugar, salt and yeast.
Add the butter and use your fingertips to rub it into the dry ingredients. Stop once it looks a bit like breadcrumbs, and there are no more big lumps of butter.
Add the eggs and milk and mix until you have a sticky dough.
Leave this dough to rest for 20-30 minutes. (This resting will relax the proteins and make it easier to knead)
Tip your dough out onto a work surface rubbed with a little oil and knead it thoroughly for 10-12 minutes. By this time the dough should be smooth and stretchy.
Place the dough into a clean, oiled bowl and leave to rest for 1 hour. (Resting this time will let the yeast feed on the sugars in the dough, releasing gas and causing the dough to fill with air and expand.)
Once doubled in size, tip the dough back out onto your oiled work surface and roll it into a long sausage shape.
Slice the dough sausage into 12 (roughly) even chunks.
Roll your chunks of dough into little balls.
Rest the 12 dough balls on an oiled tray or surface for a further hour. (This will allow them to double in size again and be fluffy once cooked!)
Preheat a deep, wide pan filled with oil to 160 C. A sugar thermometer or probe thermometer will be a big help here!
Once the oil reaches temperature, gently lower 2 dough balls into the hot oil using a slotted spoon or fish slice.
Cook the dough balls for 2-4 minutes on each side until golden brown all over with a pale stripe around the middle. (Turning the heat under the pan down at this point will help stop the temperature from rising too much during cooking. Do check the temperature regularly with your thermometer!)
Once cooked, gently remove the dough balls from the oil with your spoon/fish slice and rest them on paper towels to absorb any excess oil as they cool.
Repeat the frying process until your have 12 lovely golden brown paczki!
For glazing and filling:

Once your paczki are cool enough to handle, use a sharp knife to poke a deep incision through the pale stripe, wiggling the knife around to make some room.
Fill a piping bag, fitted with a round or star-shaped nozzle, with your jam.
Poke the tip of the piping bag into the incisions of the paczki and gently squeeze the piping bag until you can feel the cavities are nice and full with jam.
Mix the icing sugar with a few tablespoons of water until you have a runny white glaze.
Spoon the glaze over your jam-filled paczki as liberally as you like.
Enjoy!
Notes
BE A MAVERICK: Why stop at jam? Try filling your Polish doughnuts with chocolate, custard or caramel instead!
http://maverickbaking.com/glazed-polish-doughnuts-paczki/