Gluten Free Mac and Cheese; a quick and easy stovetop macaroni and cheese, with all the rich cheesy flavour and creamy texture but none of the wheat!
Do you say macaroni cheese, macaroni and cheese or just mac and cheese? I'm never really quite sure of how to name this glorious dish.
Regardless of its name, no meal reminds me more of my childhood than a hot bowl of creamy, obnoxiously cheesy pasta.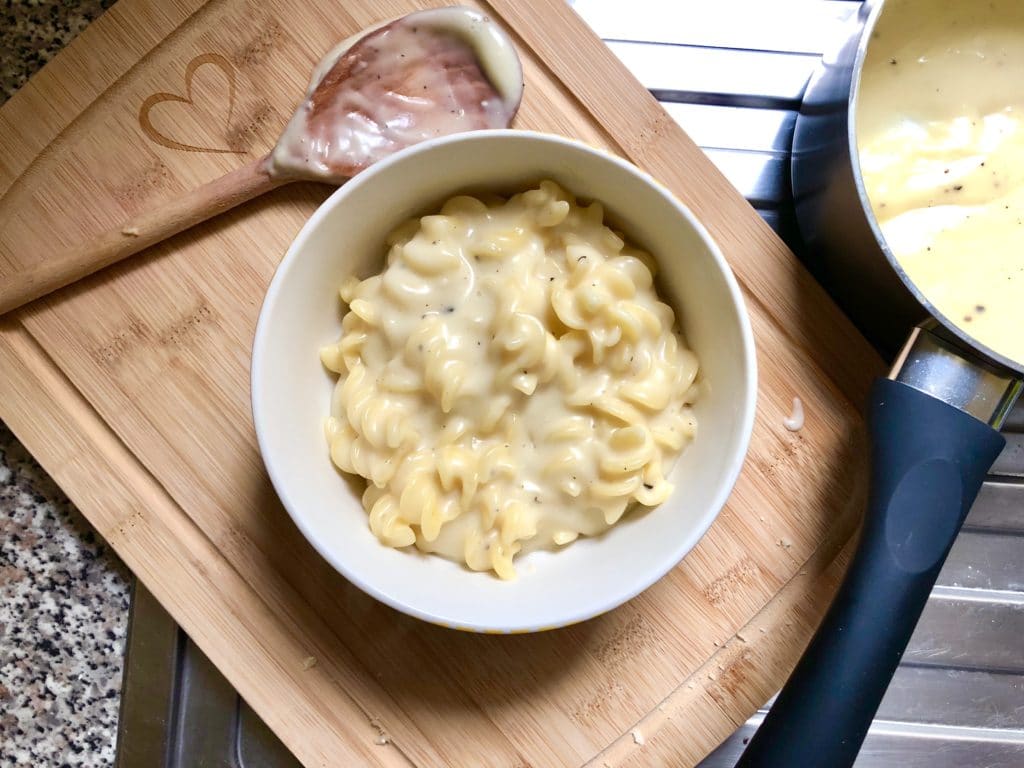 It's probably the only dish that I've eaten consistently for the last 20+ years. I only tend to have it maybe once a month or every two months nowadays. Every time I cook and eat it, it's as good as it was when I was only *this* high, standing on my tiptoes to watch my dad make it with his maverick methods.
He refused to use a whisk to make the sauce, and never measured a thing, throwing the grated cheese into the pan in gloriously generous handfuls. He didn't even really have a specific time to boil or bake the pasta for either, being infamous for always replying, "it's ready when it's ready!" It was often the only meal he ever cooked when I was small, leaving the rest up to my mum who never took much joy from cooking anything other than an oven pizza, which she somehow still manages to burn even now. She did teach me that trick where you throw the spaghetti against the wall though. Who says we shouldn't play with our food?
It's probably one of the most blasphemous pasta dishes around, combining Italian-made pasta with the king of all British cheeses. However, there is something so homely and familiar about this dish that I swear it must be Scottish somehow.
Aside from its status as a comforting dinner staple, everyone seems to eat their mac and cheese differently. Many love the crispy top of a baked mac and cheese, that gives way to the creamy mass of pasta below. Some like a variety of different cheeses, perhaps sharp parmesan or stringy mozzarella melted in along with the dominant cheese. Let's not forget that many people also like to stir other ingredients into their macaroni, from my boyfriend's love of ham to my mum's fondness for crumbled black pudding. Uncharacteristically of me, I like my mac and cheese pretty unadulterated. I like it straight from the stovetop, with nothing more than pasta and strong cheesy sauce involved. By cheesy I mean cheesy. We're talking cheesy cheesy. Like cheesy cheesy.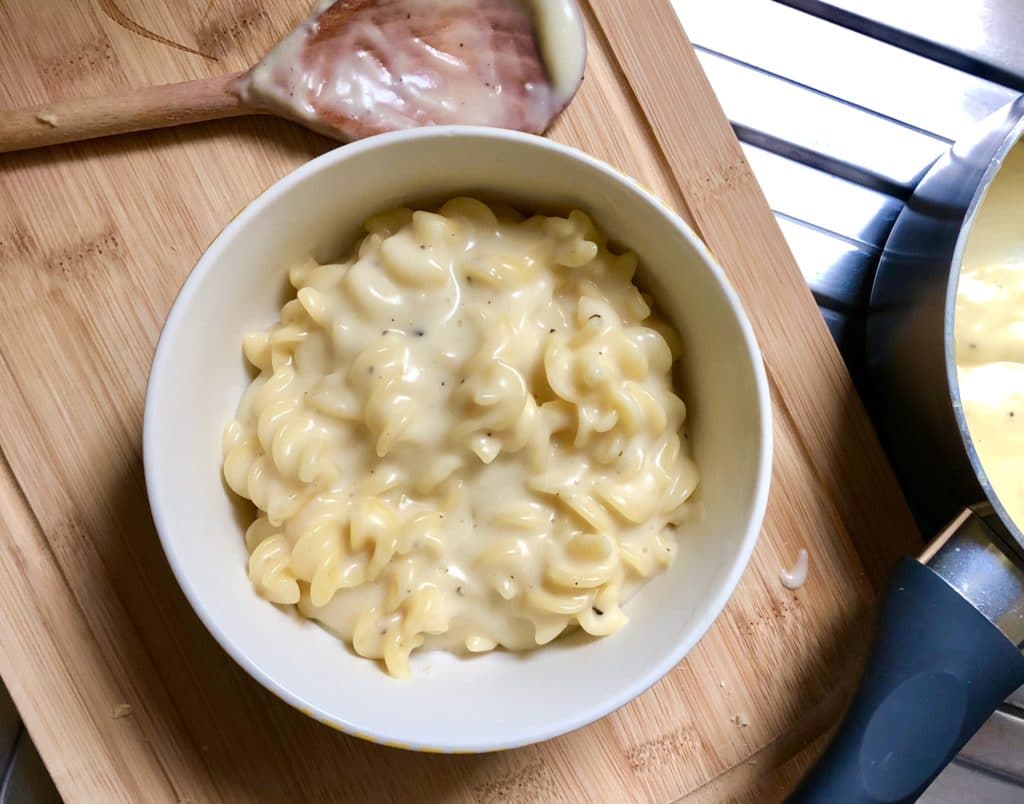 The above mentioned boyfriend I speak of is, unfortunately, a coeliac. This is not ideal when his girlfriend is a raging gluten lover, with multiple bread products, biscuits and a variety of pasta always taking pride of place in the cupboards…
Living with him has meant that I've had to learn the ways of gluten free pasta, tackle some gluten free baking recipes, and remember not to leave flour residue all over the worktop. On a positive note, it also means I've perfected a recipe for quick and easy gluten free mac and cheese!
This quick and easy gluten free mac and cheese is a must-have recipe if you have a gluten dodger in your life. A sauce so thick and creamy you'll wonder how on Earth it can't have been made with a flour-based roux. Pasta with actual texture, somewhere between soft and chewy, perfectly cradling the sharp cheddar sauce in all of its curves and edges. Basically it's so good, you won't miss the gluten.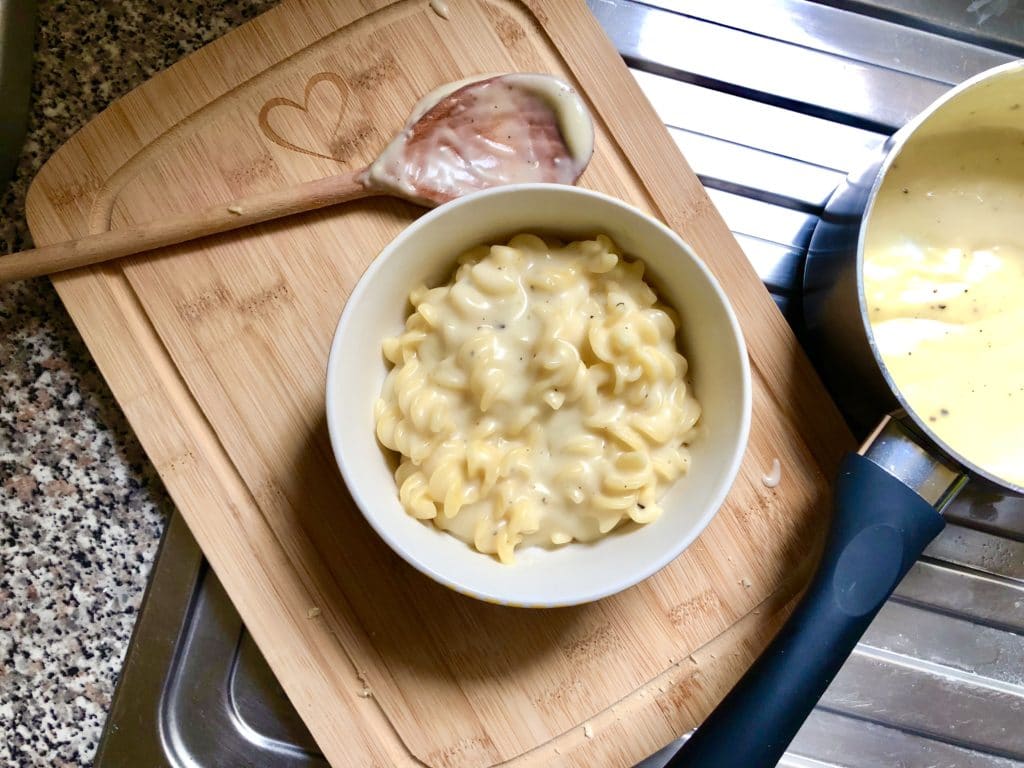 Cornflour is the secret ingredient in the sauce of this quick and easy gluten free mac and cheese. It thickens the mixture beautifully, as it does with pastry creams and custards. Plus it is much more forgiving to an amateur cook, producing far less opportunity for lumps than regular flour.
If you need to stock up on ingredients or equipment to make this mac and cheese, simply click on any of the images below:
[amazon_link asins='B00BFRTES6,B000YJF0U2,B01AUI37OW,B00DUBAKFG,B01BNLGL1G' template='ProductCarousel' store='maverbakin-21′ marketplace='UK' link_id='cd15fe93-7008-11e8-abe4-7172d64922fa']
Anyway, enough chat from me. Scroll down to find the full recipe for this quick and easy gluten free mac and cheese!
Gluten Free Mac and Cheese – Quick and Easy!
Gluten Free Mac and Cheese; a quick and easy stovetop macaroni and cheese, with all the rich cheesy flavour and creamy texture but none of the wheat!
Ingredients
180g dry gluten free macaroni or fusilli pasta
160g extra mature cheddar cheese (or your favourite cheese(s))
500ml semi-skimmed or full-fat milk
1 tbsp butter
4 tbsp cornflour
1 tsp English mustard
Black pepper to taste
Instructions
Measure out your pasta and set aside.
Grate your cheese into a bowl or plate and set aside.
Fill a large saucepan with boiling water and a generous pinch of salt, and place it over a medium-high heat, ready to cook your pasta.
Fill a smaller non-stick saucepan with 400ml of the milk and the 1 tbsp of butter and set over a medium heat.
As the milk begins to warm gently, mix the remaining milk into the cornflour and stir thoroughly to combine with no lumps.
Pour the cornflour mixture into the pan of milk, as it is still warming up.
Whisk the pan of milk continuously for 5-10 minutes until it thickens into a smooth white sauce. You do not need to do this vigorously, just enough to keep it moving and prevent it burning.
In the meantime, turn the heat up on your pan of boiling water and cook your pasta according to packet instructions. For gluten free pasta this usually takes 9-11 minutes.
Once your sauce has thickened, add your mustard and add the cheese in two stages, allowing it to melt smoothly as you continue to whisk. (If the sauce thickens beyond your liking, add some more milk. Alternatively if it does not thicken as much as you would like after 10 minutes or so, mix together more milk and cornflour and add it to the pan to help thicken it further.)
Once the cheese has melted and you have a smooth cheesy sauce, add a little black pepper to season, and perhaps a small pinch of salt if you feel it needs it.
Drain your pasta thoroughly once cooked and tip it back into the large saucepan.
Add the sauce to your pan of pasta gradually, stirring to coat it all in the cheesy goodness. You may not need all of the sauce!
Spoon into two or three bowls.
If you prefer a baked mac and cheese: reduce the pasta's cooking time by 2 minutes, tip the mac and cheese into a baking dish and bake for 20-30 minutes in an oven set at 200 C / 180 C fan / 400 F / gas mark 6 until bubbling and browned on top!
Enjoy!
Notes
Be a Maverick: don't restrict yourself to one kind of cheese, I like to mix it up by adding in Parmesan or hard goat's cheese, use whatever you enjoy!
http://maverickbaking.com/gluten-free-mac-and-cheese-quick-and-easy/
If you like this, you may also enjoy…


[This post contains affiliate links]