Watch/read about all the great and unexpected flavours I tasted my way through in this fun and VERY Grown Up Chocolate review!
Chocolate and sweets are too often considered foods for kids. I resent that fact almost as much as I resent children in general.
Just kidding! (Not really though)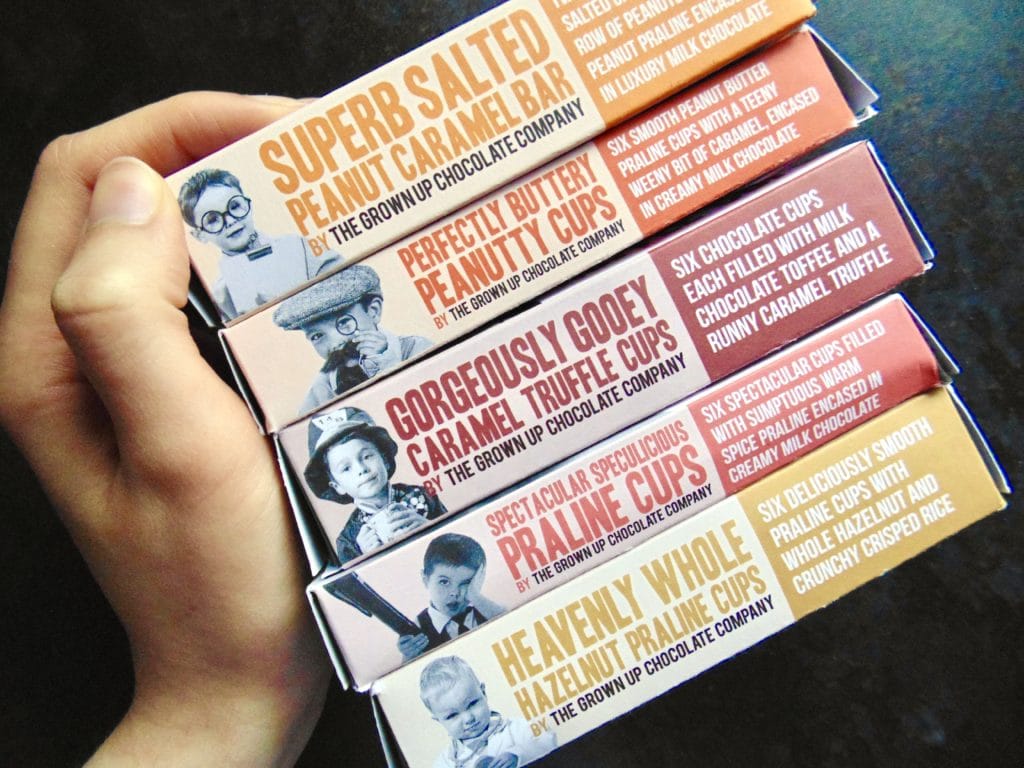 Chocolate is always marketed at someone. Cadbury pitched their light Flakes and Twirls to women, alongside Galaxy's silky bars and Ripples. Smooth chocolate to be savoured because God forbid we enjoy it regularly. Meanwhile, men were sold Nestlé's Lion Bars and Yorkies, big CHUNKY bars dedicated to satisfying cravings in a MANLY manner. When really you're eating the same stuff in expensive artificially testosterone-splattered packaging.
Kids hold the majority of the market though, with colourfully packaged bite-sized chocolate treats and skinny lunchbox bars in every shop.
The Grown Up Chocolate Company, from Essex here in the UK, make delicious chunky bars, and little bite-sized truffle cups for us adults to shamelessly enjoy. Now THAT I can get on board with.
From first glance, the bold packaging branded with images of grumpy children may suggest a treat for little 'uns. That's where you'd be wrong. This company is making sophisticated chocolate delights for those of us who've earned our scars and wrinkles.
The Grown Up Chocolate Company were kind enough to send me a mixed box of their products for me to sample and review for all you lovely people. So that's just what I did.
To watch a quick video review of this Grown Up Chocolate review, see my YouTube video below. Or scroll a little further for a detailed review:
The five products I was sent were:
Spectacular Speculicious Praline Cups
Gorgeous Caramel Truffle Cups
Heavenly Whole Hazelnut Praline Cups
Perfectly Buttery Peanut Butter Cups
Perfect Peanut Caramel Bar
My eyes almost popped out from behind my glasses when I saw these gorgeously packaged chocolates, though I get excited by anything chocolate-related to be honest.
I took all the necessary photos, so it was time to taste.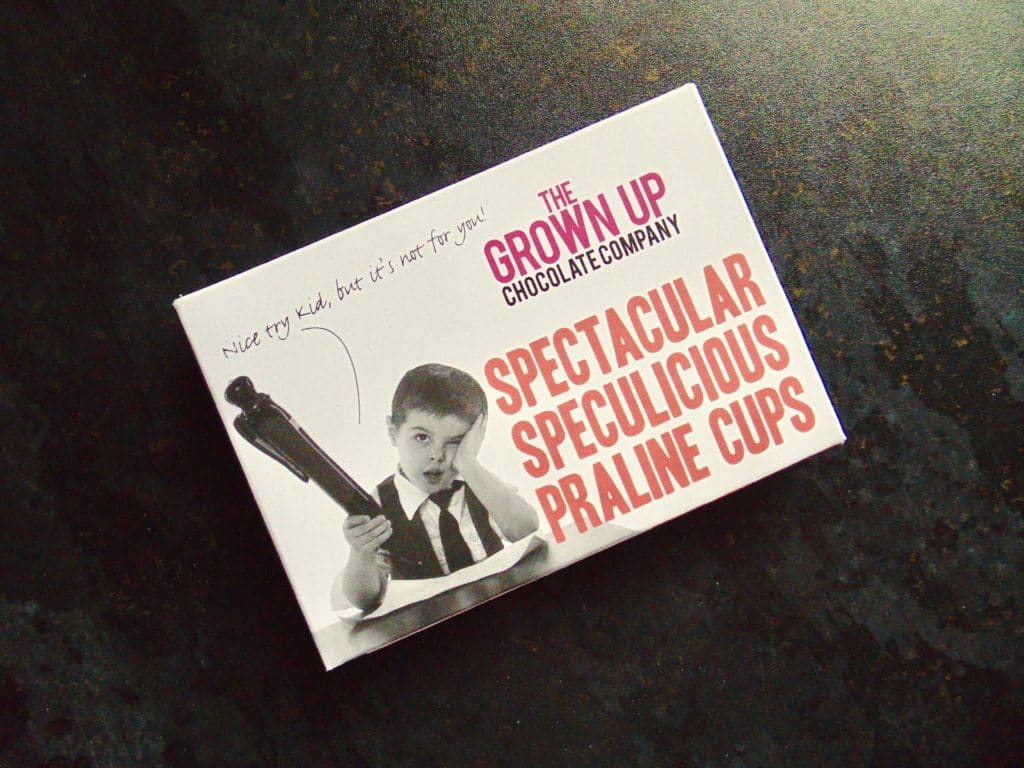 Spectacular Speculicious Praline Cups
Chocolate, nuts and cinnamon collide to make these little party-in-your-mouth chocolate cups.
A generous milk chocolate shell encases a sweet nutty praline, with crunchy shards of toasted hazelnuts, and the warming flavour of cinnamon, cloves and nutmeg. Almost like a little bit of Christmas spice, these truffles are deliciously unusual. The cosy Speculoos flavour balances perfectly between childishly sweet and sophisticatedly rich.
Basically, it's warming, delicious and has a good mix of texture and flavour.
I'd give it a 4/5.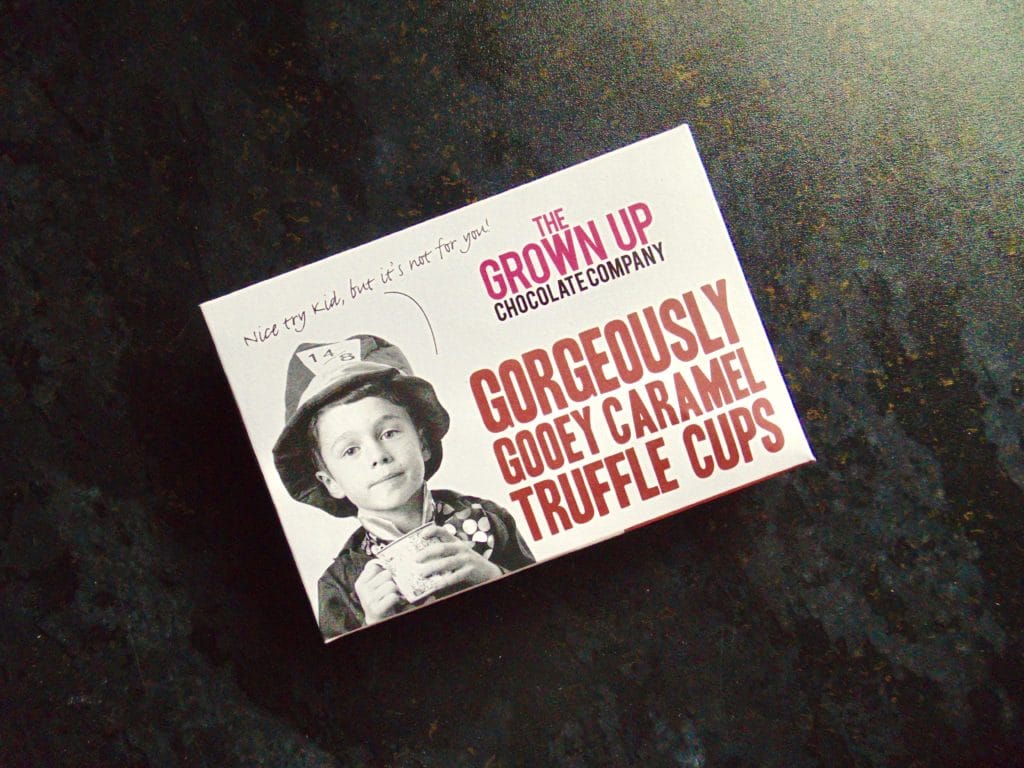 Gorgeous Caramel Truffle Cups
Nothing says luxury like a soft-centred chocolate. Whether it's a fancy truffle from a chocolate shop or just a Cadbury's Rose, a gooey middle in a truffle is always bound to make you feel very fancy, and very happy. These truffle cups are no different!
Gooey, lightly salted caramel oozes out of a thin layer of milk chocolate, wrapped in soft and rich milk chocolate truffle and a thick case of even more milk chocolate. There is a lot going on in this mouthful, and that is anything but bad. These are rich, soft and sweet, bound to satisfy any sweet tooth. However I couldn't help but feel it needed just a tiny touch more salt, to round off the flavours and make it even more delicious.
While very tasty, this one was perhaps a little too much goo and smoosh with slightly less flavour than I'd expected. Especially compared to the Speculicious Praline Cups! I'd give this one a 3/5. Though let's be real here, I still happily devoured these!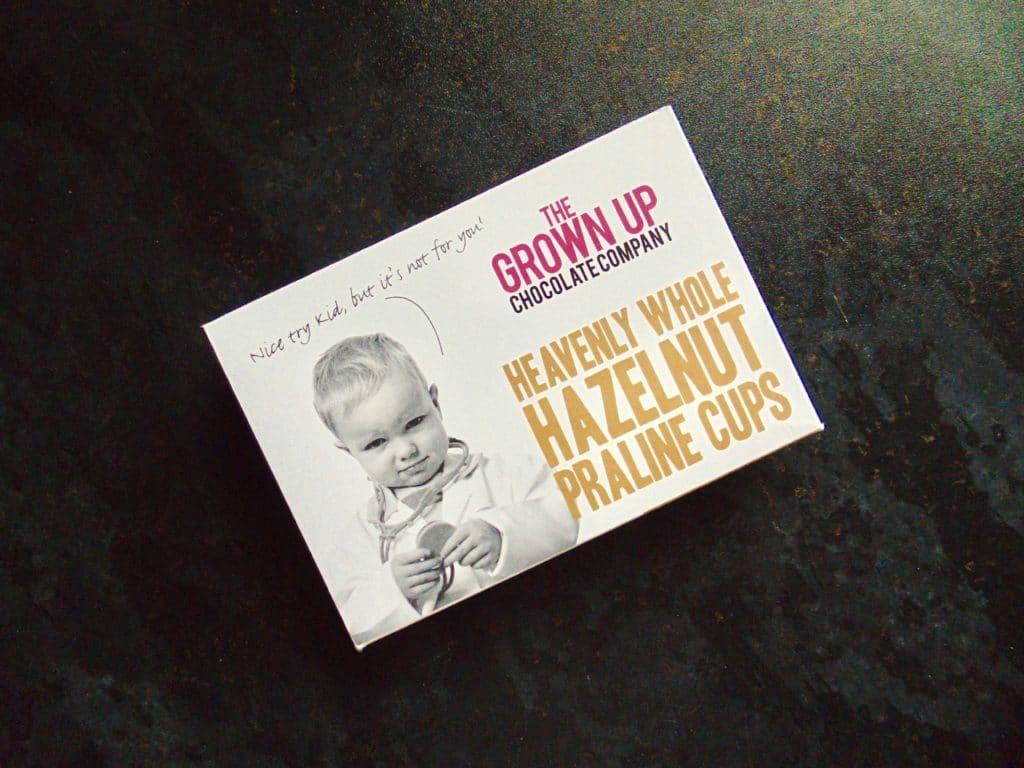 Heavenly Whole Hazelnut Praline Cups
Ah, where do I begin with these? Hazelnuts have long been my favourite nut, and the addition of chocolate only improves them.
A creamy milk chocolate shell houses a crunchy chocolate hazelnut praline, with crisped rice and a big whole roasted hazelnut. Think of a grown up version of a Kinder Bueno, or something akin to the classic Ferrero Rocher!
These were incredibly good. Balanced again perfectly with the childhood-reminiscent milk chocolate and crisped rice, with the more adult flavour of roasted nuts.
If you like the flavour of Nutella, you'll LOVE these. These chocolates are my favourite of the bunch, and the first ones to disappear. I'd give them, without hesitation, a 5/5.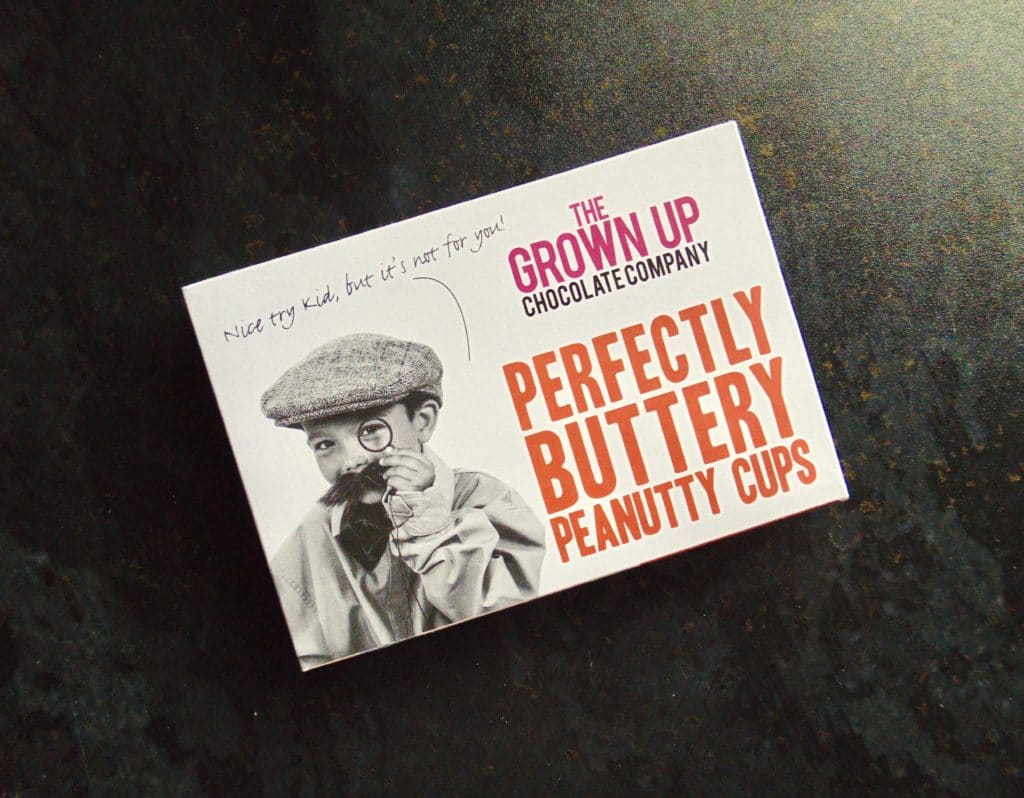 Perfectly Buttery Peanut Butter Cups
Have you ever read such a tempting title? Even if you don't like peanuts, nah, you haven't.
When one thinks of peanut butter cups, Reese's classic smooth chocolate peanut butter cups are the first products that spring to mind. However, this version turns that idea on its head!
I got a real surprise when I bit into these little cups, neither the flavour nor the texture was what I'd expected. The usual, generous milk chocolate shell encases a crunchy peanut praline, rich with roasted peanut flavour and sea salt. The bold intensity of the peanuts almost makes these cups border on savoury, like a handful of salted nuts from a bar, with a great texture too.
These were a real grown up take on a peanut butter cup, for real peanut butter lovers! While unexpected, these were deliciously different, and I'd happily return for more, these get a 4/5.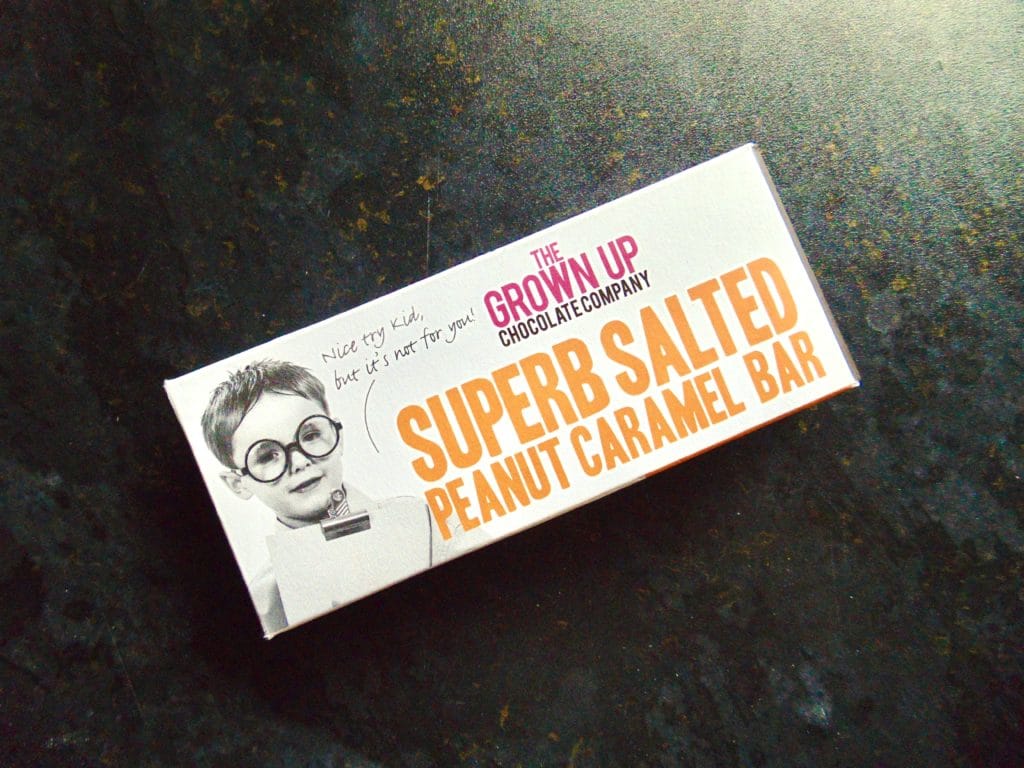 Perfect Peanut Caramel Bar
Do you ever bite into something, and just float away from yourself because it tastes SO DAMN GOOD? Dramatic, I know.
This bar was the only non-cup product that the Grown Up Chocolate Company sent out to me, and it also came with minimal description on the packaging. This obviously just made me even more excited to taste it!
Biting into this bar, you'll see again a thick layer of creamy milk chocolate, encasing a thick, rich and creamy peanut praline with a thin layer of caramel on top. This is the kind of bar that just blesses your tongue with sweet peanutty flavour, and that thick mouth-coating texture. Unlike the peanut butter cups, this was very peanutty but less savoury, leaning much more towards an almost grown up Reese's cup or Snickers bar flavour.
Thick, smooth, rich, sweet. This bar was an absolute dream, and a must-try for peanut butter fans. It's another solid 5/5.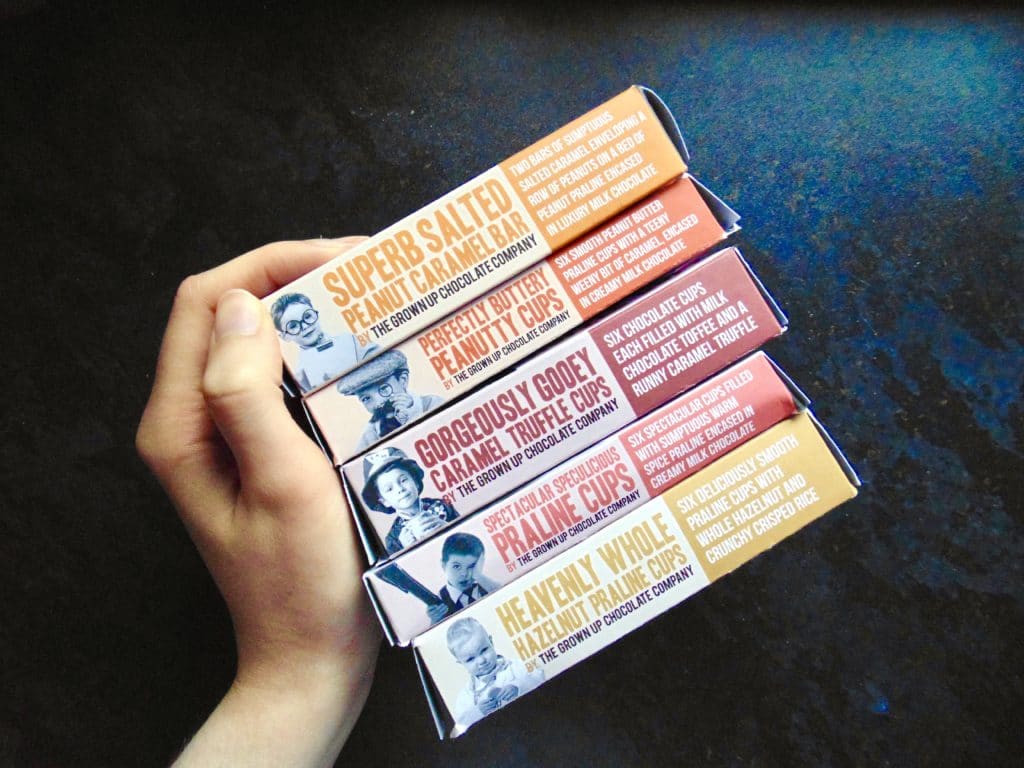 Sadly, that brings this very Grown Up Chocolate review to a close.
I'd like to thank the Grown Up Chocolate Company again for sending me these samples of their great products. I'll definitely be happy to buy these in future, and I thoroughly recommend them to anyone who loves good chocolate with an interesting twist!
I'd also like to thank all you lovely readers as always for being here, and I hope to see you very soon for more recipes, reviews and foodie musings!