Healthy Chocolate Chip Banana Bread; moist and incredibly delicious banana bread filled with melting chocolate chips. A reduced fat and sugar content make this banana bread a perfect every-day treat!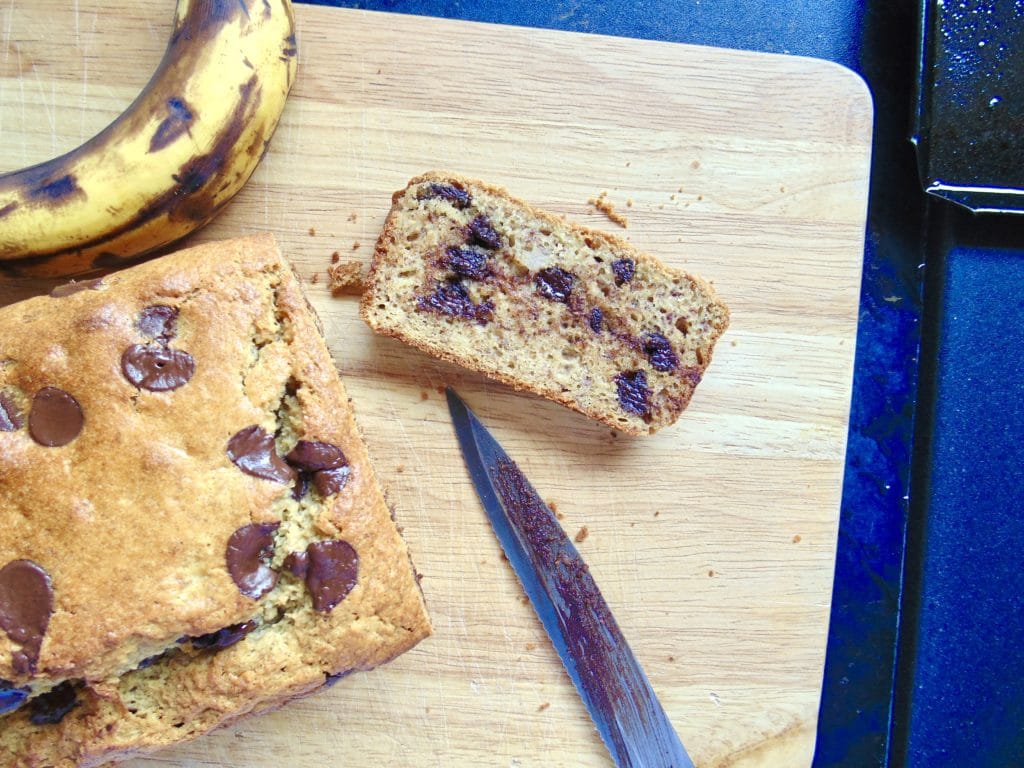 It's no secret by now that bananas are one of my favourite foods. Not just a favourite fruit, but a favourite food.
As we eat them all the time in our house, we tend to buy loads in our weekly shop and have plenty leftover to over-ripen and make delicious things with. Shoutout to all the banana pancakes, cakes, cupcakes and muffins of the last few years.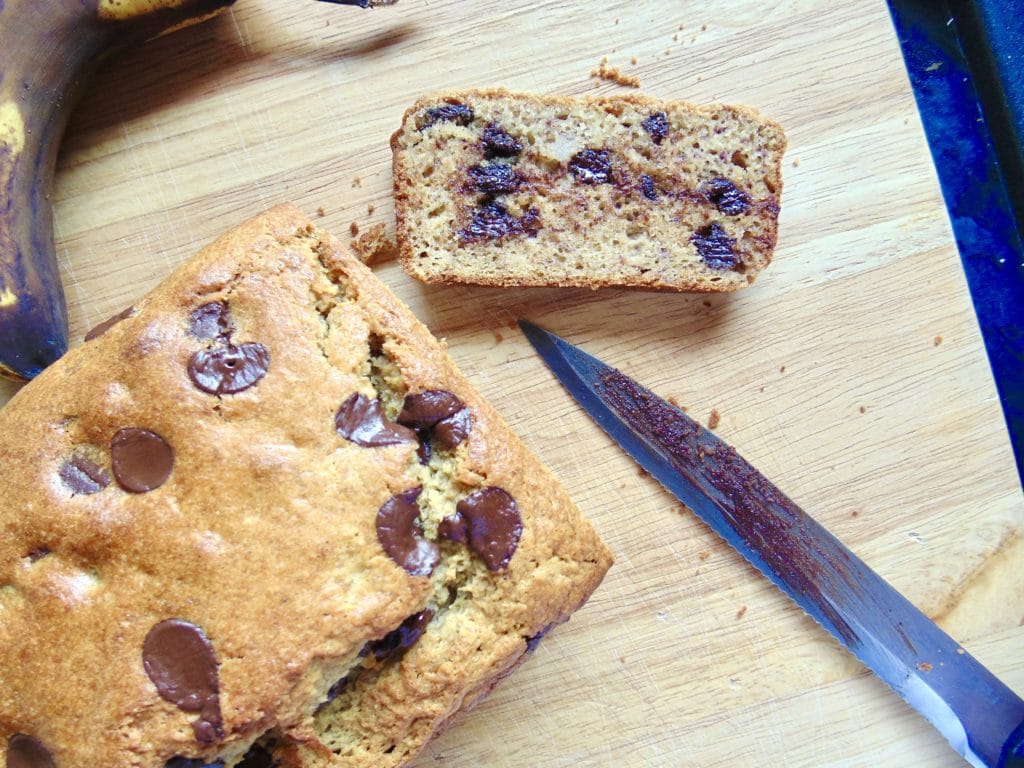 Some people like making smoothies with over-ripe bananas or freezing and blending them into ice cream. I like my smoothies in gigantic quantities, with more carbs and fat than most meals, and I'm also way too committed to dairy and sugar laden ice cream to buy into frozen banana puree right now. (Though yes, I have tried it, and it was delicious. Shut up.)
So rather than healthy meal and dessert replacements, the overripe bananas in question got mashed the f*ck up and baked into banana bread. With chocolate. Because chocolate is life.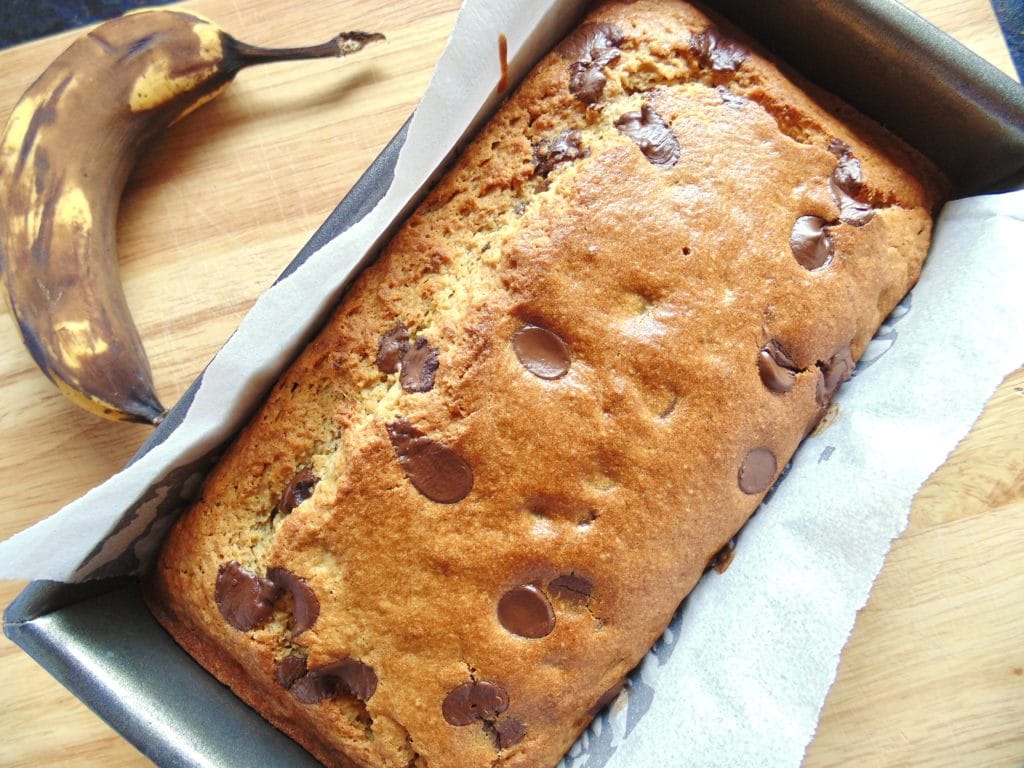 This Healthy Chocolate Chip Banana Bread recipe was originally inspired by the wonderful Kate over at Cookie & Kate. Her recipes are great, you should have a look at them if you need some inspiration!
I also drew some inspiration from my Healthy Chocolate Chip Banana Muffins recipe from last year, as they are addictively yummy too!
I used to use a different banana bread recipe, which you can still find here, but I tend to opt for this new one now instead!
This loaf of Healthy Chocolate Chip Banana Bread is such a great recipe to have handy when you have bananas lying around. You only need one bowl to make it, it requires no fancy decoration and keeps well for 3-4 days (at room temperature, or up to 7 in the fridge) after it's been baked.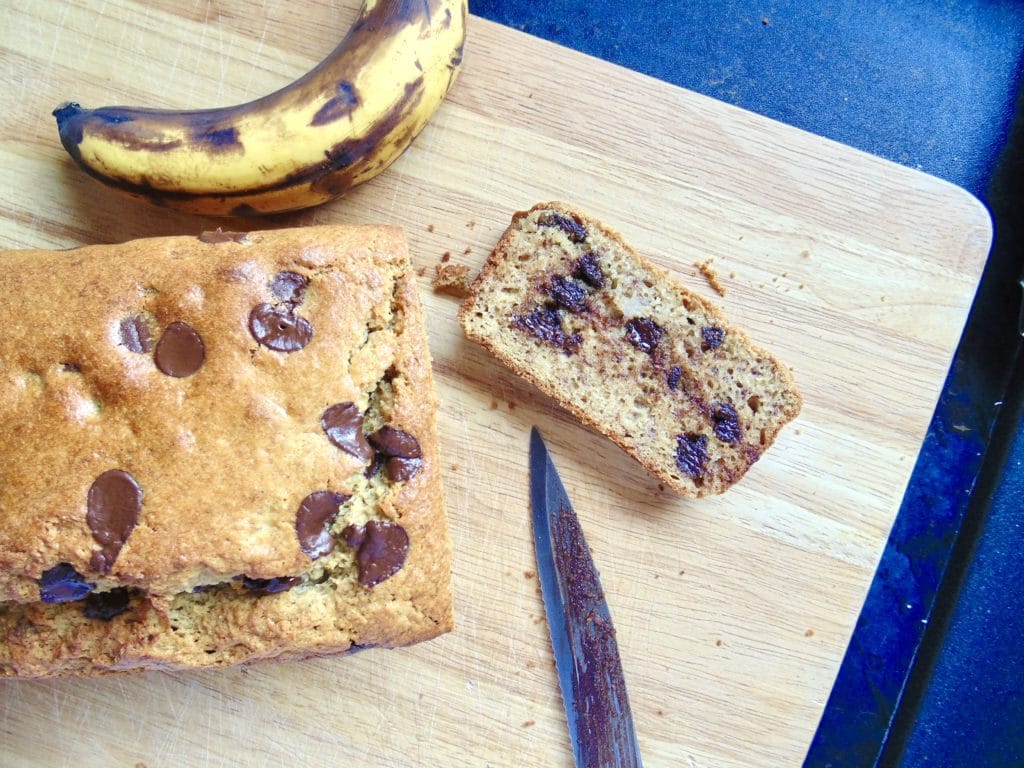 It is wonderfully moist, full of sweet banana flavour and pockets of melting chocolate chips, with less fat and sugar than many regular banana bread recipes. Now, I love fat and sugar more than you know, so trust me when I say this is truly delicious. This banana bread is by no means a "health food" but it's full of nutritious ingredients that happen to be yummy, meaning it's totally justifiable for every meal, right? Right.
I make this bread probably every other week, and I just adore it for breakfast. Eaten plain, warmed in the toaster or the microwave, drizzled with peanut butter, or topped with more banana and berries, or with yoghurt. So many ways to eat this, at any time of day!
Obviously, you can leave out the chocolate chips if you'd rather a plain banana bread. It's also fun to swap out 40-50g of the flour for cocoa powder to make a deliciously extra-chocolatey bread!
Anyway, I should stop writing and get back to studying. The final exam of my whole degree is tomorrow morning, AHHHH!!
Scroll down to find the full recipe!
Thank you as always for being here, for reading and watching my sugary silliness. Follow my YouTube channel for more cute recipe videos, and I'll see you very soon!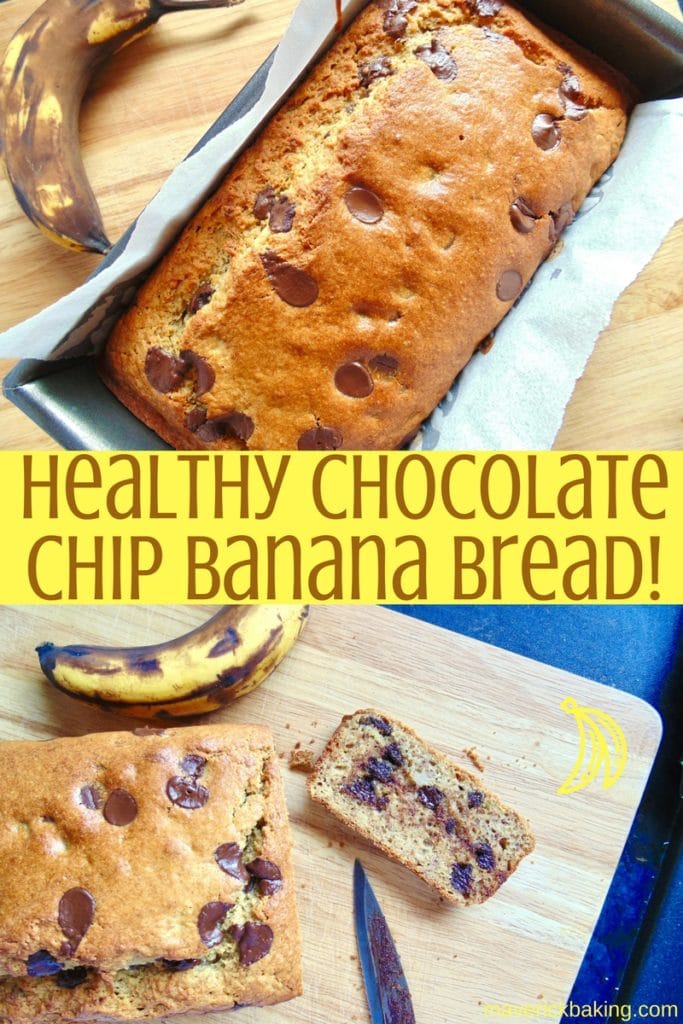 Healthy Chocolate Chip Banana Bread (with video!)
Healthy Chocolate Chip Banana Bread; moist and incredibly delicious banana bread filled with melting chocolate chips. A reduced fat and sugar content make this banana bread a perfect every-day treat!
Ingredients
80ml (⅓ cup) melted coconut oil or any vegetable oil
100ml (⅓ cup) brown sugar, maple syrup or honey
2 tsp vanilla extract
2 eggs
50ml (¼ cup) any kind of milk
3 (1 cup) mashed ripe bananas
250g (2 cups) white or wholemeal plain flour (gluten free blends work well too!)
1 tsp baking powder
½ tsp bicarbonate of soda
Pinch of salt
100g (3 oz) dark chocolate chips (plus extra for sprinkling on top)
Instructions
Preheat your oven - 180°C / 160°C fan / 350°F / gas mark 4.
Grease and line a regular loaf tin.
In a large bowl, whisk together your oil and syrup/honey until combined.
Add in the eggs, whisking again until smooth.
Add the mashed banana, the vanilla and the milk and whisk it up again.
Add your flour, raising agents, salt and chocolate chips. Mixing again until completely combined. Careful not to over-mix though, as this can result in a heavy bread!
Pour the mixture into your prepared tin and sprinkle over some extra chocolate chips.
Bake in the preheated oven for 55-60 minutes until risen, firm and a skewer inserted into the centre can be cleanly removed (maybe minus some melty chocolate!).
Allow the bread to cool in the tin for about 15 minutes before cooling completely on a wire rack.
Enjoy!
Notes
*Feel free to omit the chocolate chips for a delicious, plain banana bread
*Why not try replacing 40g of the flour with cocoa powder for an EXTRA chocolatey bread?
http://maverickbaking.com/healthy-chocolate-chip-banana-bread/
You may also enjoy…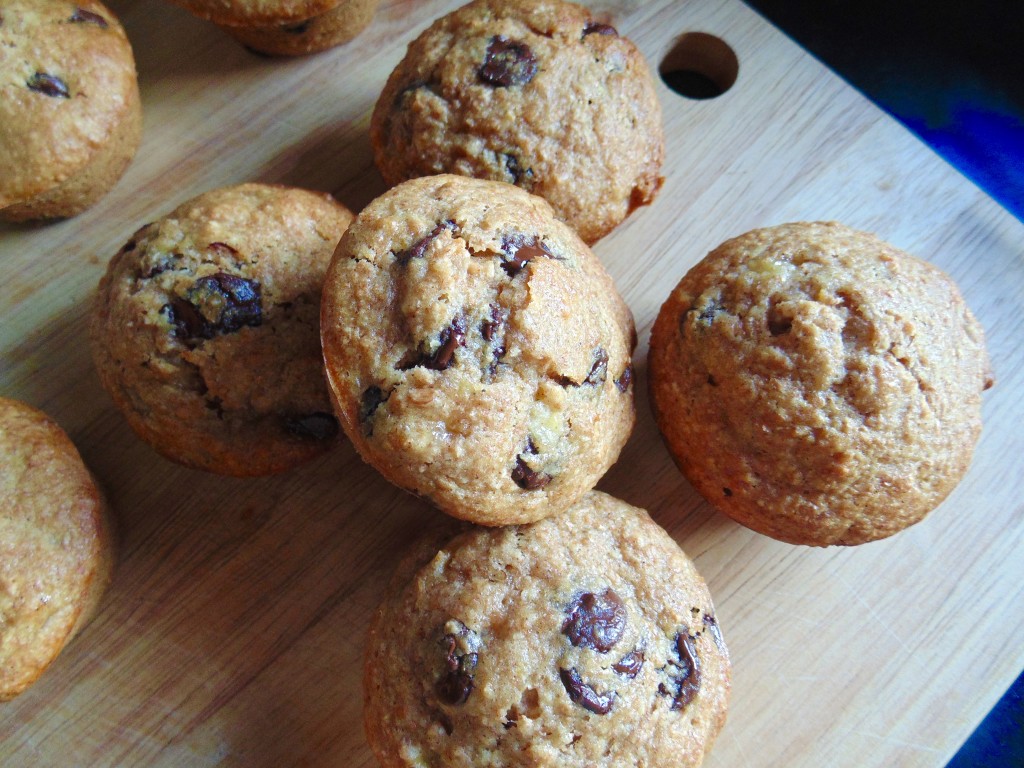 Healthy Chocolate Chip Banana Muffins