Healthy Sweet Potato Brownies; dense, fudgey and deliciously rich brownies that are super chocolatey, easy to make and also completely vegan!
I'm a firm believer that brownies can solve almost any problem.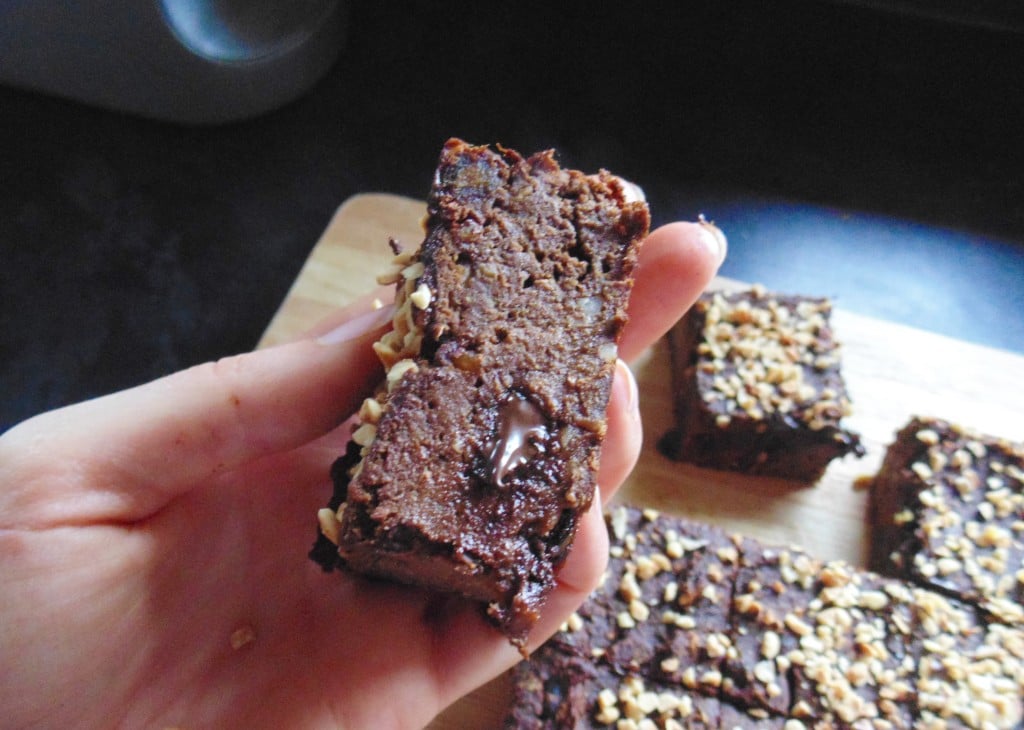 Bad day at work? Eat a brownie. Feeling down about your relationship? Eat a brownie. Planet on the verge of imminent destruction? Eat a brownie. Ok, well maybe I just have an excuse to eat brownies all the time…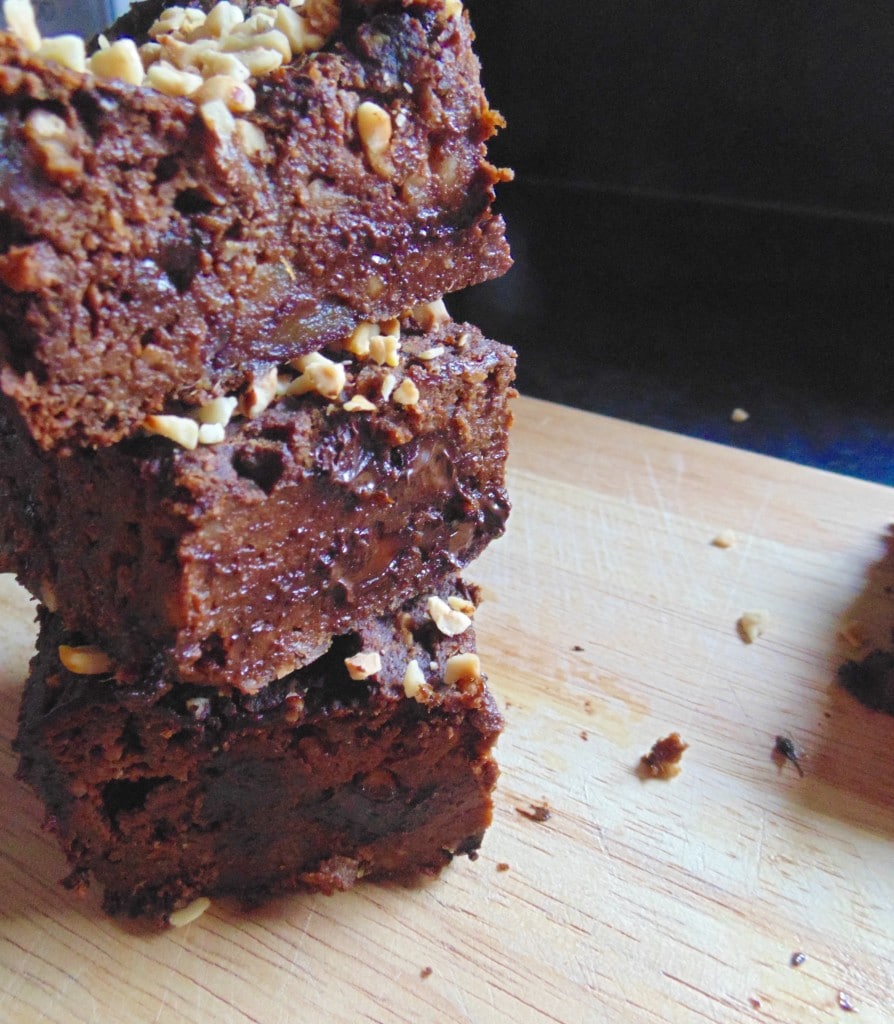 Regardless of your reason (not that you need one), brownies are fantastic and impossible to resist, especially when they're homemade. I love experimenting with new kinds of brownie, and I'd never tried a vegan version before, so after spotting a few different recipes for sweet potato brownies, I new I had to try it out!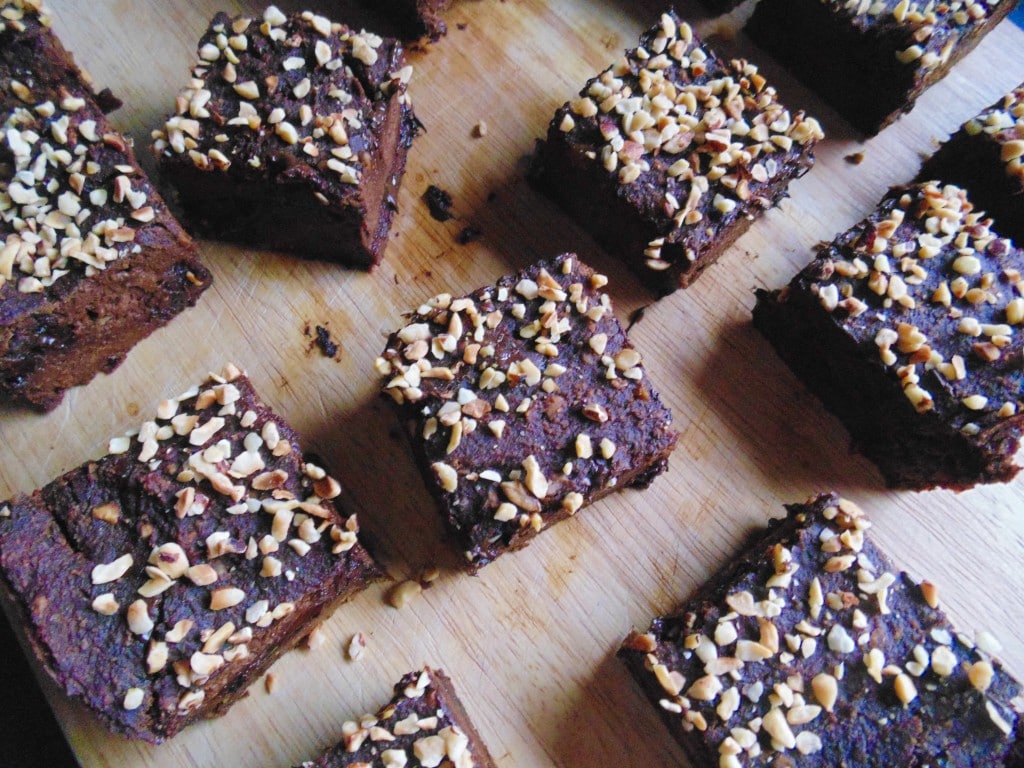 I've made low-calorie brownies before by substituting the butter for margarine and reducing the chocolate content, but today I didn't just want boring low-calorie fare. I wanted a dense, fudgey brownie that would be full of good stuff without having to cut back on flavour.
Thus these healthy and completely vegan sweet potato brownies were born! I took some inspiration from fellow UK blogger Deliciously Ella and her recipe for sweet potato brownies and created my own version that's a little sweeter, a little nuttier and obviously a lot more chocolatey!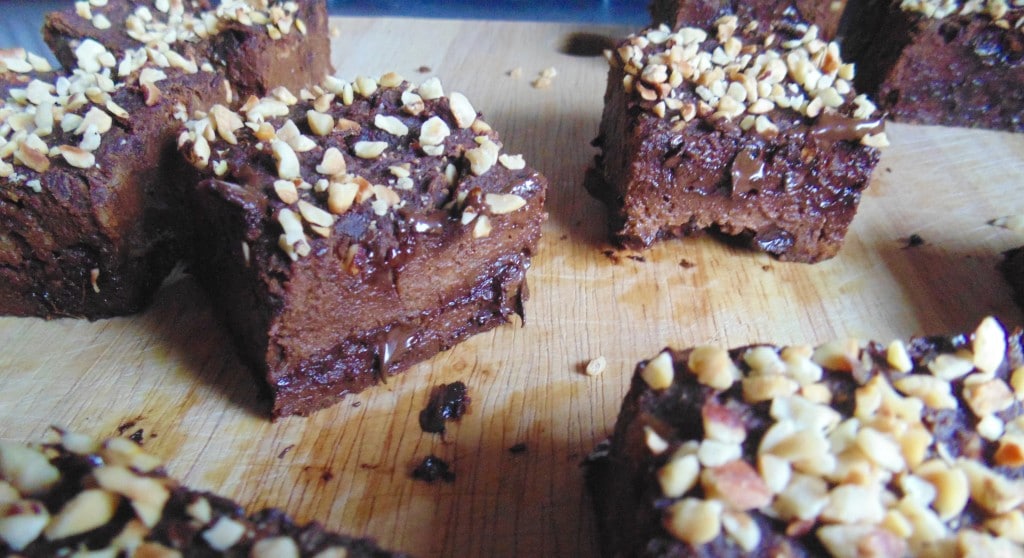 Some of the ingredients in these brownies aren't your usual kitchen cupboard ingredients but can all be found easily online at very affordable prices (trust me, I'm a student).
This super easy recipe starts by cooking some sweet potatoes however which way you like until really soft.
These then get blended with some pitted dates and vanilla until smooth.
All the brownies' dry ingredients then get measured and mixed in a large bowl.
The sweet potato mixture gets mixed in nicely, before adding some chopped dark chocolate (which is optional, and will have to be dairy free if you're going full vegan).
This lovely thick mixture gets baked for around half an hour until firm and a tempting dark brown colour.
Once completely cool, the healthy sweet potato brownies are sliced into 12-16 pieces and are imminently devoured by all those within a 10 metre radius.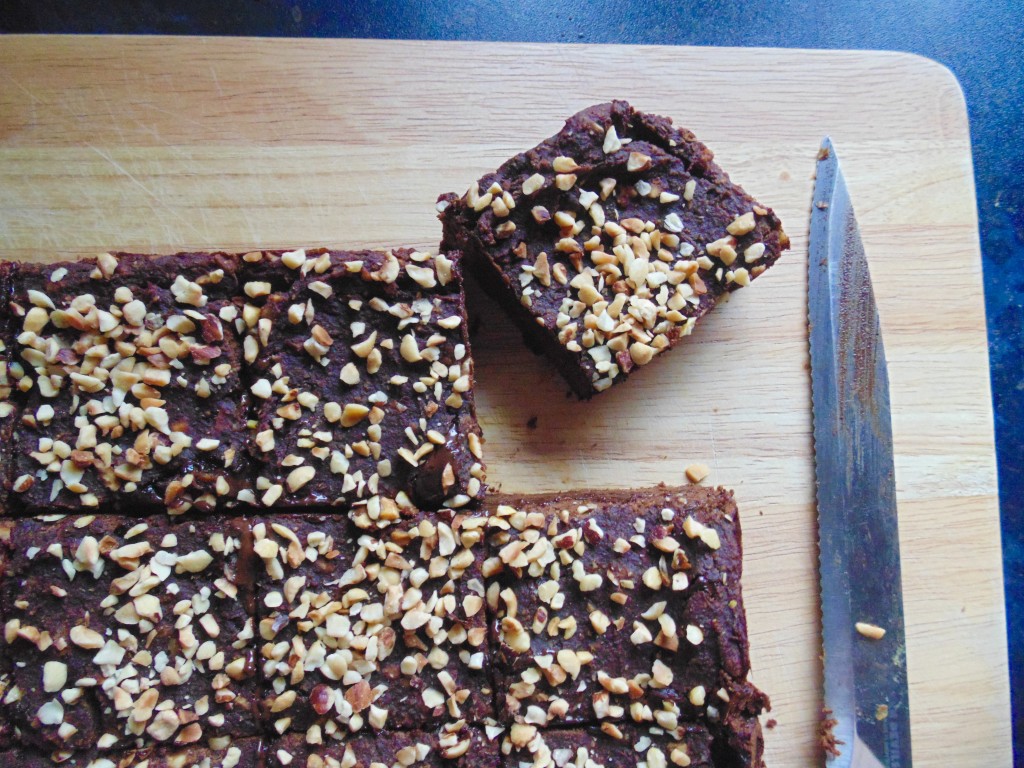 I'm sure you'll love these healthy sweet potato brownies whether you're vegan or not, they don't taste like your normal  brownie but they are every bit as fudgey, dense and wonderfully chocolatey nonetheless. Plus they're supposedly good for you!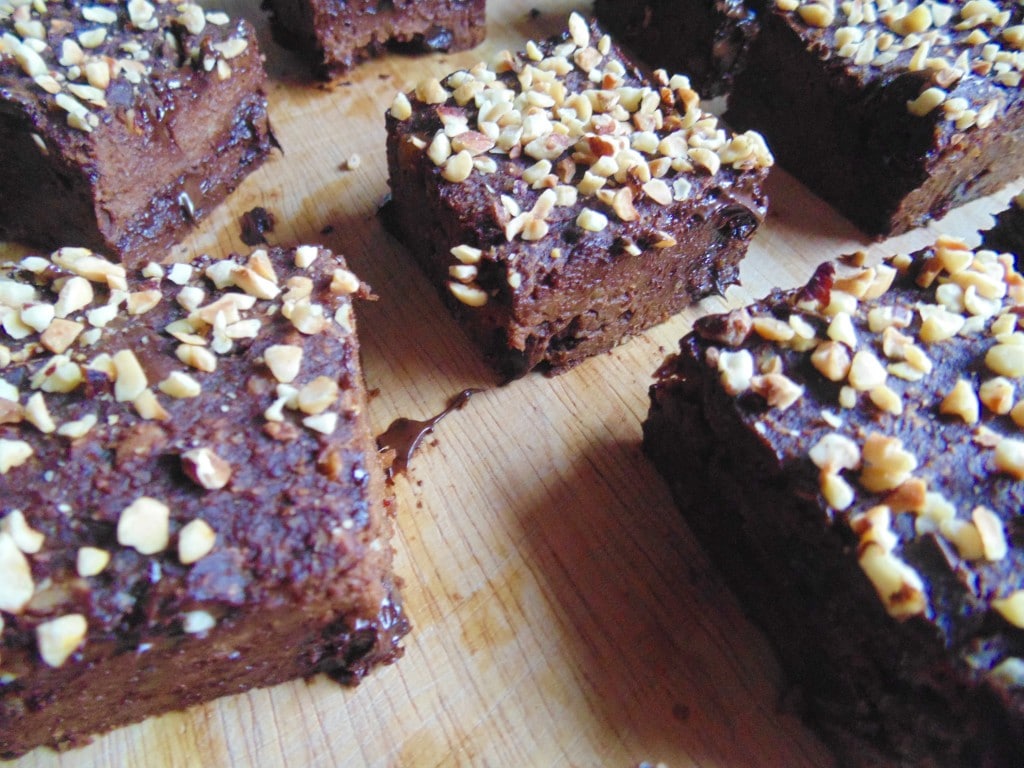 Go on, you know you want to!
Scroll down for the full recipe fir these healthy sweet potato brownies.
See you again soon!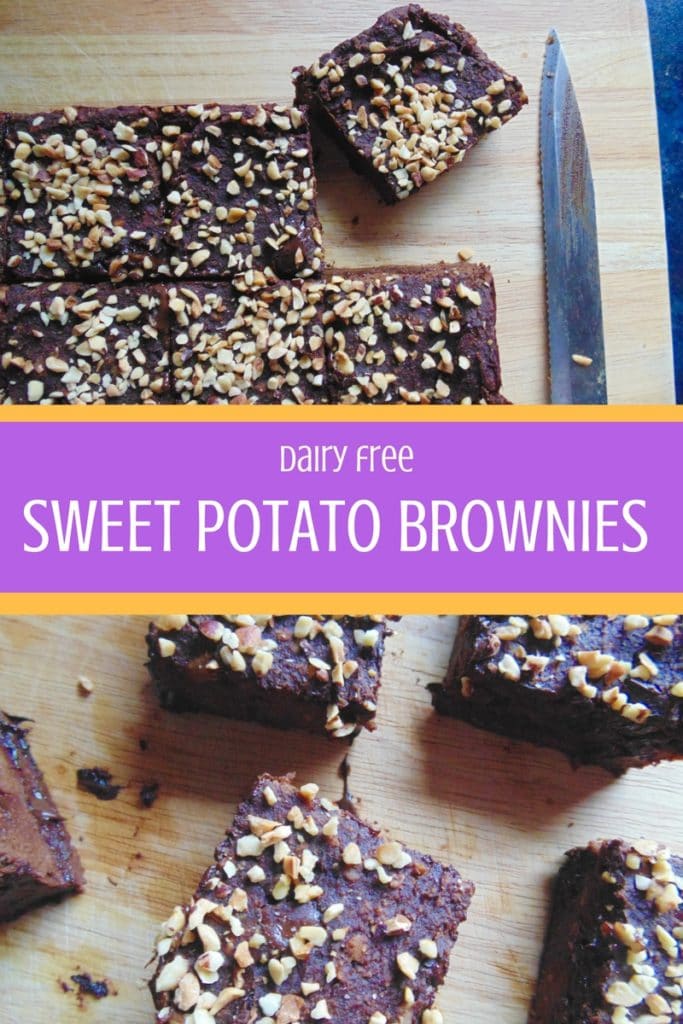 Healthy Sweet Potato Brownies!
Dense, fudgey and healthy sweet potato brownies that are super chocolatey, easy to make and are also completely vegan!
Ingredients
600g (3 cups) cooked, mashed sweet potato (you can also use pumpkin or butternut squash)
15 medjool dates, stones removed
2 tsp vanilla extract/paste
100g (scant 1 cup) ground almonds
100g (¾ cup) plain white or wholemeal flour (or a gluten free blend)
6 tbsp cocoa powder
5 tbsp brown sugar
150g (5 oz) dark chocolate (optional, and must be dairy free if vegan)
80g (¾ cup) chopped hazelnuts (optional)
Instructions
Use your microwave, a steamer or just a pan of boiling water to cook your sweet potatoes until really soft. 600g is roughly 2 medium-large potatoes.
Mash the cooked potatoes and allow to cool for 5-10 minutes.
Meanwhile preheat your oven - 180°C / 160°C fan / 350°F / gas mark 4.
Grease/line a 20 x 20cm (8 x 8in) baking tin.
If you have a food processor, blend the sweet potatoes, dates and vanilla together until smooth. If not, chop the dates into small pieces and mix the three ingredients by hand instead.
In a separate large bowl, weigh out all the remaining ingredients except the chocolate.
Add the sweet potato mixture to the bowl and mix everything until well combined.
Chop the dark chocolate into small chunks and gently fold them through the mixture until incorporated.
Tip the brownie mixture into your prepared tin and top with the chopped hazelnuts.
Bake in the preheated oven for 30-35 minute until firm on top and a knife inserted into the centre comes out cleanly.
Allow to cool in the tin for 15-20 minutes before removing and cooling completely on a wire rack.
Slice the cooled brownies into 12-16 pieces and enjoy!
http://maverickbaking.com/healthy-sweet-potato-brownies/
You may also like…