Healthy Turkey Meatballs; moist and flavourful turkey meatballs in a gorgeous tomato red wine sauce, perfect with pasta!
Spaghetti and meatballs has, is and probably always will be one of my favourite dishes. We eat it almost every week in our house, we're a little pasta mad to be honest. Aren't we all though?
I love making and cooking meatballs too, I feel like some kind of Italian Nonna taking over the kitchen…as I stare sadly out the window at the grey fog of Aberdeen.
Really though, moist, herby, healthy turkey meatballs with spaghetti and a tomato red wine sauce? Hello. Yes please. I've never met someone who doesn't like spaghetti and meatballs, and I'm not convinced that I'd want to.
These healthy turkey meatballs are almost accidentally healthy; my mum isn't the biggest fan of beef mince as she finds it too chewy and generally doesn't love the flavour so I decided to try these out with turkey mince instead.
Mum always made chicken or turkey bolognese for me when I was little because I absolutely loved it, so these meatballs are almost a grown-up version!
I thought you guys might want a little savoury as a break from all the sweet stuff I post, so I humbly oblige, you demanding little buggers.
Dice up the onion and chop up the garlic and parsley.
Add this to the pack of turkey mince.
Then throw in the grated carrot, some dried herbs, and all the remaining ingredients. Mix all this together in a bowl and form the mixture into 18-20 little balls.
Heat a little olive oil in a frying pan then throw in the meatballs.
Simply brown these in the hot pan for 3-5 minutes and then set them aside while you prepare your sauce.
To finish them off, gently simmer them for 20-30 minutes in your chosen sauce and serve them with pasta, rice or whatever carb you fancy!
I always stir these healthy turkey meatballs through a rich red wine and tomato sauce and serve them over long spaghetti with a massive grating of Parmesan cheese.
Daaaaaaaaaamn, girl.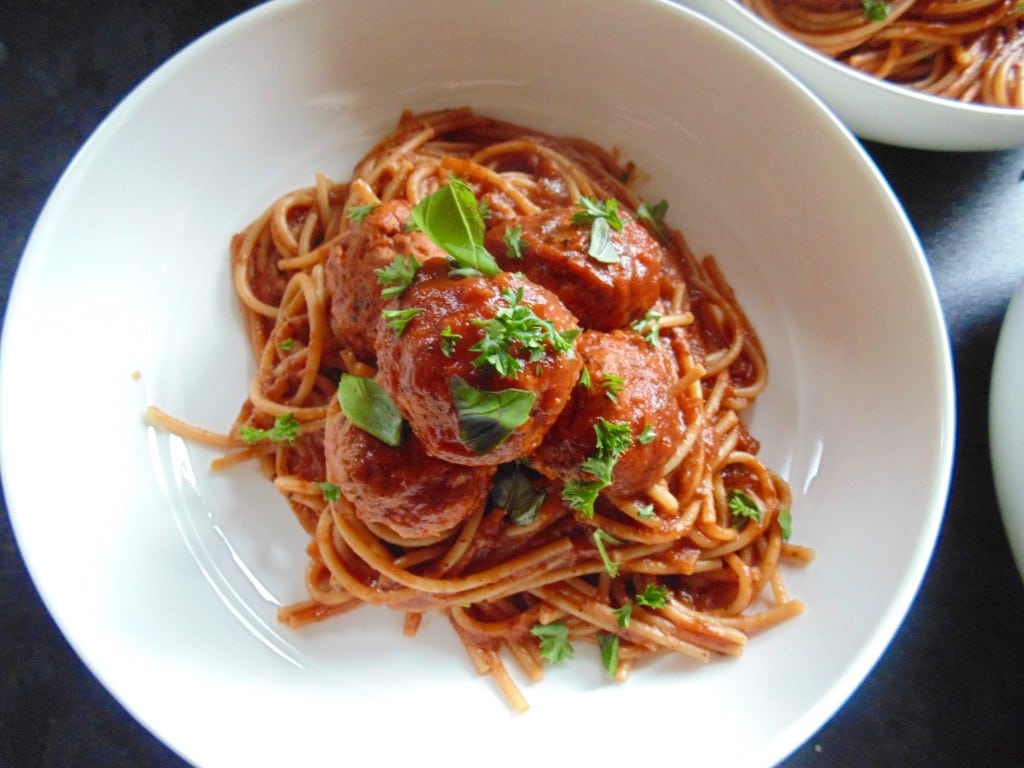 No one is going to say no to these! Who says home cooking has to be hard work?
Moist and flavourful turkey meatballs in a gorgeous tomato red wine sauce.
Ingredients
500g (1 pound) turkey mince
1 medium onion
2 garlic cloves
Handful of fresh parsley
1 medium carrot, grated
¼ tsp each of dried basil and oregano
1 tbsp Worcestershire sauce
1 tbsp tomato purée
Pinch of salt and pepper
Instructions
Dice the onion, garlic and fresh parsley.
Place in a large bowl with the turkey mince.
Add in all the remaining ingredients and mix to combine.
Form the mixture into 18-20 meatballs.
Heat a little olive oil in a large frying pan and cook for 3-5 minutes over a medium to high heat until browned all over.
Set the meatballs aside on a clean plate while you prepare/heat your sauce.
Simmer the meatballs gently in the sauce for 20-30 minutes until tender and cooked through.
Serve your meatballs with pasta or rice and a grating of Parmesan cheese.
Enjoy!
http://maverickbaking.com/healthy-turkey-meatballs/