Honey Vanilla Banana Bread; a scrumptiously simple, sweet and moist banana bread laced with the aromas of runny honey and vanilla bean.
Of all the things that I create in my little kitchen, banana bread is probably the most common.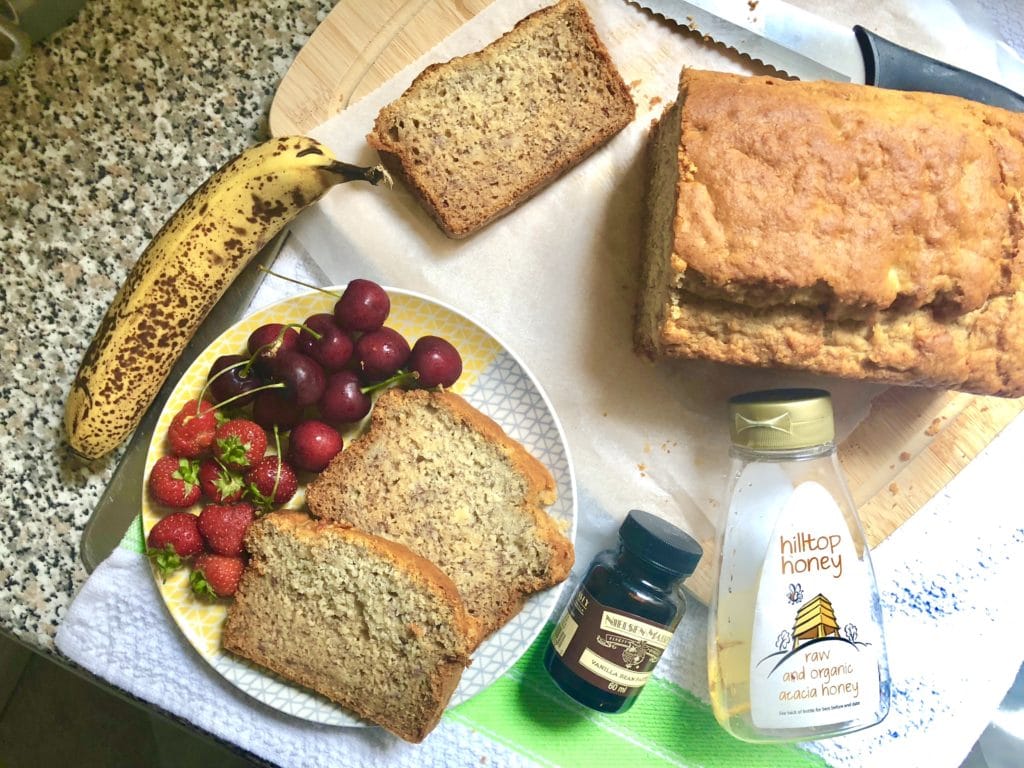 Bananas are one of my favourite foods. Not just one of my favourite fruits, they are genuinely one of my favourite things to eat, period.
This means that we buy a lot of bananas each week. Even though I eat at least one a day, I always buy a couple extra and allow them to get to that super sweet overripe stage.
Once bananas are covered in brown spots, they usually aren't great to eat, due to a slightly mushy texture and concentrated flavour. However, during this phase of their lifespan, they are marvellous to keep for baking or to freeze to use in smoothies and desserts.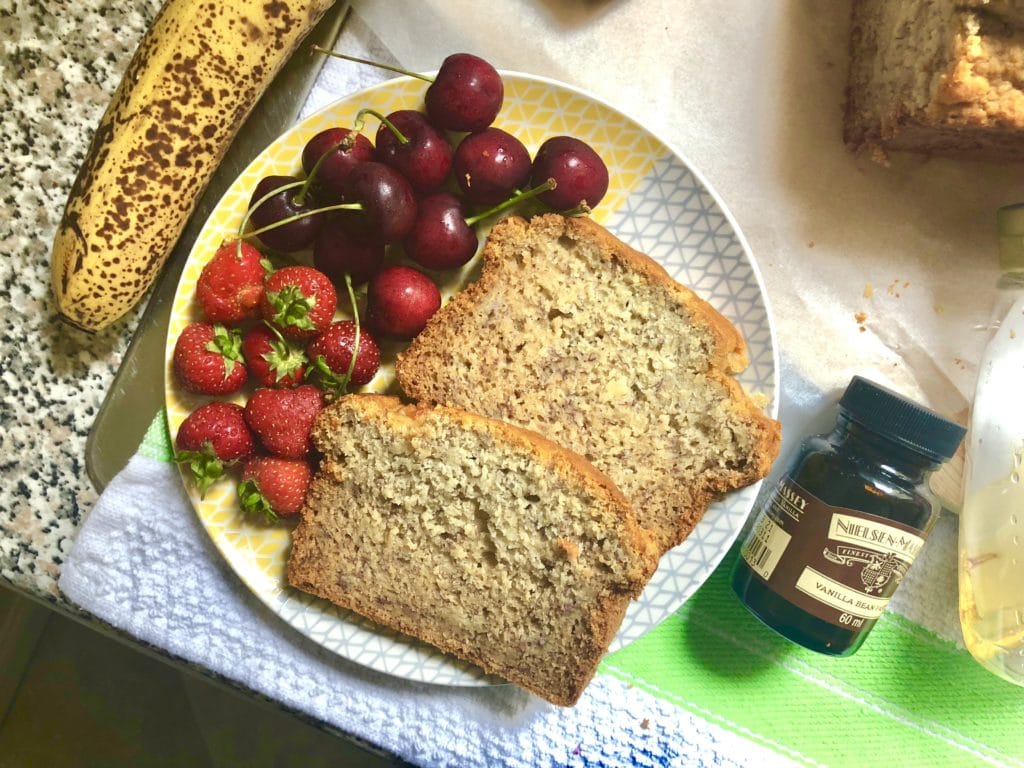 With three overripe bananas, accumulated purposely or not, you can make this heavenly Honey Vanilla Banana Bread. Known around these parts as one of the best breakfasts ever. It also happens to be secretly quite healthy, which you would never expect when tasting it.
None of the bland, dry loaves from coffee shops that scream out for some kind of frosting to apologise for their lack of love. This is a banana bread you won't want to stop eating. Made sweet by the bananas and honey, and soft and moist enough that you could eat it with a fork if you wanted to. Drizzle some extra honey over it (because duh) and just relish in the sticky sweet goodness.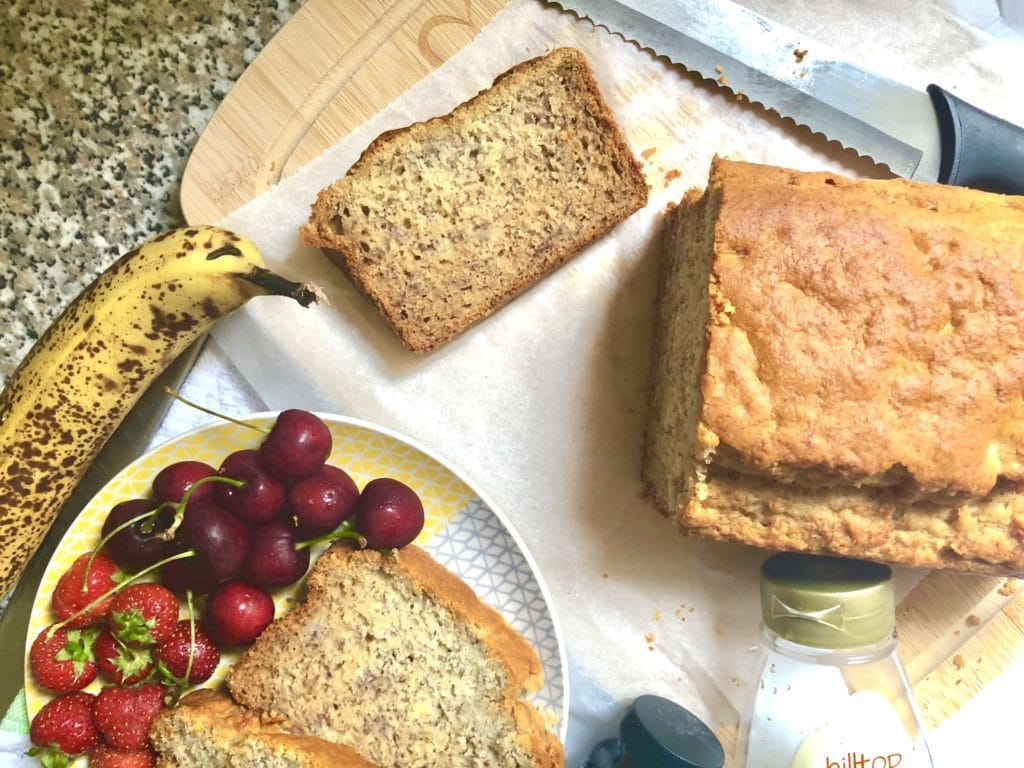 This Honey Vanilla Banana Bread is made lighter with olive oil, and easily made higher in fibre by using wholemeal flour, allowing the strictly health-conscious types to enjoy it. It can also be made gluten or dairy free, without containing any nuts, meaning that it's generally very allergy-friendly!
All of these things are merely coincidental, I must add. I am a die-hard lover of gluten and dairy, and yet having made this bread without either, I can attest to the fact it doesn't require them. We are here for the full flavour of sweet banana, floral honey and comfortingly familiar vanilla, and those things come through strongly either way.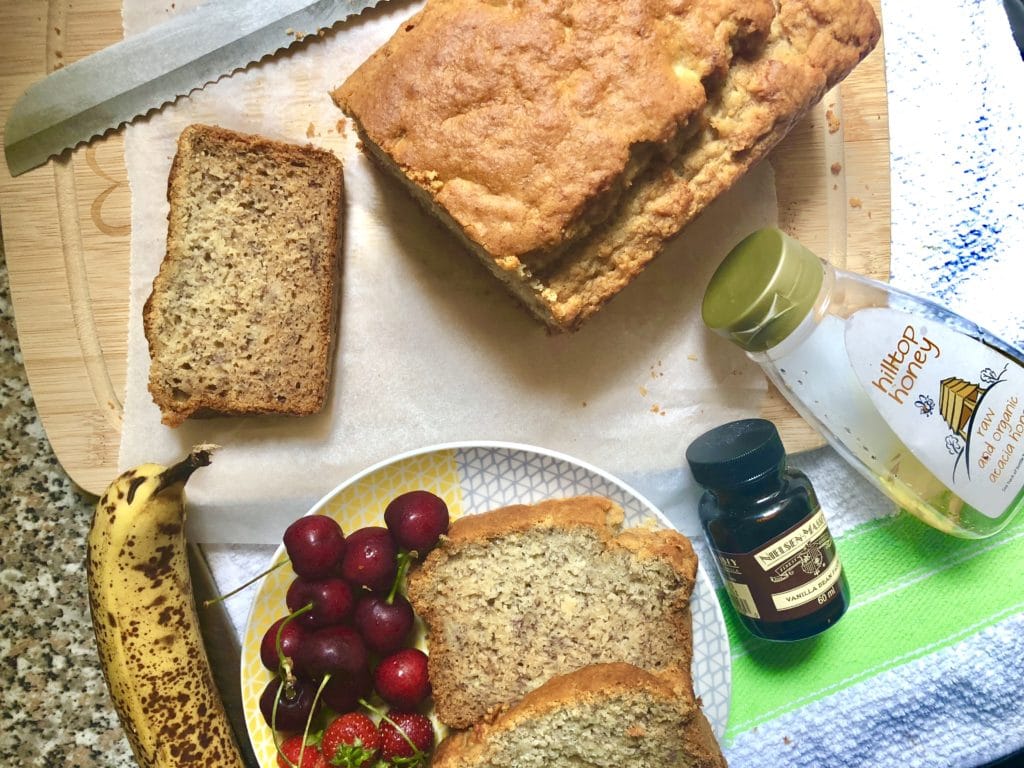 But that's enough musing, you lot are here for food.
Scroll down for the full recipe to make this Honey Vanilla Banana Bread.
Honey Vanilla Banana Bread
Honey Vanilla Banana Bread; a scrumptiously simple, sweet and moist banana bread laced with the aromas of runny honey and vanilla bean.
Ingredients
80ml (⅓ cup) olive oil
100ml (⅓ cup) runny honey, use the best you can afford
1 tbsp vanilla extract
2 large eggs
50ml (¼ cup) any kind of milk
3 (1 cup) medium mashed ripe bananas
250g (2 cups) white or wholemeal plain flour (gluten free blends work well too!)
1 tsp baking powder
½ tsp bicarbonate of soda
Pinch of salt
Instructions
Preheat your oven - 180°C / 160°C fan / 350°F / gas mark 4.
Grease and line a regular loaf tin.
In a large bowl, whisk together your oil and honey until combined.
Add in the eggs, whisking again until smooth.
Add the mashed banana, the vanilla and the milk and whisk it up again.
Add your flour, raising agents and salt. Mixing again until completely combined. Careful not to over-mix though, as this can result in a heavy bread!
Pour the mixture into your prepared tin.
Bake in the preheated oven for 55-60 minutes until risen, firm, and a skewer inserted into the centre can be cleanly removed.
Allow the bread to cool in the tin for about 15 minutes before cooling completely on a wire rack.
Enjoy!
Notes
BE A MAVERICK: if you don't have honey, golden syrup would also add a great flavour!
MAKE IT GLUTEN FREE: Swap out the plain flour with oat flour or a gluten-free plain flour blend
http://maverickbaking.com/honey-vanilla-banana-bread/
If you enjoyed this Honey Vanilla Banana Bread, you may also like…