How to make Junior's Cheesecake; a simple recipe to help you whip up the world-famous creamy baked vanilla cheesecake in your own kitchen!

Cheesecake is a universal language. Unless you're vegan…or lactose intolerant, I guess.

Regardless of individual dietary requirements, cheesecake is a staple on dessert menus around the world. Some like it with a crunchy biscuit base, some with a soft cakey base. Some prefer the rich and substantial texture of a baked version, while other prefer whipped fridge-set or sleek gelatin-set varieties. It may change its shape, size and texture across the borders, but it's still a cheesecake.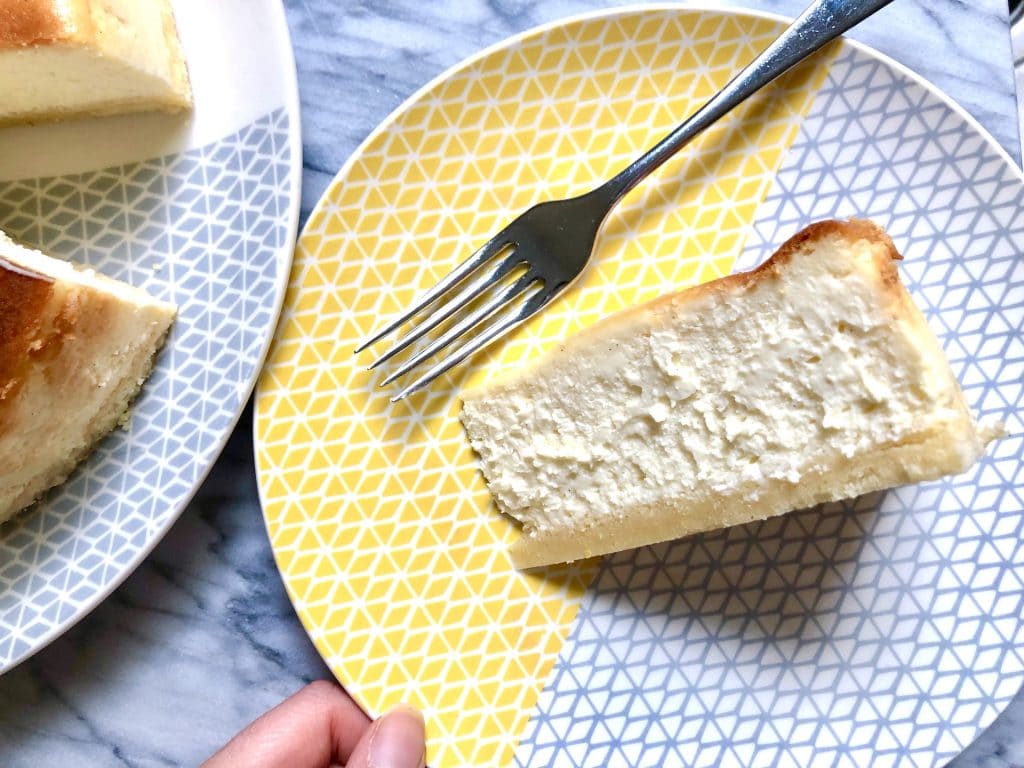 Chunky, 1970s-style fridge-set versions are the most common form of cheesecake in the UK. We rarely see the proper baked version that is such a staple in the famed cheesecake hub of New York City. I've made a couple of baked cheesecakes in my time, but I wanted to know what a PROPER New York cheesecake was all about.

Junior's in New York is highly regarded as the best place to try this classic dessert, even branding their own as "The World's Most Fabulous Cheesecake."

I'd heard of it several times before, and after re-creating the Momofuku Milk Bar Birthday Cake and the Levain Bakery Cookies, I knew I had to find out how to make Junior's cheesecake in my own little Scottish kitchen.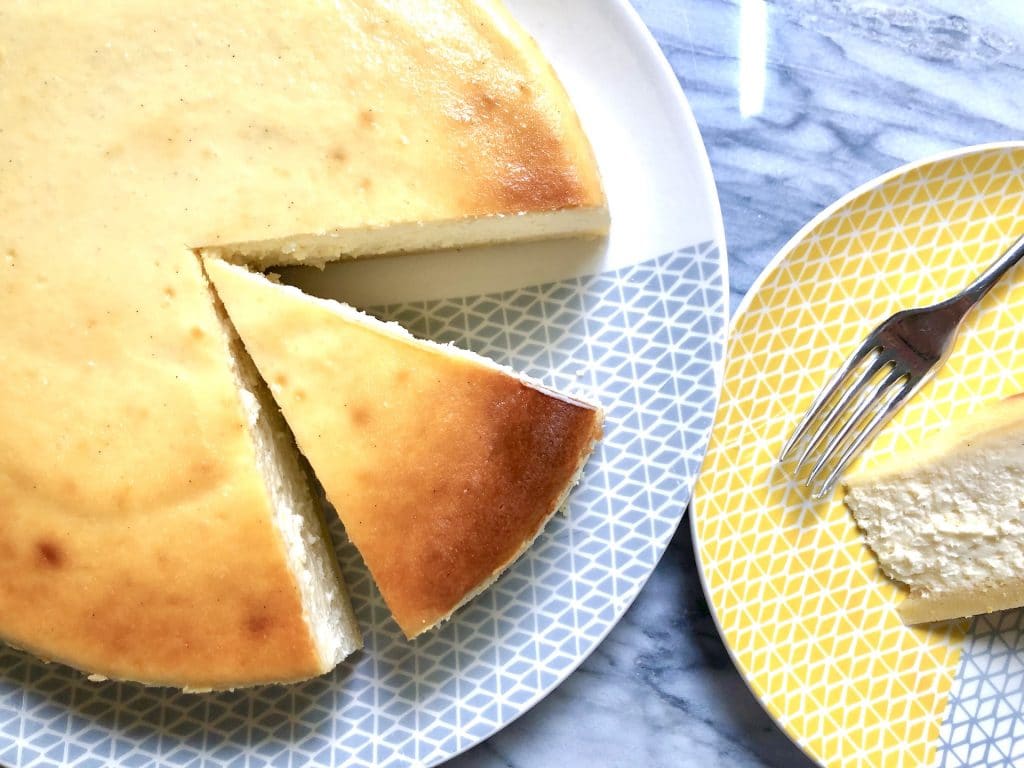 Junior's classic baked vanilla cheesecake seemed like the place to start. It has an old-fashioned sponge cake based, tinged with a hint of lemon, and a rich and creamy cheesecake filling that brims with vanilla flavour.

I did my research on how to make Junior's cheesecake and compiled a few "copycat" recipes. Today I've created for you what I believe is a close attempt at this famous cheesecake, without having the funds to travel to New York and directly compare it of course!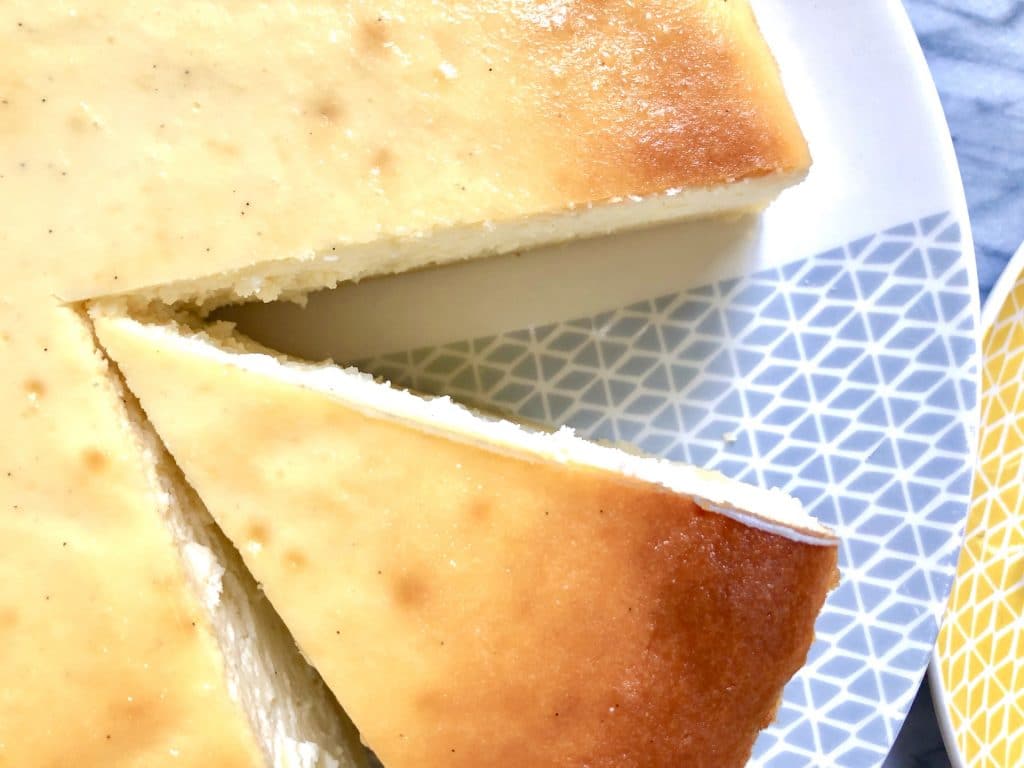 A light and airy lemon sponge cake, topped with an unbelievable vanilla cheesecake that boasts both dense creaminess and gentle fluffiness at the same time. The eggs give the cheesecake an almost French custard (or Creme Patissiere) kind of sophistication in the flavour, making this feel like something much more fancy and special than a homemade cheesecake.

It certainly lived up to the hype for me, even with a few Maverick Baking tweaks:
This recipe uses lemon zest in place of the lemon extract that Junior's apparently use
This recipe uses slightly less cream cheese, simply due to the finicky difference in weight conversions from imperial to metric
This recipe uses significantly less sugar, simply as I felt it didn't need as much as many of the copycat recipes that I found
This recipe takes less time than Junior's original recipe apparently takes
This recipe can be made by hand or simply with a cheap electric whisk, as I felt it didn't require the expensive freestanding mixer that many copycat recipes used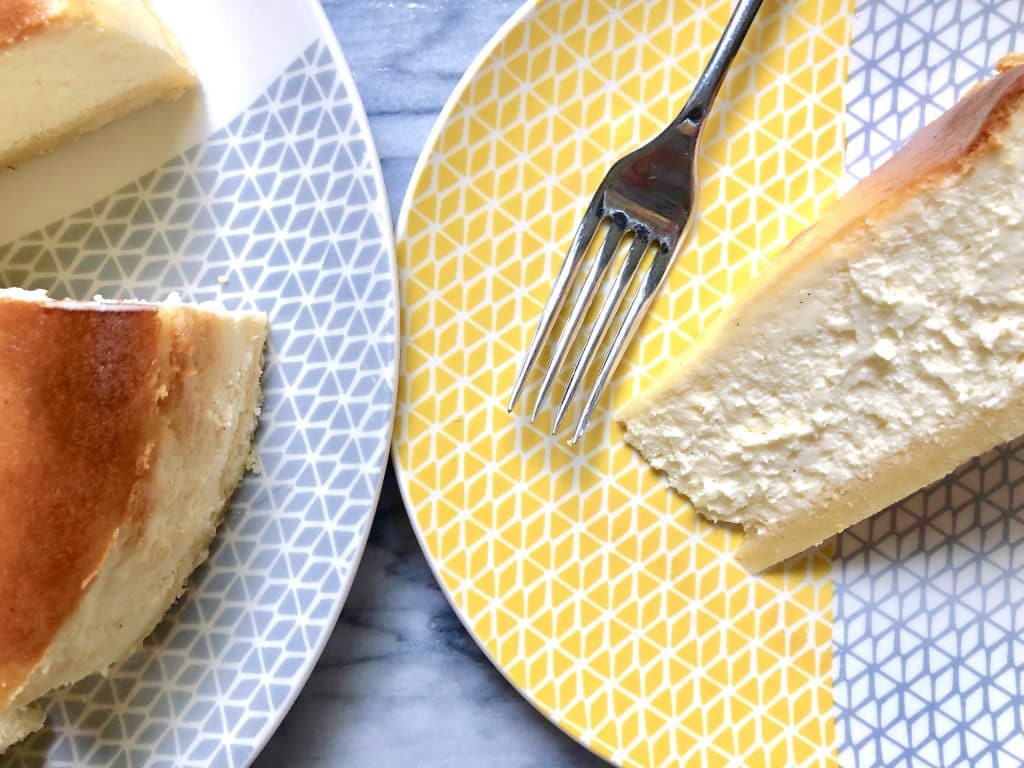 To find out how to make Junior's cheesecake in your kitchen, simply follow the recipe below!
How to make Junior's Cheesecake
How to make Junior's Cheesecake; a simple recipe to help you whip up the world-famous creamy baked vanilla cheesecake in your own kitchen!
Ingredients
For the sponge cake base:

2 large eggs
50g (¼ cup) sugar
30g (2 tbsp) unsalted butter
35g (¼ cup) self-raising flour
Zest of ½ a lemon
Pinch of salt
For the cheesecake:

600g (22 oz) full fat cream cheese
200g (1 cup) sugar
2 large eggs
3 tbsp cornflour
1 tbsp vanilla extract
180ml (⅔ cup) double cream
Instructions
For the sponge cake base:

Preheat your oven – 180 C / 160 C fan / 350 / gas mark 4.
Look out a 20cm (8 inch) round springform tin. Wrap the exterior of the tin in two layers of tin foil, this will prevent the cheesecake from leaking or taking on any water when baking. Grease the inside of the tin thoroughly with oil, cooking spray or melted butter.
In a large bowl, whisk together the eggs for 1 minute until they begin to look frothy. This is easiest with an electric whisk.
Add the sugar and whisk for a further 2-3 minutes until they look paler and fluffier.
Add the remaining ingredients and gently whisk until just combined.
Pour the cake batter into your prepared tin and bake for 10-15 minutes until golden and puffed up.
Allow to cool slightly while you make the cheesecake.
For the cheesecake:

In a large bowl, beat your cream cheese for 30 seconds until softened slightly.
Beat in the sugar until combined.
Add the eggs one at a time, beating well between each.
Add the cornflour and vanilla and mix to combine.
Finally, beat in the cream until the mixture is just combined into a light and airy cheesecake mix.
Pour the cheesecake mix over your baked sponge base, smoothing it out evenly.
Place the cheesecake tin inside a larger roasting tin or baking tray. Fill the outer tray with hot water until it comes about halfway up the side of the cheesecake tin.
Bake for 60-75 minutes. The cheesecake is ready when the sides have puffed up and set, with just a little wobble in the centre.
Allow to cool completely before chilling in the fridge for at least 5 hours or overnight.
Slice up and enjoy!
Notes
BE A MAVERICK: Don't feel you have to stick to vanilla, feel free to turn this into a lemon cheesecake, a mint cheesecake, a chocolate-covered cheesecake, whatever you like!
http://maverickbaking.com/how-to-make-juniors-cheesecake/