Jam coconut shortcake; buttery shortbread topped with sweet berry jam and a chewy coconut topping that no one will be able to resist!
Shortbread makes the world go round.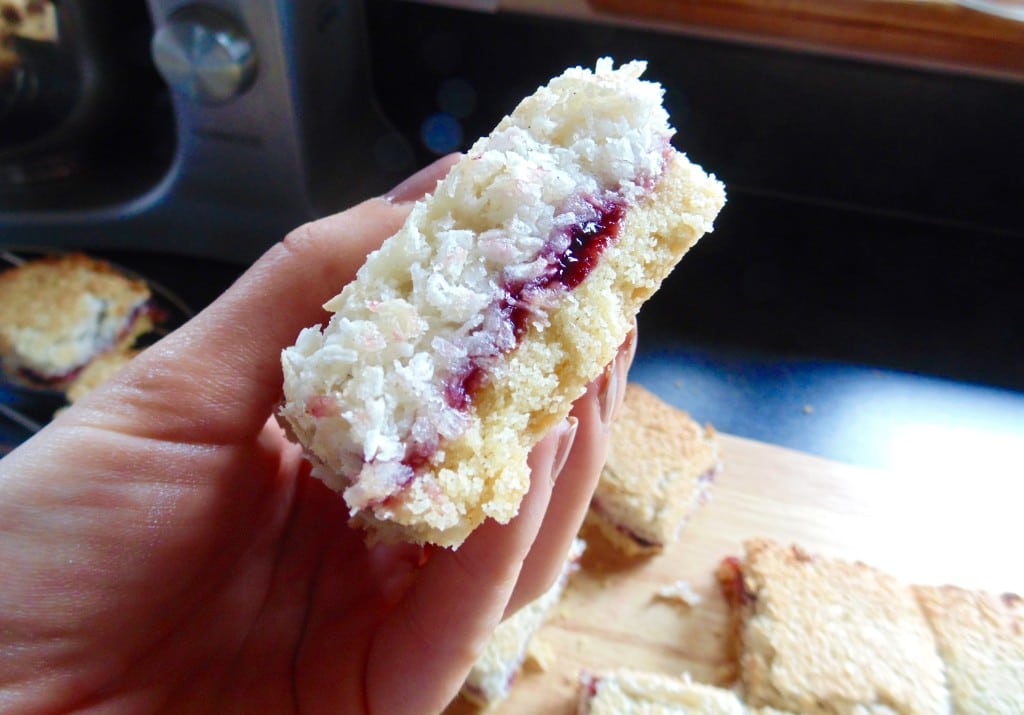 Well, it at least makes Scotland go round.
It's buttery, crumbly, sweet and just yes. So much yes. The only thing that can improve shortbread is a topping, lots of lovely topping. In this case, I've topped classic shortbread with a nice lick of jam and a thick layer of sweet, crunchy coconut. Jam coconut shortcake. Tempted? Thought so.
I brought this jam coconut shortcake into the office on Wednesday at my mum's request, it's one of her absolute favourites. I was a little nervous that as it wasn't my usual cake-and-icing that people might not wolf it down like they usually do. I was wrong. People like their sugar in any shape or form.
As it was so popular, I thought I'd share the recipe with the world just because I love you guys. Well, most of you…
The recipe was inspired by the Hummingbird Bakery, who have a similar jammy slice recipe in their great Cake Days book.
I decided to use a whole new recipe for the shortbread, one that's twice as thick, twice as buttery and with much more jam! You guys are going to love this jam coconut shortcake, with all three of its scrumptious layers.
The story begins with the shortbread base, made of the classic three components: flour, butter and sugar. Blitz these three together in a food processor or rub them together between your fingers until all the butter has been incorporated into the flour and sugar.
This mixture is then tipped into a lined baking tray, flattened, pricked all over to prevent any rising and then baked in a preheated oven until firm and golden brown.
While the base is cooling, the topping can be made.
Coconut is cooked with sugar, egg white and water until a thick paste forms, this is then cooled and folded into stiffly whipped egg whites to create an airy topping.
Jam is spread on the shortbread base and then topped with the coconut, meringue, paste stuff and baked for another little while until golden and crisp.
The smell of this shortcake when it's in the oven is also a known cure for midweek blues. Trust me, I'm a doctor.
Once baked, the shortcake is left to cool a little, mostly to prevent any potential skin injury from molten jam which is twice as hot as the sun at this point.
Then it can be sliced and devoured.
You're bound to love this different take on shortbread, the crunchy topping and sweet jammy filling are fabulous.
Plus it's super easy to make, so everybody's a winner. A grinning, sticky-fingered winner!
Sweet and buttery jam coconut shortcake that no one will be able to resist!
Ingredients
For the shortbread base:

225g (2 cups) plain flour
175g (12 tbsp) butter, cubed
75g (⅓ cup) sugar
For the filling and topping:

180g (2 ¼ cups) desiccated coconut
160g (¾ cup) caster sugar
4 large, or 5 medium, egg whites
5 tbsp water
50g (scant ½ cup) plain flour
150g-250g (up to ¾ cup) of your favourite jam
Instructions
For the shortbread base:

Preheat your oven - 190 C / 170 C fan / 375 F / gas mark 5 - and grease and line a baking tray, 23cm x 30cm, or 20cm x 30cm (9 x 12 inch, or 7 x 12 inch) are good sizes for this shortcake.
Blitz the shortbread ingredients in a food processor, or rub it between your fingers until all the butter has incorporated into the flour and sugar.
Tip the mixture into the prepared tray and press it flat with either your fingers or the back of a spoon/spatula.
Use a fork to prick the base all over, this prevents it from rising.
Place the tray into the oven to bake for 5 minutes, before reducing the temperature by 20 degrees and continuing to bake for a further 30-35 minutes until golden brown.
Allow to cool while you make the topping.
For the filling and topping:

Mix together the coconut, sugar, one egg white and the water and cook in a saucepan over a low heat for 5 minutes until the sugar has dissolved and the mixture has thickened into a paste.
Add the flour and cook for another minute or so, stirring all the time.
Remove this from the heat and allow it to cool.
Whip the remaining three egg whites until stiff and gently fold them into the coconut mixture until combined.
Spread as much jam as you like all over the cooled shortbread base and top and spread with the coconut mixture.
Bake for a further 35-40 minutes in the oven until golden brown on top.
Allow to cool before slicing into 15-20 squares.
Enjoy!
http://maverickbaking.com/jam-coconut-shortcake/