Levain Bakery Chocolate Chip Cookies; learn how to make gigantic soft and chewy cookies crammed with melting chocolate chips and crunchy walnuts, in the style of New York's Levain Bakery!
You would probably roll your eyes at me if I told you that a single cookie could serve 2 people, right?
I felt the same. That is, until I saw the

Levain Bakery

Chocolate Chip Cookies.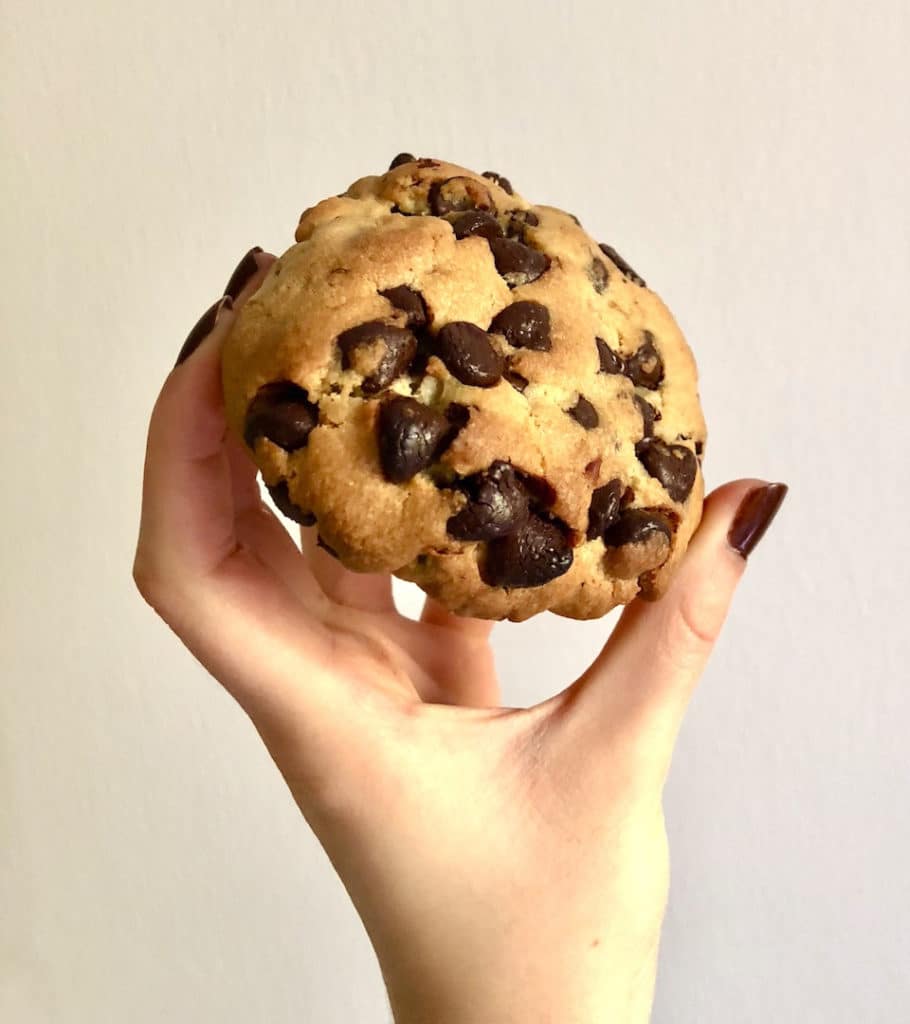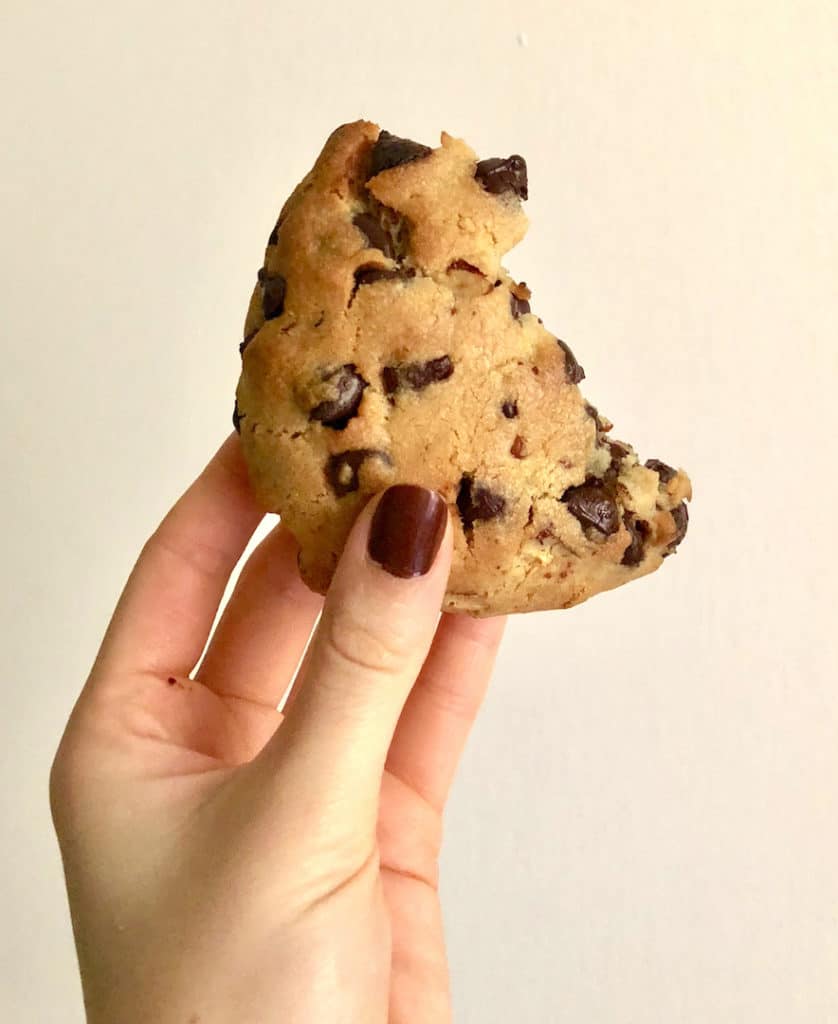 "Nestled in New York City's Upper West Side, Levain headquarters is a cozy neighborhood bakery where locals are greeted by name. A steady stream of loyal regulars stand side by side with tourists, eager to sample the legendary baked goods. From an inventive array of rustic breads to the world-famous six-ounce chocolate chip walnut cookie, everything is baked on-site, fresh every day from the finest natural ingredients."
Sadly, I've never had the chance to visit Levain, or New York at all for that matter. However, after my surprising success at recreating the glory of the Momofuku Milk Bar Birthday Cake, I figured I could bring New York City to my little Scottish seaside kitchen once more and recreate them myself!
The Levain Bakery chocolate chip cookies went viral a year or two ago. From Buzzfeed Food to Insider, every big social media outlet was sharing them in awe. No one could get over the SIZE of these things. Each one bigger than your whole hand and heavier than your youngest family member. These cookies are thick and heavy, with a crisp golden brown exterior and an utterly divine soft and chewy melting centre. Every bite is heady with the scent of brown sugar, the richness of melted chocolate, the satisfying crunch of toasted nuts and the dense butteriness of soft cookie dough.
Making these in our little flat, my boyfriend thought I'd completely lost the plot. Handling giant lumps of cookie dough was something he was certainly intrigued by but no doubt a concern for the stability of my mental state crossed his mind too. Upon showing him a picture of the Levain chocolate chip cookies, he completely understood my interest. Seems even a coeliac like him can get excited by the thought of a boulder-sized cookie.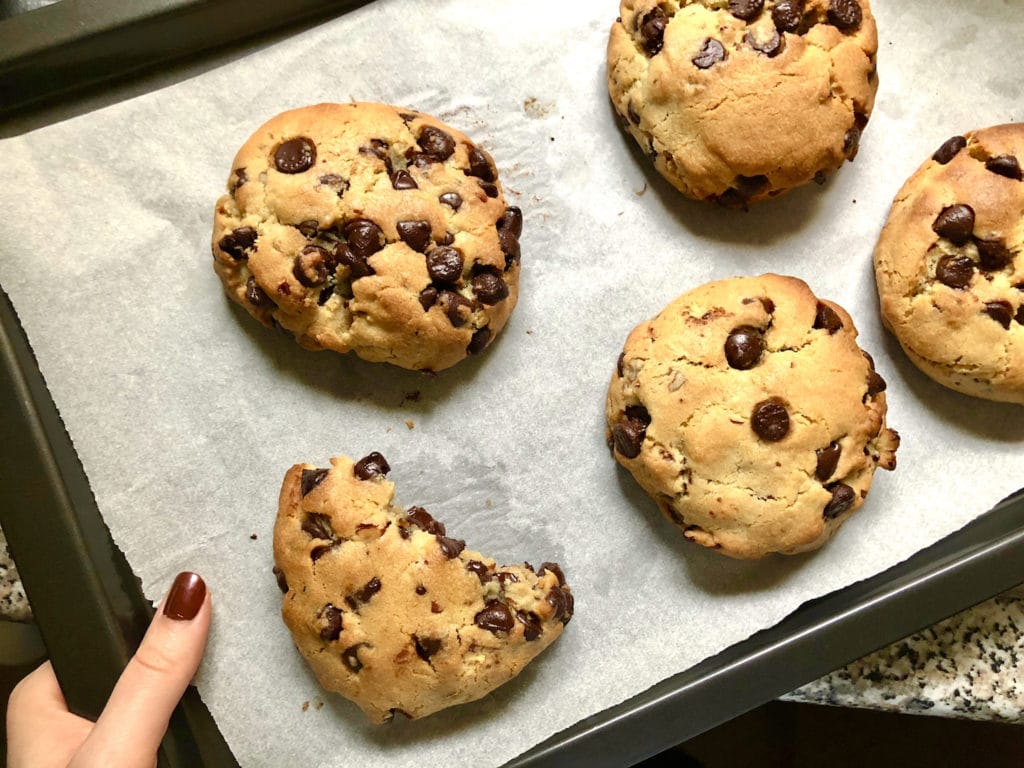 The main interest that I have in these cookies, aside from the sheer gluttony of the portion size, is whether something that large could actually taste good. We've all seen ridiculous giant foods before on TV and online but I'm never convinced that the flavour would live up to the publicity. It was time to test that theory.
After some examination of several of "copycat" recipes I found online, I concocted a recipe to try out myself. Converting cups to grams, testing the dough both chilled or room temperature, and tweaking the ingredients juuuuuust a little bit, I created the cookies you can see pictured.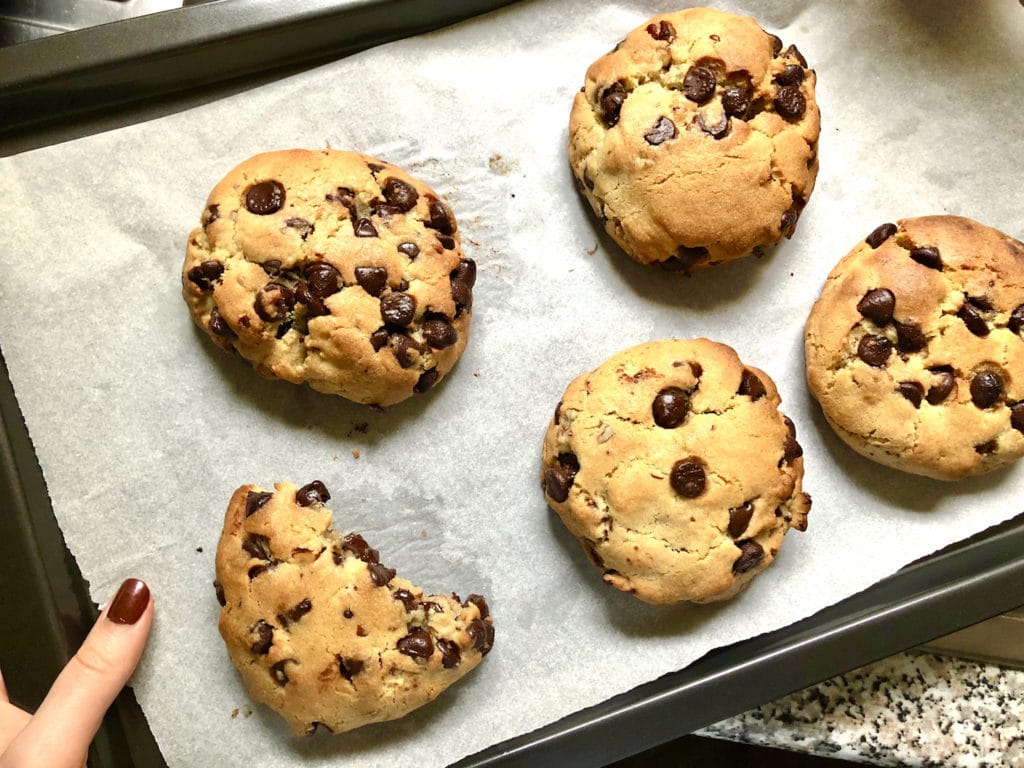 The traditional Levain recipe uses walnuts, I only had pecans to hand and honestly, I prefer the flavour and texture of pecans anyway! I also used some good quality dark chocolate chips rather than the American "semi-sweet" variety. I chose to chill the dough before baking, as I always do when making cookies, as it lends a better texture and more full flavour. However, the rest is all pretty close to the original from what I can gather, including the fact they apparently don't use any vanilla extract.
The result of this little homemade experiment was pretty damn good. Crisp edges, gooey insides, an obscene amount of chocolate, it was never going to be bad, right?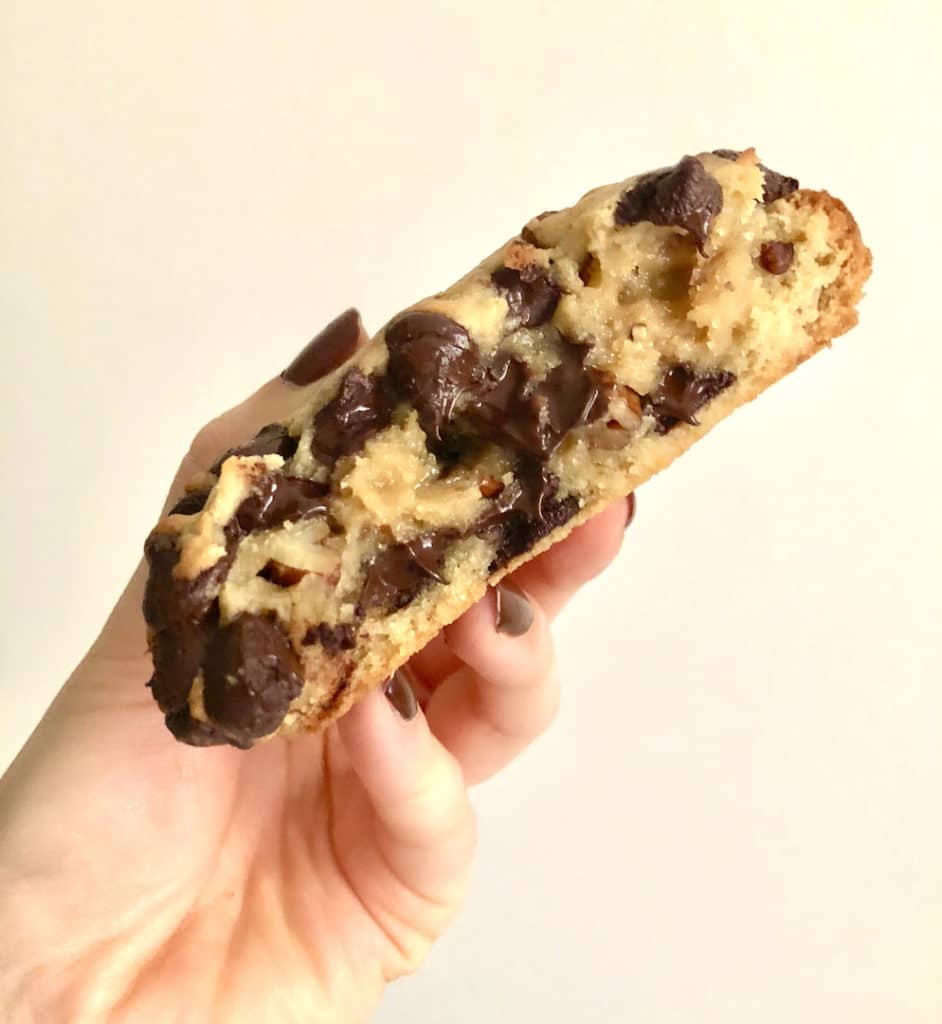 You can see my full reaction in the video, but these were delicious. They weren't quite perfect in my opinion, my tastes would have liked a little more salt and to add that vanilla extract, but it was a great cookie nonetheless. I must say too, while the prospect of a giant cookie is a beautiful thing, I don't know if these were crazy good enough to be as legendary as they are? Don't get me wrong, they tasted great, but I've definitely had better baked goods. Honestly, that might have just been a case of mine not tasting as good though!
Either way, after a few tweaks, the recipe below will give you what is apparently an authentic taste of Upper West New York. Use it to create your own Levain Bakery chocolate chip cookies and see what you think!
Levain Bakery Chocolate Chip Cookies! (how to)
Levain Bakery Chocolate Chip Cookies; learn how to make gigantic soft and chewy cookies crammed with melting chocolate chips and crunchy walnuts, in the style of New York's Levain Bakery!
Ingredients
220g (14 ½ tbsp) soft butter
200g (1 cup) soft light brown sugar
100g (½ cup) caster sugar
2 large eggs
400g (3 cups) plain flour
1 tbsp cornflour
1 tsp bicarbonate of soda
Pinch of salt
300g (1 ⅔ cups) milk or dark chocolate chips
200g (1 ½ cups) walnuts or pecans, roughly chopped
Instructions
Preheat your oven – 220 C / 200 C fan / 400 F / gas mark 6 – and line two medium/large baking trays with greaseproof paper.
In a large mixing bowl, mix together the butter and sugars until smooth and combined.
Add the eggs to the mixture, one at a time, beating thoroughly after each one.
Stir in the flour, cornflour, bicarbonate of soda and salt until just combined into a thick dough.
Stir in chocolate chips and nuts until evenly dispersed.
Chill the dough in the fridge for 1-2 hours.
Using your hands, separate the cookie dough into 6-8 large lumps on your prepared trays.
If you like a nice, round cookie like the ones pictured, shape them into roll balls. If you don't mind a rustic look, simply leave them as they are!
Bake for 10-13 minutes or until golden brown, and crisp on top.
Once baked, remove from the oven and allow them to cool completely on their trays, they will need about 10 minutes to firm up before you can taste one!
Enjoy!
Notes
BE A MAVERICK: if you prefer another kinds of nuts, feel free to use peanuts or hazelnuts etc!
MAKE IT DAIRY FREE: use a dairy free butter or coconut oil and ensure you use dairy free chocolate chips.
http://maverickbaking.com/levain-bakery-chocolate-chip-cookies-how-to/