Lots of tree-chopping, beard-stroking and plaid-shirt-wearing people in your life? Here's how to make a big old chocolate, vanilla, plaid-inside Lumberjack Cake!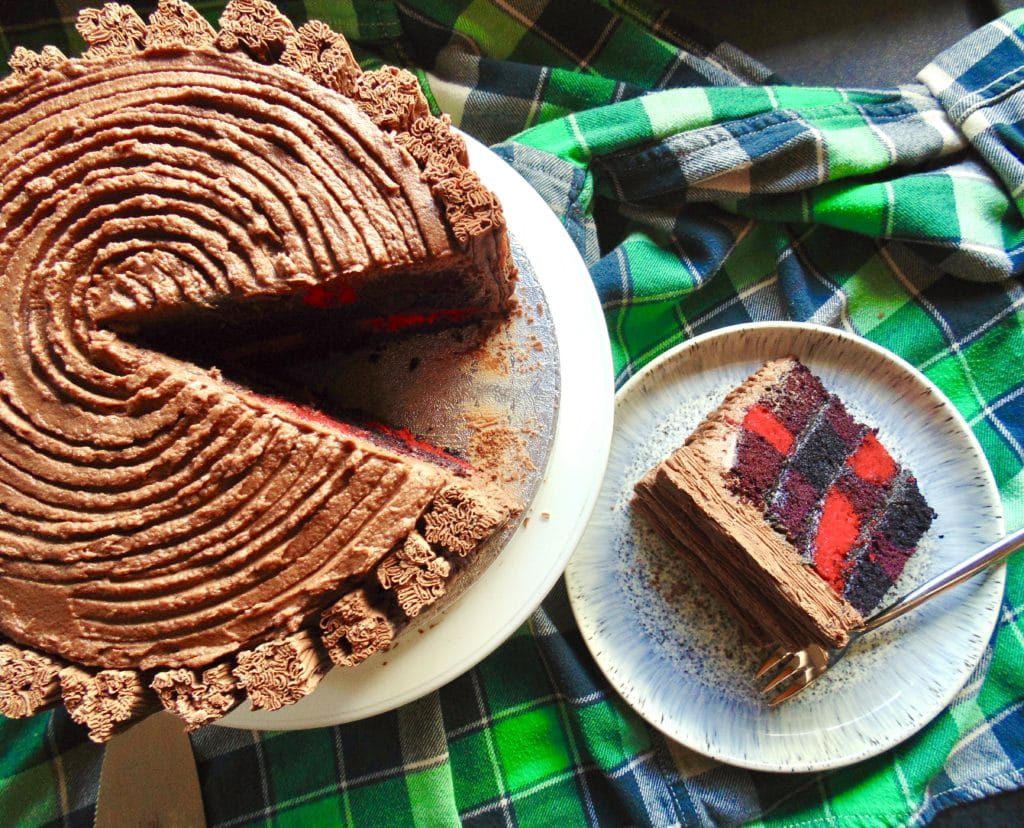 Today's post is a fun little collaboration with Scotland's manliest brand: Lumberjack Inc.
If you haven't heard of them already, Lumberjack Inc make a great range of men's grooming products and clothing. Everything from beard oils and aftershaves to classic big red plaid shirts, these chaps have you manly men (or manly ladies of course) covered from beard-to-toe. Plus, all their products are made with all-natural ingredients, and are made and bottled right here in the North East of Aberdeen.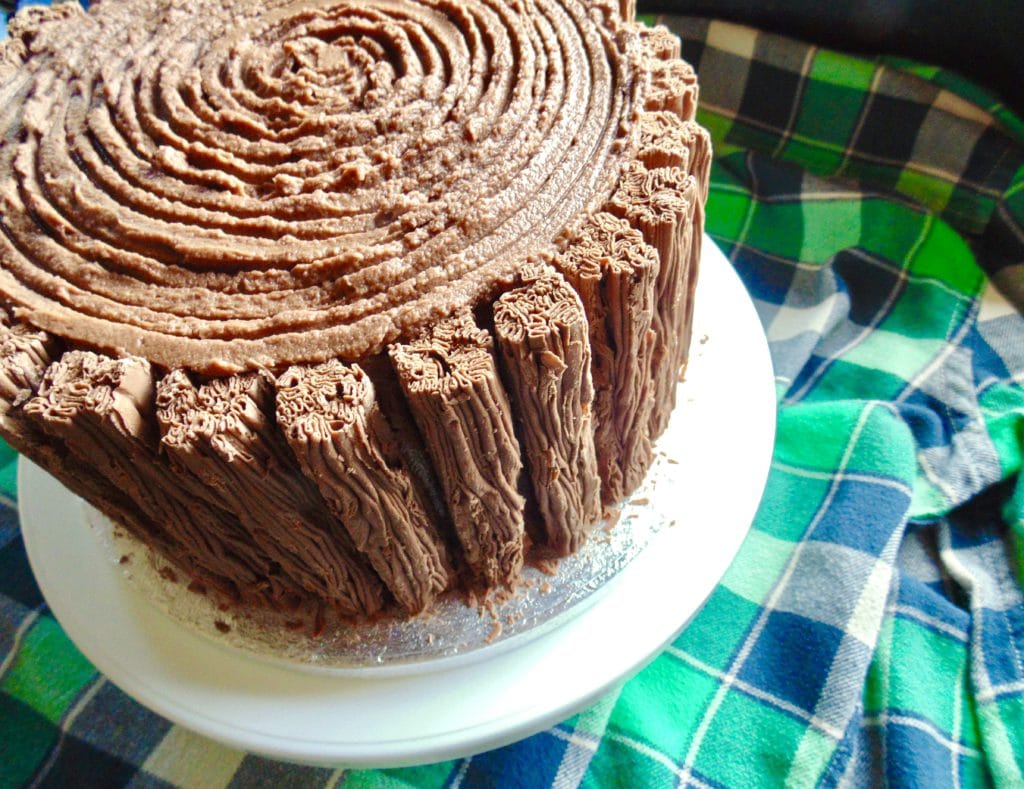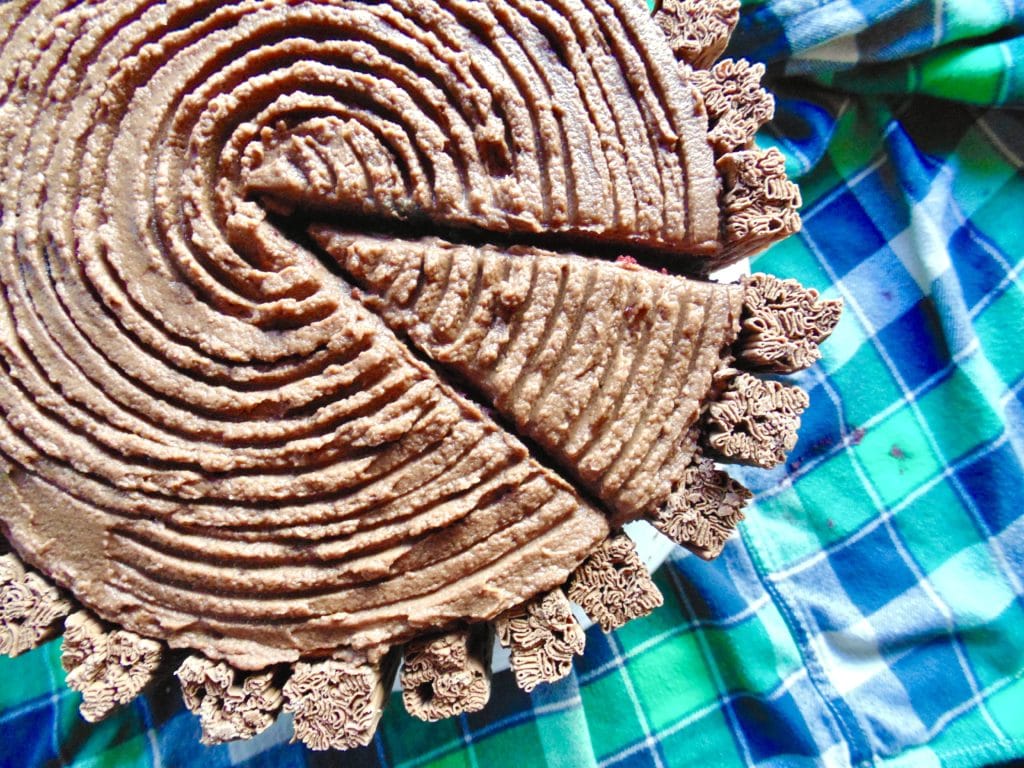 Scot from Lumberjack Inc got in touch with me recently about making this epic and undeniably manly Lumberjack Cake. I'd never even heard of such a thing before, and even though the whole thing looked a little fiddly, I was more than happy to accept this challenge!
After a test run, I was pretty chuffed with the result. Naturally, this is Maverick Baking so this isn't a super neat or super tricky Lumberjack Cake, sorry perfectionists! Here is a final but wonderfully rustic version of my take on the internet-loved novelty cake, and a little video to help you try it out at home too.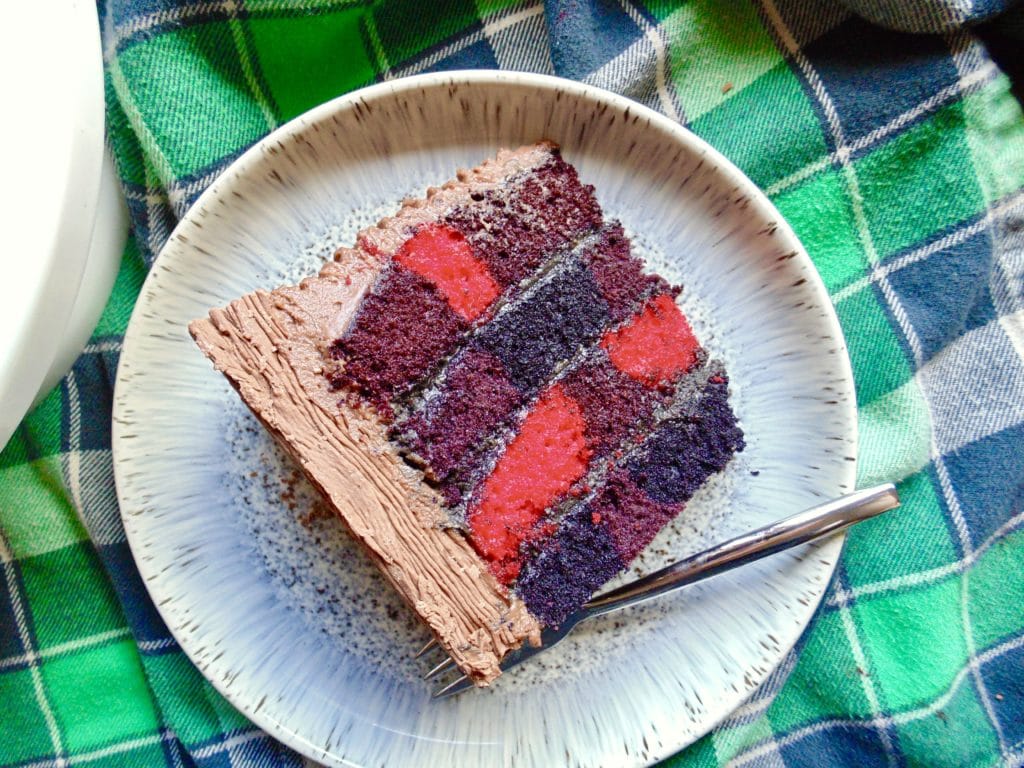 Just for any fellow lurking Monty Python fans…
He's a Lumberjack and he's ok, he sleeps all night and he works all day.

He cuts down trees, he skips and jumps. He likes to press wild flowers. He puts on women's clothing and hangs around in bars!
Watch me make the Lumberjack Cake in this video from my YouTube channel below, or scroll down for full instructions:
As I mentioned before, do make a visit to Lumberjack Inc soon to check out their wares if you can!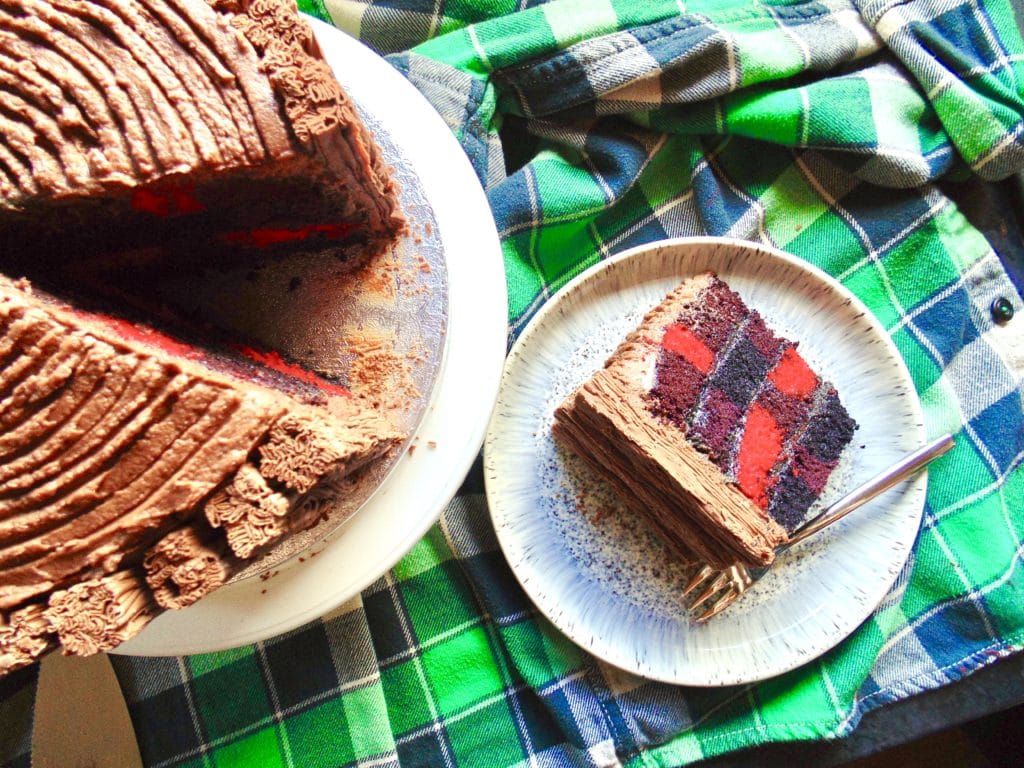 Thanks as always for stopping by, I hope you enjoyed today's post, I'm off to trim my beard!
How to Make the Lumberjack Cake!
Lumberjack Cake: the manliest of all the cakes! Four layers of plaid-pattern vanilla cake, stacked and frosted with whipped chocolate ganache, and reinforced with chocolate Flake bars!
Ingredients
For the vanilla cake layers:

400g (26 ½ tbsp) soft butter/margarine
400g (2 cups) caster sugar
2 tsp vanilla extract
6 eggs
400g (3 ¼ cups) self-raising flour
Pinch of salt
Red food colouring paste
Black food colouring paste
For the chocolate ganache frosting and decoration:

500ml (2 cups) double or whipping cream
400g (14 oz) chopped milk or dark chocolate (or chocolate chips)
25-30 Cadbury's Flake bars (I used 28)
Instructions
For the vanilla cake layers:

The cake layers in this recipe can be made all at once or in two stages. Below I shall detail how to make them in two stages, as most don't have four separate 7 inch cake tins!
Start by preheating your oven - 180 C / 160 C fan / 350 F / gas mark 4.
If you have four 7 inch cake tins, you can grease and line them all now. If like me, you only have two 7 inch cake tins, grease and line them now.
In a large bowl, beat together 200g of the butter/margarine with 200g of the sugar,1 tsp of the vanilla extract, and a blob of the red food colouring paste.
Add 3 eggs to the bowl one at a time, beating well between each.
Add 200g of the flour and a little pinch of salt and mix until fully combined.
Spoon half of this cake mixture into another bowl, and add just a tiny bit of black food colouring paste.
At this stage you should have one BRIGHT RED mix, and one slightly DARK RED mix.
Spoon the mixtures into two piping bags.
Pipe 3 alternating coloured rings of cake mix inside your prepared cake tins, so they look kind of like targets. (See video for help)
Bake the cakes in the preheated oven for 25-30 minutes until risen and firm to the touch.
Repeat these steps again using the remaining cake layer ingredients, making DARK RED and BLACK mixes this time, and bake in the same way.
Allow the four cake layers to cool while you prepare the frosting and decoration.
For the chocolate ganache frosting and decoration:

Pour the double cream into a large bowl and microwave on high for 2 minutes, the cream should be just hot to the touch.
Add the chocolate and gently stir until fully melted into a smooth mixture.
Chill this ganache in the fridge until it thickens into a frosting consistency. This takes 30+ minutes.
Once thickened, use an electric whisk to whip the ganache into a light, airy, mousse-like consistency.
Spoon about a third of this whipped ganache into a small bowl and mix some black food colouring paste through it. This shall be the filling.
Look out your serving plate.
Place one cake layer on the plate, and spread a third of the black ganache over the top.
Add a cake layer of alternate colours, and spread another third of the black ganache on top.
Add a third cake layer of alternate colour, and spread the last of the black ganache on top.
Add the final cake layer on top.
Now simply spread the remaining whipped chocolate ganache on top and all around the cake. You may not need it all, and don't worry about making it too neat!
Use a fork to swirl a log-pattern into the top of the frosted cake. (See video for help)
Now simply press all your flakes around the side of the cake to make it look like a gnarly old log. (You may need to trim them down a little)
Now just slice up, marvel at your hard work, and enjoy!
http://maverickbaking.com/lumberjack-cake/