Mackie's 19.2 Ice Cream Parlour Review; mountains of exquisite Scottish dairy ice cream in all the flavours you could ever need, plus PEANUT BUTTER ON TAP, situated in the heart of the North East, what could go wrong?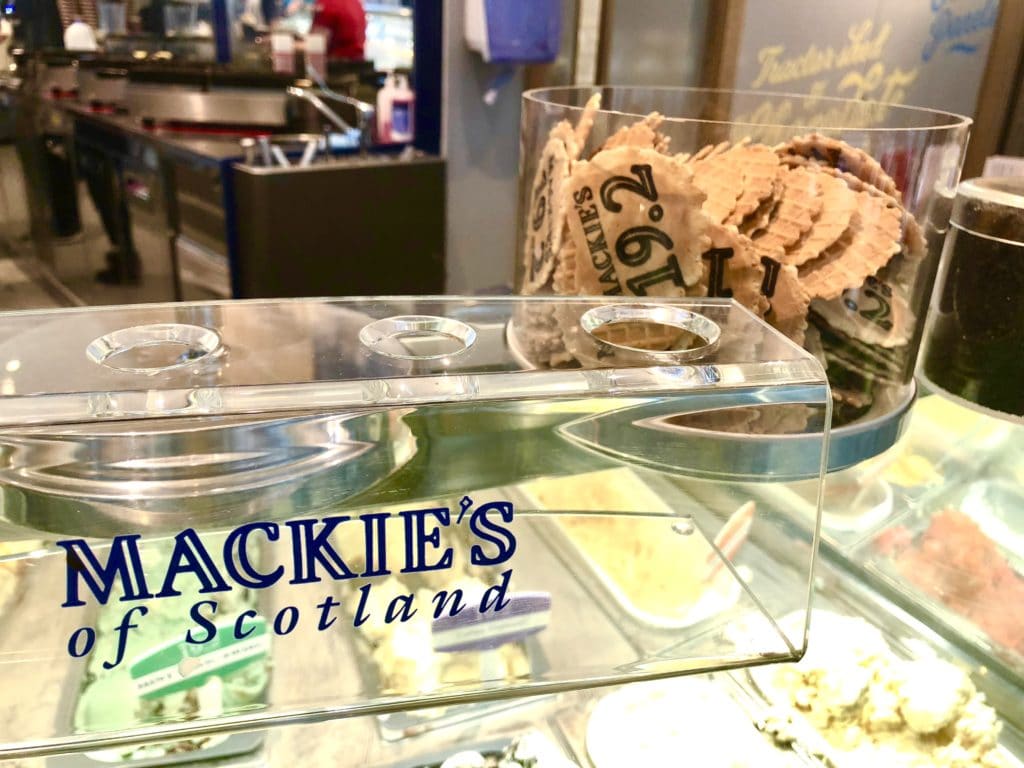 What it is: The nationally famous Mackie's of Scotland's first proper ice cream parlour, serving up tubs, cones, waffles and crepes full of their delectable dairy ice cream.
Where it is: Exactly 19.2 miles away from the farm where their ice cream is made, in the newly built Marischal Square, Aberdeen.
Score

: 10/10. High quality ice cream and other treats made with local ingredients, happily feeding thousands of adoring Aberdonians.
I've been enjoying Mackie's ice cream for as long as I can remember.
Sitting licking away at a spoonful of my favourite Raspberry Ripple in my best friend's kitchen. Delving into tiny 100ml tubs of Honeycomb during a theatre interval with those infuriatingly tiny plastic spoons. Trying with all my skinny-armed might to get a greedy scoop out of a large tub of Traditional straight out of the freezer.
It's a brand I've always known, but one I've never really thought to be a proud fan of. Until last week, that is.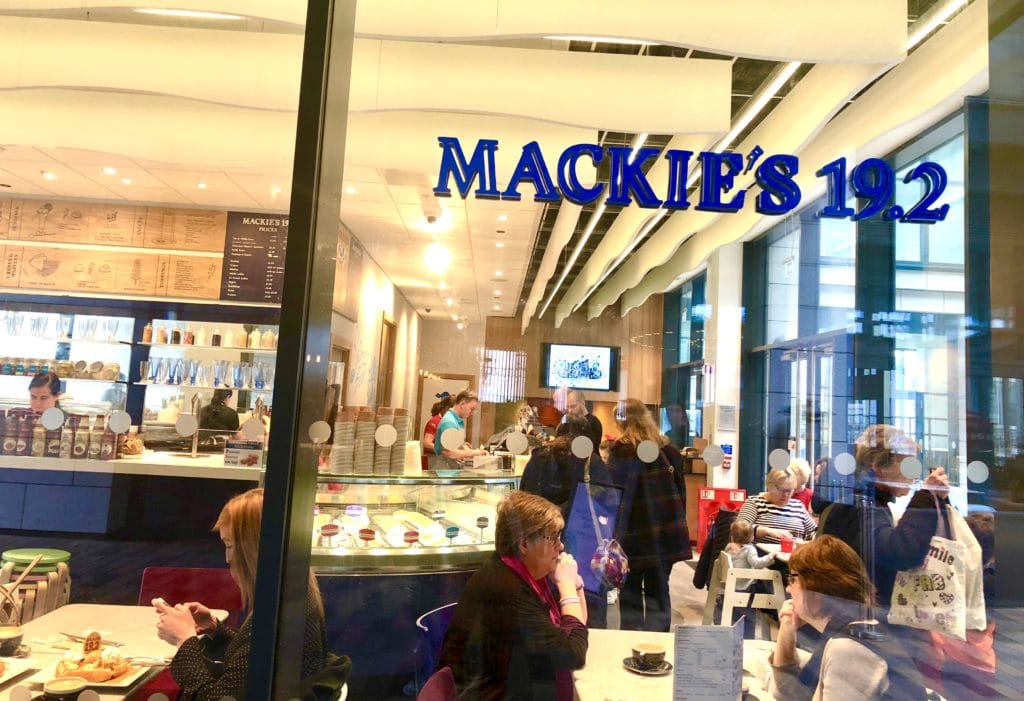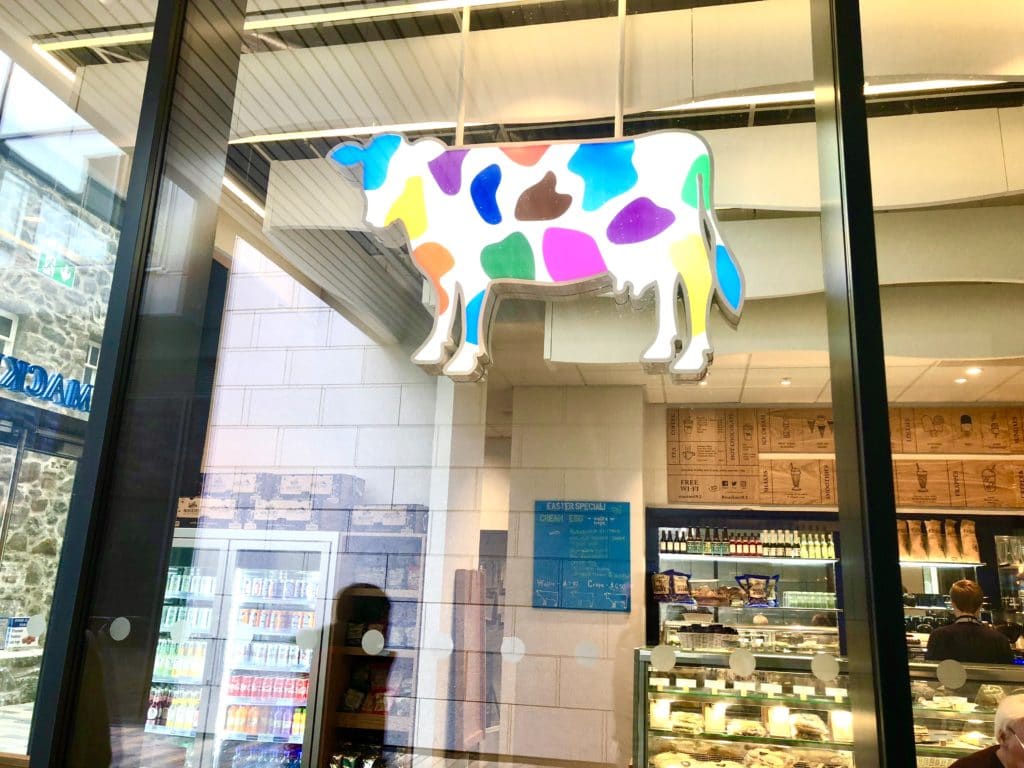 Last weekend my mum and I ventured into the new Mackie's 19.2 ice cream parlour in Marischal Square, Aberdeen. We fancied something sweet after an afternoon of day-drinking and salty street foods at North Hop's Final Fling at the AECC, and my WORD did we get it. We were so impressed with the Mackie's 19.2 shop's surroundings, that we simply had to visit again this weekend…JUST to make sure!
It was one of those Saturday where you find yourself shopping simply because you have such a blissfully short weekend to-do list. The Cletheroe clan scurried their way into the grand new structure that is Marischal Square in Aberdeen. Stopping only to gaze in awe, yet again, at the towering beauty of Poised, the giant leopard sculpture that watches over the centre from 5 metres up in the air.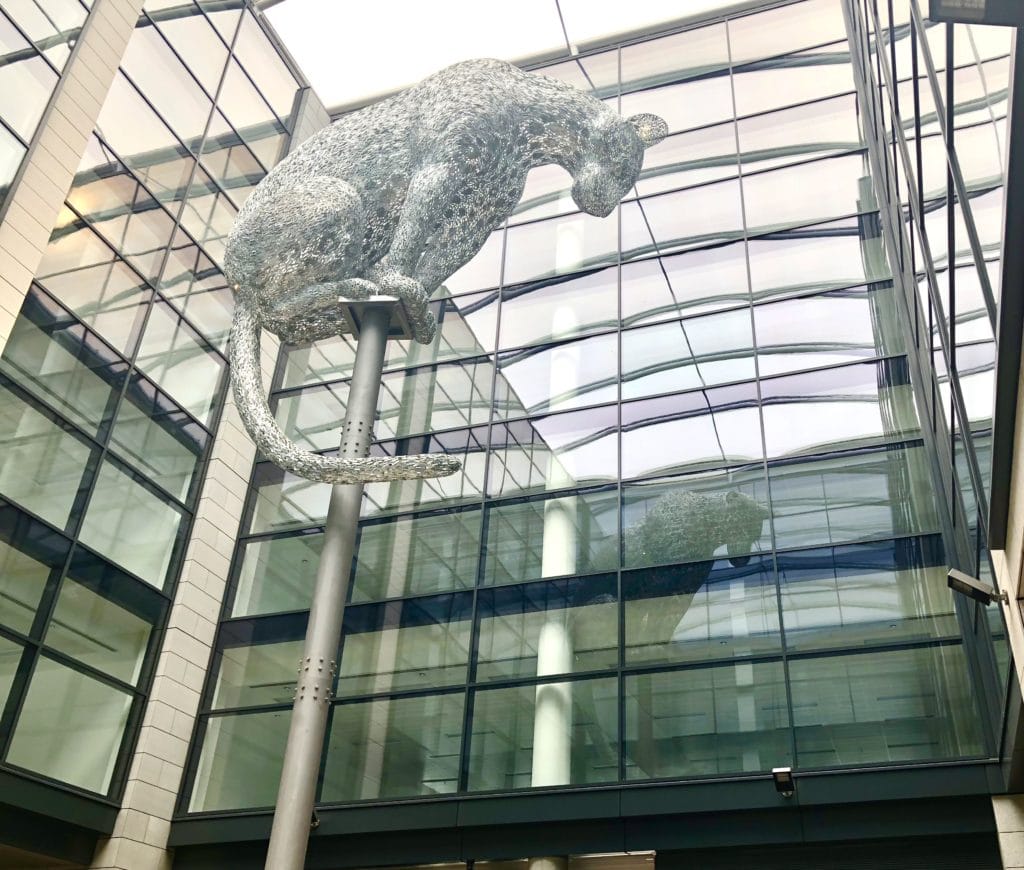 Upon entering Mackie's 19.2 from it's twinkling glass exterior, you're met with a very welcoming atmosphere. Seemingly always busy, and full to the brim with delicious foods, snacks and desserts for any appetite. A cabinet of drinks with some of Mackie's crisps and Mackie's chocolate, makes way for a chiller cabinet loaded with delicious sandwiches and paninis.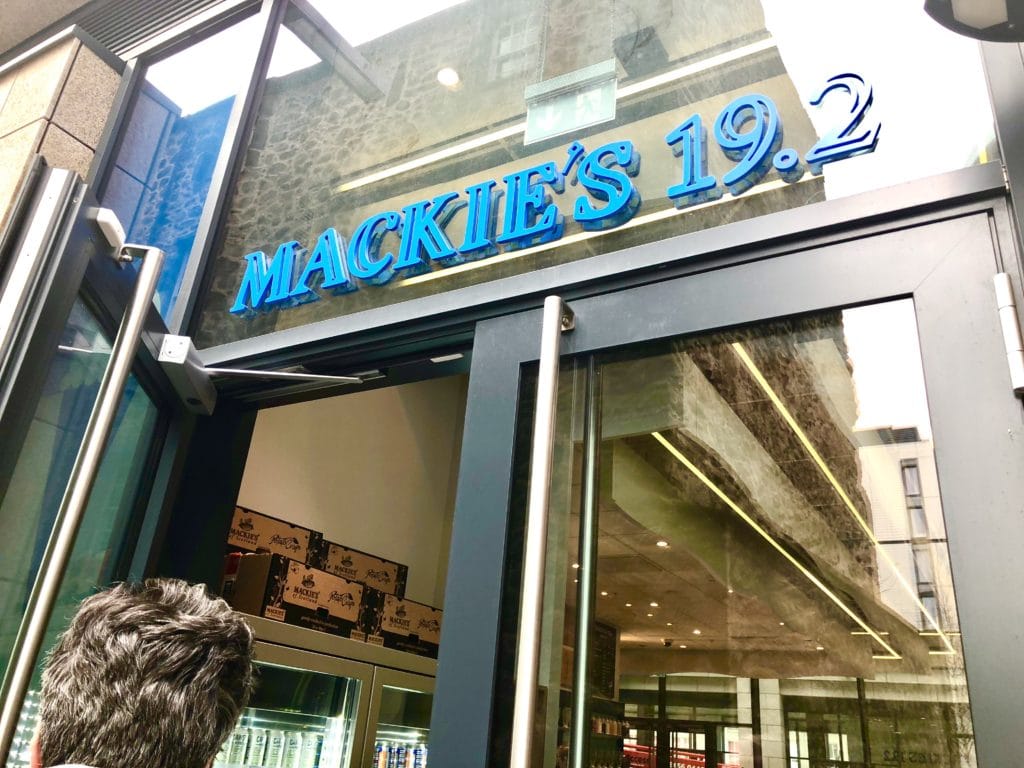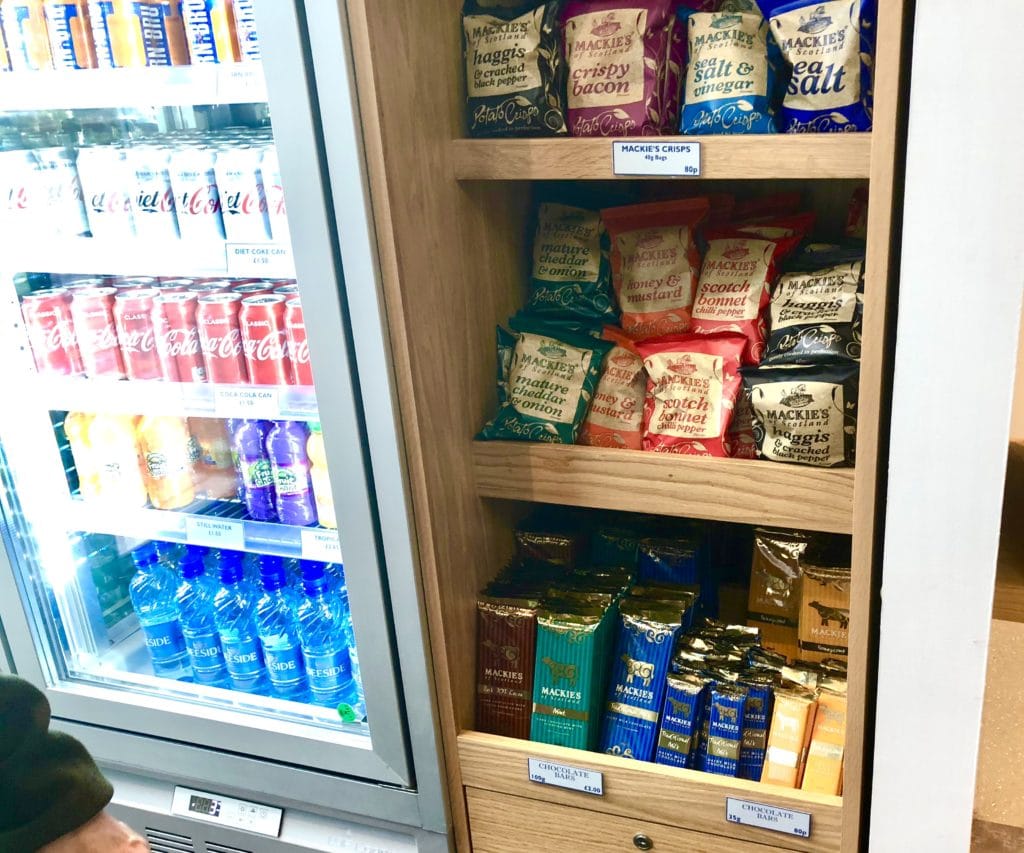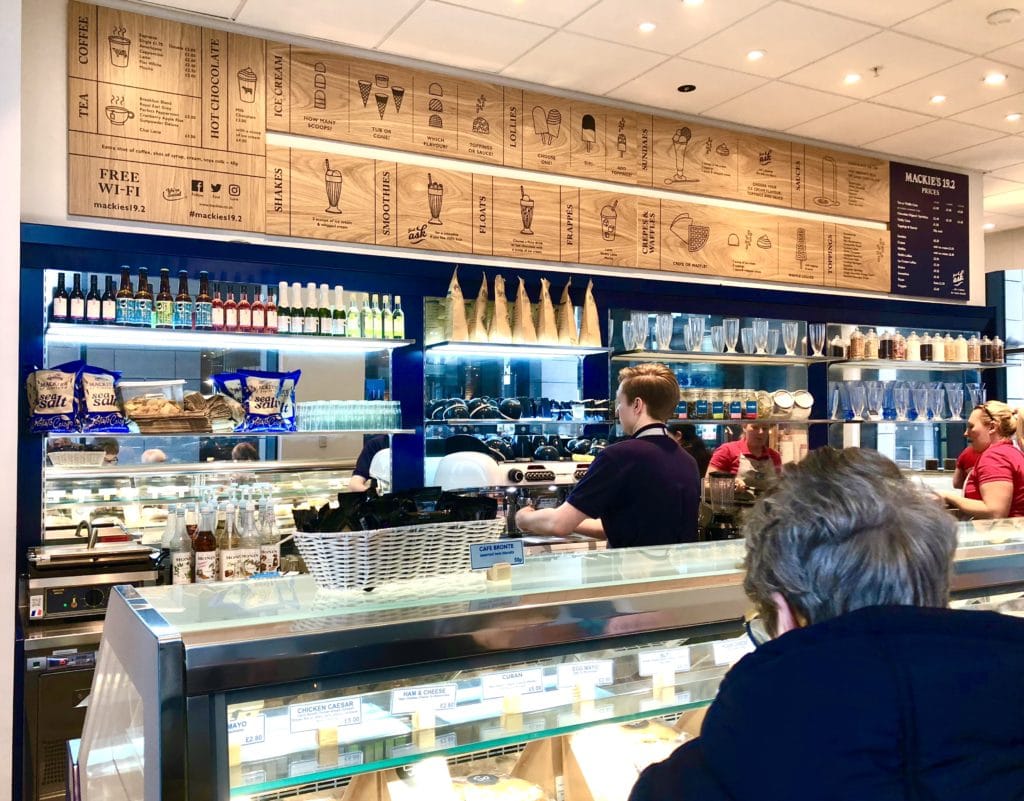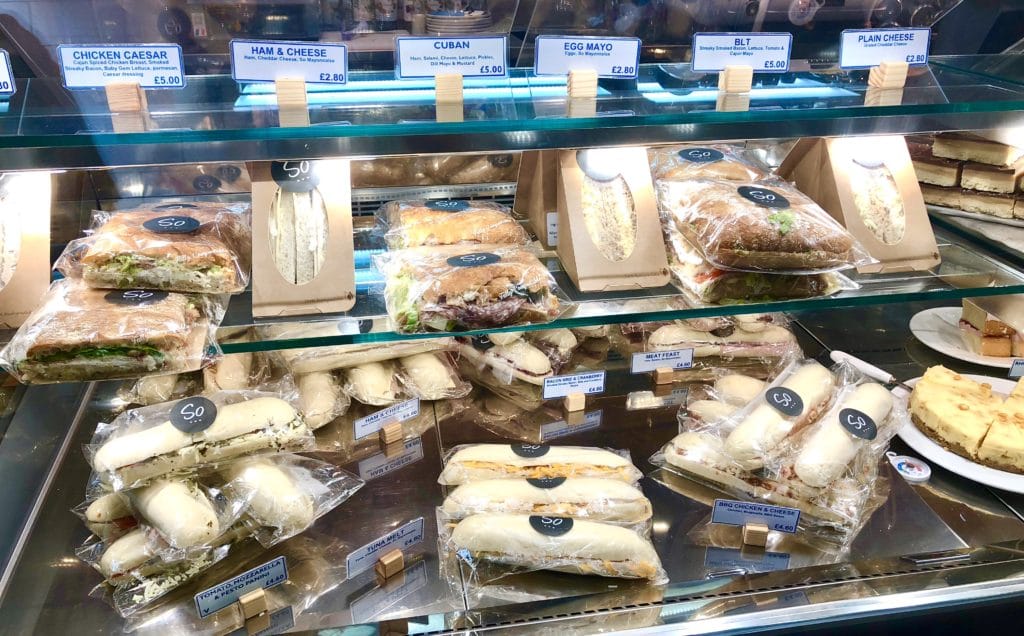 Around the corner you'll find THREE freezer cabinets piled high with creamy hills and troughs of ice cream. Smooth traditional flavours are interspersed with creative, innovative new flavour choices, studded with surprise ingredients.
There is a truly great selection of flavours on offer for all tastes, even my fussy father. They even offer giant waffles and crepes if you like a more substantial dessert!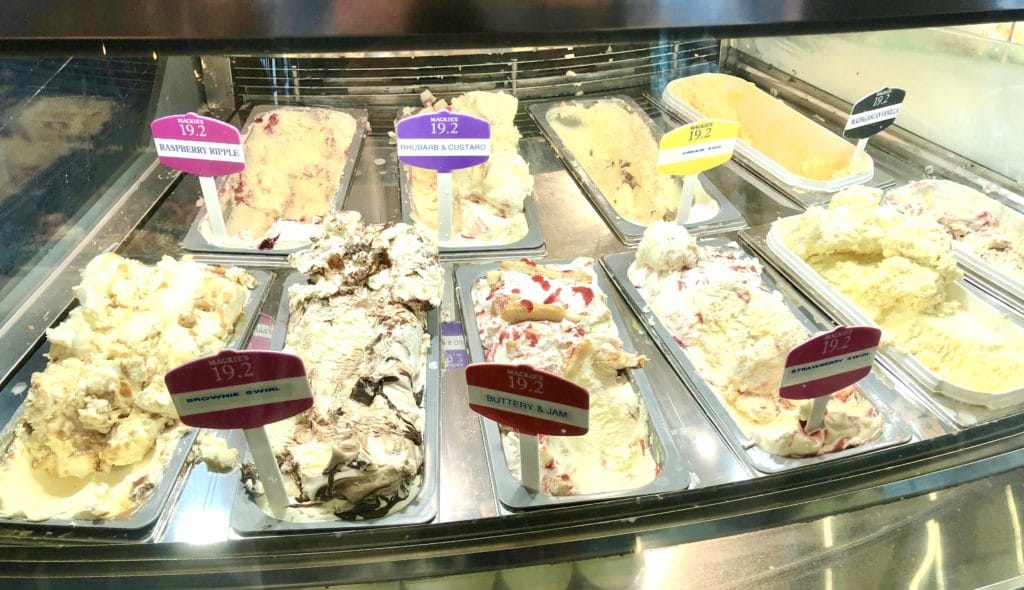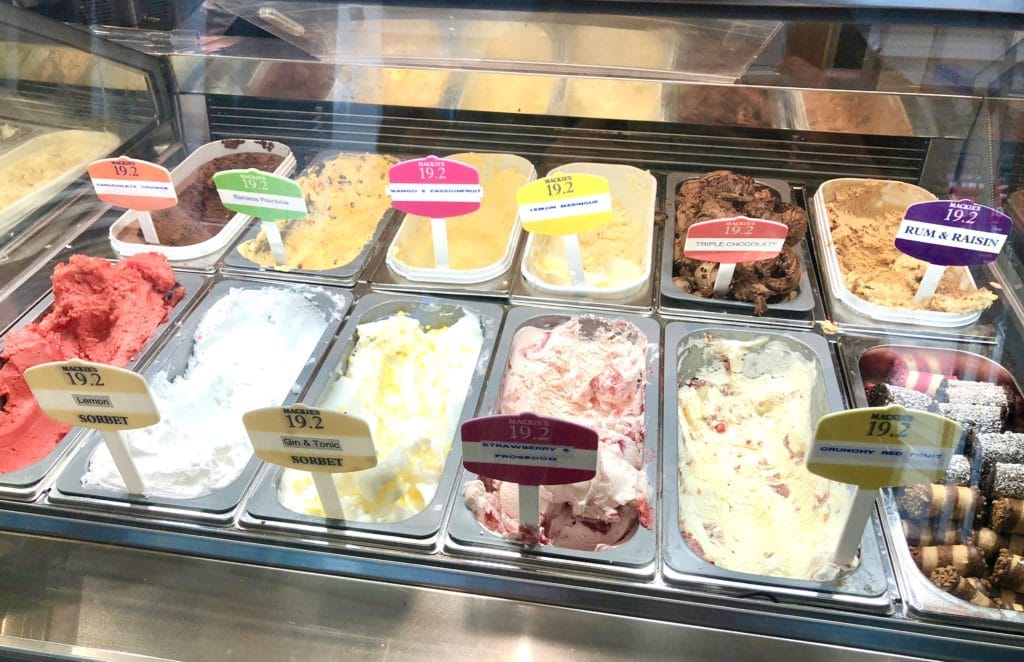 We decided to have some lunch before our frozen feast. Dad chose a cheese and ham panini, mum grabbed a BBQ chicken panini, and I simply couldn't walk past the chicken Caesar sandwich. The latter came inside soft-but-chewy golden focaccia, loaded with chicken breast in Caesar dressing and crunchy lettuce with shavings of Parmesan cheese. It was a truly delicious sandwich, and my folks seemed to enjoy their paninis too, even if dad did whinge a little about the bread not being browned enough for his liking! The sandwiches are provided by So… – another cafe and eatery here in Aberdeen. They came with a handful of Mackie's delicious crisps, which are always thick, crunchy and full of flavour.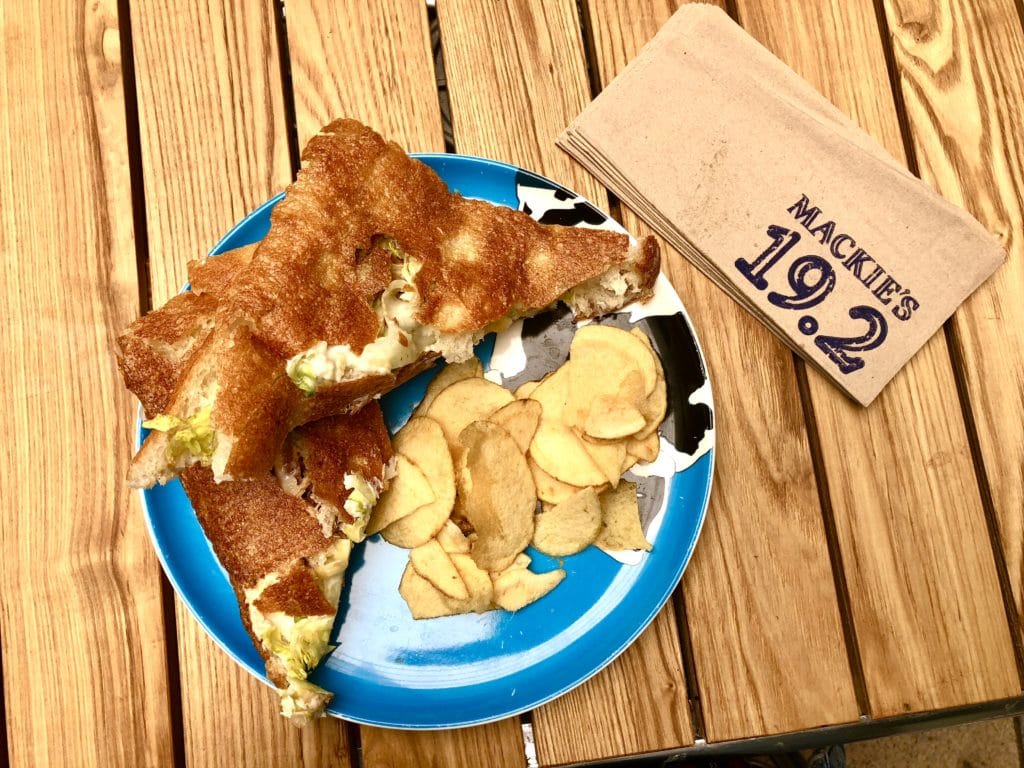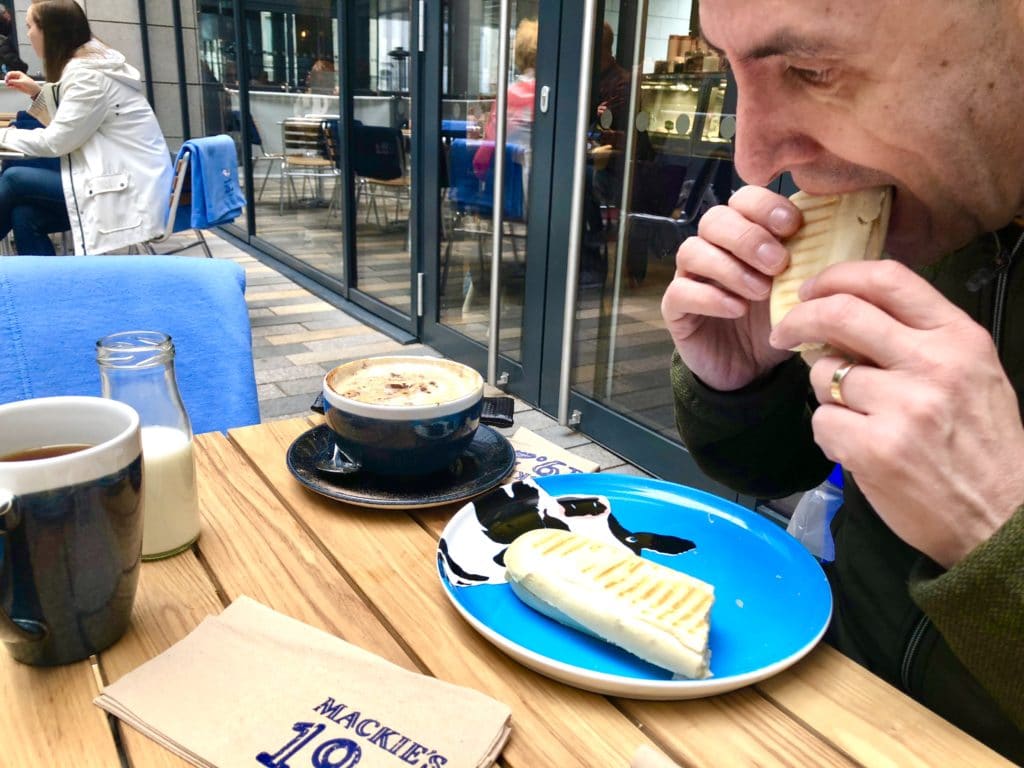 Enough about sandwiches though. You're here for the ice cream.
Mum and I eagerly ordered ourselves two scoops each, dad only had one (yawn). Last time I'd visited I hadn't opted for the addition of their newly famous peanut butter sauce but this time I simply couldn't resist.
Mackies 19.2 has a constantly flowing

peanut butter tap

, alongside a chocolate tap. It's truly a sight to behold and would tempt even those with a peanut allergy to stick their tongues under it! (Ok maybe not, but you get the idea)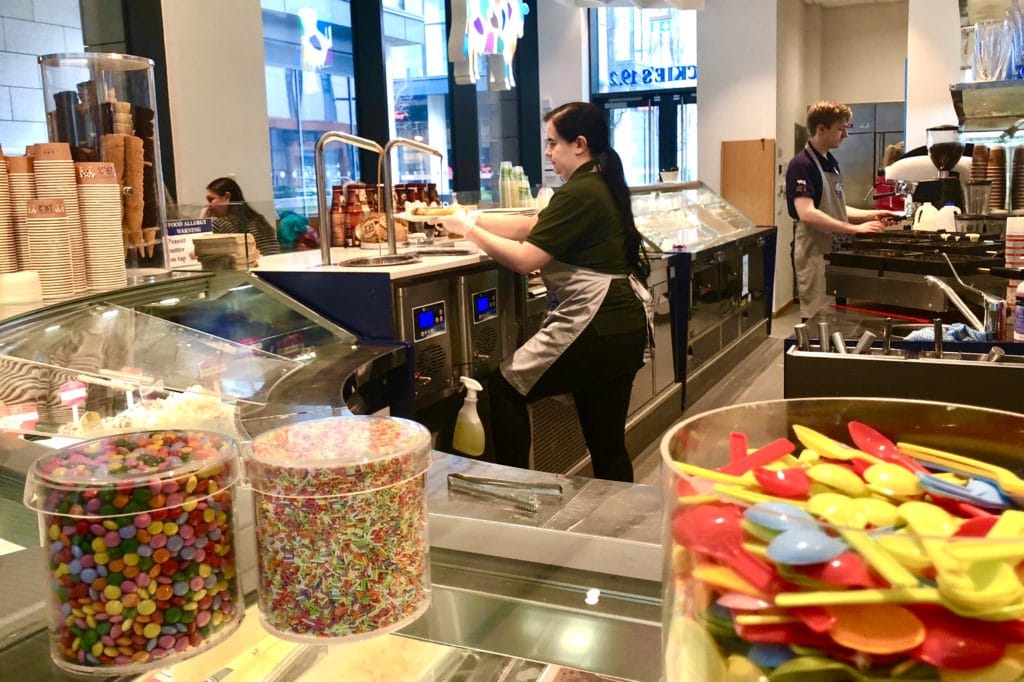 I ordered one scoop of their Caramel Biscotti flavour and one scoop of their Buttery & Jam flavour. Both are made with the traditional Mackie's base ice cream, which is rich with Scottish cream but not heady with vanilla as other brand's "plain" ice creams are. The Caramel Biscotti boasted swirls of golden caramel and shards of crunchy biscuit pieces throughout, and was simply PERFECT bathed under the peanut butter tap! The Buttery & Jam flavour is the real winner for me though. The Aberdeen buttery is a traditional bread product made with butter and lard, and is often enjoyed in both a savoury or sweet fashion. Chunks of buttery are studded through the ice cream, with glorious globs of sweet berry jam, giving you that ideal balance of sweet and salty in one mouthful. I'm headed towards addict territory.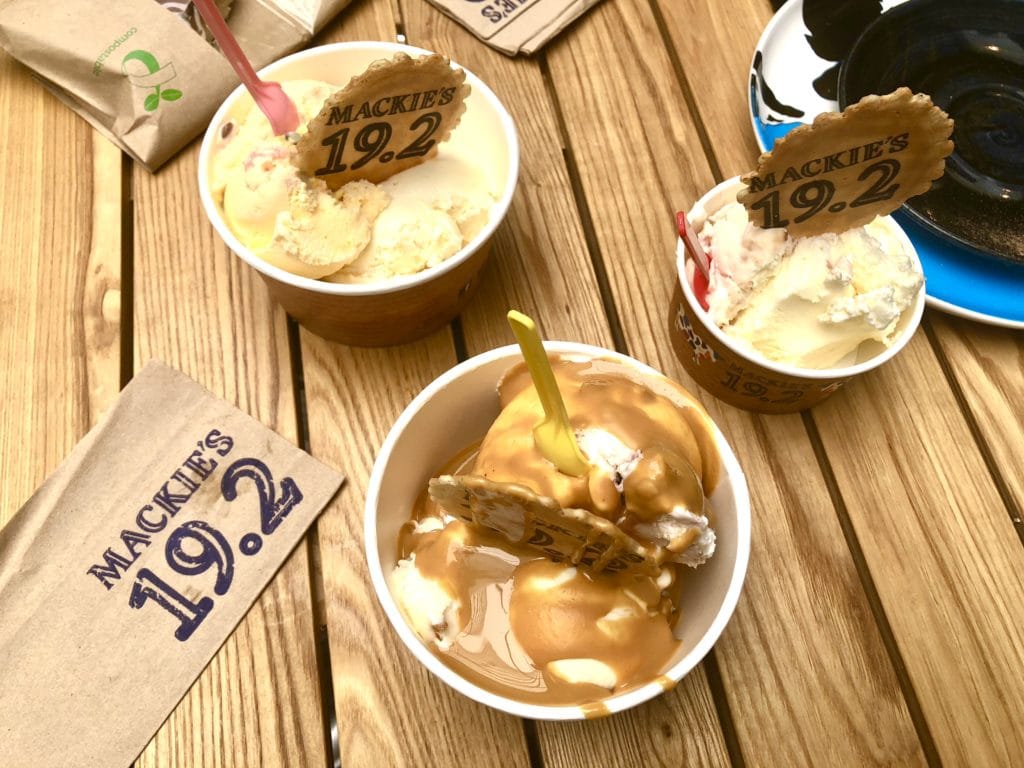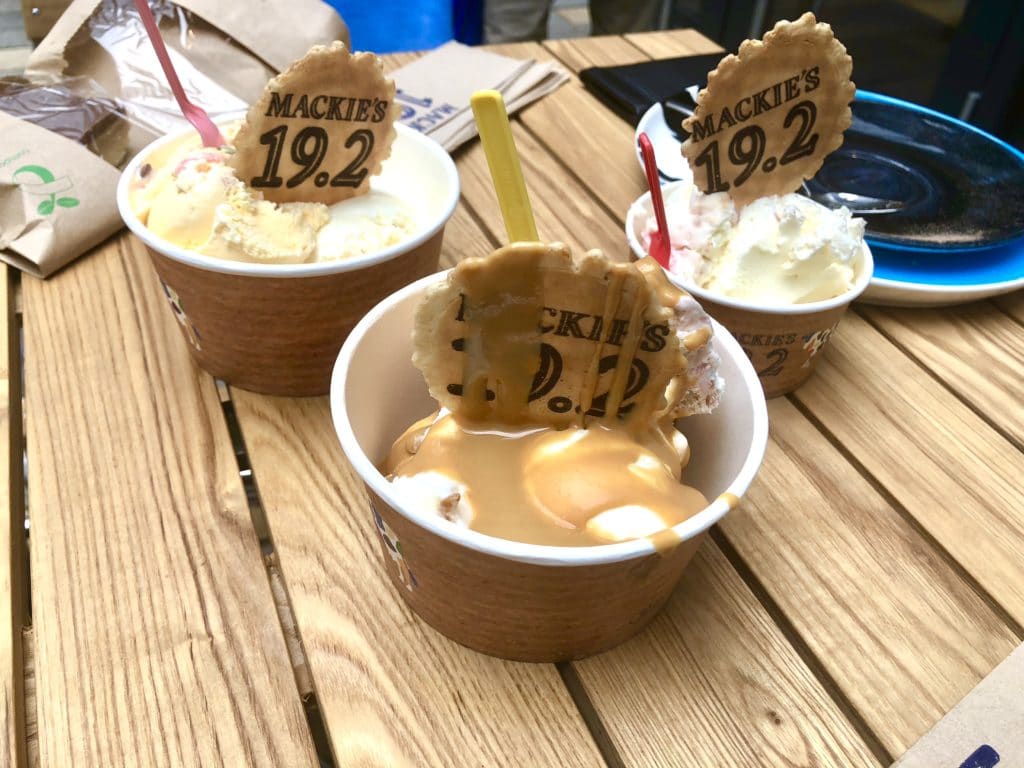 Mum ordered one scoop of their Salted Caramel ice cream and another of their Banana Rainbow (!!) flavour. The Banana Rainbow is a delightfully pastel yellow colour and is loaded with rainbow sprinkles, it tastes like a frozen version of those old-school foam banana sweets. She was understandably very happy.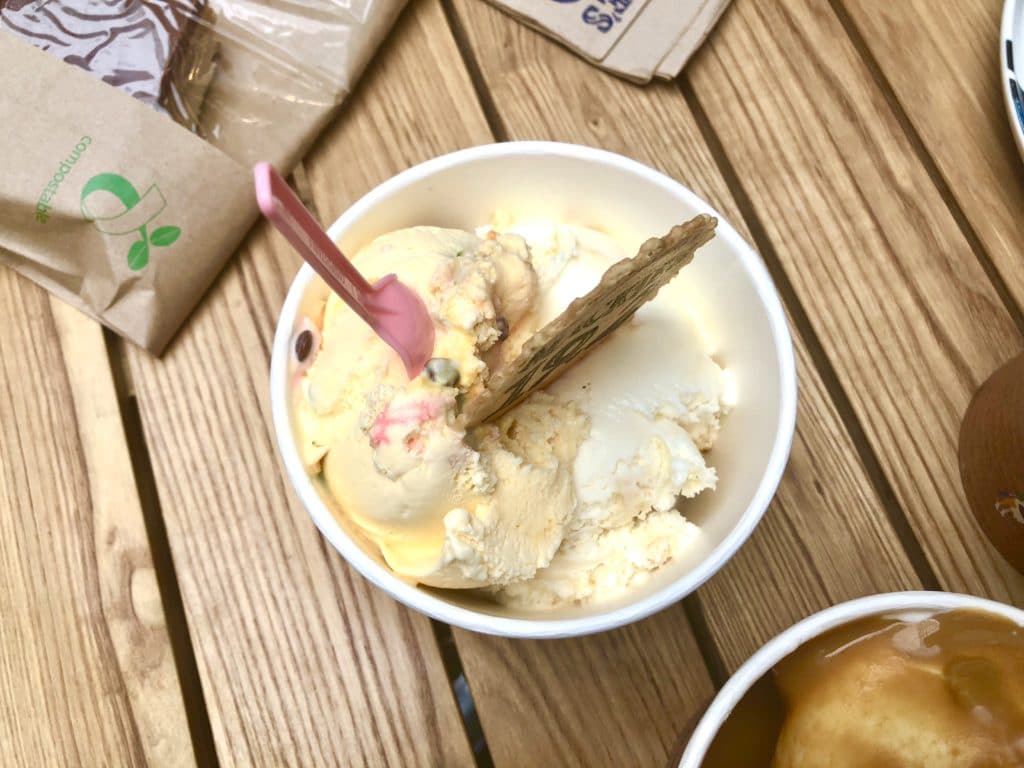 Dad's choice was a single scoop of their Rhubarb & Custard ice cream. This one is very reminiscent of the traditional boiled sweeties of the same flavour, which works very well with the creaminess of the ice cream base.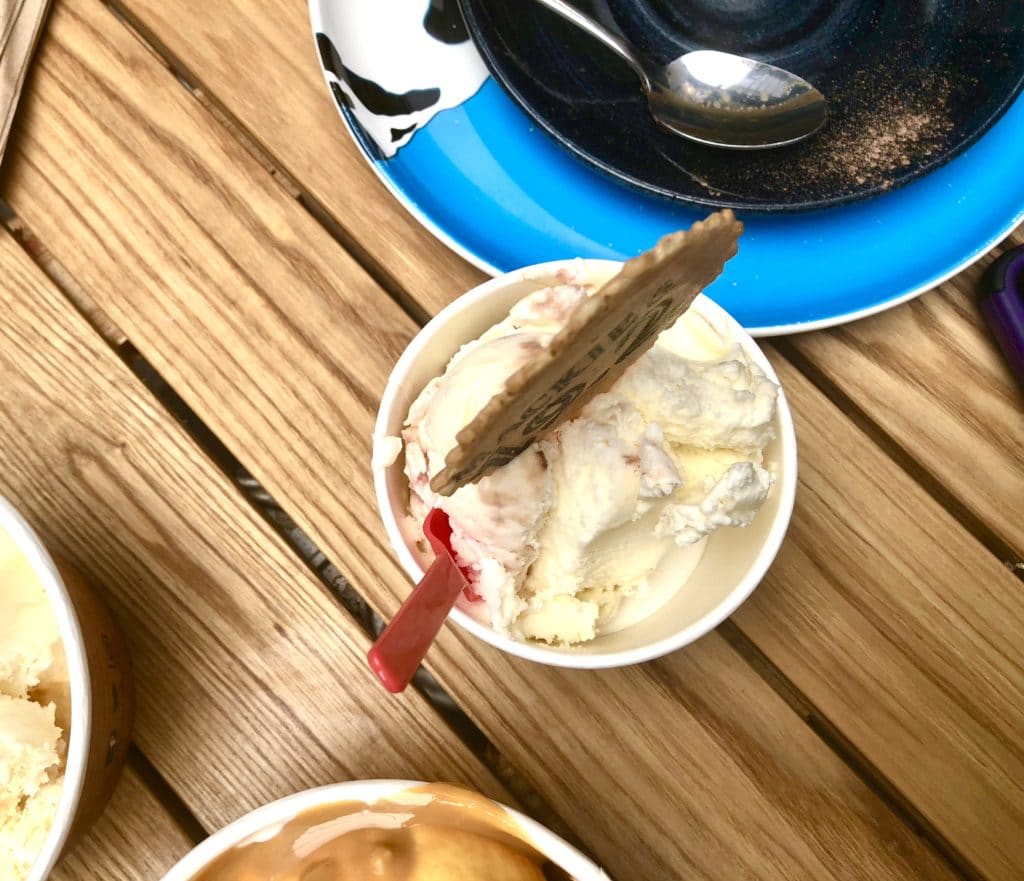 Interestingly, even after two very generous scoops, this isn't the kind of ice cream that makes you feel a bit nauseous afterwards. The ice cream is wonderfully creamy without being too rich or heavy, it almost has a distinctly milky flavour. You can tell that this is proper stuff made with good quality ingredients and likely less sugar than other big ice cream brands. You can also feel good eating this, knowing you're supporting a local Scottish family business!
Having already visited twice in two weeks, I can highly recommend dropping into Mackie's 19.2 if you're in the area. Knowing you can get a nice lunch and incredibly tasty dessert in lovely surroundings should be enough to make anyone visit. I know I'll be back very soon.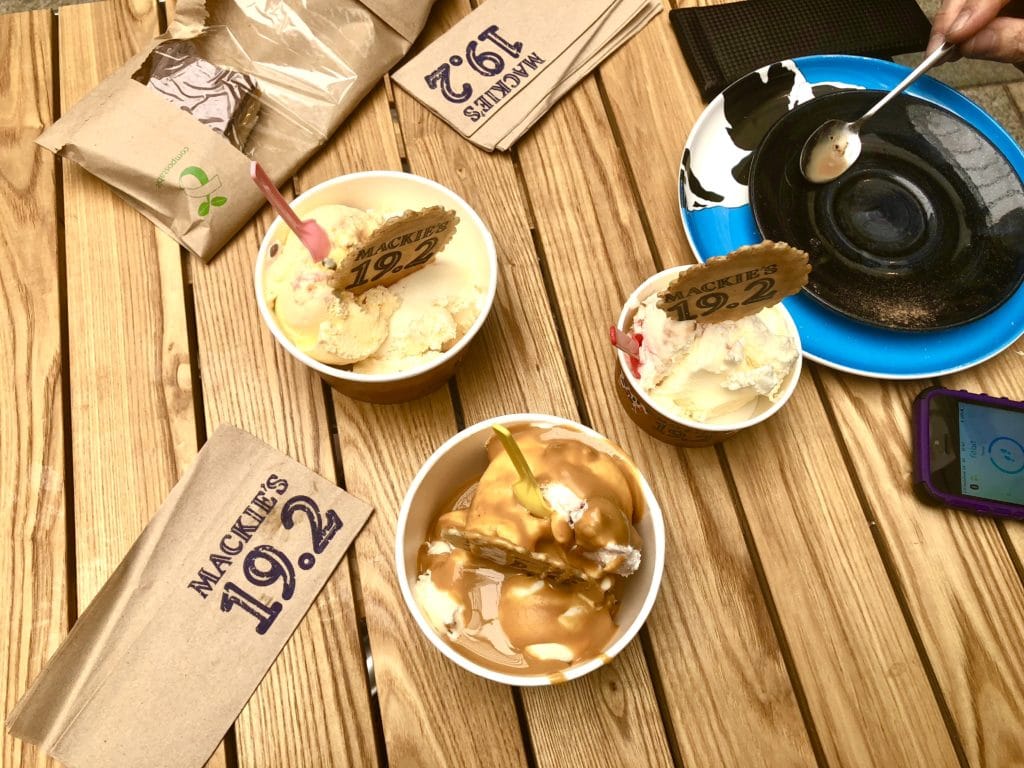 Have you tried Mackie's 19.2 yet? Let me know what you thought!
Thanks as always for reading, hope to see you again soon.
You can follow me on various social media, or subscribe to me on YouTube here. Or you can sign up to my mailing list for fresh recipes and reviews before anyone else sees them, in the sidebar to the right (desktop), or by scrolling right to the bottom of the web page (mobile). Thanks again!
You may also like…