Millionaire's Cheesecake; a truly ridiculous no bake cheesecake with a buttery biscuit base, marbled salted caramel and chocolate cheesecake, chocolate ganache topping and miniature Millionaire's Shortbread decoration!
There are no two ways about it, hybrid desserts are exciting.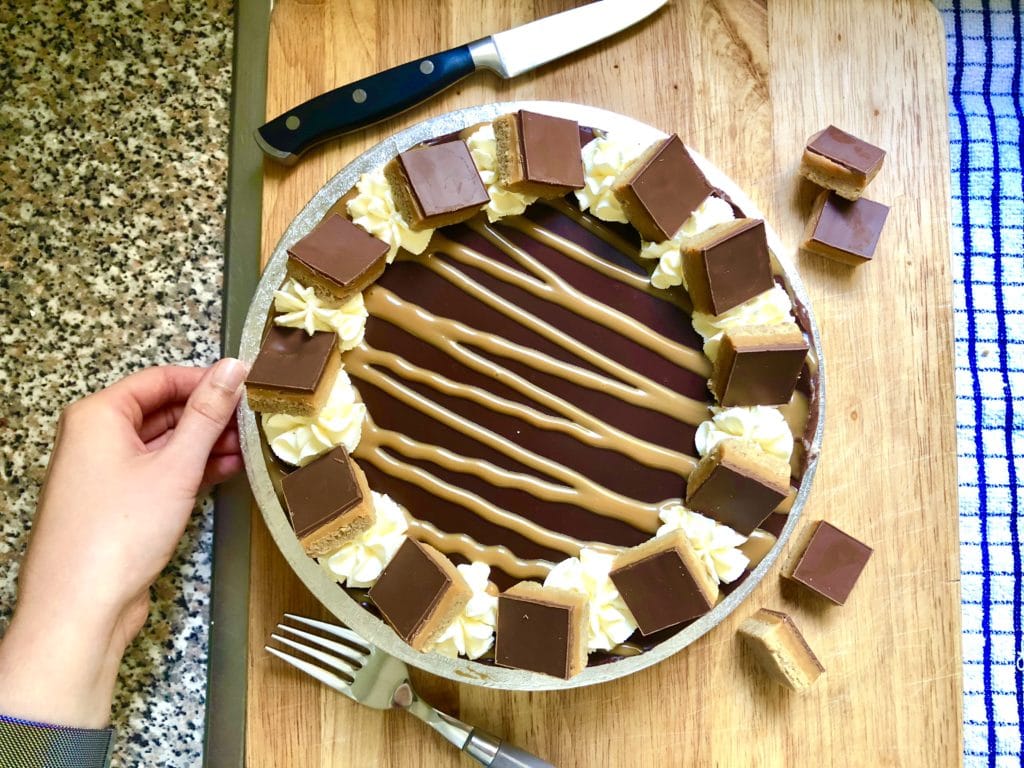 The Duffin, the Cronut, the Slutty Brownie. Dirty and delicious bastardised versions of all of our favourite indulgent sweet foods.
This fact, alongside my dad's affinity for all things Millionaire's Shortbread, is what has inspired this grand mashup of treats. The Millionaire's Cheesecake.
A particularly British (or arguably Australian) bake, though in my mind it is entirely Scottish, the Millionaire's Shortbread has many guises. Caramel shortbread, caramel shortcake, caramel square, caramel slice, Millionaire's slice. Thin crispy shortbread or thick and crumbly, dark and smoky caramel filling or soft and sweet, rich dark chocolate or sugary milk. It varies by name, flavour and appearance depending on where you buy it from, but much like pizza, even when it's a bit crap, it's still great. You can find my recipe, for a Millionaire's Shortbread with a thicccccc buttery shortbread base with soft and sweet caramel and rich chocolate topping, right here!
Let's talk about this Millionaire's Cheesecake though.
Crunchy, thick buttery biscuit base. Smooth, creamy marbled salted caramel and chocolate cheesecakes. A blanket of rich and voluptuous chocolate ganache, splattered with sweet caramel, cream and sweet Millionaire's Shortbread pieces. Heaven. On. A. Plate. *clap emoji*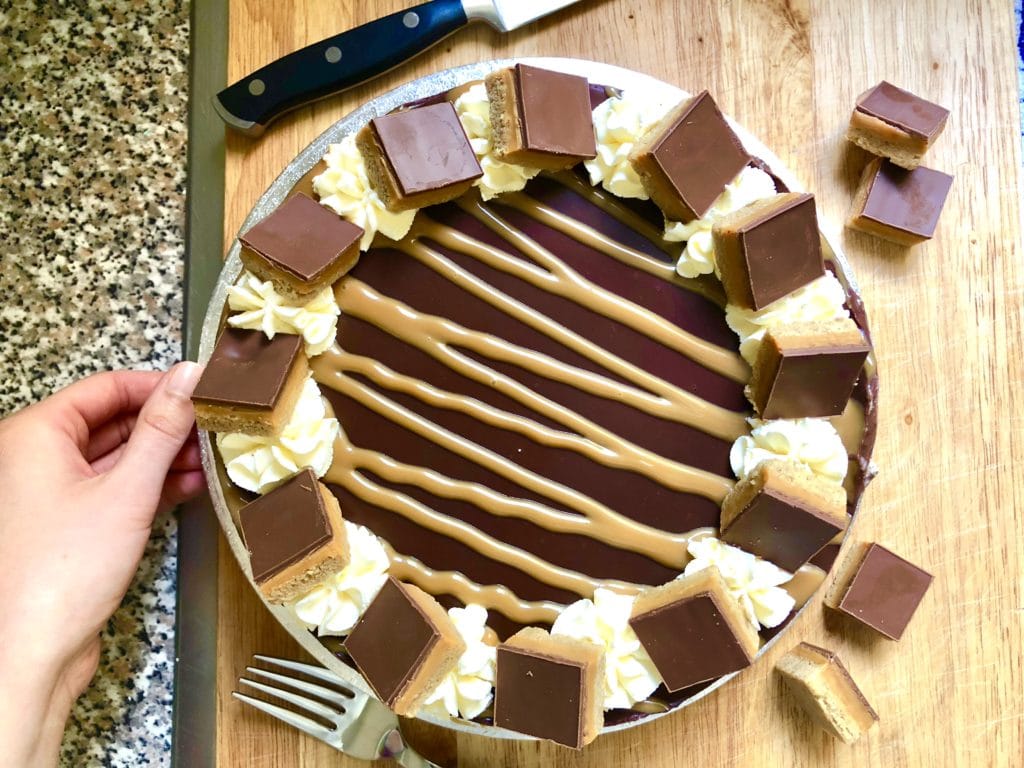 I whipped this up on a leisurely Sunday morning as a Father's Day treat for my old man. For as long as I can remember he has been daft about Millionaire's Shortbread, able to rank every bakery and high street coffee shop's offerings in a list of his best and worst. Even though my mum ate more of this Millionaire's Cheesecake than he did, he adored it all the same!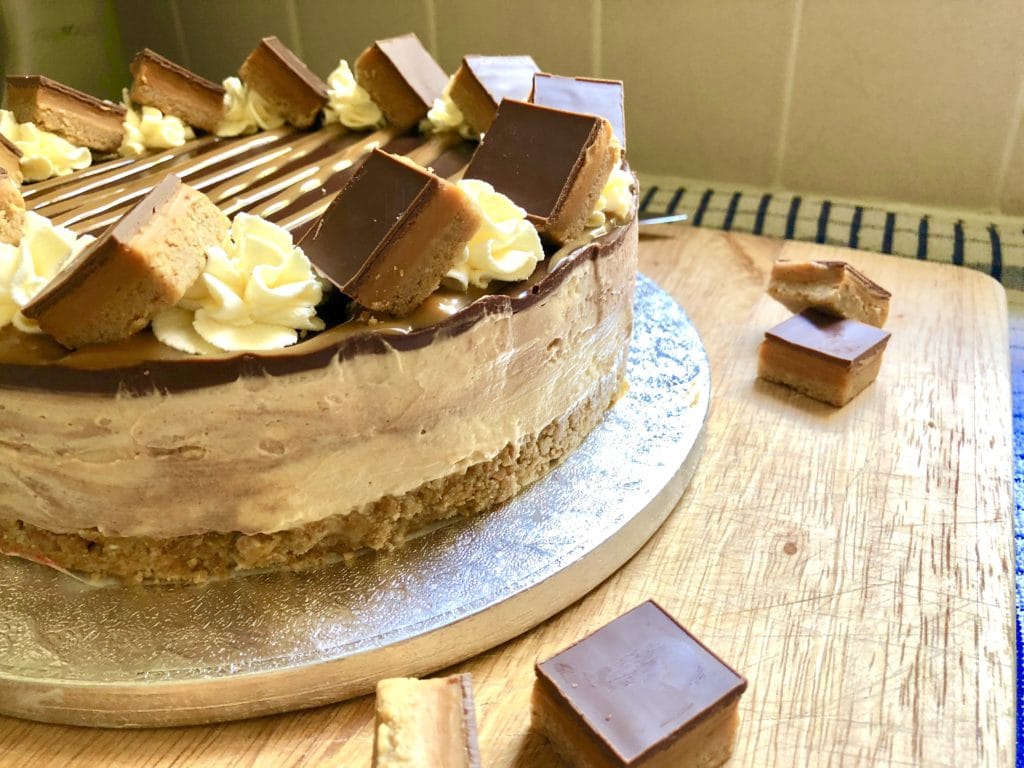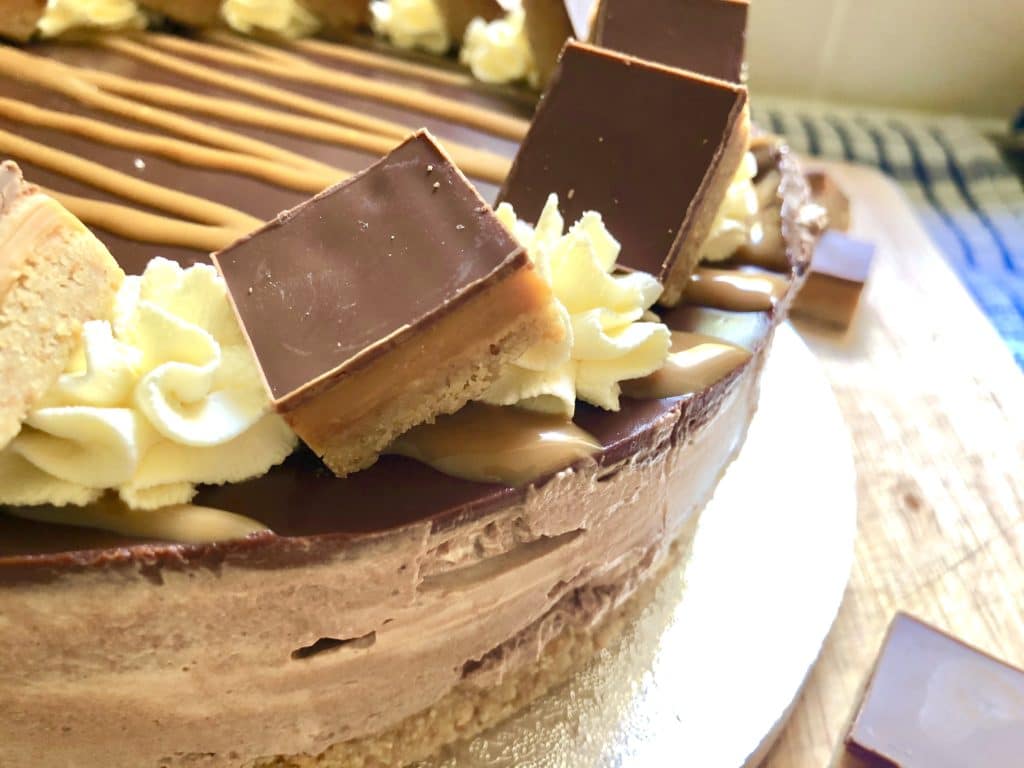 This cheesecake is such a gorgeous fancy centrepiece for any sort of celebration, or even just to impress at a back garden BBQ this summer. It's not the simplest of cheesecakes, but the flavour and appearance is more than worth a little extra effort. I promise. Trust me, I'm lazy.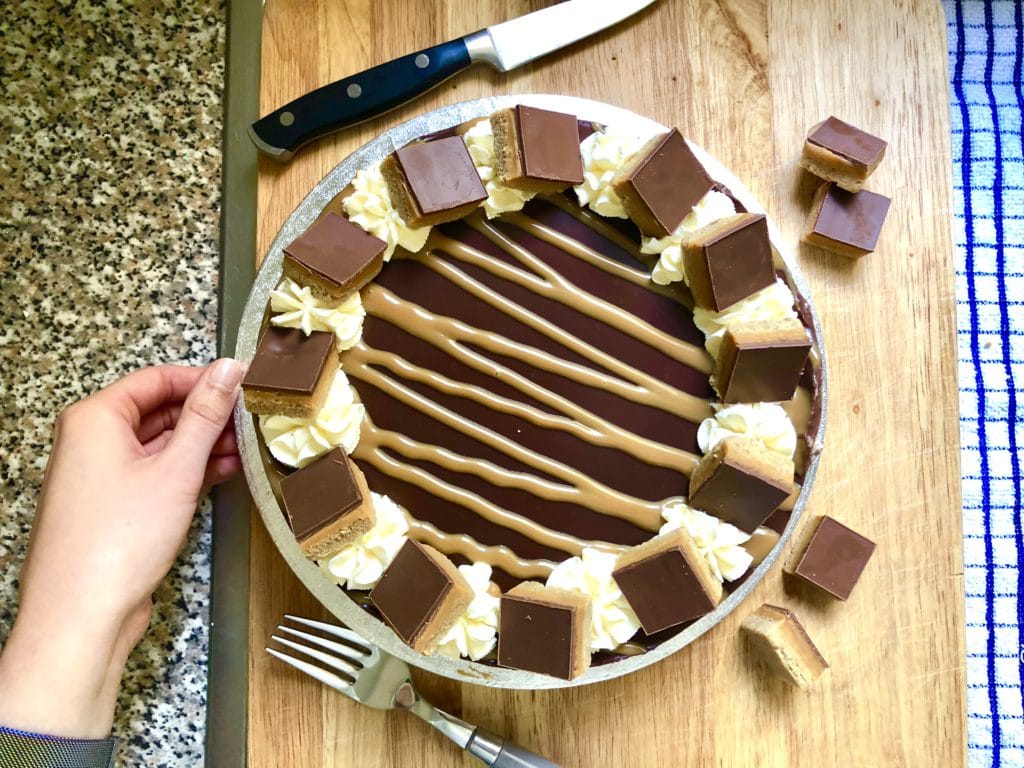 If you need to stock up on ingredients or equipment to make this Millionaire's Cheesecake, simply click on any of the images below:
[amazon_link asins='B0001IX3M8,B01DDG8L4Y,B000TARBC6,B01J6RN7KW,B016Q6O17Y,B01LZDEETO' template='ProductCarousel' store='maverbakin-21′ marketplace='UK' link_id='970f0938-7656-11e8-8fe7-79a9f3fa5b04′]
Scroll down for the full recipe!
Millionaire's Cheesecake (No Bake!)
Millionaire's Cheesecake; a truly ridiculous no bake cheesecake with a buttery biscuit base, marbled salted caramel and chocolate cheesecake, chocolate ganache topping and miniature Millionaire's Shortbread decoration!
Ingredients
For the biscuit base:

200g (7 oz) your favourite plain or chocolate biscuits (I used digestives)
100g (7 tbsp) butter
For the Millionaire's Cheesecake:

600g (21 oz) full-fat cream cheese
1 tsp vanilla extract
4 tbsp caramel sauce (such as the tinned Carnation kind)
50g (¼ cup) dark brown sugar
50g (¼ cup) icing sugar
Juice of ½ a lemon
Pinch of salt
250ml (1 cup) double cream
1 ½ tbsp cocoa powder
For the chocolate ganache topping:

150ml (⅔ cup) double cream
100g (3 ½ oz) dark chocolate
Extra cream, caramel sauce and miniature Millionaire's shortbreads to decorate (optional)
Instructions
For the biscuit base:

Look out a regular springform tin (23cm or 8in) and line it with a circle of greaseproof paper.
If using a food processor, blitz your biscuits into crumbs. If you don't have a food processor, simply place your biscuits into a freezer bag and bash them with a rolling pin until you reach a coarse crumb consistency.
Meanwhile, melt your butter in a small saucepan over a low heat, or in the microwave.
Once melted, add the butter to your biscuit crumbs and mix together.
Tip this mixture into your springform tin and press it down into a neat, flat circle. Pop this in the fridge for at least 30 minutes to firm up while you prepare your cheesecake mix.
For the Millionaire's Cheesecake:

Place your cream cheese, caramel, vanilla, sugars, lemon juice and salt into a large bowl and beat together until smooth.
In a separate bowl or jug, whip the cream until it forms stiff peaks and then fold it gently into the cheese mixture until combined.
Spoon half of the cheesecake mixture into a different bowl and stir the cocoa powder into it until combined, leaving the other half of the mixture as it was.
Remove your tin from the fridge.
Spoon the cheesecake mixtures in big dollops all over the base until you have emptied your bowls. Use a spatula or a table knife to gently swirl and marble the mixtures together, before smoothing and flattening out the top of the cheesecake as best you can.
Pop the cheesecake in the fridge for at least 1 hour to chill and firm up slightly.
For the chocolate ganache topping and decoration:

In a small saucepan, heat your double cream until just hot to the touch, then remove from the heat. You could also heat it in the microwave instead!
Add your chocolate to the cream in chunks or pieces and wait 30 seconds.
Stir gently until the cream and chocolate have melted together smoothly into a shiny ganache, this should only take a minute or so.
Allow it to cool for 15 minutes.
Remove your chilled cheesecake from the fridge and pour your chocolate ganache evenly over the top.
Place back into the fridge for 1 more hour to set.
Now feel free to splatter the top with caramel, with chunks of Millionaire's shortbread, swirls of whipped cream, crushed biscuits, or just whatever you fancy! I drizzled over some leftover caramel, swirls of cream and some miniature Millionaire's shortbread (the Thornton's kind!)
Remove from the tin, slice up and enjoy!
Notes
MAKE IT GLUTEN FREE: Simply replace the digestives biscuits (or Graham crackers) with your favourite gluten free biscuits!
http://maverickbaking.com/millionaires-cheesecake-no-bake/
If you enjoyed this Millionaire's Cheesecake you may also like…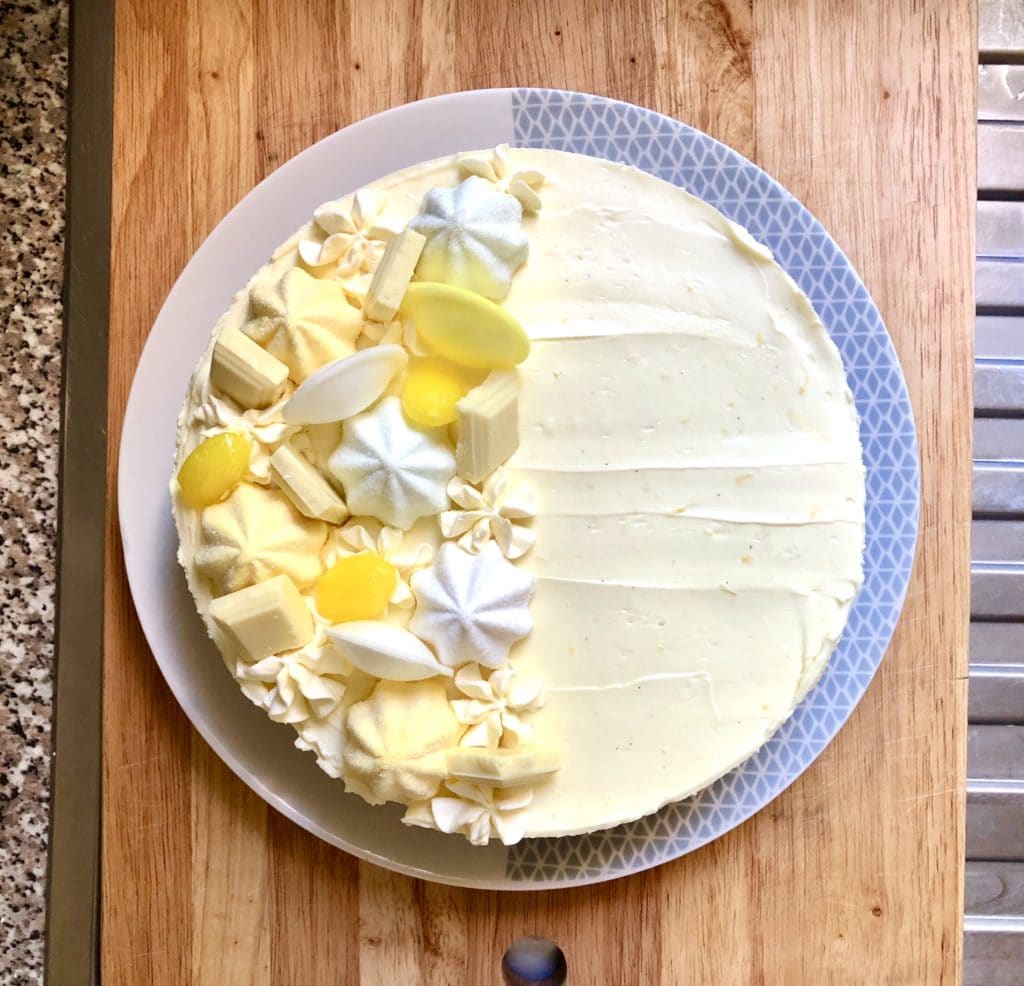 [This post contains affiliate links]