Mini Egg Pavlovas; crisp and marshmallowy chocolate meringues piled with whipped vanilla cream and Cadbury Mini Eggs.
Pavlovas deserve better.
The now old-fashioned tradition of piling softly whipped cream onto an over-sized meringue nest is rare on modern dessert menus. Its big, blousy, brash whiteness is a symbol of 1970s and 1980s indulgence, far from the matcha and salted caramel of the 2010s.
In spite of this, I bloody love them, and enjoy nothing more than making them at every vaguely appropriate opportunity.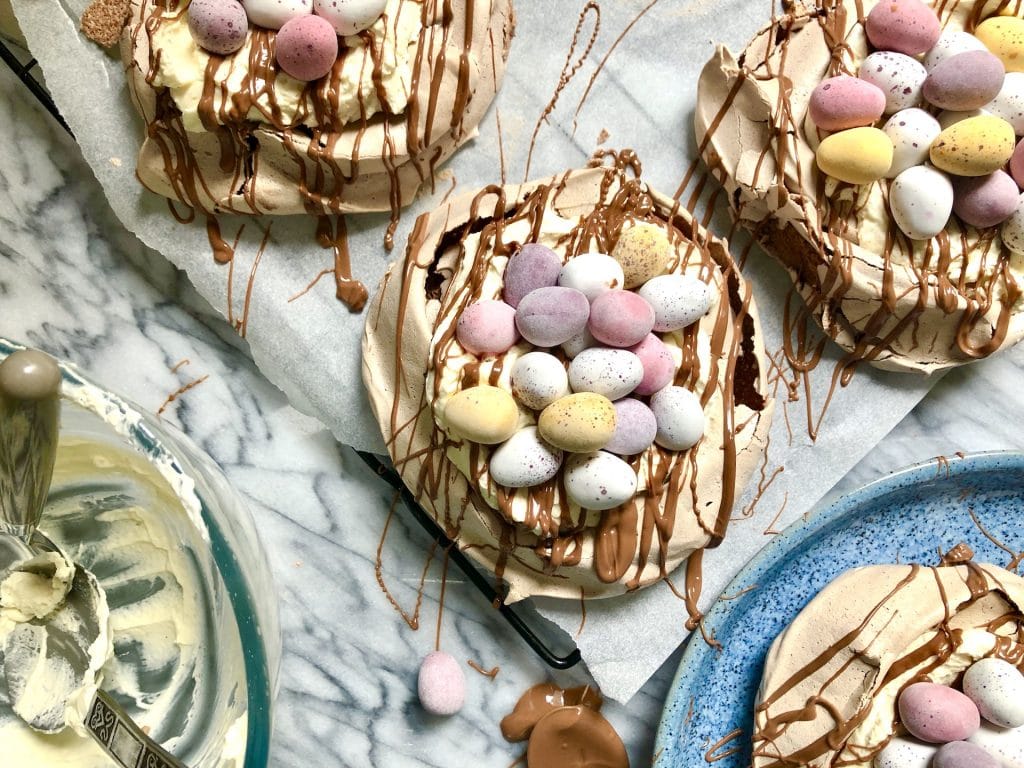 These Mini Egg Pavlovas are a celebration of pavlovas, without any of that annoying fruit that gets in the way of the cream and meringue.
I've had these in mind for a while. Mini Eggs and meringues draw a lot of delicious parallels. A bit retro, egg-related, a crispy shell giving way to a creamy interior, utterly irresistible at any given time. They are a divine pairing for sugar fiends everywhere.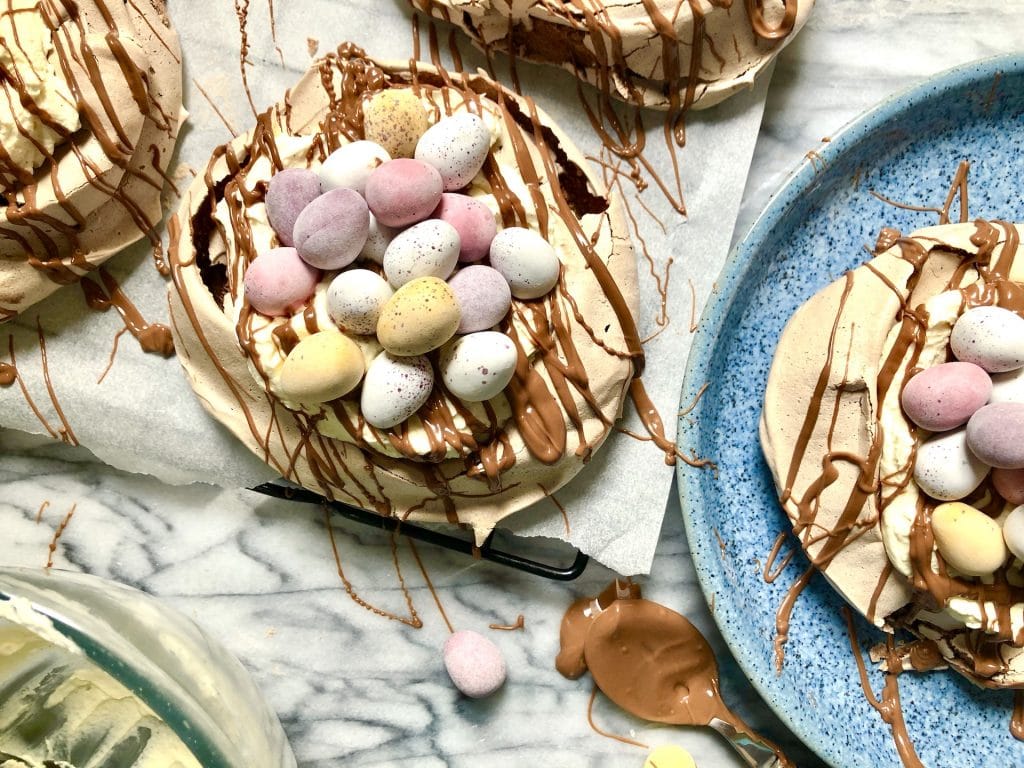 These Mini Egg Pavlovas have all the texture your mouth could want. Crisp meringues with marshmallowy chocolate centres, soft and light vanilla cream, drizzled in melted Cadbury's Dairy Milk chocolate and piled with crunchy chocolate Mini Eggs.
They are a riotous mess of milk chocolate that is ideal for Easter or any other time when you can get your hands on that familiar yellow bag of chocolate eggs.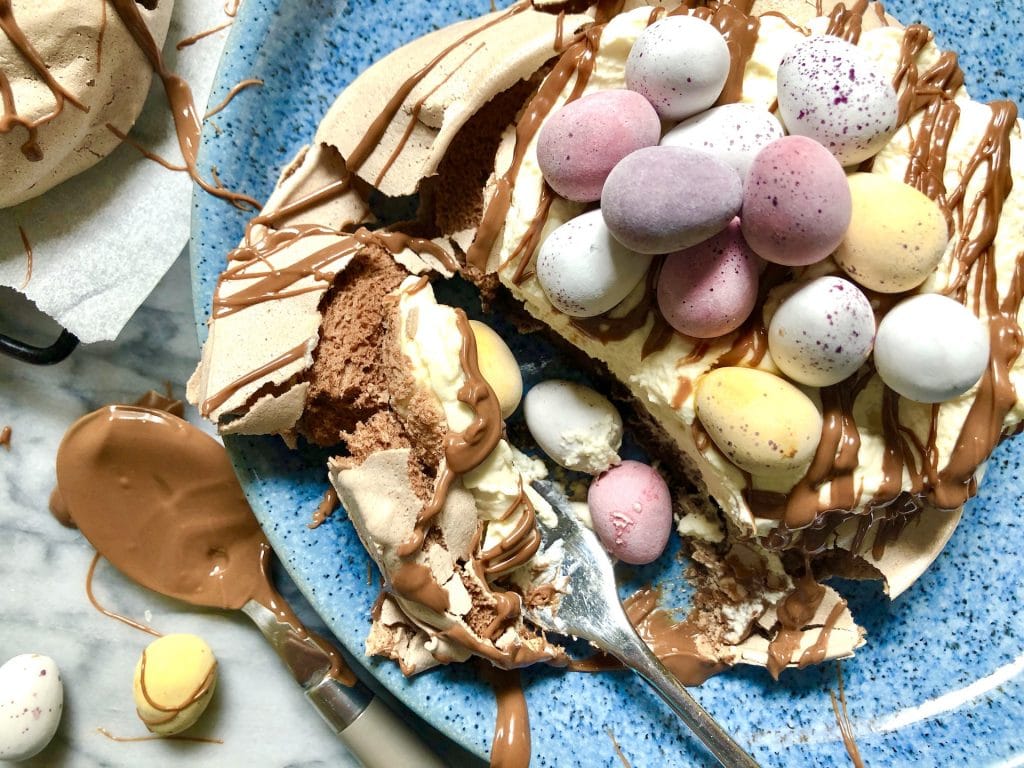 Really it's a bit of an insult to call this a recipe, as these Mini Egg Pavlovas take very little effort to throw together. However, it felt very rude not to share something so simple, tacky and truly cracking.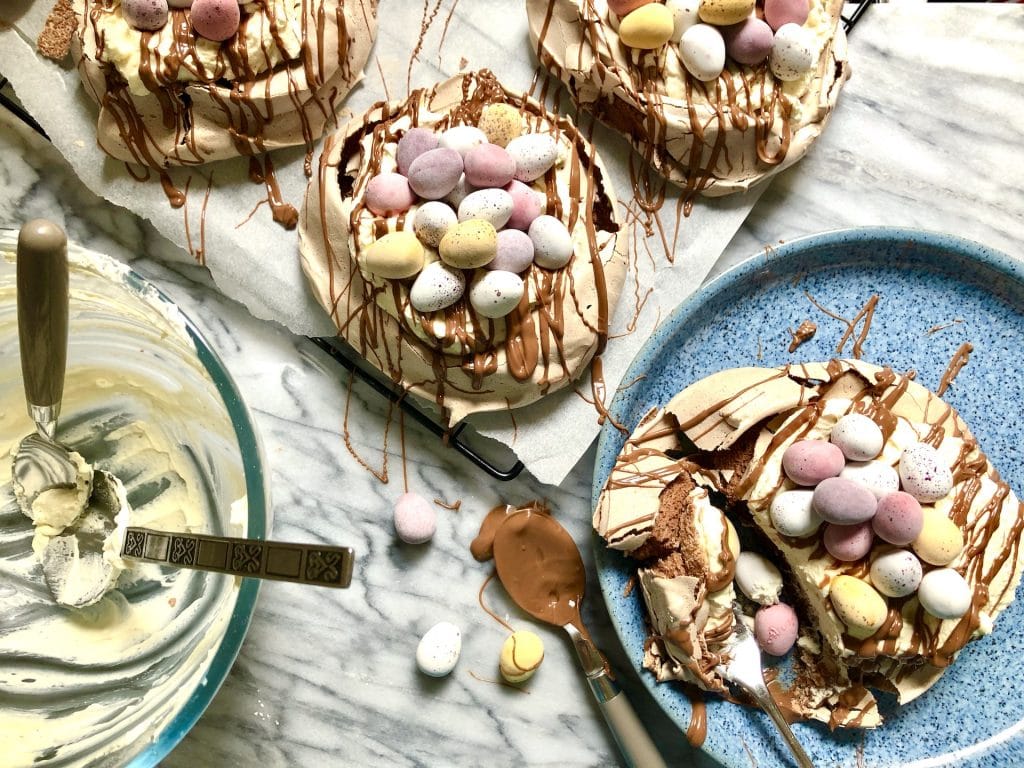 This recipe will make 6 generous portions or 10 modest portions, but it can easily be halved or doubled depending on your needs. Simply follow the instructions below to make a batch of these Mini Egg Pavlovas!
Mini Egg Pavlovas; crisp and marshmallowy chocolate meringues piled with whipped vanilla cream and Cadbury Mini Eggs.
Ingredients
For the meringues:

4 large egg whites
Pinch of salt
200g (1 cup) caster sugar
2 tbsp cocoa powder
2 tsp cornflour
1 tsp white wine vinegar
For the topping:

300ml (1 cup + 3 tbsp) double or whipping cream
1 tbsp caster sugar
1 tsp vanilla extract
150g (5 oz) Cadbury Dairy Milk chocolate
200g (7 oz) Cadbury Mini Eggs
Instructions
For the meringues:

Preheat your oven – 160 C / 140 C fan / 325 F / gas mark 3.
Look out one or two large baking trays and line them with greaseproof/parchment paper.
Crack your egg whites into a large bowl and add a pinch of salt.
Use a free-standing mixer or electric whisk to whip the whites to soft peaks. This should take 2-5 minutes.
Still whisking, add your sugar one spoonful at a time until you have a thick, glossy meringue mixture that holds its peaks.
Whisk in the cocoa, cornflour and vinegar until combined into the meringue mixture.
Spoon 6-10 dollops of mixture onto your prepared tray, using a spoon to make an indent in the centre of each. These will be the nests that hold your cream and Mini Eggs later.
Pop the tray of meringue dollops into the oven, turning the heat down – 140 C / 120 C fan / 275 F / gas mark 1.
Bake for 30 minutes, before turning the oven off and leaving them in there for a further 30 minutes.
Allow to cool while you assemble your toppings.
Once cooled, place on your serving plates.
For the topping:

Pour the cream into a large bowl along with the caster sugar and vanilla.
Use a freestanding mixer or electric whisk to whip your cream until it holds soft peaks.
Spoon blobs of the whipped cream onto your meringue nests, spreading it around gently to cover most of the surface.
Melt your chocolate in a heatproof bowl, either in the microwave in 30-second blasts or over a pan of simmering water, until smooth.
Drizzle your melted chocolate over your pavlovas.
Pile your pavlovas with as many Mini Eggs as you like, making sure to get a mix of all those pastel colours on each!
Enjoy!
Notes
BE A MAVERICK: Prefer a Creme Egg? Why not pile some Cadbury Creme Eggs onto these little pavlovas instead?
http://maverickbaking.com/mini-egg-pavlovas/