Monty Bojangles chocolate truffles review; a taste test of some rustic, cocoa-dusted truffles in funky flavours, delivered in new bags of chocolatey Scofflets and a box of Mischievous Moments!
It's not often a brand's name alone can make me smile.
Monty Bojangles is an exception.
Today we are talking about a truly colourful company, making truly whimsical confections. Monty Bojangles, a British-French company, create an array of rustic, cocoa-dusted chocolate truffles and sweets unlike anything else on the British market at the moment.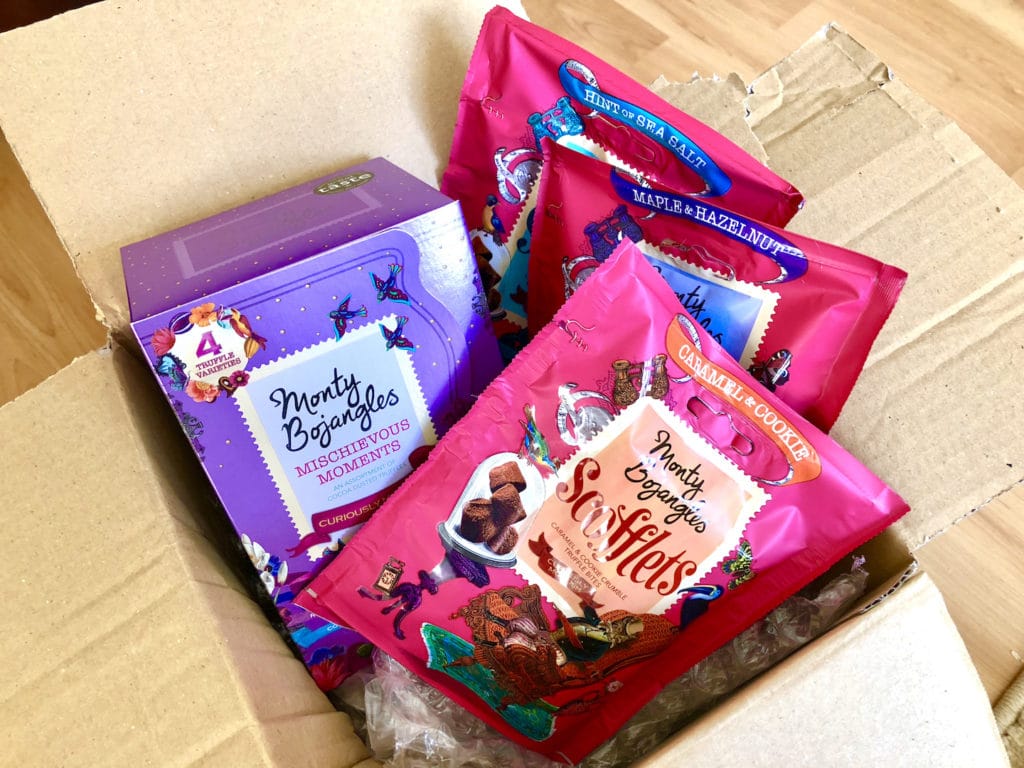 Typically seen on shelves in gloriously bright and boldly colourful packaging, featuring characters and designs bumbling straight out of an old Terry Gilliam animation, Monty Bojangles chocolate truffles cannot help but catch your eye. A fresh alternative to the likes of typical brown, gold or ivory boxes of chocolates on supermarket shelves, this company are providing pinks, blues and purples normally reserved for the toy aisle, or the make-up palette of a Pantomime dame.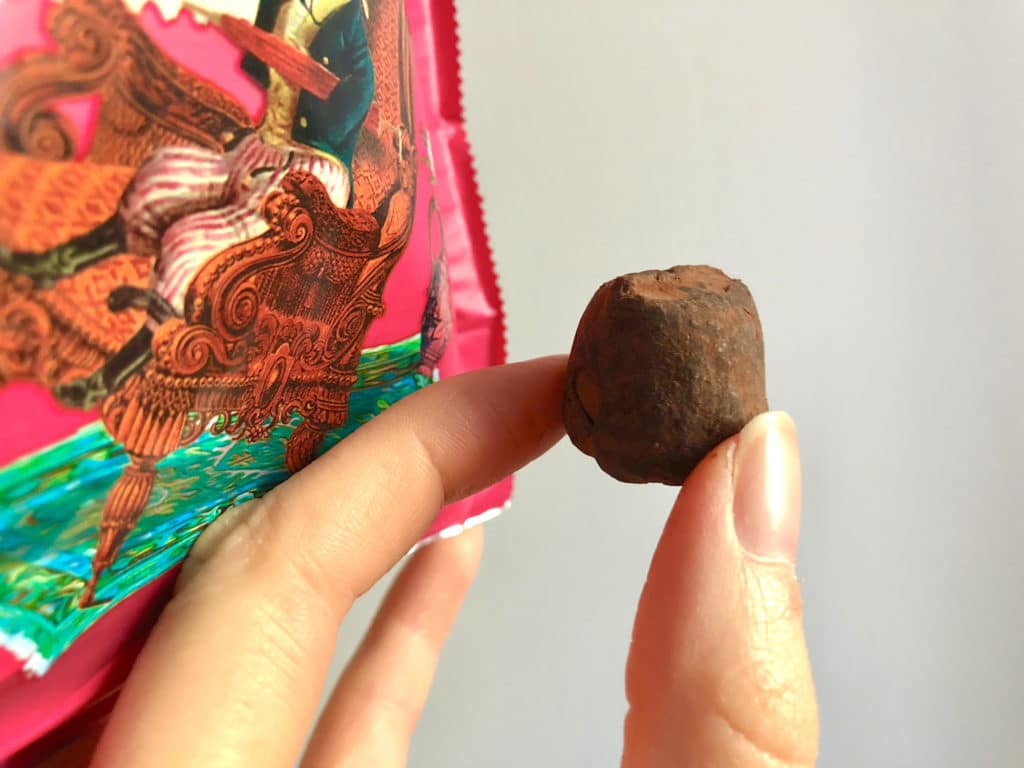 My first taste of Monty Bojangles chocolate truffles was a couple of years ago, but since then their range has greatly expanded and they can be found in the likes of Asda, Sainsbury's and Waitrose. They were kind enough to gift me some samples of their new Scofflets and Mischievous Moments, in return for a little exposure across my social media channels, but all of the opinions you will read/hear today are all mine! Shall we have a taste?
Has there ever been a more adorable name?
These are mini, bite-sized truffles that come in handy bags. Bold pink, splattered with differing shades of orange or blue or purple depending on the flavour, it's hard to miss them!
This is Monty Bojangles' first foray into portable treats. Their market is typically standard of gift box style chocolates, whereas this seems almost more approachable and every-day for a consumer looking to try a new brand.
Scofflets come in three flavours:
Sea Salt

Caramel & Cookie

Maple Hazelnut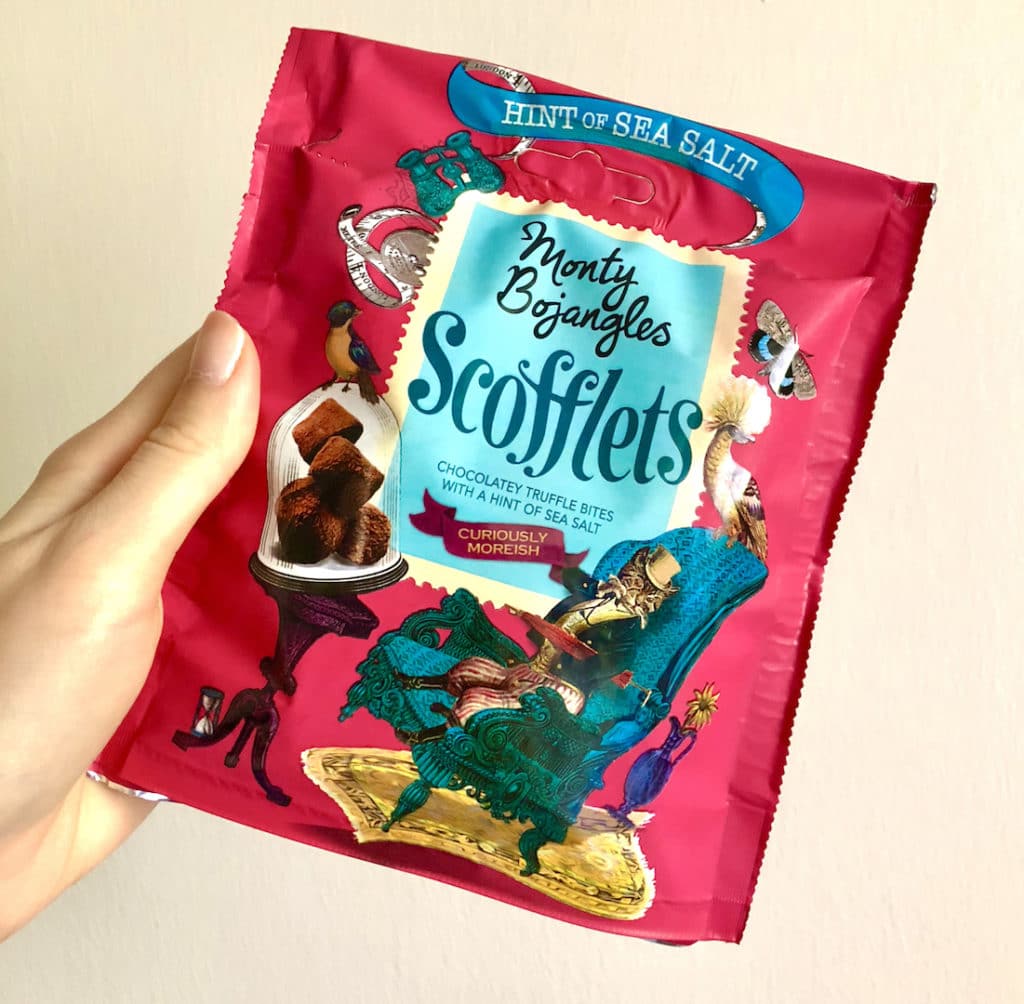 The Sea Salt chocolate truffles were just a damn good chocolate truffle. Meltingly smooth and soft throughout. The truffles don't have the same firm chocolate shell that most do, instead they are a consistent almost ganache-like texture, rolled in just the right amount of cocoa to add another deep chocolate flavour to the mix. The best way to describe the base truffle is like a well-balanced milk chocolate, as bold as a mild dark chocolate without the same sugariness of standard milk chocolate. While you can taste the sea salt, I would like a little more in there, but that's just personal taste!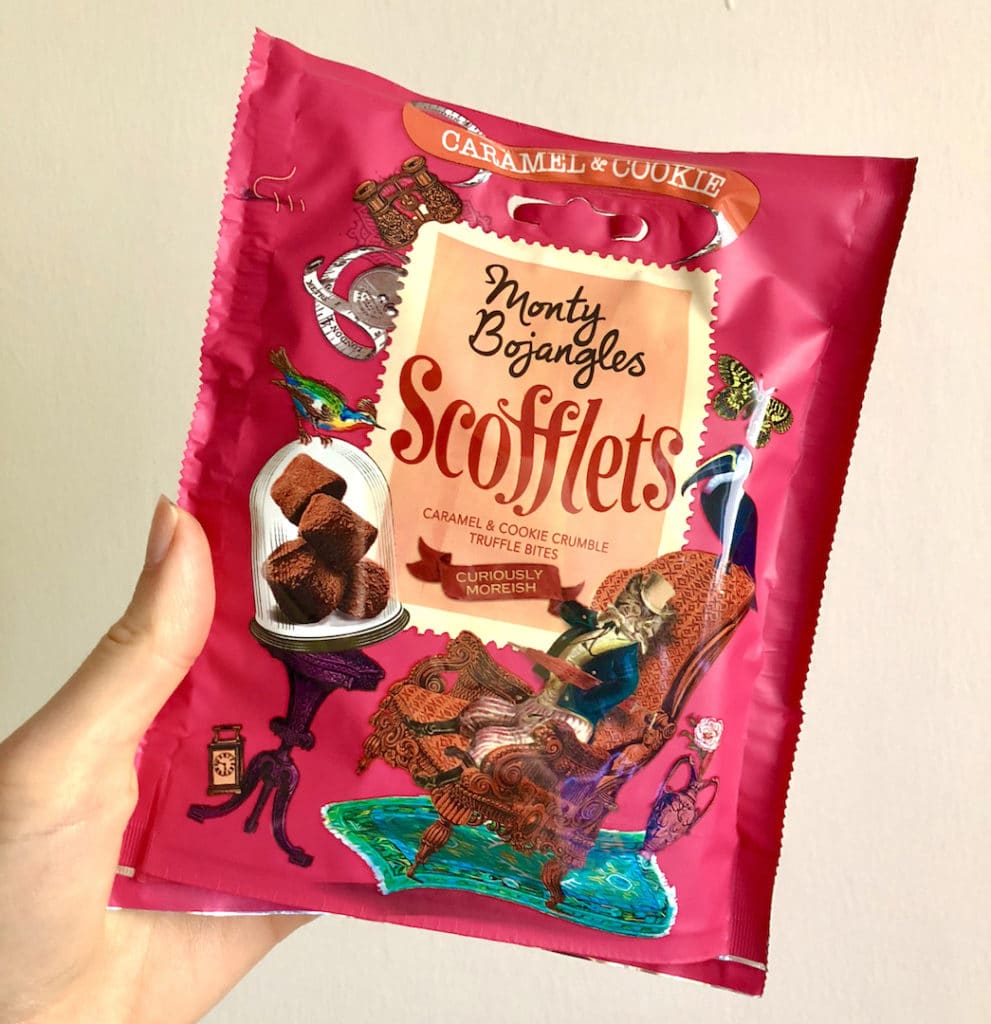 The Caramel & Cookie chocolate truffles were impossibly buttery in both flavour and texture. None of the hyper-artificial flavour that you might be used to from most caramel-flavoured products, instead a real homemade burnt-sugar taste to the chocolate, with a proper butteriness to it. Tiny cookie pieces add a lovely texture to the truffles too, punctuation smooth with crisp.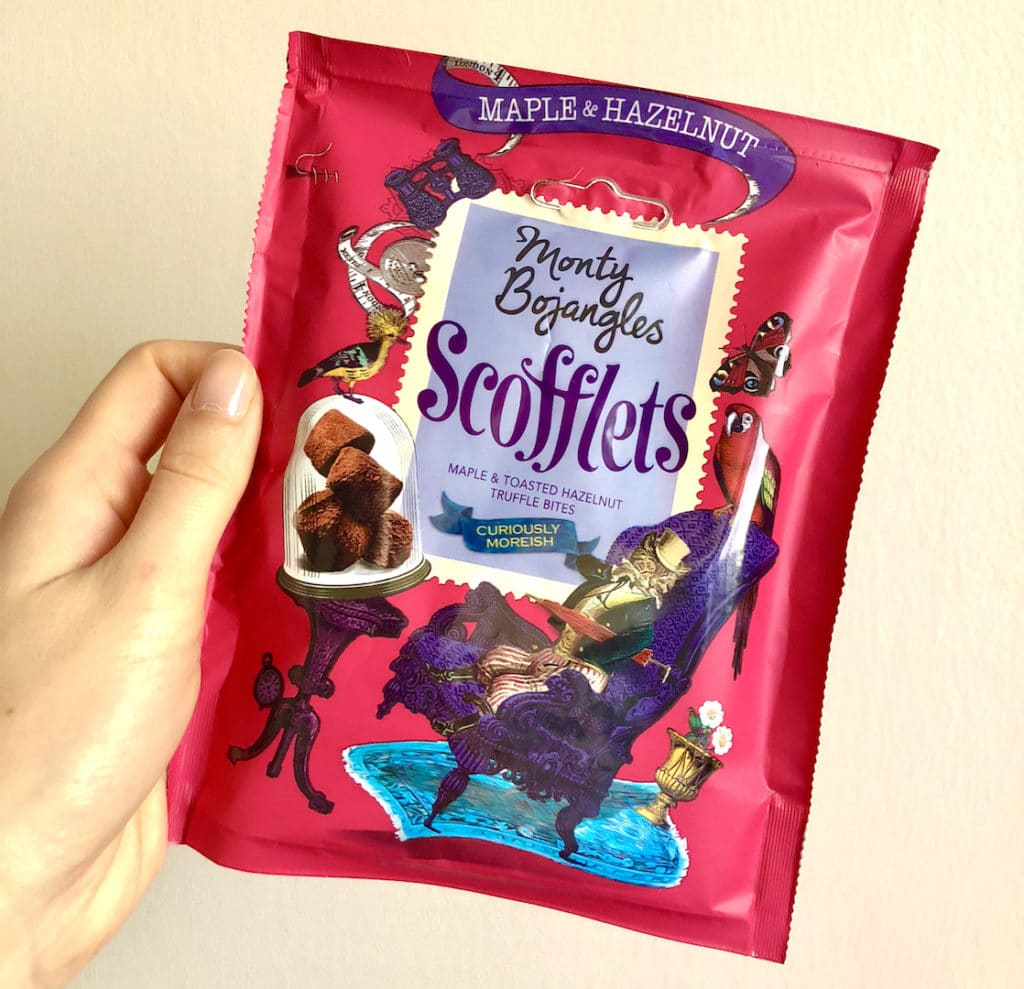 The Maple Hazelnut chocolate truffles were my favourite of the bunch. A real cosy, rich maple syrup flavour, like you'd get when sniffing a freshly opened glass bottle of the real stuff. The hazelnut permeated through too, the depth reminding me of the likes of a hazelnut latte or hot chocolate from a coffee chain, rather than the sickly sweetness of Nutella. Shards of roasted hazelnut added to the flavour, and offered a welcome crunch in amongst the creaminess of the chocolate.
Overall, the Scofflets were excellent, and I love their portability. They're a happy 5/5.
These are full-sized Monty Bojangles chocolate truffles, almost twice the size of the Scofflets, that come in a beautiful metallic lilac box adorned with wild designs.
Each truffle comes individually wrapped in a shimmering packet, a new colour for each flavour, like a box of glittering jewels.
Michievous Moments come in four flavours:
Choccy Scoffy

Cookie Moon

Ruby Fruit Sunday

Coconut Crush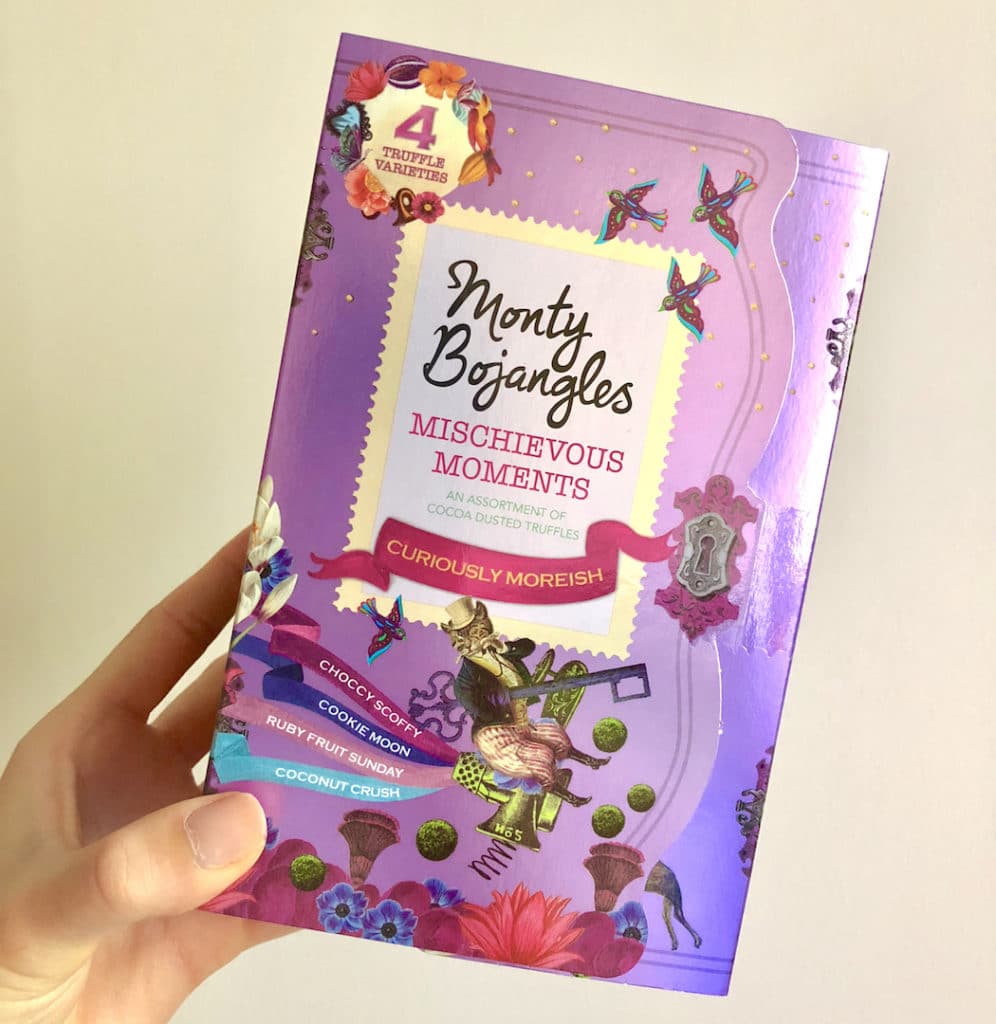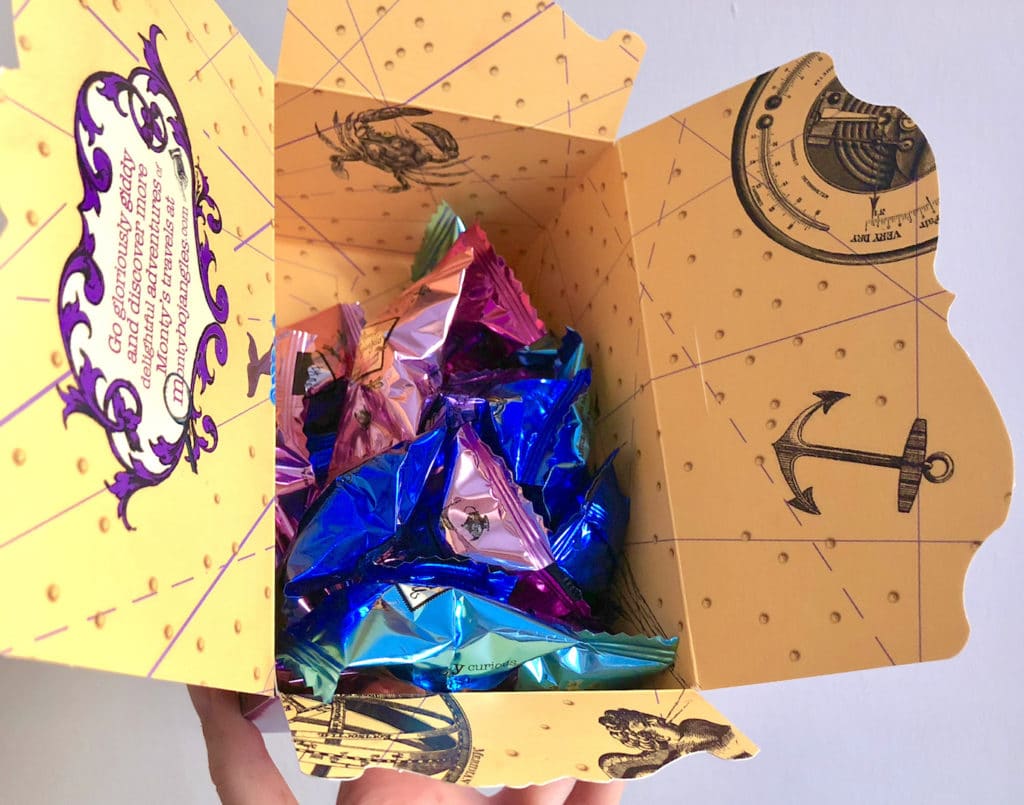 The Choccy Scoffy chocolate truffles are the "vanilla" flavour of the box, just plain and simple Monty Bojangles chocolate truffles. They don't have the same slight edge that the Sea Salt Scofflets did, but the experience is fairly similar otherwise. Sweet, smooth, creamy. What's not to love?
The Cookie Moon chocolate truffles are equally as tasty, with an added crunch from fragments of crisp chocolate cookie. While these were similar to the Caramel & Cookie flavour, they didn't have the same wonderful buttery flavour. On that basis these were good, but not as good in my opinion!
The Ruby Fruit Sunday chocolate truffles were EXCEPTIONAL. These were flavoured with strawberry and raspberry and had little crispy rice puffs throughout them, making for a surprise in both taste and texture. The berry flavour was quite natural, offering a tanginess with its sweetness than blended deliciously with the creamy chocolate truffle. The crispy pieces were a fantastic addition, larger in size than in the other truffles and offering a really addictive mix of creamy and crunchy. Out of every truffle I tasted, these were my number one.
The Coconut Crush chocolate truffles were wonderful too. A coconut flavoured truffle with crisp shards of toasted coconut nestled inside. None of the perfumed claggy chewiness of a Bounty bar, just a soft but present coconut flavour with a little crunch too. Marvellous.
Again, this box of goodies is a solid 5/5.
Overall, I was thoroughly impressed with the new range of Monty Bojangles chocolate truffles. While I expected myself to give a good review, I didn't anticipate it to be such a glowing one! The Scofflets concept is so cute and fun for snackers and chocolate lovers, and the Mischievous Moments are an ideal blend of fun flavours, releasing just in time for the gifting season.
If you haven't tried any Monty Bojangles chocolate truffles, I urge you to. This company are making chocolates unlike any other brand in the UK right now, in both design, taste, and texture. They are affordable, they are delicious, and you need some in your life.
Which flavour will you try first?