Why we Need More Nigella and a Lot Less Jamie; nowadays we spend too much time pointing fingers at "bad" foods and punishing the public for enjoying them. We need to learn to LOVE food again and not fear or exclude it.
Jamie Oliver has been thickly spread across news sites in recent months, spreading his new wave of anti-obesity rhetoric.
Having gained notoriety among school children, for banishing their Turkey Twizzlers and chips from school lunch menus, he's not the most popular man in media.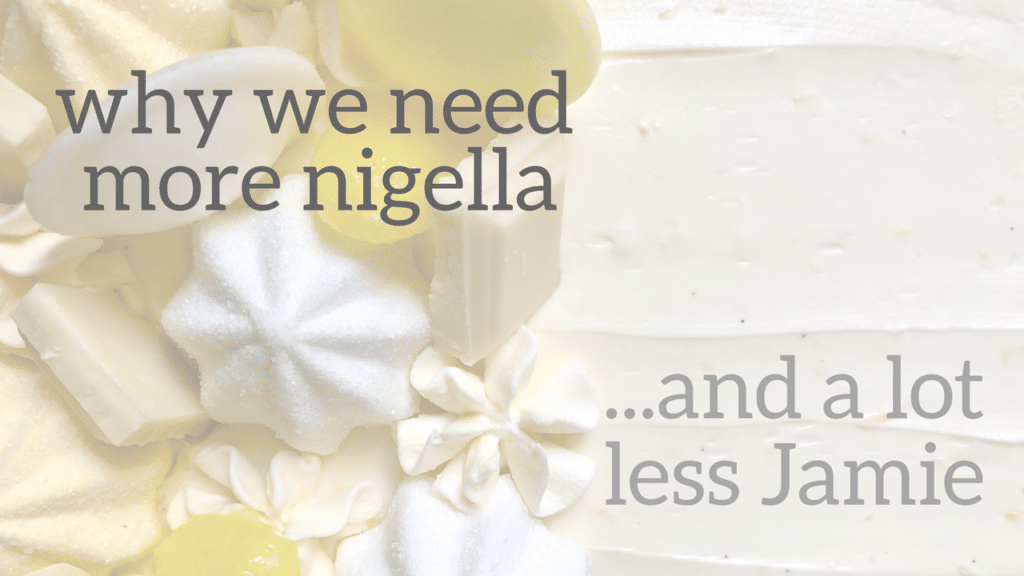 As I began to explore the world of food in my late teens, Jamie was inspirational. I watched old episodes of The Naked Chef, where this cheeky young cockney flung ingredients around the kitchen and made home cooking seem cool and sexy. I bought his 30 Minute Meals and 15 Minute Meals books, which helped me learn to cook. I still draw from his techniques and ideas from years ago in my cooking today. Sadly though, in my eyes at least, he's not the fresh, relatable and inspiring cook he once was.
Having gone from cooking in his little kitchen, talking casually to the camera man almost as a modern day YouTuber might, we now see him pluck vegetables from his extensive garden and prepare them in one of his enormous country home kitchens. Where he once welcomed his young friends and girlfriend into his little flat, we see him trail in one of his many beautiful blonde children (don't get me started on the names). Recipes have transitioned from easy weeknight meals to frankly extravagant and elaborate feasts for the most part. His latest 5 Ingredients book was a flavour of The Naked Chef. However, many recipes were still a little too targeted at a well-paid London market stroller than your average low-paid Asda shopper, whether intentionally or not.
Don't get me wrong here, Jamie seems a decent guy and still makes delicious food, he just feels more like a carbon copy TV chef nowadays than the young Essex lad we fell in love with. Most of us can no longer relate to his slapdash measurements or enjoy the same ingredients and equipment he uses in his recipes.
Alongside this transition in his cooking and recipe sharing has come the turn towards his health crusades. With the likes of painfully posh Hugh Fearnley-Whittingstall under his wing, Jamie has begun campaigning for just about everything to be healthified.
Now obviously, campaigning for the promotion of healthier options isn't inherently wrong or abhorrent. What is questionable though, are his methods.
A recent campaign success was the introduction of the so-called "Sugar Tax." You can read more about that here. That journey began with a petition started by Jamie, which, admittedly, I signed online a few years ago before I shook myself and realised how problematic the idea was. The latest quest appears to be Jamie (and Hugh, of course) campaigning to remove all cartoon characters from "junk foods" such as cereal and sugary yoghurts. Looks like Tony the Tiger and the Coco Pops monkey will be on the dole soon. Roll out the avocado toast for your kids' breakfast instead?
This idea reeks of classism.
Chances are, if you are from a working class or lower-middle class background, you probably enjoyed bowls of cereal for breakfast as a little one. Personally, I was raised eating Cheerios, Rice Krispies or Frosties with my dad on weekday mornings, before I discovered the magic of Nutella on toast, that is. I loved Muller corner yoghurts for breakfast too, crunching through chocolate-coated biscuit hoops, lounging on pools of toffee or vanilla yoghurt. Many of these sugary cereals are also fortified with extra nutrients and vitamins nowadays to give kids some of the goodness that they need to function properly.
Some cereals marketed at children do contain too much sugar, but we can't go pinning the root cause of the country's growing obesity rate on a bowl of cereal. Obesity is a complex and diverse thing when viewed from person to person. It might simply be overeating. But it might also be disordered eating, no access to healthy food, no education in nutrition, a hormonal disorder, or some people may simply be happy in being fat. Not to mention how problematic and damaging the discussion of children's weight can be to their eating habits and attitudes towards food in later life, I sadly speak from experience here. To care about wellbeing is one thing, but to consequently plunge them into a health or weight obsessive eating disorder is another.
It isn't the right of health campaigners or the government to dictate exactly how or what everyone should eat for the sake of our size. For example, I know salad is probably very good for me, but my IBS means that most salads give me nothing a night on the toilet. There is no one-size-fits-all way of eating, and as such, we shouldn't be discouraging and banning and taxing all these foods that people in this country have enjoyed for decades.
It would be delightful for us all to have time to construct a delicious family meal for breakfast every day. What people like Jamie (and fecking Hugh) forget is that many of us are too busy, too poor and thus too disinterested to do so. This kind of health campaigning obviously means well, but is unsustainable and always negatively affects the least fortunate people in our country.
One of the hardest parts to accept is that these men are TV chefs. The men whom on one hand offer you their delicious triple decker celebration cake recipe, and then slap a bottle of full-sugar Fanta away from you with the other. They offer this strange dichotomy of homemade desserts and sweet treats being wholesome and acceptable because you made them, while a cheeky Dairy Milk bar after lunch is abhorred. You can bet your bottom dollar (or pound) that they haven't disposed of all their sugary recipes from the past either.
Though I must say, Jamie shared, just the other day, a recipe for vegan chocolate pots. He offered them as a healthier way to get your chocolate fix, using high quality dark chocolate and tofu (yes, tofu) as its main ingredients and requiring a blender to make it. While it's probably got less sugar and it's potentially quite tasty, it's not exactly easy for those without kitchen equipment, or accessible for people who don't buy blocks of silken fermented soy on the regular.
These mixed messages sent by this kind of TV chef are not what we need. We can't be told to treat ourselves and accept a tax on said treats at the same time. We need the kind of cooks who share not only recipes, but a true passion for food in all forms. We need more Nigella and a lot less Jamie.
Nigella Lawson's debut book, How To Eat, still stands. Waxing lyrical about even the blandest of foodstuffs or eating rituals in a way that could inspire anyone to eat. Now she is obviously in no way a beacon of relatable familiarity or to the working class cook. Wealth and politics aside though, her deep love of all things edible really translates to all people and makes you hungry for whatever she happens to be making. The sex appeal isn't bad either, ok, let's be honest here.
Nigella has taught me more about eating and my emotions around eating than any other food writer (perhaps with the exception of Ruby Tandoh) has ever done. She brings a recipe to life with her words, and consistently produces books that educate and inspire the reader to devour her ideas. These books never push the ideals of health or weight loss either, simply the joy of eating.
She fully endorses making too much food to feast upon with a group, while also offering the quickest and most lazy recipes to feed a solo hungry mouth. Healthy home cooked food is adored, while convenience food and voluptuous desserts (thank you, Girdlebuster Pie) are also valued, there is no good and bad food or clean and dirty food in Nigella's work. In fact, the only food I've ever heard her bad-mouth is a green bell pepper, and I think we can all allow that.
She is a woman that you want to live with, you want to eat with her, and you want to taste whatever she cooks if she looks that excited about it. Even when she has graced the tabloid's front pages in shocking stories, she was met with sympathy from the public, dusted herself off and returned to being Queen of home cooking. Whereas Jamie can't even ask his Twitter followers what they're eating for breakfast without someone mentioning Turkey Twizzlers somewhere in an unconscious stream of swear words…
If we want to educate the current and future generations about food and reducing the likelihood of unhealthy relationships with food, we need to teach.
We need to teach where food comes from.
We need to teach that vegetables are not just a punishment before dessert.
We need to teach the beauty of balance in cooking and eating.
We need to embrace the technology of modern convenience food without letting go of cooking from scratch.
We need to teach that no food is bad and no food is good, all food is just that: food.
We need to teach that there is no shame in eating what we want, and that trying to deter people from doing so will never work in the long-term.
We need to teach people not to conflate weight and health. We need to teach people that if they are having health issues or concerns, they should consult doctors and qualified registered dieticians and nutrition consultants, rather than listening to hypocritical TV chefs or the media.
We need more Nigella and a lot less Jamie.
We need to love food, not fear it.
Do you agree? Let me know in the comments section below.
If you agree that we need more Nigella and less Jamie, you may also enjoy…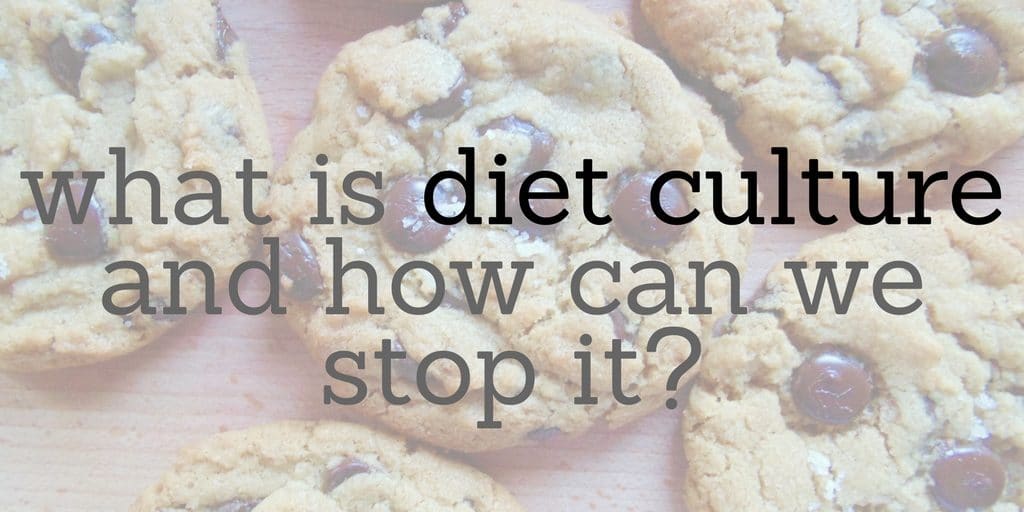 [This post contains affiliate links]