Peanut Butter Breakfast Bites; deliciously chewy little bites made with dates, granola and peanut butter, to satisfy your sweet and savoury needs!
The only reason I get out of bed in the morning is to eat breakfast.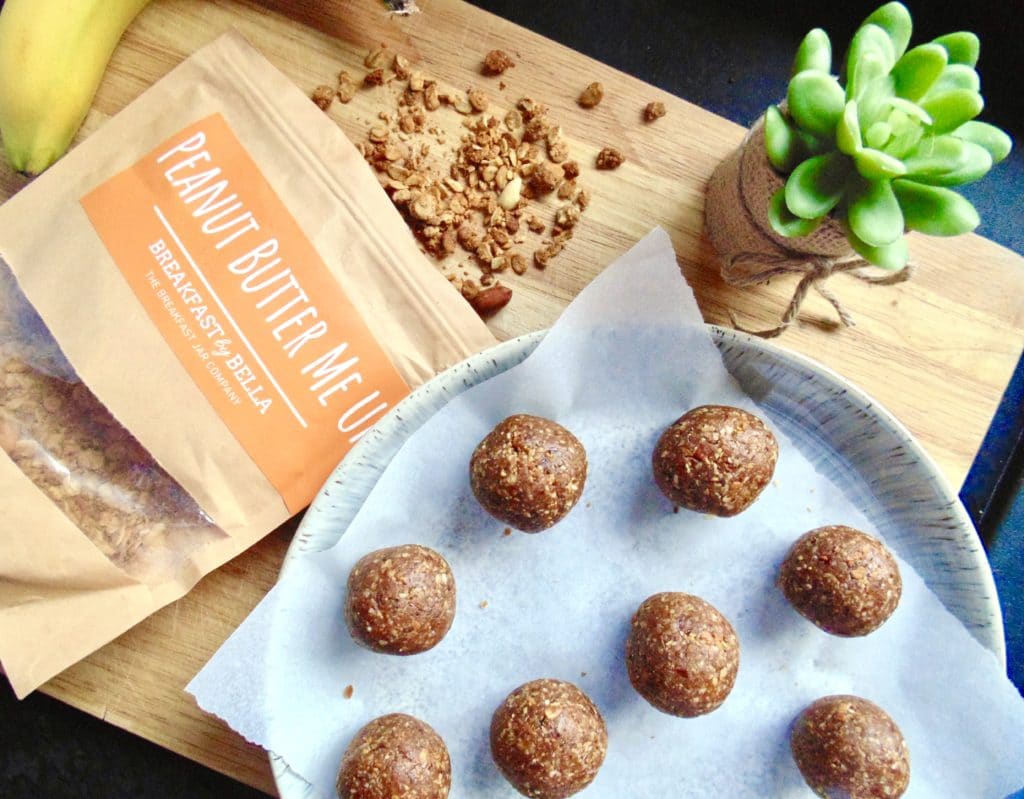 Ok, maybe a little dramatic, but still 75% true.
However, though my Instagram feed may suggest otherwise, breakfast doesn't always have to be a big mess of ingredients and time-consuming recipes. Some mornings, I love nothing more than gently stirring my oats as they slowly cook into a creamy porridge, or watching the air bubbles quietly pop on the top of my half-cooked pancakes. Some mornings I just need something tasty and filling in my mouth NOW.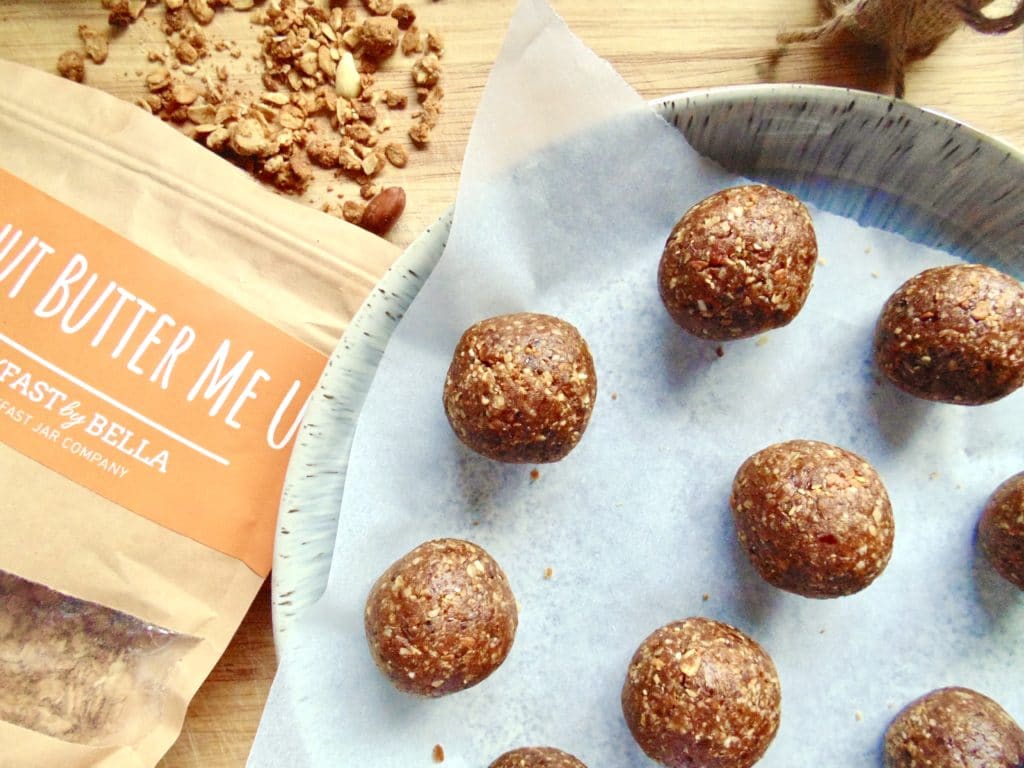 Smoothies are often my go-to speedy morning meal. Whizzing up fruit, juice, oats, yoghurt, and whatever flavourings I fancy is quick and easy, and great if I'm feeling too lazy to even chew. Sometimes you just need a change though, right? Something quick, but satisfying. Like fireworks, or that cup of tea that you made even though you don't really have time to drink it.
Inspired by the Sweet Cinnamon Breakfast Bites I posted a few months back, I've perfected this delicious Peanut Butter Breakfast Bites recipe. Wonderfully soft and chewy bites, with sticky sweetness from dates and salty richness from the peanut butter and peanut granola. I'm kinda sad that I have none left now…
These are easily the tastiest breakfast bites/energy bites I've made. The salty sweetness is so fulfilling, and the texture is just a perfect balance between soft and firm.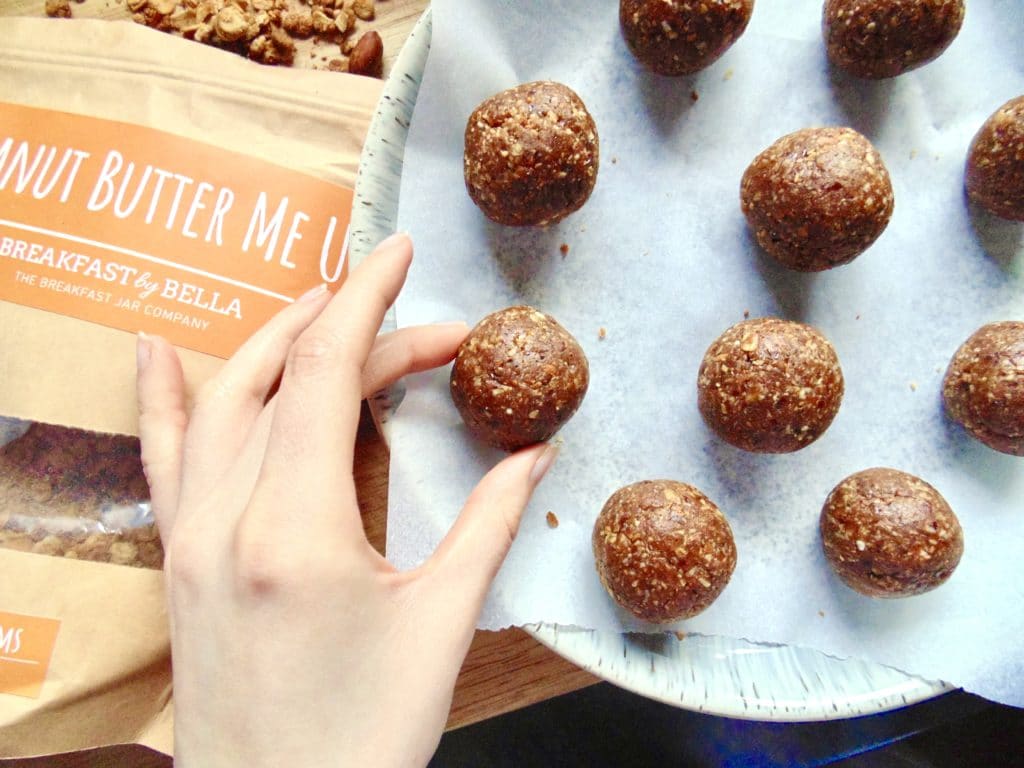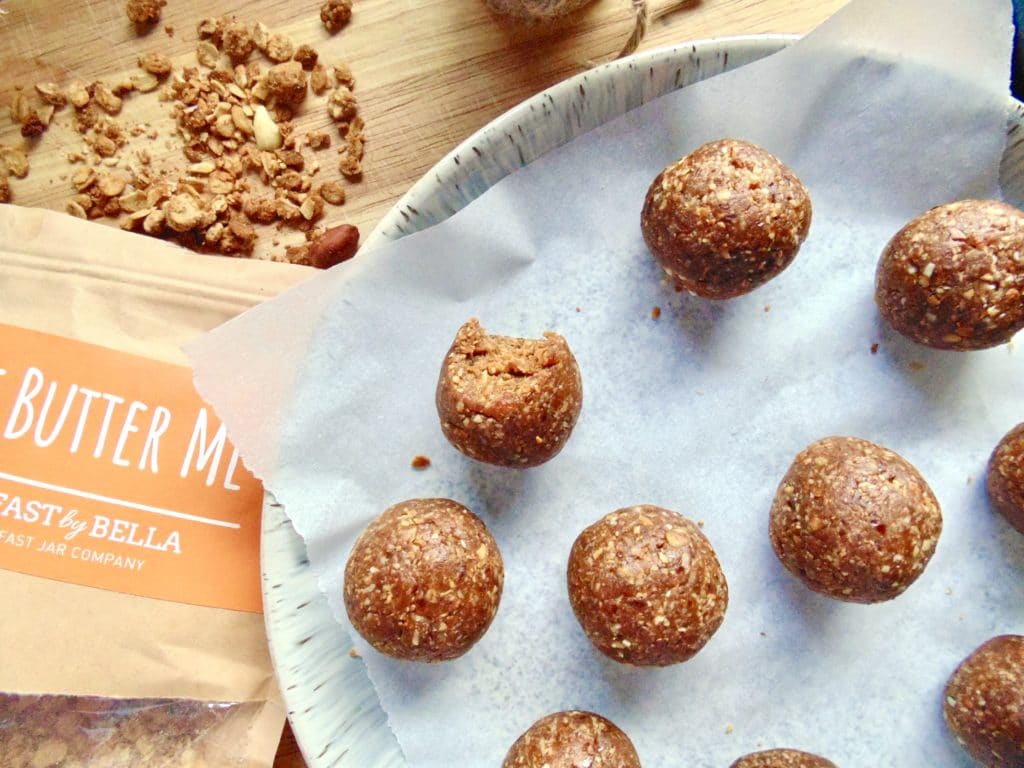 I made these using medjool dates, which are those lovely fresh-tasting sticky dates, not the drier kind you pick up in bags that you might use in baking or snack mixes. Medjool dates are a little more pricey, but you get much more bang for your buck with the flavour and texture they provide! If you don't fancy spending a little extra, you can always use the drier or chopped kind, just make sure to give them a soak for 15-30 minutes in some hot water first!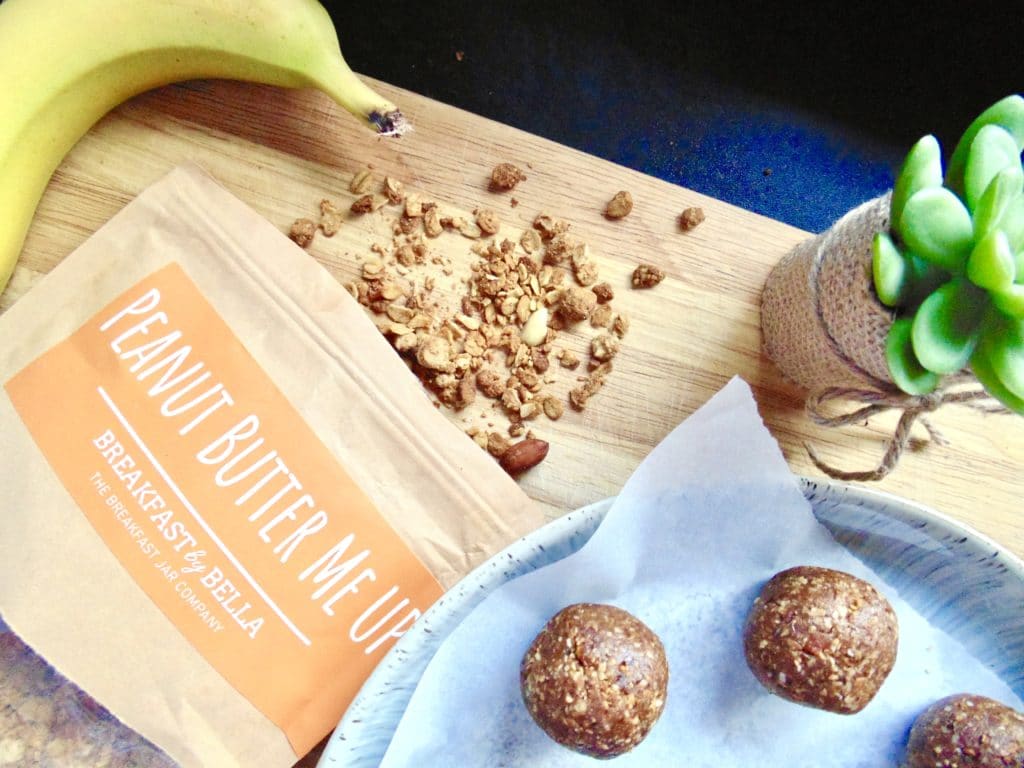 The other main ingredient in these Peanut Butter Breakfast Bites is one of my favourite breakfast cereals, Breakfast By Bella granola. You might remember my taste test and review of the three different BBB granolas from an earlier post. Using the Peanut Butter Me Up flavour added bulk, great savoury peanut flavour, and some filling fibre to these bites, making them feel a lot less sad and dissatisfying than other "energy bites" recipes!
If you can't get your hands on that though, using any other peanut cereal or peanut granola would be a fine substitution. I can imagine those Kellogg's Crunchy Nut Peanut Butter Clusters working a treat here!
Watch me make these Peanut Butter Breakfast Bites in this video from my YouTube channel, or scroll further down for full instructions:
If you need to stock up on ingredients or equipment to make these Peanut Butter Breakfast Bites, simply click on any of the images below:
[amazon_link asins='B00K6IMQK8,B072JZ1HQK,B001QWXG52,B01IESM54S,B003SZU66W,B01B4NJIKY' template='ProductCarousel' store='maverbakin-21′ marketplace='UK' link_id='579dc183-c602-11e7-ae5f-233e3eb90a6b']
Thanks as always for stopping by, see ya later!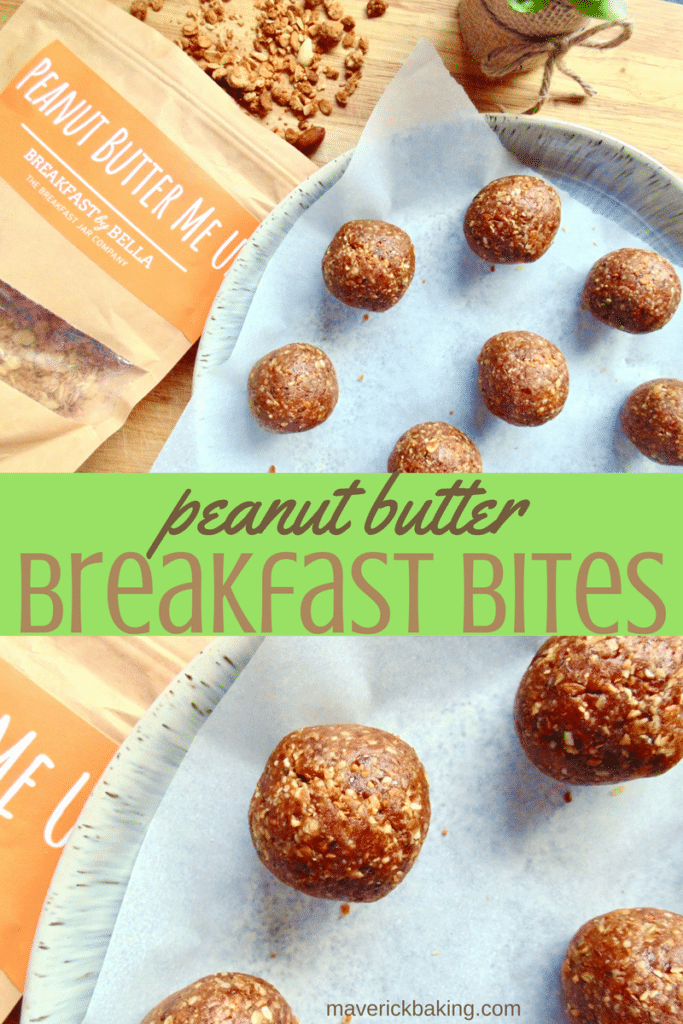 Peanut Butter Breakfast Bites
Peanut Butter Breakfast Bites; deliciously chewy little bites made with dates, granola and peanut butter, to satisfy your sweet and savoury needs!
Ingredients
180g (1 cup) medjool dates (roughly 8-9 dates)
150g (1 ½ cups) Peanut Butter Me Up granola (or your favourite peanut granola/cereal!)
1 tbsp flax or chia seed (optional)
½ tsp cinnamon
½ tsp vanilla extract
Pinch of salt
1 tbsp peanut butter (smooth or crunchy is fine!)
½ to 1 tbsp water if necessary
Instructions
Use a sharp knife to slice up and remove the pits from your medjool dates.
Add all ingredients except the water and peanut butter to a food processor or blender.
Pulse or consistently run the processor until all the ingredients are well broken down and the mixture is beginning to clump together. Some little shards of nuts or oats are totally fine!
Add in your peanut butter and blitz again to incorporate, the mixture should start to clump together a little.
At this stage, you can add a little water to help the mixture stick together and blitz it again. The amount you will need will depend on the stickiness of your dates. I needed just 1/2 tbsp.
Switch off the processor and tip the mixture out into a bowl.
Use your hands to pull clumps of the fairly sticky mix from the bowl and roll into 10-14 little balls.
Once rolled, you can enjoy these straightaway or chill them in the fridge to firm up a little for later on.
Enjoy!
Notes
These are completely vegan, and will also be gluten free if you use a gluten free granola/cereal!
http://maverickbaking.com/peanut-butter-breakfast-bites/
You may also like…
 
 
[This post contains affiliate links]