Sweet, fudgy, satisfying, vegan AND gluten free! This review of Pulsin brownies and protein boosters tells you everything you need to know about this great little British company and their products!
Hello again lovely people! Glad you could join me for this review of these fab little Pulsin brownies and protein boosters.
Usually I like to contain my product reviews within a "Five Things I Love This Week" kinda post, but I was getting a little tired of churning them out week after week, especially if it felt forced. So instead, I've decided that any products or eateries that I love or would like to share information on, will get a nice post to themselves! Thoughtful, eh?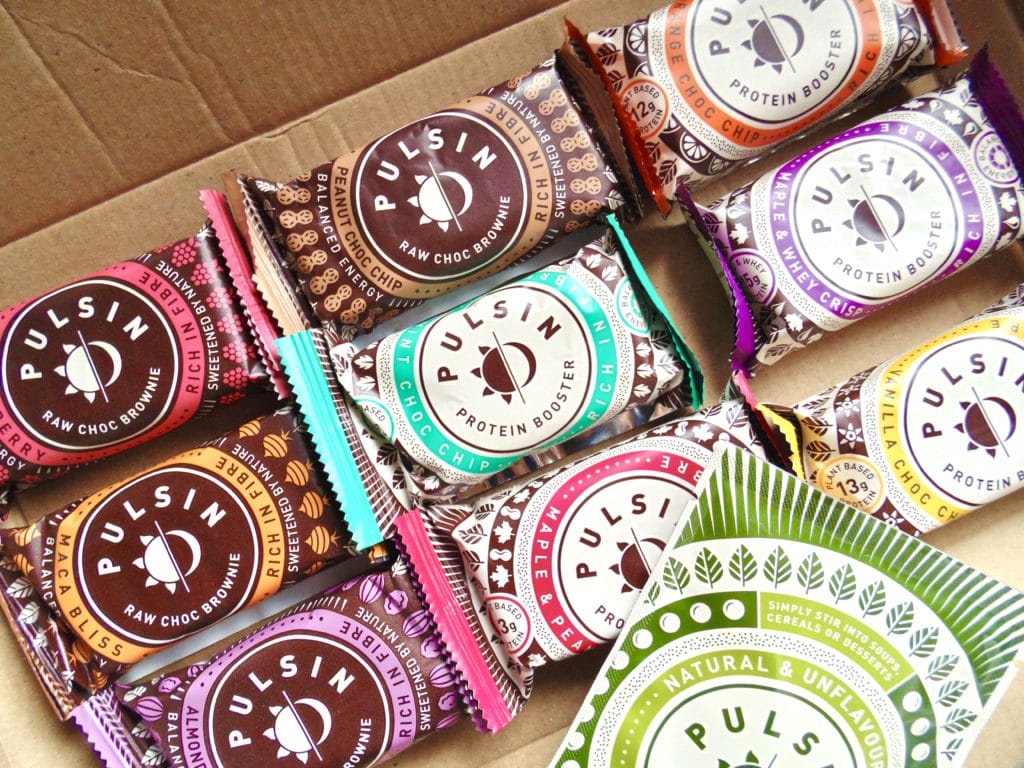 Today's spotlight is on a great little company called Pulsin.
Pulsin are a fairly small British company that produce ethical and sustainable snacks and protein powders, to give people delicious alternatives to regular treats or whey protein. They focus on organic and healthy ingredients, mostly of the vegan variety, and aim to use as little sugar as possible in their products, which is admirable, but you guys know I don't believe sugar is always an enemy!
The lovely people at Pulsin sent me a little sample package of some of their products, all dressed up in their new packaging, and I'm really excited to share them with you today.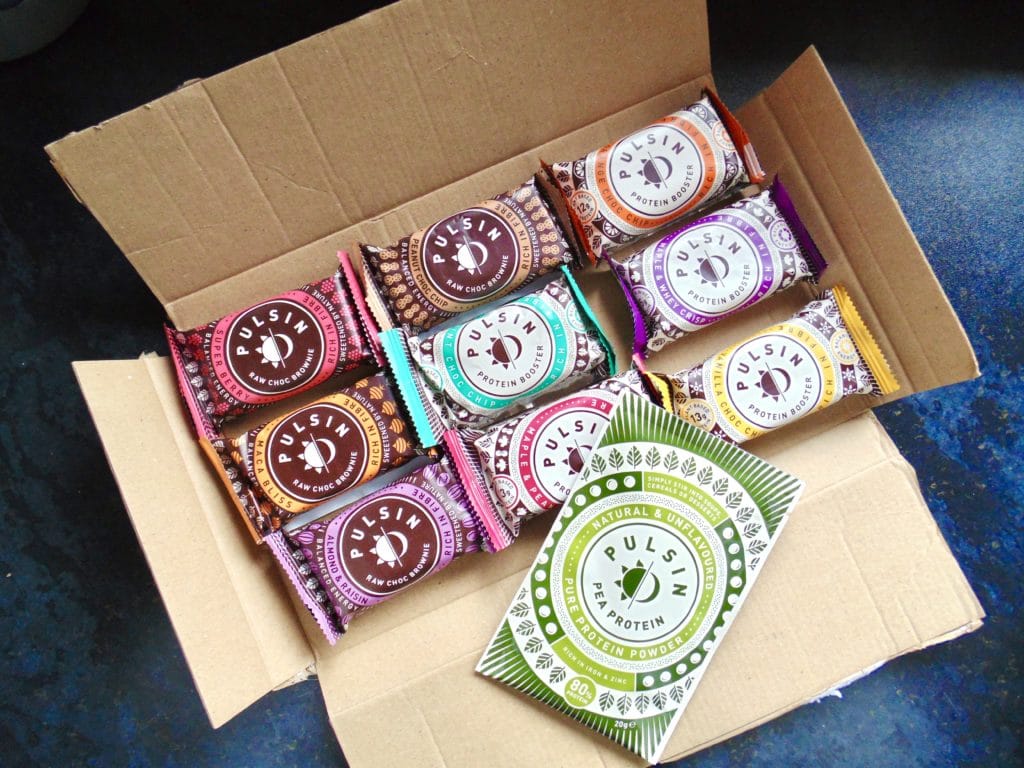 You can find these Pulsin brownies and protein boosters in some shops, but if you want a good selection AND a good price, you're better to buy online. Today, I'm giving a little insight into their brownie bars and protein snacks, of which most are completely vegan and gluten free (if you're into that kinda thing!), and letting you know how each one compared in flavour. Basically, I ate stuff and I'm going to tell you that that stuff is worth buying!
Now don't worry, I'm not going all health nut on you. I just really like to raise awareness of great companies, especially when they're within our shores, and when they produce such tasty snacks.
I've included a YouTube video from my channel below, in case you guys would rather watch a quick little review of these Pulsin brownies and protein boosters. Scroll down for a detailed but concise little written review instead!
I must admit, any snack with the word "protein" in the title will always make me sceptical. However, for ethical reasons I like to keep vegan snacks on hand whenever I can so that I can enjoy meals with meat and dairy products with a little less moral guilt! Sadly I've found that many readily available vegan snacks can taste a little bland and they usually leave you hungry half an hour later. Boo!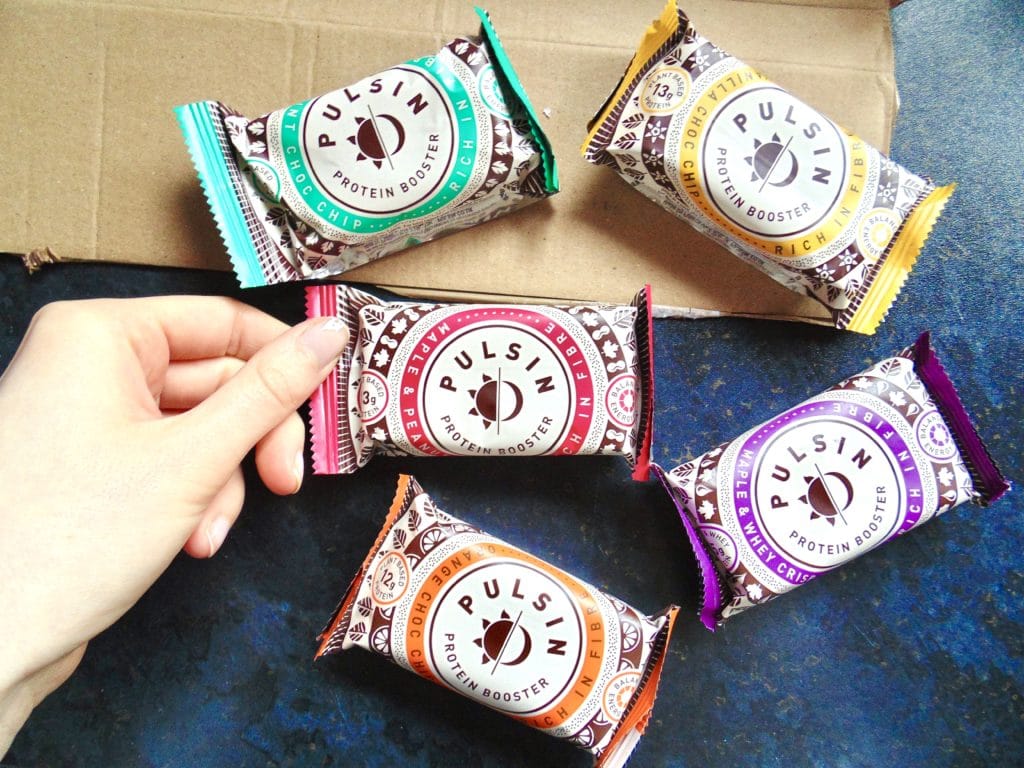 So naturally, I was delighted when the wonderful people at Pulsin sent me a mixed box to sample their goodies. These protein boosters boast about 10-13g of protein per bar, which thankfully isn't the ridiculous amount promised by regular whey protein shakes or bars, but it's pretty impressive for a vegan bar.
The mixed case gave me a chance to try a range of flavours and I can honestly say I love them! If you like chocolate, fudge or anything cookie dough, I can bet you'd enjoy these bars. I can't recommend them enough.
They have a great flavour, texture and most importantly, they are MUCH more satisfying than many others "healthy" or vegan snacks!
Below, I've provided a little breakdown of each of the different flavours so that you'll know what to expect if you pick up a case.
Vanilla choc chip protein booster: my favourite of the bunch, like an actual bar of cookie dough, great sweet vanilla flavoured bar full of crunchy little nut pieces and chocolate chips. I'll definitely be ordering these!
Orange choc chip protein booster: deliciously fudgy bar made primarily of cashews and little chocolate chips, with all the flavour of a Terry's Chocolate Orange! This was great.
Mint choc chip protein booster: lovely and fudgy like the orange bar, but with a really fresh minty flavour, reminiscent of Mint Aero bars or After Eights chocolates! Another great flavour.
Maple peanut protein booster: dark maple flavour with a subtle peanut taste, nice crunchy bits of peanuts, though probably my least favourite of the protein snacks, tastes more "healthy" than the others!
Maple whey protein booster: similar to but better than the maple and peanut bar but with a deeper maple flavour and a great crunch from the whey crispies. (NOTE: NOT VEGAN DUE TO WHEY CONTENT)
I've only ever met one person in my entire life who doesn't like brownies and that's my dad. Weird, huh? So when I found out that my chocolate-crazed self could enjoy vegan brownies in portable form, I was bloody delighted.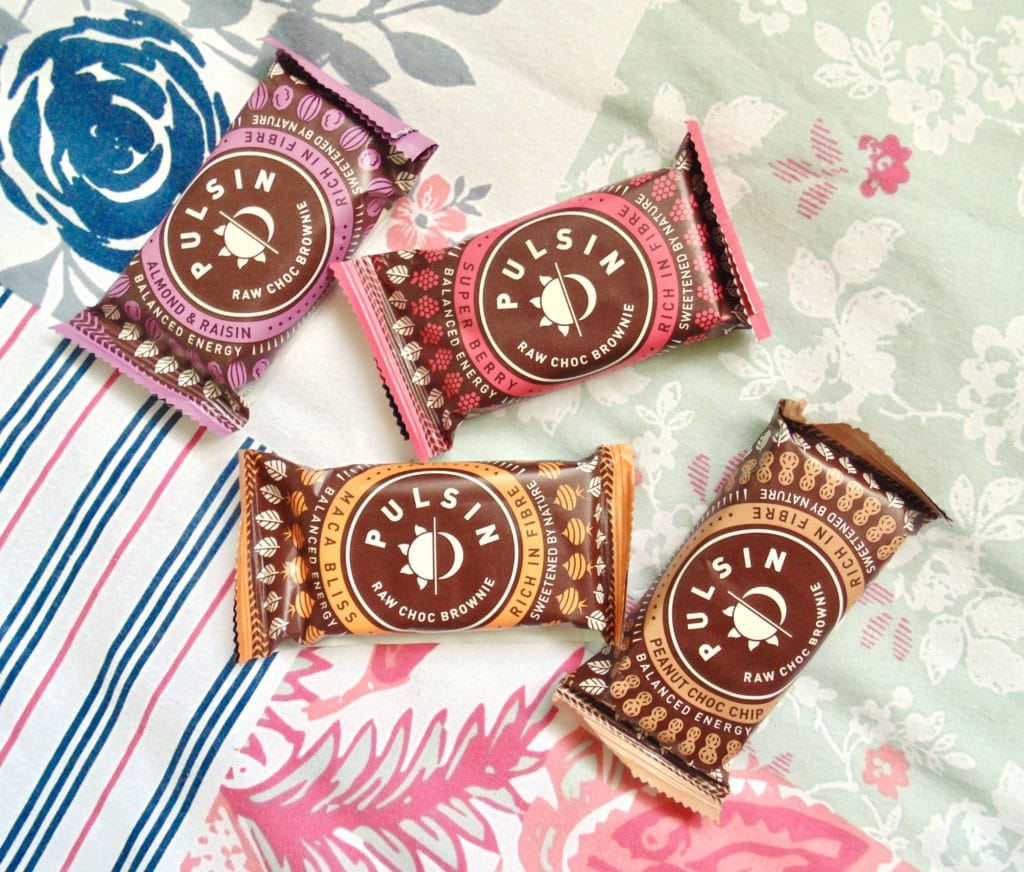 The packaging that these brownies come in is similar to that of the protein snacks, but the flavours are very different. Each one is rich with deep cocoa flavour, and fills your mouth with a familiar fudgy brownie texture! Now, obviously you couldn't pass these off as being in the same category of DAMN GURRL as a regular butter and chocolate filled brownie, but as a handy vegan snack, these are very good, and they don't contain any weird vegetables either, yay!
The Pulsin brownies come in four different flavours, and naturally I had to taste them all. I've provided a little breakdown again below to give you an idea of how each one scores on the taste and texture front. Unfortunately I didn't love them all, but I certainly enjoyed the good ones!
Berry brownie: nice soft brownie with deep cocoa flavour and lovely sweet but tangy bites of raspberry and goji berry, which nicely contrast against the rich chocolate.
Almond and raisin brownie: lovely and soft with the usual deep cocoa flavour, extra rich sweetness from the raisins, and a nice toasty crunch from the big chunks of roasted almond.
Maca bliss brownie: honestly not as great as the others, cocoa is the only real flavour in these bars (can't love them all, I guess!)
Peanut choc chip brownie: easily my favourite of the brownie range, great peanut chocolate flavour with added sweet chocolate chips and toasted crunchy peanuts, this is one I'll come back to again and again!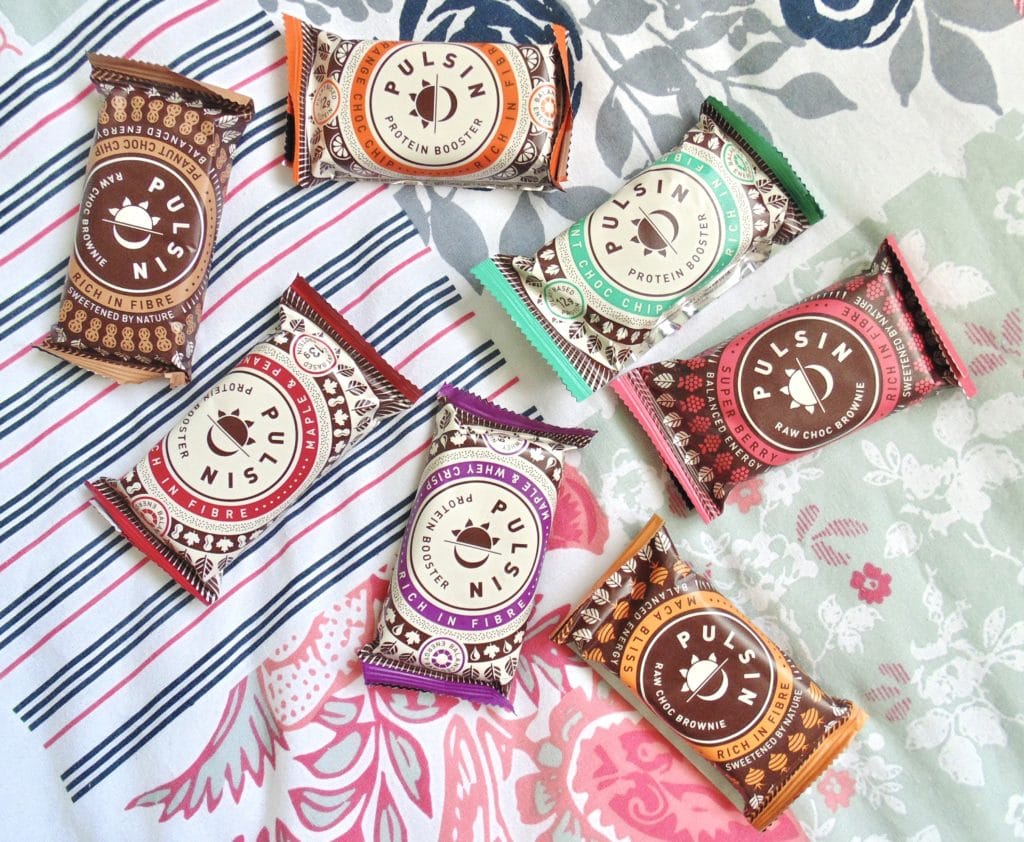 That about summarises my review of these great little Pulsin brownies and protein boosters.
Expect a recipe featuring their protein powder soon!
Thank you now and
forever

for reading/watching my foodie musings.
Follow my daily antics on Instagram and YouTube, and I'll be back very soon with more drool-worthy recipes!