Pumpkin Spice Muffins; moist and fluffy muffins, full of sweet seasonal pumpkin and cosy Autumn spices, topped with toasted pecans and a vanilla drizzle!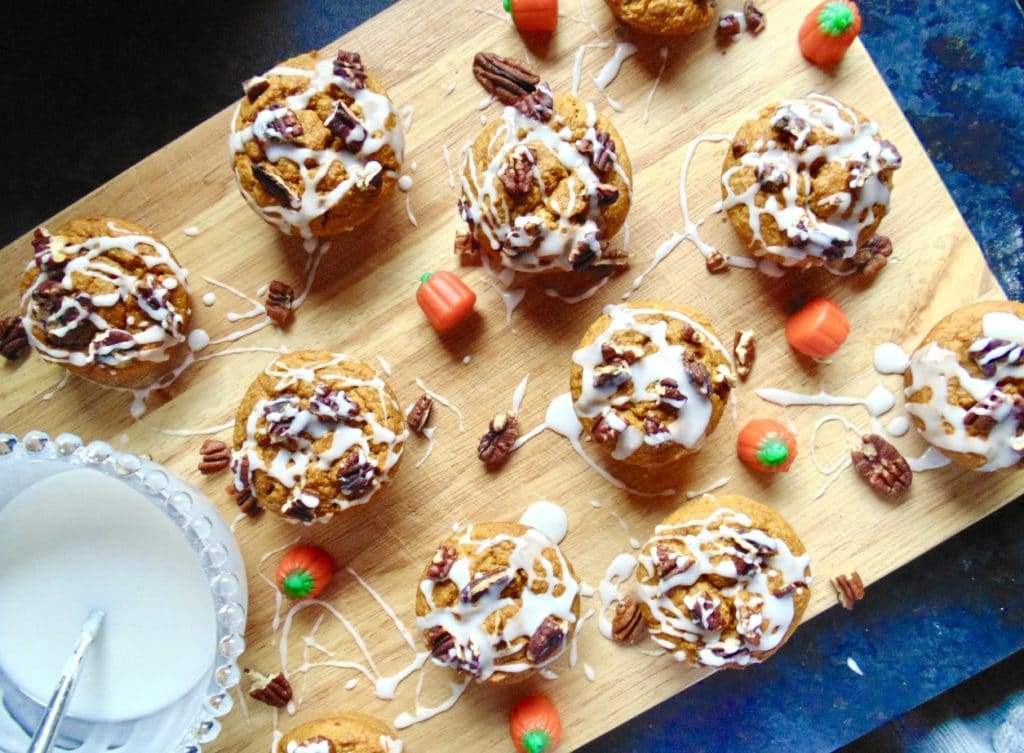 You guessed it, pumpkin spice season is back, bitches.
Pumpkin scones, chocolate chip pumpkin bars, pumpkin bread and even a healthy pumpkin pie have all graced Maverick Baking in past. Is that going to stop me from adding more orange-hued bakes to the list? Uh, no it's definitely not.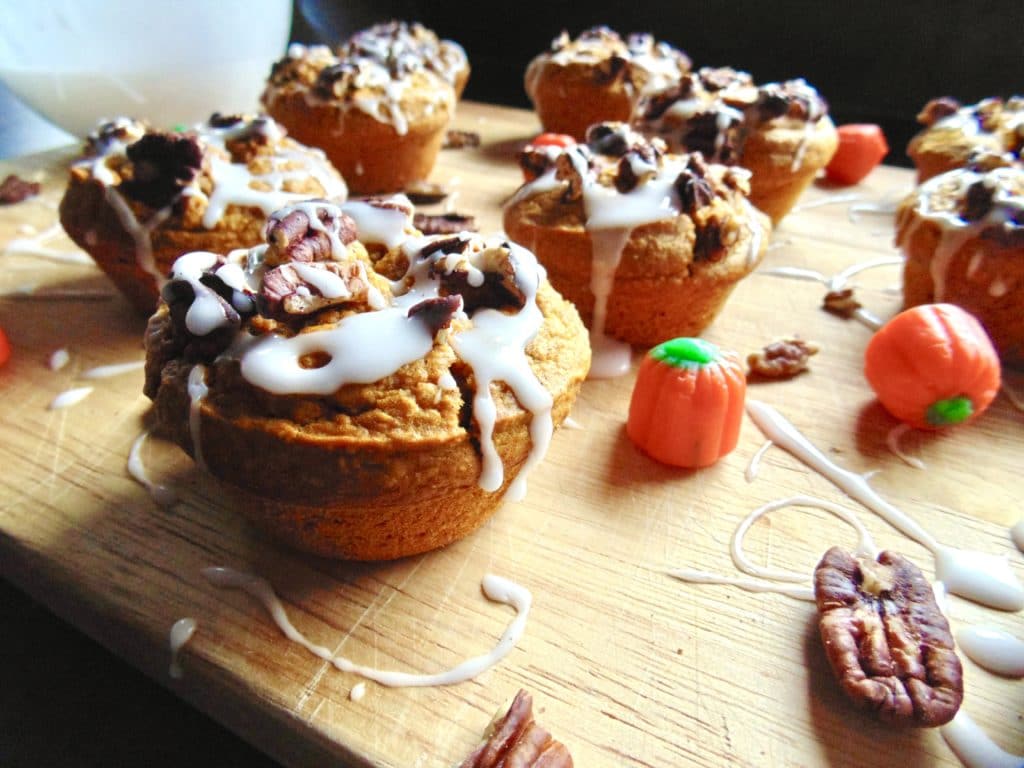 Pumpkin-spice-everything is a very American tradition, it would seem. Autumn (Fall) baking in the UK is much more apple and pear centric, but when our cold little country can grow lovely fat orange pumpkins and squash, why not make use of them in something tasty? Pumpkin and squash soups are staples here, but come on guys, isn't everything a bit more fun with some added sweetness and spice?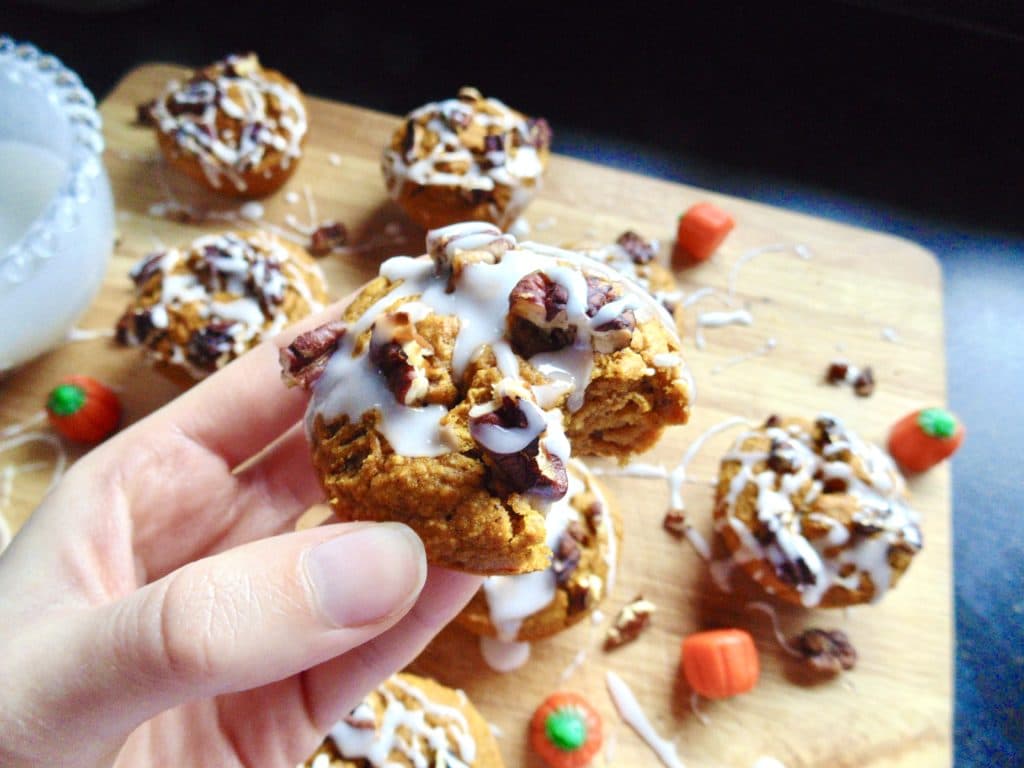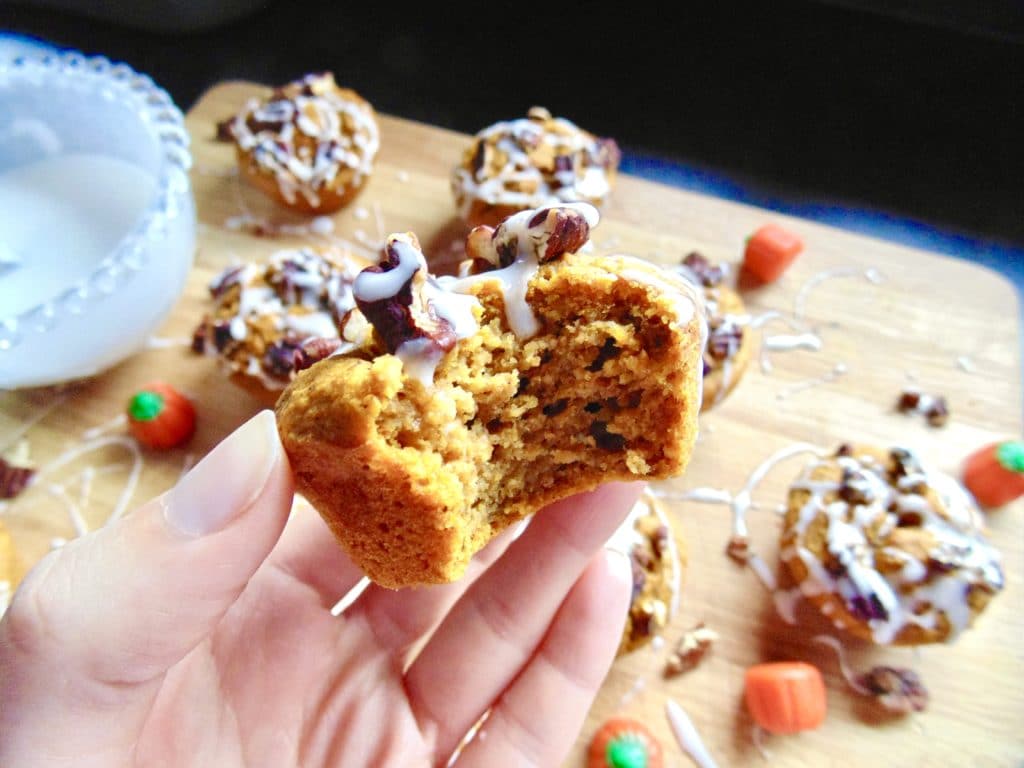 Now before you go rolling your eyes at the prospect – I know, pumpkin spice flavouring is very 2014 – these lovely wee Pumpkin Spice Muffins aren't like the "pumpkin spice" you can grab at Starbucks. Insipid syrupy milks screaming with sugar are not the goal here (even though they can be great sometimes), instead these muffins are a cosy and delicious way to tumble into the new season, without the coffee-shop price tag!
Any of my lovely American readers, or any British readers who are too lazy to buy scales (joking, kind of), may also have noticed that all my recipes will soon come with cup/ounce measurement and Fahrenheit temperature equivalents! It was a bit of a gruelling task, but it means that you guys can whip up Maverick recipes pretty much ANYWHERE without having to search for conversions. You're welcome, wonderful humans.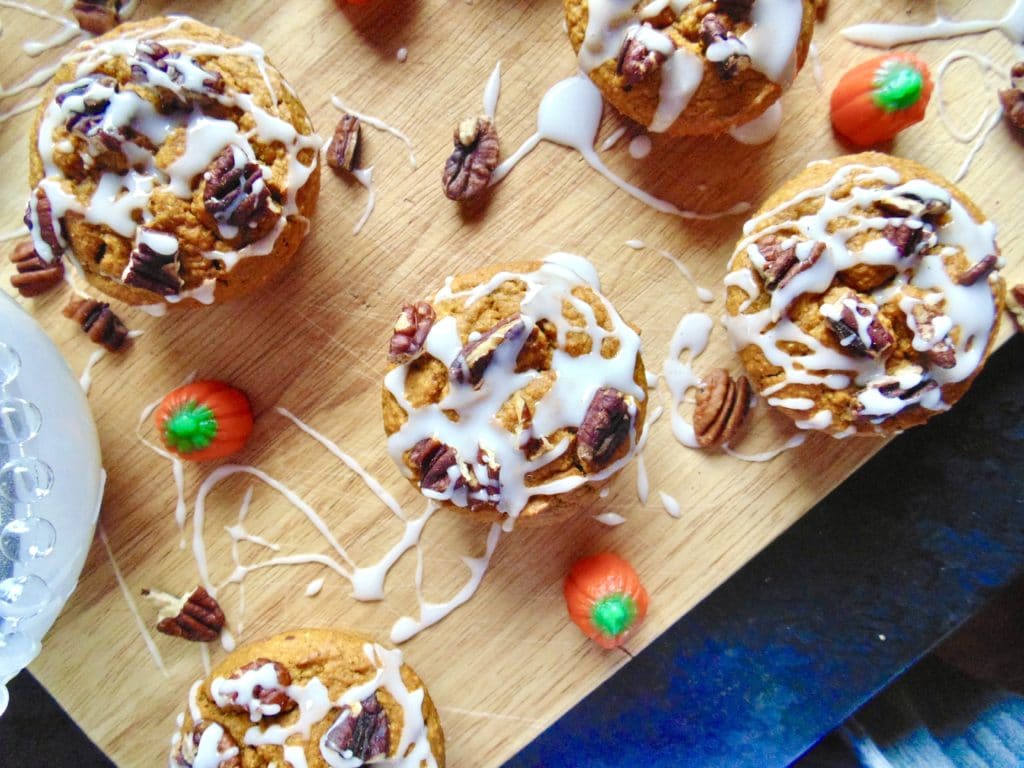 So, these muffins. These gorgeously soft, moist and fluffy muffins. Laced with cinnamon and other cosy spices, and sweetened with seasonal pumpkin and just a little bit of treacly brown sugar. Dressed up with toasted chopped pecan nuts and a tempting drizzle of vanilla icing. Pumpkin Spice Muffins never tasted so good! For once, they actually look pretty too!
They can also be easily made vegan or gluten free. Hooray for globally inclusive baking recipes!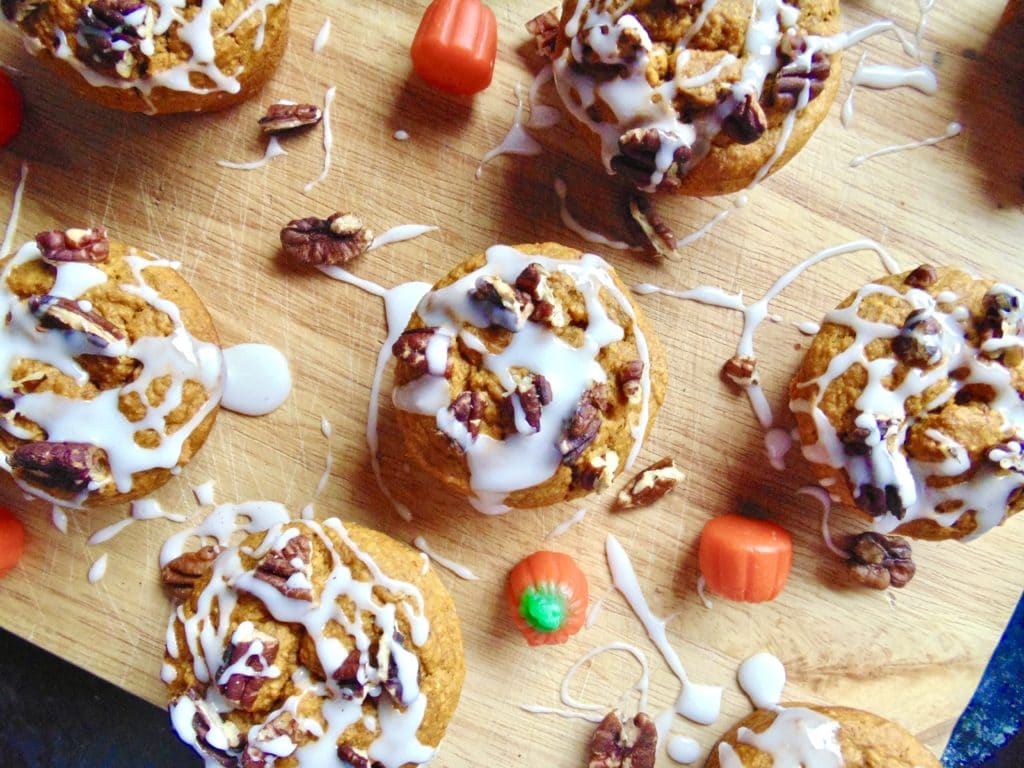 I whipped up a batch of these when craving my Pumpkin Spice Bread, and they didn't disappoint. An ideal snack or after-dinner nibble, these Pumpkin Spice Muffins are even wholesome enough to munch on for breakfast. Basically, you should make them, because they're delicious.
To watch me make these easy and delicious Pumpkin Spice Muffins, check out this video from

my YouTube channel

below, or scroll down for the full recipe:
If you need to stock up on ingredients to make these lovely Pumpkin Spice Muffins, simply click on any of the images below:
[amazon_link asins='B014308GMG,B0005XN9KK,B005FUWOEU,B008E5RK6K,B01IESM54S,B0041P82BO' template='ProductCarousel' store='maverbakin-21′ marketplace='UK' link_id='25037dc3-9fa7-11e7-a615-bb3668d5f989′]
Thank you as always for popping by, I hope Autumn is treating you well so far!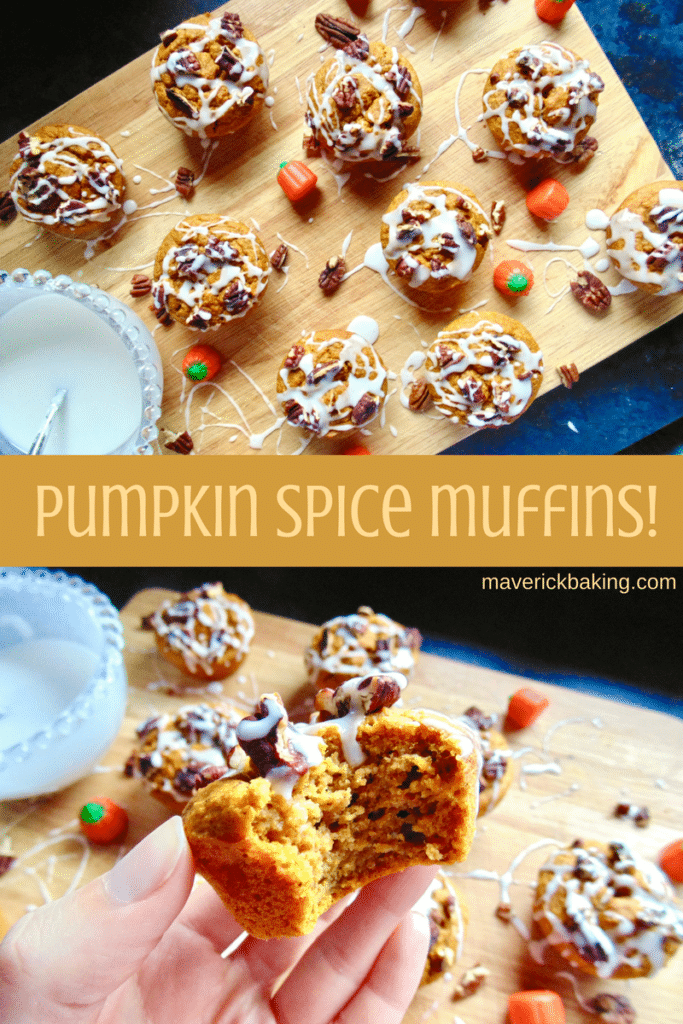 Pumpkin Spice Muffins; moist and fluffy muffins, full of sweet seasonal pumpkin and cosy Autumn spices, topped with toasted pecans and a vanilla drizzle!
Ingredients
80ml (1/3 cup) any vegetable or olive oil
75g (1/3 cup) soft dark or light brown sugar
2 tsp vanilla extract
2 eggs
300g (1 1/3 cups) pumpkin puree (or any other cooked squash or sweet potato, mashed or blitzed into a puree)
60ml (1/4 cup) any kind of milk
260g (1 ¾ cups) plain flour (I have also used oat flour and a gluten free flour blend successfully!)
1 tsp cinnamon
½ tsp mixed spice (or pumpkin pie spice)
1 tsp baking powder
½ tsp bicarbonate of soda (baking soda)
Pinch of salt
Handful of chopped pecans (optional)
½ cup icing sugar mixed with 1-3 tsp of water (optional)
Instructions
Preheat your oven – 180 C / 160 C fan / 350 F / gas mark 4 - and grease the insides and top of a 12-hole muffin tin with some oil or non-stick spray.
In a large bowl, whisk together your oil, sugar and vanilla until combined.
Whisk in the eggs one at a time until smooth.
Add the pumpkin and milk and whisk again until smooth.
Add and gently mix through the flour, spices, raising agents and salt.
Scoop the mixture evenly into 10-12 holes in your muffin tin.
Sprinkle the chopped pecans on top (if using).
Bake in the preheated oven for 25-30 minutes until risen, firm and a skewer inserted into the centre can be cleanly removed.
Allow the muffins to cool in the tins for 5-10 minutes before cooling completely on a wire rack.
Use a spoon to drizzle over some of the icing sugar mix (if using) to make the muffins look even more inviting.
Enjoy!
Notes
MAKE IT GLUTEN FREE: Simply replace the flour with oat flour or a gluten free flour blend
MAKE IT DAIRY FREE: Simply replace milk with non-dairy milk
MAKE IT VEGAN: Simply replace milk with non-dairy milk, and use 2tbsp of flax seed soaked in water for 10-15 minutes in place of an egg
Why not add some chocolate chips, nuts or dried fruit to the muffins?
http://maverickbaking.com/pumpkin-spice-muffins/
You may also like…