A modern hidden foodie haven in the heart of Aberdeen, here is my honest Rye & Soda Review, is their dinner as good as their brunch?
What it is: Rye & Soda, a modern restaurant and bar serving Anglo-American food, and possibly the best brunch in Aberdeen!
Where it is: In the Academy shopping centre in Aberdeen, which adjoins Belmont Street and Schoolhill.
Score: 8/10. Contemporary surroundings with friendly service, a wonderfully varied menu and delicious meals for any appetite.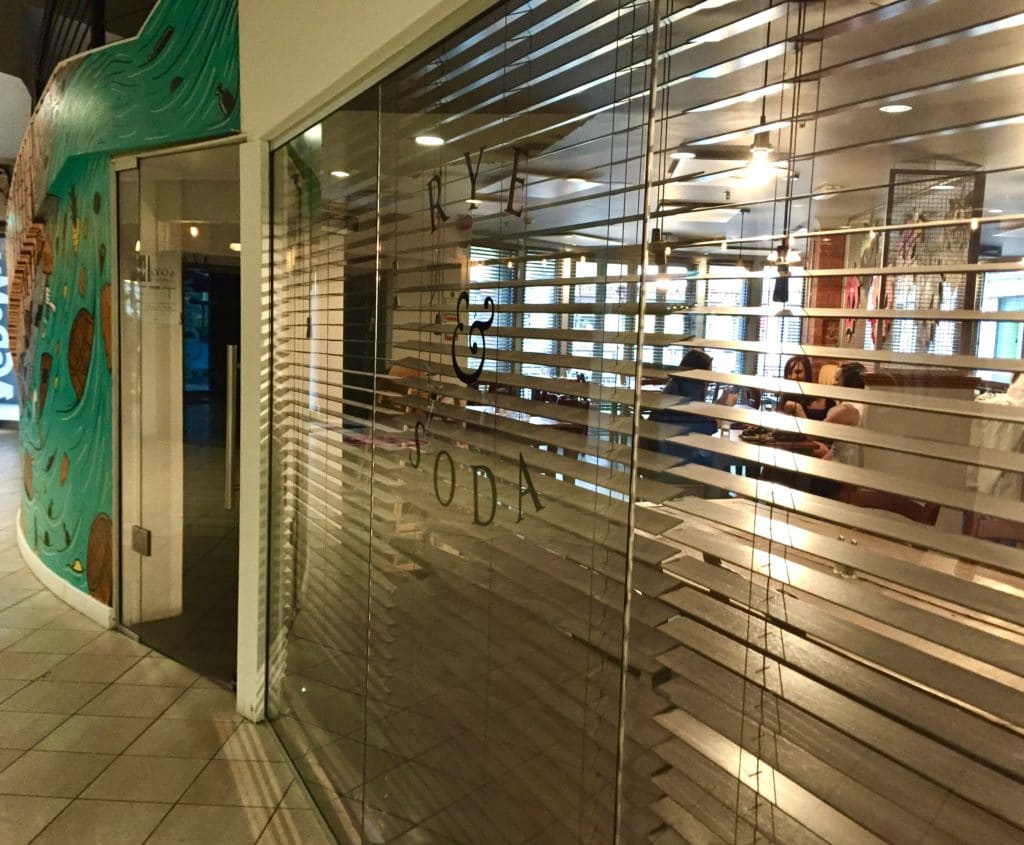 A quiet but bright Wednesday evening found myself and my fellow foodie mother in Rye & Soda, a restaurant that has evolved more than once within its lifetime, and never for the worse.
I do not go into this review blind, I have eaten at Rye & Soda countless times and consider it to be one of my favourite independent restaurants in Aberdeen. This place is always my first recommendation for breakfast or brunch in the city. However, their menu has had a shiny new update since I last visited, so I felt a similar shiny new Rye & Soda review was appropriate!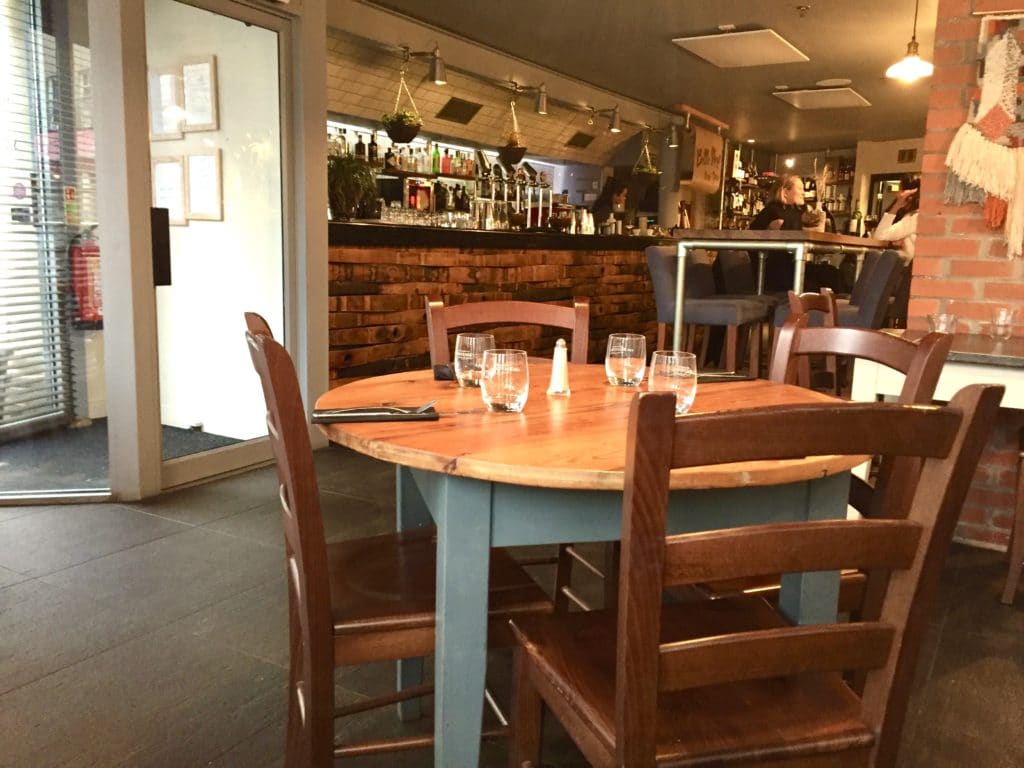 We had both foregone an afternoon snack in order to make room for two courses, so when we were handed our menus, we pored over the wide range of options we had. One of the great things this restaurant has to offer is its great menu choice, everything from pies and pastas to burgers and tacos can be expected, and all usually executed pretty well.
The menu is divided into their Early Risers brunch section, a Small Plates section, a Big Plates section, and their desserts. I chose two small plates, mum chose one small and one large.
The first course for myself was lime hummus with feta and pitta bread. This was utterly delicious. Smooth, gently garlicky, and zesty hummus topped with good-quality olive oil and crumbled salty feta cheese. Scooping up this rich dip with the warm chewy pitta breads was an utter delight, and one which I would easily order again!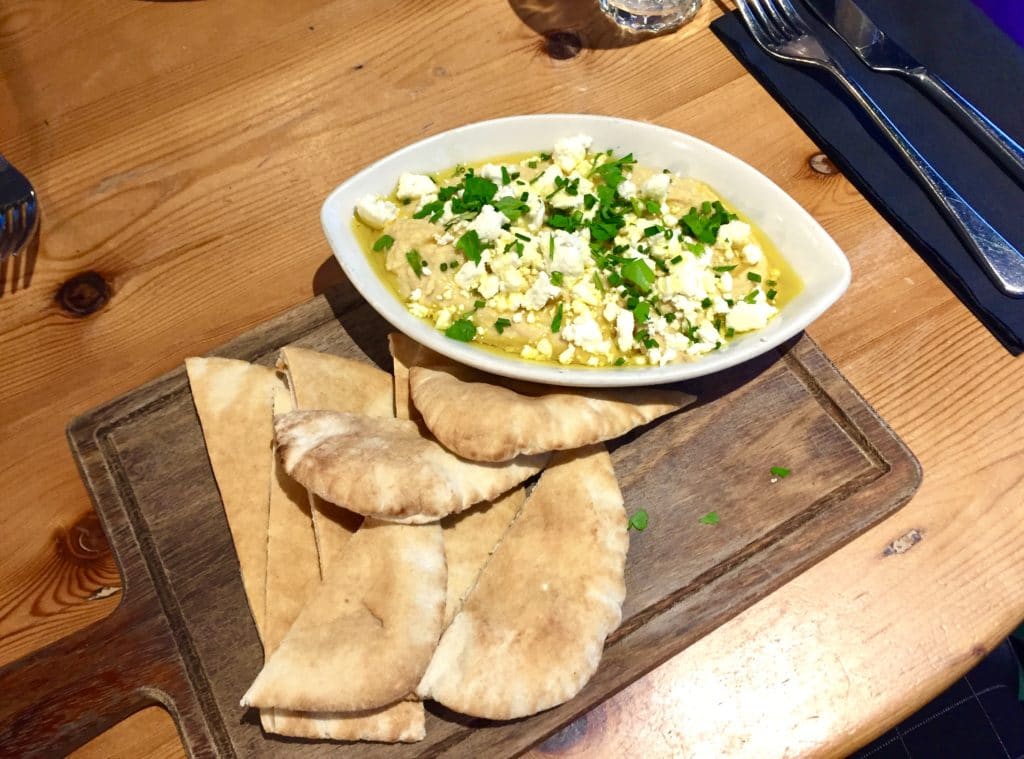 My mum's first course was a couple of short rib tacos, complete with pineapple and burnt onion salsa. Though admittedly the tortillas were a little on the soggy side by the time the plate reached our table, these tacos were still very good. The pulled beef was soft and delicious, and the sweet salsa seemed to be a great contrast too.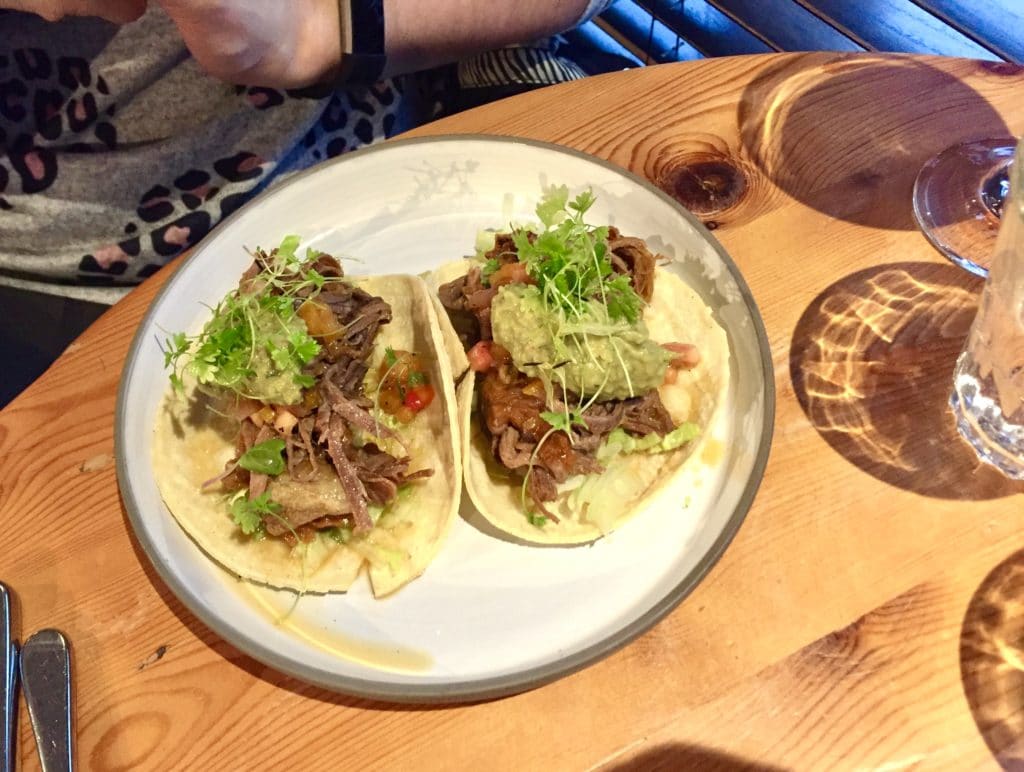 I think these small plate options are a great idea, they offer the potential for tapas-style meals, so that people can share food and try a few things they might not usually have ordered. They also allow those will smaller appetites a chance to have great food without fear of waste!
Mum's second plate arrived, holding an aged beef burger complete with melted cheese, Cajun onion ring and INSANELY delicious bacon jam. The best way to describe the bacon jam is to say it was like the flavour of a really good packet of smoky bacon crisps, in the form of a soft savoury spread. It was incredibly tasty, and made the burger a really rich and delicious main course. I'd describe the fries to you, but mum ate them all, so I'm guessing that's a good sign.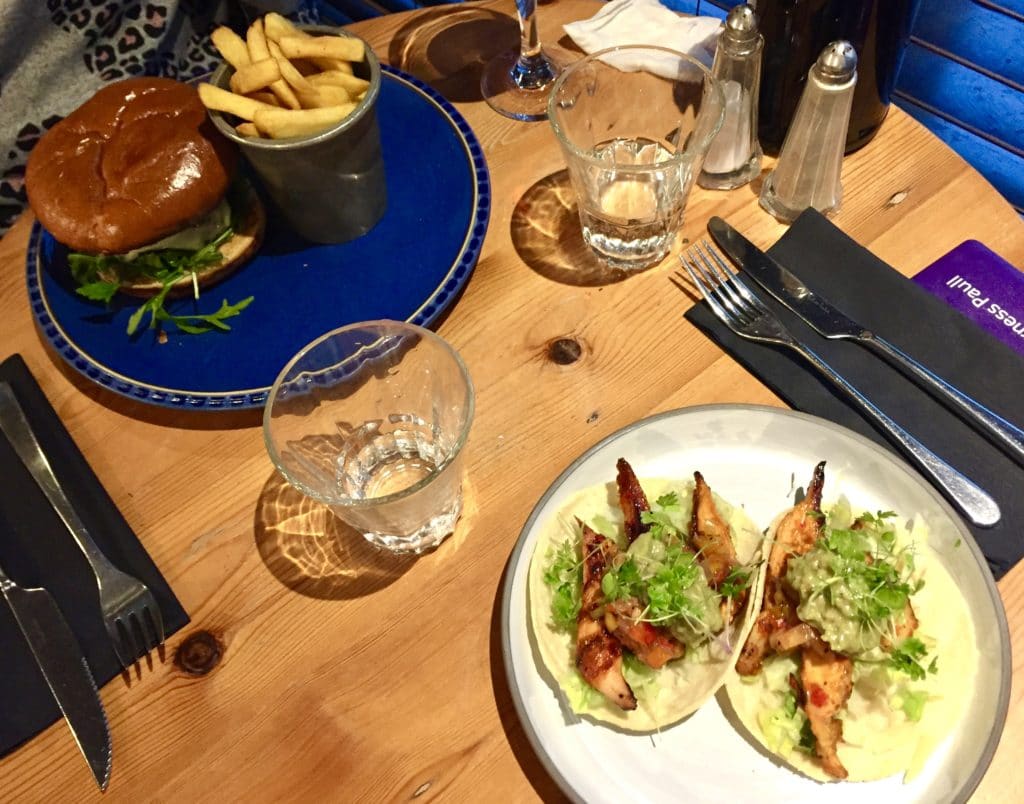 My second plate was another of their smaller options. I chose the honey chilli barbeque chicken tacos, topped with salsa and guacamole. Much like the short rib tacos, these were very good. Again, a little on the soggy side with regard to the tortilla, but the sweet and spicy glaze on the chicken alongside the zingy salsa and creamy guacamole definitely made up for it! While I might have personally made them a little spicier, these tacos were great, providing different exciting flavours in each mouthful, even if I did have to use a knife and fork by the end!
As we had a cinema showing booked, we decided against dessert, as tempting as the options sounded. Our bill was very reasonable and came in at around £35, even with two courses each and a glass of wine.
This restaurant is a little gem. It has such a wide range of offerings on their 10am-3pm brunch menu, as well as a great choice of large or small plates for their dinner menu. They even have a little section to highlight which dishes help to support local producers, which I thought was a lovely idea!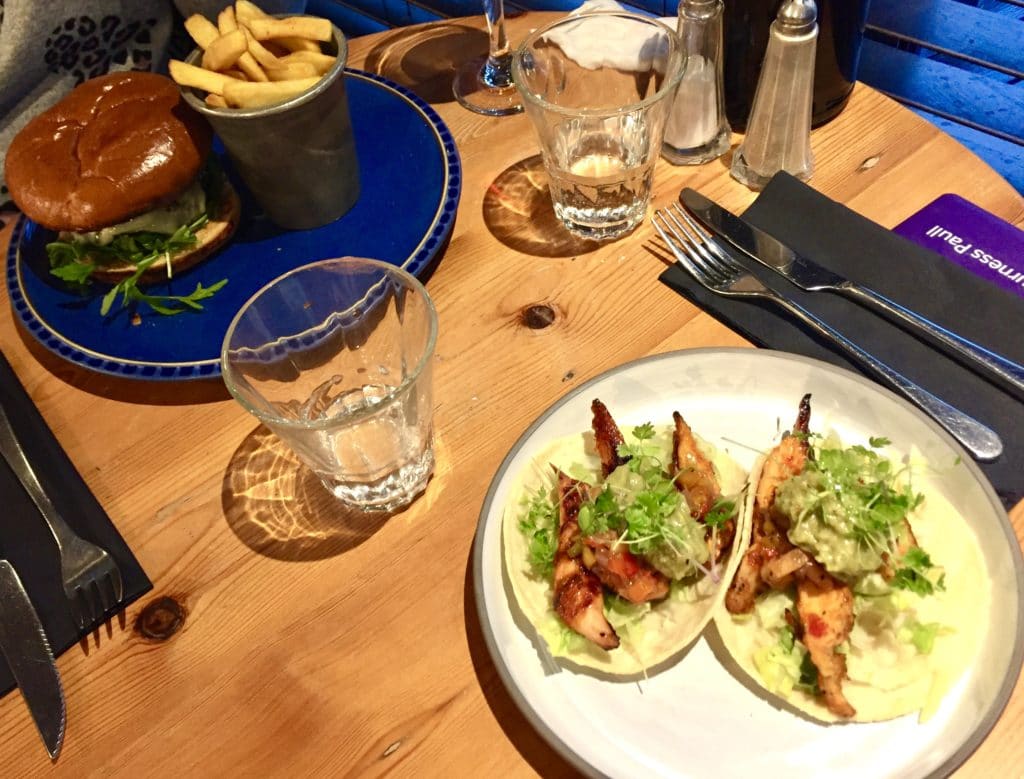 If you are ever in the city and need somewhere to stop for great food at decent prices at any time of day, Rye & Soda is a great place to start. While I've knocked off a point today for the dishevelled tortilla incident, I can safely expect that the meals I will eat here in the future will be just as delicious and highly recommendable as they always have been. You can't always expect perfection!
Thank you for taking the time to read this Rye & Soda review, I really hope you get a chance to try it. If you have already, what did you think?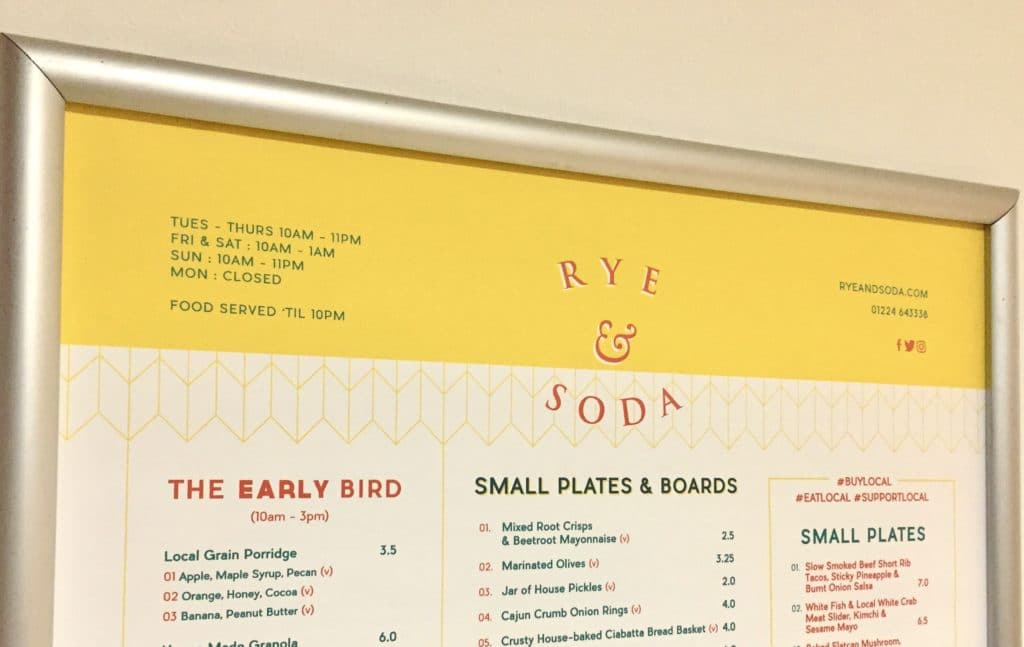 See you soon for more delicious recipes, reviews and thoughts!
You can follow me on various social media, or subscribe to me on YouTube here. Or you can sign up to my
mailing list

for fresh recipes before anyone else sees them, in the sidebar to the right (desktop), or by scrolling right to the bottom of the web page (mobile). Thanks again!
You may also enjoy…