Salted Caramel Pretzel Brownies; dense, soft, velvety dark chocolate brownies with crunchy, savoury pretzels and a sweet salted caramel swirl.

Sweet and salty is a combination that is almost as delicious as combining the words Henry and Cavill.

Peanuts and chocolate, cheese and honey, fries and milkshake. The human tongue adores an amalgamation of sweet and savoury, even when it starts to border on weird. I won't talk about my vintage-cheddar-dunked-into-vanilla-yoghurt phase…

These Salted Caramel Pretzel Brownies are a perfect example of this combination being utterly irresistible. (Stop thinking about Henry Cavill.) Their flavour and texture put them somewhere between a big, ballsy, macho snack, and a soft, silky, feminine dessert.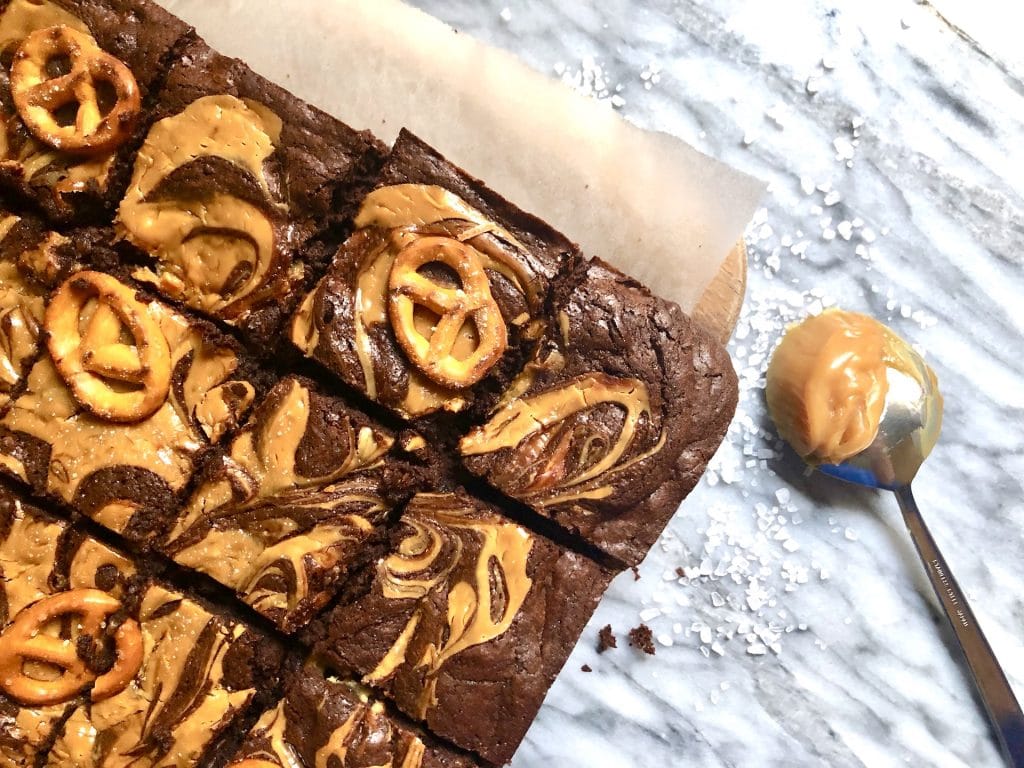 Deeply chocolatey, with an ever-so-slightly bittersweet cocoa undertone. Crisp, satisfying saltiness from the crunchy miniature pretzels. Gooey, sticky sweetness in the form of a salted caramel swirl. Each mouthful of these Salted Caramel Pretzel Brownies is a filthy party, stomping every millimetre of your tongue's makeshift dance floor with flavour.

This recipe not only gives you all the tools you need to make bangin' brownies, but fantastically reliable instructions for a versatile Salted Caramel Sauce. You can use any leftover from these Salted Caramel Pretzel Brownies to drizzle onto ice cream, sex up some porridge, decorate a cake, or just spoon into your gob. I promise you, you will be a diagnosed salted caramel addict once you taste this stuff. (If you weren't already, of course.)
Anyone still raising an eyebrow at the idea of baking crunchy pub-snack pretzels into a dessert, let me assure you, this isn't madness. In fact, it's been done many times by many people before now, I just felt the need to further share this glorious idea.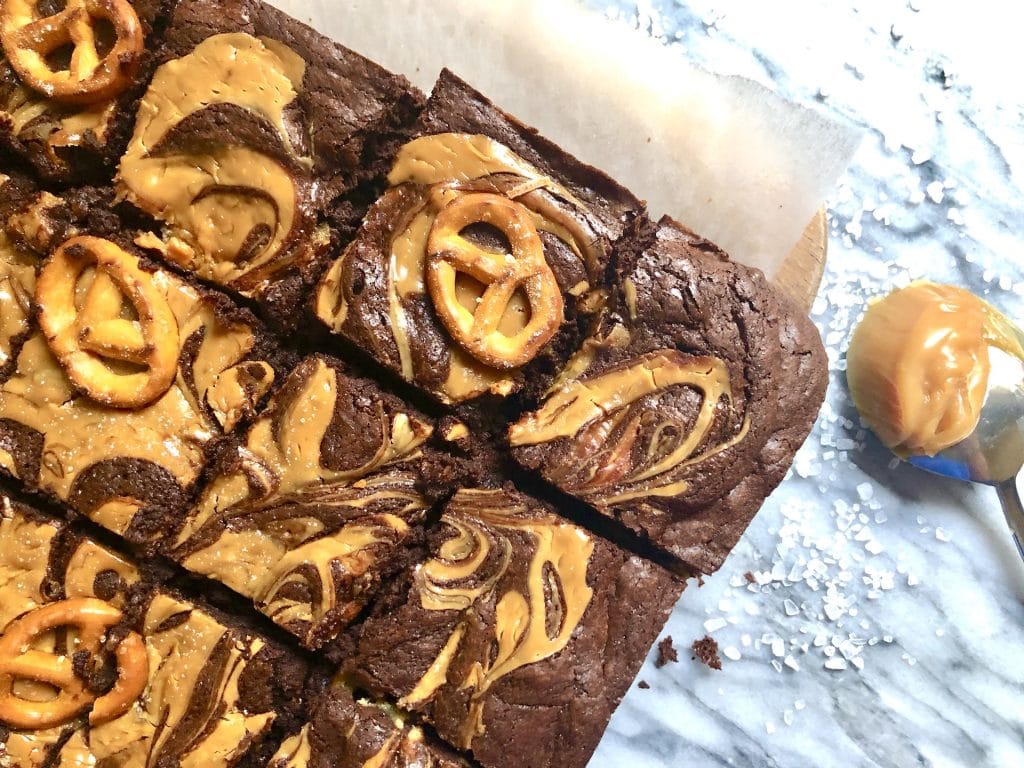 If you are suitably intrigued and hungry, simply follow the recipe below to make these Salted Caramel Pretzel Brownies!
Salted Caramel Pretzel Brownies
Salted Caramel Pretzel Brownies; dense, soft, velvety dark chocolate brownies with crunchy, savoury pretzels and a sweet salted caramel swirl.
Ingredients
For the Salted Caramel:

200g (scant 1 cup) caster sugar
100ml (scant ½ cup) water
100g (6 ½ tbsp) unsalted butter, cubed
100ml (6 ½ tbsp) double cream
½ tsp sea salt
For the Brownies:

250g (8½ oz) dark chocolate
230g (15 tbsp) unsalted butter
3 large eggs
250g (1 ¼ cups) caster sugar
60g (½ cup) cocoa powder
65g (½ cup) plain flour
¼ tsp sea salt
Handful of small salted pretzels
1 batch Salted Caramel (recipe below) or 1 jar of salted caramel sauce/spread
Instructions
For the Salted Caramel:

In a small saucepan, stir together the sugar and water until the sugar has dissolved. Once dissolved, DO NOT stir again as the caramel may crystallise!
Set the pan over a medium heat until it begins to bubble.
Allow to bubble until the caramel turns a deep golden amber colour then remove from the heat.
Whisk the butter into the pan of caramel until fully melted.
Whisk the cream and salt into the pan until combined into a golden sauce.
Allow to cool for at least 45 minutes.
For the Brownies:

Preheat your oven – 160 C / 140 C fan / 325 F / gas mark 3.
Look out a 20x20cm (8x8in) or 20x30cm (8x12in) tin, grease it well and line the base with greaseproof/parchment paper.
Melt your chocolate and butter together in a heatproof bowl until smooth; either using the microwave in 30-second blasts, or over a pan of gently simmering water.
In a large bowl, whisk together your eggs and sugar together to combine.
In a separate bowl (last one, I promise!), stir together your cocoa, flour, salt and pretzels.
Whisk your chocolate/butter mixture into your egg/sugar mixture until smooth.
Gently stir in the cocoa/flour mixture until you have a thick brownie batter.
Pour the brownie batter into your prepared tin, smoothing it out evenly.
Spoon blobs of your homemade or shop-bought Salted Caramel over the brownie batter. If using the recipe above you will likely only need half of the batch!
Use a spoon or knife to swirl and marble the Salted Caramel through the brownie batter until evenly distributed.
Top the swirled brownie batter with a few more of your pretzels for decoration.
Bake in the preheated oven for 40-50 minutes, or until the centre doesn't wobble when you shake the tin.
Allow to cool completely before slicing. Your patience will be rewarded.
Slice up and enjoy!
Notes
BE A MAVERICK: why not throw a shot of espresso into these brownies to make them extra rich?
http://maverickbaking.com/salted-caramel-pretzel-brownies/