Perfect soft chewy chocolate chip cookies with subtle vanilla and caramel notes, just like those big ones you can buy in bakeries!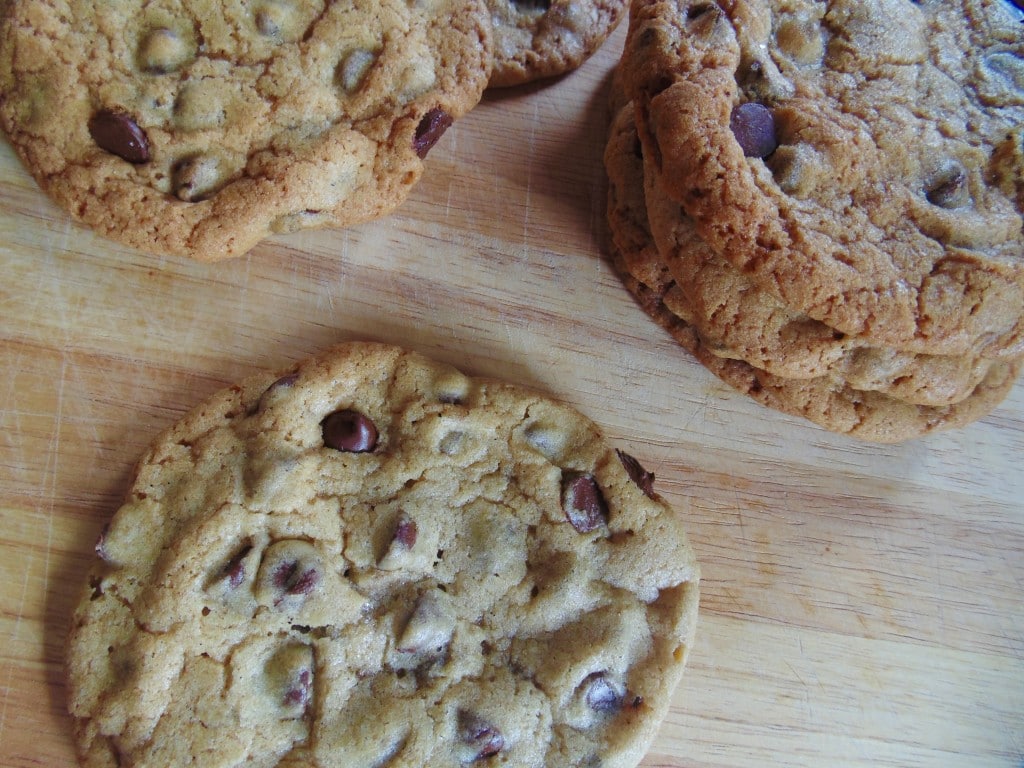 Cookies bring out the child in me.
Well, most things bring out the child in me, for example Pokemon games or having to make a doctors appointment over the phone…but soft chewy chocolate chip cookies are definitely one of the tastiest things.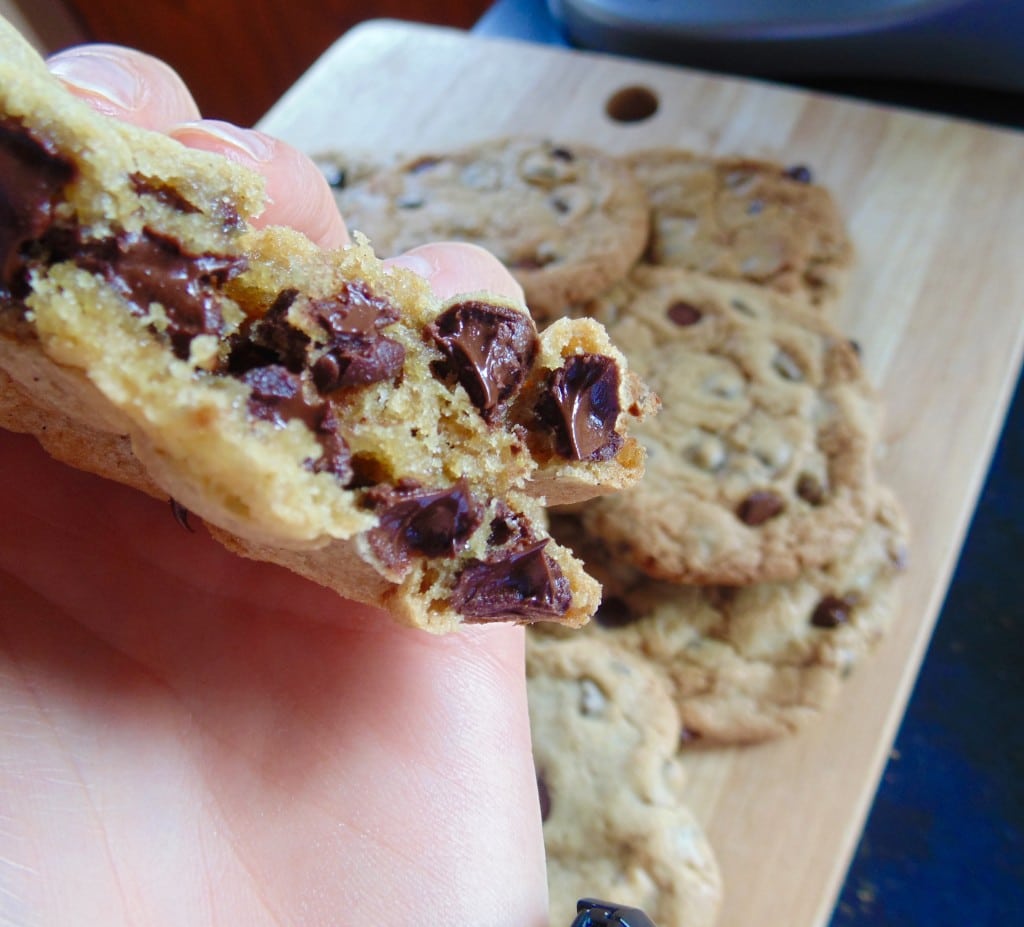 Soft chewy chocolate chip cookies are one of my favourite foods on this glorious planet. Is there anyone who can resist a bid old cookie packed with chunky chocolate pieces? If those sort of people do exist, I don't want to meet them. (With the exclusion of my dad who is picky with just about everything, sorry old man.)
These cookies are a perfect example of the beauty of the chocolate chip variety. They're made using brown sugar which gives a light caramel flavour to the dough, and adding dark chocolate chips a generous pinch of salt makes them almost like a grown up, sophisticated cookie. Well, maybe not grown up, but definitely a little more cultured…like cookies that have been on their gap year but haven't quite started working or attending university yet.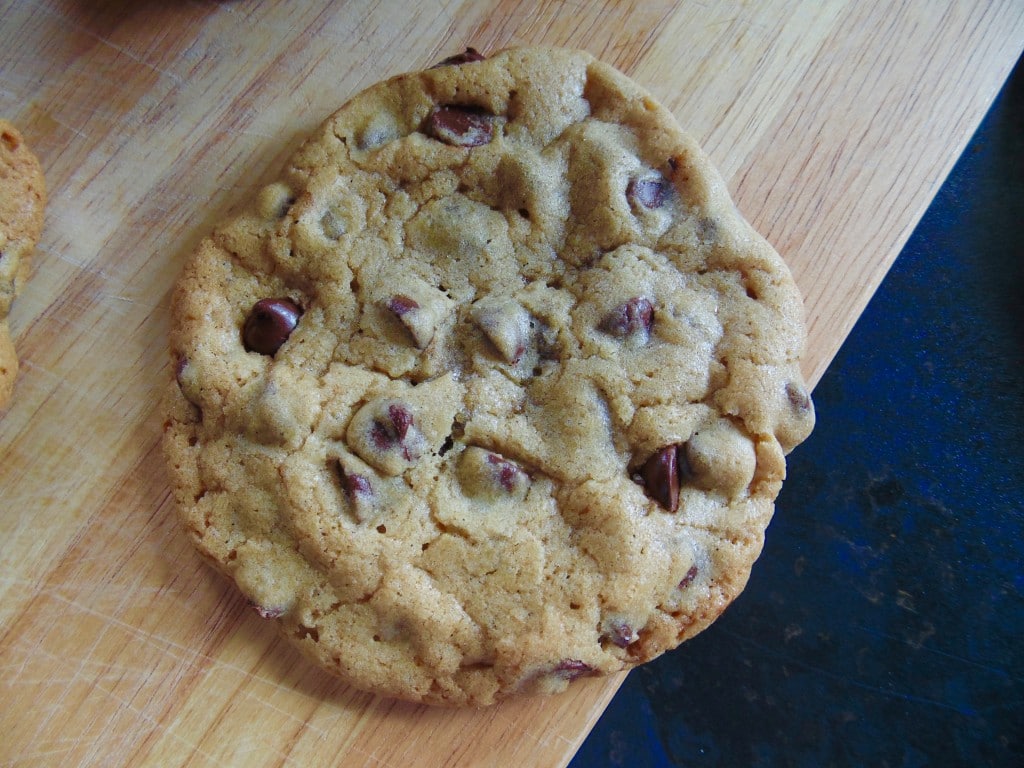 I've been making these cookies for years, it's become one of those recipes that you know on a more personal level than most of your family members. It happens to be one of my mum's absolute favourite recipes, and it was her who nudged me to upload it onto this here blog. So here you have it, my easiest and absolute favourite (next to Costco's obviously) soft chewy chocolate chip cookies that contain more chocolate chips than a nutritionist would likely recommend. You're welcome.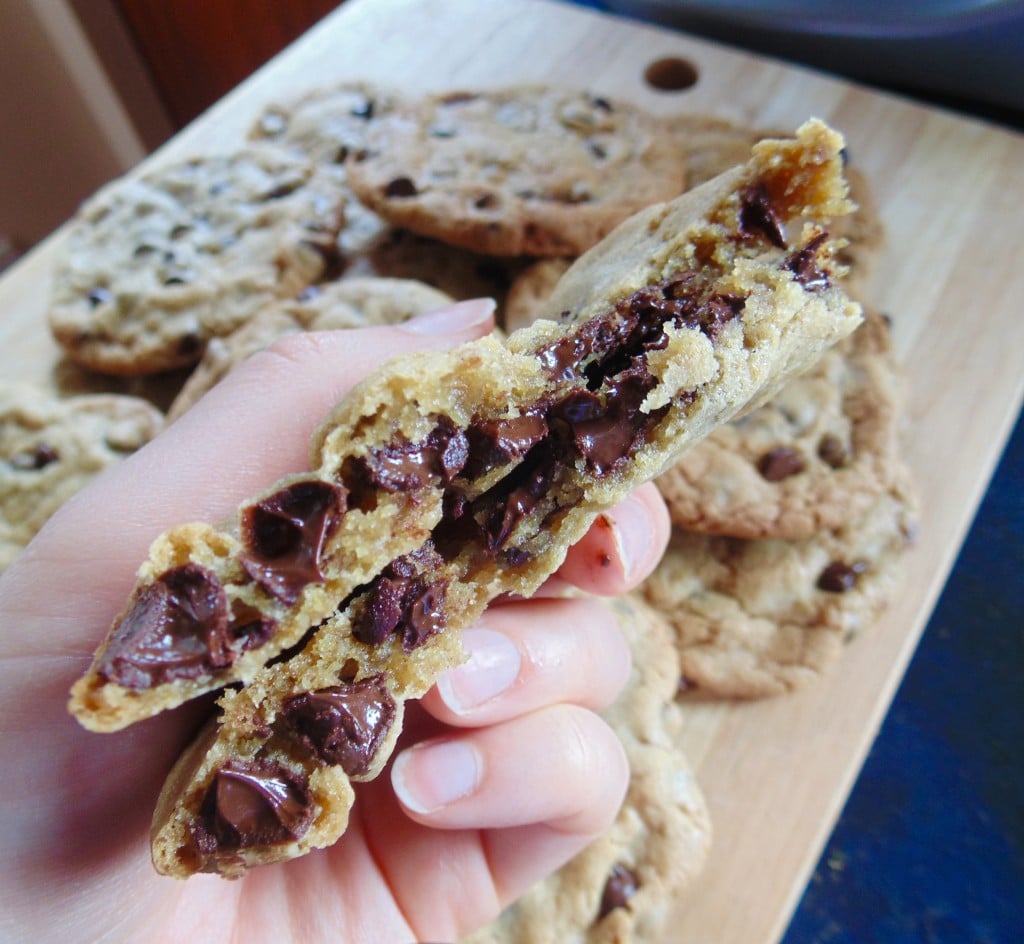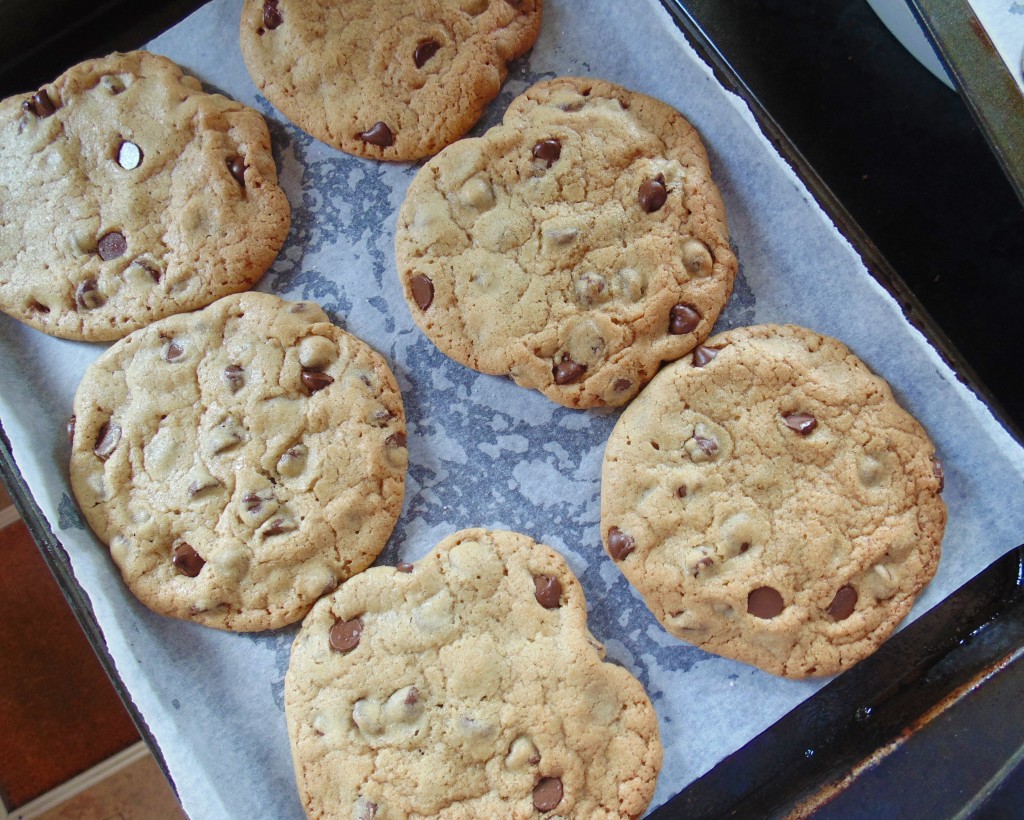 These cookies are at their absolute best when eaten still warm (maybe not when still piping hot!) from the oven or within a few days of being made. They are delicious at room temperature (as normal people eat cookies) but I must recommend a method popular in our household for eating cookies, heating them in the microwave until nice and melty to be eaten messily with fingers or topped with a hunkin' scoop of ice cream. Seriously. Yum city.
I don't really have the words to explain how much I'd love you to make these cookies, they're always so popular and disappear very quickly after I bake them so I really urge you to try them out too!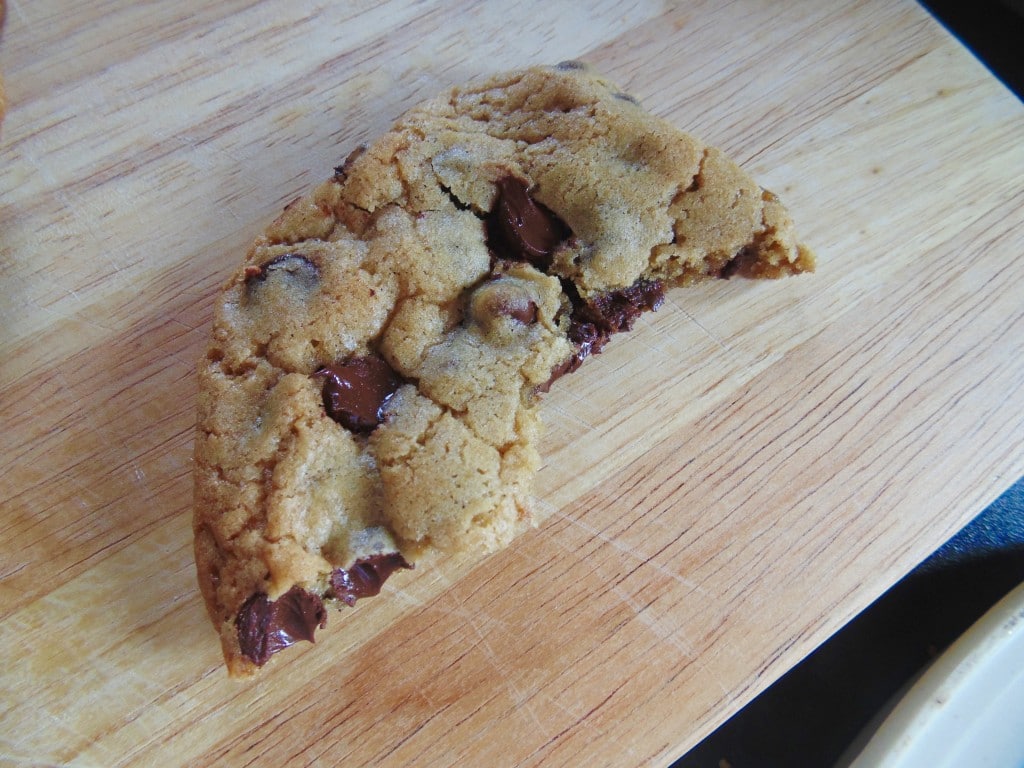 Soft Chewy Chocolate Chip Cookies
Perfect soft and chewy chocolate chip cookies with a subtle caramel flavour, just like those big ones you can buy in bakeries!
Ingredients
275g (2 cups) plain flour
½ tsp salt
1 tsp bicarbonate of soda
160g (10 ½ tbsp) softened butter
125g (⅔ cup) soft brown sugar
125g (⅔ cup) caster sugar
2 tsp vanilla extract/paste
1 egg
1 egg yolk
300g (10 ½ oz) chocolate chips
Instructions
Line 2-3 baking trays with greaseproof paper.
In a medium bowl, weigh out your flour, bicarbonate of soda and salt and mix together.
In a separate large bowl, cream together the butter, sugar and vanilla until light, fluffy and well combined.
Add the egg and egg yolk one at a time, beating thoroughly between each addition until well incorporated.
Mix the dry ingredients into the wet ingredients until a dough forms.
Mix the chocolate chips through the dough.
Scoop the dough using two spoons or an ice-cream scoop onto your prepared trays, you should get 16-20 balls of dough.
Place the trays of dough balls into the fridge to chill for at least 30 minutes (an hour or two is even better), this allows them to hold their shape better and come out nice and thick and chewy.
In the meantime, preheat your oven - 190°C / 170°C fan / 375°C / gas mark 5.
After chilling, bake the cookies on their trays for 15-16 minutes until golden at the edges. They may seem underdone but they will firm up as they cool!
Cool the cookies on their tray for 5 minutes before cooling completely on wire racks.
Enjoy!
Notes
*You can use any kind of chocolate chips or chunks in this recipe!
*You can also add nuts or dried fruit if you like!
http://maverickbaking.com/soft-chewy-chocolate-chip-cookies/
If you enjoyed these Chewy Chocolate Chip Cookies, you may also like: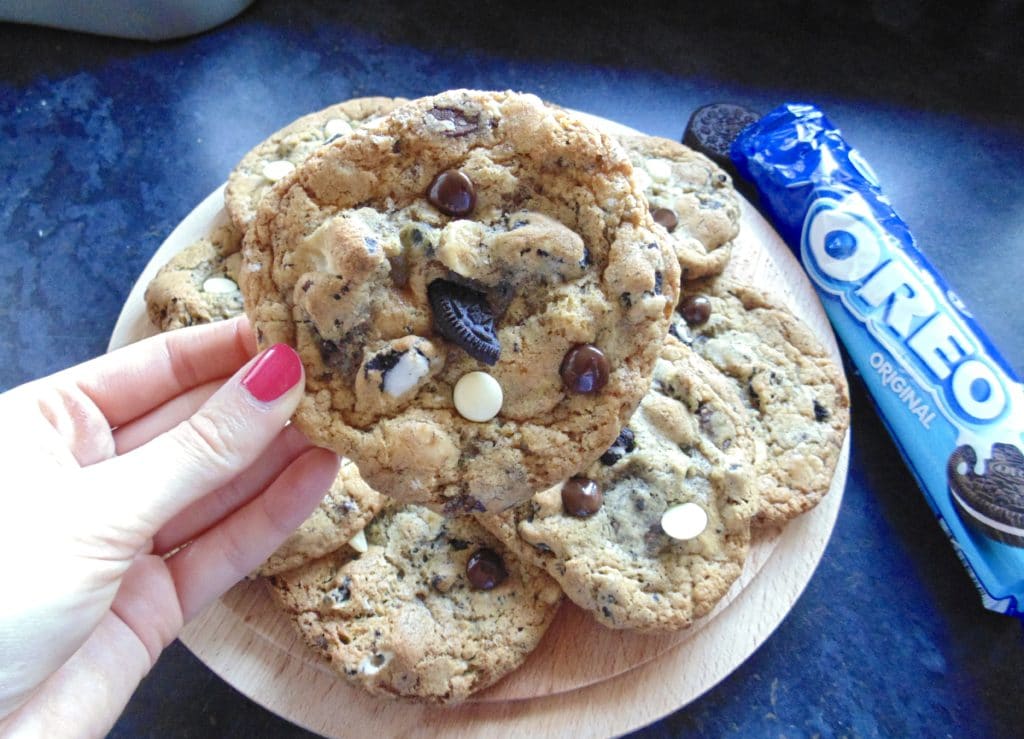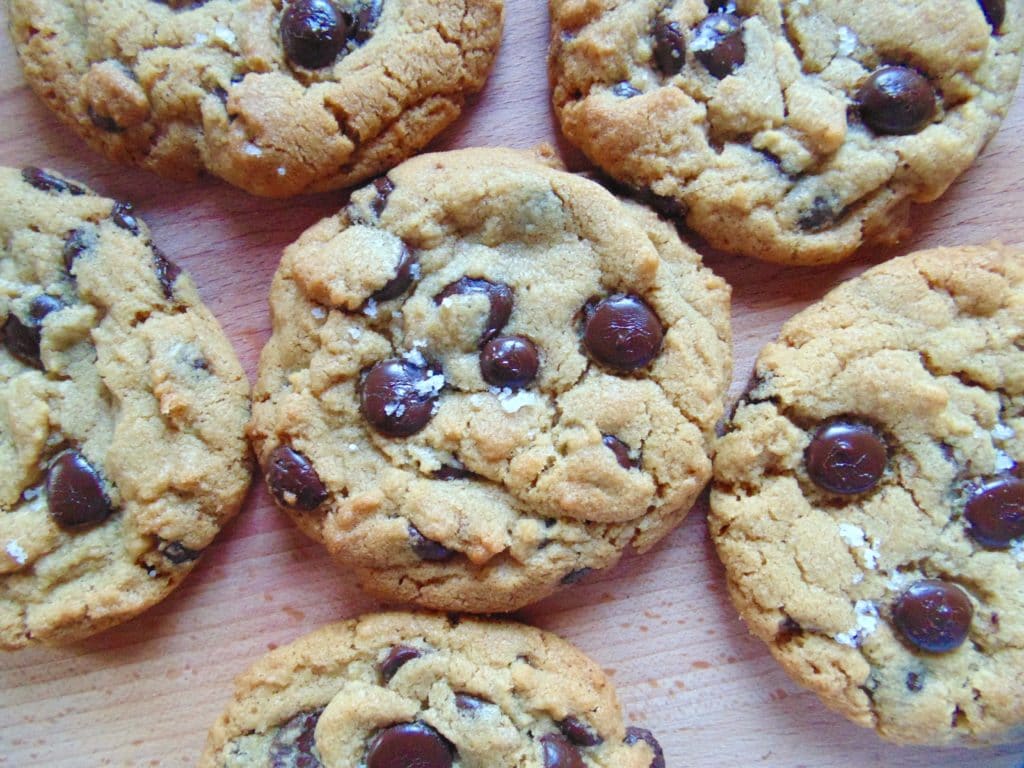 Salted Chocolate Chip Peanut Butter Cookies
[This post contains affiliate links]