The Cookie Mill Review; the very kind Rich from The Cookie Mill sent me up some samples from his new cookie business. Two exciting flavours…but did they taste as good as they looked?
The chocolate chip cookie. You've eaten it so many times that it's now pretty unremarkable, right?
WRONG.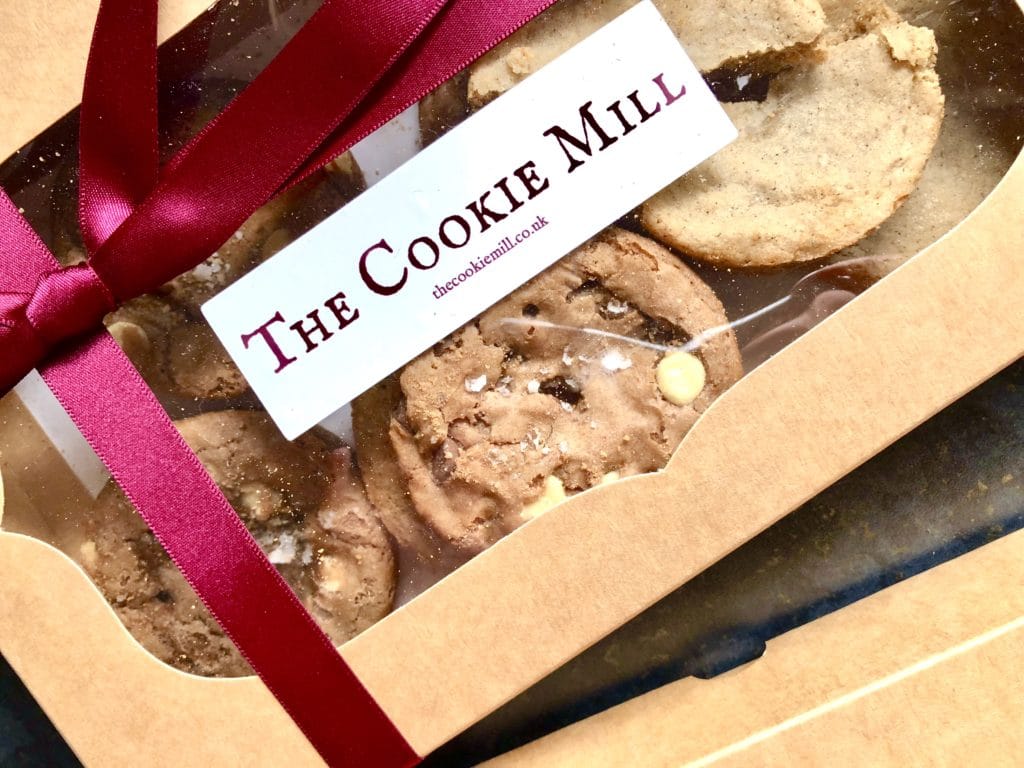 You will have had the small crispy ones from the supermarket packet. It's likely that you'll have had the big chewy bakery style ones that bend before they snap. You've probably even had them hot from the oven, allowing the melting chocolate to ever-so-slightly burn your tongue, without you really minding too much. Ok … maybe that last one is just reserved for us greedy bakers.
What you probably haven't had though, unless you're a lucky or rather experimental type, is a cookie baked in a little chef's ring. No spread when baking, just rise. Resulting in a thick (or thicc for my fellow millennials) cookie with a sumptuously soft and chewy centre, compacting all the sweet buttery flavour into chunky mouthfuls.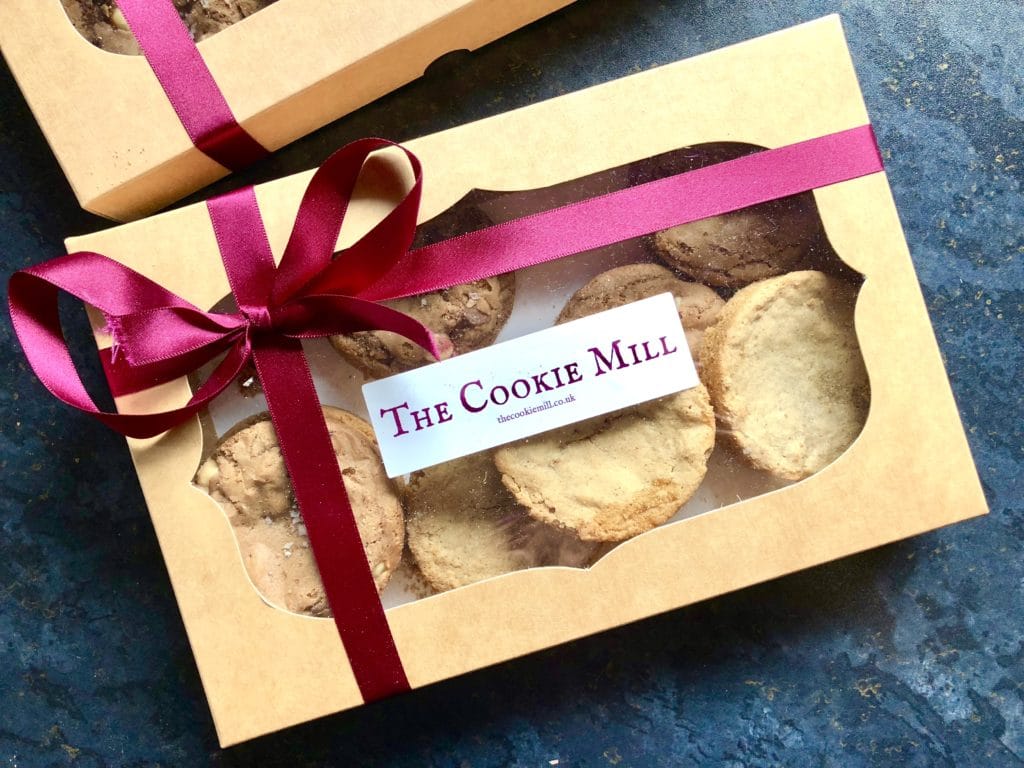 Hungry yet? Good.
The lovely Rich from The Cookie Mill (a good pal of Food Review UK) became my human-of-the-month this week when he sent up TWO boxes of his ba-donk-a-donk cookies. Along with his genius idea of baking these cookies so thick, he's come up with two frankly perfect-sounding flavours to match. No basic bitch chocolate chip or oatmeal raisin cookies here.
He sent up a selection of both The Cookie Mill's Triple Chocolate Salted Caramel Cookies and Sticky Toffee Cookies. *drools on keyboard*
The Cookie Mill is Rich's new cookie business, promising "the thickest, gooiest, chewiest cookies that you've ever had." They are based in the South of England and have a very small following at the moment. By the looks of it they are mostly selling at pop-ups and food market stalls, though I'm sure they'll be reaching a wider audience via online delivery very soon! You can find them on Instagram here.
They have an Etsy shop that is very close to being open for orders, so keep your eyes peeled for these gooey goodies in the near future. There are whispers of some delightfully mad flavours coming soon, including:
Original Chocolate Chip
Triple Chocolate – stuffed with salted caramel (reviewed here!)
Milk Chocolate & Hazelnut – stuffed with Nutella
PB&J – stuffed with raspberry jam
Sticky Toffee – stuffed with toffee sauce (reviewed here!)
Crispy Candy – made with M&Ms
Malted Milk Biscuit – stuffed with Biscoff spread
S'more – with digestives and marshmallow fluff
White Chocolate & Raspberry – stuffed with raspberry jam
Lucky Cookie – with Lucky Charms cereal
The Monster – crushed crisps, cornflakes, chocolate chips, oats and pretzels(!!)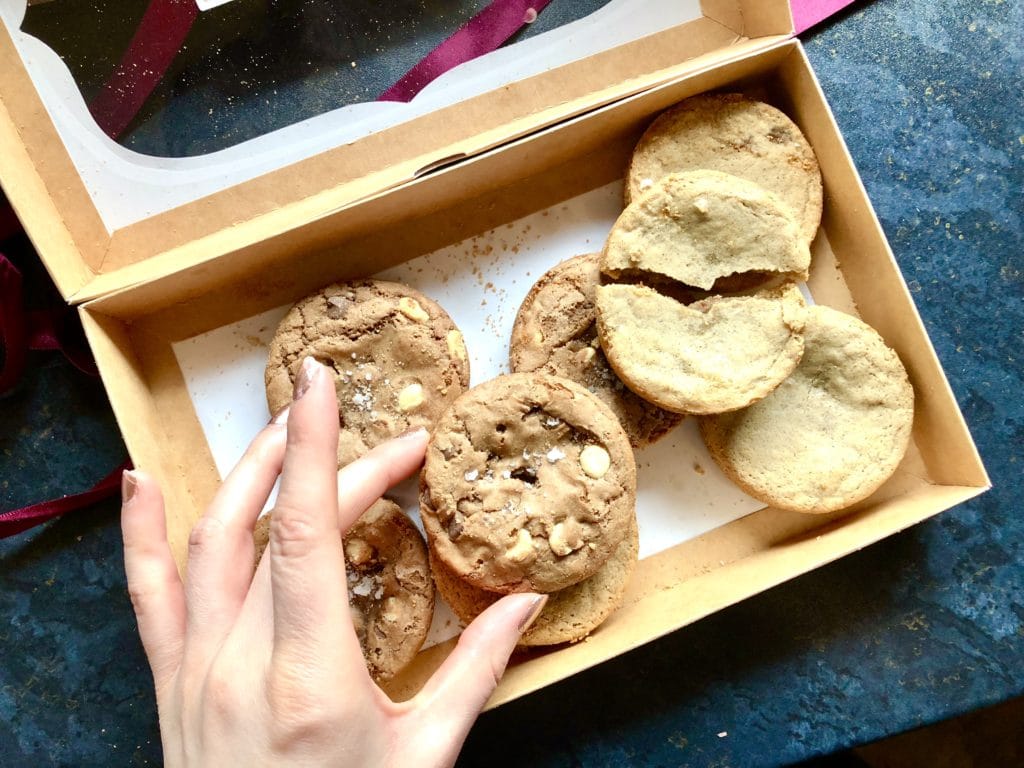 I absolutely love the way the cookies look. Baking them in chef's rings is such a fabulous idea, and one that I will most definitely need to try out with one of my own recipes at home some time.These cookies are certainly the thickest I've ever seen, meaning they're pretty much guaranteed to have that gorgeously soft texture, right?
Sticky Toffee Cookies
Have you ever seen such a glorious pairing of words? I don't even care if you have.
Being Scottish, the Sticky Toffee Pudding runs in my veins. It's served at damn near every formal event you ever go to in this country at any time of year – and that is NOT a complaint from me! So yeah, I like to think I know my toffee.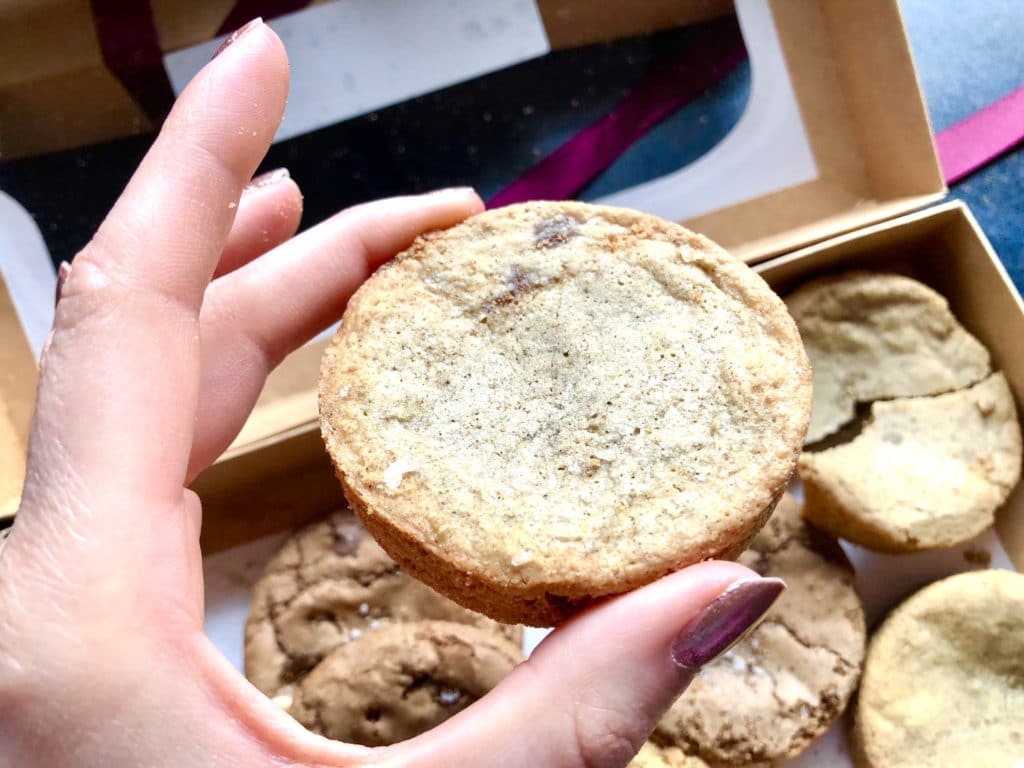 This cookie is rather unassuming from the outside, it's not immediately obvious what flavour it holds. Biting in though, you are met with an ever-so-slightly crisp edge and a gloriously soft and gooey centre (which is even more delicious warmed up).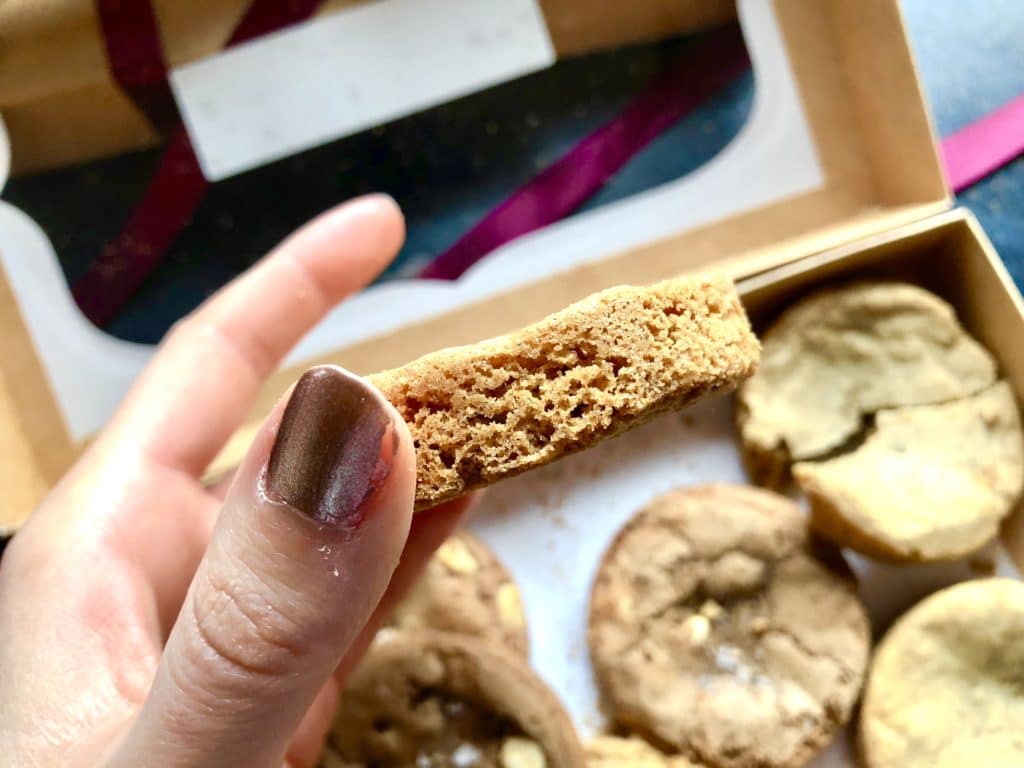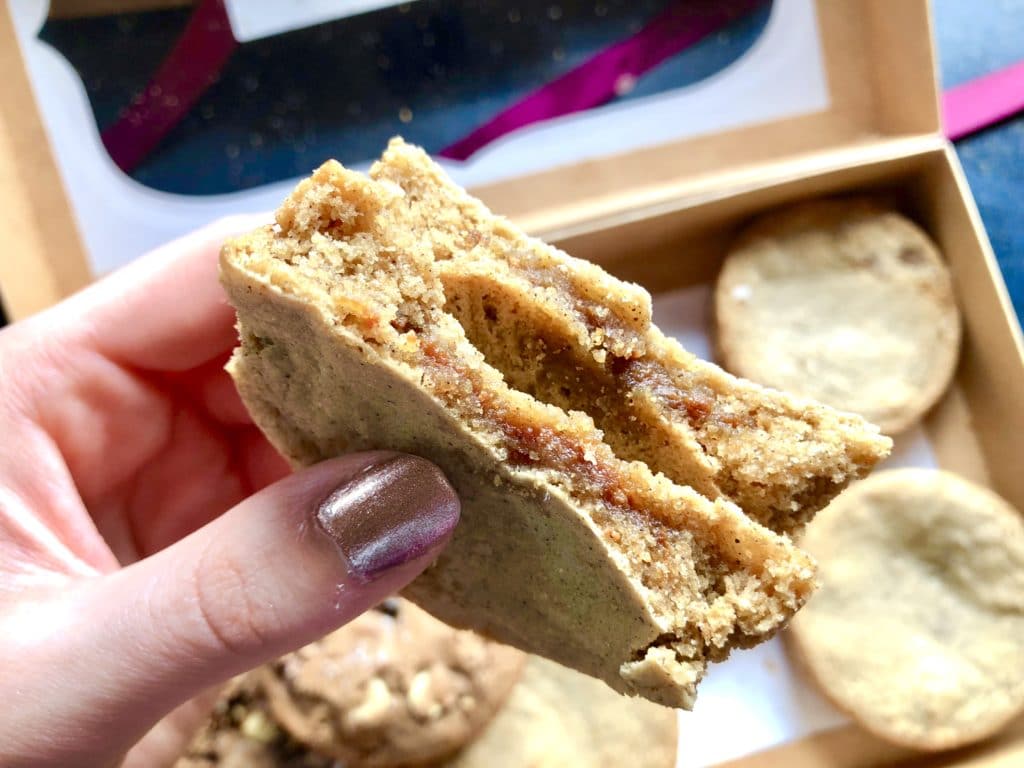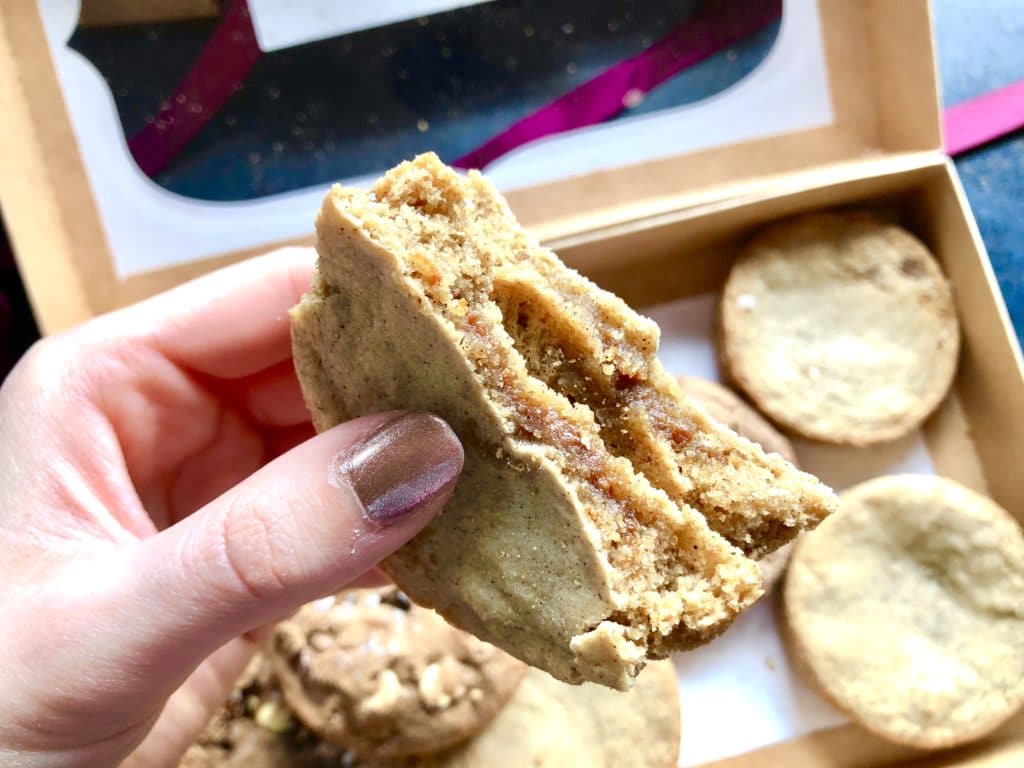 Flavours of butter, brown sugar, toffee and the gentle warmth of allspice dance around your tongue as you eat these cookies. The balance is just right, with nothing being too sickly sweet or overpowering. The flavour is almost Christmassy because of the cosy spice and subtle toffee taste, which is never a bad thing!
While it isn't dark, damp and cloyingly sweet enough to necessarily be reminiscent of the Sticky Toffee Pudding that I've eaten for all these years, it's every bit as delicious!
Triple Chocolate Salted Caramel Cookies
Just drawing from the title, this could potentially be THE perfect cookie.
And after tasting them, I'm strongly considering that the word "WOW" may have been invented after eating one.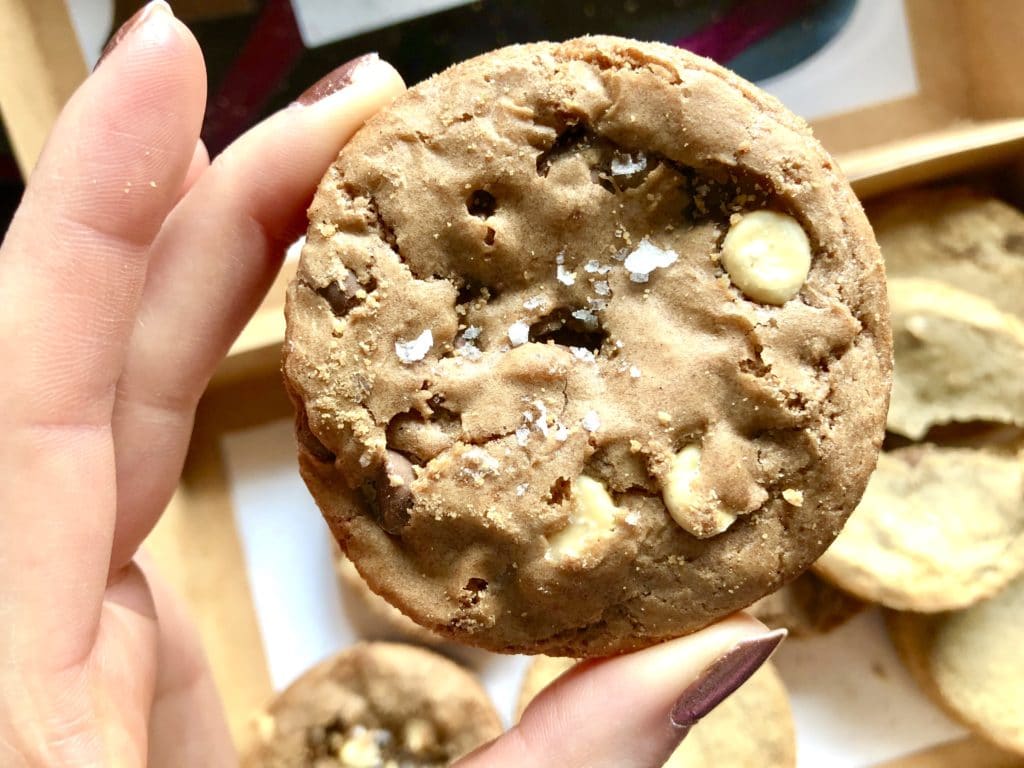 What again looks fairly innocent in appearance, holds a deep and grown-up salty caramel centre ready to fill your mouth with all sorts of deliciously complex flavours.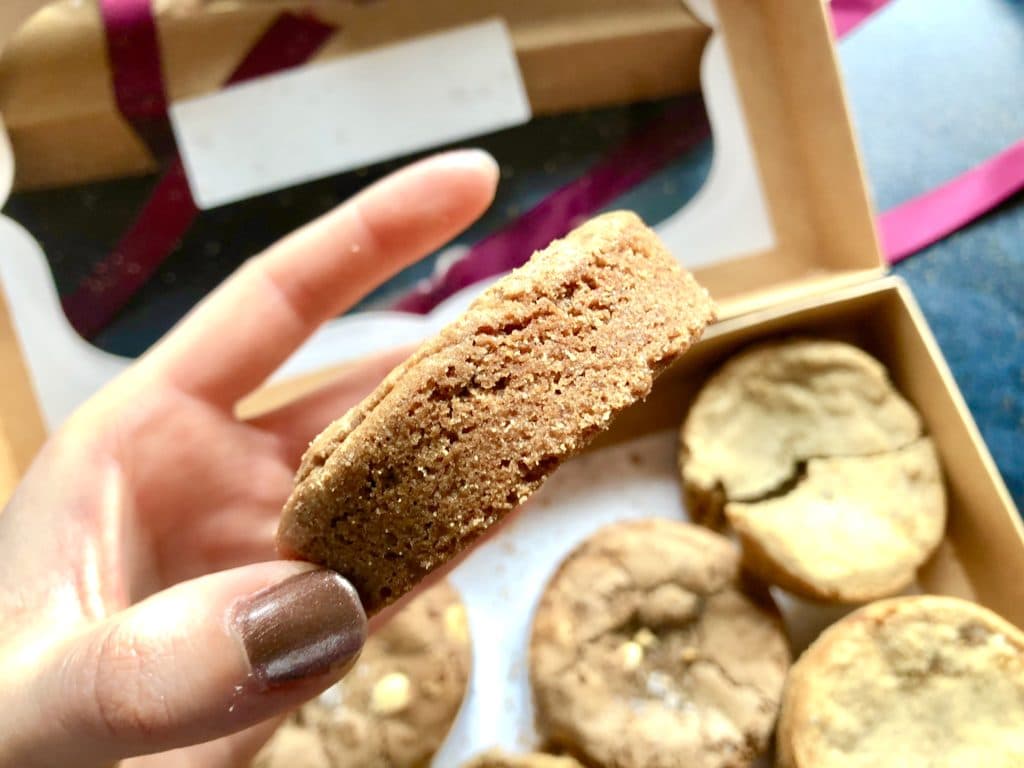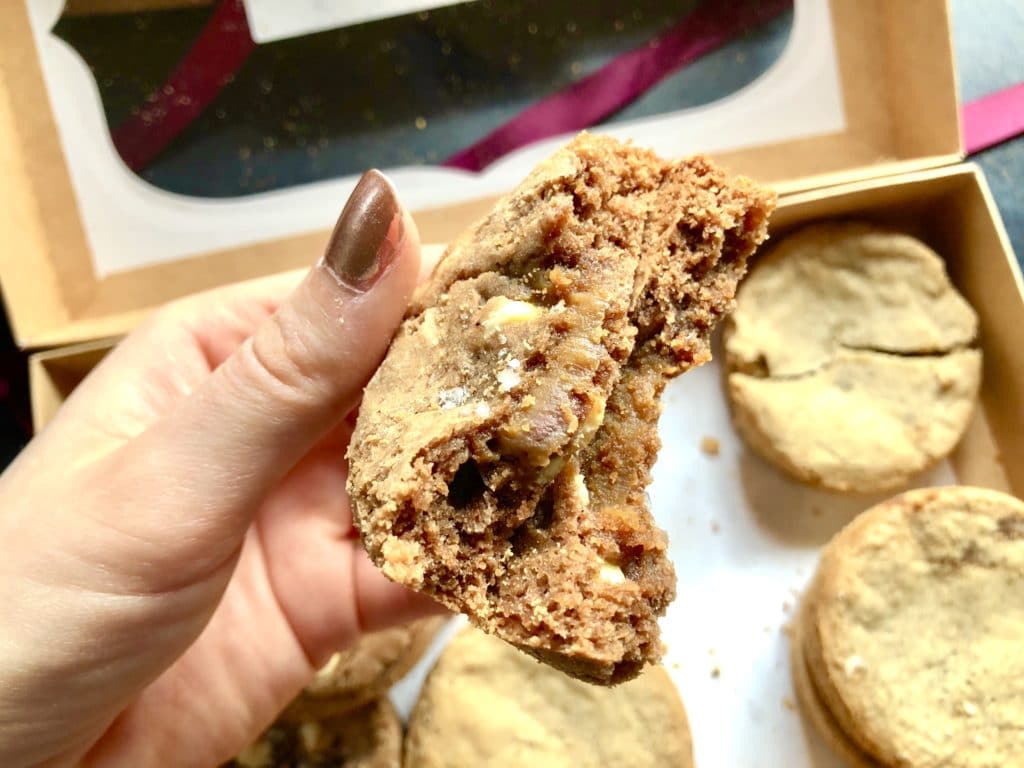 The cookie itself carries a fairly gentle milk-chocolate flavour, studded with both milk and white chocolate chips. Nestled in its core is a gooey (but not horribly stringy or sticky) caramel centre. The caramel is a deep golden brown and is laced with salt, giving it a smoky and definitely savoury flavour hidden in its sweetness. The sprinkle of sea salt on top also helps to balance out the gentle sweetness of the chocolate flavour around it.
No weird artificial caramel flavours, and definitely no holding back on the sea salt, this cookie is bold and ballsy. Oh, and downright feckin' delicious!
This is the kind of thing you just NEED to eat more than one of.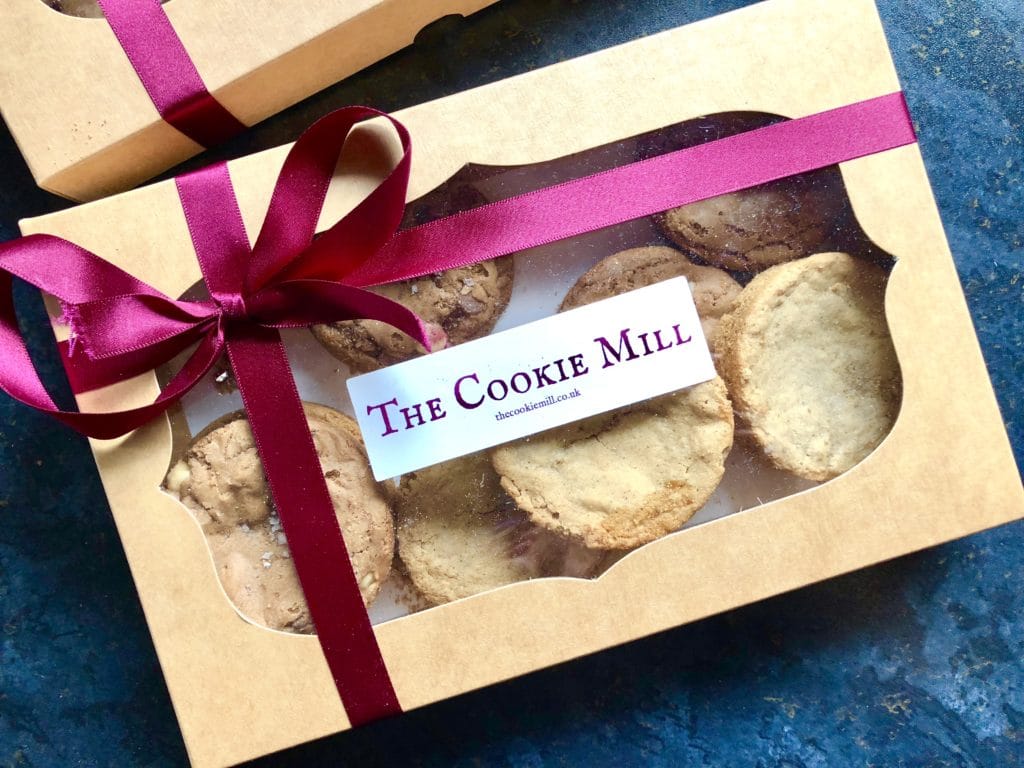 If you get the chance to buy some of The Cookie Mill's cookies at a market or online sometime soon, you really ought to, they are seriously good.
A HUGE thank you again to Rich, if you're reading this, for sending me some samples. You are real life Santa.
Thanks as always for stopping by to read guys, I'll see you again soon!
 
If you enjoyed this cookie review, you may also like…