The Juicing Co Vanilla and Chocolate Mylk Review; this lovely local company sent me some fresh healthy milkshakes/smoothies to try, along with some free shots, but how were they?
Life is just better when you have chocolate milk in the fridge.
However, many of us Brits have been switching to buying more meat and dairy alternatives. Whether for the sake of animal welfare, the environment, our health, or our wallets, more plant milks and alternative proteins have been picked up from supermarket shelves.
As you might know, if you've watched this from my YouTube channel, I try to limit animal products from my day-to-day diet as much as I can. This is a purely ethics-based decision. After having studied animal welfare law and written my university dissertation on the ethics of using animals for food, I know exactly what effects our obsession with animal-based foods can have on other species, our planet and ourselves. Obviously, I'm not perfect, I love cheese just as much as I love cows. I believe I'm doing the best I can in my circumstances. (Call me boring, I don't mind!)
On that basis, I was very excited to hear about new local company The Juicing Co and their products. Unique in Aberdeenshire, The Juicing Co are producing hand-made healthy juices and "mylk" from purely plant-based sources. While I'm not on board with the idea of juice cleanses, their products looked like a great way to slosh some fruit and veggies in with minimal effort. I am all about minimal effort.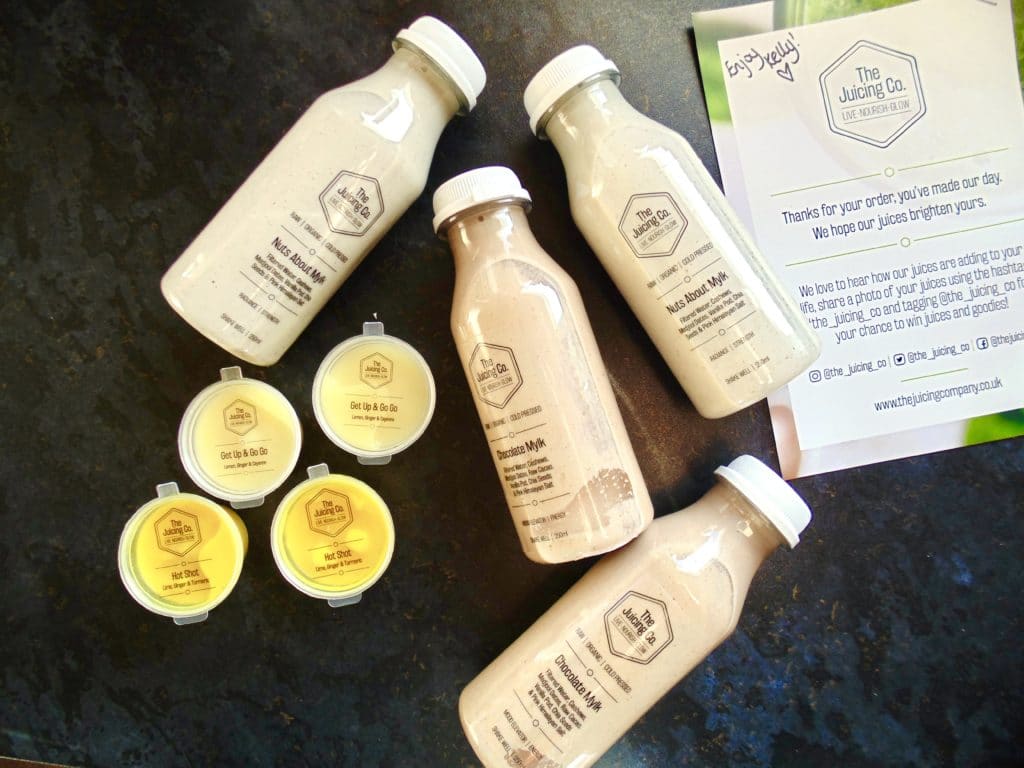 Their Mylk products really interested me, while fruit juices are great, milkshakes and flavoured milks are just better, right? Right.
These Mylks from

The Juicing Co

 come in two flavours, a vanilla and a chocolate. Each made with just water, cashews, medjool dates, vanilla, chia seeds and a little salt (no added sugar!). One has a little added cacao/cocoa too, obviously!
When four bottles of these enticing creations were delivered by the lovely Vanessa, I was more than excited to get stuck in! I love the packaging, simple but bold little recyclable bottles with clear labels to let you know about all the goodness you're getting from the insides.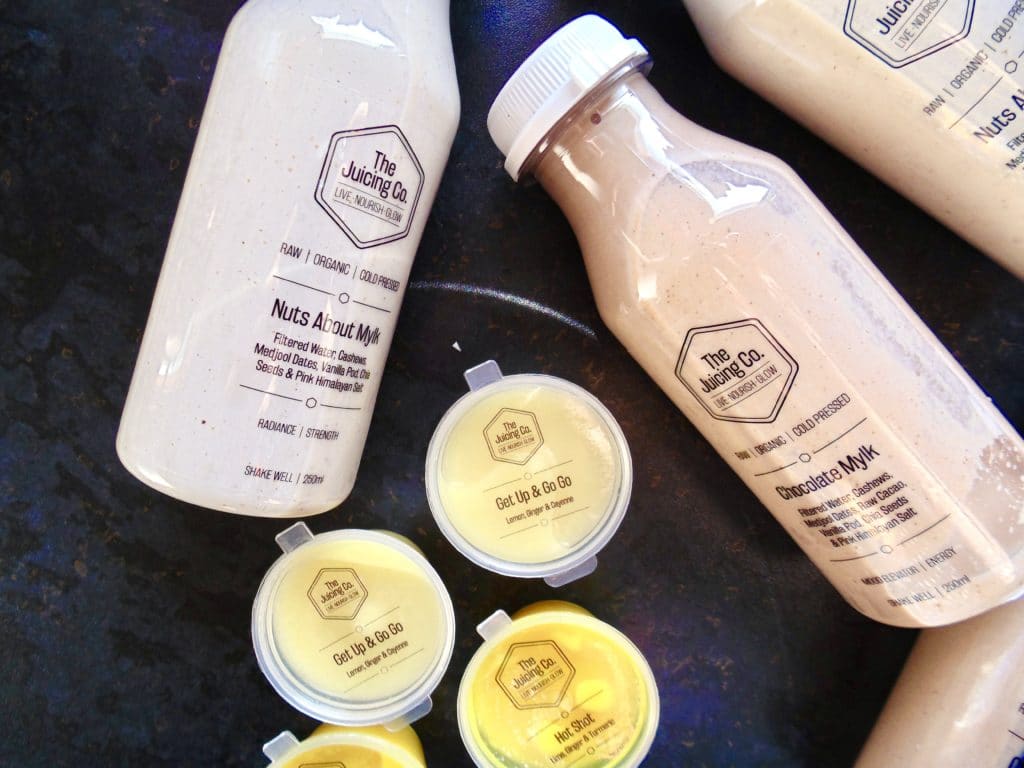 The Mylks are a really lovely colour too, reminiscent of vanilla milkshakes or chocolate milks from childhood. (Or last week, who am I kidding?)
As when trying new ice cream, starting with vanilla is often the best way to go. I took my first Nuts About Mylk (the vanilla flavour) to work with me on a Friday morning, and enjoyed the other while whipping up a lazy breakfast for myself and my boyfriend on the Sunday morning (afternoon). I won't joke, both bottles were finished in about 2 big mouthfuls. It is so GOOD.
Thick, creamy, milkshake consistency. A gentle caramel sweetness from the dates and real vanilla, and a subtle nuttiness from the cashews. This is a really tasty and refreshing drink, creamy enough to satisfy, but light enough to keep you wanting more! Thankfully (for me, at least) this Nuts About Mylk didn't taste frightfully healthy either. It tasted like a good quality vanilla milkshake, without any tooth-aching sweetness that other brands are known to provide!
The Juicing Co's Chocolate Mylk was even better.
The same gorgeous creamy consistency, with a wonderfully light chocolate flavour. Anyone would guess this is straight up regular chocolate flavoured milk, rather than this glorious concoction of nutritious goodness. (Even if it was, I wouldn't complain!) I could drink this flavour every damn day.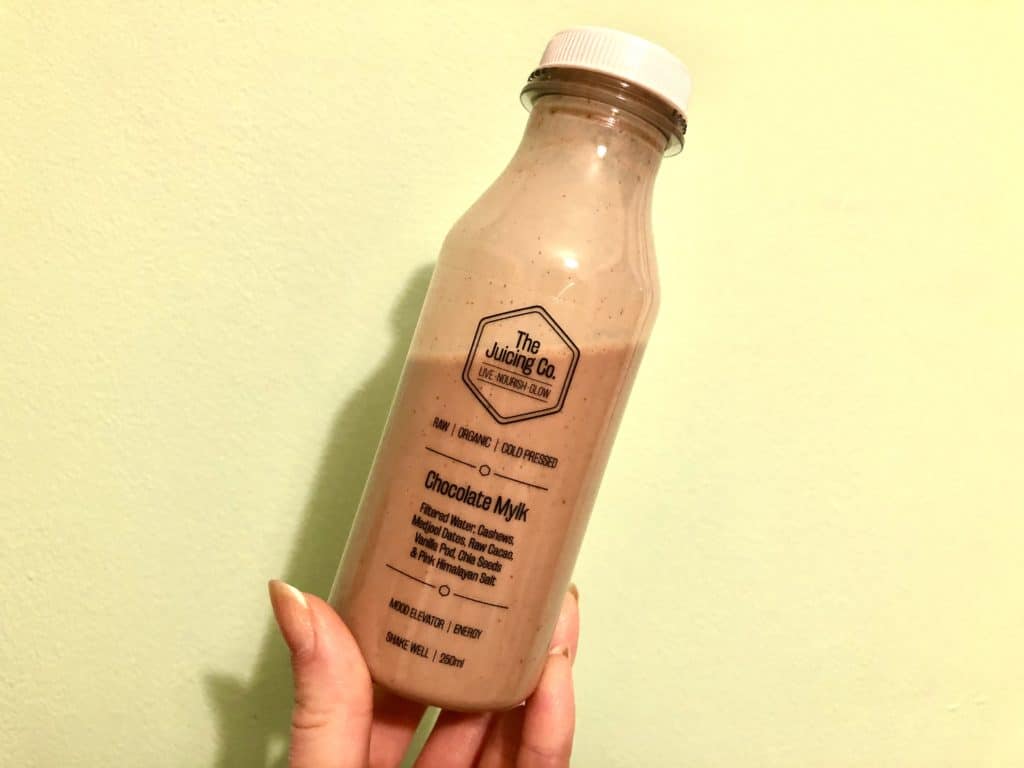 I sipped on one of these on an evening car journey to Glasgow, and enjoyed the other on a cosy night in front of the telly. I'll definitely be looking to buy these soon, they are so satisfyingly chocolatey, even for a cocoa fiend like me! I've been informed that this Chocolate Mylk is delicious with cereal or granola too, but for me, they were too good to not just enjoy on their own!
Vanessa kindly threw in some of The Juicing Co's shots for me too. These weren't neat nips of gin (sadly) but spicy juice shots intended to wake you up with an instant boost of energy!
And my WORD did they do that. These juice shots are NOT for the faint of palate! The idea is to knock these back quickly, like a shot of alcohol, to get some good stuff into you in an instant.
The Get Up and Go Go flavour consisted of lemon juice, ginger juice, and cayenne pepper. Spicy spicy. Fresh ginger is really helpful for anyone who (like me) suffers from major digestive issues, and while it goes down hot, it can be really soothing to an upset stomach. I knocked these back just before breakfast each day, and WOW did they wake me up!
The Hot Shot flavour contained lime juice, ginger and turmeric. This is another one that is ideal for spice lovers! These shots are potent with fresh turmeric and ginger flavour, providing a warming little shot of nutrients before you have your breakfast, or to help digest a big lunch. I switched it up a bit and stirred one of these into a little fried rice dish just before I served it, to give it a fresh and zingy flavour boost!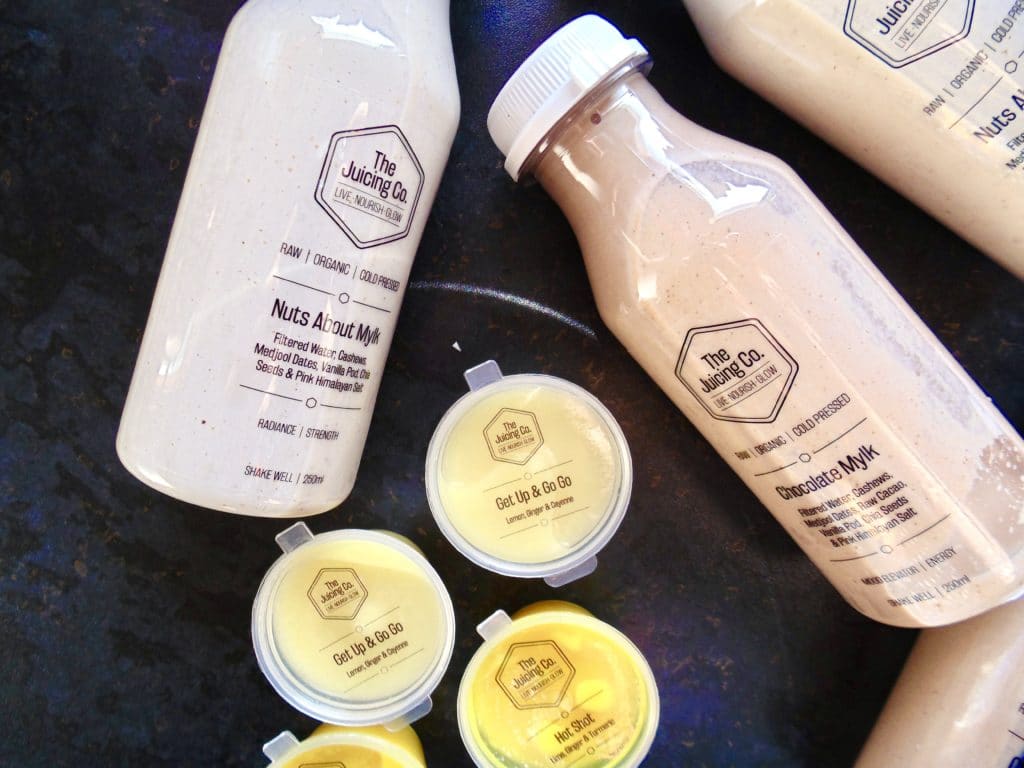 Overall, I'm really impressed with the products I've sampled from The Juicing Co. Even if the little shots weren't as delicious as the yummy Mylks, it's lovely to have such new and unique drinks popping up so locally. Especially when handmade with such love and care.
While I'm all for eating and drinking exactly whatever you want, especially if it's a chocolate milkshake, it's great that they can offer such a nutritious take on a delicious drink! Both the Mylks were really enjoyable, and I'd recommend them to anyone looking to try something tasty and healthy. They might not provide your five-a-day but will provide fibre, vitamins and minerals in a thick, creamy, sweet drink. What's not to like??
Thanks for stopping by as always, be sure to check out The Juicing Co's products, or just to give them a follow on social media @The_Juicing_Co!
If you enjoyed this review, you may also like…