Toffee Apple Turnovers; warm, sweet, Autumnal apple filling encased in a flaky buttery puff pastry and sprinkled with sparkling sugar!
Do you have that one dessert you could eat every day and never tire of it?
For me, that dessert is apple pie.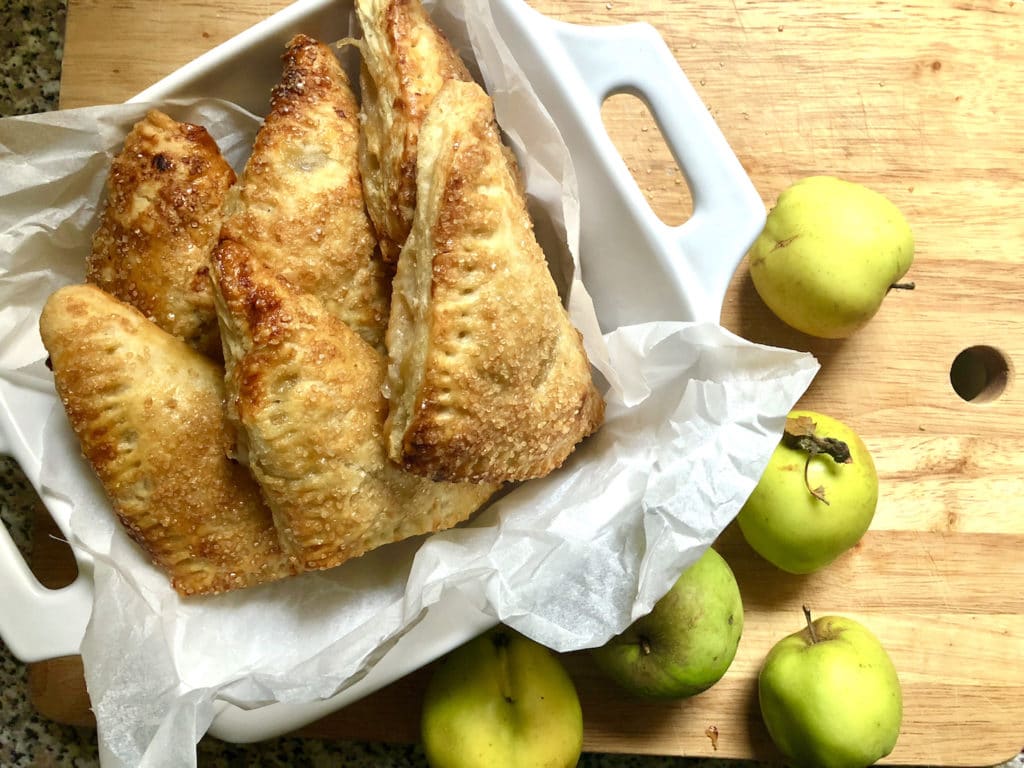 Really the love extends to apple crumble, apple strudel, apple cake, Eve's pudding, or anything that combined warm, sweetened apples with spices and butter. It's a bit old-fashioned but I just cannot stop adoring it.
A crisp but melt-in-the-mouth pastry lid, sprinkled liberally with granulated sugar. Soft cinnamon-spiked apples, half tender, half comforting mush. The sweet, buttery stodginess of the bottom layer of pastry, soaking up all the flavours of the filling. A jug of canary yellow vanilla custard on the side. I struggle to picture a greater eating pleasure.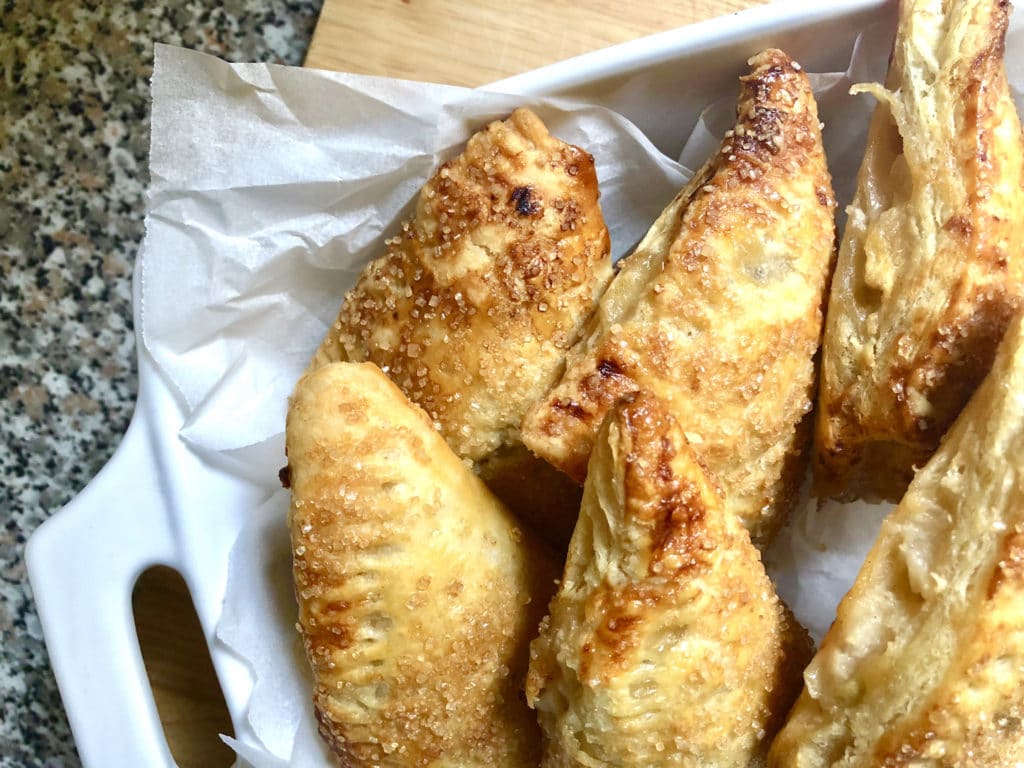 These toffee apple turnovers are a handheld homage to the homely bliss of apple pie, whether it's a homemade family pudding or a trashy £2 frozen affair. They capture the same cosiness and flavour while being a little more refined and accomplished.
The toffee apple turnovers in this recipe are made using what is known as rough puff pastry. Rough puff is a sort of cheat's version of traditional French puff pastry, a glorious, flaky pastry brimming with crisp buttery layers. It uses a similar rolling and folding technique but breaks the butter into small chunks beforehand rather than rolling in a whole block of chilled butter as the traditional method does! Honestly it is every bit as delicious, and so much easier to work with!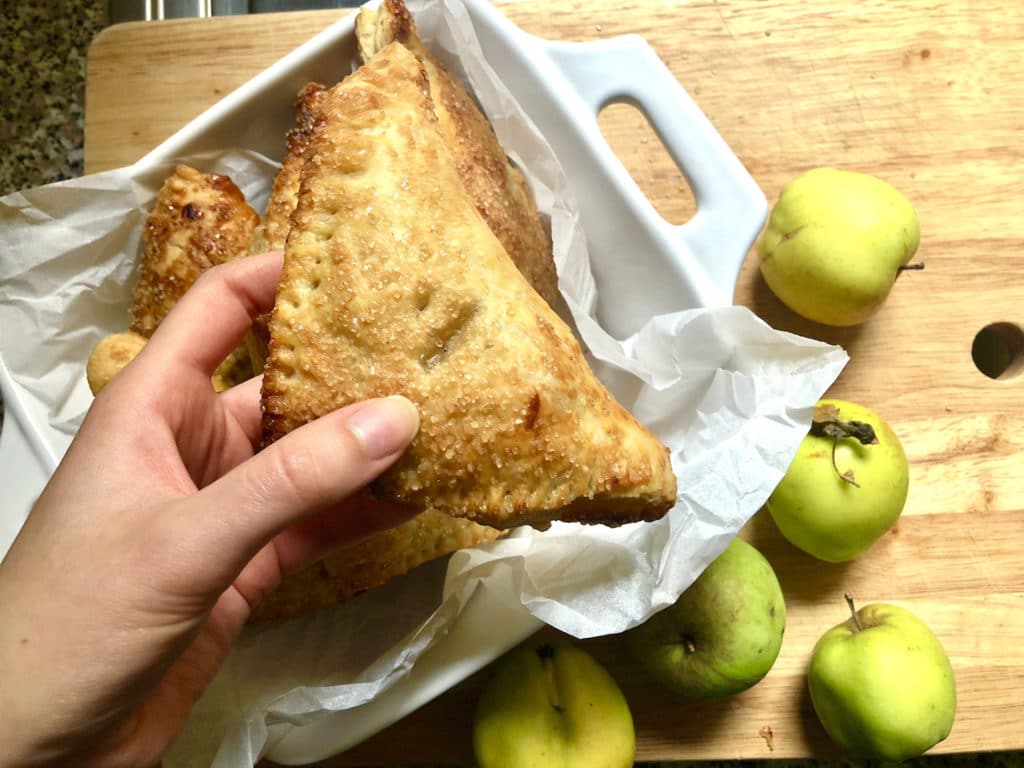 You'll fill these flaky pockets of pastry with soft, toffee-flavoured apples, sprinkle them with some sparkling demerara sugar, and then scoff at least two as soon as they are cool enough to eat. The recipe below will make a large glut of apple filing, and you probably won't use it all in these pastries, but having leftovers to make a later crumble to to add to breakfasts or desserts is no bad thing!
I promise you that the smell that fills the kitchen when these toffee apple turnovers are baking is truly irresistible. Without wanting to sound too much like that old M&S advert…
Anyway, enough talking. More eating.
Scroll down to find the full recipe for these wonderfully seasonal and delicious Toffee Apple Turnovers!
Toffee Apple Turnovers; warm, sweet, Autumnal apple filling encased in a flaky buttery puff pastry and sprinkled with sparkling sugar!
Ingredients
For the rough puff pastry

250g (2 cups) plain flour
250g (17 tbsp) cold salted butter (ideally frozen)
125ml (½ cup) cold water
For the toffee apple filling

1kg (2.2 pounds) Granny Smith apples, or another tart cooking apple
125ml (½ cup) water
3 tbsp dark brown sugar
2 tbsp golden syrup
1 tbsp flour
To finish:

1 egg, beaten
Demerara or granulated sugar
Instructions
For the rough puff pastry:

In a large bowl, weigh out your flour.
Chop your butter into 1cm chunks or grate it, before adding to the bowl of flour.
Use your fingers to gently work the butter into the flour, making sure it is all coated but leaving it in visible lumps. These lumps will help the pastry become flaky!
Add the water to the bowl and work together gently with your hands until you have a firm but marbled dough. It should not be too sticky or too dry, but you can add a little more flour or water if it is!
Once you have a nice, smooth pastry dough with visible butter marbled through it, wrap it in clingfilm and chill it in the fridge for 20 minutes.
When cold, roll your pastry out in one direction until you have a long, even rectangle that is no thicker than a £1 coin. Try to keep the edges as straight as you can.
Fold the top half of the pastry down to the centre, fold the bottom half over the top of that, and rotate it 90 degrees.
Repeat the same rolling and folding process one more time, before wrapping and chilling in the fridge for at least 20 minutes or until ready to use. Meanwhile you can make your filling!
For the toffee apple filling:

Using a peeler or a sharp knife, peel the skin from all of your apples.
Chop the peeled apples into chunks no larger than 1 inch.
Place a large saucepan over a medium heat and add the chopped apples,water, sugar, syrup and flour.
Cook this apple mixture for 5 minutes or until the apples are beginning to soften. They should still have some texture, you don't want total mush!
Once cooked, allow to cool before using, or ideally chill in the fridge until cold. I like to make mine a few hours or even up to a few days ahead (if I don't eat it all with a spoon before then).
To finish:

Preheat your oven - 200 C / 180 C fan / 375 F / gas mark 5.
Once chilled, roll the pastry out into a large rectangle again no thicker than a £1 coin. Try not to be too heavy with your rolling pin or you might lose those lovely layers!
Use a sharp knife to slice the rectangle into 6/8 even squares.
Fill the centre of each square with 1-2 spoonfuls of your cool apple filling.
Brush the edges of your pastry squares with a little beaten egg.
Fold one corner of the squares over to the opposite corner to make a little triangular pastry pocket.
Use a fork to press and crimp the joined edges together, this will help them stay sealed in the oven!
Cut a 1 inch slit in the top of each pastry to allow steam to escape.
Sprinkle over some demerara or granulated sugar.
Bake in the preheated oven for 20-30 minutes until golden, crisp and nicely puffed up.
Allow to cool for 10 minutes before eating.
Enjoy!
Notes
BE A MAVERICK: Can't have apple pie without spices? Throw some cinnamon, ginger, cloves or star anise in there too!
http://maverickbaking.com/toffee-apple-turnovers/