Welcome, all, to The Ultimate Christmas Sandwich Review.
The Christmas sandwich is a new tradition at this time of year. Combining all our favourite festive flavours into portable lunch-break purchases. Everything tastes better between two slices of bread, right?
Over the past couple of years, as these new classics have been emerging in various shops, I tasted a few and enjoyed them. This year, I tasted as many as I could before Christmas, so that you guys don't have to!
Below you'll find my reviews of loaded turkey feasts, to cheesy numbers, to newbie vegan versions, all in the name of the most wonderful time of the year. I've been to M&S, Gregg's, Pret a Manger, Starbucks, Boots and even some supermarkets, to define what truly makes a great Christmas sandwich.
Without further ado, here is the Ultimate Christmas Sandwich Review!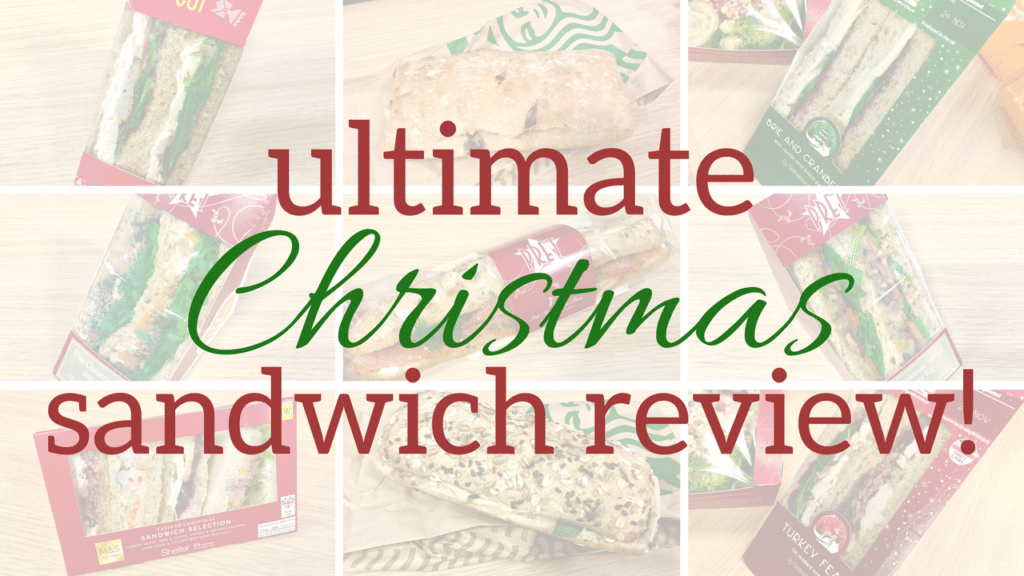 M&S
M&S always have a great range of festive foods, from tacky to truly fancy. I sampled their big 5 Christmas sandwiches this year, from meat feasts to fresh vegan wraps.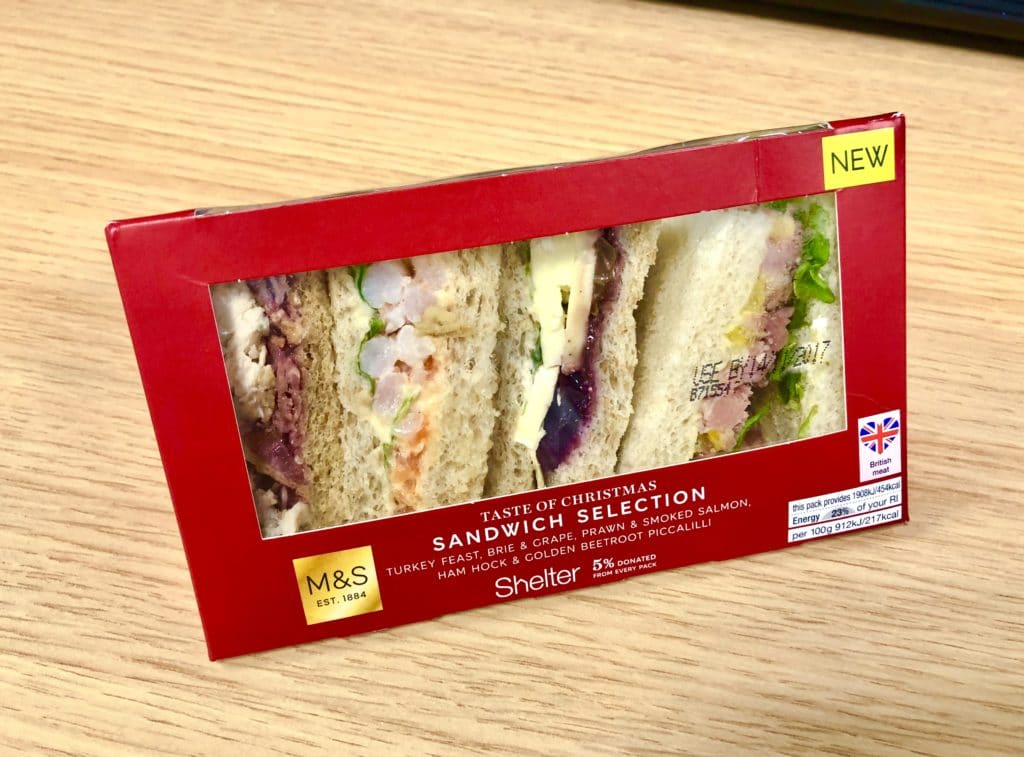 Ham Hock & Golden Beetroot Piccalilli
British ham hock with golden beetroot piccalilli, shallot mayonnaise and lettuce on white bread.
I didn't have high expectations for this one, to be honest, so I ate it first. Ham sandwiches are often notoriously dry, bland and boring, so I was very pleasantly surprised by this sandwich.
The ham hock was wonderfully soft, neither dry nor chewy like cold chunks of ham can be. It had a nice savouriness without being too salty, it tasted like leftovers, in a good way! The shallot mayonnaise added a great gentle onion flavour and worked really well with the ham in place of regular butter or mayonnaise. Having never consciously consumed piccalilli either (a very English ingredient, I feel?), I was again surprised to enjoy this so much, the beetroot added sweetness and a little bit of tang without being too beetroot-y and overpowering, thankfully!
Overall, very impressed with this ham hock sandwich, and happy to give it a 4/5.
Prawn & Smoked Salmon Cocktail
Prawns and oak smoked Scottish Lochmuir salmon with a cocktail sauce and rocket on oatmeal bread.
I got everything I needed and expected from this sandwich, and it left me wanting more.
This seafood number gives a distinct flavour from the fresh prawns and smoked salmon (not one for fish haters!), a tasty and fancy take on your typical prawn cocktail. Thankfully this version is without the familiar ketchup-and-mayo-mixture sauce that goes with many old-school prawn cocktails, meaning you can taste the fish much more and that you don't have soggy bread. The wholemeal bread is a nice nod to the tradition of eating buttered brown bread with a prawn cocktail, and the flavour worked well. This sandwich is perhaps the most simple of the range, while still being one of the most tasty. While it might not be the first flavour you think of at Christmas time, prawn cocktails are a staple dinner starter on the big day here in the UK, so it's definitely allowed.
I'd happily eat this one again any time of year, and I'll give it a 4/5.
Turkey Feast
Roast British turkey breast with pork, sage and onion stuffing, cranberry chutney, smoked British bacon, mayonnaise and fried onions on malted brown bread.
If you ever needed the taste of boxing day in a sandwich, this is it.
The best lunch of the year for me is on boxing day, the 26th of December, when you pile all the delicious Christmas dinner leftovers between two thick slices of buttered white bread and grin greedily as you eat every mouthful. This sandwich has everything but the roast potatoes inside it, and it certainly satisfies. The turkey breast is moist and tasty (which is not often the case with leftover turkey). The bacon adds a lovely savoury pigs-in-blankets element without being too salty, it was a little chewy for my liking, though I imagine this isn't easy to rectify in a cold sandwich. Onions and stuffing gave that classic Christmas dinner flavour, and paired perfectly with the meat. While the cranberry sauce gave an appealing colour, I couldn't taste it very much with everything else going on, and the mayonnaise did a better job of keeping everything moist. I'd eat this sandwich again in a heartbeat, it felt the most Christmassy of all of the M&S range, and is such a treat to look forward to on your lunch break.
I won't hesitate to give this cracker a 5/5!
Brie & Grape
Brie cheese and red grapes with a grape and ruby port chutney, mayonnaise and lettuce on oatmeal bread.
They couldn't all be great, and, sadly, the one I thought I'd enjoy most was one of my least favourites!
Brie is a favourite cheese of mine, it's creamy, delicious and goes with just about everything. Everything except the contents of this sandwich, that is. The description of this sandwich made my mouth water, so I left it 'til last, thinking it would be my favourite of the bunch. Unfortunately, while the grapes and chutney added texture and moisture to the sandwich, they tasted of very little other than plain sweetness. The brie was as I had expected; mild, creamy, and wonderfully addictive, with that slight cheesy tang. It was obviously the star of the show, while the syrupy chutney, soft grapes and limp lettuce tried their best to keep up with it. I also found mayonnaise to be a strange choice in this, butter might have been more beneficial to the flavours. Don't get me wrong, I still enjoyed eating this (because I am a known cheese fiend) but it's probably the last one I'd return to or recommend to others from this range, and didn't evoke much festivity in me either. Boo!
On that basis, this cheesy number can't get any higher than a 3/5.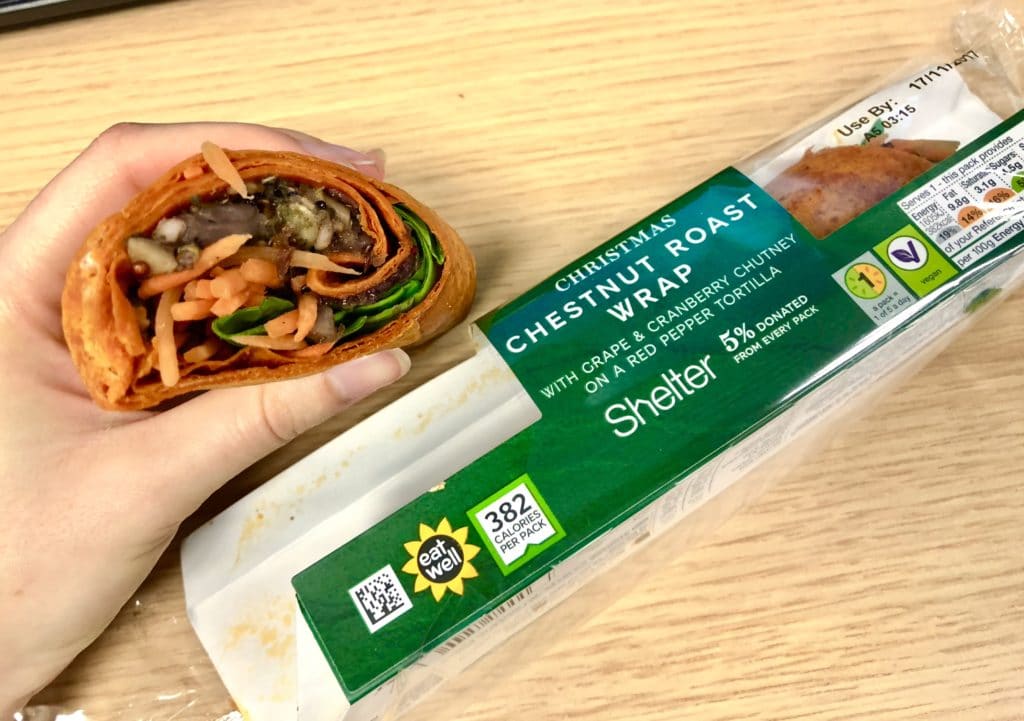 Chestnut Roast Wrap (vegan)
Roast chestnuts, mixed grains, carrots, red onions and spinach, with grape and cranberry chutney in a red pepper wheat tortilla wrap.
If you ever needed a mouthful of utter disappointment, it's right here.
I had such high hopes for this wrap. I don't eat much meat, so vegan food is a regular occurrence in my life. I grabbed this wrap hoping to experience a lovely toasty chestnut stuffing flavour alongside seasonal vegetables. I'm glad I bought more than this wrap for lunch because half of it was swiftly binned. The predominant flavour in this wrap is raw carrot, grated unlovingly into the centre. Next you have raw greens, adding nothing but more bland crunch. The chestnut mixture provided bulk but absolutely no flavour whatsoever, the occasional toasted pumpkin seed being the only miniscule saving grace. Even the cranberry chutney lacked its usual familiar tangy sweetness, masked by the carrot. All this wrapped up in a decent but entirely non-Christmassy red pepper tortilla.
I am sad. This wrap is sad. It's an unexpected 1/5.
Gregg's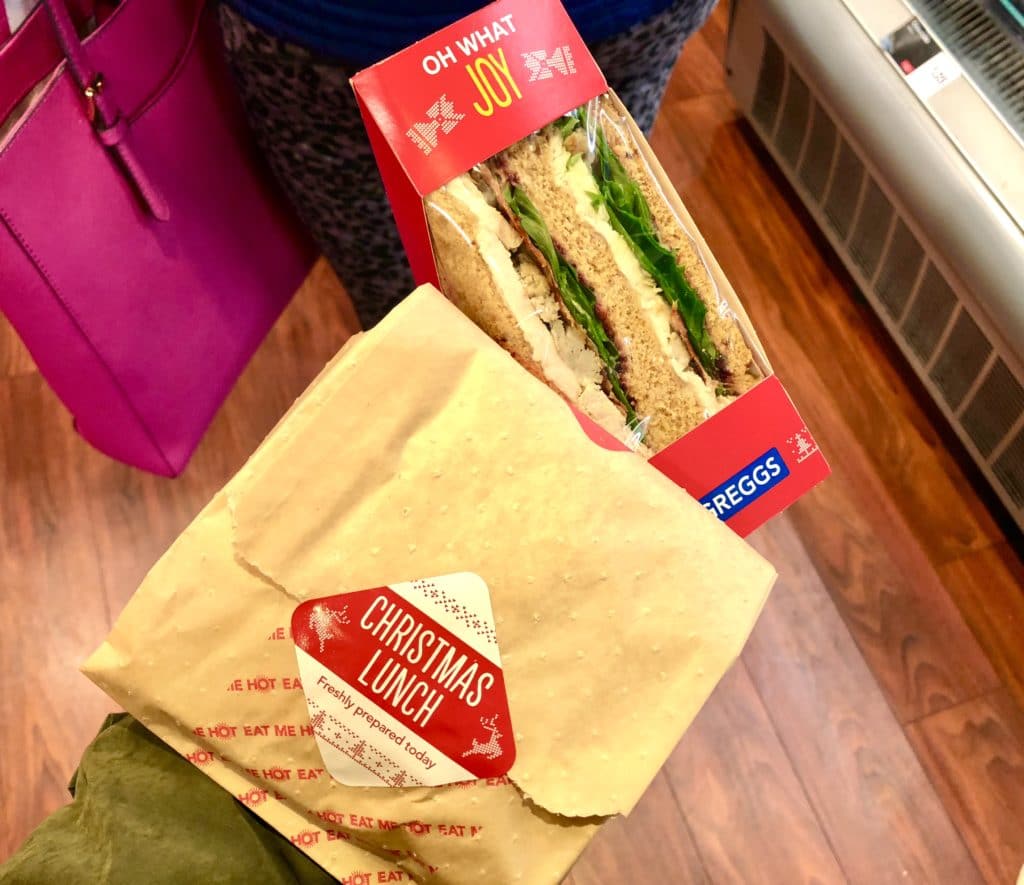 Christmas Lunch Sandwich
Sliced turkey breast, sage & onion stuffing, cranberry & port sauce with spinach and mayonnaise in malted brown bread.
Oh Gregg's, you don't often fail me like this.
Say hello to another dry turkey sandwich. While this one looked fresh and enticing with it's layers of meat, sauce and green leaves, it was disappointing all round. The turkey and stuffing were both pretty dry and bland, and the bacon was a little chewy, accompanied by a distinct lack of cranberry sauce and some spinach. This was pretty boring and especially disappointing when compared with the other turkey sandwiches on offer in other shops. This tasted like a healthy option with none of the health benefits.
A sad 2/5.
Christmas Lunch Toastie
Sage & onion flavoured pulled turkey, sweetcure bacon, cranberry relish, edam cheese, Mature Cheddar cheese and Bechamel sauce in white bread.
Ok, so this one got it spot on.
After the sadness of the Gregg's sandwich, I wasn't exactly jumping at the thought of sampling this toastie. Biting into it though, I was pleasantly surprised! This toasted sandwich had moist turkey, and much more flavour and texture from the sauces. The bacon was still a little chewy but less so than the sandwich's had been. The cheese on top seemed odd but really worked, making everything taste festive and indulgent, as a Christmas sandwich should be. It was a little on the salty side, but I don't mind that too much. I'd definitely go back for seconds of this toastie, and would recommend it to anyone who wants a yummy lunch without paying the Earth for it!
Just yum. Can I have another? A solid 4/5.
Pret a Manger

Pret's Christmas Lunch
Free range turkey, crumbly pork stuffing, crispy onions, spinach, cranberry sauce and mayo on malted bread.
A perfect balance of everything.
Pret really seem to know their stuff when it comes to Christmas sandwiches. While this sandwich certainly isn't innovative or even any different from the "turkey lunch" sandwiches on offer everywhere else, it's a perfect example of a good sandwich. I will admit that the turkey here isn't as moist or tasty as the M&S turkey had been, but everything else is on point. Tasty, meaty filling without being too rich or salty, a nice sweet-and-sour flavour from the cranberry sauce, and blessed by those glorious crispy onions. The spinach doesn't feel completely necessary but does add a nice texture and colour contrast. It's full on in flavour, without being too fatty or heavy, and every mouthful is reminiscent of this time of year.  I could eat this every day until Christmas to be honest.
I couldn't give this any lower than a 5/5.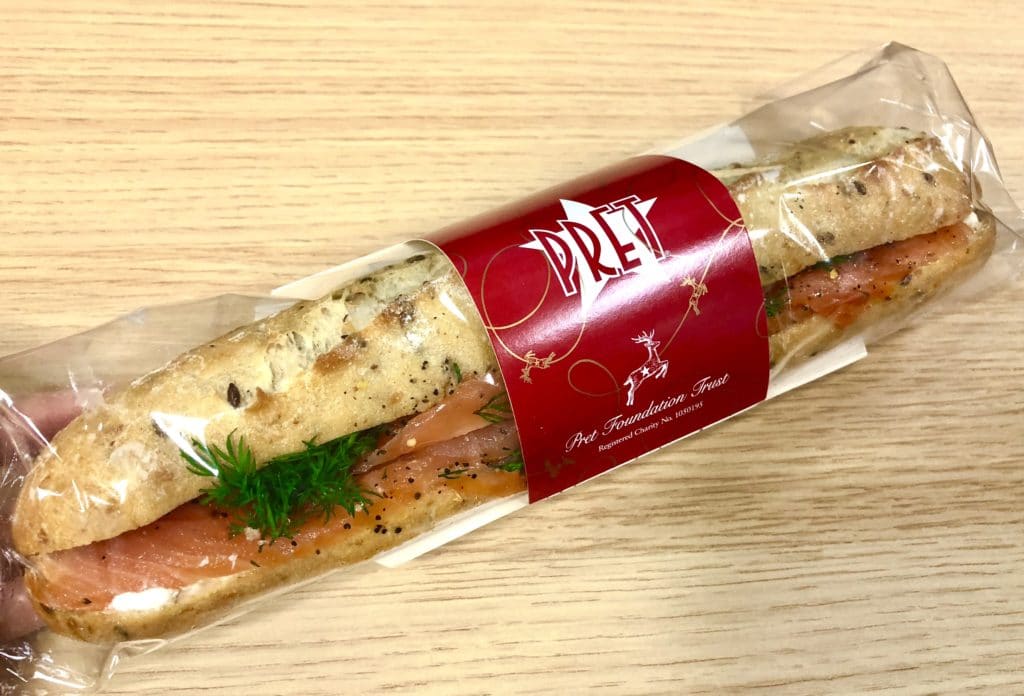 Smoked Salmon, Soft Cheese and Dill
Scottish smoked salmon with creamy soft cheese, black pepper, lemon juice and a sprinkle of fresh dill.
You could serve me smoked salmon on an old slipper and I'd probably still eat it tbh.
This offering (like most Pret sandwiches) was very enticing. Ribbons of pink salmon and fronds of fresh dill billowing out between that perfectly chewy baguette. I enjoyed it as much as I expected to. The salmon had a great texture and that familiar salty flavour, the dill balanced it nicely with a herby freshness, and the cream cheese acted like a creamy counsellor, bringing everything together. The spritz of lemon zest was nice in this too, though I would warn that this is a rather strong-flavoured sandwich overall, not one for the faint of palate. I'd also say it could do with a little more cream cheese, but that could just be my inner cheese demon speaking. As much as I enjoyed it, dill doesn't scream Christmas to me in ways that other herbs and spices do, so I couldn't call it a perfect Christmas sandwich.
Bold but balanced, and very delicious, but sadly not that festive, so I'll give it a 4/5.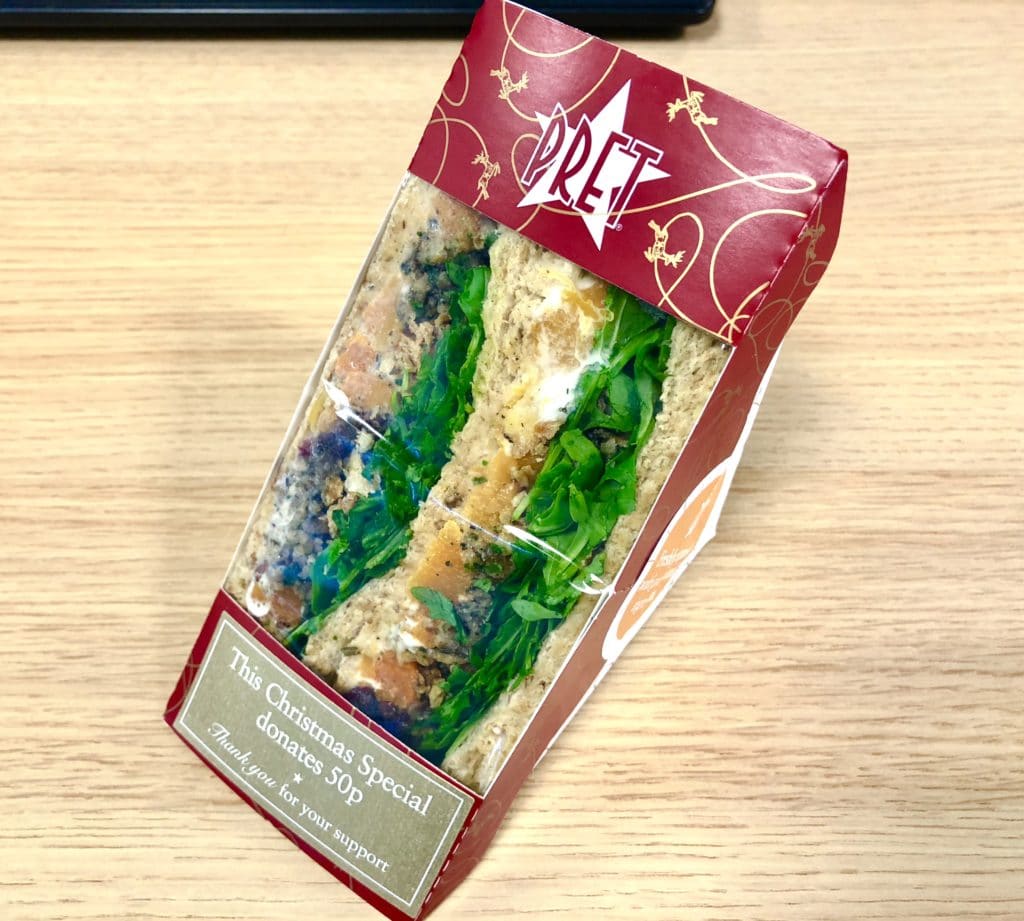 Pret's Veggie Christmas Lunch
Roasted chunks of butternut squash, rocket, nutty Christmas pesto made with walnuts and pecans, yoghurt dressing, and a sprinkling of crispy onions on malted bread.
We need this Christmas sandwich all year round.
If you try any vegetarian sandwich this year, make it this one. I'd go as far as saying that this sandwich has the ultimate balance of flavours and textures. Soft, sweet squash against a super savoury and insanely delicious nutty pesto-stuffing type thing. Crispy onions and sweet cranberries in harmony with each other, married together by that tangy and creamy yoghurt and mayo dressing. Even the rocket gets my approval, and usually greens are the worst of all foods! This sandwich is rich, salty, sweet and just utterly YUM. It even has two kinds of veg in it, so it's probably somewhat "healthy" too! Basically, this one is a winner, and it tastes like everything a rubbish nut roast wants to be.
I couldn't give this any lower than a 5/5!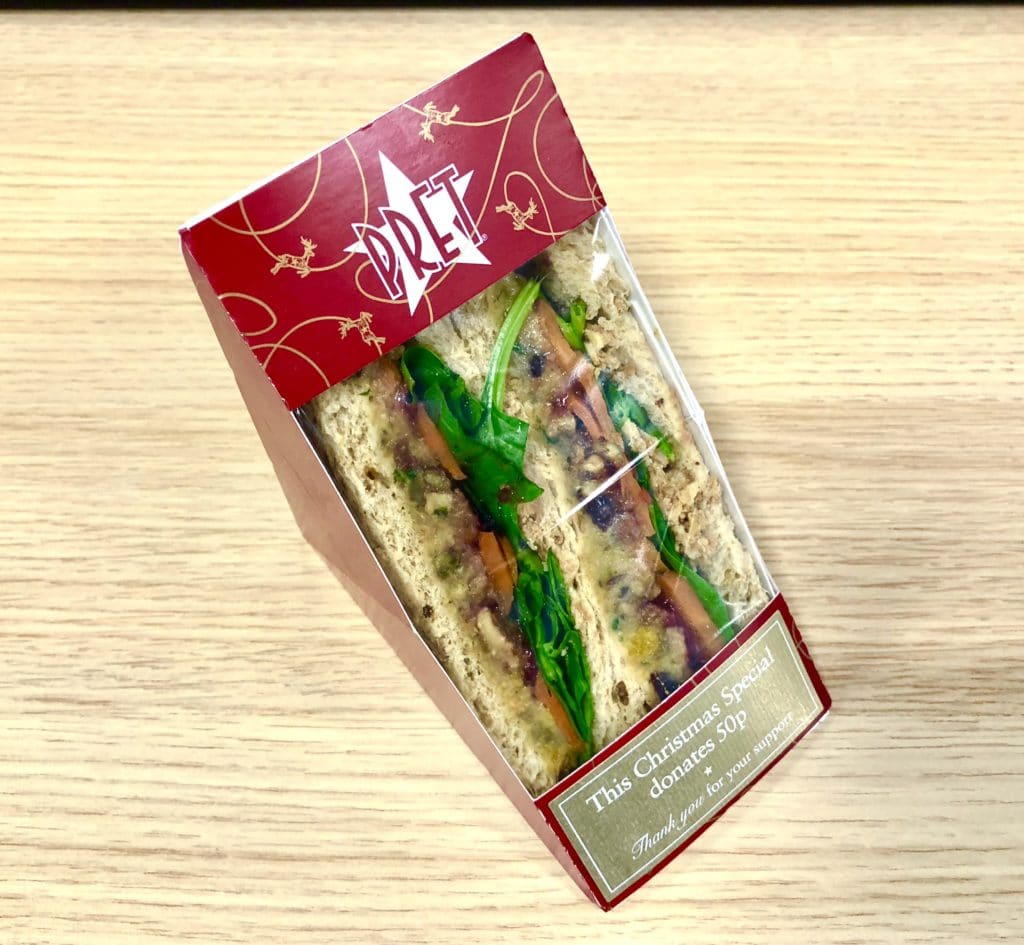 Pret's Very Merry Christmas Lunch (vegan)
Grilled carrots, spinach, vegan stuffing, crispy onions, caramelised pecans, and port and orange cranberry sauce on wholemeal bread.
Ok, so this one has a LOT going on.
This sandwich is mega inviting, simply due to how colourful it is. After LOVING Pret's Veggie Christmas sandwich, I was keen to try the even more hippy (vegan) version. Biting into it, the first thing you appreciate is the texture going on in this sandwich (crisp, soft, crunchy, it's all happening), and the second is that you'll want crispy onions in every damns sandwich from now on. The stuffing is rich and savoury, balanced perfectly against the sweetness of the caramelised pecans and the cranberry sauce. The roasted carrots and crispy onions really give a Christmassy feel, reminiscent of roast veggies smothered in gravy. At first I wasn't sure about the fact that the carrots aren't very soft, but I do think the gentle soft crunch they give adds to the texture. If you're someone who likes a meaty sandwich, you might find this one to taste a little too "healthy" to get you in the Christmas spirit, especially with the spinach! However, I'd say that despite it's lack of animal proteins, this sandwich is filling, satisfying and full of creative Christmas spirit. Nut roasts suck anyway, right?
I'm happy to give this vegan option a 4/5.
Starbucks

Turkey Feast Panini
Turkey and smoked bacon with cranberry gravy and stuffing bread sauce in a cranberry studded panini.
This is the most cruel misuse of the word "feast" I have ever encountered.
As sexy as this panini looked on the Starbucks ads, it just didn't deliver. While the bread was delicious – a cranberry studded ciabatta style bread – the filling was meagre and unsatisfactory for the price. Let me emphasise this: there were TWO thin slices of turkey and TWO small rashers of bacon, that is literally it. The crispy onions were a highlight, and the sauces added a nice flavour, which made it even worse that this was so poorly filled. If this had a better ratio of bread to filling, it would be an absolute belter of a sandwich.
Sadly, this can't get more than a 2/5.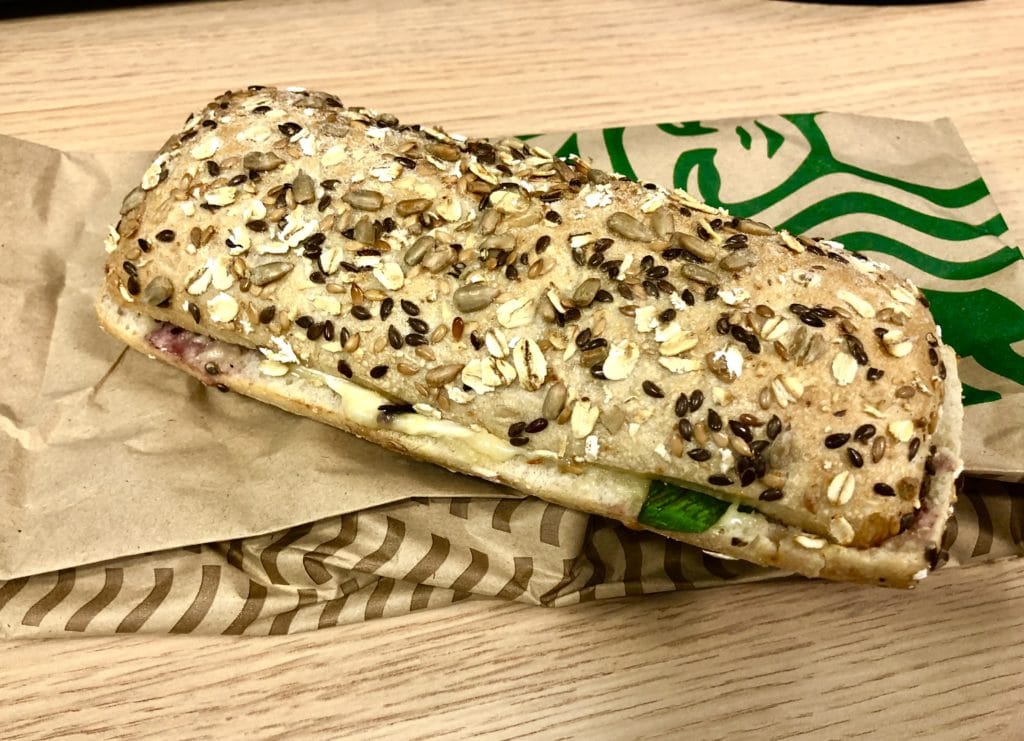 3 Cheese and Cranberry Panini
Brie with Cheddar and mozzarella cheese, béchamel and cranberry sauce and salad leaves in a seeded panini.
This one made up for the other panini's shortcomings…a little bit.
A mild buttery cheese flavour (though I could only really detect two of the three) was really comforting, and worked well with the leafy greens and cranberry sauce. Again, the bread was delicious, though very heavy on the seed topping, something I like but others might not. Similarly, this sandwich was a little mean on the filling, being much more bread than cheese, but the flavour was rich enough to satisfy nonetheless. I don't know if this is a Christmas sandwich but I enjoyed it.
Decent, but perhaps not festive enough, I'll give it a 3/5.
Boots

Turkey, Bacon, Stuffing & Cranberry
Turkey breast, pork, sage and onion stuffing and sweetcured bacon with mayonnaise and cranberry sauce on malted bread
A foray into blah.
Dry bland turkey, the school-Christmas-dinner kind, squidged together with tasteless bacon and a very mean amount of stuffing. A meaty mouthful, yes, but a boring one. This is no more exciting than a regular chicken and bacon sandwich, and definitely doesn't make me feel very festive. Even the bread is wrong, the rich brown malty bread overtakes what should be a tasty turkey filling, with a healthful and fibrous flavour that I don't want from a big meaty Christmas sandwich. I can't say much more, it's not terrible, it's just not great.
This is a bland 3/5.
Parsnip Fritter & Butternut Squash
Parsnip and carrot fritter, butternut squash, cranberry sauce, vegan mayonnaise, houmous, chickpeas and chestnuts with spinach on malted bread.
I'm out of breath just reading that out loud.
Props to Boots for hitting us up with another vegan offering, it would appear that they are few and far between in this realm of Turkey Feasts! A lot like Pret's vegan option, this sandwich has a HEFTY ingredients list! While this is a very tasty sandwich, that I'd happily buy again, I think it just missed the mark as a decent Christmas sandwich. The overriding flavour was the houmous and chickpeas, leaving a familiar but hardly festive garlicky taste. Thankfully the chestnuts have a nice flavour too. Sadly though, the supposed star of this sandwich just doesn't really provide much flavour. If I blindfolded you and asked you to guess what kind of sandwich you were eating, you'd never guess parsnip or butternut squash! While Boots have done a great job here as far as a chemist meal deal goes, it's sadly not a Christmas sandwich to me.
I liked it, but I'd like it better if it wasn't in Christmas packaging. I'll give it a 3/5.
Ham Hock, Cheddar and Plum Chutney
Cooked ham hock, cheddar cheese, spiced plum and apple chutney, mayonnaise and spinach on malted bread.
How can something so simple be so meh?
Having tasted some truly delicious ham hock Christmas sandwiches this season, I was looking forward to this one. Boy, was I disappointed. This sandwich housed the smallest, meanest amount of ham hock I've ever seen. It had a good amount of cheddar, thankfully, which was a nice mature cheese, but everything else was just bland. Vaguely noticeable chutney, a scraping of mayonnaise, and spinach providing the common crunch that many of these sandwiches have had this year. This wasn't even a great ham and cheese sandwich, let alone a Christmas sandwich.
Sorry, but it's a 2/5.
Tesco
 
Turkey and Trimmings
Turkey breast, chicken stock mayonnaise, sausage, cranberry sauce, sage and onion stuffing and smoked bacon on malted brown bread.
All mayonnaise should be chicken stock mayonnaise.
This is a serious contender for the best turkey-based Christmas sandwich. Biting into this, you get layers of meat, stuffing and saucy flavours, really reminiscent of a good leftovers sandwich. The meats are moist, the stuffing is really tasty without being too rich or salty, the cranberry sauce is just present enough. The real star here for me is the chicken stock mayonnaise; bold roast dinner flavour packed into creamy mayo, keeping the sandwich from getting too dry and adding bags of YUM. While this sandwich is a little heavy and could use a bit of crunchy texture somewhere, from some crispy onions or some greens, the flavours make this a top notch lunch.
Undoubtedly a 5/5.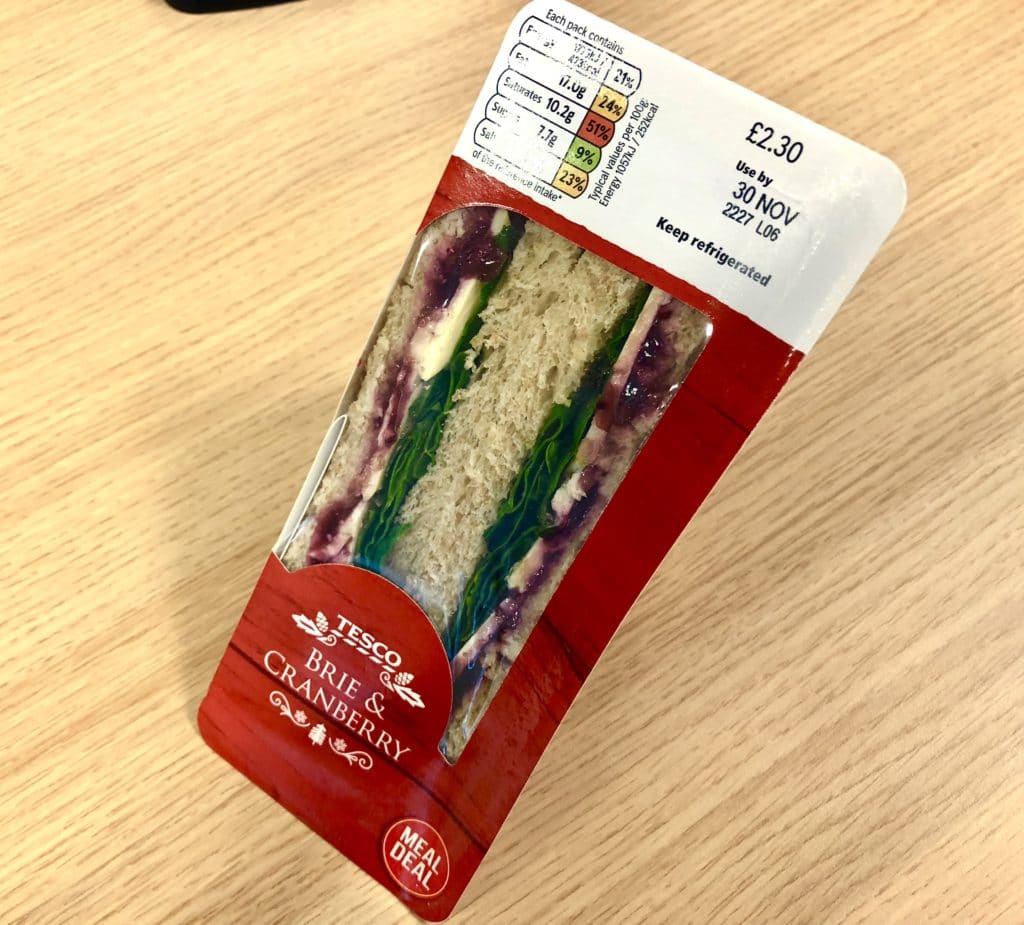 Brie and Cranberry
Brie, cranberry chutney and spinach in white oatmeal bread.
A festive cheese sandwich, done right.
While you could roll your eyes at the lack of originality, brie and cranberry are undoubtedly a winning classic Christmas flavour combination. This sandwich did look a little stingy in filling, but was more than satisfactory. While there isn't a lot of brie inside, it is a strong brie, meaning the amount of the tangy cheese is just perfect to balance against the sweet cranberry sauce. The spinach, though adding no flavour, adds a nice crunch to the sandwich and stops it from being too soft. Even the bread is nice here, a simple white with the added gentle flavour of oats. This is a simple but great, well-balanced sandwich.
I'd pick this up any time of year, a respectable 4/5.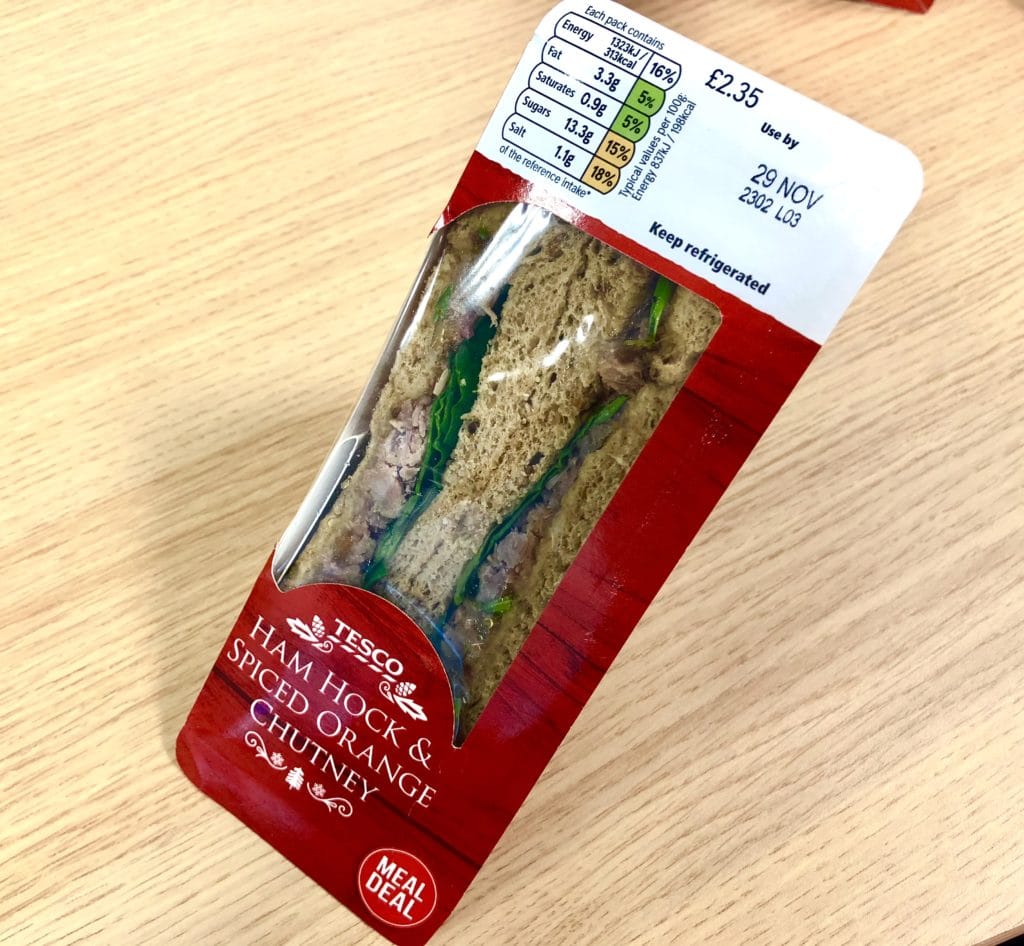 Ham Hock and Spiced Orange Chutney
Ham hock, spiced orange chutney and spinach in malted bread
I never thought I'd describe a sandwich as hideous.
I'd been excited to try this one since I saw it make its way onto the Tesco festive Food To Go shelves. How naïve I was. When I did buy this sandwich, the brown bread, low calorie content and mean-looking ham hock filling did concern me a little. My concerns were realised as I bit into this lunch. The only thing you can taste in this sandwich is the chutney, which is more sweet and potent than the inside of a mince pie. Overwhelmingly orangey jam-like chutney, masking the flavour of the small amount of ham hock, and making this sandwich feel like some kind of rubbish dessert instead. I couldn't even finish one half of this.
This is a sad excuse for a sandwich. A weak 1/5.
Sainsburys'

Turkey Feast
Turkey, smoked bacon, pork stuffing, spinach and cranberry sauce on malted bread.
Another delicious take on the turkey sandwich.
A big load of festive meaty goodness between some decent malted bread is how this one appeared, and it delivered! Moist, flavourful turkey, tasty bacon that had just the right amount of fat on it and some lovely herby pork stuffing. A delicious carnivorous sandwich that didn't have as much salt or fattiness as others I've tried. Fresh green and crunchy spinach leaves gave a nice texture contrast, and made this lunch look much more balanced and appealing. The sweet cranberry sauce thankfully came in a generous amount, unlike many others have, complimenting the savouriness of the meats. Supermarket sandwiches aren't often this enjoyable in my experience, but this one was a cracker.
I'd rate it among the more posh offerings, and give it a 4/5.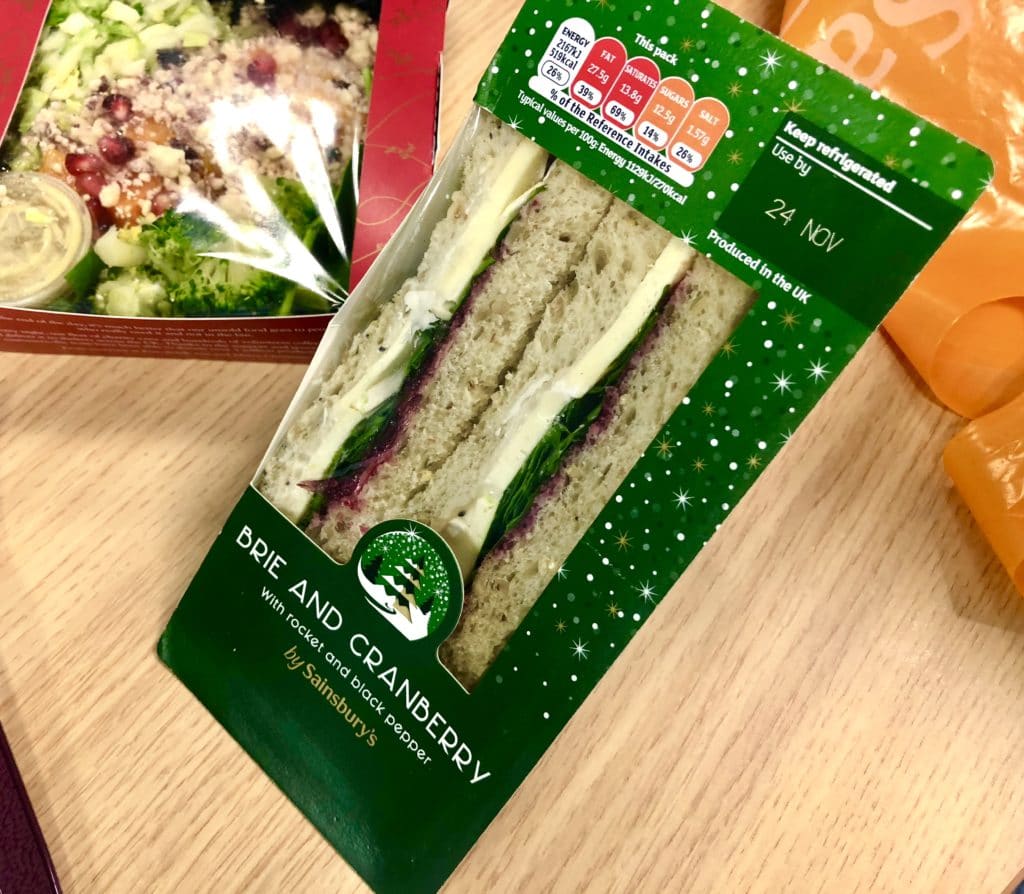 Brie & Cranberry
Brie, spinach and cranberry sauce on malted bread.
A proper cheese sandwich, putting M&S similar Christmas sandwich efforts to shame.
After the disappointment of the M&S brie sandwich, this one was a pleasant surprise. Creamy, mild cheese worked beautifully with the sweet cranberry sauce and fresh crunchy spinach. Again, this sandwich had a nice balance, without too much rich cheese or sugary sauce. The bread that Sainsbury's have put their sandwiches on is pretty decent too, much better than the bland super white bread of other shops. This one also had the added boost of using butter instead of mayonnaise (looking at you, M&S), which really complimented the brie.
Basically, just a tasty sandwich. A happily scoffed 4/5.
The Co-op

Boxing Day Lunch
Smoked turkey, smoked ham, winter slaw and spiced chutney on white bread.
Perhaps the very definition of meh?
This sandwich sounded delicious, and like a refreshing break from just the usual "turkey lunch" offering that most shops have on offer. Sadly, it wasn't even worth buying. The tasteless white bread made way for a fairly soggy endeavour into a seriously un-Christmassy sandwich. The "smoked" turkey and ham were just regular sliced cold meat that you'd find any time of year, not unpleasant but not worth a higher price tag. There's a thin scraping of half-decent chutney at the bottom, but all you can taste in this lunch is coleslaw. Cold, mayonnaise laden coleslaw that tastes predominantly of chunky raw red onion, with little else to make it a "winter slaw." This would be a decent ham and coleslaw sandwich, but as a Boxing Day lunch? I can't imagine this Christmas sandwich being any less festive. Keep your coleslaw for Summer BBQs or messy burgers instead.
This is a disappointing 1/5.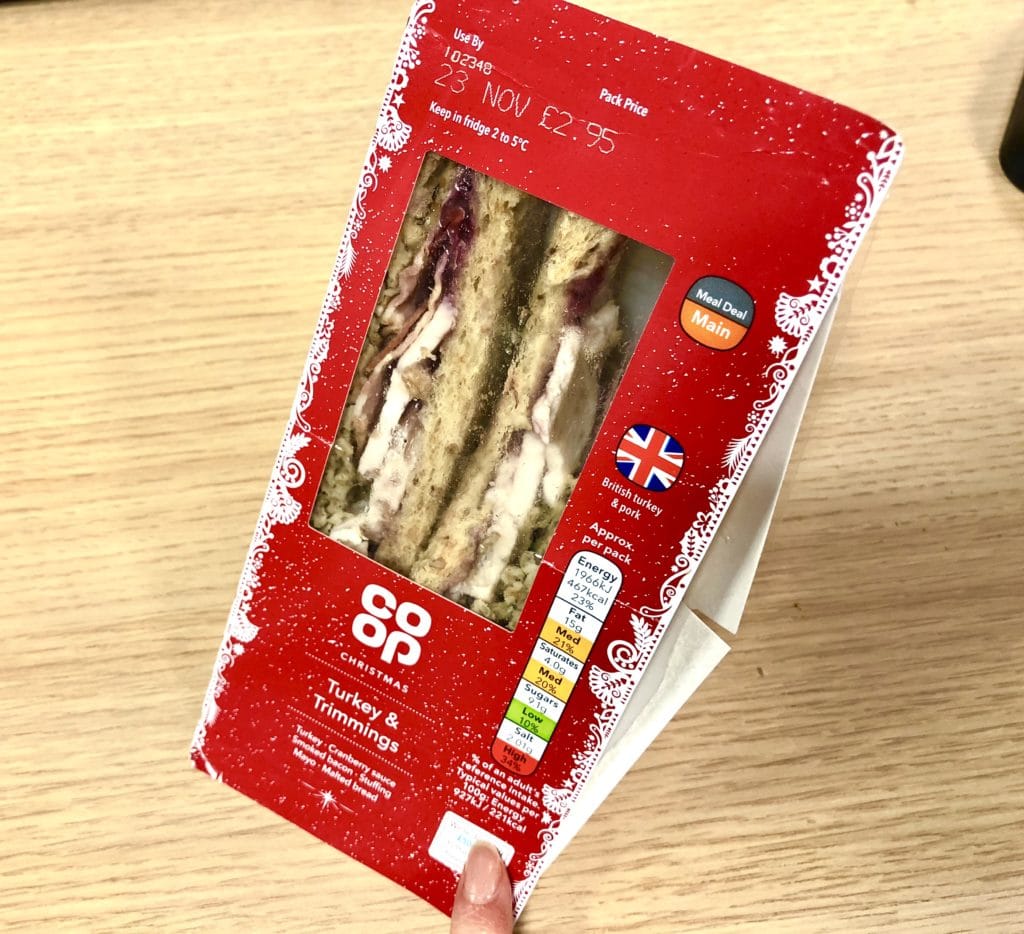 Turkey & Trimmings
Turkey, Cranberry sauce, smoked bacon, stuffing and mayo on malted bread.
Miles better than the "Boxing Day" offering, this is more of what you want from a Christmas dinner sandwich.
More flavourful bread, meat that isn't straight from a wafer-thin slicer, and just generally more satisfying. While the turkey is a little on the bland side, and the bacon's fat a little chewy, the flavour of the bacon, sweet cranberry sauce and savoury (but not too salty) stuffing really make up for it. This one tastes festive like a Christmas sandwich should, and is a little more on the affordable side than the more posh food outlets. Definitely worth a try if you need a Christmassy pick-me-up.
I'm going to give this sandwich a 3/5.
Phew! Now I'm stuffed.
I hope you enjoyed the madness of this Ultimate Christmas Sandwich Review, and I hope it'll help you choose your festive lunches wisely. No one needs a rubbish, soggy Christmas sandwich when there are so many great ones out there!
See you same time next year?
If you enjoyed this Ultimate Christmas Sandwich Review, you may also enjoy…