The most addictive and easy White Chocolate Easter Rocky Road you'll ever try, crammed with Oreos marshmallows and Cadbury's Mini Eggs!
Ok everybody, brace yourselves.
This might just be equally the easiest and most addictively tasty recipe I've ever posted.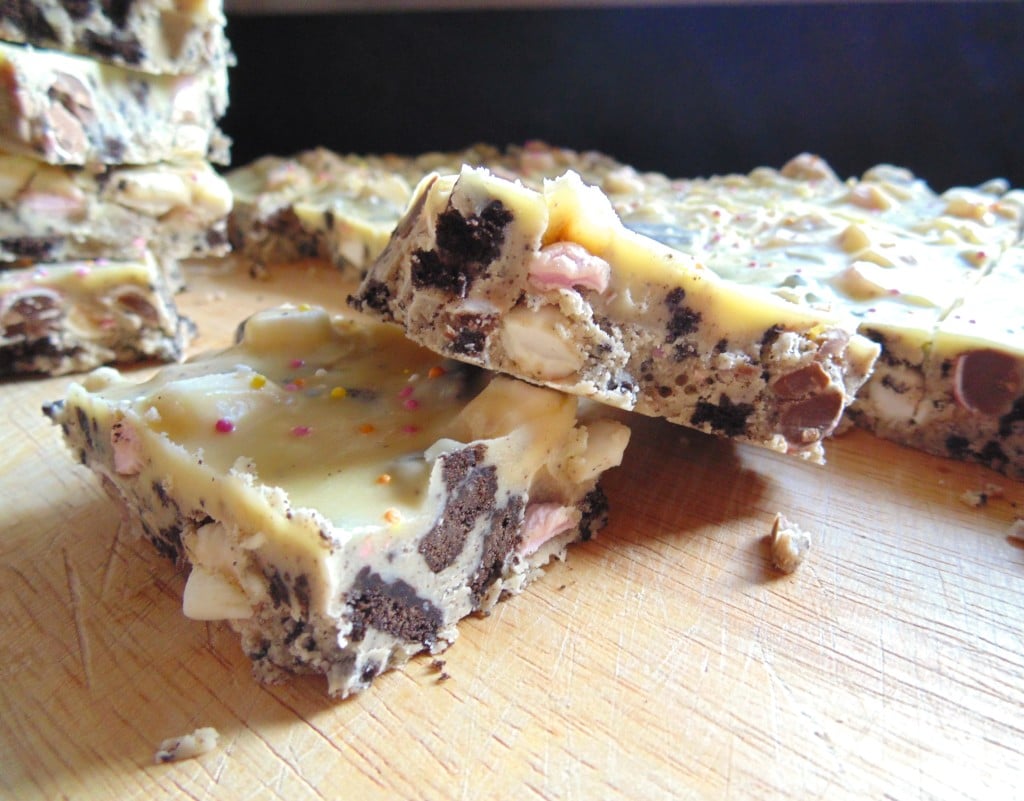 Lock up your daughters, White Chocolate Easter Rocky Road is comin' to town.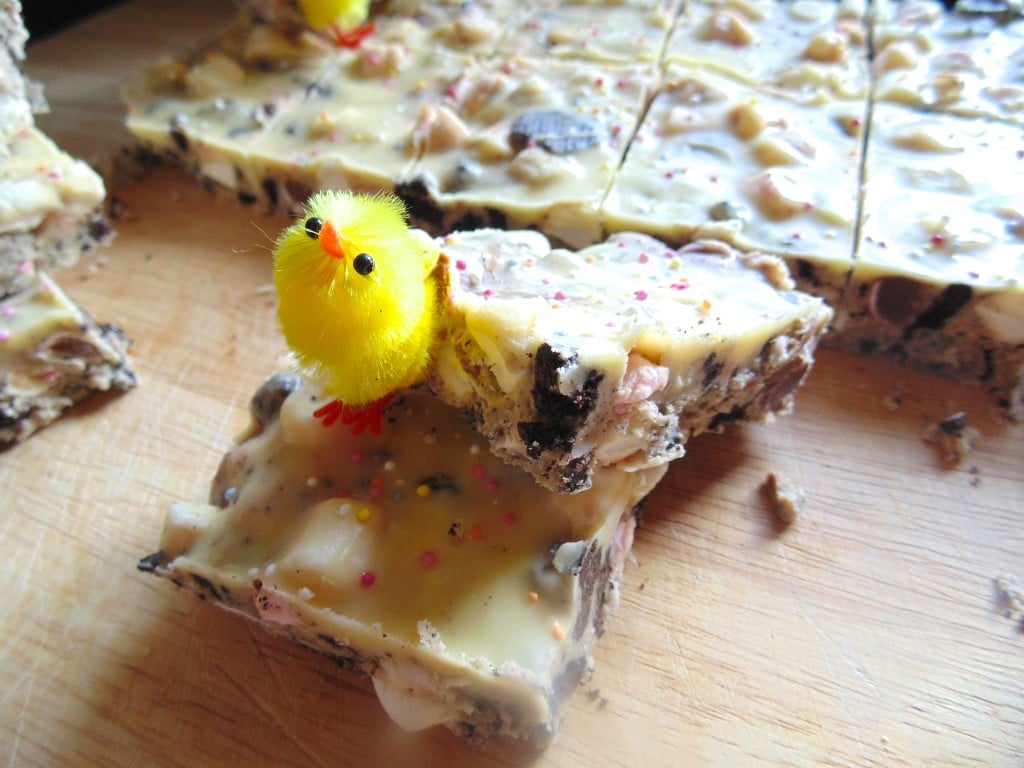 This isn't Rocky Road as you know it, the dull brown squares full of stale biscuits, dry marshmallows and some meagre sultanas that you've seen at many a school bake sale. Oh no. This White Chocolate Easter Rocky Road is bigger, better and downright yummier than any you've had before. I don't want to toot my own horn here, but…toot toot.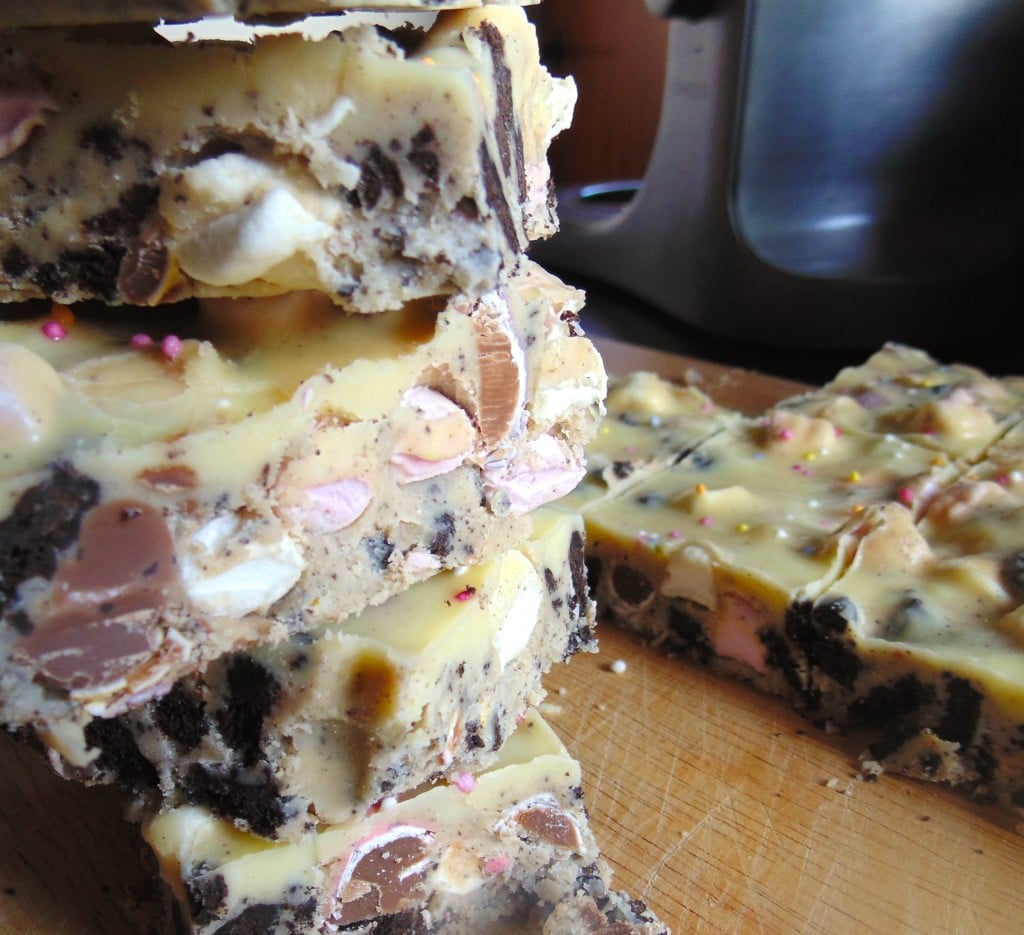 Born out of sheer greedy hormonal need with a splash of curiosity, this Easter Rocky Road is here to make you re-evaluate your idea of Rocky Road. This version is made with the best old school white chocolate, adorable mini marshmallows, crushed Oreo cookies and the shattered remnants of two full bags of everyone's favourite festive sugar-shelled wonder, Cadbury's Mini Eggs.
Loosen your belts ladies and gents, this one's not the kind of Rocky Road you only eat one piece of! The Easter Bunny is blushing.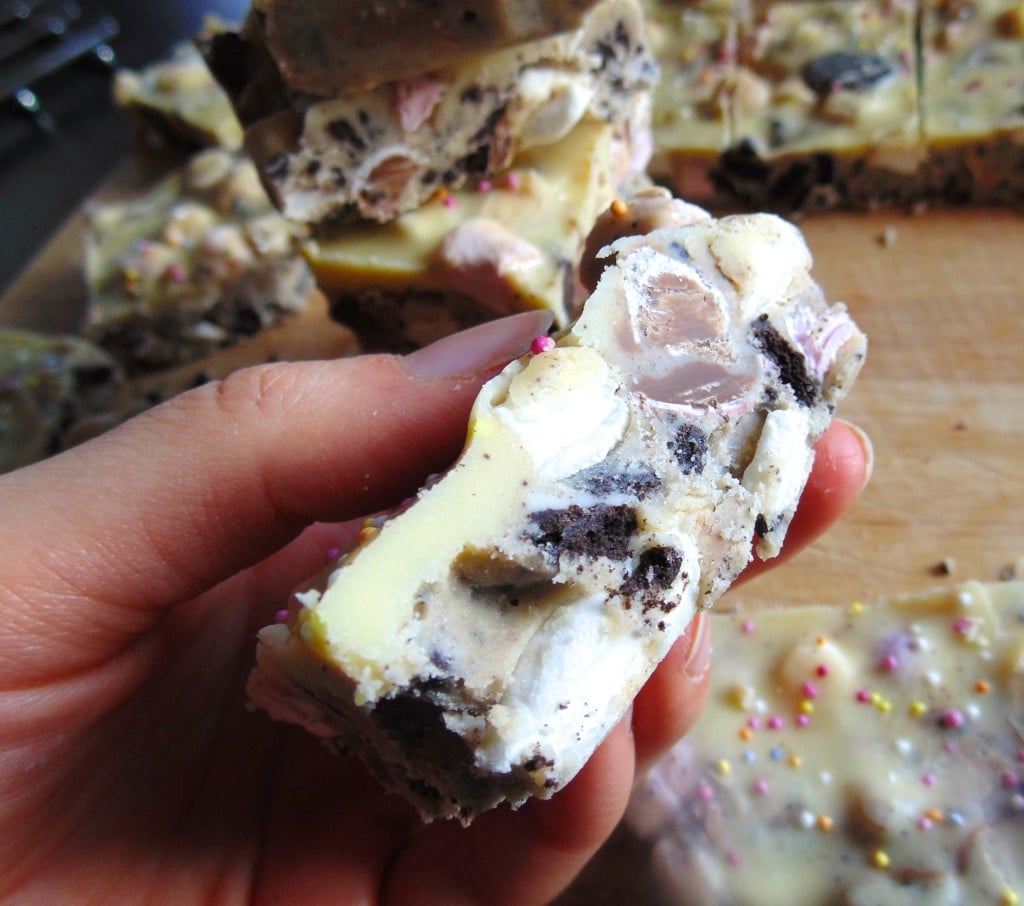 You could call this Easter recipe unimaginative, what with the food blogosphere positively saturated in gooey Creme Egg Brownies, fancy Hot Cross Buns and countless Carrot Cakes. Yes this recipe isn't exactly adventurous but it is two things: ridiculously easy, and undoubtedly satisfying to any sweet tooth.
Feeling sad because you're an adult now and no one bought you any Easter Eggs? Fear not, this Rocky Road will take you above and beyond any plain milk chocolate, I promise.
Everything you need for this recipe comes in brightly coloured packaging, and that makes me quietly but defiantly happy in a growing world of health maniacs. Just the sight alone makes me feel seven years old again.
To start, simply tip a whole packet of Oreo cookies into a freezer bag and beat the living daylights out of it until you're left with a mixture of crumbs and chocolate biscuity rubble. Pour this into a large bowl.
Pour about 100g of mini marshmallows on top of your crushed cookies.
In the same freezer bag you used for your Oreos, bash up two bags of Cadbury's Mini Eggs into shards of varying sizes. The pastel beauty of these little devils never fails to cheer me up.
Once bashed, tip the broken eggs onto the mallow and cookie mixture and set aside.
Take 400g of white chocolate and give it a rough chop.
In a large pan, weigh out some good ol' butter.
Put the pan over a low heat and once the butter starts melting gently, chuck in your chopped white chocolate.
Stir until just melted together before scooping out about 150ml (that's just over 1/2 a cup to my US cousins) of the mixture and setting aside for the topping.
Tip your wonderful cookie, marshmallow, Mini Egg mixture into the melted chocolate and mix until everything is coated in beautiful white chocolatey goodness.
Lightly grease a tray (I used an 8×12 inch disposable foil tray) and pour your Rocky Road mixture into it, flattening it as much as possible.
Pour the remaining chocolate you set aside over the top and smooth it out as best you can.
Now if you're feeling as jazzy and untameable as I was, throw some sprinkles over the top for some extra cuteness.
Then simply pop your tray into the fridge for at least two hours to set and take that time to lick the spoon, bowl, pan and countertops which you've probably covered in melted chocolate and biscuit crumbs…
Once set, just lift the White Chocolate Easter Rocky Road out of its tin and use a sharp knife to slice it however you like, I got 21 (uneven!) slices from this recipe but you can cut them as big or small as you want.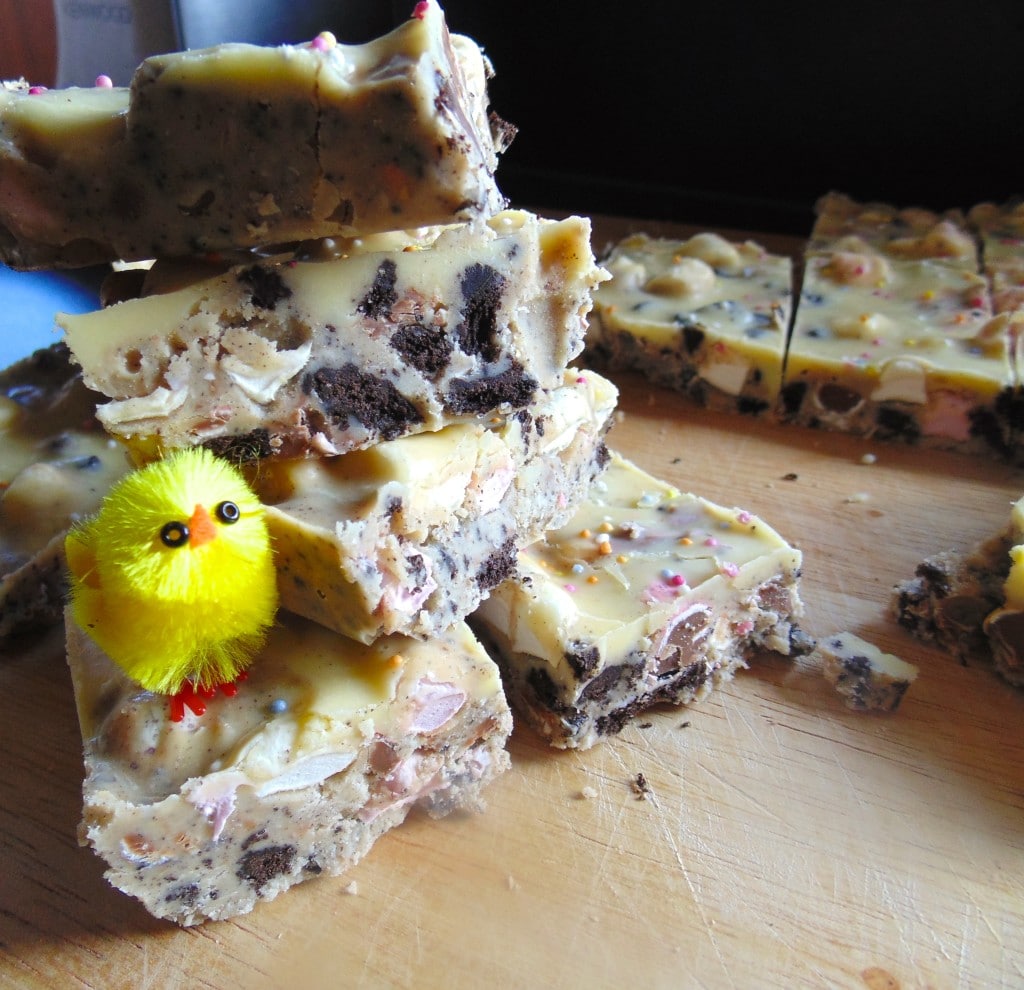 All that's left to do is savour every sweet, chocolatey bite. Crunchy biscuits, crisp sugar shells, chewy marshmallows and smooth melty white chocolate…who doesn't want to sink their teeth into this??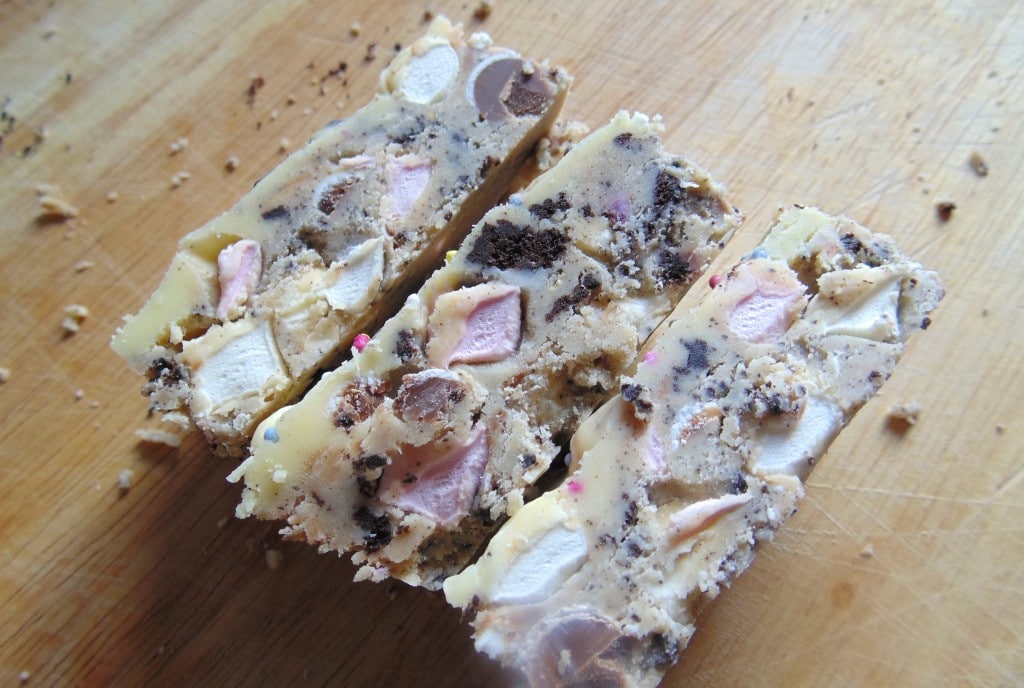 You can find the handy wee printable recipe below. I urge you to try this one out folks, kids will especially love this White Chocolate Easter Rocky Road, it's a proper Easter treat!
White Chocolate Easter Rocky Road
The most addictive and easy White Chocolate Easter Rocky Road you'll ever try!
Ingredients
100g Oreo cookies
100g mini marshmallows
200g Cadbury's Mini Eggs
400g white chocolate
150g butter
Sprinkles (optional)
Instructions
Put your Oreo cookies into a freezer bag and bash with a rolling pin until you have a mixture of crumbs and shards. Place into a large bowl.
Pour your marshmallows on top of the crushed Oreos.
Bash the Mini Eggs into smaller chunks in the same freezer bag as the Oreos. Pour the broken eggs onto the marshmallows and Oreos.
Chop the white chocolate into small chunks.
Weigh butter into a saucepan and place over a low heat to gently melt it.
When the butter is slightly melted, tip the chopped white chocolate into the pan and stir until just melted and smooth.
Scoop around 150ml (just over 1/2 cup) of the melted chocolate mixture out of the pan and set aside.
Pour the Oreo, marshmallow and Mini Egg mixture into the pan of melted chocolate and stir until entirely coated.
Tip this mixture into a lightly greased tin (8x12 inches was a perfect size for me) and flatten as much as possible.
Pour over the reserved melted chocolate and scatter over some coloured sprinkles if you like.
Allow the Rocky Road to set in the fridge for at least 2 hours before slicing into bites or bars.
http://maverickbaking.com/white-chocolate-easter-rocky-road/
You may also like: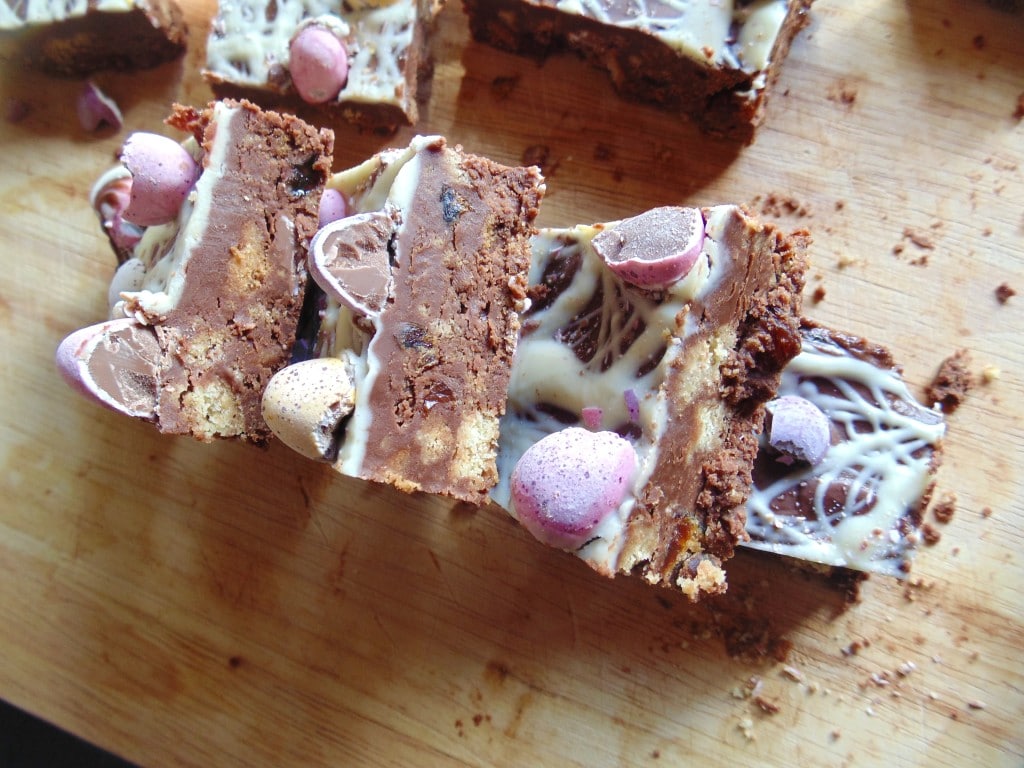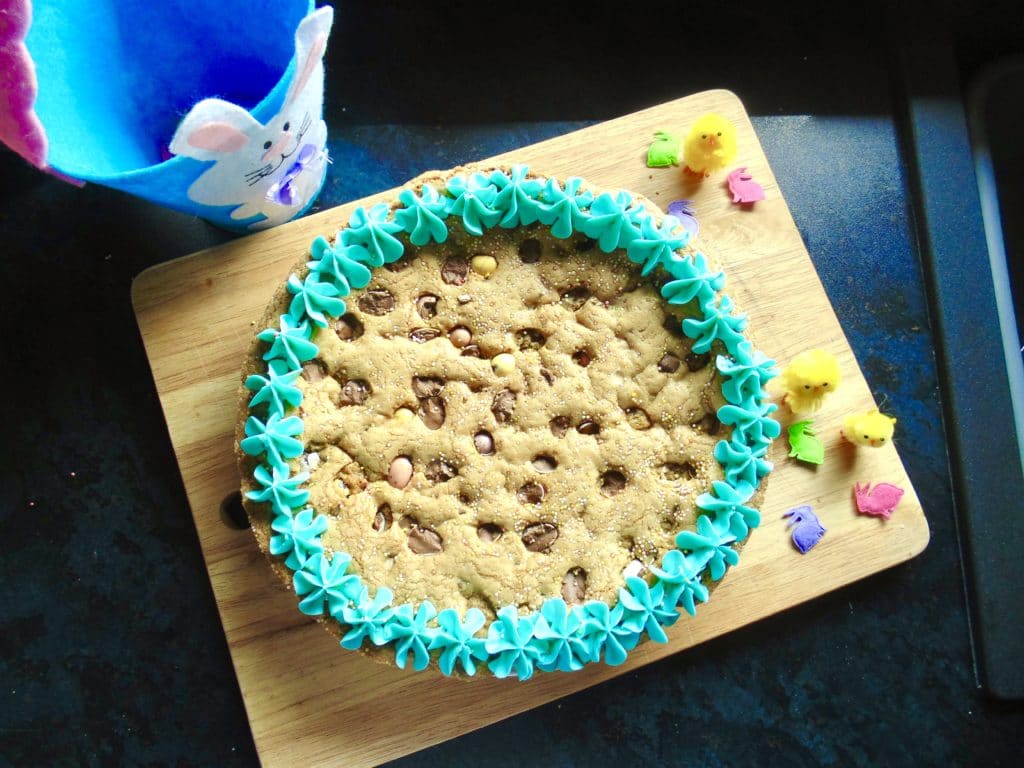 [This post may contain affiliate links]