Baking with Ruby Chocolate; today we are tasting new Ruby Chocolate for the very first time, and making some Ruby Chocolate Cupcakes with it!
Scroll to the bottom of this page to find the recipe for Ruby Chocolate Cupcakes!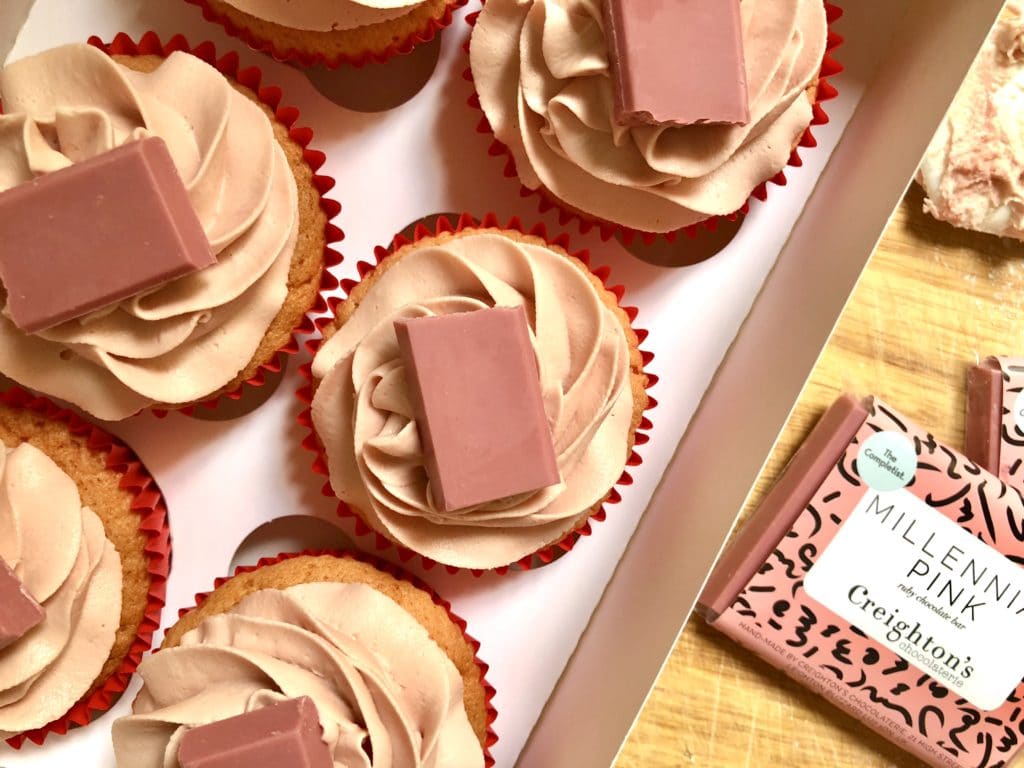 Creighton's Chocolaterie, based in Leighton Buzzard here in the UK, have been kind enough to contact me and send me some of their brand new Millennial Pink bars. This is their first foray into the world of Ruby Chocolate, and I am very excited to be on board to spread the word about this new discovery.
I previously reviewed their MERMAID CHOCOLATE (yes, mermaid chocolate) range in a video on my YouTube channel, you can check that out here.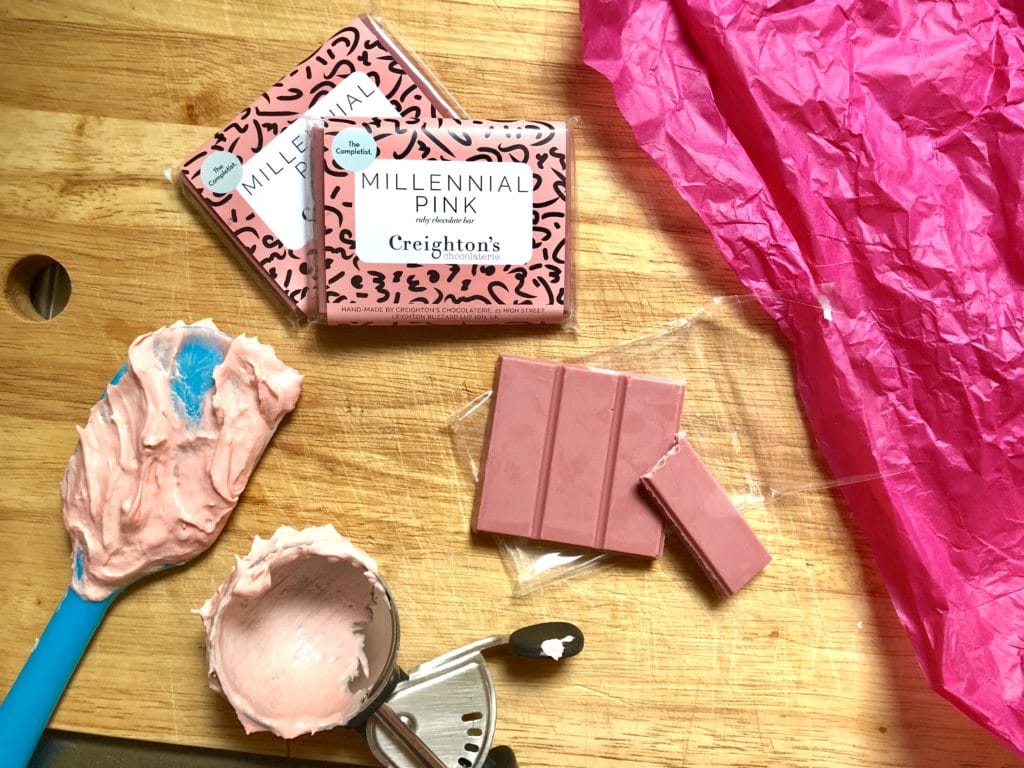 Let's dive right into just what the heckity heck ruby chocolate is, and how I felt after this ruby chocolate taste test.
Who are Creighton's?
Creighton's are a young and fun British chocolate company, producing bars that are as eye-catching as they are tasty.
Founded in 2011 by a mother/daughter partnership, and now supported by an all-female team, Creighton's are producing small batches of unique handmade chocolate. Their collections change with the seasons, with limited edition flavours and designs appearing alongside their year-round range.
Every bar is colourful, and dressed in a wrapper that illustrates a little of what to expect inside. You could be mistaken for thinking that these bars in their wrappers are posh designer greetings or postcards from a distance. Until you get up close and start salivating at the description of the chocolate it cradles inside, of course.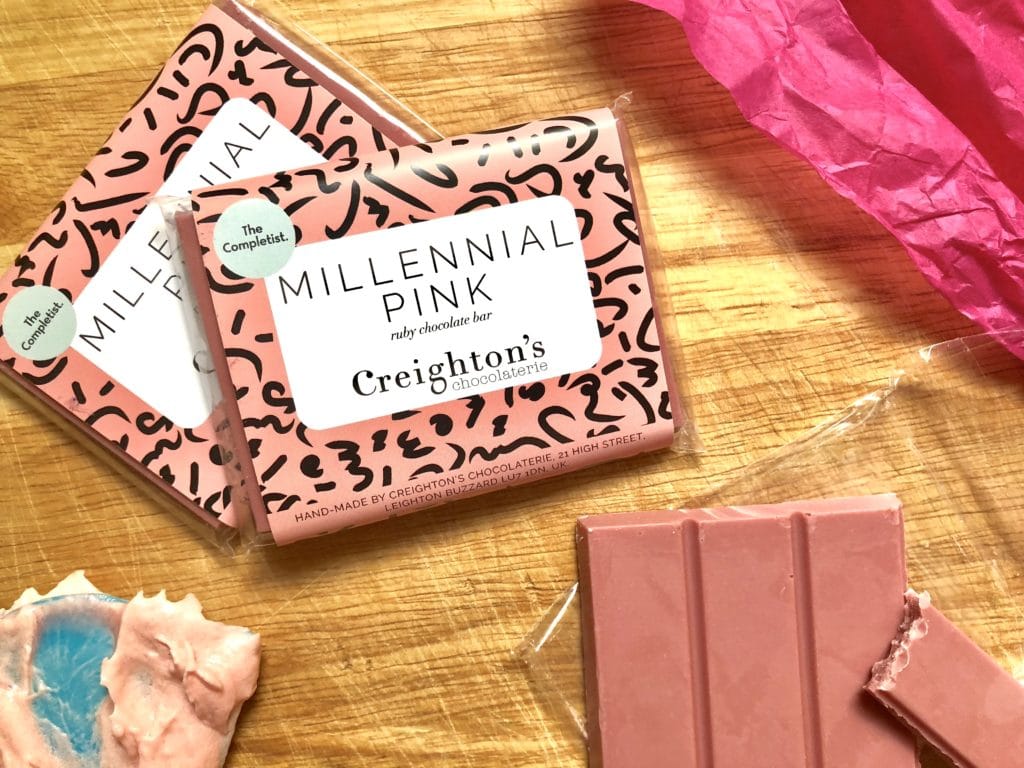 What is Ruby Chocolate?
You know dark chocolate, with its rich, strong and often bittersweet flavour. You know milk chocolate, with its mellow but luxurious creamy flavour. You know white chocolate, with its sweet and milky vanilla flavour.
In 2017, Callebaut revealed ruby chocolate, a product that had been in development for years after the discovery of an entirely different cocoa bean. The end result was a rose-pink creation completely unique to the market. Sadly, Callebaut cater to chocolatiers and patissiers, meaning that they only sell it to us mere mortals in 10kg bags. Even for me, that's a little extreme for chocolate.
Creighton's however, are bringing chocolate to the general public, without sacrificing quality or flavour. Behold the Millennial Pink bar, the little beauty behind this ruby chocolate taste test!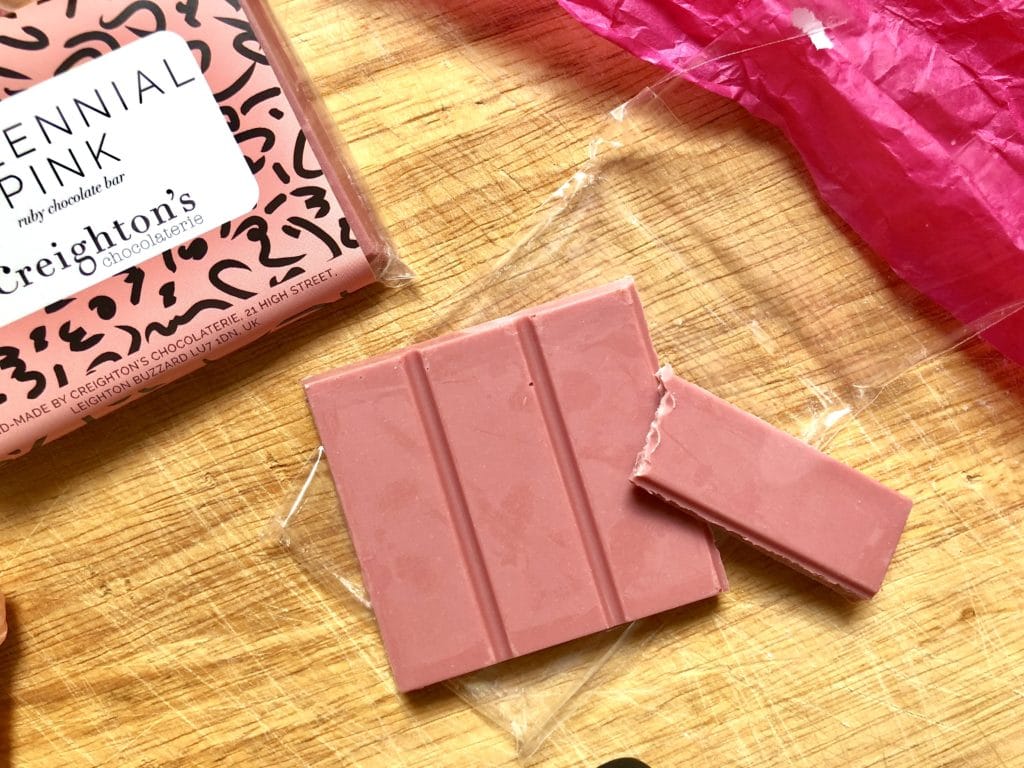 What does it look like?
Behind a gorgeous wrapper and a clever name, lies a perfectly natural pink chocolate. As bold and eye-catching as pink food colouring yet as gentle and appealing as the petals of a peony. This is an appetising shade of pink, but one that wouldn't look amiss in a bottle of nail polish either.
The Millennial Pink bar is petite at just 50g, but it packs a punch in appearance, and is of a pleasantly surprising thickness. Does the taste match the vibrant colour?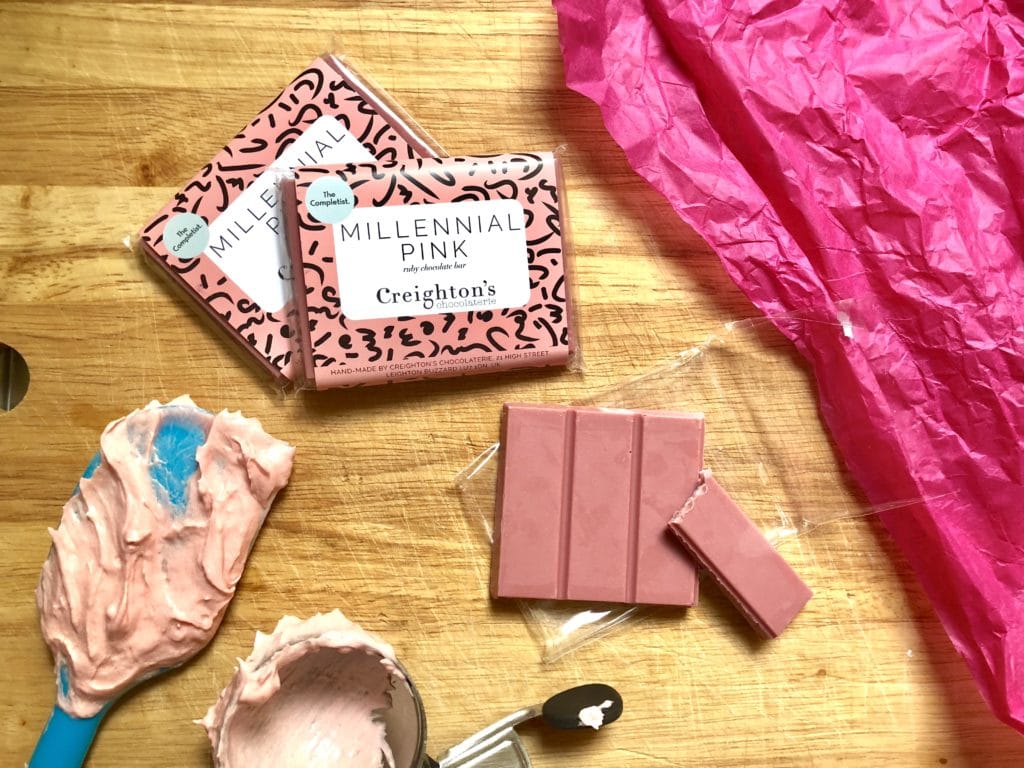 How does it taste?
The flavour is unlike any kind of chocolate I've had before.
When you first sink your teeth through it, you initially get a white chocolate vibe. It's creamy, milky and sweet flavour is very similar, and very unlike that of dark or milk chocolate.
However as soon as it hits your tongue, the flavour becomes very different. Similar to when you bite into a ripe raspberry and your tongue has to deal with sweetness and tartness at the same time. A pleasant sweet-tangy taste like that of a natural yoghurt or a citrussy frosting. You could compare the fruitiness to a lot of things, just not to any chocolate you'll be used to.
You could be forgiven for thinking that this was actually just a berry-flavoured white chocolate with a little food colouring. Astonishingly it's not.
Don't get me wrong, it is every bit as rich and sweet as a white chocolate, but that is certainly not a bad thing.
Having tasted Kit-Kat's version of ruby chocolate earlier this year, I can confidently say this one is miles better. Kit-Kats have such a thin layer of chocolate that you couldn't really appreciate the flavour. Creighton's have done a great job of making a ruby chocolate bar of good thickness with no frills, to let the truly special of this cocoa come through.
I've been so excited about this ruby chocolate taste test and how unique it is that I've been trying to get everyone to taste it. My boyfriend, my mum, the post man, my dentist. Well, not quite, but you get the picture.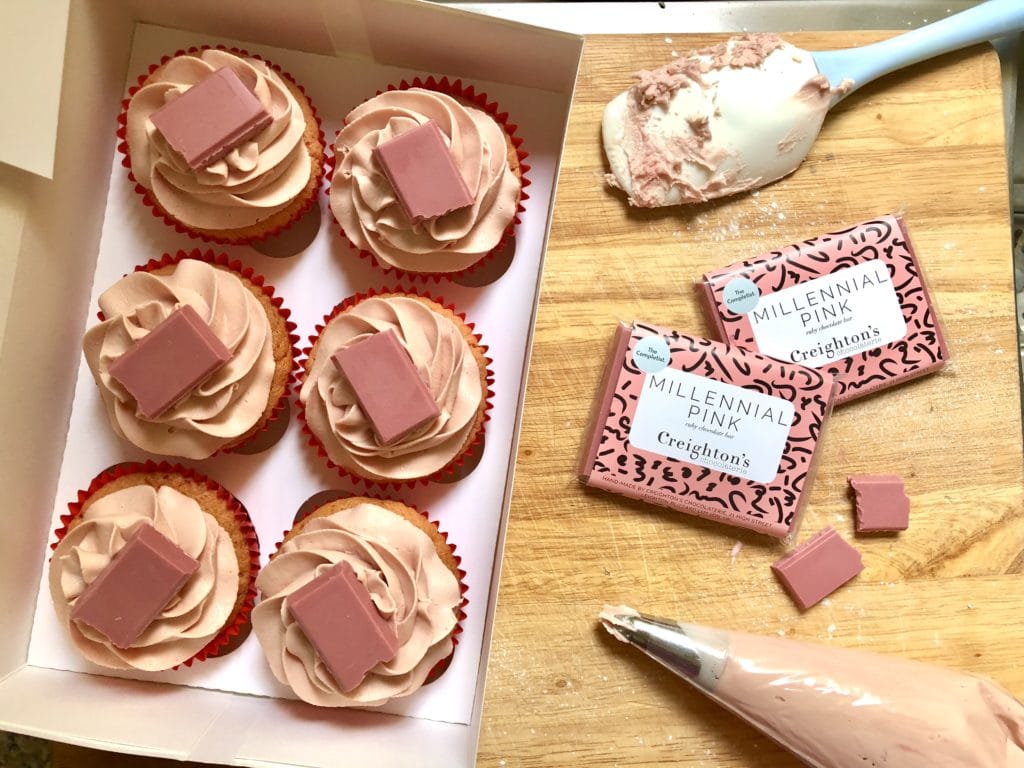 You really have to taste this stuff to understand how unusually delicious it is.
High on the excitement of a brand new kind of chocolate, it was time to get baking.
Say hello to these Ruby Chocolate Cupcakes!
Pink-tinted vanilla cupcakes, swirled with a rich and creamy ruby chocolate frosting, topped off with a generous chunk of Creighton's Millennial Pink ruby chocolate. It's a pink paradise in your gob.
I decided to keep the cake fairly plain, so as not to take away from the flavour of he ruby chocolate, and the gentle hit of vanilla sweetness it gives is ideal. And while the cake needed a little food colouring, the gorgeous rose pink colour of that frosting is ALL natural!
Watch the video below from my YouTube channel to see how I made these Ruby Chocolate Cupcakes, and scroll down to find the full recipe:
Have you tried ruby chocolate yet?
Ruby Chocolate Cupcakes - Baking with Ruby Chocolate
Ingredients
For the cupcakes:

200g (13 tbsp) soft butter or margarine
180g (1 cup) caster sugar
1 tsp vanilla extract
3 large eggs
200g (1 ½ cups) self-raising flour
Pinch of salt
Red or pink food colouring
For the Ruby Chocolate frosting:

220g (14 ½ tbsp) softened unsalted butter
350g (1 ¾ cups) icing sugar
200g (8 oz) melted Ruby Chocolate
Instructions
For the cupcakes:

Preheat your oven – 180 C / 160 C fan / 350 F / gas mark 4 – and place 12 cupcakes or muffin cases into a 12-hole muffin tin.
Place all your cupcake ingredients in a large bowl, and use a stand mixer, electric whisk or wooden spoon to beat everything together thoroughly until smooth and combined.
Use an ice cream scoop or big spoon to evenly distribute the mixture between the 12 cupcake cases.
Bake in the preheated oven for 20-25 minutes until lightly golden, risen and firm to the touch.
Allow to cool in the tin for 5-10 minutes before removing and allowing to cool completely on a wire rack.
For the Ruby Chocolate frosting:

Melt your Ruby Chocolate, either in the microwave in 30-second blasts or in a heatproof bowl over a pan of simmering water, until smooth.
In a large bowl, beat together the butter and half the sugar using a stand mixer, electric whisk or wooden spoon, until smooth.
Add the remaining sugar and mix again.
Mix in the melted Ruby Chocolate.
Beat the frosting vigorously for several minutes until noticeably lighter and fluffier.
At this stage you can either spread or pipe your frosting onto the cooled cupcakes.
Decorate the cakes with an extra piece of Ruby Chocolate.
Enjoy!
Notes
BE A MAVERICK: why not bake some fresh raspberries into the cupcakes to compliment the pink colour and tangy flavour of the Ruby Chocolate?
MAKE IT GLUTEN FREE: Simply swap out the self-raising flour with a gluten free self-raising blend and add 2 tbsp of milk
http://maverickbaking.com/baking-with-ruby-chocolate/