Chocolate Banana Protein Smoothie; a luxuriously thick and creamy banana smoothie with natural cocoa, oats and Pulsin pea protein to fuel your morning!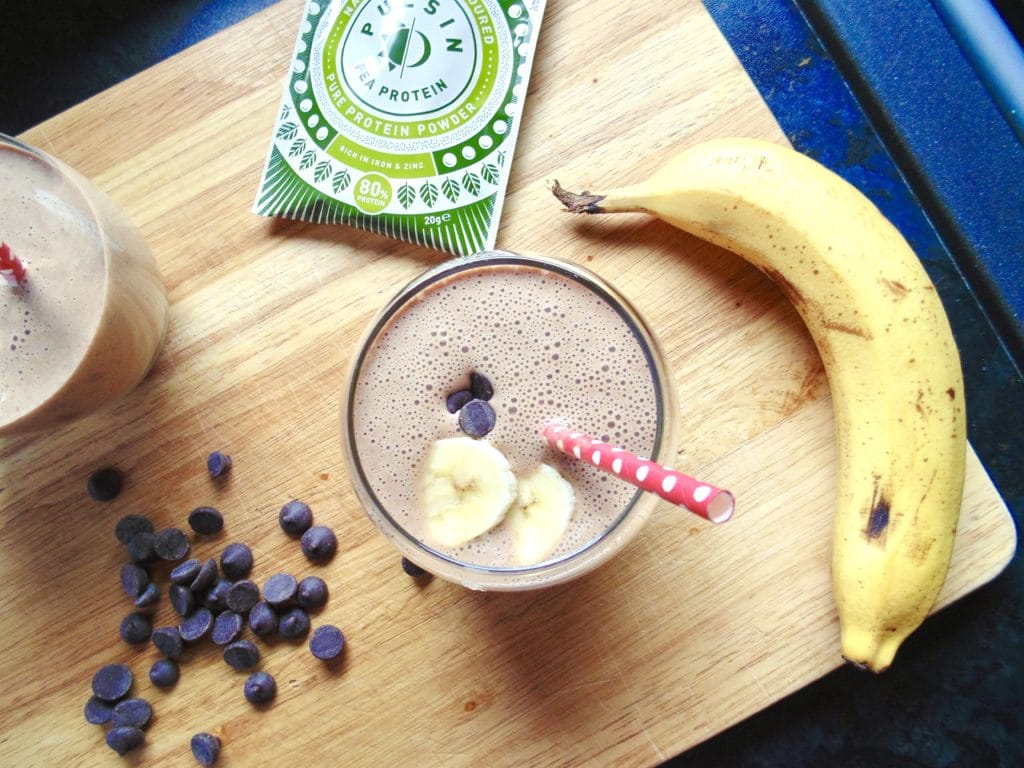 Green juices suck, most conventional protein shakes suck so today, we're making something so creamy and delicious you won't even know that it's doing you any good!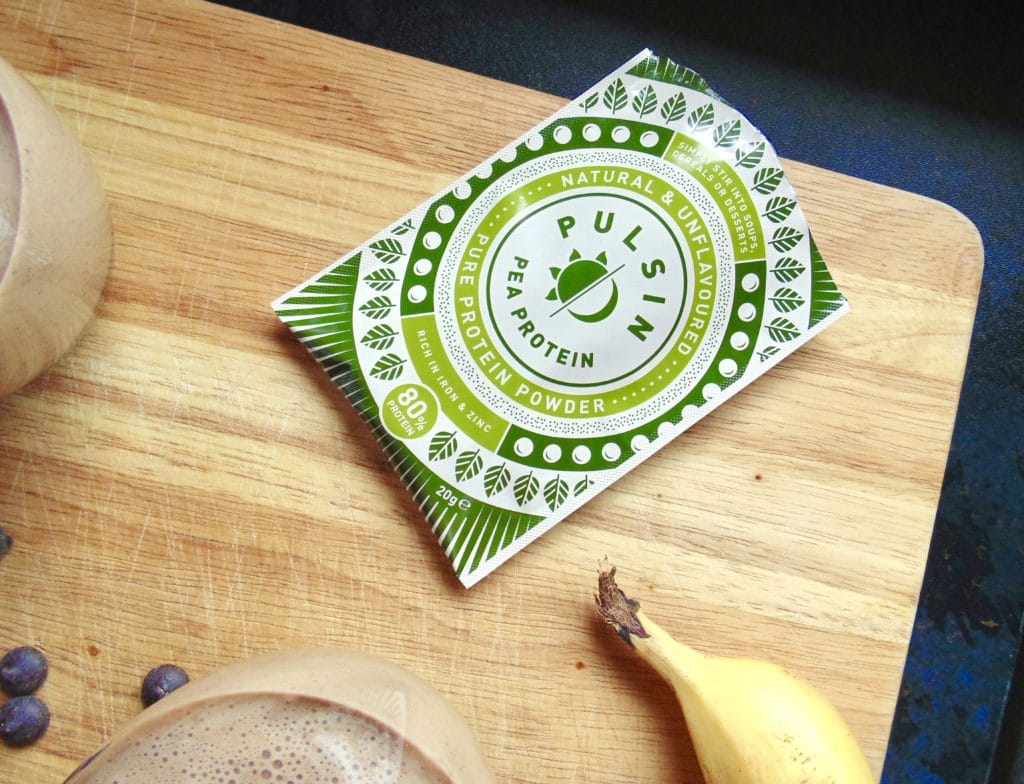 As you may have seen in my previous post, the delightful people at Pulsin recently sent me a great little package of samples. It consisted mostly of their raw chocolate brownies and protein boosters.
But the sample package also carried a little sample sachet of their healthy pea protein powder.
Now I know what you're thinking. You're probably thinking, "PEA PROTEIN?!?" Because I did too initially. But really, is it any more weird or gross than powdered cow breast milk? I'll leave that thought with you.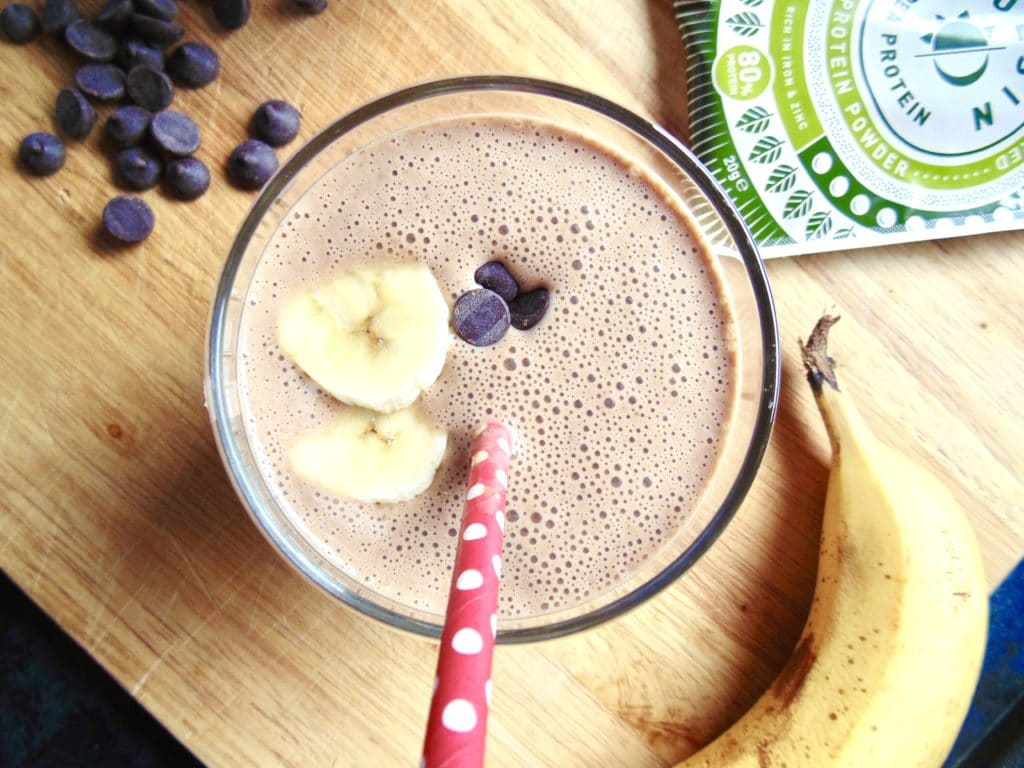 Pulsin's pea protein is completely vegan and completely unflavoured, which is great. It means that you can throw spoonfuls of healthy concentrated protein into your oats, your soups, your pancakes, your muffins, and in this case, your smoothies!
Pulsin also supply rice, hemp and regular whey protein. So if the pea protein really isn't for you, I'd recommend trying the others out.
Back to this smoothie. This thick, creamy and unbelievably good smoothie. Made using just a handful of healthy ingredients, you can create this filling and nourishing smoothie in less than 5 minutes. Take it from the queen of lazy cooking.
Most fruit juices and smoothies can leave you feeling unsatisfied and hungry within just a couple hours of swilling them down. The aim of this creamy chocolate banana protein smoothie is to fill your tummy up with good stuff and yummy flavours. And I think it succeeded in doing so!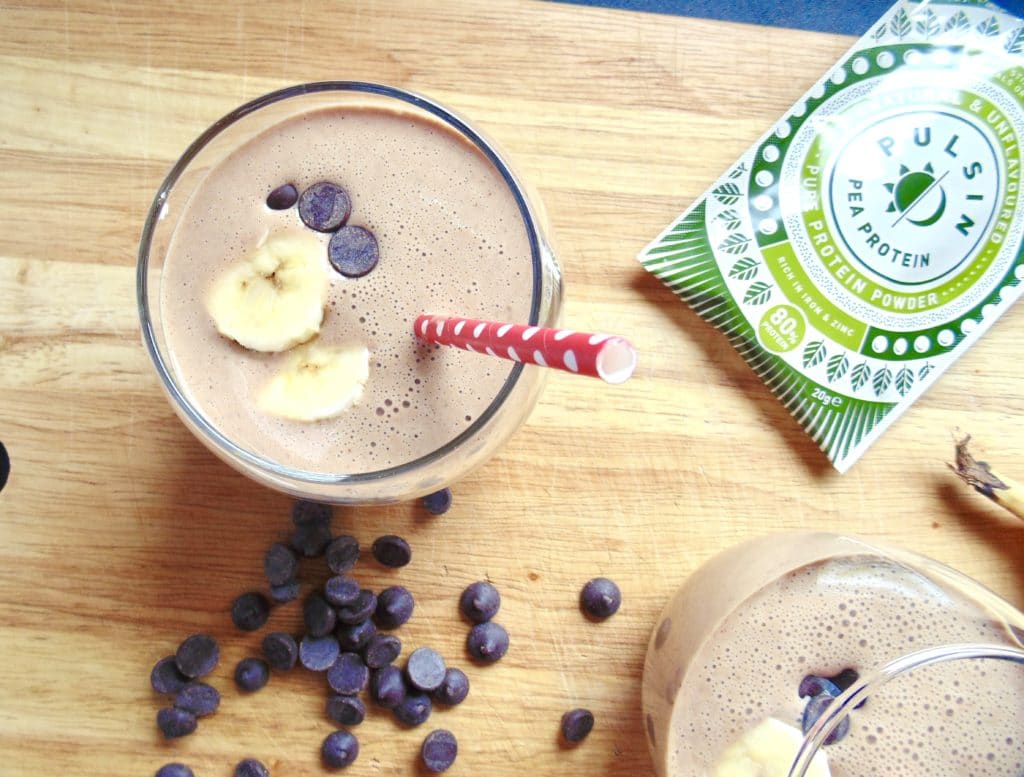 Naturally sweetened by fibre-filled bananas, made rich with cocoa or raw cacao, and made beautifully thick with yoghurt and oats. This chocolate banana protein smoothie tastes wonderful, and will keep you powered for those busy mornings.
No "wellness" gimmicks, no expensive ingredients, no compromise on flavour and no deprivation. This smoothie is a mini meal in a glass, and tastes really damn good. Got it?
You can watch me make this great chocolate banana protein smoothie in a video from my YouTube Channel below, or keep scrolling for instructions!
To make this deceptively delicious chocolate banana protein smoothie: simply place a banana (frozen is even better), come cocoa or raw cacao, vanilla, flax seed, oats, your Pulsin protein powder, yoghurt and milk (regular or non-dairy) into your blender or food processor.
Then simply blitz everything on full power until you have a smooth, creamy smoothie! How easy was that?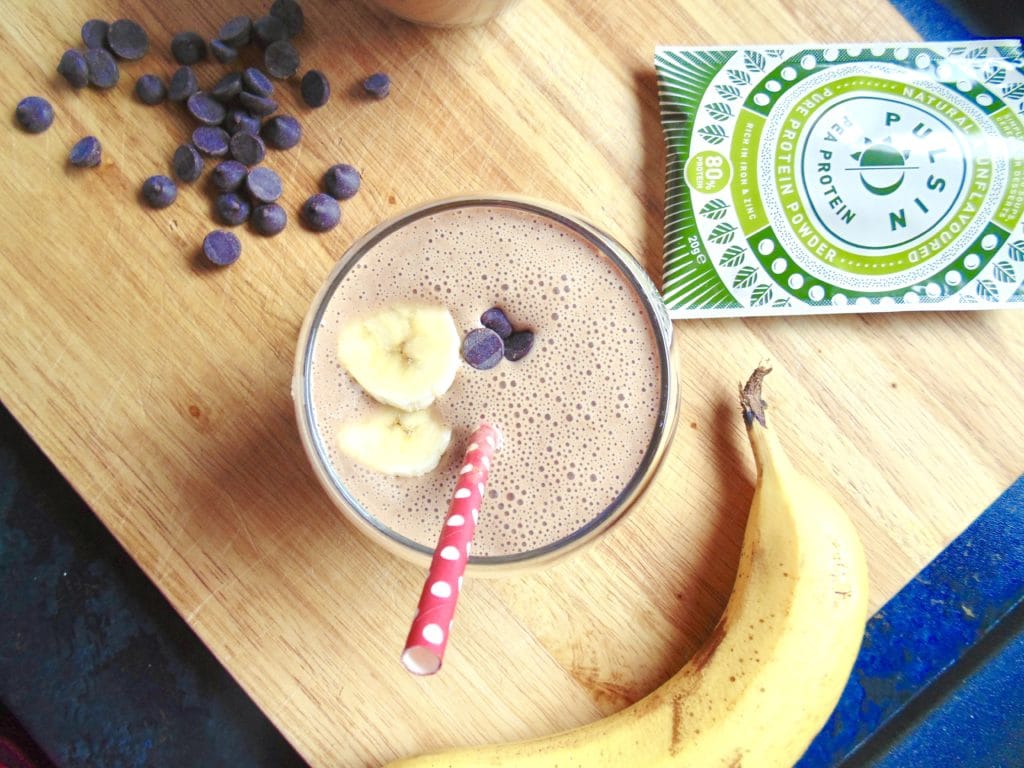 I hope you get a chance to try out this tasty smoothie. It's one I'll definitely be having again to fuel me for work, or other busy days!
I hope to see you again very soon for more recipes, reviews and foodie fun!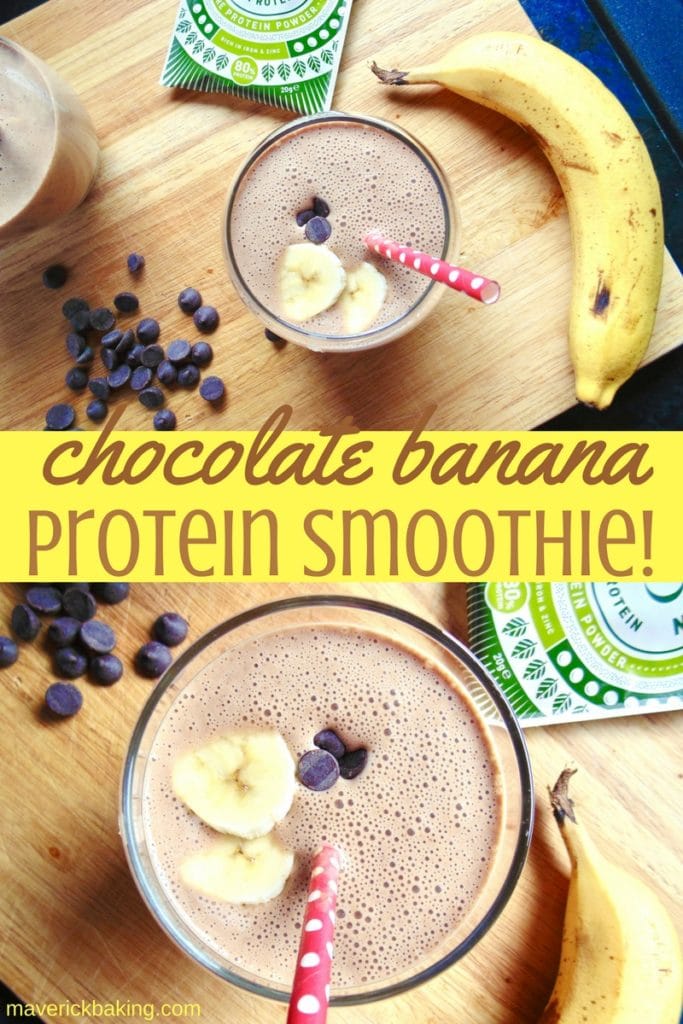 Chocolate Banana Protein Smoothie with Pulsin!
Creamy Chocolate Banana Protein Smoothie; a luxuriously thick and creamy banana smoothie with natural cocoa, oats and Pulsin pea protein to fuel your morning!
Ingredients
1 banana (frozen banana will make this smoothie even creamier!)
2 tsp cocoa powder or raw cacao
1 tsp vanilla extract
1 tbsp flax seed (optional)
1-2 tbsp rolled or porridge oats
1-2 tbsp Pulsin pea protein
2-3 tbsp natural or dairy-free yoghurt
Splash of milk, regular or non-dairy
Sliced banana and chocolate chips to decorate (optional)
Instructions
Place all of your ingredients into a blender or food processor, except the optional decorations. Feel free to add any extras you like!
Blitz on full power until smooth and creamy.
Pour into 1-2 glasses and enjoy!
Notes
*EASILY MADE VEGAN WITH THE USE OF NON-DAIRY MILK AND YOGHURT!
*Feel free to add more or less of any ingredient to suit your tastes!
*Also please feel free to add more fruit, or some seeds or nut butters to the smoothie!
http://maverickbaking.com/chocolate-banana-protein-smoothie-pulsin/
You may also like: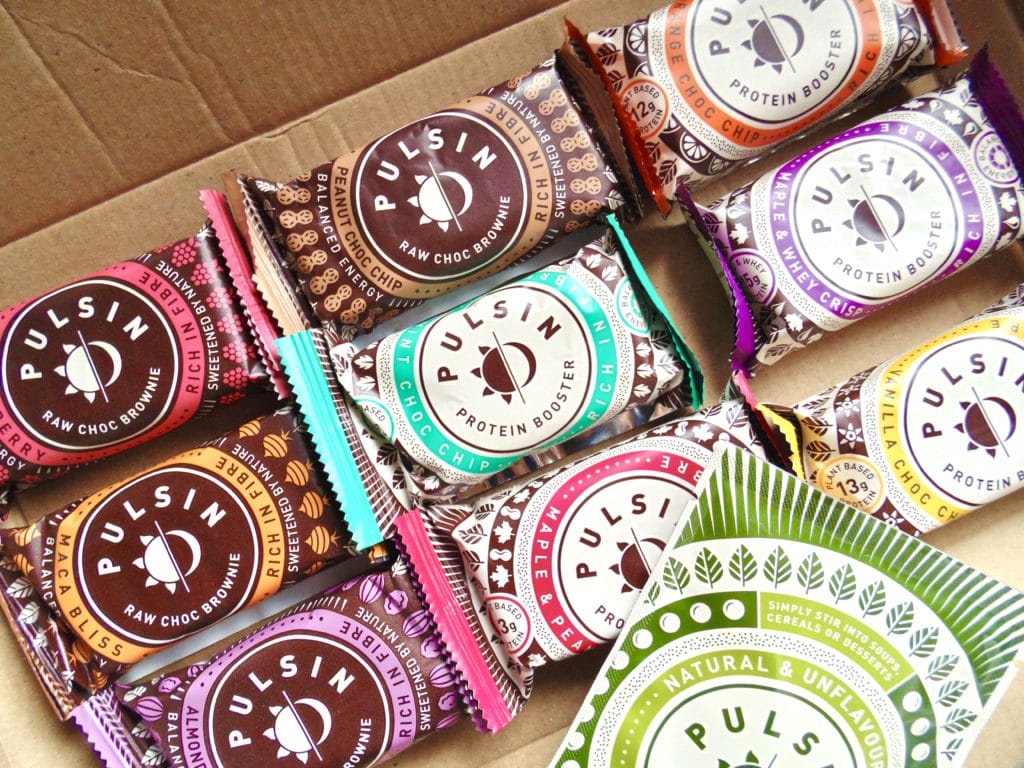 Pulsin Brownies and Protein Boosters Review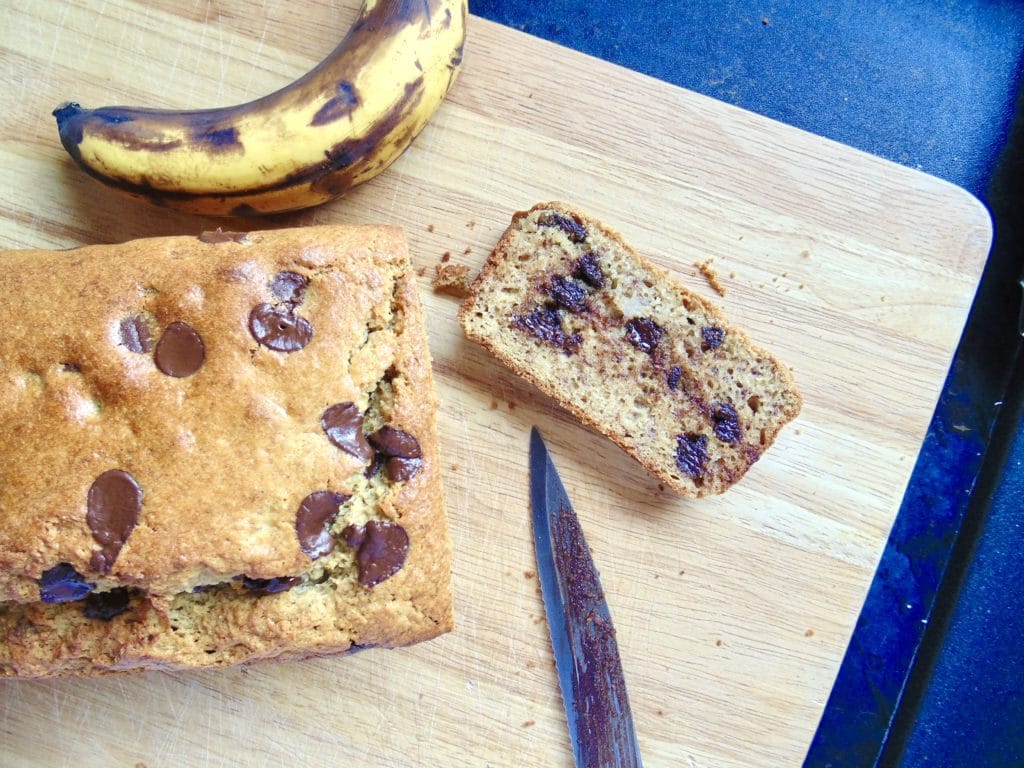 Healthy Chocolate Chip Banana Bread