Hot Doritos Macaroni Cheese; creamy mac and cheese made with a sharp and smoky English cheddar cheese sauce and spicy Chilli Heatwave Doritos!
This isn't an ad, I just like Doritos.
They aren't my favourite crisp on the shelf (that award would probably go to Sour Cream and Onion Pringles), but they are probably the kind I eat most often. Whether scattering into Fajitas or scooping up a spicy chilli con carne with, Chilli Heatwave Doritos can usually be found in my cupboard. As I said, not an ad, they're just good.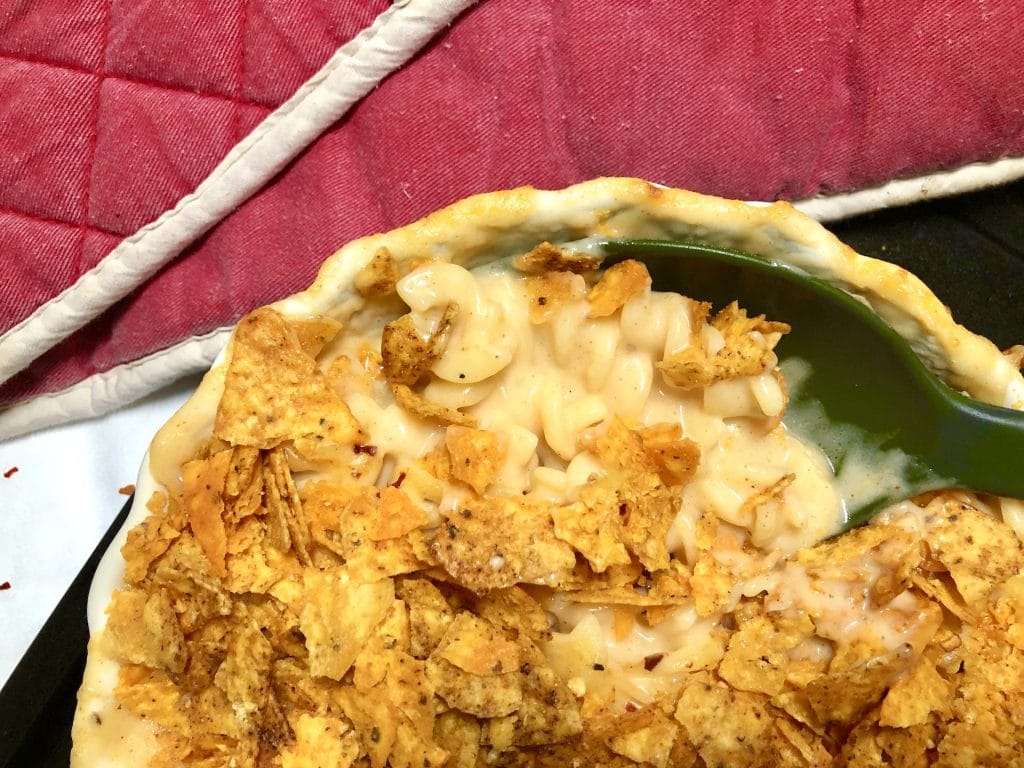 They're basic, they're often associated with lonely Call of Duty players, but we love them here at Maverick Baking. Frankly, I'm shocked that I didn't try this recipe years ago.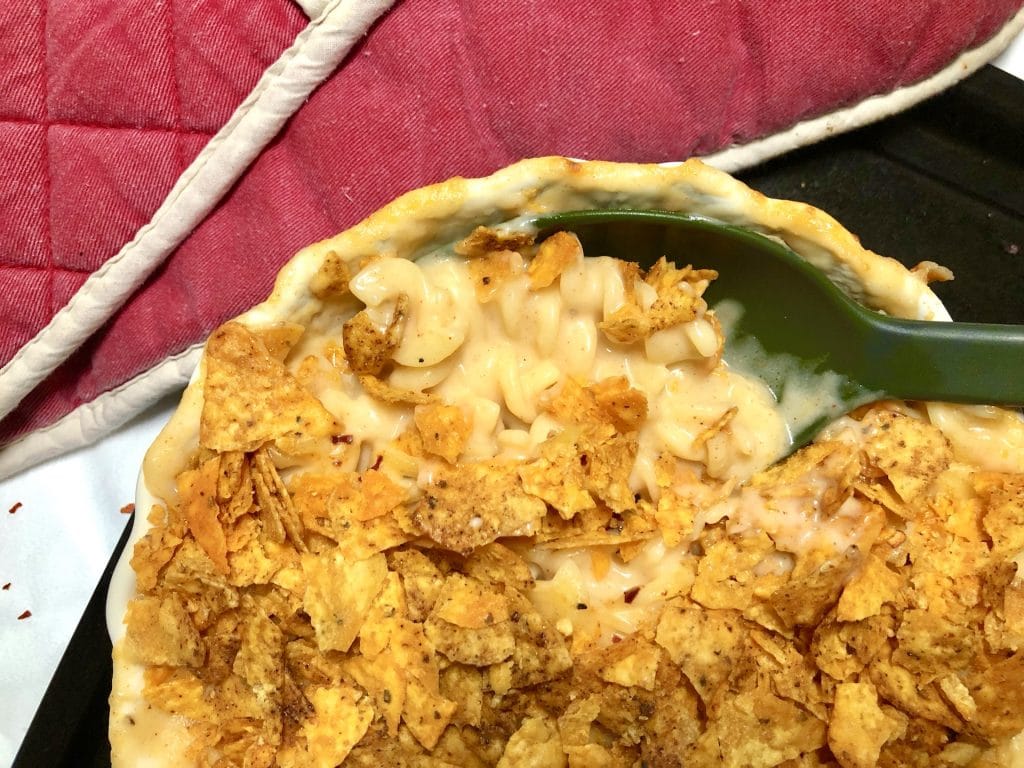 Smoky Doritos Macaroni Cheese. Everyone's favourite creamy comfort food taken up a notch. Soft pasta in a thick, smoky, spicy cheese sauce and a crunchy Chilli Heatwave Doritos topping. It's far from classy, and probably won't get many likes on health-and-fitness-crazed Instagram this January, but MA GAWD is it delicious.

I made this using my usual gluten free method, thickening the sauce with cornflour rather than a traditional roux. It's not the norm, but I actually find it easier that the classic method, and it is less prone to becoming lumpy! To add smoky flavour, I threw in some leftover smoked cheese from the festive period, as well as some chilli powder and smoked paprika. The added heat from the chilli and the crunch from the crisps on top takes this dish from a simple nursery favourite to a proper sexy white trash dinner that you'll never want to stop eating. I mean, that's most of my recipes to be honest…you get the picture.

The recipe below serves 2-4 depending on how hungry everyone is. I cannot guarantee that there won't be fights over the leftovers.
Hot Doritos Mac and Cheese; creamy mac and cheese made with a sharp and smoky English cheddar cheese sauce and spicy Chilli Heatwave Doritos!
Ingredients
200g macaroni or fusilli pasta (gluten free works too!)
100g extra mature cheddar cheese (plus extra for topping)
60g smoked cheese, or more cheddar
500ml milk
1 tbsp butter
4 tbsp cornflour
1 tsp smoked paprika
½ tsp English mustard
½ tsp hot chilli powder
½ tsp dried chilli flakes
Black pepper to taste
Handful or two of Chilli Heatwave Doritos for topping
Instructions
Preheat your oven – 200 C / 180 C fan / 375 F / gas mark 5.
Measure out your pasta and set aside.
Grate your cheese into a bowl or plate and set aside.
Fill a large saucepan with boiling water and a generous pinch of salt, and place it over a medium-high heat, ready to cook your pasta in a few moments.
Fill a smaller non-stick saucepan with 400ml of the milk and the butter and set over a medium heat.
As the pan of milk begins to warm gently, mix the remaining milk into the cornflour and stir thoroughly to combine.
Pour the cornflour mixture into the pan of milk, as it is still warming up.
Whisk the pan of milk continuously (just gently enough to stop it sticking to the bottom of the pan, nothing too vigorous) for 5-10 minutes until it thickens into a smooth white sauce.
Turn up the heat on your pan of boiling water and cook your pasta for a couple of minutes less than the packet suggests. It will finish cooking in the oven as it bakes!
Once your sauce has thickened, add your mustard, paprika, hot chilli powder, and chilli flakes. Stir well.
Add the cheese in two stages, stirring and allowing to melt smoothly in between additions. If at this point the sauce thickens up a little too much, feel free to add a little more milk as you whisk.
Once the cheese has melted and you have an invitingly orange cheesy sauce, add a little black pepper to finish seasoning. It shouldn't need salt thanks to the cheeses and Doritos!
Drain your pasta thoroughly once cooked and tip it back into the large saucepan.
Add the cheesy sauce to your cooked pasta and stir well to coat. You may not need all of the sauce, just add a little more than you think you'll need, as some will soak into the pasta in the oven!
Tip the macaroni cheese into a large ovenproof baking dish and spread it out evenly.
Top with a handful or two of smashed Chilli Heatwave Doritos and a little extra grated cheddar.
Bake in the preheated oven for 15-20 minutes, by which point the Doritos on top should be lightly browned and crispy.
Enjoy!
Notes
Be a Maverick: if you're not a fan of the heat, throw any kind of Doritos you like on top, Tangy Cheese and BBQ Rib are equally delicious!
http://maverickbaking.com/hot-doritos-mac-cheese/