I went vegan for a week: an avid baker and ferocious cheese-lover dropped meat, dairy, eggs and all other animal products from her diet for 7 whole days. This is what happened.

The vegan lifestyle grows in popularity by the day. Excluding animal products for the sake of the environment, animal welfare and our physical health was once a radical decision reserved for hippies and wealthy celebrities. In 2019, it's becoming a widespread theory that this way of living is much healthier and more sustainable than most modern diets.

I have an enormous amount of admiration for those who follow the vegan lifestyle.

Right now, I follow a roughly 70% plant-based diet. I limit my dairy consumption. I rarely crave meat, eating it about four times a week at most. I always like to snap up new vegan ice creams and treats when I can, just to try them out. I even wrote my university dissertation on the ethics and legality behind the human consumption of animals.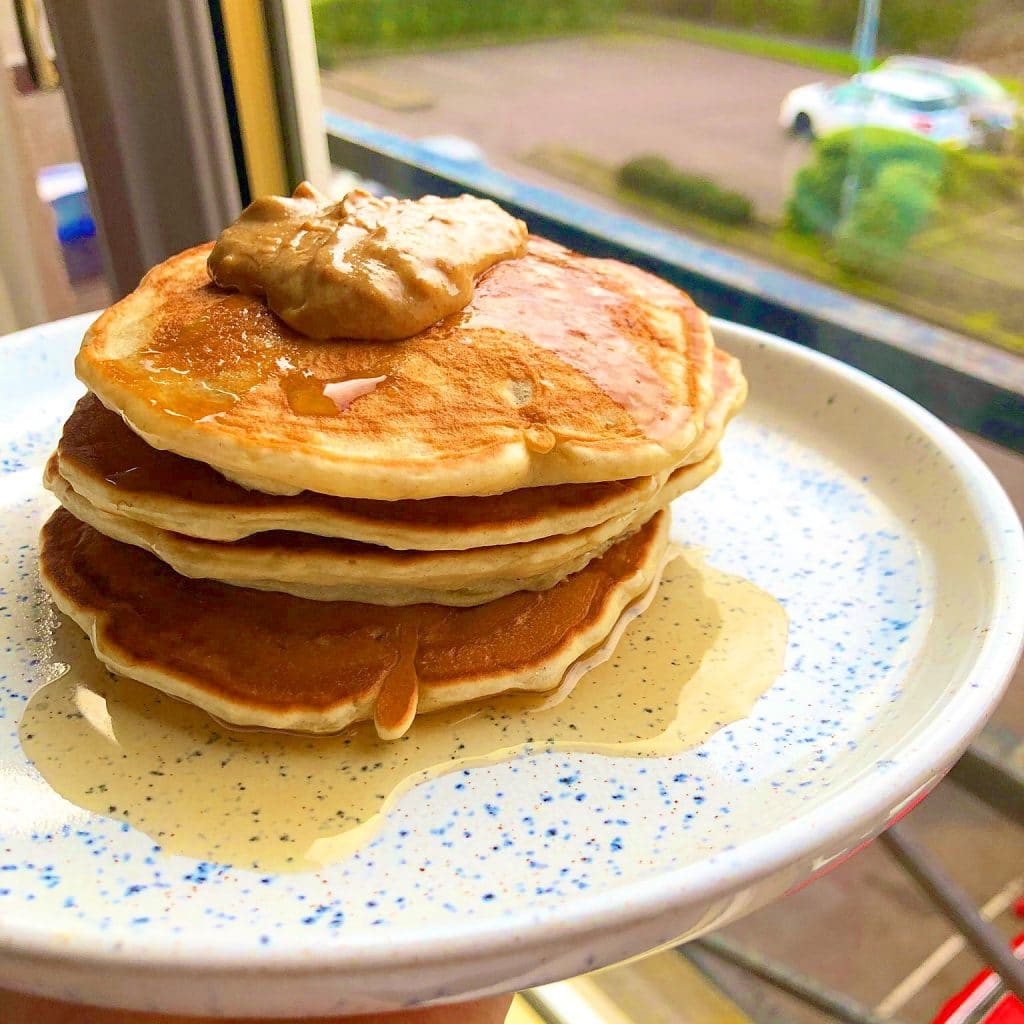 The main things that block me from being completely vegan are:
My undying love of all cheeses
My strong (Scottish) sense of not wanting to cause a fuss when other people offer me food
My history of disordered eating, which can make restricting my diet dangerous for my mental and physical health
After the horror of A Week Without Sugar, I asked you guys what challenge I should take on next. Given the choice of a week without gluten or a week on the vegan diet, you guys stole my cheese and eggs. While difficult, it can be interesting to see life from the perspective of those who choose not to or cannot eat as freely as I do. So as tough as these 7 days looked, I was up for the challenge.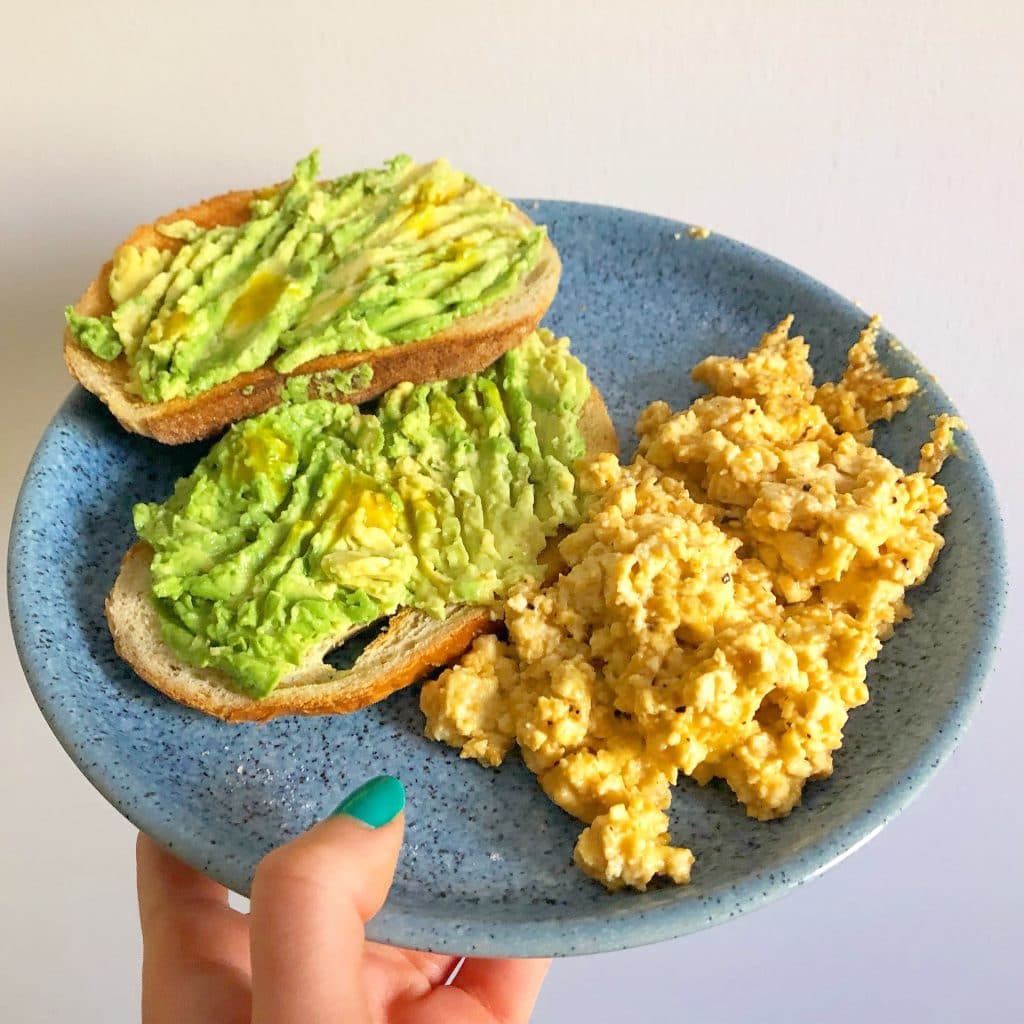 Tuesday:
Bowl of Nestle Cheerios with oat milk and banana slices
Trek protein flapjack
Avocado, violife cheddar and gherkin sandwich with some cucumber sticks
Chickpea and sweet potato curry with rice
Mint chocolate chip Pulsin protein bar
Wednesday:
Smoothie made with banana, chocolate, peanut butter, spinach and oat milk
Almond milk latte (from Starbucks)
Nairn's fruit and seed oat biscuits
Leftover chickpea and sweet potato curry with rice
Jackfruit tacos with a butternut squash and avocado salad (at Las Iguanas)
Alpro chocolate hazelnut ice cream with crushed Oreos
Thursday:
Two slices of white toast, one with peanut butter and banana, the other with vegan butter and raspberry jam
Vegan refried bean and roasted pepper flatbread with broccoli tahini salad (from a cruelty free, zero-waste cafe called Foodstory Zero)
Lemon Drizzle flavour Nakd bar
Orange chocolate chip Pulsin protein bar
Asda mushroom sausages with mashed potatoes and BBQ baked beans
Friday:
MOMA Muesli with Alpro plain soy yoghurt and almond milk
Fruit pot and a mint chocolate chip Pulsin protein bar
Chakalaka bean and butternut squash wrap with salt and vinegar crisps (from Pret a Manger)
Asda sweet potato burgers in gluten free buns with Violife cheddar and M&S vegan coleslaw
Saturday:
Banana pancakes with peanut butter and maple syrup
Pizza with tomatoes, olives, peppers and vegan cheese (Pizza Hut)
Alpro chocolate hazelnut ice cream with crushed Oreos
Sunday:
Smoothie made with banana, chocolate, peanut butter, spinach, Alpro plain soy yoghurt and almond milk
Tofu scramble with avocado toast
Mackie's dark chocolate (roughly 6 squares)
Vegan cream of tomato soup with Ryvita protein crispbreads
Alpro chocolate hazelnut ice cream
Monday:
Porridge made with almond milk and chopped dates, topped with banana, peanut butter and maple syrup
M&S "fishless fish cakes" with vegan coleslaw and sweet chilli jam
Mackie's dark chocolate (roughly 6 squares)
Homemade gluten free baguette pizza with vegan cheese and olives
Mint chocolate chip Pulsin protein bar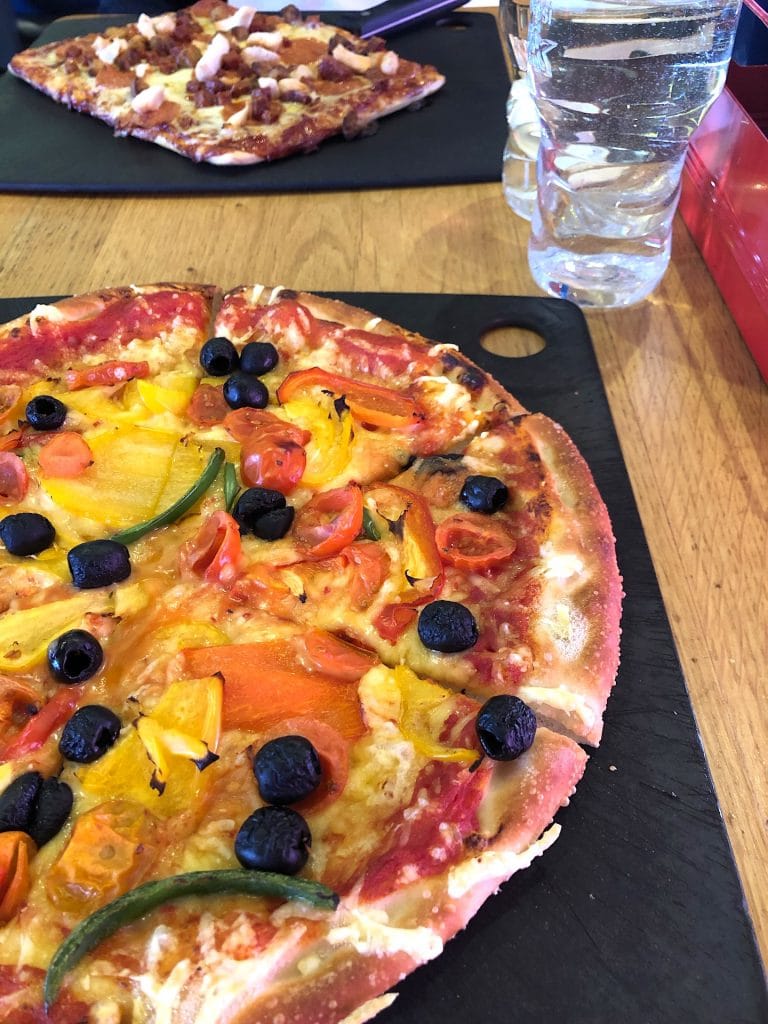 What I missed:
CHEESE. While the plastic-cheese-single taste and vaguely creamy texture of Violife cheddar made for a decent addition to sandwiches and made a fairly convincing pizza, it's just not the same. Nothing quite provides the sharp acidity of a vintage cheddar, the tang and texture of Crowdie, or the pungent smoothness of Brie. After this week I'm certainly open to trying out more vegan cheese alternatives to see if any can stand up to the glory and broad spectrum of dairy cheeses. However, while I could happily wave goodbye to cow's milk, yoghurt and even ice cream, at the moment cheese remains the only dairy product that cannot be easily substituted.

CONVENIENCE. As I felt when I Quit Sugar, convenience and ease seemed greatly compromised this week. Not only did I hate turning down foods that I would normally lap up (such as chocolate cake), it was frustrating having to constantly plan my meals or shop in limited sections of supermarkets or cafes. My usual chocolate treats and biscuits were off limits too, meaning that even snacking had to be carefully considered. Granted this diet wasn't as horribly restrictive as quitting sugar, but it did become a bit of a pain whenever I needed to buy lunch or meet a friend for dinner. Weekdays can be stressful enough without worrying about the fact a tortilla might have a trace of egg in it!

How I felt, physically:
HUNGRY. I attribute this mostly to the fact I was eating a lot more carbs and a lot less protein. I feel like I got a healthy amount of protein thanks to nuts, legumes and protein bars but I found myself less satisfied than I would have been if I'd had some white meat, cheese or eggs. I know most vegans can get a more-than-satisfactory amount of protein from tofu and similar soy-based products but my digestive system really struggles with soy so I had to keep it minimal. I think if I were to carry on with this way of eating, I'd need to up the amount of fat I eat and be more considerate when choosing what to snack on.

GASSY. Speaking of my digestive system, this week got gassy. Nothing so bad it amounted to any pain (my IBS often just surprises me with that on a regular basis anyway), but my guts were definitely more active. I'll put this down to the fact I was eating a lot more insoluble fibre. I'll leave it at that.

How I felt, mentally:
RESTRICTED. I won't lie, I did find this lifestyle disappointing at times. I still have chocolates leftover from Christmas, and a fridge well-stocked with the sharp vintage cheddar and cold meats, so choosing the cruelty-free option was definitely less appealing some days. It became difficult when I realised I'd be cooking two separate meals for myself and my boyfriend most nights. This meant more effort and, even worse, more pans and dishes to clean up. This feeling of restriction cropped up whenever I had to buy lunch on the go too, having to turn away from 90% of the delicious offerings I could normally have chosen. If I lived alone or with a fellow vegetarian/vegan, this might have been much easier, but this week occasionally made me feel like I was being punished while my boyfriend wasn't!

WHOLESOME. I now fully understand the sometimes holier-than-thou stance that some vegans take. I did start to question why SO many products we take for granted come from animals. I felt a guilt lifted from my shoulders knowing that sheep I drove past on the way to work weren't on my plate, and that the milk I drank wasn't taken from someone's mother. No one is innocent on this planet, everyone exploits someone or something, but I can see that this diet definitely causes less harm than the average Western diet does. It might not be a permanent move for me, but I definitely plan to use less animal products.

CREATIVE. Restriction always breeds creativity. Just in the way that being skint means you sometimes have to find ways to eat for less (or find ways for other people to buy your drinks) the limit on my diet meant I had to get crafty in the kitchen. I clearly relied on some convenient frozen or ready-meal options for several of my meals, but things such as cooking with more spices, adding extra toppings to pizza, having savoury snacks alongside meals helped add the richness that food without meat and dairy can lack. I see this as a good thing, as it means I didn't just lean on the usual cook's trick of THE MORE BUTTER THE BETTER!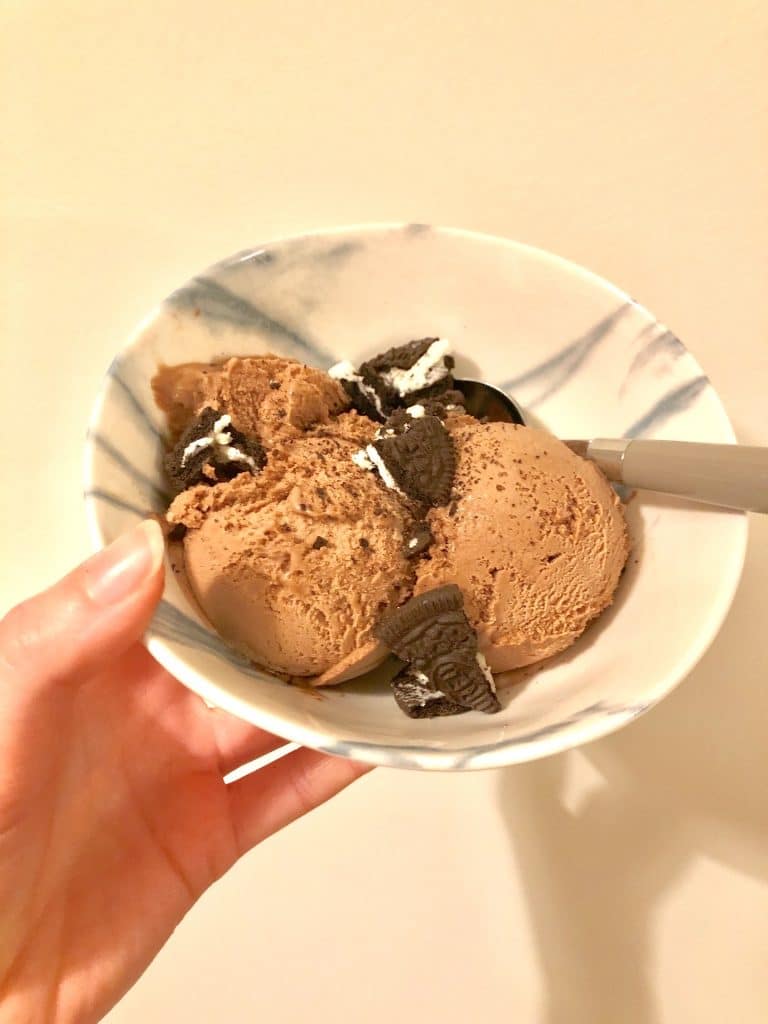 What I learned:
Vegan cheese isn't entirely terrible.

I will never take the versatility and usefulness of a simple hen's egg for granted ever again.

I don't need to eat as many animal products as I currently do to be fulfilled, but I can't happily leave them all behind just yet.
If you want to try out any of the weird and wonderful things I made this week, check out the recipes below!
Chocolate Peanut Butter Protein Smoothie (serves 1-2)
Ingredients:
1 large or 2 small bananas
2 tbsp peanut butter or powdered peanut butter
1 tbsp cocoa powder
1 tbsp flax seeds
1 handful spinach (optional)
1 handful ice
150-350ml of oat milk, depending on how thick or thin you'd like your smoothie to be!
Instructions:
Throw all your ingredients into a blender or food processor and blitz until smooth.
Pour into a glass.
Enjoy!
Sweet Potato Chickpea Curry (serves 2-3):
Ingredients:
1 onion
3 garlic cloves
1 tin chopped or plum tomatoes
1 vegetable stock cube/pot
1 tsp smoked paprika
1 tsp ground cumin
1 tsp hot chilli powder (or chilli flakes)
½ tsp ground turmeric
½ tsp ground ginger
1 tin chickpeas, drained and rinsed
200g sweet potato chunks
150ml oat milk or vegan single cream alternative.
Salt and pepper to taste
Instructions:
Place a large frying pan or saucepan over a medium heat.
Dice your onion and mince your garlic.
Add the onion and garlic to the pan with a little vegetable oil or vegan butter, cook for 5 minutes until beginning to soften.
Add your tomatoes, stock pot and spices. Cook for a further 5 minutes, stirring occasionally. Feel free to mash the tomatoes to make a smoother sauce!
Add your chickpeas and sweet potato chunks to the sauce and cook gently for 20-25 minutes until the sweet potato is tender.
Stir in the milk/cream, and add salt and pepper to taste.
Serve with rice or vegan naan.
Enjoy!

Simple Vegan Pancakes (serves 1)
Ingredients:
1 banana
1 tsp vanilla extract
1 tbsp oil (I used olive)
200ml non-dairy milk (I used almond)
100g plain flour
30g caster sugar
½ tsp baking powder
Pinch of salt
Instructions:
Place a large frying pan over a medium heat.
In a jug, mash your banana with a fork until it becomes a smooth-ish puree.
Add the vanilla, oil and milk to the jug. Stir well to combine.
In a medium bowl, stir together the flour, sugar, baking powder and salt.
Pour the wet ingredients into the dry and stir gently until you have a thick pancake batter.
Drop a little oil or vegan butter into the pan and swirl it around to coat the base.
Spoon 2-3 tablespoons of batter into your hot pan for each pancake.
Cook each pancake for 1-2 minutes, or until the sides look dry and bubbles are bursting on top.
Flip the pancakes once (ONLY ONCE) and allow to cook for a further 1-2 minutes.
Keep your pancakes in between the folds of a clean towel while you cook the rest of the batter.
Once cooked, stack your pancakes up and top with whatever you like. (banana slices, berries, chocolate chips, peanut butter and syrup are all great ideas!)
Enjoy!
Tofu Scramble (serves 1)
Ingredients:
½ block of firm tofu (roughly 100g)
1 tsp vegan butter
Handful of grated vegan cheddar (I used Violife)
Pinch of smoked paprika
Salt and pepper to taste
Instructions:
Place a medium frying pan over a medium heat.
Crumble the tofu into the pan and add the vegan butter.
Cook for 5 minutes, breaking any chunks into smaller and smaller pieces.
Add the cheddar and paprika.
Continue cooking and stirring until the cheese has melted evenly and your tofu looks like a pan of scrambled eggs.
Season to taste.
Serve hot with some toast or vegan sausages.
Enjoy!