Mini Egg Chocolate Cookie Bars; thick chocolatey cookie bars with chewy centres and crisp edges, crammed with Cadbury's Mini Eggs and Cadbury's Dairy Milk chocolate!

Everyone knows that the best part of a cookie is the centre.

The centre is usually the thickest and softest part, hiding all of those delicious morsels of chocolate. No matter the cookie, the centre is vastly superior to the edges and I will hear no argument against that. Edge-lovers are not to be trusted.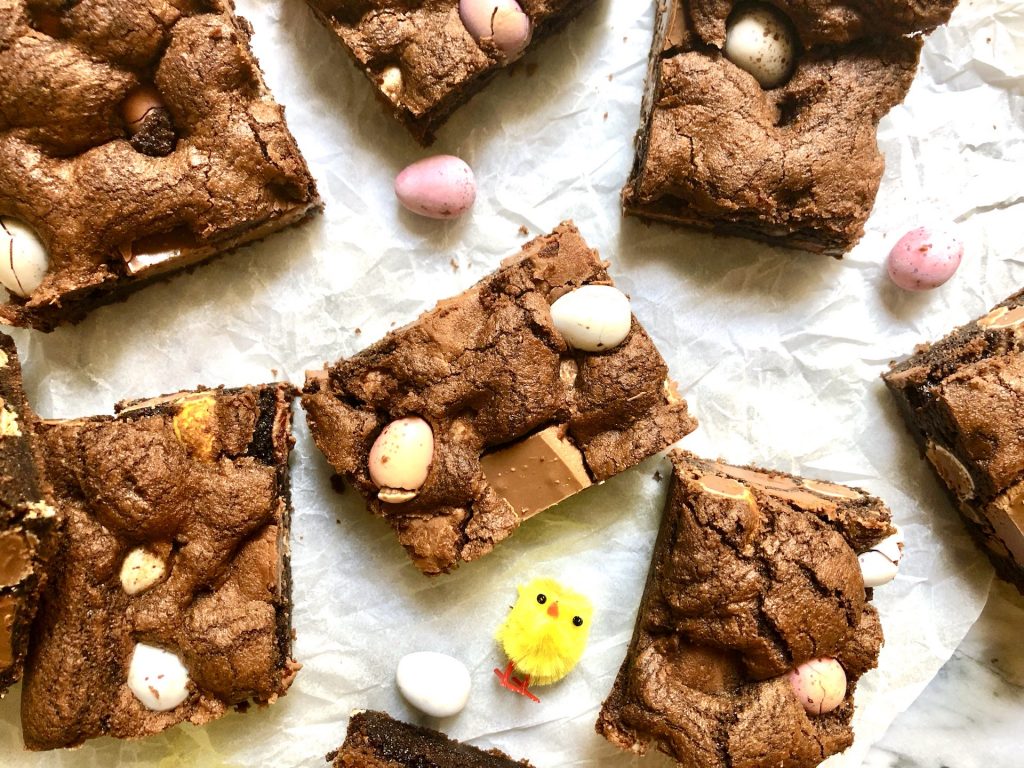 What if I told you that you could bake something that resembled the gorgeous one-bite-and-it's-gone centre of a delicious cookie ALL THE WAY THROUGH?

Interested? Feckin' obviously.

Cookie Bars are an underrated monarch of the traybake world. They encapsulate everything wonderful about cookie centres in a treat that is unrivalled by (almost) any other cookie. With only the tiniest whisper of crispiness around the edges, these bars are thick, dense, rich and generously studded with chocolatey goodness.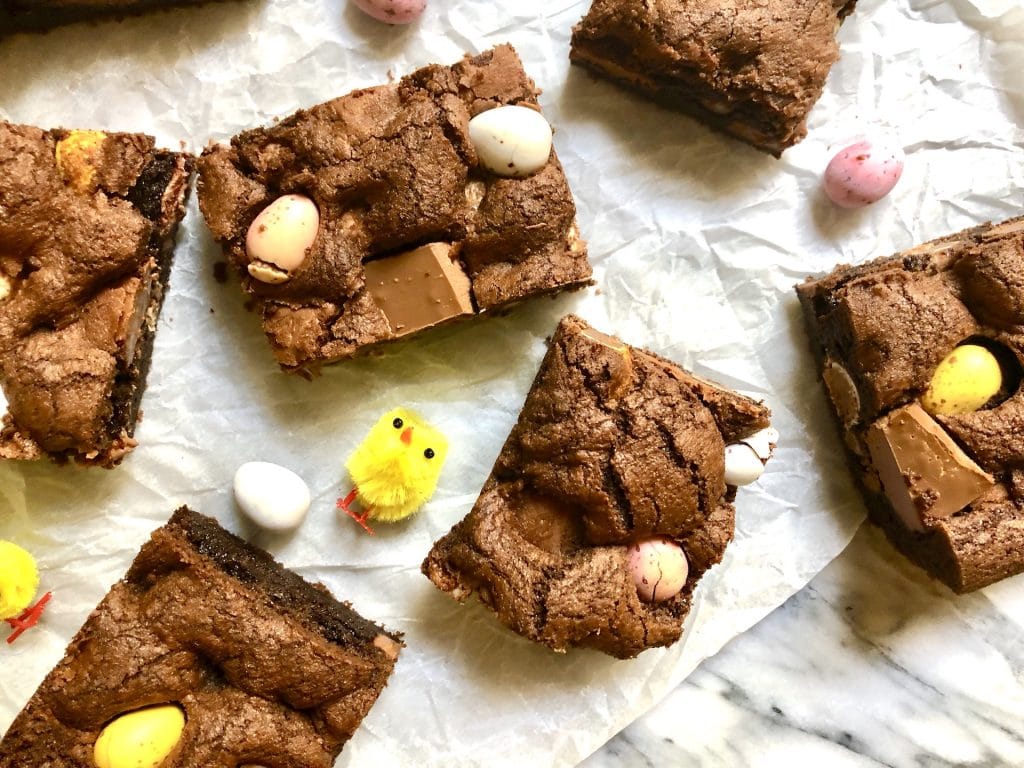 I've only ever published one recipe starring this kind of treat that I keep blabbering about, and they were a Halloween special. As the season of chocolate eggs is upon us, it only felt right to bake some Cookie Bars that contained chocolate, eggs, and chocolate eggs.

Behold, the Mini Egg Chocolate Cookie Bars.

Crisp-shelled Cadbury's Mini Eggs and meltingly creamy Cadbury's Dairy Milk chocolate are nestled lovingly together in these sweet, chewy Cookie Bars. It's a blend of chocolatey flavours and addictive textures that you would likely dump your boyfriend for.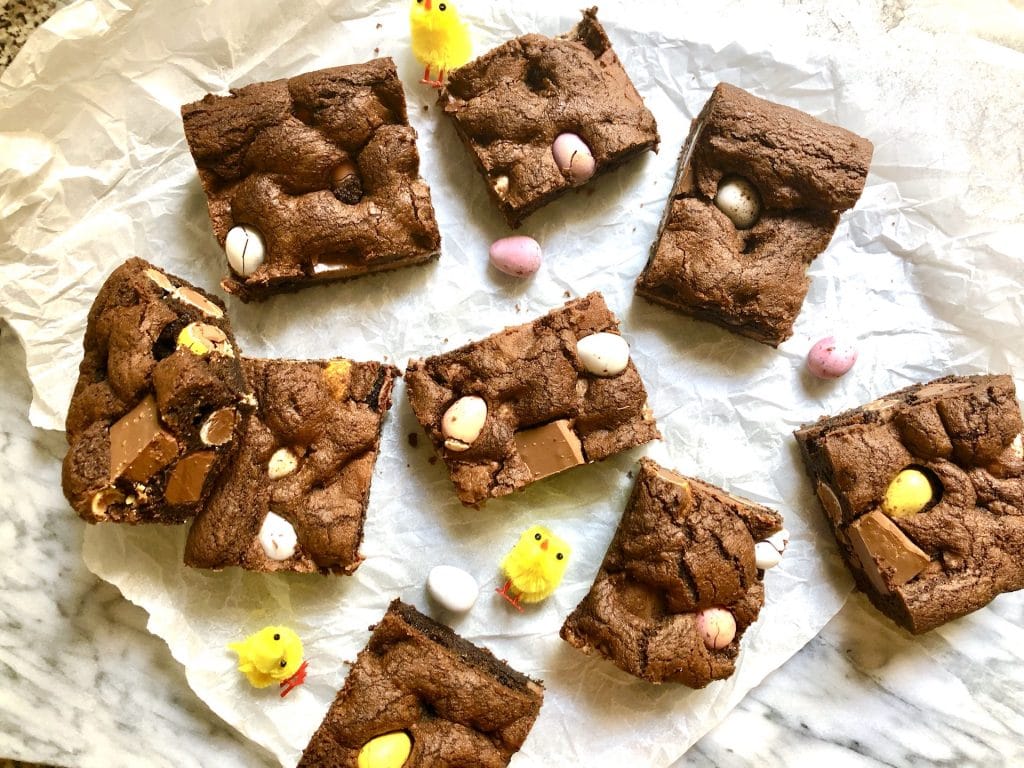 *Puts on QVC salesperson voice* BUT WAIT, THERE'S MORE! These Mini Egg Chocolate Cookie Bars are even easier to make than regular cookies, and will require less washing up too! They take a little longer to bake and a little longer to cool but hands-on time is greatly reduced, in proportion with the notable rise of sheer unbridled enjoyment.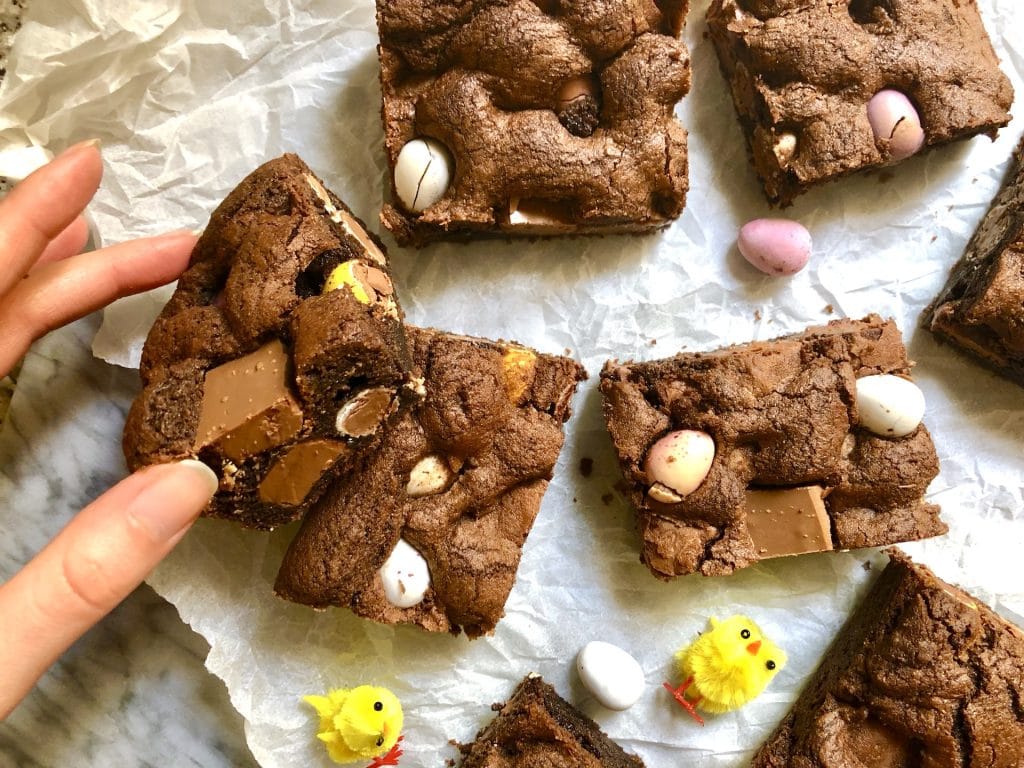 You don't even have to wait until Easter to make these. If you see bags of Mini Eggs on the shelves, you have my permission to bake these, even if it's the middle of August or the end of December.

To make these gorgeous Mini Egg Chocolate Cookie Bars, just follow the recipe below!
Mini Egg Chocolate Cookie Bars
Mini Egg Double Chocolate Cookie Bars; thick chocolatey cookie bars with chewy centres and crisp edges, crammed with Cadbury's Mini Eggs and Cadbury's Dairy Milk chocolate!
Ingredients
160g (10 ½ tbsp) soft salted butter (if using unsalted, add a pinch of salt)
120g (½ cup) caster sugar
120g (½ cup) light brown sugar
2 tsp vanilla extract
1 large egg
1 large egg yolk
215g (1 ¾ cups) plain flour
45g (½ cup) cocoa powder
½ tsp bicarbonate of soda
250g (9 oz) Cadbury's Mini Eggs
150g (5 ½ oz)Cadbury's Dairy Milk, broken into chunks
Instructions
In a large bowl, beat together your butter, sugars and vanilla until creamy.
Stir the egg and egg yolk in and beat well to combine.
Add the flour, cocoa and bicarbonate of soda to the bowl and stir well to combine into a thick dough.
Pour most of the Mini Eggs and Dairy Milk chunks into the bowl of dough (reserving some for the top) and stir to evenly distribute. I promise the aching arm muscles will be worth it when you take a bite of these Cookie Bars!
Grease and line a 30cm x 18cm (12in x 7in) baking tin with greaseproof or parchment paper.
Tip the stiff dough into your prepared in and flatten it out evenly with your hands.
Cover and chill the the bowl of dough for at least an hour, or anywhere up to 48 hours. This isn't essential if you're in a hurry but will ensure the bars have a perfect texture!
Preheat your oven – 180 C / 160 C fan / 350 F / gas mark 4.
Once the dough has chilled and the oven has preheated, bake the tray of cookie dough for 20-30 minutes. When baked it should look and feel dry on top, it may still feel soft but it will firm up as it cools!
Allow to cool completely, before placing in the fridge for at least 30 minutes. Again this chilling isn't strictly necessary but really helps perfect that chewy texture.
Slice into 12-20 cookie bars.
Enjoy!
Notes
BE A MAVERICK: mix up the flavour by replacing the Cadbury's Dairy Milk with your favourite chocolate!
http://maverickbaking.com/mini-egg-chocolate-cookie-bars/