No Bake Oreo Cheesecake; a classic US cookie flavour, laced through creamy no-bake cheesecake. You can whip up this chilled treat in no time, thanks to Claire from Sumo Chef!
The lovely Claire J Ruiz approached me recently, asking if I'd be keen to feature a guest post. As soon as she mentioned the words "No Bake Oreo Cheesecake," I was in!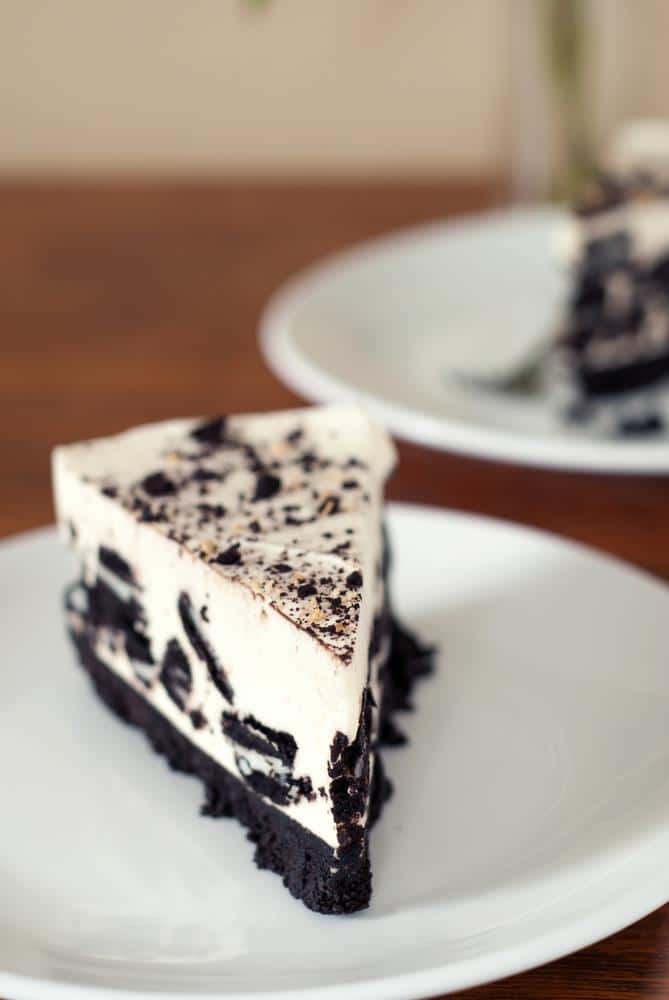 Wouldn't it be great if people offered to do you work for you like this all the time??
Claire runs Sumo Chef, a blog featuring all kinds of great recipes, and cooking and baking tips. Do check out her site if you get a chance, it's got enough to keep you very busy and make you very hungry for a good while!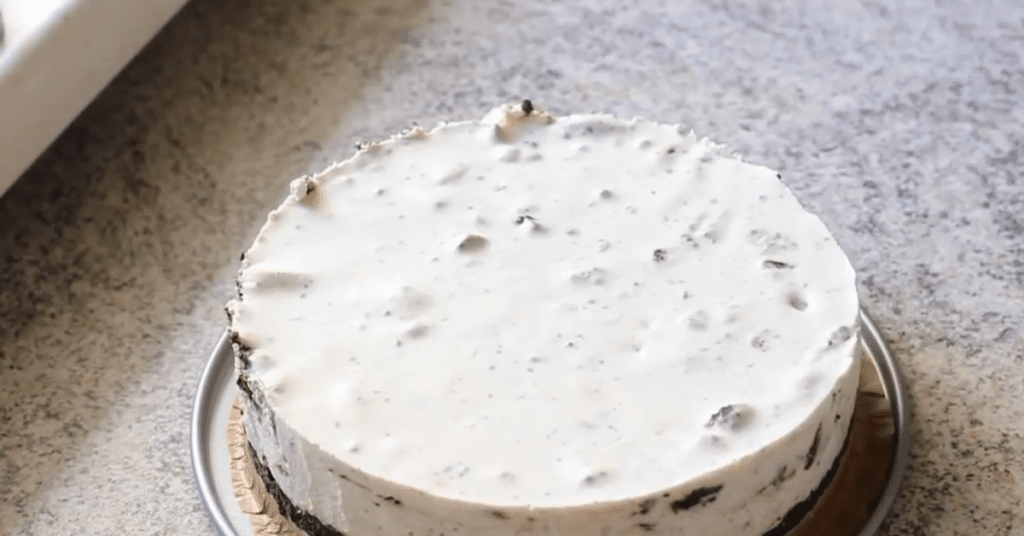 So without further ado, over to you Claire:
One of my favorite things to bake would be a cheesecake. While I'm a huge fan of very sweet things, there's a part of me who's a big fan of the tart flavors combined with the creamy consistency. Well-balanced and never fails me. And just recently, I tried the classic Oreo cheesecake that has become a hit for both my kids and friends. The twist? It's an easy NO BAKE Oreo Cheesecake recipe, so you can do it without an oven!
No oven? No problem! This no bake Oreo cheesecake will be a delight for anyone who's got a sweet tooth. Crumbled with crushed Oreos and the tart cheesecake, it's a mixture you won't forget. And it's SO easy to do!

Pro-Tips to Follow
Want to make this cheesecake even better? Here are some tips you should follow to keep it tasting great and with the perfect texture:
If you don't have a nine-inch springform tin, then you can use a pie plate but lessening the filling as it may not fit the plate.
Avoid committing any baking mistakes and ensure that you use the fresh ingredients, measuring and mixing everything as perfect as possible. Don't rush, as you may end up making more mistakes and altering its flavor and consistency!
You are going to need to use the cream cheese at room temperature, but avoid letting the cream cheese sit out for too long or it spoils. As for melted butter, I recommend you to microwave it for less than a minute or until it's slightly melted.
If you have no time to chill it overnight, then leave it in the fridge for four to five hours. Anything earlier than that and it wouldn't be set. You will know if the cheesecake is at a perfect consistency when you gently press into it and nothing sticks to your fingertips. It would be firm and easy to cut into slices.
While the cheesecake is great alone, you can add ice cream next to it for the kids to love. Try topping it with whipped cream as well for better presentation and a sweeter flavor!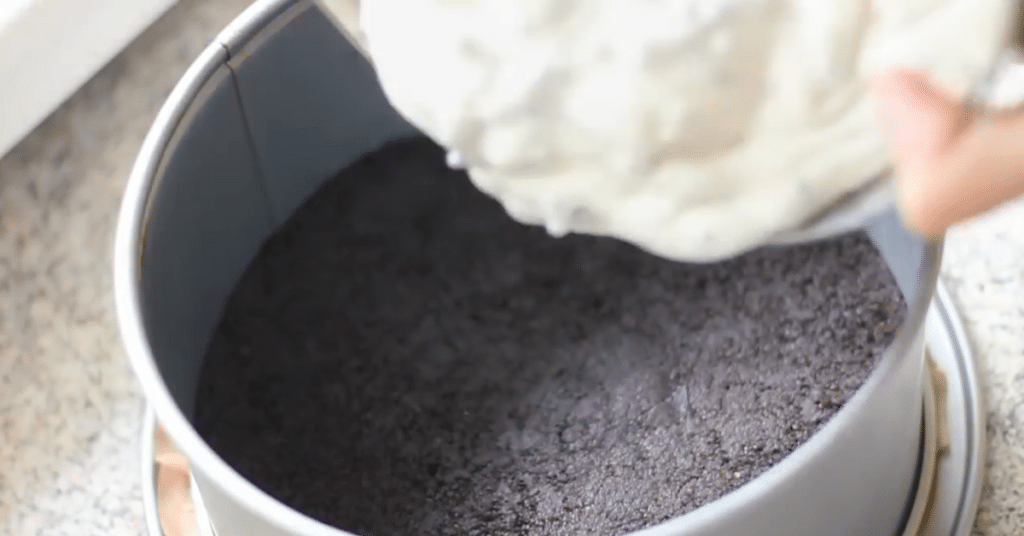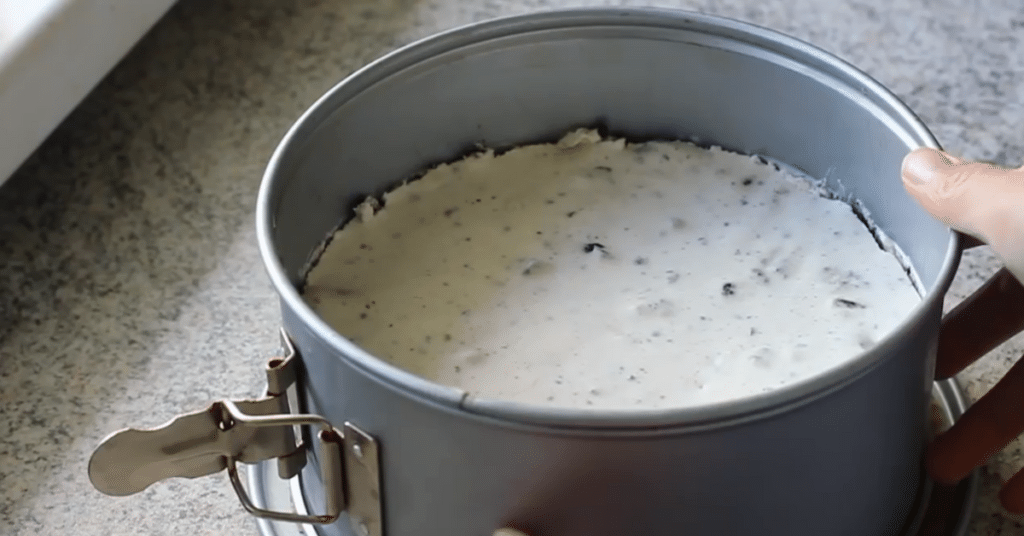 I hope that this No Bake Oreo Cheesecake recipe helped you explore the various ways YOU can experiment in the kitchen. So what are you waiting for? Lay down all the fresh ingredients needed and see how this cheesecake does in your household or party today.
If you tried making the cheesecake, do post your tips and how it turned out to be! I would love to hear what you have to think.
Thanks for much to Claire for this recipe post, scroll down for the full instructions!
Scroll down to find the full recipe to make this lovely No Bake Oreo Cheesecake.
Thank you guys as always for popping by, I hope to see you again very soon!
No Bake Oreo Cheesecake from Sumo Chef!
No Bake Oreo Cheesecake; a classic US cookie flavour, laced through creamy no-bake cheesecake. You can whip up this chilled treat in no time, thanks to Claire from Sumo Chef!
Ingredients
For the crust:

20 Oreos
60g (1/4 cup) of melted butter
For the filling:

450g (16 ounces) cream cheese at room temperature
130g (1 cup) powdered sugar
1 tsp of vanilla extract
480ml (2 cups) double/whipping cream
15 chopped Oreos
Six extra chopped Oreos (optional, for topping)
Instructions
For the Oreo crust:

In a food processor (or a freezer bag and rolling pin to bash) let the Oreos blend until finely crushed. Put it in a mixing bowl and add melted butter, stirring it together until the Oreo crumbs are moist.
Line a 20-25cm springform pan with parchment paper and add the Oreo mixture to the pan, pressing it firmly until it's evenly distributed. Let it chill while you make the filling.
For the filling:

Beat the cream cheese until it's smooth, preferably using an electric mixer. Add the powdered sugar and vanilla extract, mixing all three ingredients until it's well incorporated.
Put the mixer at low speed, pouring the double cream. Increase the speed to medium-high and let it mix until it's thick and has soft peaks (around three to five minutes). Pour the chopped Oreos and fold it with the mixture until everything is combined.
Place the filling on the crust, gently spreading it until the layer is even. You can add the additional six crushed Oreos as a topping. Press down the topping a bit.
Cover the tin tightly with clingfilm, placing it in the fridge and leaving it overnight. Once it's chilled and at the perfect consistency, take it out of the tin. Cut the cheesecake into eight slices and enjoy!
http://maverickbaking.com/no-bake-oreo-cheesecake/
You may also enjoy…